What's top of my mind: Do I go to Aldi after posting this?
I've pulled out some roast pumpkin from the freezer to make a pasta/pumpkin bake for dinner, but I've just realised that we don't have any ham.
*sigh* I don't feel like making this a 'spend' day.
Where I've been: Having a nice goss in the staff room.
Today was a particularly nice day for socialising. Had some great convos in both recess and lunch.
There are some things that I'm regretting about choosing to work full-time for 7 weeks, (such as alarms in the early morning and having to mark some projects), but the conversations with other teachers are great.
Where I'm going: to some Sex Ed classes.
Yep. The year 9s are having a day off from regular classes and they're doing this instead. I'll be supervising a class on 'Consent' and then a class on 'Porn vs Reality.' The other class they're all doing is on contraception, but I was teaching my year 8s then.
Should be fun.
What I'm watching: The Block.
I absolutely love this show. I'm so happy it's back on. I'm even prepared to sit through the ads on free-to-air television to watch it – THAT'S how much I like it.
What I'm reading: The Things We Keep – Sally Hepworth
I've just started this. It's her second (I think) novel and it's set in a care home for Alzheimers. I think I'm going to like this one.
What I'm listening to: Aussie Firebug Matt Ridley podcast.
I'm only part-way through this episode but I'm loving it. Matt Ridley is the author of 'The Rational Optimist: How Prosperity Evolves', which is a book I've never heard of before but it's one I'll definitely be buying.
I've always said that one of the secrets to happiness is being a student of history. When you know how rough life was back in the 'good old days', then how could you NOT be happy to be born in the here and now?
For example: look at me. Where in history could I, a woman, be educated; own my own property; be able to escape an unhappy marriage through a divorce; gain custody of the boys after that divorce; have a career that enabled me to comfortably support us without having to rely upon a man's wage; to be able to survive a difficult childbirth (Tom30 and I would've died in the olden days, without a doubt) and go on to have 3 more healthy children through caesarians; be one of the common folk yet still have traveled to 5 continents of the world (so far) and be able to retire early and look forward to decades of freedom?
Not many women in history were able to do all of this. Probably not many men either, if it comes to that.
Ridley talks about how, over the course of history, human life has been getting better. He's preaching to the choir as far as I'm concerned, obviously, but I'm absolutely enjoying how he speaks and the way he chooses his words. It's a pleasure to listen to.
I'll definitely be buying 'The Rational Optimist'. It sounds like the sort of book I'll want to have around.
What I'm eating: Stewed fruit from the freezer.
Remember how in the summer I was stewing lots of fruit and freezing them in ice cubes? I'm reaping the rewards in the depths of winter. Stewed fruit with my oats in the morning… mmm mmm!
What I'm planning: killing rats.
Does anyone know a good way to kill rats without poisoning them? I don't want to throw rat bait under the house, have a half-dead rat get out into the yard and have the dogs find it.
The last thing I want to do is poison my own dogs!
Tom30 saw a rat go under the house and something is digging up my spuds. I hate Maths, but it doesn't take much to put two and two together with this one.
I'd appreciate any tips to get rid of the rats without harming the little woofs. 🙂
Who needs a good slap: the rats.
Hate hate hate rats.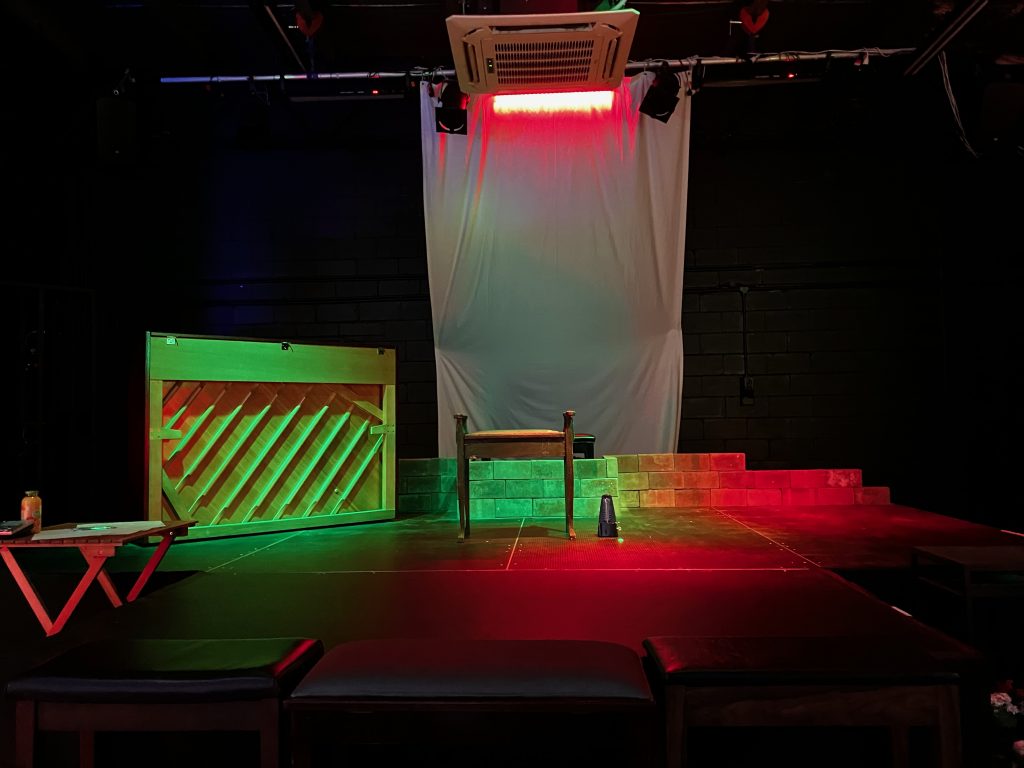 What has made me smile: Seeing Evan25's play on Saturday night.
Both photos on this post are from Evan25's play 'The Marvellous Life of Carlo Gatti'. He played a piano-playing ghost.
Ryan27 and I went to see him. It makes me so happy to see my adult kids performing in the areas that they're passionate about and are good at.
It makes everything worthwhile.
Dad joke of the day: