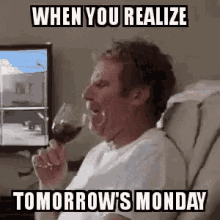 Well, well, well.
Here's an emotion I never thought I'd feel again.
When I retired in 2020 I put away all thoughts of going back to work as a regular gig. I had it in my head that maybe, if the stock market fell, I might do some casual teaching work, but aside from that, I was done with full-time work and all that goes with it.
Over the last couple of terms, I've done a lot of casual teaching days, which I fell into for a variety of good reasons.
Then, as you know, I picked up a 6-week contract to teach a full-time load for a friend who was taking Long Service Leave. That contract turned into 7 weeks.
So I'm now in the third week.
Yesterday after lunch, I started feeling down. I suddenly had no energy and all I wanted to do was sit on the couch and read.
I started sighing a lot and feeling vaguely aggrieved with my lot.
I forced myself up off the couch and ironed some work clothes for the week ahead – got to be prepared!! – and made some cheese and ham scrolls for Tom30 and my work lunches.
*sigh*
I took my water bottle from the dishwasher, filled it and put it out in the car. Took a couple of library books out there too, along with a coat. Fewer things to do tomorrow morning when I'm racing around!!
*sigh*
I fixed a problem with my quilt and started making dinner. Bolognese, because with only two of us at home we can have the same thing tomorrow night – to make it easy for me when I come home later than usual after going to see Mum and Dad after work.
*sigh*
It was about 5:50 when I opened the front door to take some recycling out. It had been raining earlier and the sky was a steely grey.
All except for the magnificent rainbow that stretched like a drawing along the length of my street in front of me. It was as if it had been designed to be viewed specifically from my front door.
Instantly, my spirits lifted.
I knew that come Monday morning, I'd enjoy being at school, teaching the kids and seeing some friends. Everyone is cheery, with only the occasional sulky adolescent having a bad day, and the time will slip by very pleasantly. Hell, there's even a morning tea planned to celebrate the principal of this campus getting the job as principal of the whole school next year, though I'd be having yard duty then. I still might be able to grab a cupcake on the way out.
I knew that it wasn't the job that's the problem. It's the lack of freedom.
Having the whole of 2021 off, even with the huge lockdowns that Melbourne had, was still the happiest year of my life. I had total control over how I spent each minute of every day. My kids are grown and I have no grandchildren, so the only beings that have any real pull on me for day-to-day needs are the little woofs. Obviously, I love them more than my kids- who wouldn't? – so they're no hardship to look after.
A whole year of total freedom. Think of that. I was never bored because as soon as I was doing an activity that began to pall, I'd simply stop doing it and move on to something else without giving it much thought. I knew that if the job wasn't complete, I could always revisit it tomorrow. After all, I have a lifetime of tomorrows stretching in front of me.
Every morning, as my feet hit the floor, I'd decide what I felt like doing that day. Would it be a quilting day? A gardening day? A reading day? A bit of each? Would I take the dogs to the beach or for a walk to the river? Would I visit a friend or stay at home like a happy hermit?
It was lovely. It was also lovely to contemplate that I (touch wood) have DECADES of this freedom ahead of me. I assume that one day I'll have grandkids that I might want to help look after, but until that happens I'll still have YEARS of totally selfish freedom to get out of my system.
So it's been interesting to observe how 35 weekdays blocked out of my calendar affected my Sunday afternoon mood yesterday. Keeping in mind, too, that this is with a job I enjoy and a school with truly well-behaved kids. How would I be feeling if I hated the job I agreed to do? I'm already thinking that Wednesday next week is the halfway mark – coincidentally a payday – and then I'll be on the downhill slide to the school holidays. Not long to go!
Of course, as soon as the alarm went off this morning I was back in the swing of it. My weekdays are a "same old, same old" routine that leaves no time for morbid self-pity and introspection. It's up and at 'em time! My morning is like a ticking time bomb until I'm out the door.
And each weekday at work brings its own little gifts. Half an hour ago I noticed that the yard duty I was supposed to have at recess has been given to a CRT, so I can now attend the celebratory morning tea. Yay!
So I guess what I'm saying is that getting the Sunday Blues was like having a nasty backwash from the past wash over me. I'd forgotten about it, but all of a sudden there it was. I'm also very well aware that I could have said no to this contract – this is something that I entered into voluntarily and for very good reasons. I'm not really regretting taking up the offer. It's just that now I know that there's a different way to live…
All I can do is press forward, knowing that in the grand scheme of things these next 5 weeks are just a blip and will slip by very quickly. I'll look back on these weeks and I know without a doubt I'll be glad I worked. This is the right thing to do right now.
This time constraint is only temporary. But it'll be interesting to see if this happens every week, or if it was just a one-time thing. Hopefully the latter. I can't rely on a rainbow to lift my mood every Sunday evening.
That'd be unreasonable.
Dad joke of the day:
Guess who I bumped into on the way to the opticians?
Everyone.