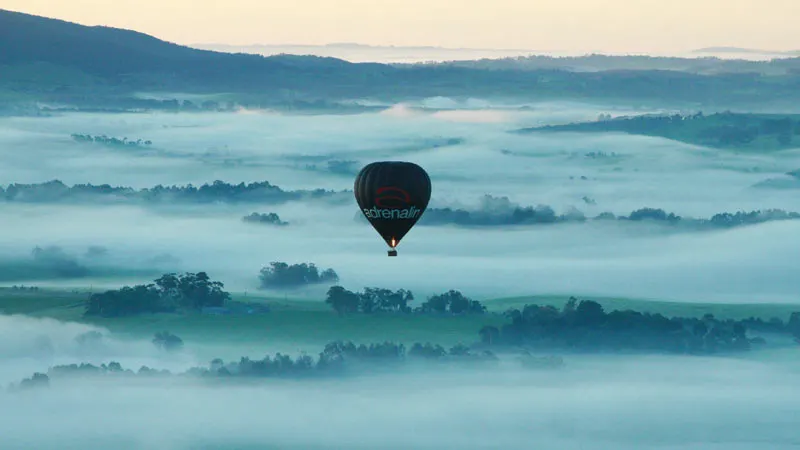 What's top of my mind: One of the loveliest things about driving to work.
When I don't have to be anywhere, my mornings tend to start slowly, with the little woofs and I on the couch all snuggled up, me with my laptop on my lap and a coffee. It's lovely.
But what's also lovely is when I'm driving to work along the freeway extension and I see hot air balloons hanging in the air on their way to Moorabbin Airport.
This morning there were only three of them. The clouds were dove-grey, almost blue and the balloons looked as if they were highlighted. It's a sight I'd never see from my house and I really love it.
Where I've been: My parents' place.
Mum and Dad aren't having a fun time at the moment. They're 82 and 84 respectively and they've both suffered major health problems recently. Dad has had a hip replacement that isn't healing well and Mum fell a couple of months ago and fractured her pelvis and also compressed a couple of vertebrae.
Their lives at the moment revolve around going to doctors' appointments, doing rehab exercises and taking pills. Mum doesn't drive anymore. My sister Kate drives down from the peninsula every week and takes Mum to the pool for her exercises and then takes her out to lunch and to do some shopping.
Now that I'm down in the area near them every weekday, I'm dropping in a couple of times a week, usually Mondays and Fridays. I figure that it gives a good spread of visitors and we can keep an eye on them.
Where I'm going: Shopping for Antarctica clothes.
Sometime this week I'll be going to Anaconda to look for waterproof trousers, a waterproof coat, hat and scarf. It's dawned on my mighty intellect that time is galloping towards my December 1 lift-off date, so I'd better start getting my act together.
I also have to see if I need visas for Argentina and Chile as well.
What I'm watching: Spring coming to my garden.
It's stressing me out! I've been lazy and I haven't done as much as I should have with regards to getting both my front garden and the veggie garden ready for the warmer weather.
I'm going to have to get my arse into gear this weekend and start throwing fertiliser, autumn leaves and sugarcane mulch around. Before I know where I am, I'll be wanting to start planting seedlings for our summer crops.
What I'm reading: Behind Her Eyes – Sarah Pinborough
Ugh. I hate ads for books that say "With a SHOCKING TWIST!!!" because more than half the time they're trying to sell a mediocre book whose 'twist' you can see coming a mile off. So if you click on the link, ignore that part, because this book is actually pretty good.
I went in cold, not having seen this ad. I just borrowed it from my library's eReader app because I needed a book to take with me. I enjoyed it, even with the touch of magic realism that I'm normally not drawn to.
Would recommend.
What I'm listening to: A Family of Strangers – Fiona Lowe.
This is a monster of an audiobook, running at around 16 hours long. It's good for the commute, though having listened to a lot of Fiona Lowe's novels this year, I've realised that she's certainly very fond of using a metaphor! Her books are packed with them!
Her books are great for getting involved with a community and delving deep into the characters' lives.
What I'm eating: Cauliflower Cheese and Macaroni Cheese.
Ryan27 has been living at a friend's place for the last few weeks and he's coming home today. Cauliflower Cheese is his favourite meal. He even requests it on his birthdays when he could have any meal he wants!
Tome30 hates cauliflower cheese with a passion, but he's partial to macaroni cheese… both are exactly the same dish with just the main ingredient substituted. I even bake them in the same dish.
So tonight, I'll be keeping both guys happy and having a super easy meal prep as well. These childhood dishes are the gift that keeps on giving.
What I'm planning: A hot air balloon ride.
It occurred to me as I was looking for the photo at the top of this post that I should make one of my Little Adventures next year a hot air balloon ride. I won't do it this year – Antarctica will be my focus – but next year? A different story.
When I took a helicopter ride two years ago when I stayed in Albury, I knew that every time I saw a helicopter in the sky from that time on, I'd think back to that experience.
Might be nice to be able to do that when I see early morning balloons on the drive into work. I think it'd certainly sweeten the morning.
Who needs a good slap: Me, for leaving the hatch open on the car when it rained.
It's been a week since I discovered that my boot was awash with water. I'm STILL having to leave the hatch open, with the spare tyre taken out and leaning against the back, whenever I'm home and the weather is fine. I thought I was nearly finished until I got home yesterday and checked. The carpet underneath the tyre was still wet.
ARGH.
What has made me smile: the flowers Tom30 bought me.
Five weeks ago Tom30 bought me a bunch of yellow daisies to thank me for the help I gave him when he was buying his unit. FIVE WEEKS later the flowers are still going strong.
I can't believe it! I've trimmed the stalks a couple of times and we change the water in the vase when we think of it, but those daisies are still as cheery as they were when he brought them home.
It's a miracle.
Dad joke of the day:
Went to a restaurant dressed as a tennis ball.
Got served immediately.