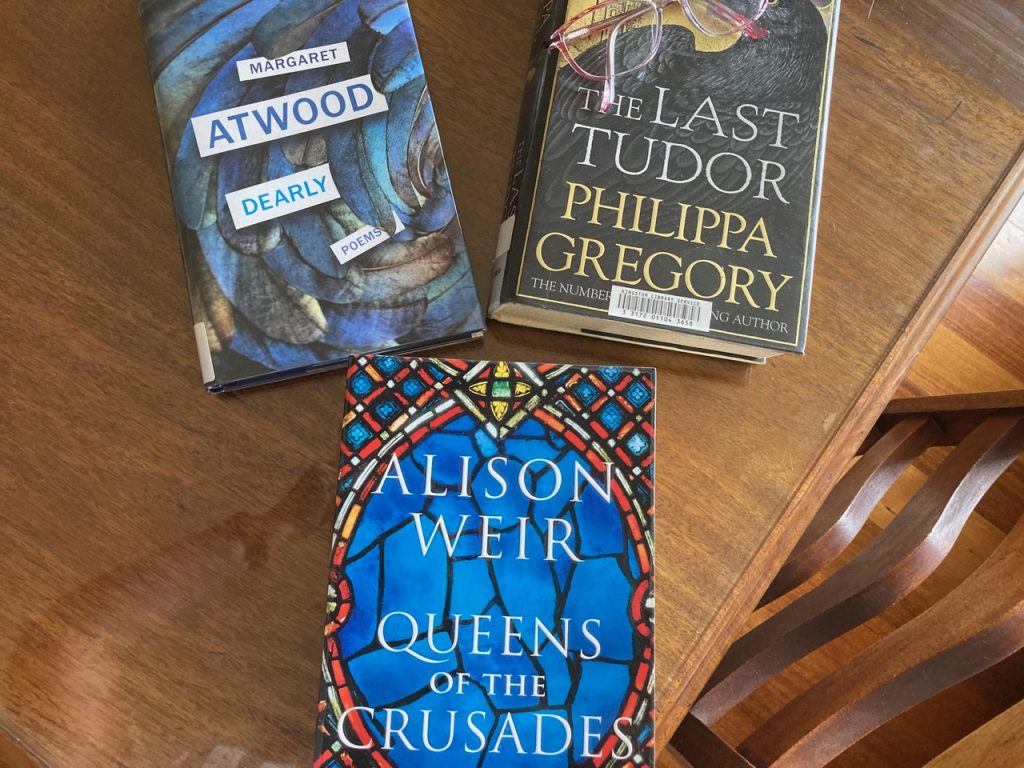 It's going to storm pretty heavily later today, so I decided to take the dogs and walk up to the library to return a couple of books and pick up an Atwood book of poems that I had on hold. It takes 6,000 steps to get there and back so it's a good walk to take when you've been a bit too 'at one with the couch' for a few days.
This morning I thought of another book that I've been wanting to read for a while. When I got there I posted my returns through the slot and then went to the door and called to the librarians. I had the dogs with me and there was no way I was going to leave them tied up outside. My dogs are too appealing – there's been an uptick in stolen dogs since covid hit and I don't want mine to be added to that unhappy crew.
As you can see from the photo – they already had "The Last Tudor", even though I only put it on hold an hour before. I was one happy customer!
As we were slowly striding home – Scout, being a miniature wire-haired dachshund, has very small legs – I idly began to think of how much money I was carrying home in these books. My father's remark of, "They're going to have to raise the rates!" flashed through my mind. He said this when I said that I'd started using the local library.
My rates are $1,800 each year. An average novel costs between $30 – $40. Say, just as a thought exercise, that each book costs $30. That would require someone to borrow and read 60 books in a year to "get their money back."
(I just want to make something clear. Long-term readers of this blog would be extremely sceptical that I was willing and able to do these mathematical equations. They'd be right. I did them on a calculator when I got home.)
When you consider that last year my Goodreads challenge was fulfilled by the start of December with 80 books read, then this challenge is pretty do-able. I've already read 28 books in 2021, so I think I can do this.
A few rules:
In order to play fair, I will look online for the paperback version price of each book. After all, I'm a tight**se. I'm never going to buy a hardback version of a book when the paperback version is available.
If any books I borrow are eBooks, I'll count the cost of the kindle version for this quest.
I will have a running total of this quest on the sidebar of this blog.
Even though I pay my rates in February, I will use the entirety of 2021 for this quest. It's easier.
If I do well at this, there's nothing stopping me from finding out how much I've paid in rates since we moved here to The Best House in Melbourne. A mega-quest will be to work at "earning back" all of the rates I've paid. (This could take a while…)
This quest ONLY takes into account the books I borrow from my local library. Books I borrow from friends or books I buy for myself do not count.
I've just looked up the price of the books in the photo on Booktopia.
Atwood's 'Dearly' only comes in hardcover. It comes in at $22.
Weir's "Queens of the Crusades' is priced at $28.
Gregory's 'The Last Tudor' is $31.
With the help of my trusty calculator, the total just with these 3 books is $81. So far, I've borrowed and read 22 books from the library.
This could be fun…