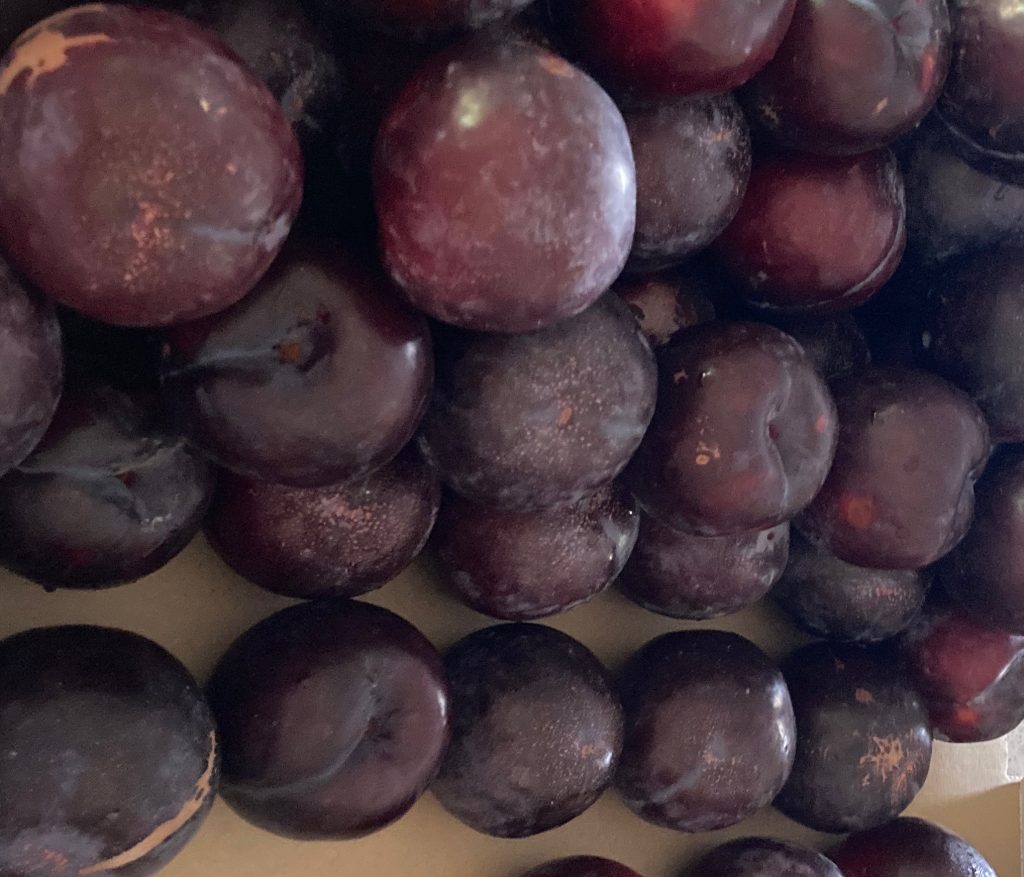 Last week on the Frogblog I talked about stewing and freezing blocks of plums to use in my breakfast for the rest of the year. It makes sense to buy up big while the fruit is in season and preserve it to last through the rest of the year. Today – it's apricot time!
As soon as I press 'publish', I'll be jumping in the car and hunting down a box of apricots.
I already grow my own rhubarb – a $7 baby plant for Aldi 2 years ago has been an excellent investment! – so in a little while I'll be buying a box of apples to make cubes of apple and rhubarb. My breakfasts will be healthy, full of variety and wonderfully easy. Oats, water, 3 cubes of fruit and into the microwave for 2.5 minutes. Couldn't be simpler!
A couple of days ago I went to Costco while Ryan27 was at a job interview. (Spoiler: he got the job as a myotherapist.) While I was there I saw bags of garlic, so I grabbed a couple. Probably tomorrow, I'll pop a podcast on the iPad and spend a tedious couple of hours peeling each clove. Then, I'll freeze them.
I saw a friend of mine pull out ready-to-use cloves of garlic from her freezer and it Changed. My. Life. Sometimes the most obvious hacks are the most brilliant. I love to use fresh garlic but it's a pain when it starts to sprout. This way – there's no waste and I always have it on hand.
Along with fresh ginger. I just buy a pack from Costco every 6 months or so, slice it into coins and freeze. Works brilliantly.
Preparing the garlic this way is a perfect representation of delayed gratification and long-term thinking over short-term. Peeling the garlic is a nasty job. It's boring and smelly and I'd rather be doing almost anything else. But the short-term pain is by FAR outweighed by the long-term pleasure of always having such a staple ingredient on hand whenever I want it. No rushed trips to the supermarket to get some more garlic for this little black duck!
Summer is the time when crops ripen and cooks all over the world start to frantically preserve the abundance for the leaner times. Usually by this time, I'm being overrun by tomatoes, but for the second year in a row, it looks like tomatoes are going to be a failure. Damn this El Ninâ weather pattern!
So, if I can't save money on growing my own tomatoes, I'll make use of whatever I can to fill the space in the freezers. It's really a no-brainer. I save money, I save time and it gives me peace of mind. Why wouldn't I do it?
Dad joke of the day:
Welcome to the plastic surgery addiction group. I see a lot of new faces here.