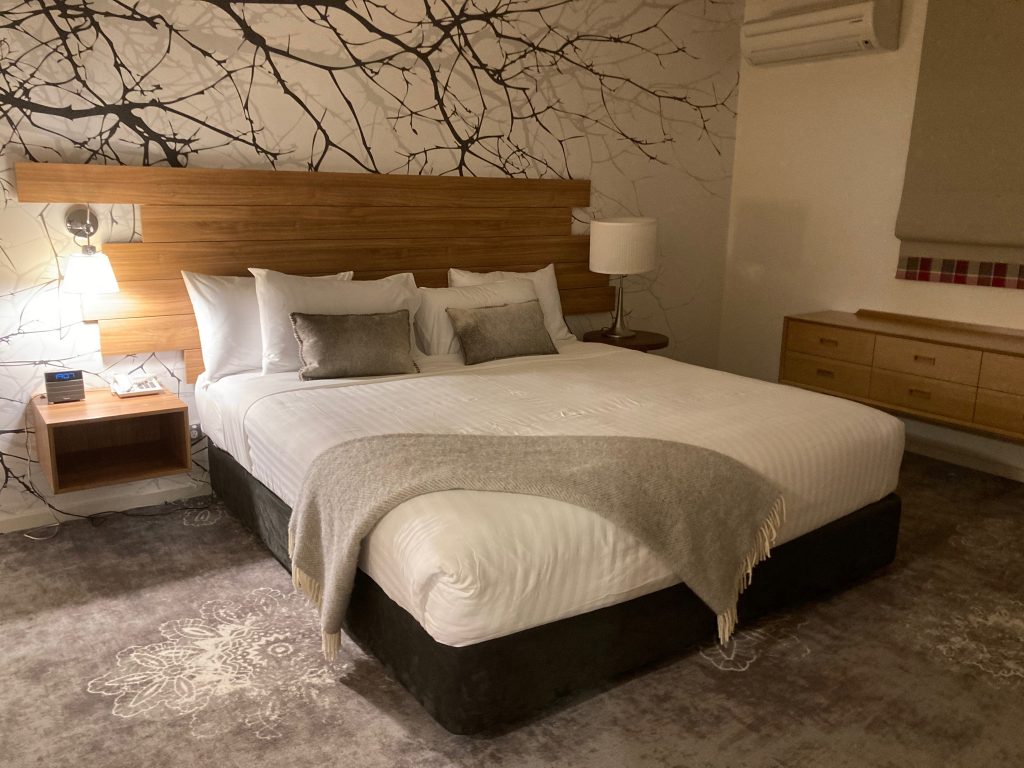 Many many years ago I bought into a time-share. I used to call it my second-biggest mistake, but now I'm not so sure that it was. (A mistake, I mean.)
I was attracted to this timeshare because of its relative flexibility. It uses points and has about 20 or so properties across Australia, New Zealand and Bali. You can use your points to reserve holidays across any of the properties – as long as they have the vacancies for when you want them, of course.
Mum and Dad have a couple of timeshares in Bali, but these are the old-style ones where you are only able to go to the same property at the same week/s each year. That doesn't suit me. I want to be free to see new things.
I bought into it back in 2006, just after I took the boys to Bali. I wanted to take them on more trips away and I thought it would force me to do that. I also had the VERY long-term thought that one day… having the points and properties available would allow me to give the boys accommodation for honeymoons to help save them money.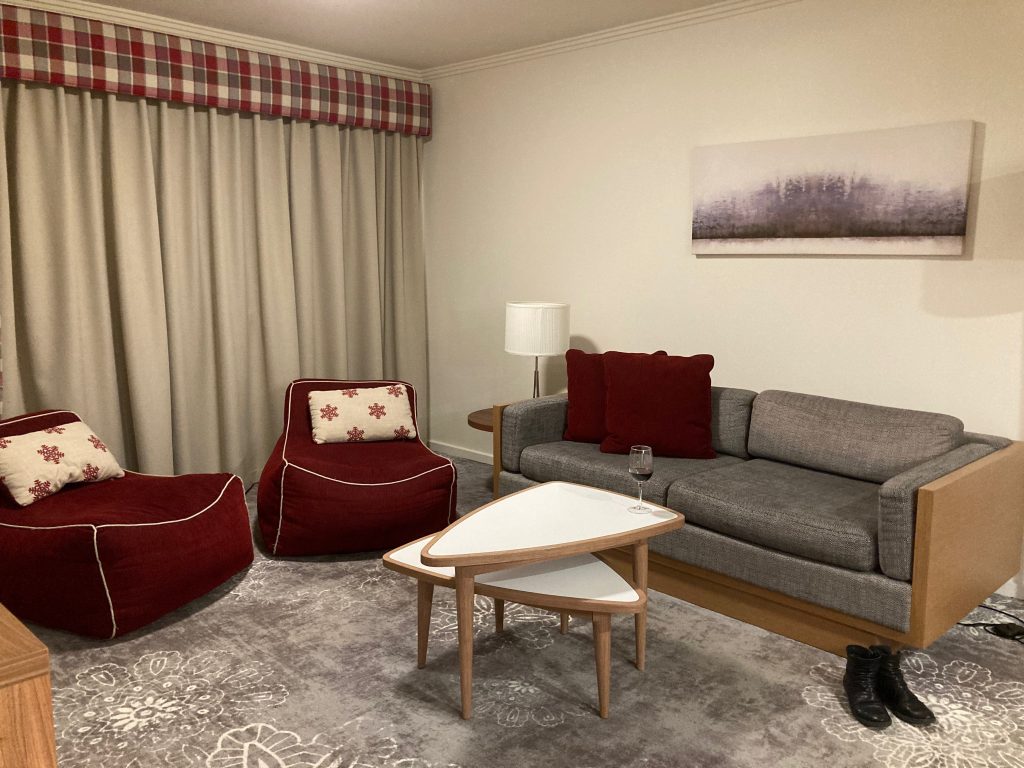 I've now found an unexpected benefit. When I bought into the timeshare, I bought into a level that allowed me to use a 3BR apartment for a week each year. I needed the space with the 4 boys. Now that I'm travelling on my own, those 5,000 points a year can be broken up into many more trips. If I feel like being luxurious, a 1BR space is more than ample. A studio apartment is perfectly fine if I want to squeeze more value from the points.
Last week I was THRILLED to be able to book David27 and Izzy's honeymoon accommodation in New Zealand. I play the long game in a lot of things and so it was incredibly satisfying to have a plan come together.
But when I was on the site, I saw that I had just under 5,000 points that needed using up before June 30 this year.
Yikes! With all of the lockdowns last year, it completely slipped my mind that this could happen. I grabbed a calculator and a calendar, logged onto the website and started reviewing my options.
So far I've booked a week in Manly Beach in Sydney at the end of June. Then I thought, 'What am I doing this coming weekend?' Nothing on the calendar… so I looked at what was available within driving distance. The Sebel Pinnacle Valley resort at the foot of Mt Buller had a 1 bedder free.
So off I went.
I arrived after dark on the first night, as I picked up a CRT day at school. I brought food (of course – the restaurant on-site is expensive), so I had a relaxed night in front of the tv and rolled into a bed I didn't have to share with Poppy and Jeff.
The next morning I was woken by kookaburras. I was enchanted. I know I'm in the country when I hear this!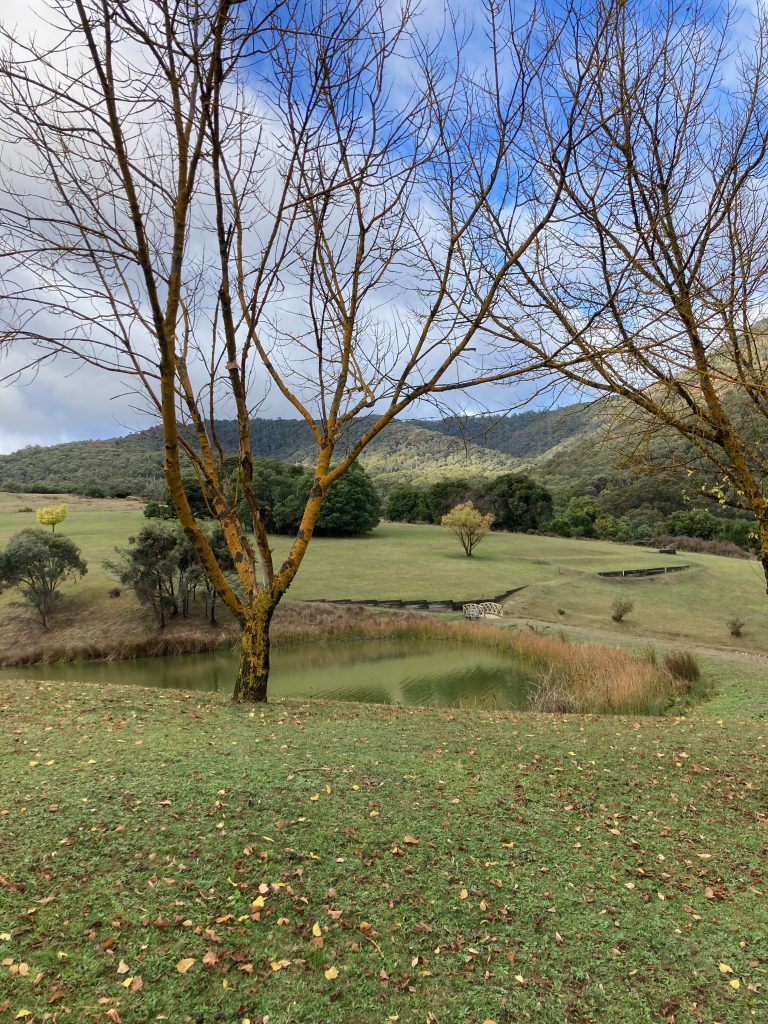 After a leisurely breakfast, I decided to go for a walk around the lake. The air, being up so high in the mountains, was cold and crisp, but it's not snow season yet so it was pleasant. (Snow. Ugh. So uncivilised!)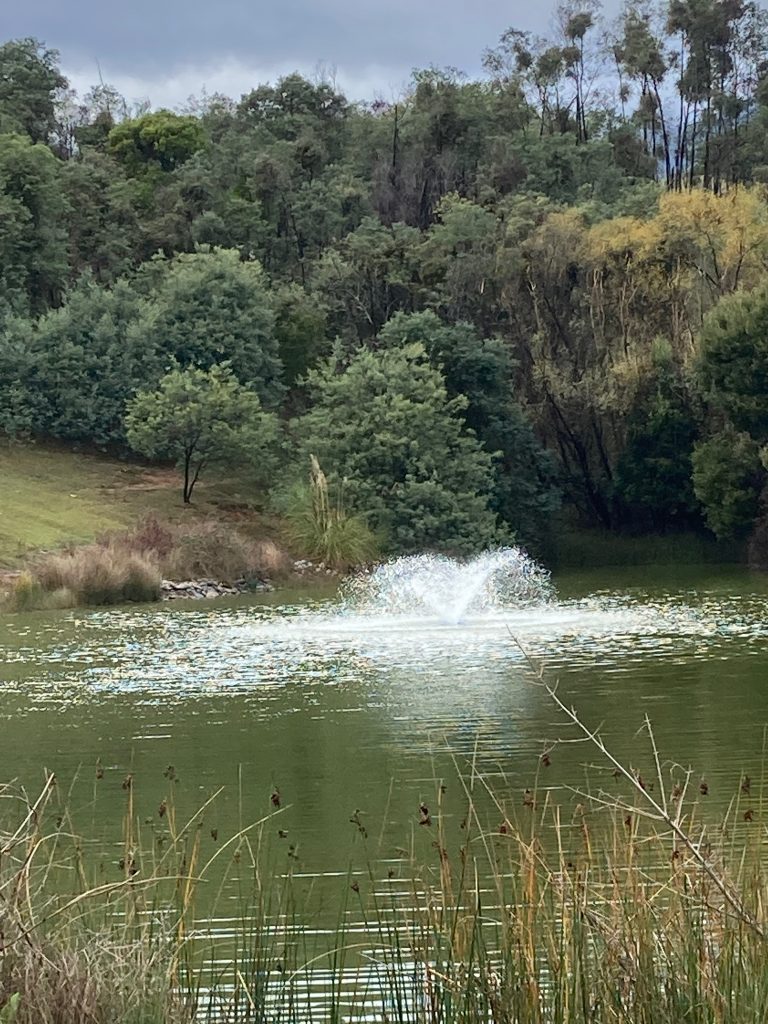 As I was walking I heard the kookaburras again, along with lots of magpie song. We have maggies at home, but their song is beautiful. Here's a clip for overseas people who might not have heard it: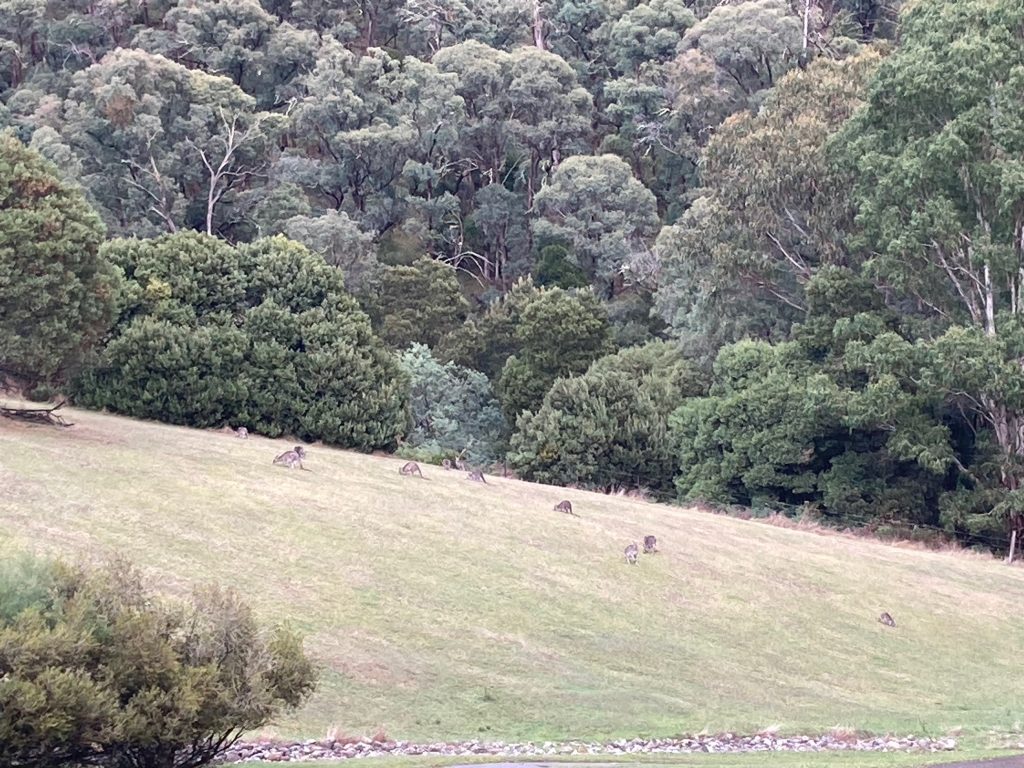 I'm a bit cross with this photo because the kangaroos were far closer than it appears. Anyway, here are some kangaroos!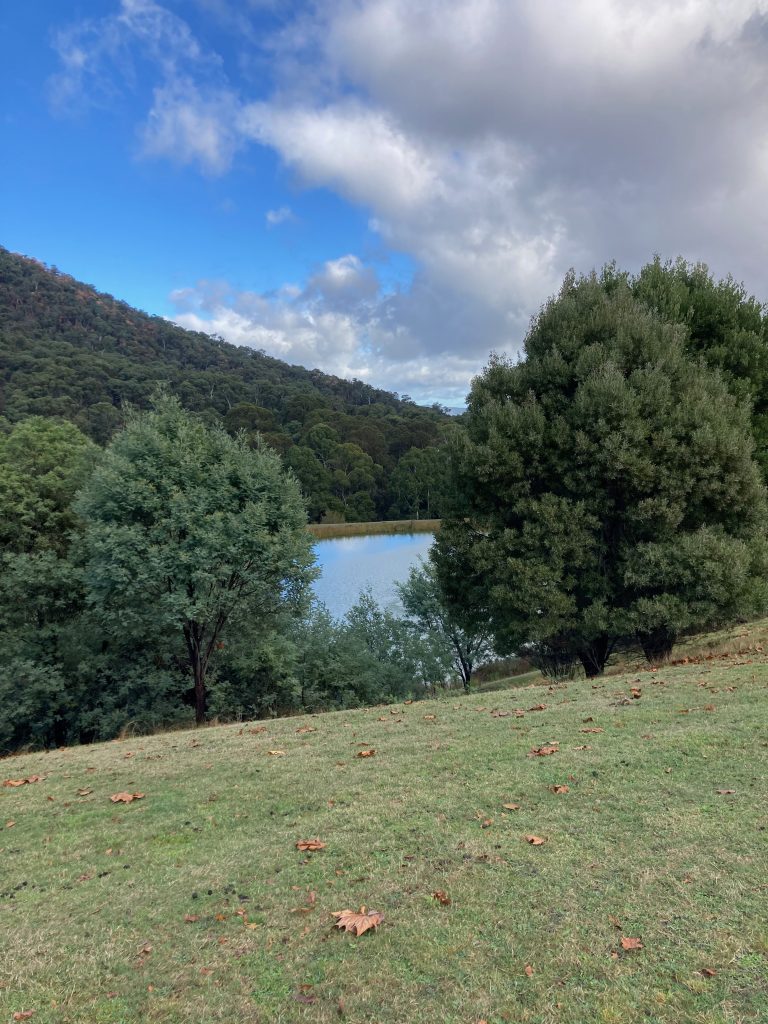 I finished the lake circuit and headed back, where I saw this: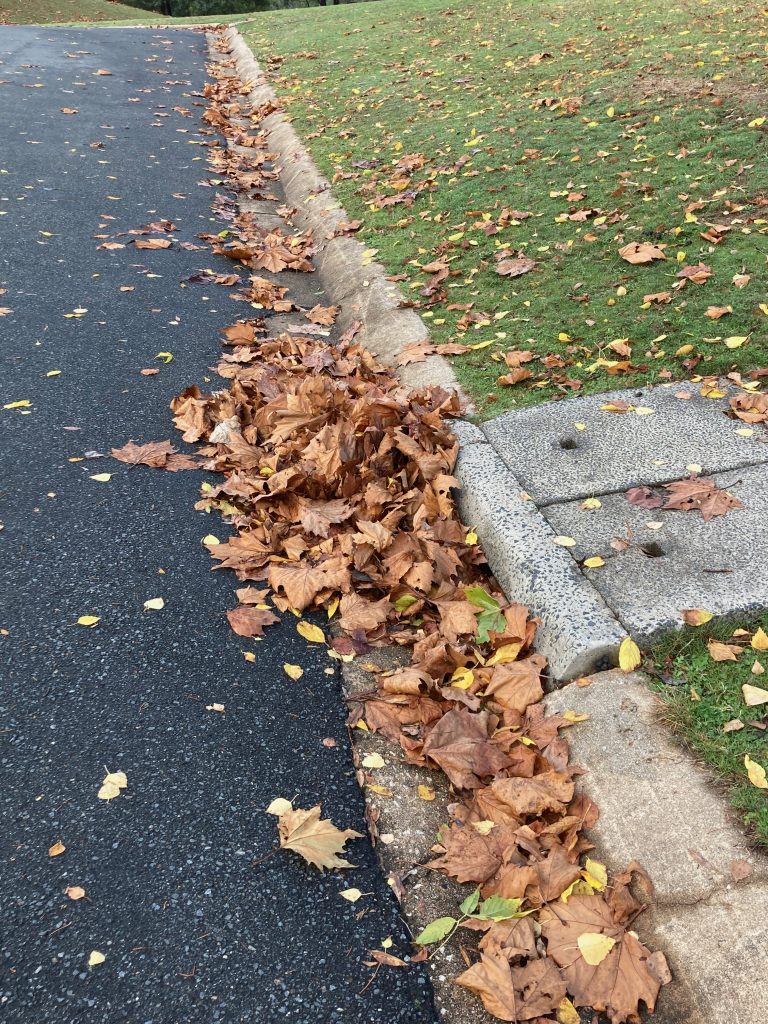 Remember last year when I collected 9 garbage bags full of leaves for the veggie garden? I had a few garbage bags in the car so I helpfully unblocked the drain.
A short time later I was in the car and driving down the driveway. I decided I'd turn right once I hit the main road. I had a vague idea I'd explore a little country town or something.
I had no idea that the next stop was Mt Buller.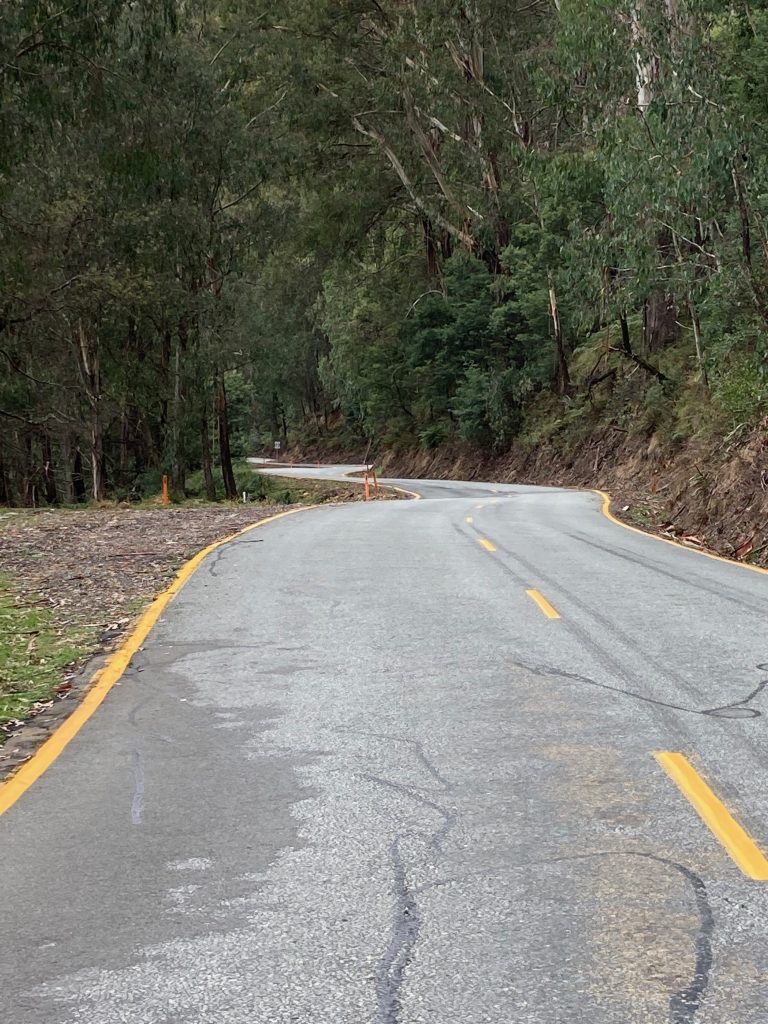 The road is pretty much a one-lane-each-way all the way up the mountain for about 20 kms. I imagine that it'd be pretty frustrating during snow season, but I was literally the only car on the road. I zipped up there, really enjoying the drive with no slow coach in front of me spoiling it.
Same on the way back.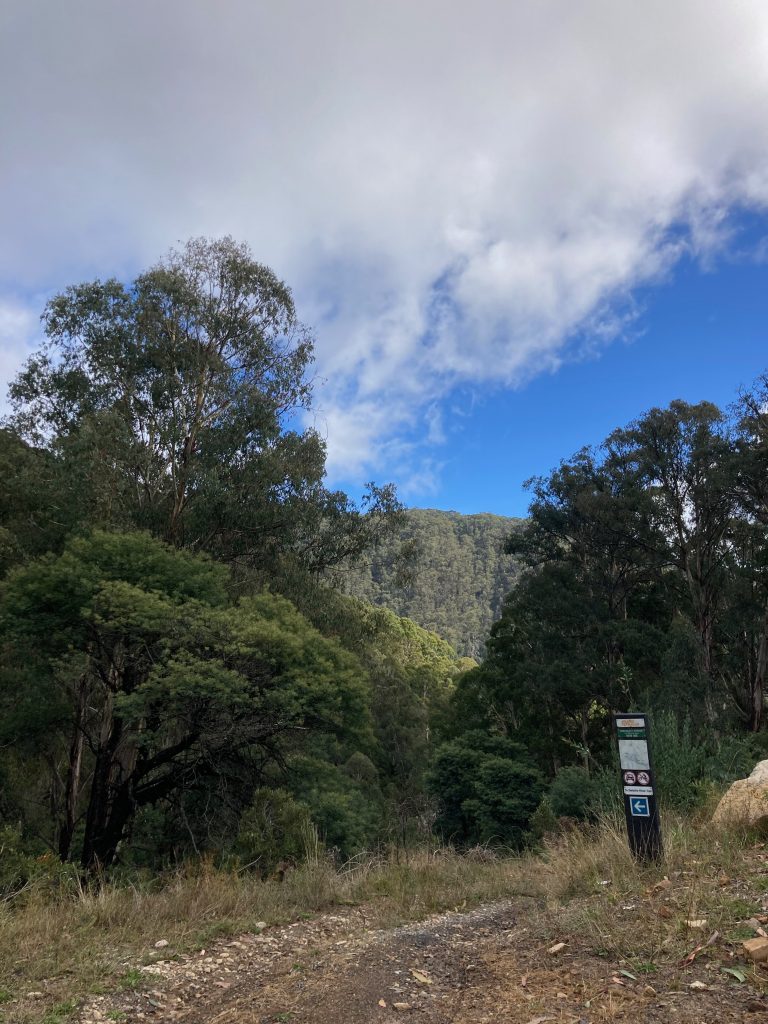 Along the way there were some pretty spots: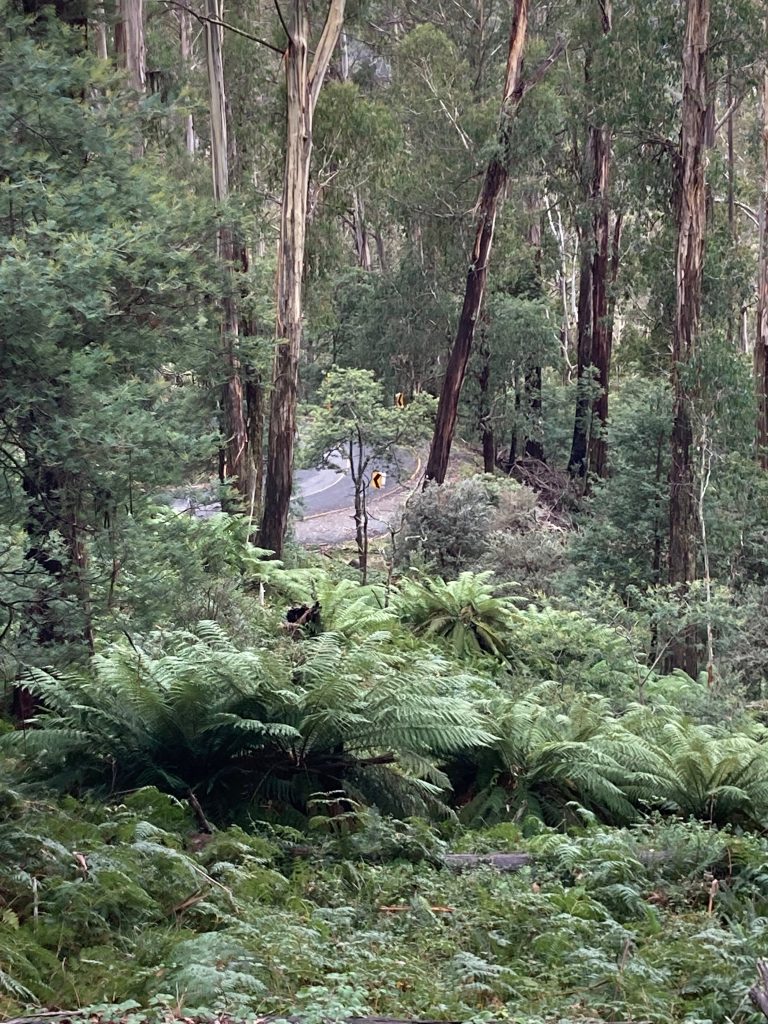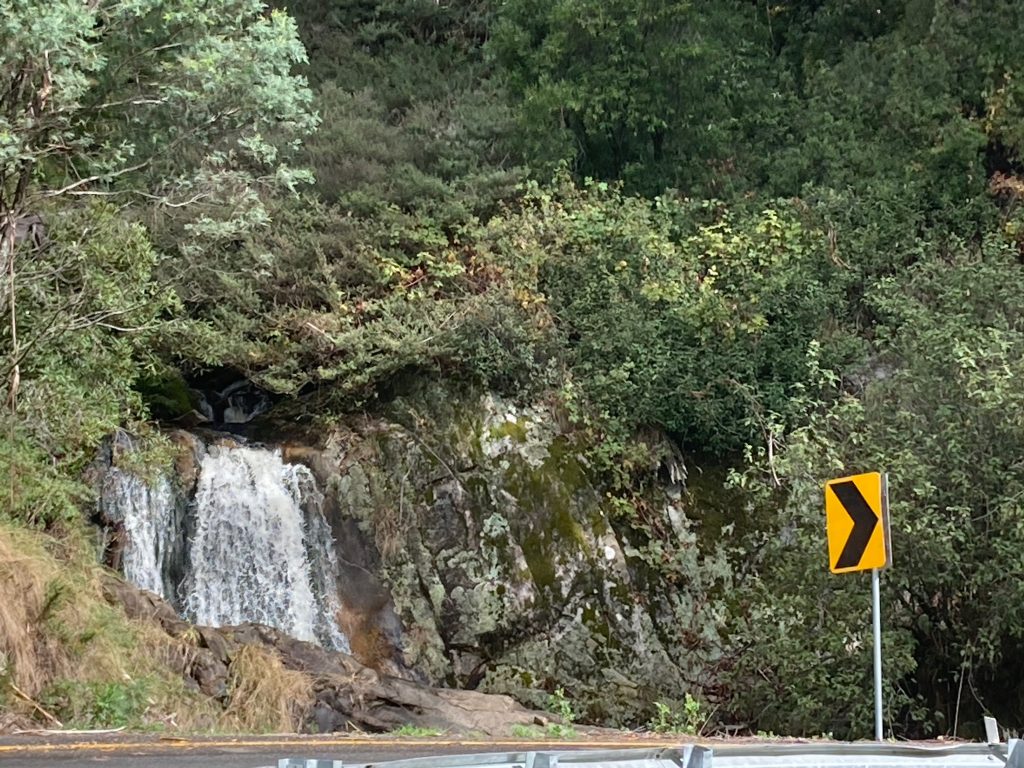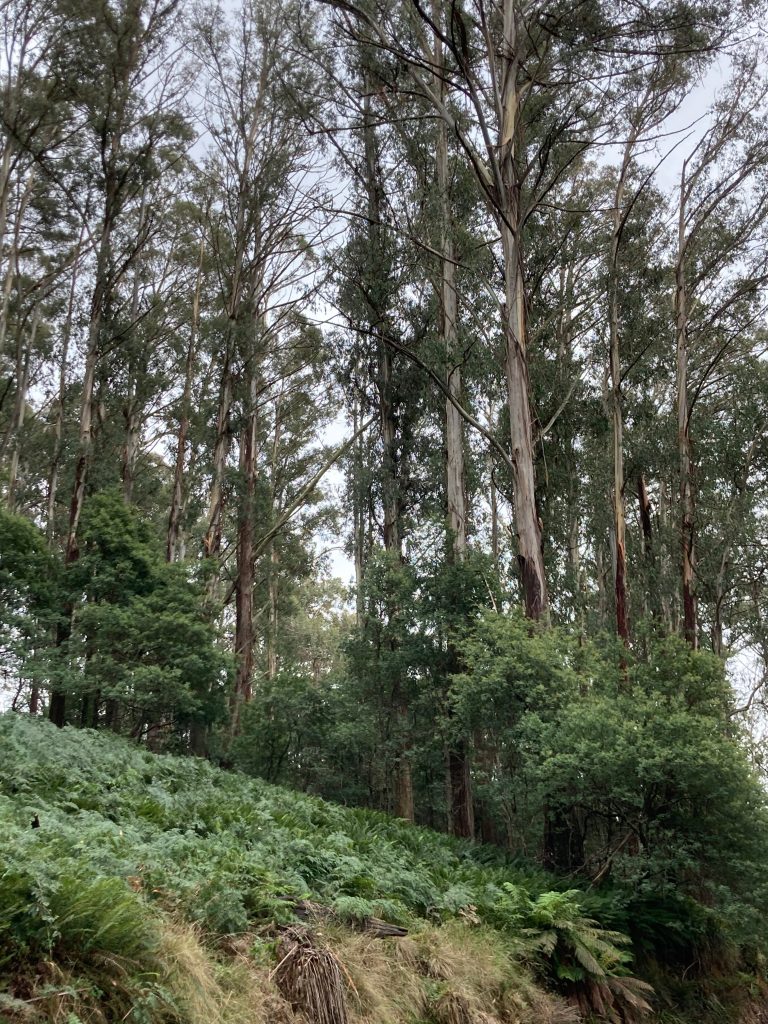 When I reached the Mt Buller resort, I decided that I'd park the car somewhere and walk to the summit, then come back and grab some lunch. The place was pretty much a ghost town. There were a few people around, but mostly, I had the place to myself.
I found a track to the top and set off.
It was a cold morning and rain clouds were gathering. I didn't bring a coat but I figured that I'd be fine with just a jumper. The track was clearly marked, but steep. At first I was walking fast but then it occurred to my mighty mind that I wasn't racing anyone, so I took my time.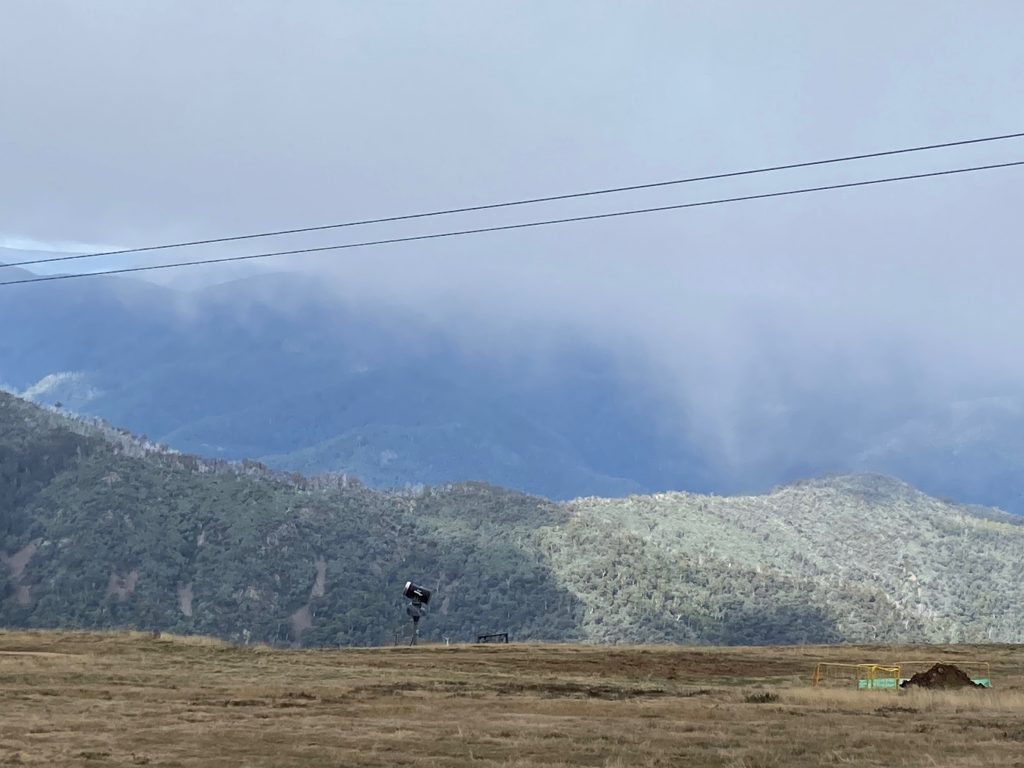 I don't know if anyone else read the Silver Brumby books when they were a kid? I loved them. As I was walking, I was wondering if maybe there were brumbies hanging around on the mountains.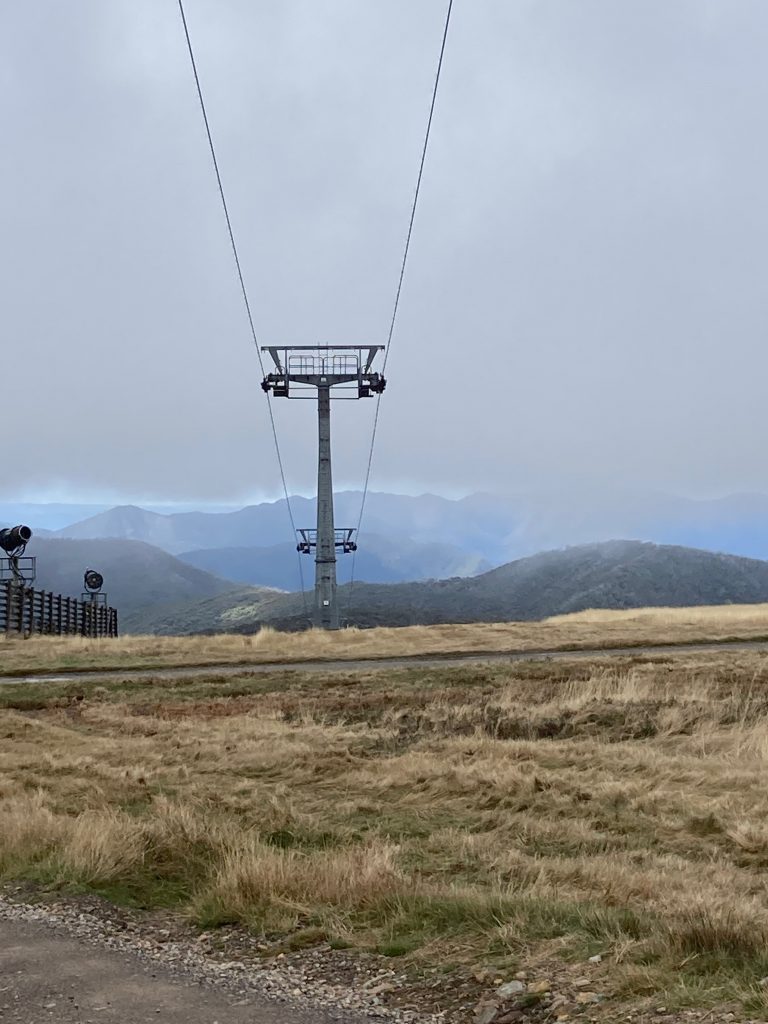 The chairlifts looked almost sculptural, hanging motionless.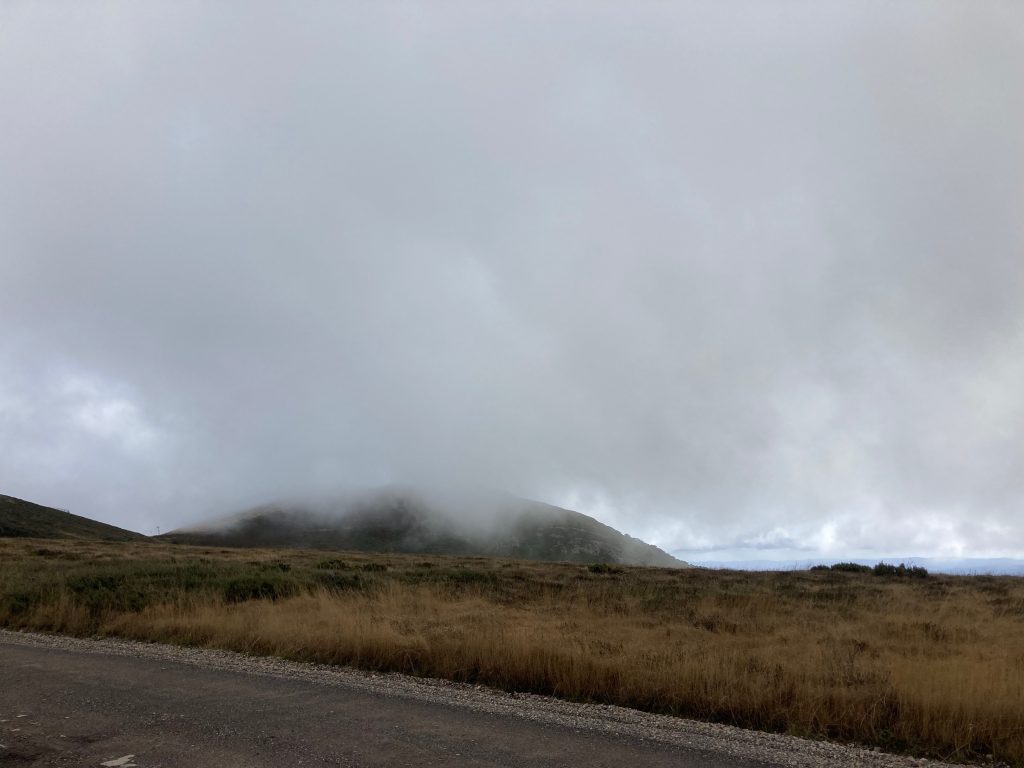 I kept walking. This mountain track kept going up. And up. And up.
At one stage I was thinking about turning back. The clouds were coming closer and I was getting out of breath. But then I saw these signs… taunting me…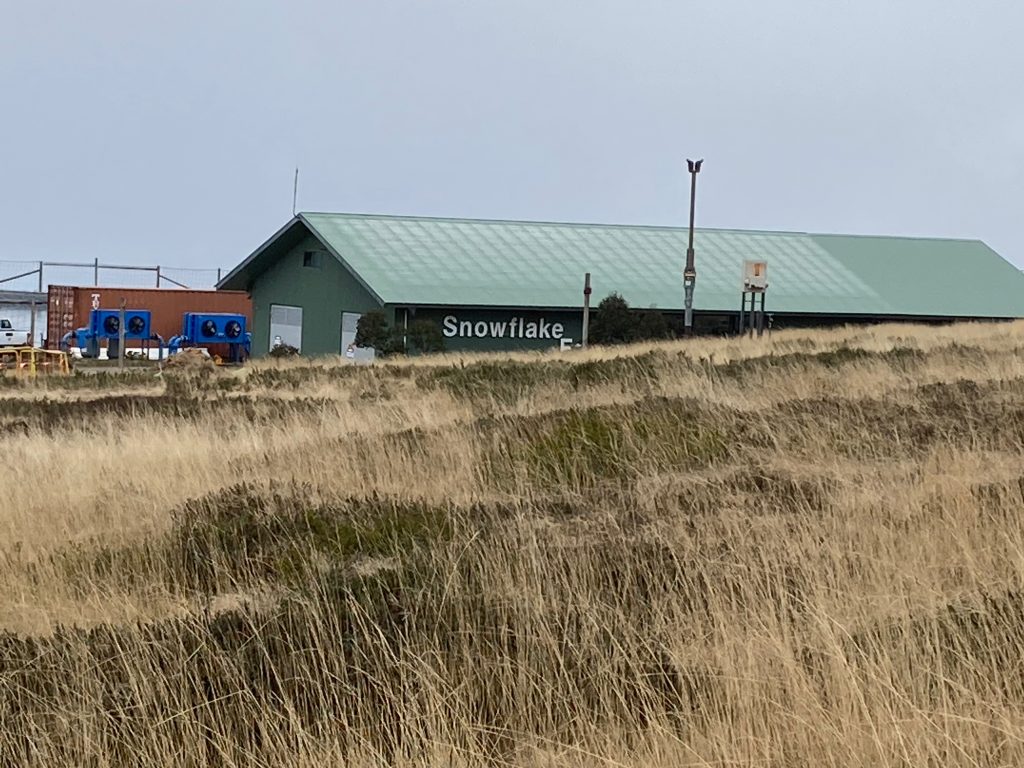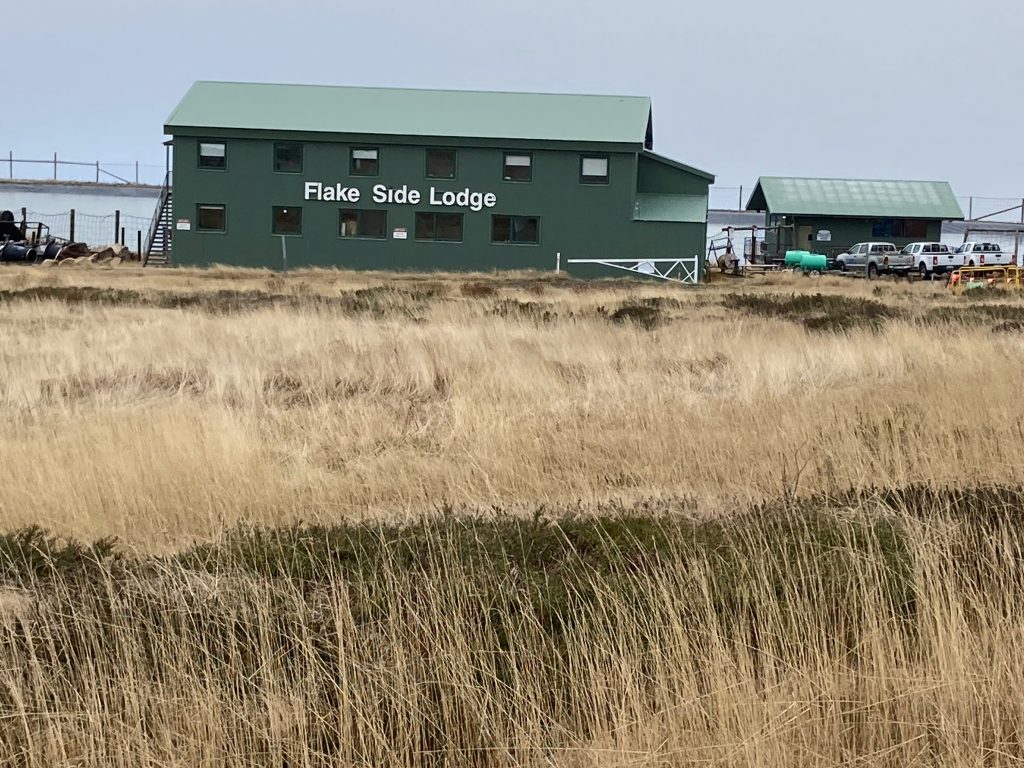 I knew I had to keep going. No building was going to taunt me and get away with it!
But as I kept walking higher, the clouds descended. I was so very close to the top, but when I looked around all I could see was this: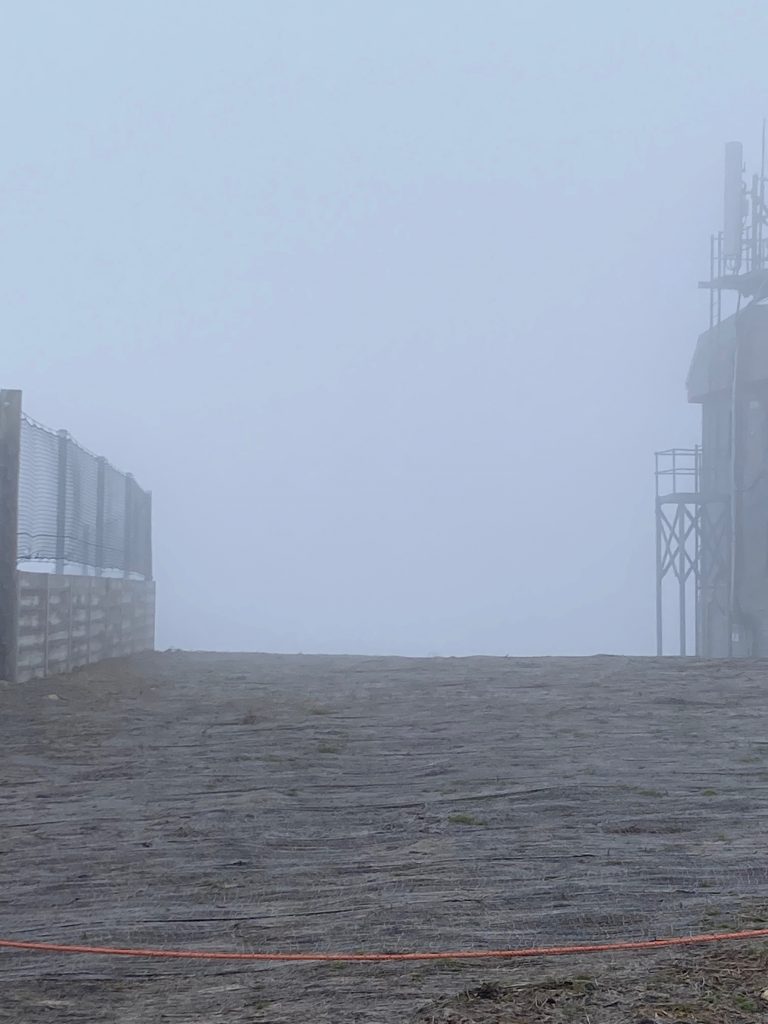 And this: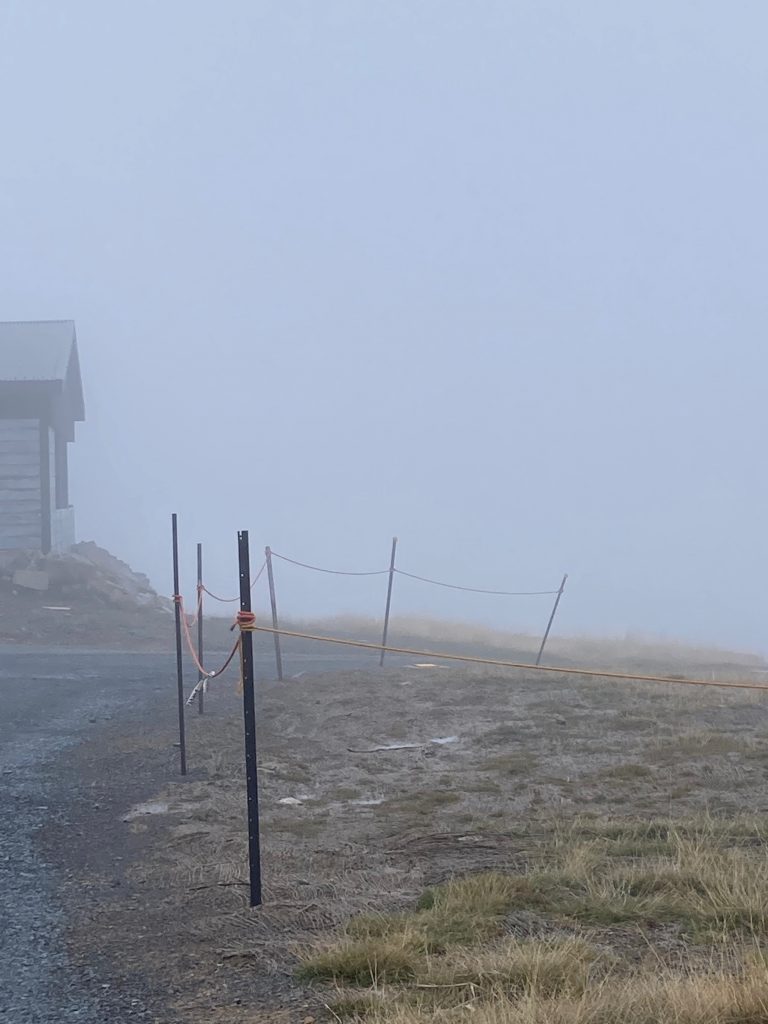 However, soon I had to call it a day. The clouds descended and I couldn't see more than a few metres in any direction. I was so close to the summit, but I wouldn't see anything if I got there.
I decided that close enough was good enough – no point busting a gut if I couldn't see anything when I got there – and walked back down, starting to think about lunch.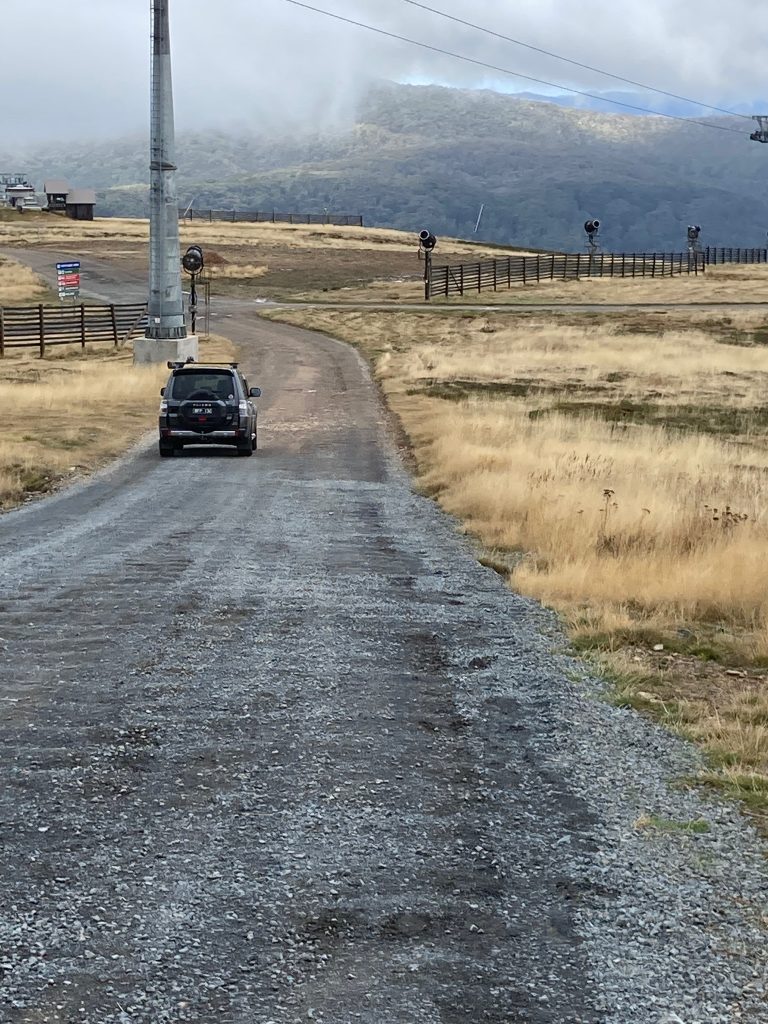 To my chagrin, as I was walking down I was passed by a car.
You mean I could've driven all the way up??!?
Anyway, I made it back to the car and drove around, looking for a cafe.
My plan seemed like it was about to come undone. NOTHING seemed to be open! The one time I decided to treat myself to a meal and this happens!
Fortunately, I asked a workman and he pointed to two places. One was nearby, the other was up quite a steep hill.
LOL. As if I'd be walking up another steep hill anytime soon!
Imagine this place in a couple of weeks time in the snow season, once the snow has started to fall. A Saturday lunchtime. I'm sure the place would be full.
I ordered my meal and settled down with my book.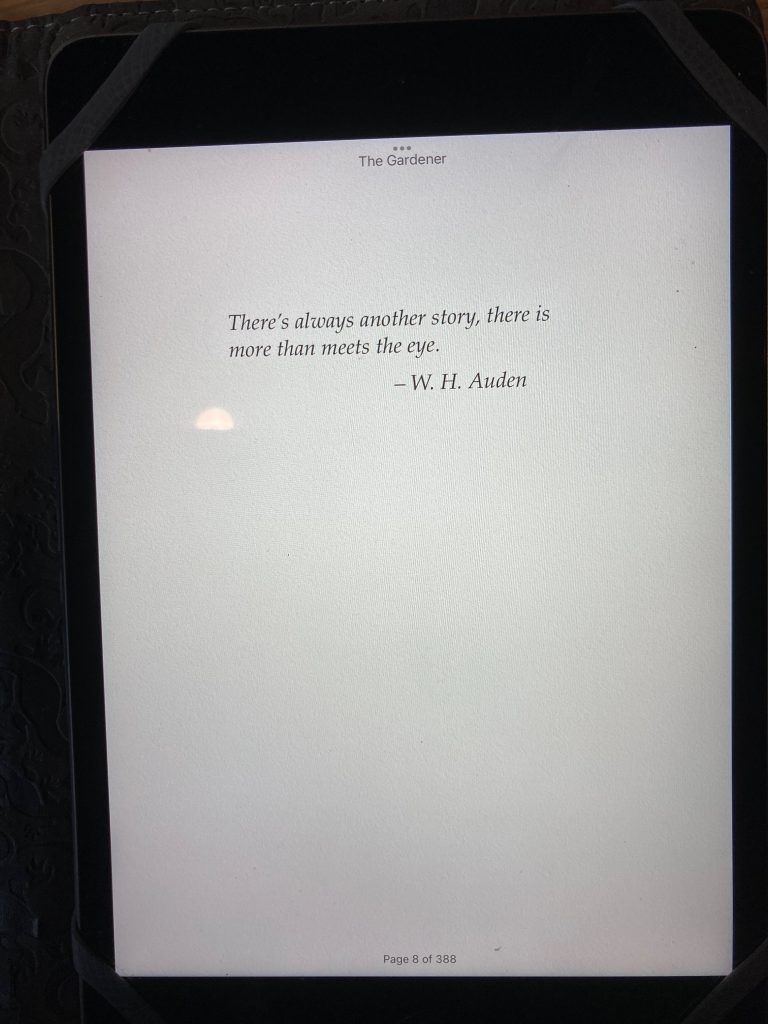 I really liked this quote. Just thought I'd share.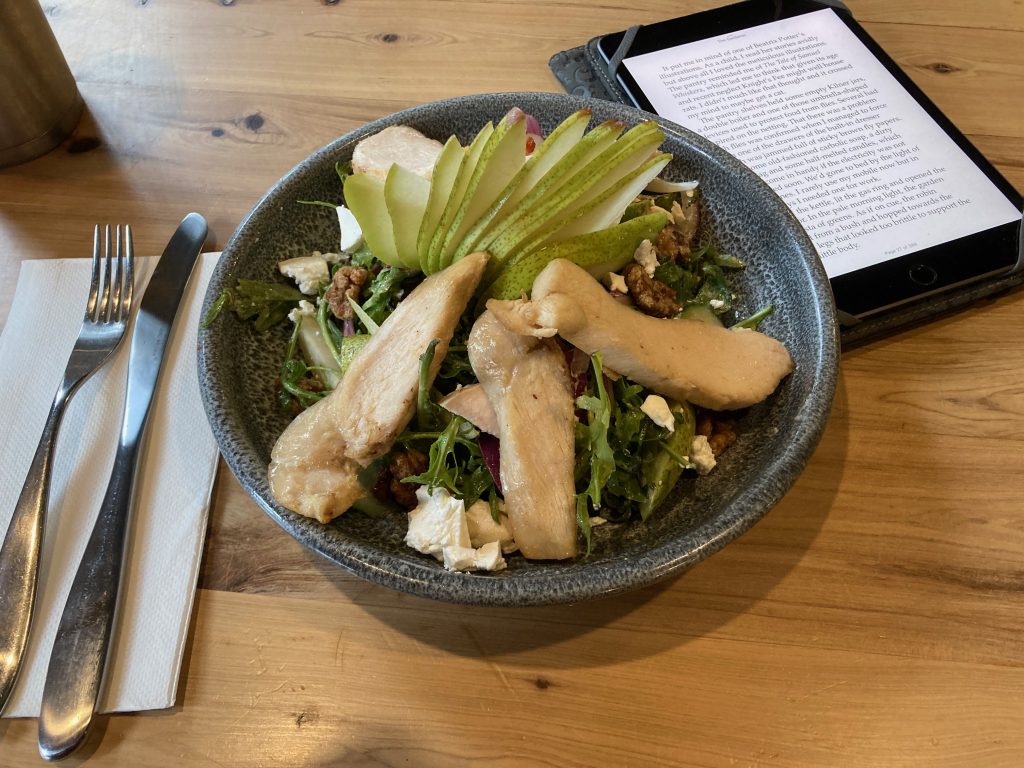 The pear and rocket salad was delicious!
After I had lunch, I wandered around the place on the way back to my car.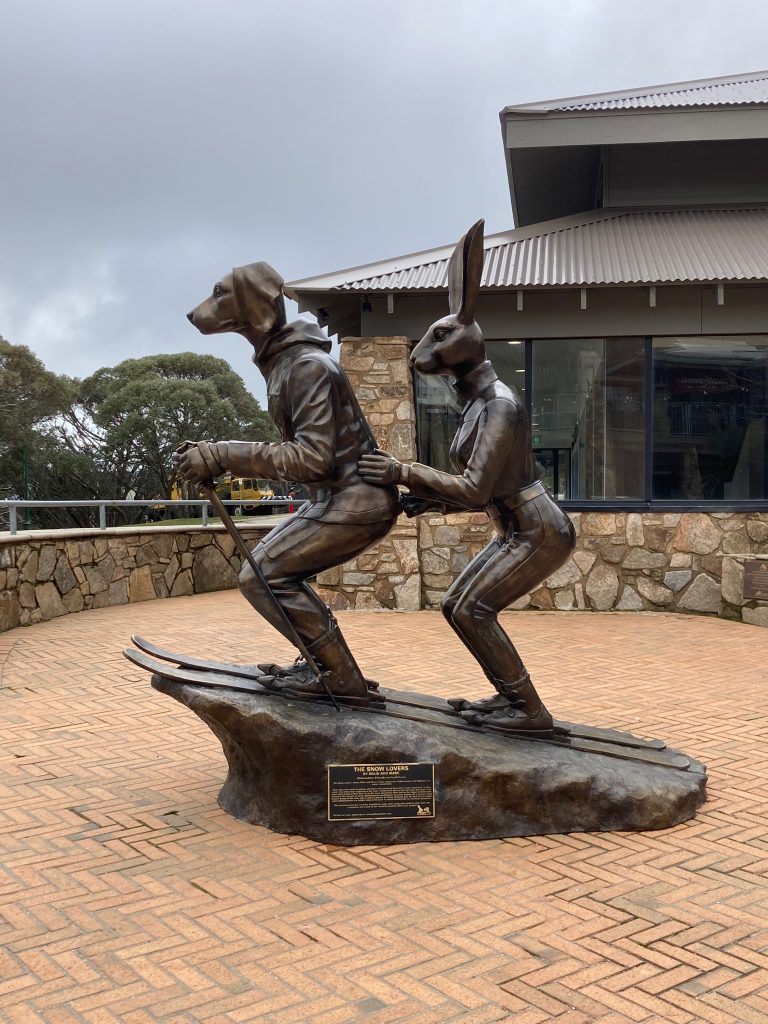 There was absolutely no one around.
There didn't seem to be anything left to see here, so I jumped back in the car and headed down the mountain again.
My original plan was to see what was around in Merrijig, the closest little town to my resort, but there's no actual town, just a couple of pubs. I kept going and hit the next town, Mansfield.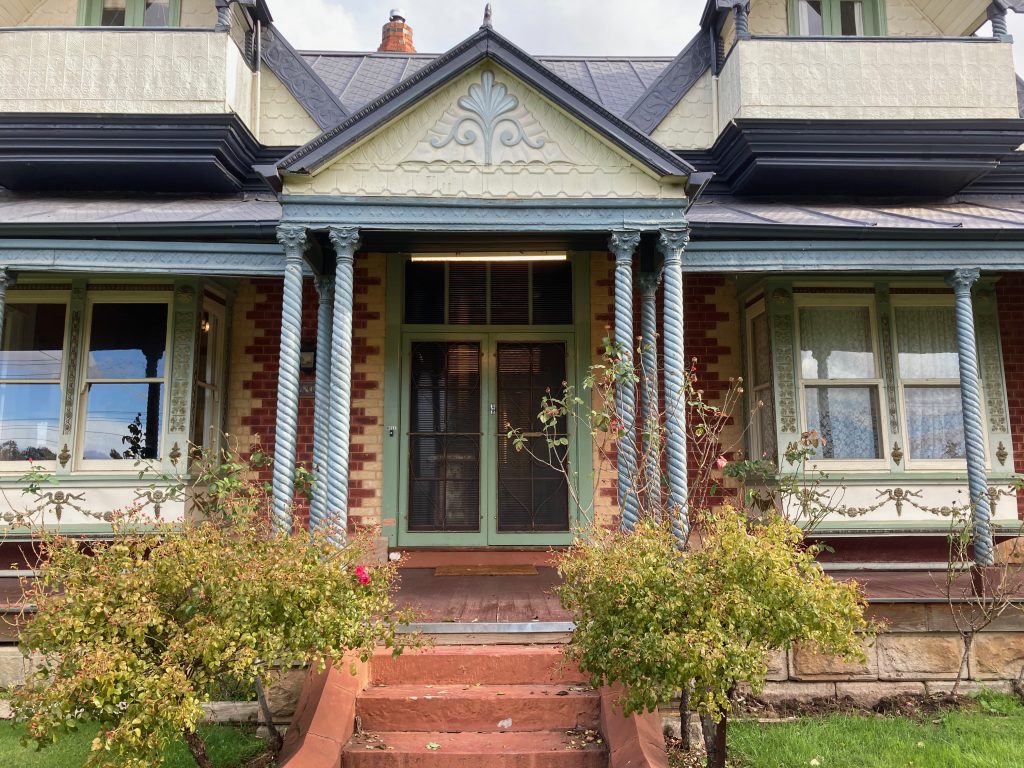 As I was driving through, I saw this cute little cellar door for Ros Ritchie wines. I've never heard of them, but the thought of a little wine tasting on a nippy autumn afternoon sounded Just The Thing, so I went in. Sip some wines, buy a bottle to be polite, read my book while I'm doing it.
The joint was jumping. They had a bus tour out the back, with 50 people tasting the wines. There were 2 parties going on and some couples enjoying wine and cheese platters.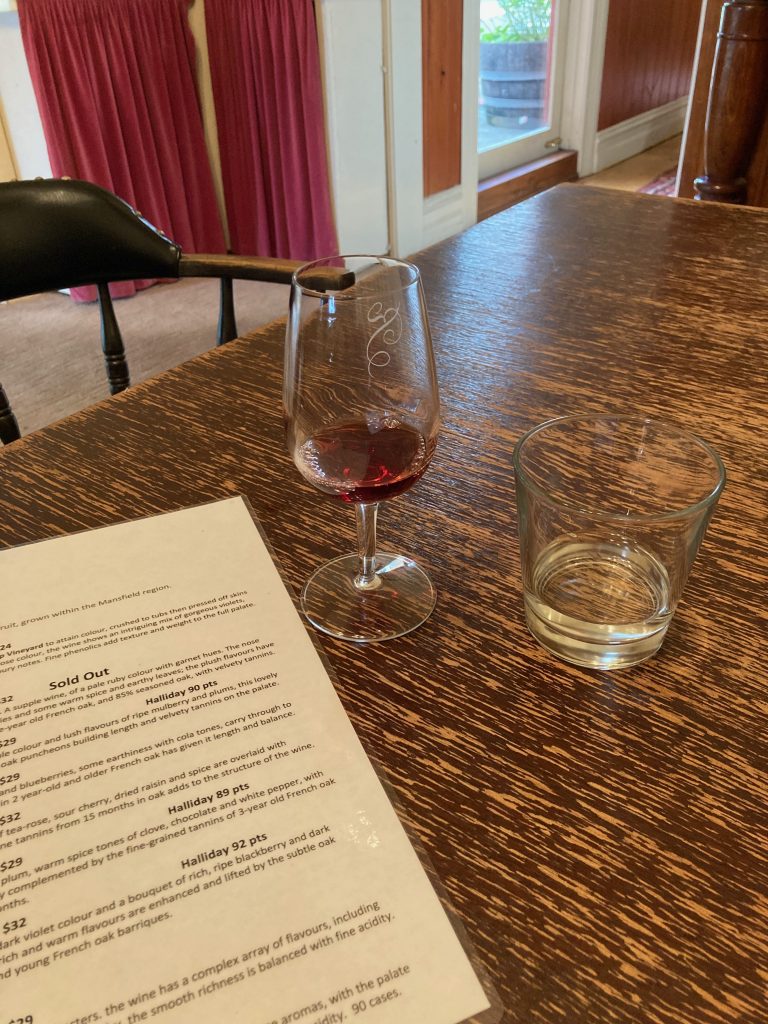 The young guy running the tastings sat me by the fire and then gave me a menu.
"All the tastings are free," he said, which surprised me a bit. Last year when I went to the wineries in South Australia with Jenna's parents, there was a charge per head to do wine tasting. He asked if I wanted to start with a sparkling wine, but when I said that i still have 8 bottles left over from David28 and Izzy's engagement party, we started with a white.
This guy was so good at his job. He was racing around looking after everyone inside, but whenever he came back with the next wine for me to try, he's stay and have a chat about the flavours and aromas. I didn't feel neglected at all. In fact, it was entertaining watching him keep all those plates spinning! When I got home I sent an email to the winery, commending his work.
I walked out with 5 bottles. It was very nice wine.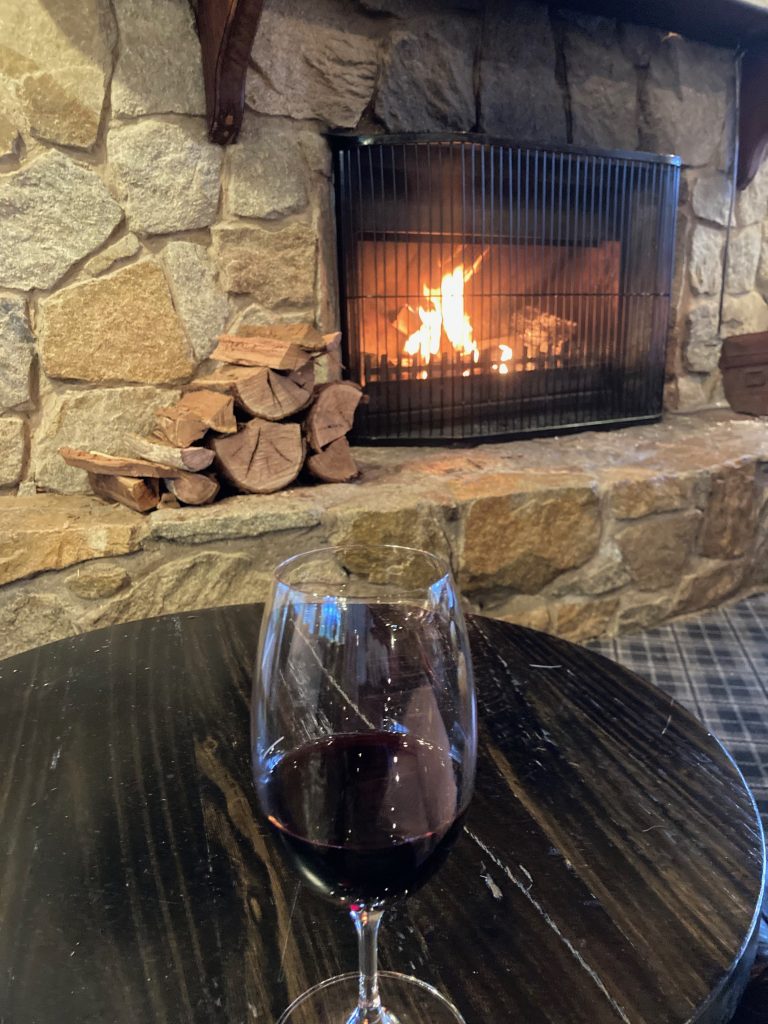 It was getting close to 5 PM, so I headed back to the resort. I had a voucher for a free drink at the restaurant, so I settled in beside the open fire with a cheeky shiraz and my book. The autumn colours were able to be seen from every window and it was too early for the dinner rush. I enjoyed the vibe until my iPad ran out of batter and my book died. Home to my room and a 'Big Bang Theory' marathon.
I had a plan for the next day to drop in at the Healesville Sanctuary on the way home, but I think I'm the sort of traveller that once the car is pointed towards home, I just want to get there. Is anyone else like that? I saw the turn-off to Healesville but took the turning for Melbourne.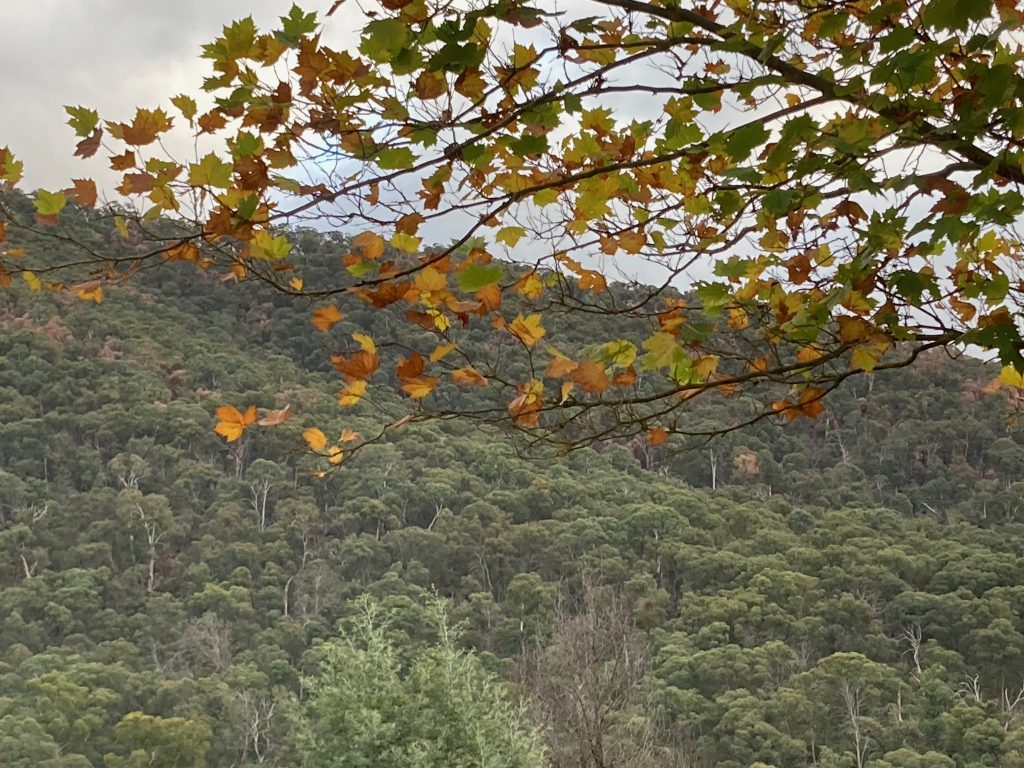 This was a very peaceful, relaxing break. As much as I love my house, it was lovely to get out and see mountains, trees, cows and kangaroos instead of suburbia.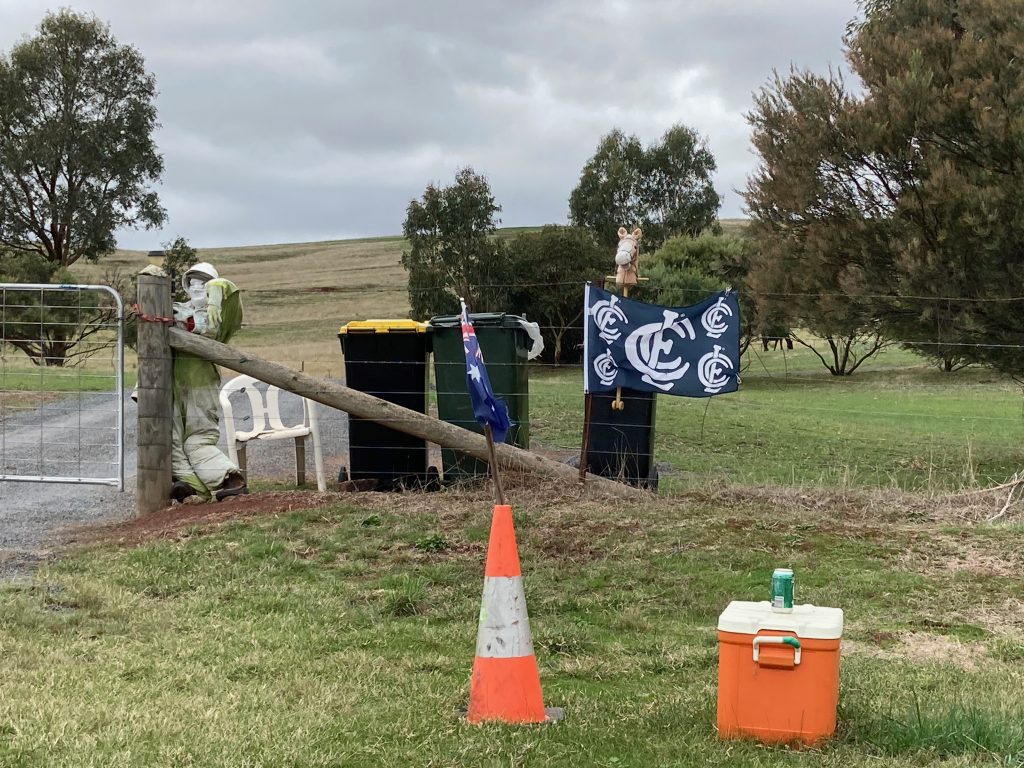 Plus there's not too many driveways that look like this where I live – ESPECIALLY with the best footie team!
I've popped the wine I bought at the winery away. Later in the year, I think it'll be cool to open a bottle and remember my little getaway.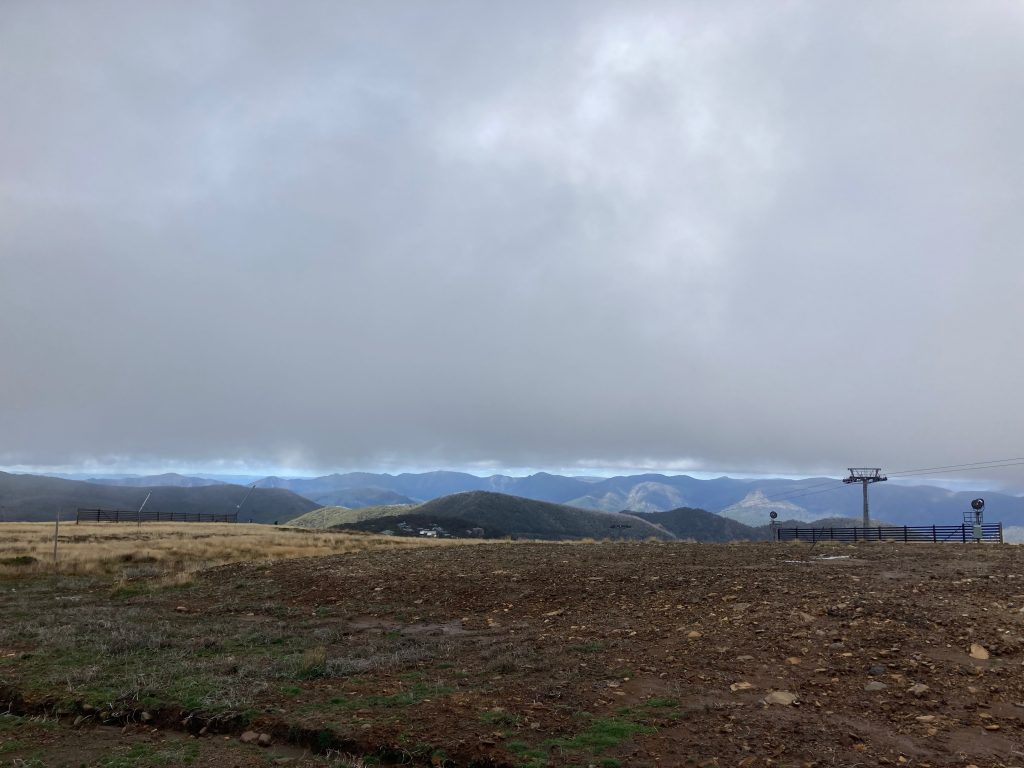 Dad joke of the day:
To the person who stole my place in the queue – I'm after you now.