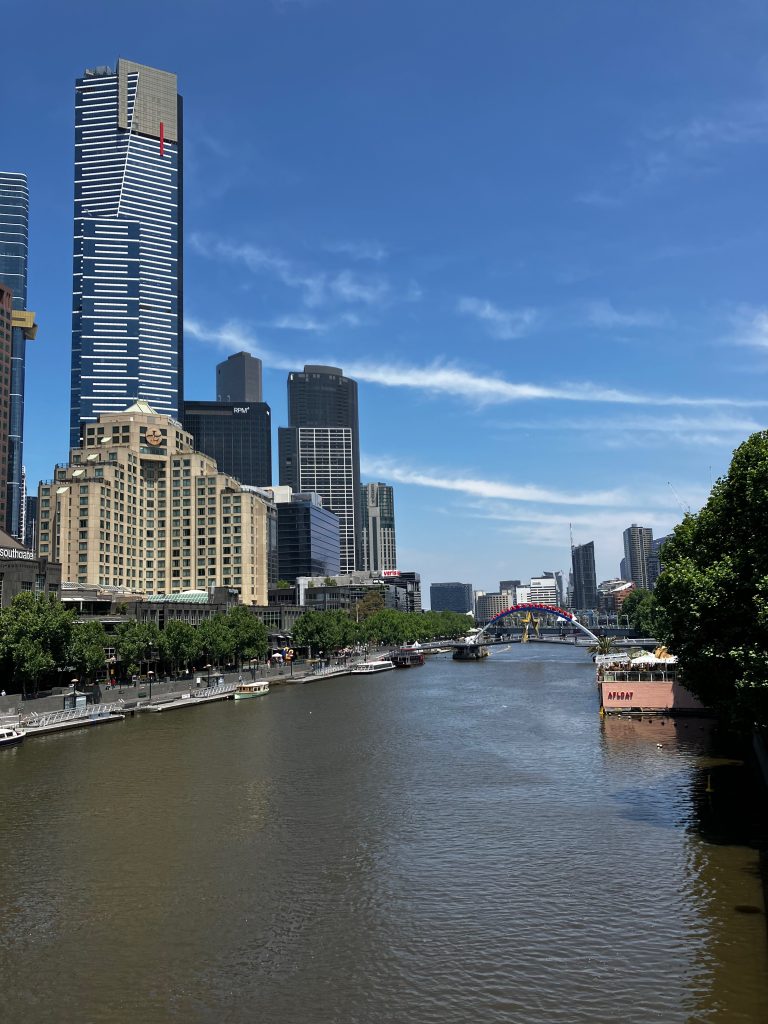 The next excursion on my "use up the voucher I got for Christmas 3 years ago" was a half-hour drive around the Botanical Gardens. Now obviously I wasn't expecting this to be the most wildly exciting 30 minutes of my life, but it was actually a nice way to spend a beautiful sunny day in the city.
If you squint, you might be able to make out "Merry Christmas" on the walking bridge.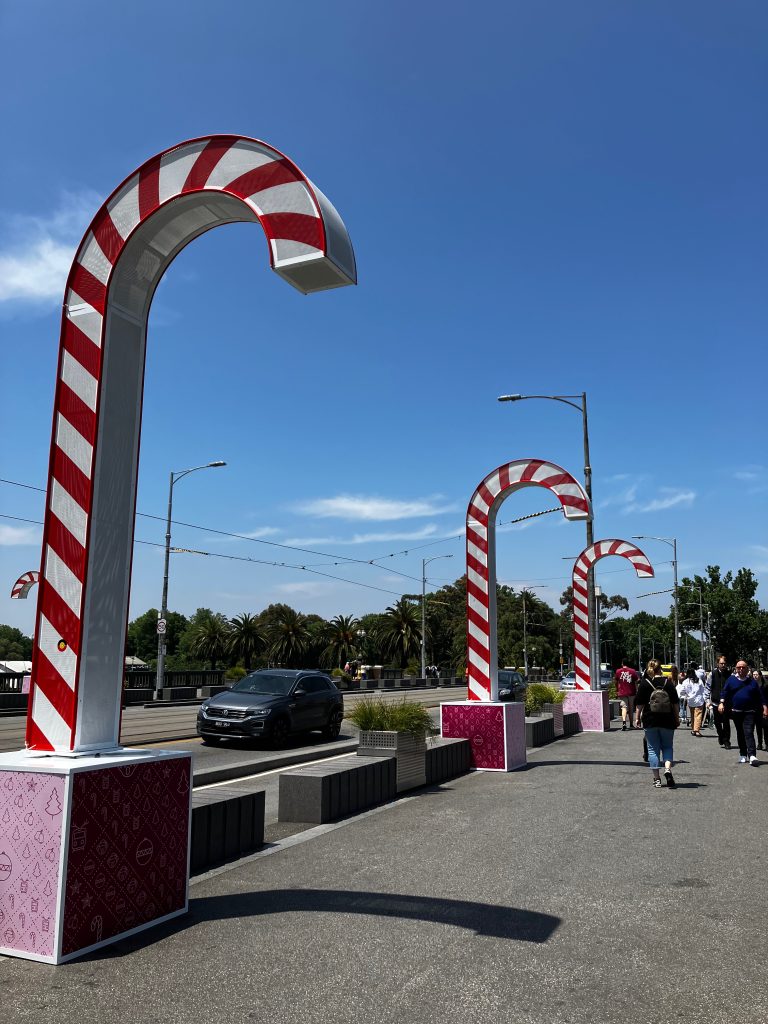 Festive bollards.
Living so close to the station as I do, it's so easy for me to get to the city. Jump on the train and glide right in. Take a book from my bag, get immersed in it – this time it was Stephen King's 'Holly' – and before I know it, we're coming into Flinders St station.
I decided I'd walk to where the tour begins. The Tourist Centre for the Gardens is tucked around behind the Shrine, right next to the Observatory, so it's not a long walk. I set off, deciding that I was going to treat Melbourne like a tourist.
But a few metres down the road, something didn't feel right. I had my big leather handbag with me, so I could fit my book, my lunch and all the other things that we carry with us, which is the very same bag I travelled with on my last trip for 5 weeks.
I was walking with it slung over my right shoulder. Casually, with no regard for pick-pockets and thieves. That's not how a tourist wears their bag!!!! At the next traffic light, I slung my shoulder strap across my body, making sure the bag opening was against my hip. I fished out my phone, holding it so that if a photo op presented itself, I'd be ready. My Antarctica Pee Bottle was dangling from my other hand, filled with peppermint water to minimise my cough.
Ahhh. NOW I felt like a tourist! I set off with renewed vigour. Let's see the sights!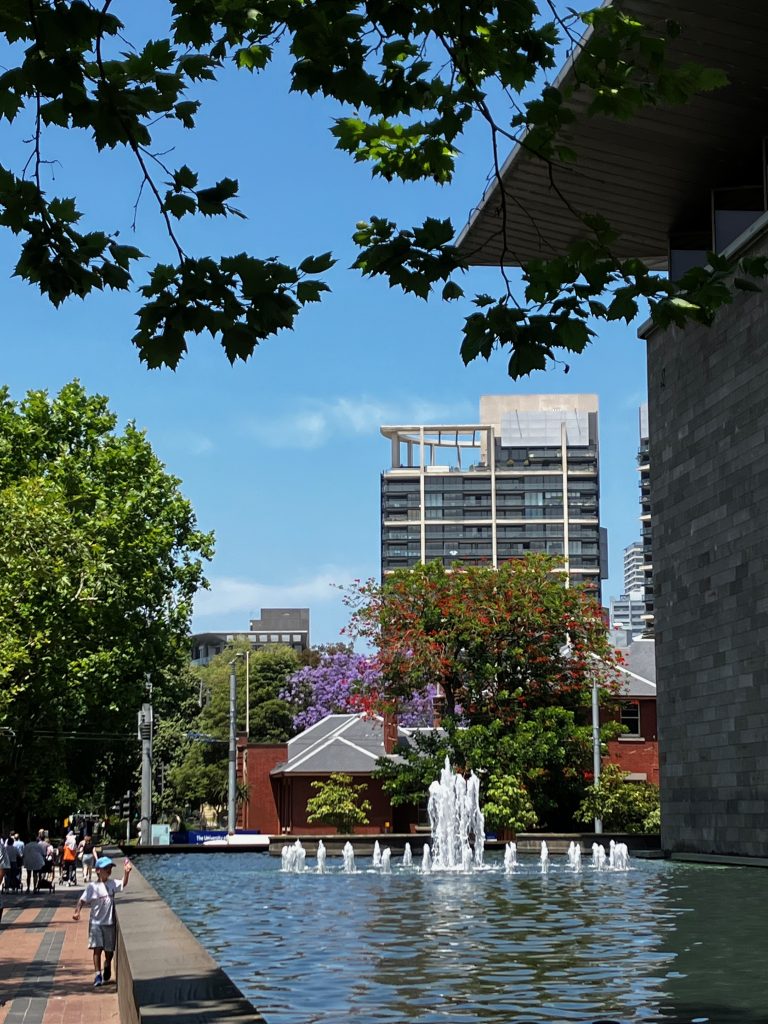 As I walked past the Arts Centre and along St Kilda Road, I was reminded of the morning that I walked along the streets of Santiago in Chile, looking for the Sculpture Park. As I got to the Victorian College of the Arts, I stopped at a bench outside and ate lunch, reading a little more from my book as I did. Then I kept walking.
Looking at the open expanse of green and huge trees on the other side of the road, I thought, 'If I was a tourist here, I'd think this city was beautiful.'
Trams rattled past and when I saw the Shrine, I crossed the road and walked up the steps to see it.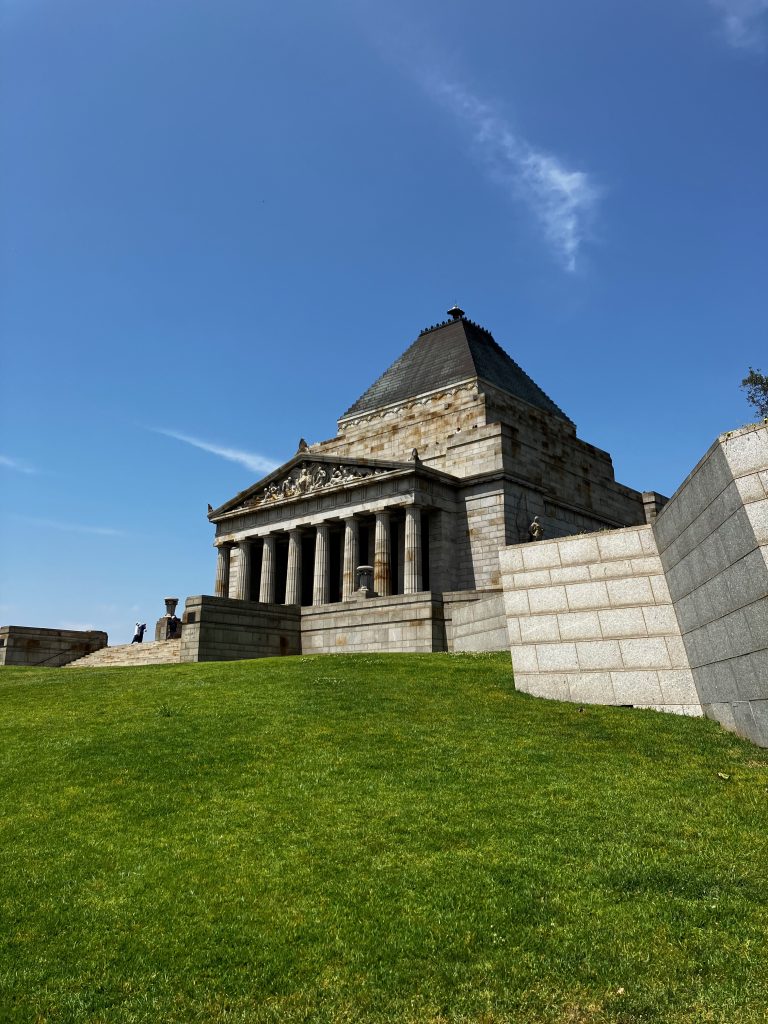 I remember Mum bringing us kids here. I've been back to the Gardens since then, of course, but never back here. I didn't have time to go in and explore, but I walked around the outside. I still remember seeing the Tomn]b of the Unknown Soldier, but he'll have to wait for another time for another visit.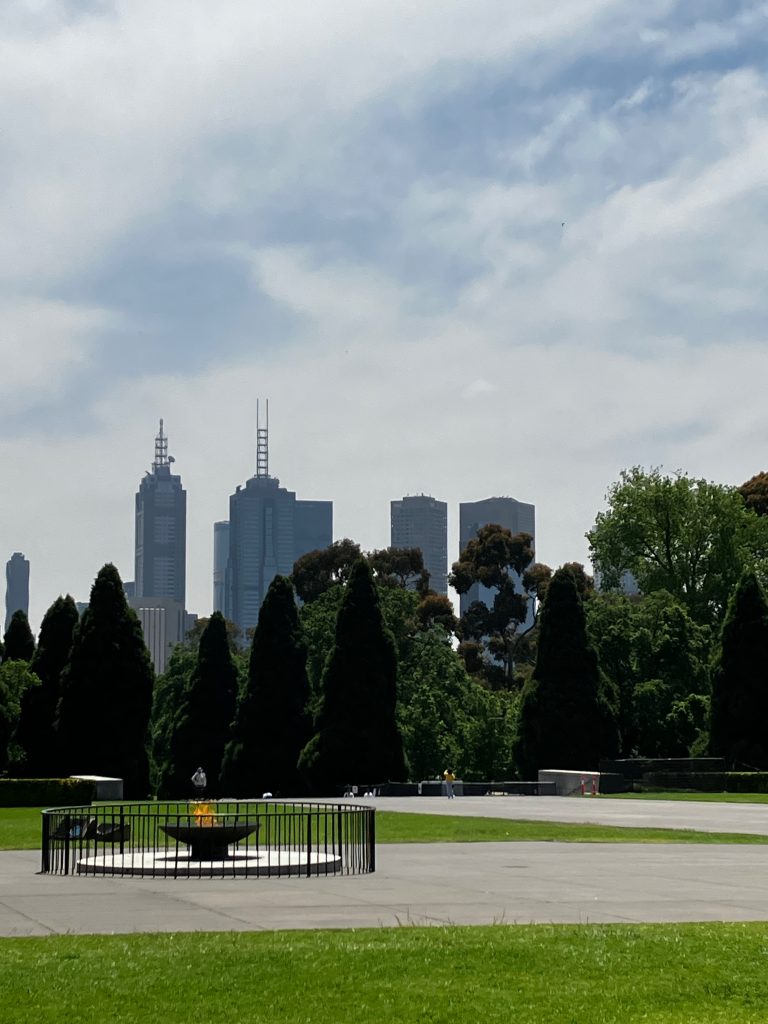 Here is the Eternal Flame. The idea behind it is eternal life: if the flame never dies, then so will the memory of those who have fallen.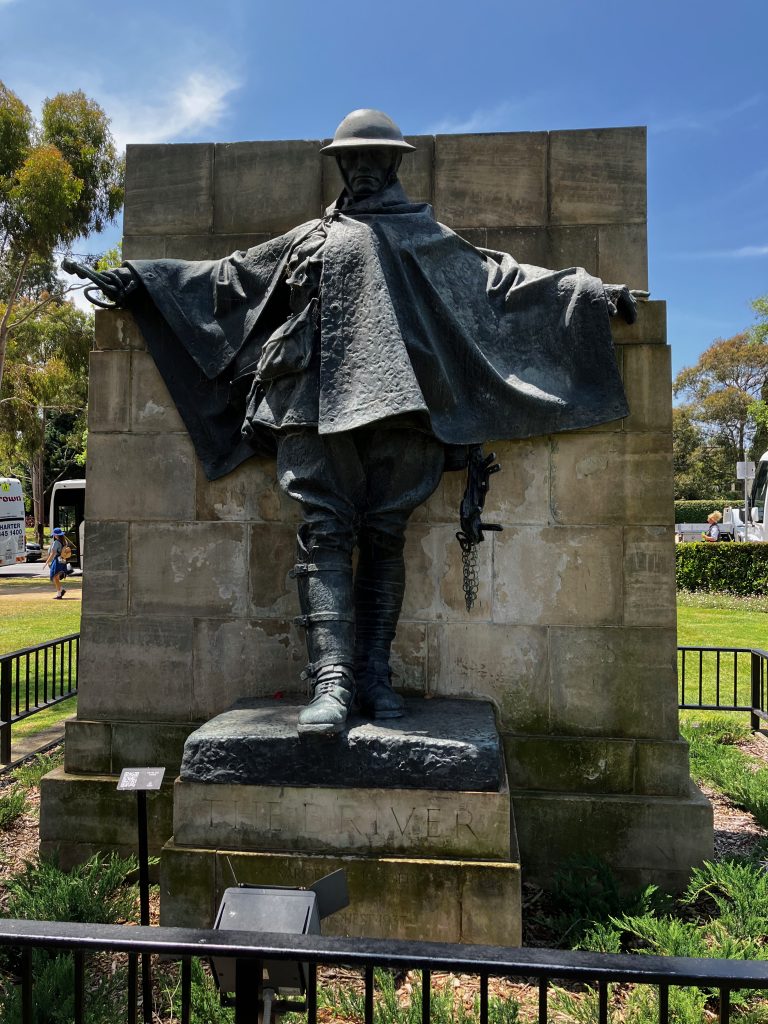 This statue has two parts. There's another WWI soldier on the other side.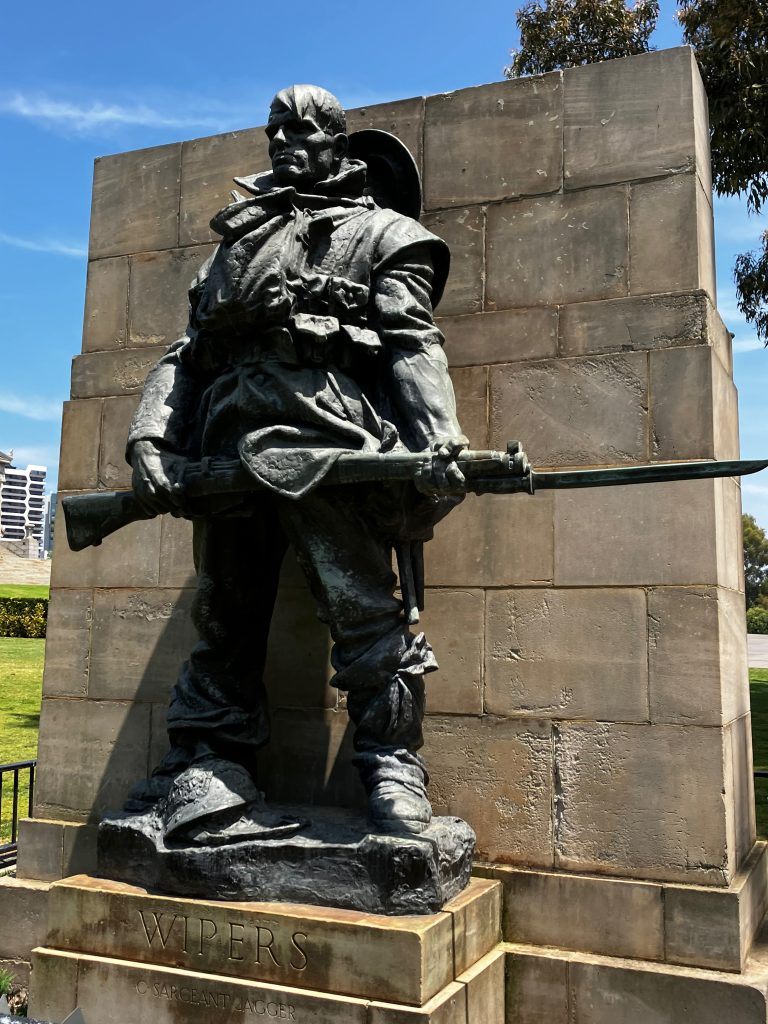 He's staring resolutely ahead, standing on a German helmet. He means business.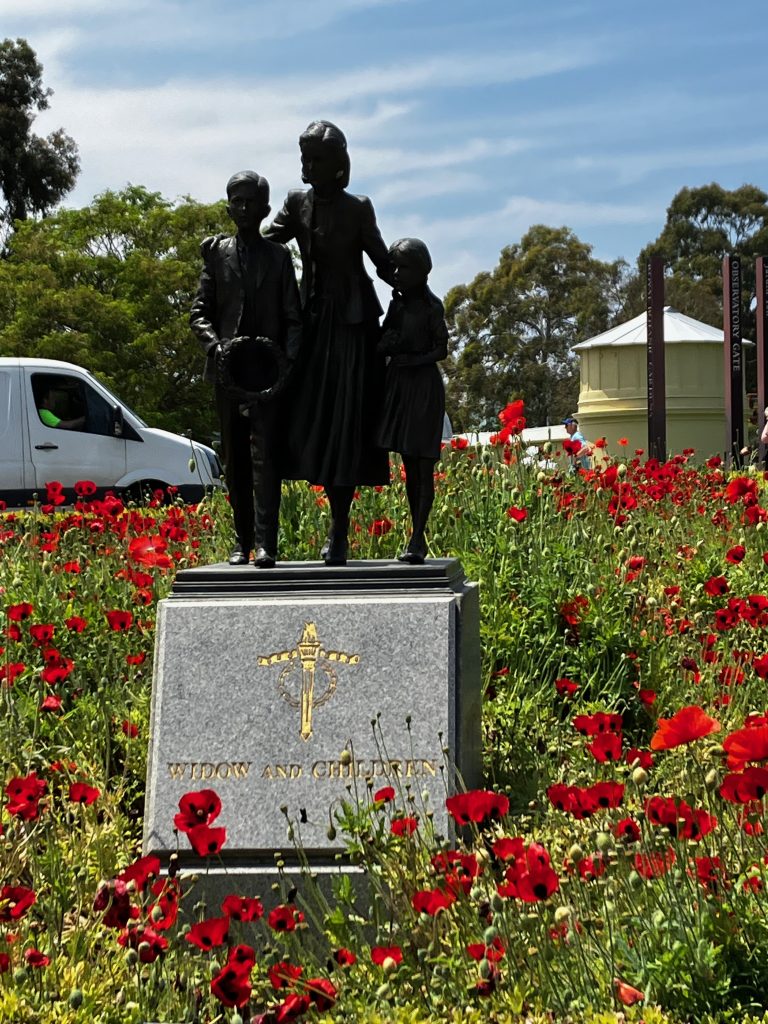 This is representing the people left behind when a soldier is killed.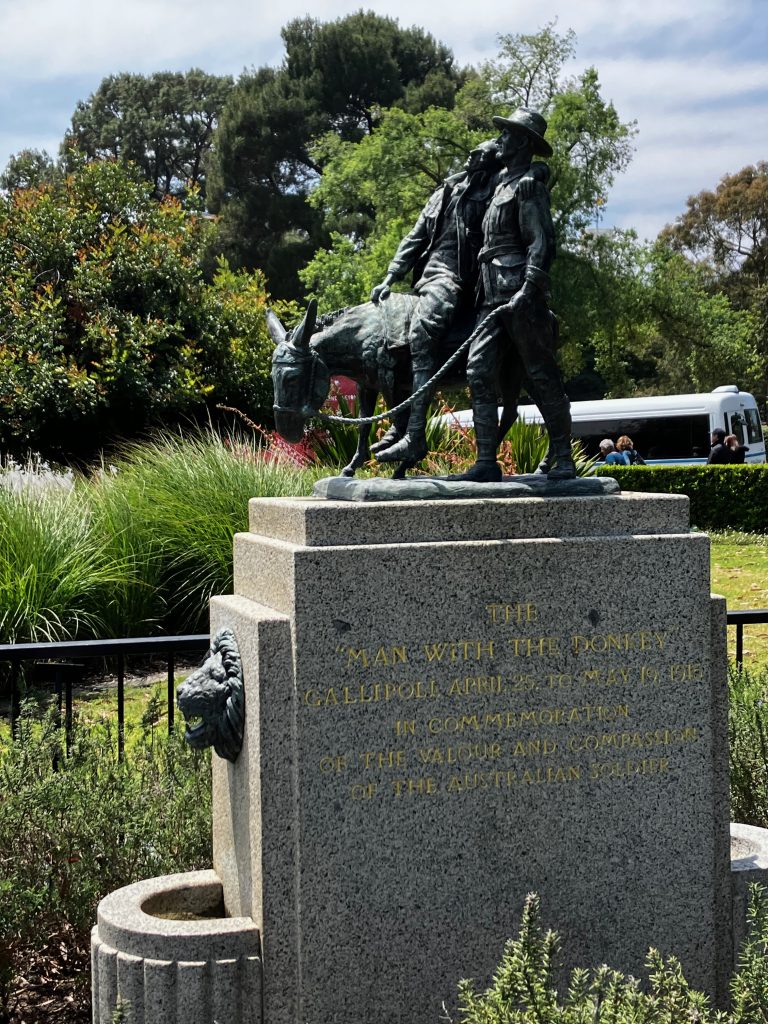 This was my favourite one. I remember learning about Simpson and his donkey when I was in primary school. Here's his story from Wikipedia:
Simpson landed on the Gallipoli Peninsula on 25 April 1915 with the 3rd Field Ambulance as part of the 1st Australian Division. In the early hours of the following day, as he was bearing a wounded comrade on his shoulders, he spotted a donkey and quickly began making use of it to carry his fellow soldiers. Simpson would sing and whistle, seeming to ignore the bullets flying through the air, while he tended to his comrades.
He used at least five different donkeys, known as "Duffy No. 1", "Duffy No. 2", "Murphy", "Queen Elizabeth" and "Abdul" at Gallipoli; some of the donkeys were killed and/or wounded in action. He and the donkeys soon became a familiar sight to the Anzacs, many of whom knew Simpson by nicknames such as "Scotty" (in reference to his ancestry) and "Simmy". Simpson himself was also sometimes referred to as "Murphy". Other Anzac stretcher bearers began to emulate Simpson's use of the donkeys.
Colonel (later General) John Monash wrote: "Private Simpson and his little beast earned the admiration of everyone at the upper end of the valley. They worked all day and night throughout the whole period since the landing, and the help rendered to the wounded was invaluable. Simpson knew no fear and moved unconcernedly amid shrapnel and rifle fire, steadily carrying out his self-imposed task day by day, and he frequently earned the applause of the personnel for his many fearless rescues of wounded men from areas subject to rifle and shrapnel fire."
Other contemporary accounts of Simpson at Gallipoli speak of his bravery and invaluable service in bringing wounded down from the heights above Anzac Cove through Shrapnel and Monash gullies. However, his donkey service spared him the even more dangerous and arduous work of hauling seriously wounded men back from the front lines on a stretcher.
On 19 May 1915, during the Third attack on Anzac Cove, Simpson was killed by machine gun fire.
Private Victor Laidlaw, with the 2nd Field Ambulance, wrote in his diary of Simpson's death:
Another fatality I found out today – was a private in the 1st Field Ambulance, he had been working between the base and the firing line bringing down wounded on a donkey, he had done invaluable service to our cause. One day he was bringing down a man from the trenches and coming down an incline he was shot right through the heart, it is regretted on all sides as this chap was noticed by all, and everybody got to know him, one couldn't miss him as he used to always work with his donkey, cheerful and willing, this man goes to his death as a soldier.[18][19]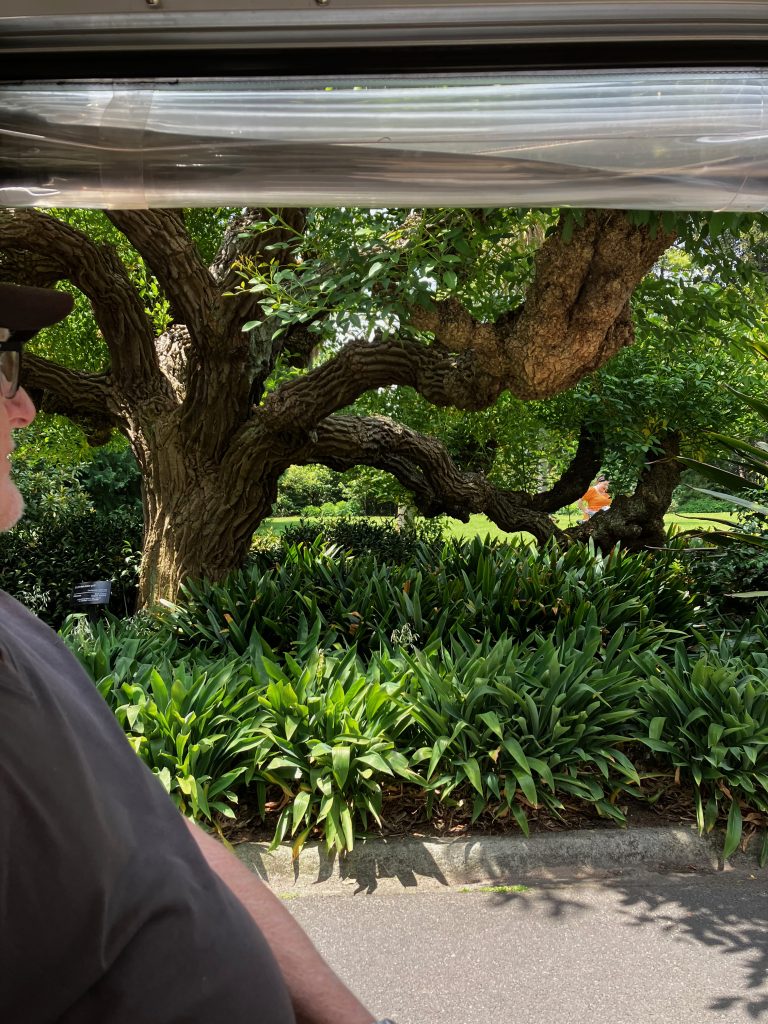 After I crossed the road to the Botanical Gardens and found the minibus, we all tootled around the gardens for half an hour. I had a fat German tourist sitting next to me on the left, which turned out to be the side with all the best photo ops… just for anyone who might do the same tour one day, so here are some shots that I was able to snap.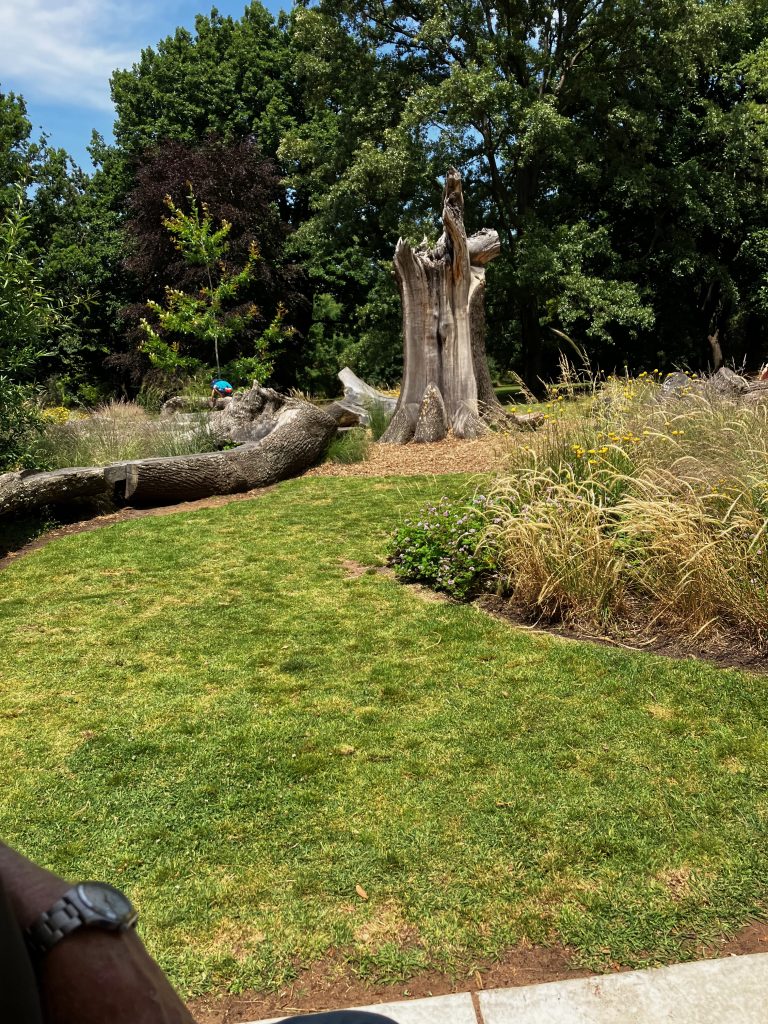 This is in the Oak Grove. A massive tree fell, so they left the stump and put lengths of the rest of the tree around as a gathering place.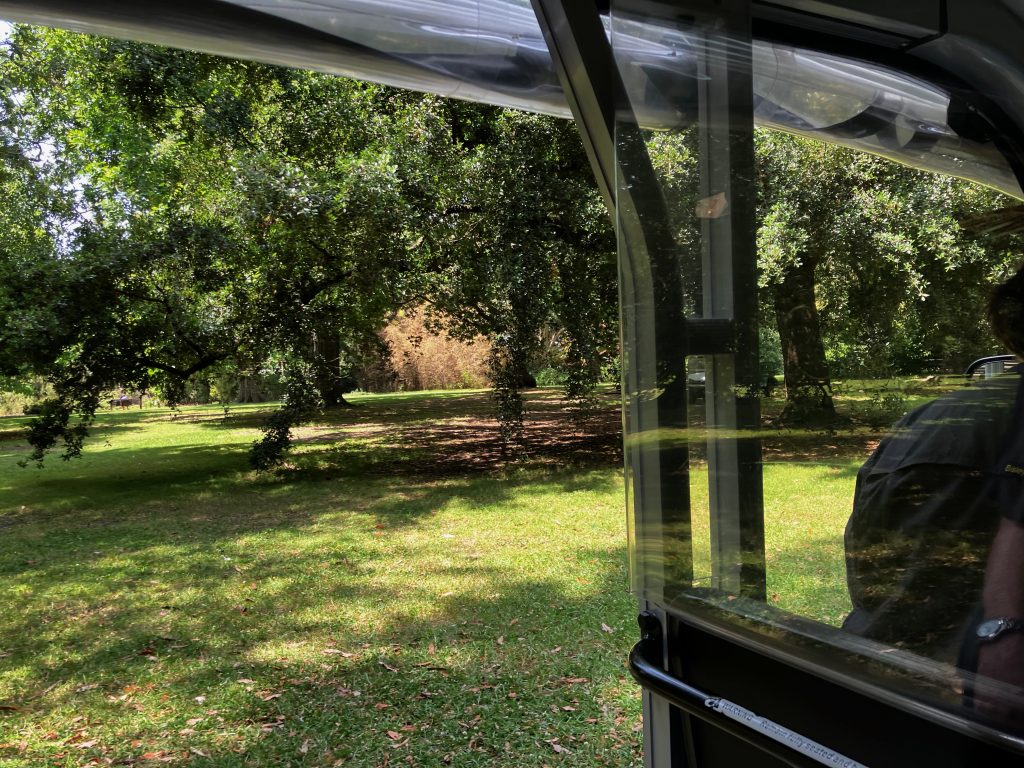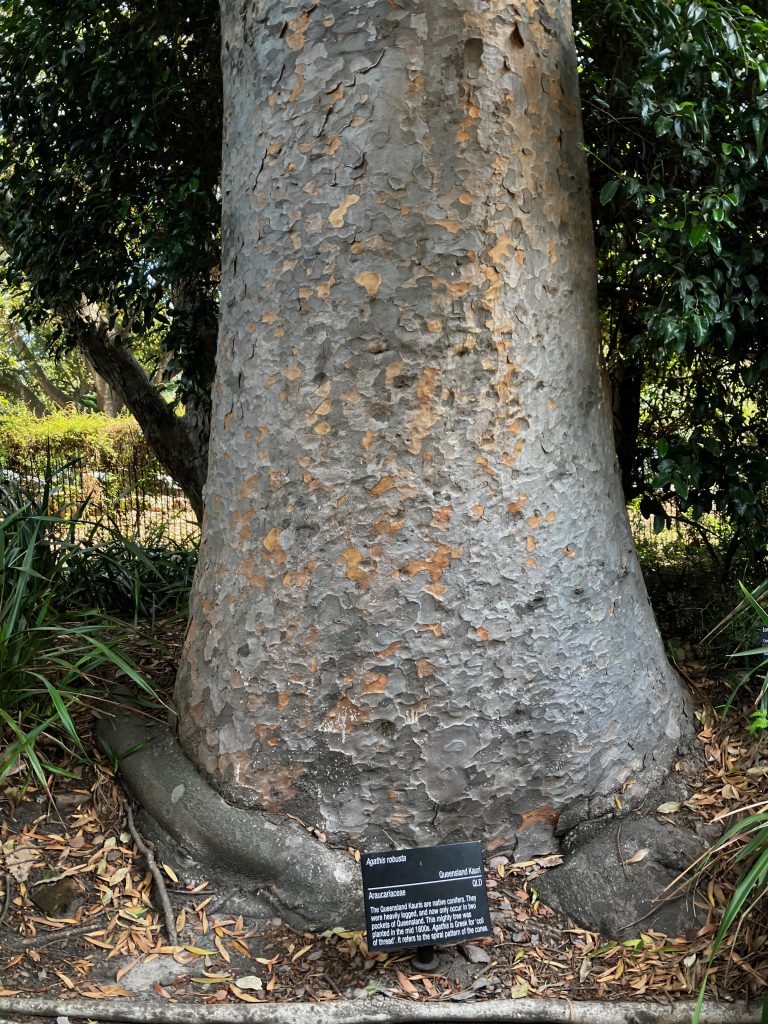 FINALLY! Something on my side of the bus. I liked the texture of this one.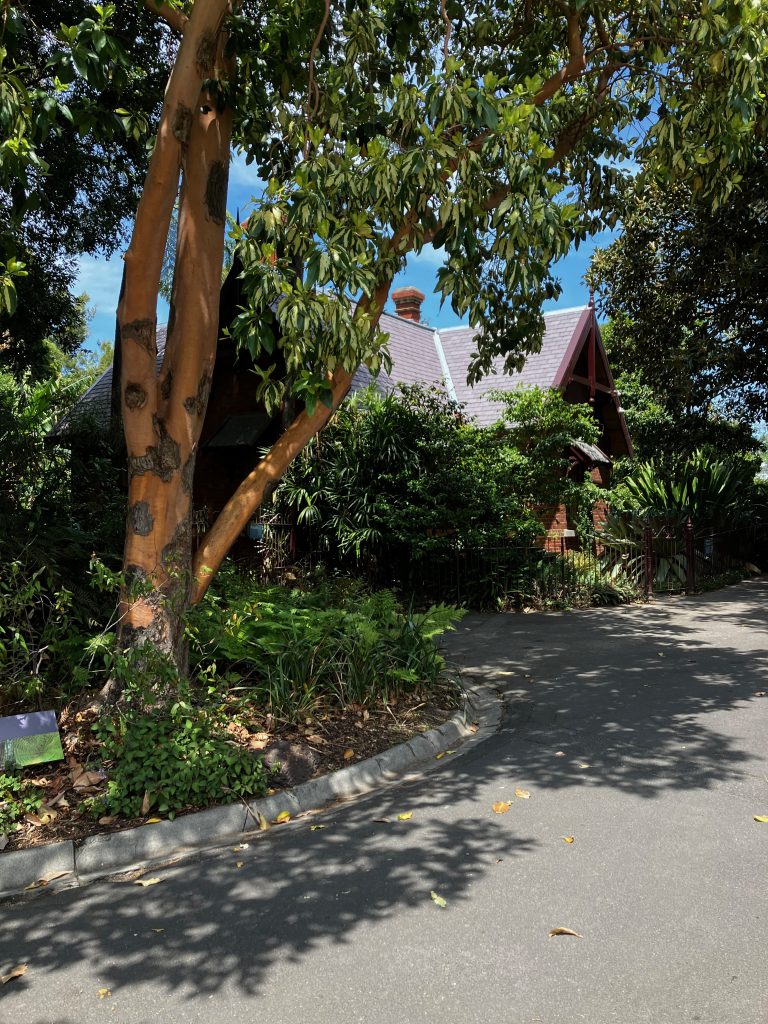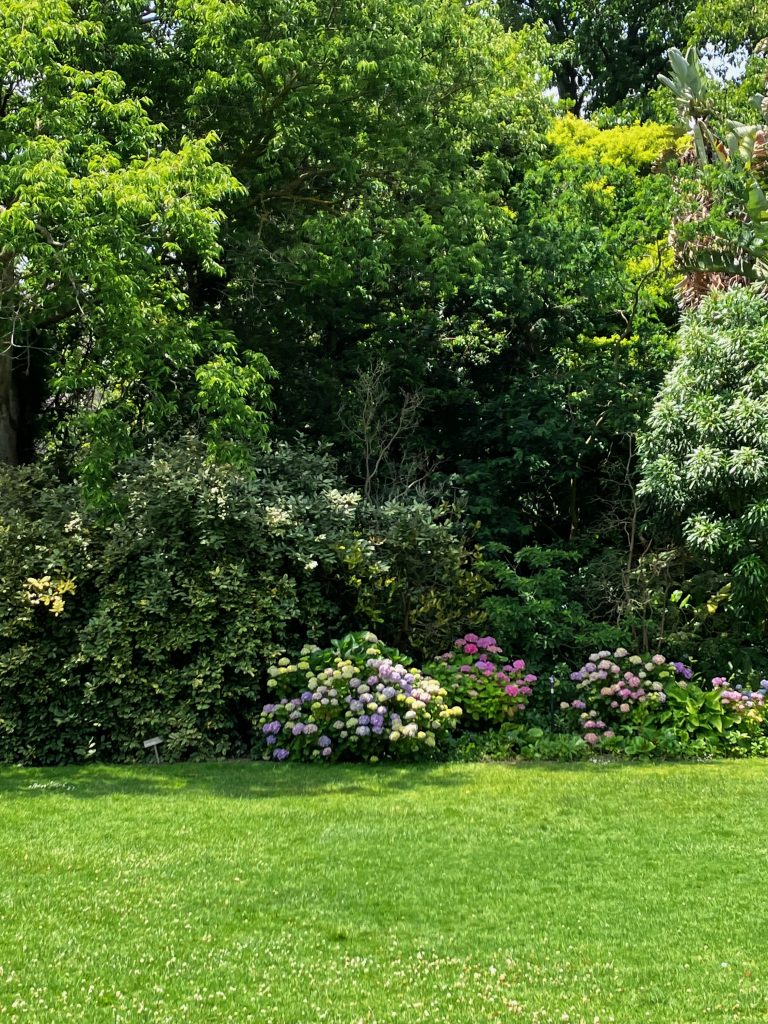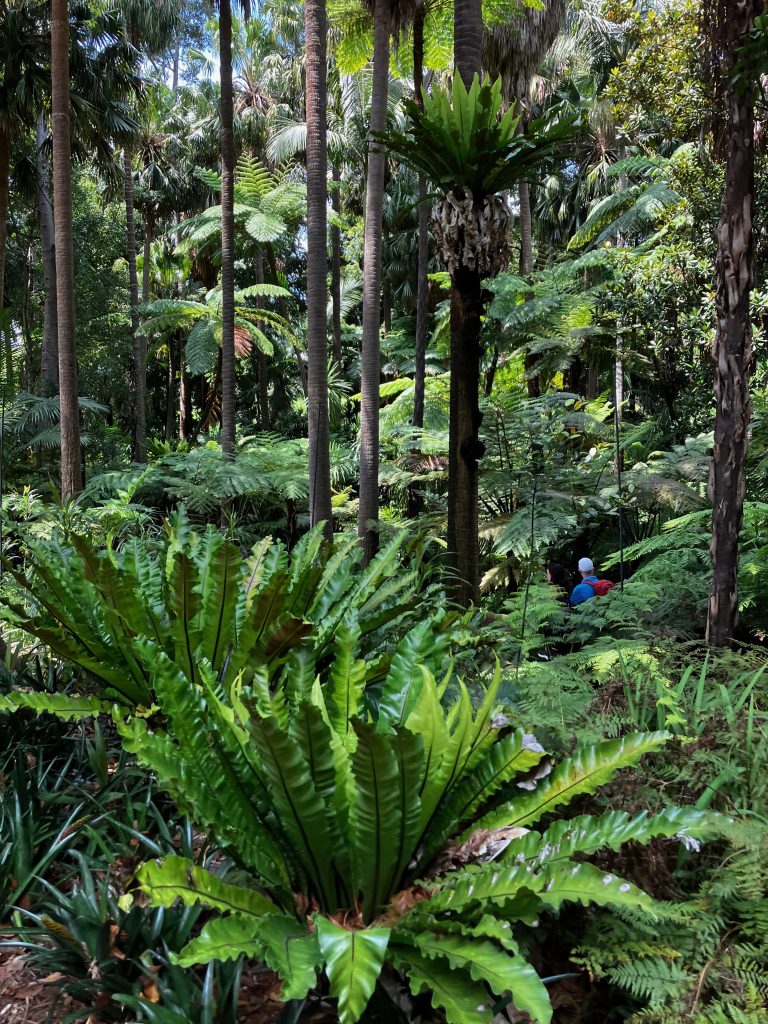 Part of the Fern Gully. I remember when Scott came out to Australia in 2019??? we walked here, then sat in a gazebo overlooking the gully and had a fine old natter.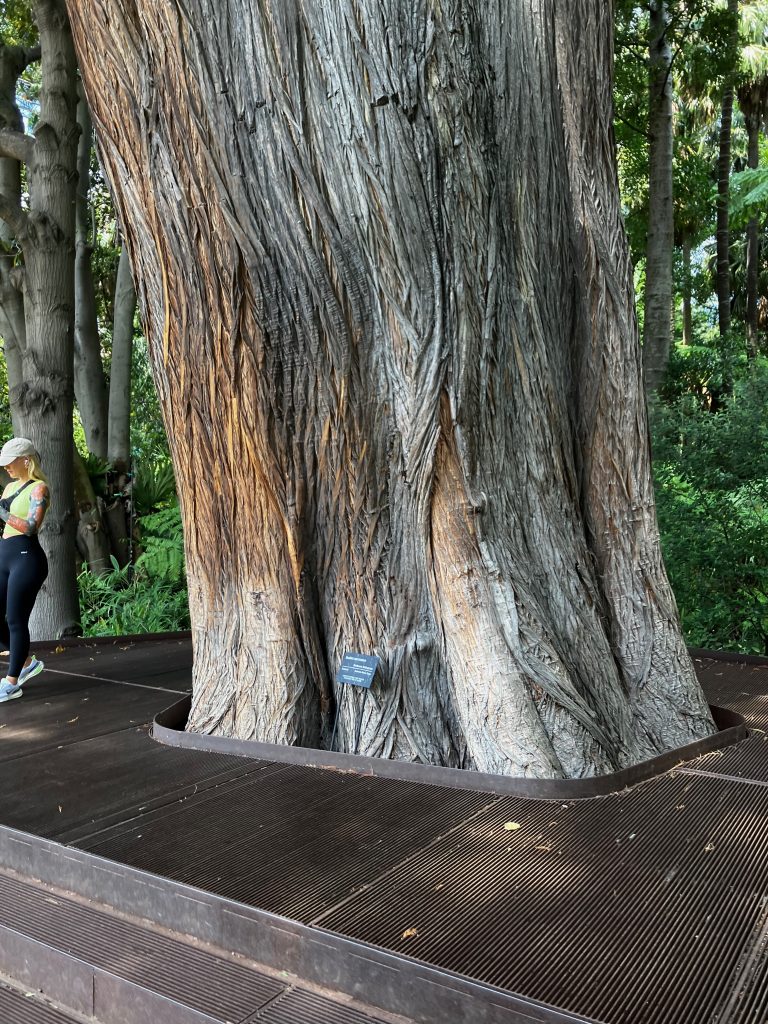 Another nice tree trunk.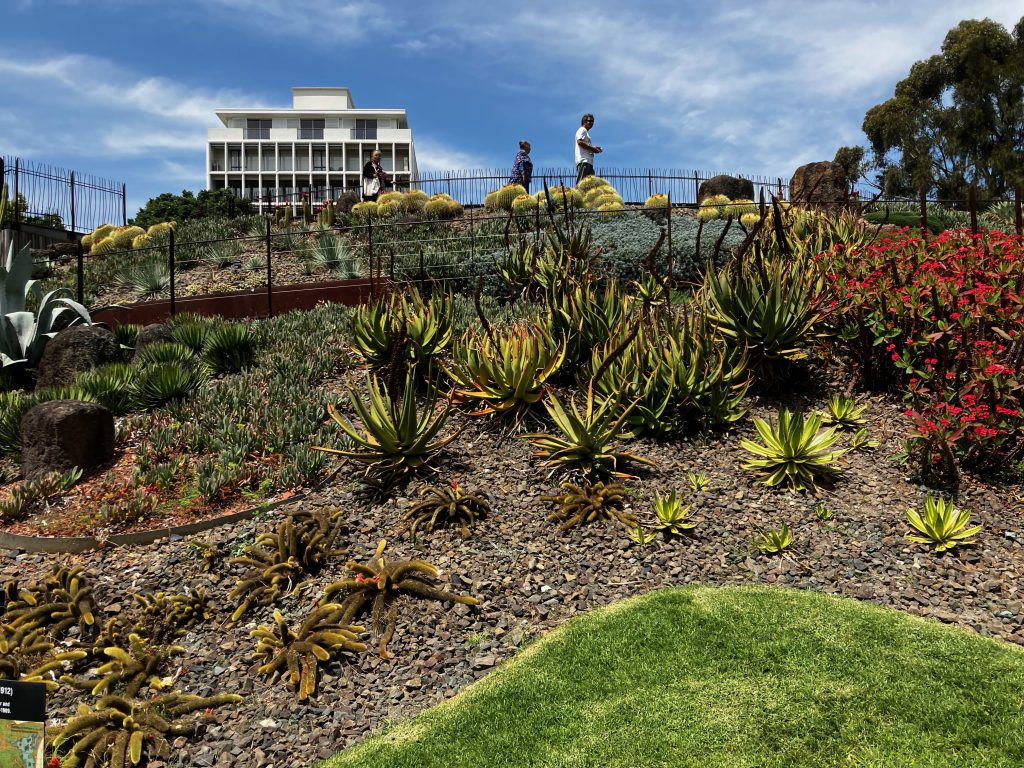 This arid garden is called 'The Volcano.' Can't say I really see it, myself.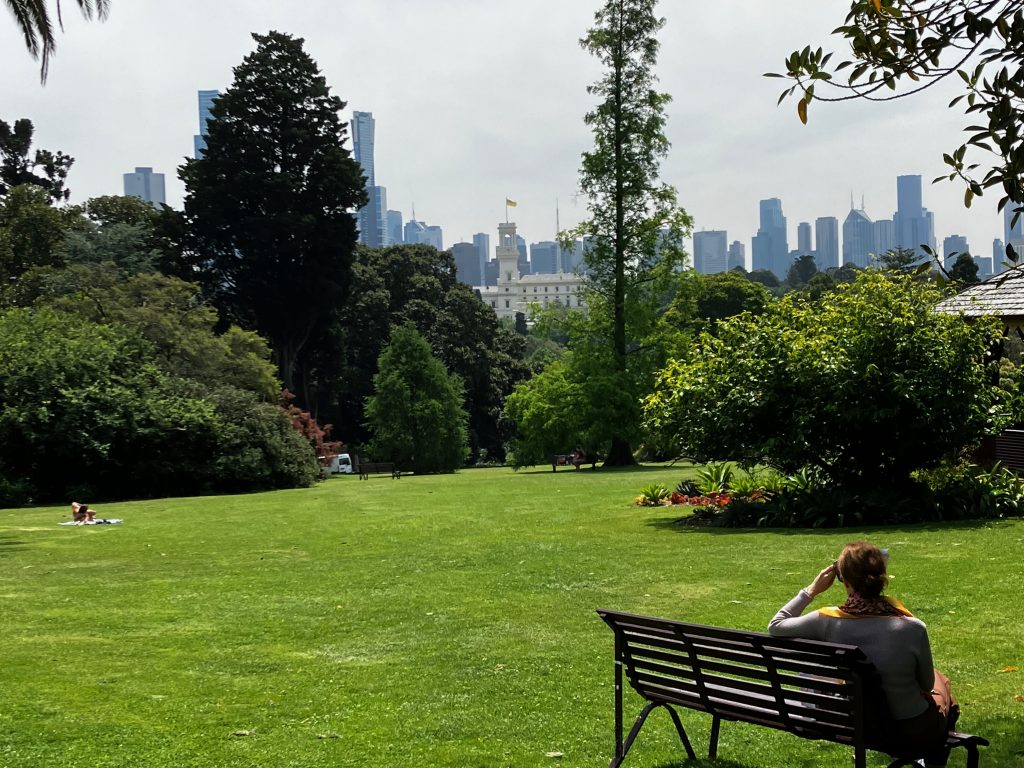 Peaceful.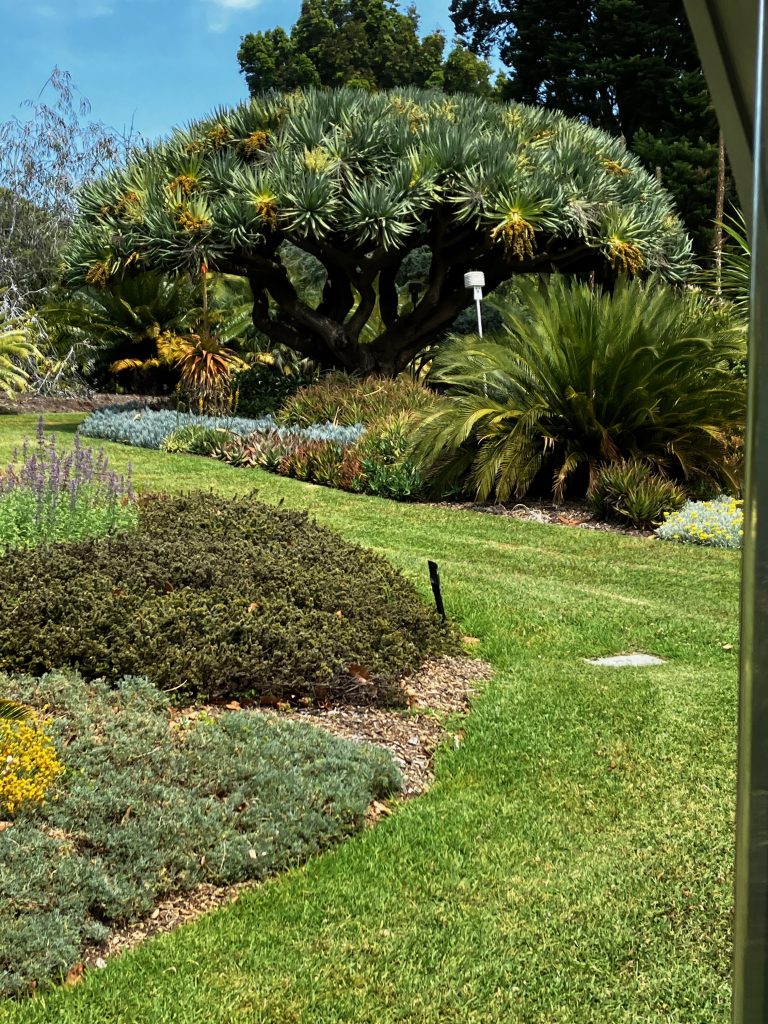 Look at that tree!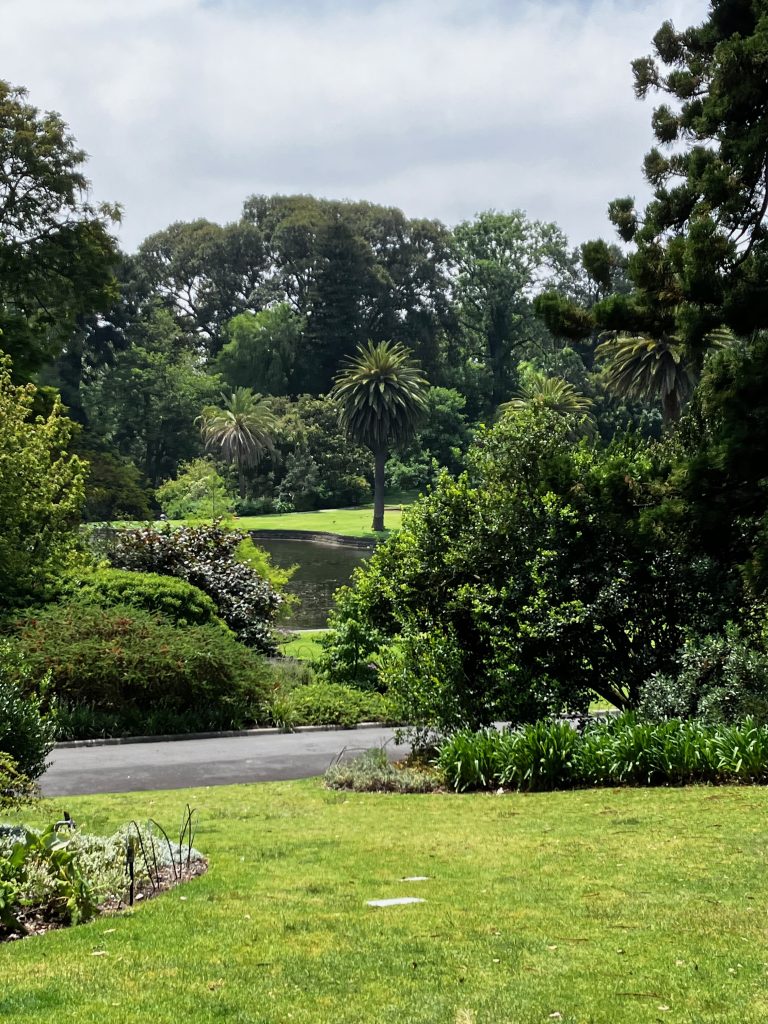 First view of the lake. The driver said that it used to be part of the Yarra, but 100 years ago it was separated.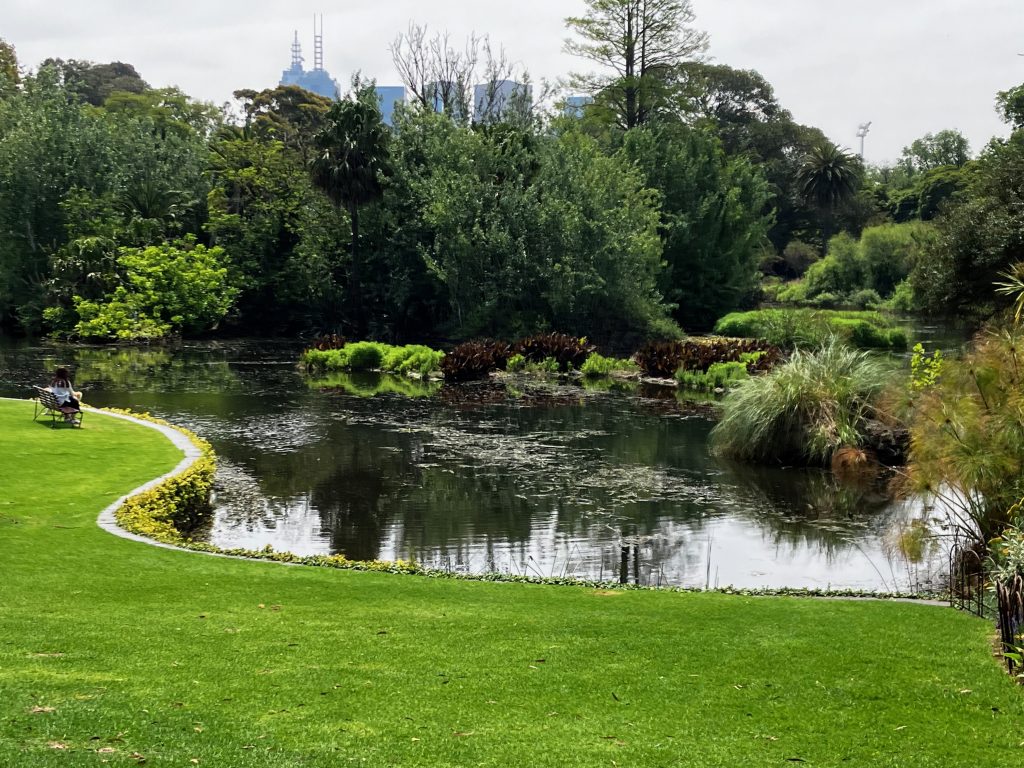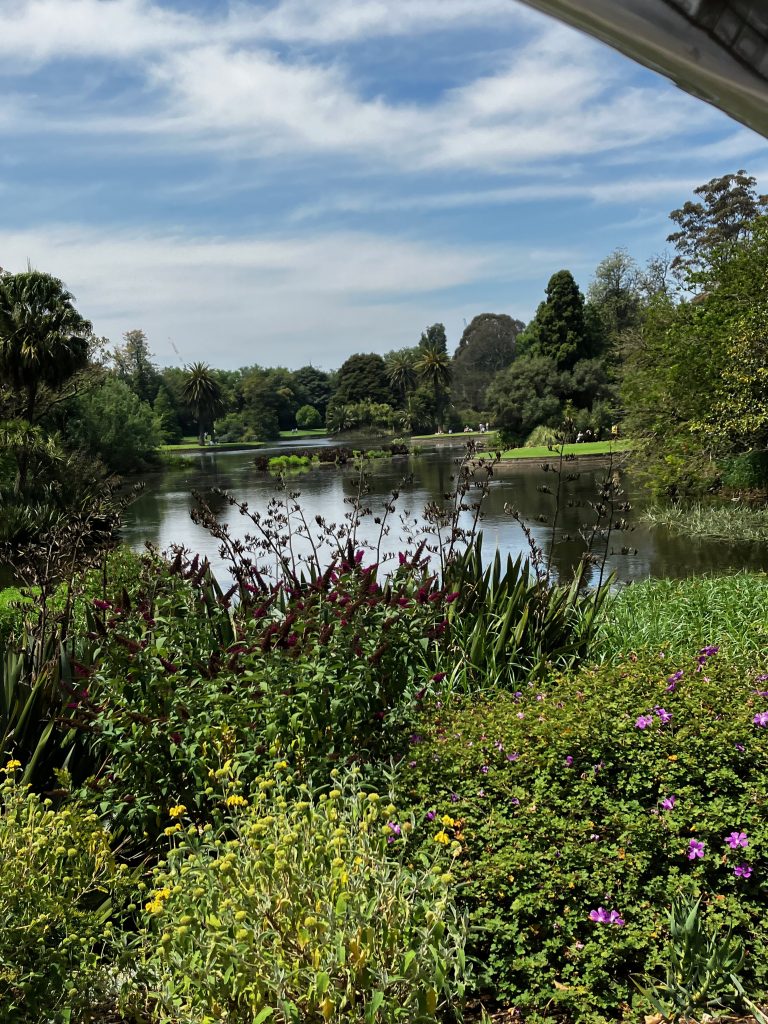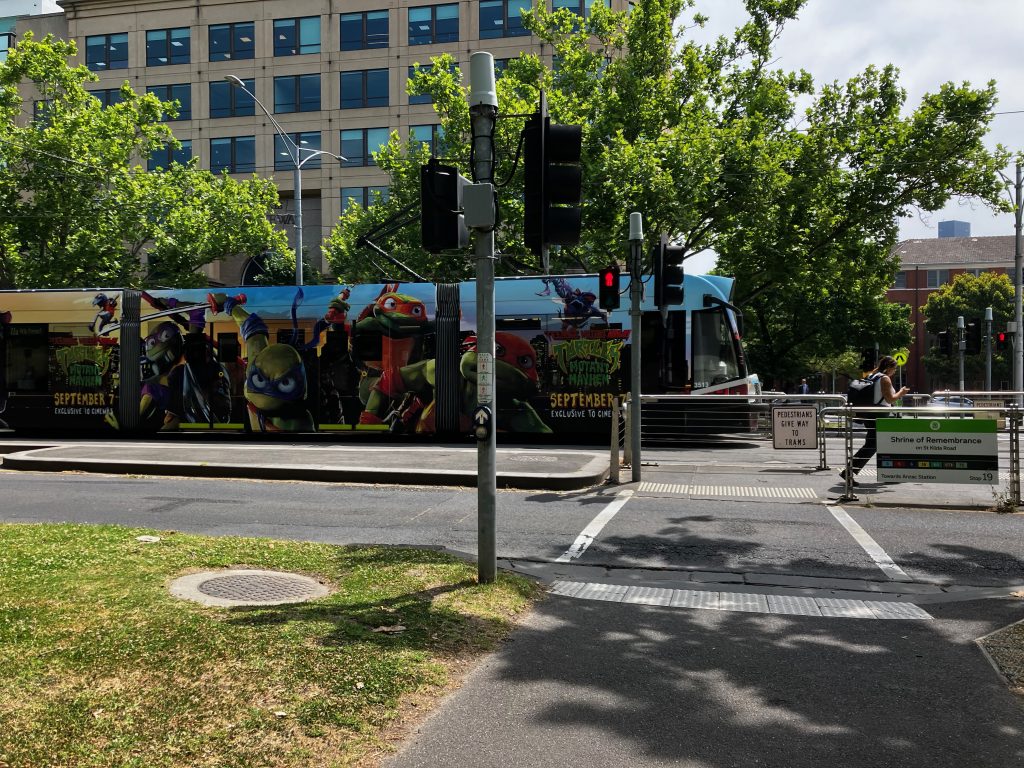 And then back into the hustle and bustle. I thought I'd post of shot of one of Melbourne's iconic trams.
I jumped on one and was back to Flinders st in a trice. Had a dream run… only had to wait 5 minutes for a train and was back home by 4:30.
All in all, this was a nice little afternoon, making memories. I have a much clearer idea of where things are in the Gardens now, which I'll be taking advantage of in the future.
Dad joke of the day: