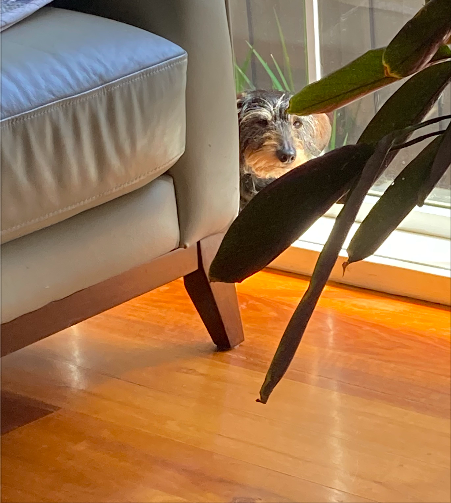 What's top of my mind: The rhubarb.
Call myself a frugal gardener, yet I bought apples a week ago to make rhubarb and apple, but I still haven't walked out to the back yard to cut the rhubarb.
That's it! As soon as I press 'publish' on this post, I'm going out there to get this job done.
Where I've been: Mum and Dad's place.
Yesterday I drove down to Mum and Dad's to take Dad to his surgeon's rooms for an appointment after his hip replacement 2 weeks ago. After that, I went to Aldi to do their shopping.
It's strange to think that if I hadn't have made the geoarbitrage move down here in 2015, I would have been in a classroom and he would've had to have taken a taxi there. Mum gets dizzy spells so doesn't drive anymore, so until Dad's hip heals, they're essentially stuck at home.
It's a strange thing to see your parents with their wings clipped.
Where I'm going: Apparently, to the back yard.
See above.
What I'm watching: The wind in the trees.
It's a sparkling day today and there's a beautiful breeze. I love how this house catches the wind – just open the front and back doors and the breeze flows right through. Luxury!
What I'm reading: Same as last week.
Yes – very unusually for me, I'm taking more than a week to read a book! I'm still on Cloud Cuckoo Land and I only have 20 pages to go. I'm loving how all of the different times are entwining together.
What I'm listening to: Mum's Boppin' Bangers.
I've started cutting up the fabric for the quilt with over 5,000 squares. I whinged about the cost of the specialised ruler I bought to help me with this, but now I'm absolutely LOVING it. $100 well spent! It's allowing me to fly through this stage, because I can cut 3 layers of fabric with absolute accuracy at a time. That's 163 squares at a time. Today I just have the 'lights' to cut up, and then I'll be done.
I'm so appreciative that Ryan27 shared a Spotify account with me. Cutting squares can be tedious but being able to belt out a song as I work really helps. Every now and then on 'Mum's Boppin' Bangers' a song will come on that I swear I haven't heard for decades, yet I still know all the words. Loving it.
What I'm eating: A homemade bread roll.
For breakfast, with butter and peanut butter. Yum.
Who needs a good slap: Me, for eating that breakfast.
What I'm planning: A road trip.
May as well.
What has made me smile: The homemade bread roll with butter and peanut butter.
So simple, yet it tasted so good.
Dad joke of the day:
What word in the dictionary is spelt incorrectly?
Incorrectly.