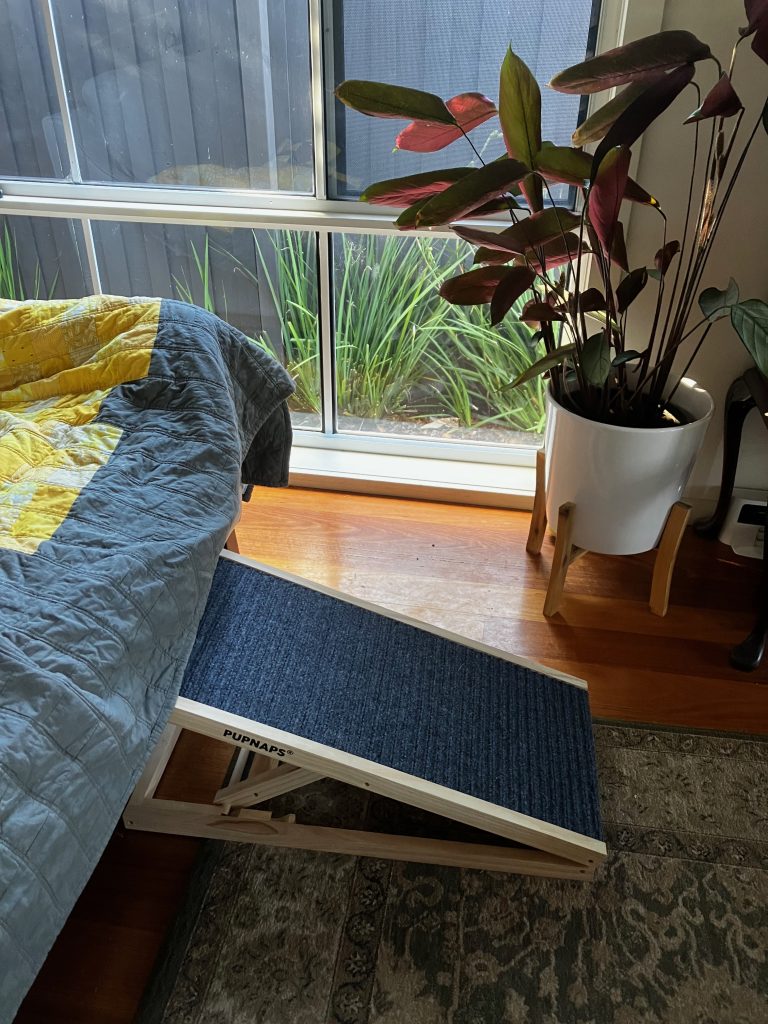 What's top of my mind: The things we do for those we love.
Look what I brought home a few days ago! This ramp is for Scout. We have 2 couches in the lounge room and one already has a little footstool in front of it so she can get up and down without putting strain on her long dachshund back.
The other couch was left 'as is'. I think that she must've tried to jump up on it one day and pulled the quilt down with her and had a fall, because suddenly she was filled with anxiety every time she wanted to jump up to sit in her spot by the window in the sun.
Clearly something had to be done. So now we have the ramp adding a practical air to the decor.
Look at this little face. How could I not do everything I can to make her happy?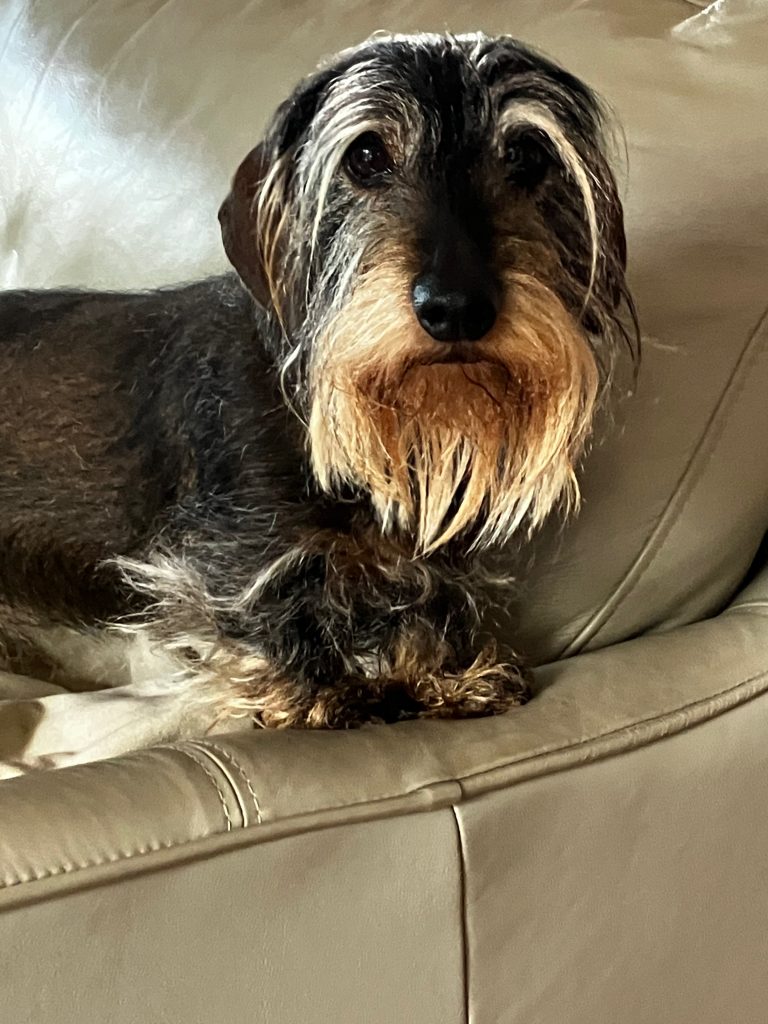 Where I've been: at a tarot reading.
Guess what everyone?
Love is in the air! (Apparently.)
There was a tarot reader at Izzy's kitchen tea and she didn't get around to giving readings to most of the guests. She offered to give 15-minute readings via zoom to anyone who missed out, and you all know how much I love a bargain.
As expected, once she heard that I was single, she kept pulling cards full of bare-chested romantic guys out from the packs left, right and centre, no matter how many times she shuffled them.
According to her, there's a man who is looking to come into my life…
Poor guy. One can only feel pity for him.
Where I'm going: To Mum and Dad's place after work.
It's handy working where I am, as it's close to where my parents live. I can drop in after work and have a quick chat before heading home.
What I'm reading: The Foundling by Stacey Halls.
I've just started this one and I'm quite liking it so far. I've brought it to work to read during the 10 minutes wide reading time we have at the beginning of each English class. It's an easy read.
What I'm watching: Australian Survivor.
This season is one of the best I've ever seen. The gameplay is shi**ing all over the American version – the tribal councils have been amazing. Well worth watching.
What I'm listening to: The House by the Cerulean Sea.
Hmmm. I'm listening to this on audiobook. It's very popular with many readers, but I have to admit that I'm a third of the way through and I really want to punch the protagonist. He's so BORING.
If I was reading it I'd probably be at the end by now, so the boring beginning would have slipped by quickly. Listening to every word of Linus Baker's wafflings and self-doubt and general wishy-washiness is becoming excruciating.
By all accounts it gets better, so I'll keep on listening as I drive. With the long drive on Saturday to drop off the dogs, I should be done by the end of the week.
What I'm eating: Tuna mornay.
Someone from the Simple Savings forum posted this recipe. I looks as if it would hit the spot, so I'm making it tonight. Sometimes it's the simple things that give you what you need…
What I'm planning: a road trip.
On Saturday I'll be loading Silver and Elizabeth into the car and I'll be driving to Mooroopna to drop them back with their Mum. They'll have been with us for 5 and a half weeks by then. I know all three of them will be ecstatic to see each other again.
Who needs a good slap: Whoever moved the new kid into my quiet year 9 history class.
The dynamic has totally changed. Ugh.
What has made me smile: David29 and Izzy have found an apartment to rent!
Boy, it's tough out there if you want to move out of home. David29 and Izzy have been looking for a place to move into for months and they keep on missing out. Until her cousin needed to move out of his apartment in a fabulous location in Chadstone. The great thing is that when he decides to move back in, he'll be able to give them a reference and they'll have a rental history.
It's well past time for them to move out from her parents' place and become independent. They can't wait!
Dad joke of the day: