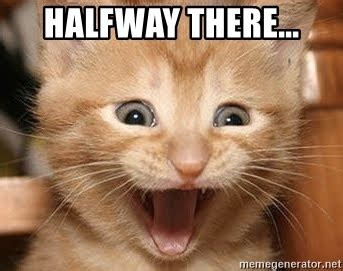 What's top of my mind: It's day 24 today.
One more day to go before I'm officially at the halfway mark of workdays!!!!
I'm at the point in this contract where I'm at the boring middle point, where getting up and going to work has stopped being a novelty and has begun to be a chore.
I just have to push through… the last week is only 4 days long and two of those are parent/teacher interviews. Too easy!
Where I've been: Nowhere.
Remember how I was going for a drive in the country to return my friend's dogs to her? That didn't end up happening. I came home from work Friday, bathed all the dogs, then called her to check that it was still all good to take them back.
Turns out that as I was leaving a voicemail on her phone, she was listening to it as she was crawling along the floor to get to the front door to let the emergency services people in. She'd fallen in the kitchen and couldn't get herself back up.
There are a couple of good things to this story.
The first is that she had the brains to have her emergency alarm actually on her person. How often do you hear of elderly people living on their own who don't bother?
The second one is that she's clearly not ready to have the dogs back yet. Imagine how awful it'd be if I drove up, left the dogs with her and then she tripped over them and ruined her knee? All three of them want to be back together again, but as the bard said, "Go wisely and slowly. Those who rush stumble and fall."
At least they've learned to sleep through the night.
Where I'm going: Nowhere.
Nothing planned for the foreseeable future.
What I'm reading: Strong Money Australia by Dave Gow.
I'm really enjoying this book. It's written by the guy who writes the blog with the same name, When I first started becoming aware of how much I needed to learn about investing, I learned a lot from US blogs. However, at the time, Dave's blog was one of the few Aussie blogs out there. It was so helpful to get the duck's guts about how to move within OUR financial system – there are a lot of similarities with the US system but there are also some very important differences.
It's rare to have a numbers guy who has the gift of being able to explain things so that even someone scared of numerals (that's me) can understand. Anyway, I highly recommend this book.
What I'm watching: The Physical 100 on Netflix.
Because I'm working at the moment, I'm concentrating on Australian Survivor – George is playing the best game I've ever seen, and I've watched every episode of both Australian and US Survivor – so I'm watching reality shows that require no mental bandwidth. This particular show is made in Korea and has some of the toughest challenges I think I've ever seen.
It's perfect for pouring a glass of wine, settling on the couch with the dogs and mindlessly watching at the end of a long week.
What I'm listening to: a crazy French teacher talking with a not-so-crazy one.
Ahhh, staff room conversations! Later on in the term when the marking starts to flood in, these conversations slow right down. I can hear them from two desk rows away.
Time to pop on some headphones.
What I'm eating: a frozen apple pie from Aldi.
I don't usually eat dessert, but last night while watching Survivor, I had the urge for a snack. I remembered that I bought a packet of 4 apple pies a few weeks ago and they were somewhere in the back freezer.
A few minutes in the air fryer and YUM. Hit the spot. I can go ages without using the air fryer but every once in a while, it's the perfect appliance to use.
What I'm planning: nothing.
Nothing to see here…. move right along…
Who needs a good slap: the people who sold me my 'mother of the groom' dress.
It still hasn't arrived. I'm not exactly panicking yet, but in another few weeks, I'll have to swing into action and get a backup dress.
What has made me smile: Jeffrey.
Poppy and Scout are definitely the smartest dogs, particularly Scout. They run rings around Jeff. But Jeffrey is my ever-faithful, loving doofus. All he wants is to be next to me, or at the very least to have me in his line of sight.
This, and two meals a day is pretty much all he wants. He's a beautiful boy.
Dad joke of the day:
So many people these days are too judgemental.
I can tell just by looking at them.