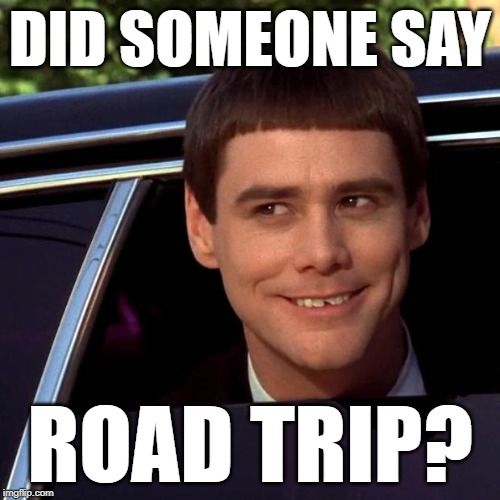 What's top of my mind: Today's the day!!!!
My car is packed, I have a shopping list of food to buy, and after work today I'll be pointing the car towards Ballarat. The Girls' weekend is fast approaching!
I'm heading off a couple of days earlier than the girls, so I'm looking forward to some introvert quiet days before they all start rolling in on Friday night.
Where I've been: avoiding Ryan27.
Last Tuesday Ryan27 tested positive in a RAT test. ARGH!!!! Right before this girls' weekend that I've been planning for months. Fortunately, he's a reasonable man and isolated in his room. No real hardship for a gamer!
I RAT tested every day and picked up all the work I could so I'd be out of the house as much as possible. I was so worried that I'd have to miss out on the trip, but all was well. I mask up all the time when I'm at work so I did the same thing at home.
All's good. I avoided getting the spicy cough. 🙂
Where I'm going: To Coles.
I'm in the middle of a Flybuys challenge to spend $50 at Coles for 4 straight weeks to get $50 free groceries. I figured I may as well shop at Coles for the dinners and snacks I'm providing. I like killing two birds with one stone.
What I'm watching: a very good year 9 Geography class.
Their teacher has left an incredibly detailed lesson plan for them to follow and they're quietly working their way through it.
Every conversation is about how to locate things on the maps, or what to put on the keys, etc. Sometimes this place is an absolute dream to teach in!
Since writing this, I have another year 9 class in front of me. This one is a different kettle of fish…
What I'm reading: The Hate You Give.
I've been seeing a lot of kids reading this over the last few years – it's a catchy title! I thought I'd give it a read to see why it's so popular. I'm only just past the first chapter but I think I'm going to like it.
What I'm listening to: Home Fires by Fiona Lowe.
I've got a long drive in front of me today and all of my podcasts have been listened to. This is a good long audiobook so it should keep me entertained during the drive and when I'm sewing on the 5,000+ piece quilt.
I'm working my way through her novels, one audiobook at a time.
What I'm eating: Vegetarian meals on Friday and Saturday.
Jenna, Evan25's girlfriend, is vego, so the catering is planned with her in mind.
Friday night's meal will be Mushroom Stroganoff and a hearty Vegetarian Lasagne will follow on Saturday night. Both are Thermobexta recipes, so of course, I've packed my two thermomixes to bring with me. The boys left at home have a thermomix each, so they won't be left hungry.
What I'm planning: nothing… yet!
We'll see what the weather holds for Saturday. It looks like it won't be raining, but of course, being Ballarat, it'll be damned cold!!!
Who needs a good slap: the idiot who nearly T-Boned me yesterday.
I was on my way home from work, turning right at the intersection of Warrigal and Centre Roads. I glanced away from the red light, looking at a garden on the other side of the road. I glanced back and the green turning arrow was on.
Just as I lifted my foot, someone ran the red light directly to the right of me.
If I'd started moving the instant the arrow turned green as I usually do, I'd have had the front wiped off my car for sure. Or worse.
Phew! I love my car… I don't want her to be all bent out of shape. Especially the day before a road trip.
What has made me smile: Guesstimating how much petrol to buy at Costco.
The fuel gauge was on a little less than half full. The last time I filled up, it was on the way home from Sydney and a full tank cost me $119.
But Costco petrol is quite a bit cheaper…
I punched in $60.
The tank is now exactly full. Nailed it!
Dad joke of the day:
Yesterday I ate a clock. It was very time-consuming, especially when I went back for seconds.