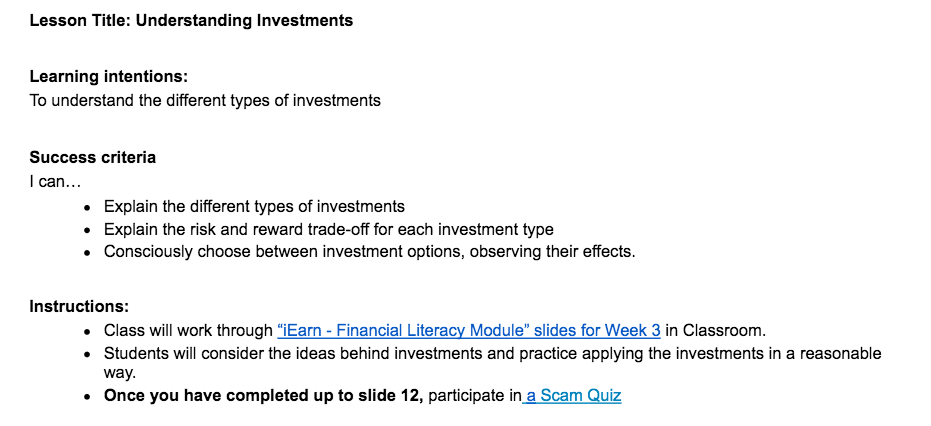 When people whine and say that "kids should be taught personal finance in schools!!! Wahhh wahhh!" you can tell them to pull their heads in.
This was the lesson plan of the first class I taught today. It's a year 9 class that every kid takes, where they learn about our political system, how to manage money and invest, careers advice, the media and lots of other things.
As you can see by the lesson plan, kids ARE being taught real-life lessons about money and how to handle it.
The hook for the lesson was a 3 minutes news report that I played on the interactive whiteboard. It was about Afterpay and similar companies, and how people are running amock with it in the short-term and then living to regret it in the long term, as the levels of debt they rack up make it impossible to get mortgage loans from banks.
Then they went on to what the lesson plan outlined. Learning about different investments and going on to "Consider the ideas behind investments and practice applying the investments in a reasonable way."
This is all real-life stuff. About money and how to evaluate the best way/s to use it.
Kids ARE being taught about finances. They always were.
The only reason people think that they weren't taught how to manage money in school is because they weren't interested in the subject when they were teenagers and so they didn't retain the knowledge. (A bit like me and mathematics.)
We're preparing the kids for the future! Anytime someone tries to whip up anger against teachers/schools for not doing this, they're talking through their… um… hat.
Dad joke of the day:
What do you call a wolf who has everything all figured out?
Aware wolf.