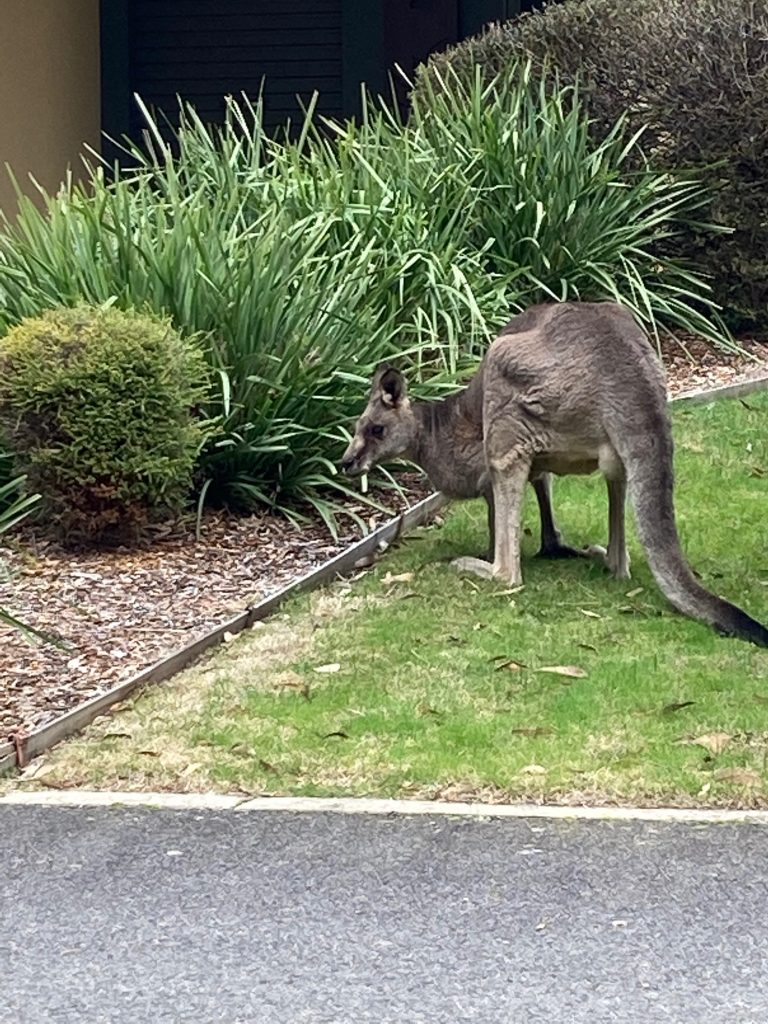 Finally – the girls' weekend arrived! Working towards Financial Independence involves a lot more things than money. One of these things is having the means and the freedom to set up experiences for the people we love. The timeshare that I bought many years ago and then barely used is now really coming into its own.
This timeshare runs on points, so I'm not tied to just one place at the same time every year. Since I retired I've been on 6 holidays and have used it to give a week away in New Zealand for David28 and Izzy's honeymoon next year. I'm determined to never waste a point again. Now it was time for the girls' weekend at the Sebel in Creswick.
I went up to the townhouse in Creswick a couple of days early, as I had to book 4 nights to secure the weekend that we wanted. On Friday, I was sewing on the 5,000+ piece quilt, (hereafter named 'The Sea Glass quilt') when I glanced at the tv. A HUGE kangaroo was reflected in it.
Sure enough, on the other side of the driveway was a big old man roo. I didn't go near him… those guys can tear a hole in your abdomen if you annoy them… but I took some photos.
You know you're in the country when there's a roo outside your house!
The girls arrived on Friday evening and we all settled in. Izzy – David28's fiancee; Jenna – Evan25's girlfriend; and Ashley and Kate – my nieces. They're all really great girls, and are all pretty much the same age, ranging from 25 – 22, so they all have lots of things in common.
After a night spent talking and sipping a few bevvies, we awoke the next morning hungry for adventure. Jenna met Evan25 when they were both doing their acting/music theatre degree in Ballarat, so she was our official tour guide.
The first stop was a patch of bush in Blackwood. Apparently it's Evan25's favourite place in all the world, which is a bold claim. Then again, he hasn't seen a whole heap of the world yet, to be fair.
It's a pine forest with lots of walking tracks/BMX paths through it.
Ash and Jenna decided to race to the top of one of the bike jumps.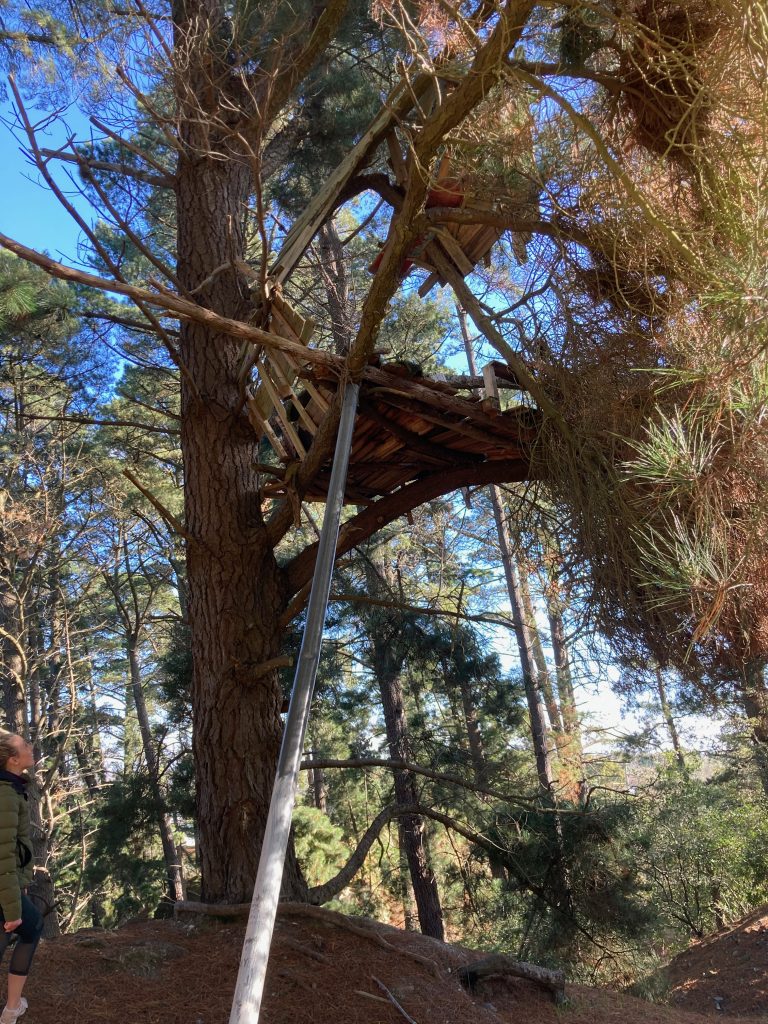 We were walking along and someone saw that a cubby house had been built in one of the trees. It had fake grass, a chair and a pole to slide down.
Noice!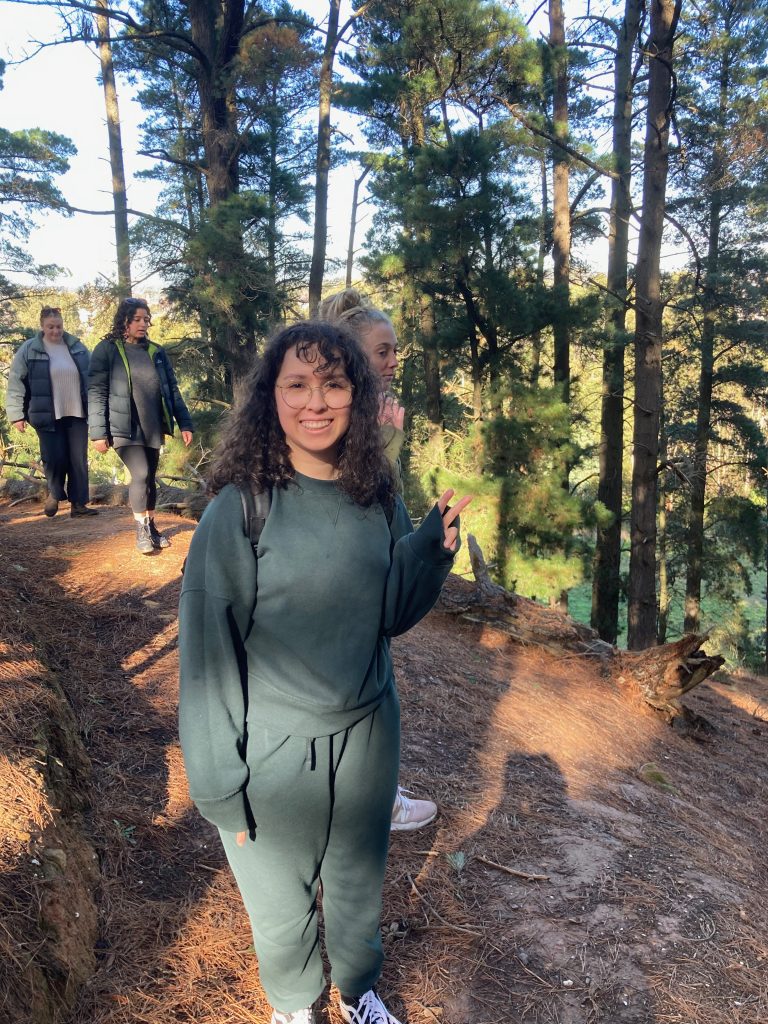 I took this photo of Izzy to send to David28, to show him that his beloved was an intrepid woman of adventure.
(In reality, we bonded over how unfit we were. The others were racing around like mountain goats while we were sucking in air and trying not to sound as if we were dying.)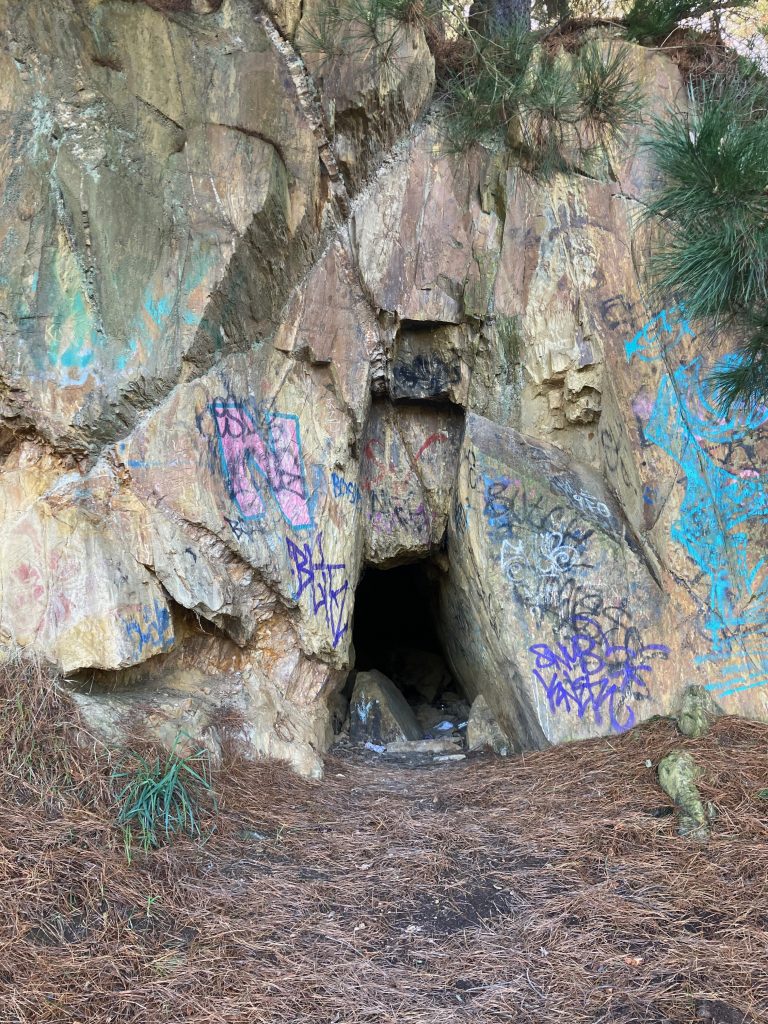 A cave. Jenna warned us that we didn't want to go in there. I didn't ask for further information.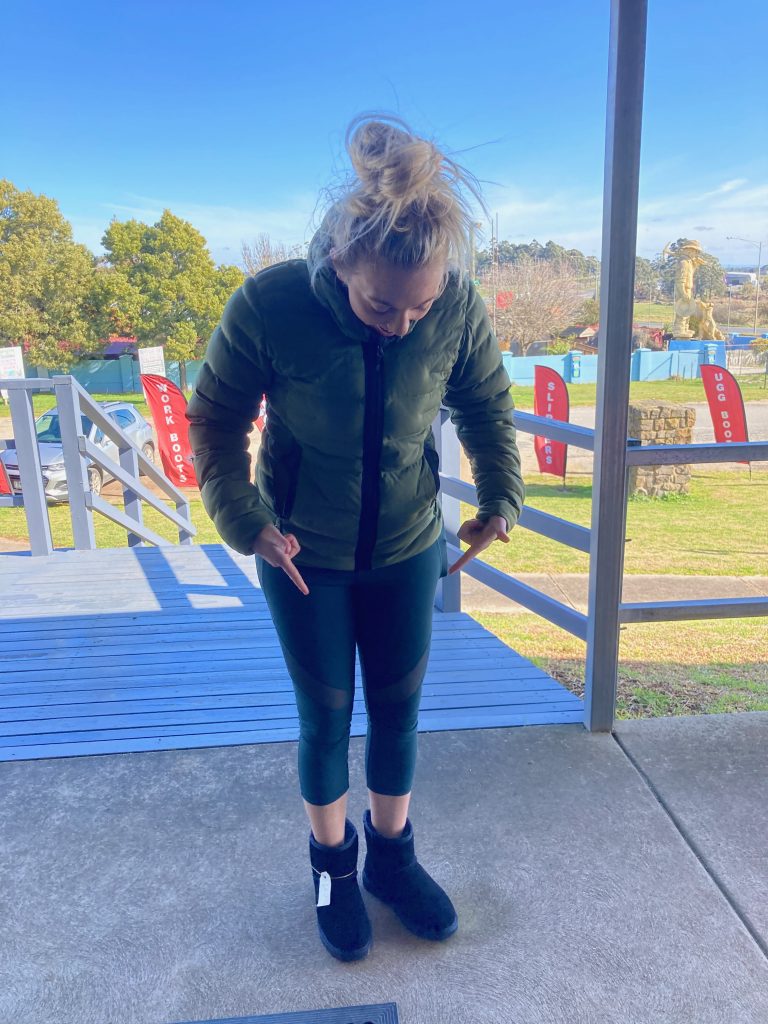 The next stop was Ballarat, to a trash and treasure place called 'The Old Mill'. Next door was an ugg boot shop. Ash mentioned that she was looking for new uggies so we went in.
She found the perfect pair on the bargain table outside.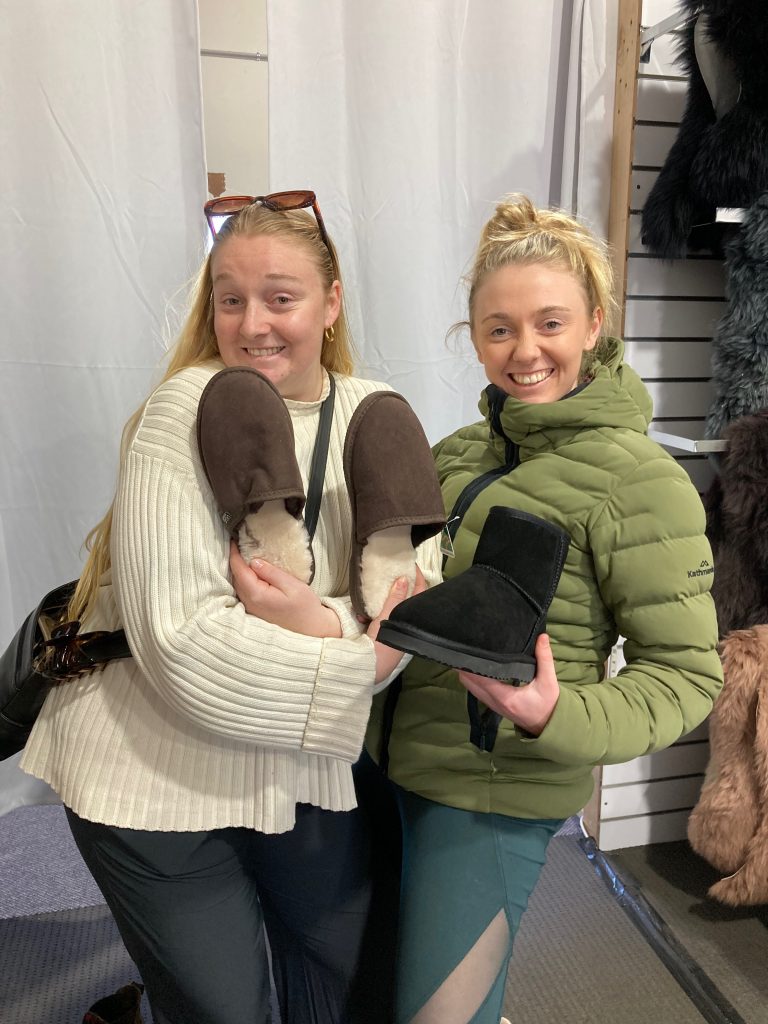 Kate found a pair of slip-on slippers inside.
Honestly, I've never seen anyone so delighted by a purchase. She was giggling and skipping around like a 3 year old! Definitely an awesome souvenir!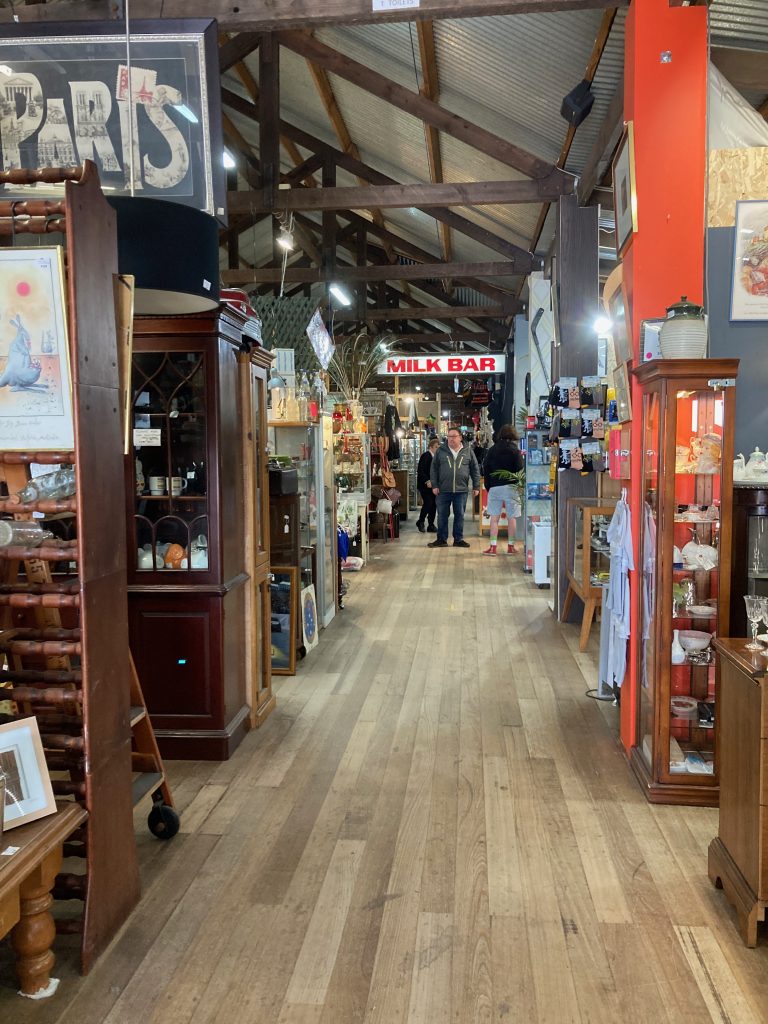 Then we ducked into The Old Mill.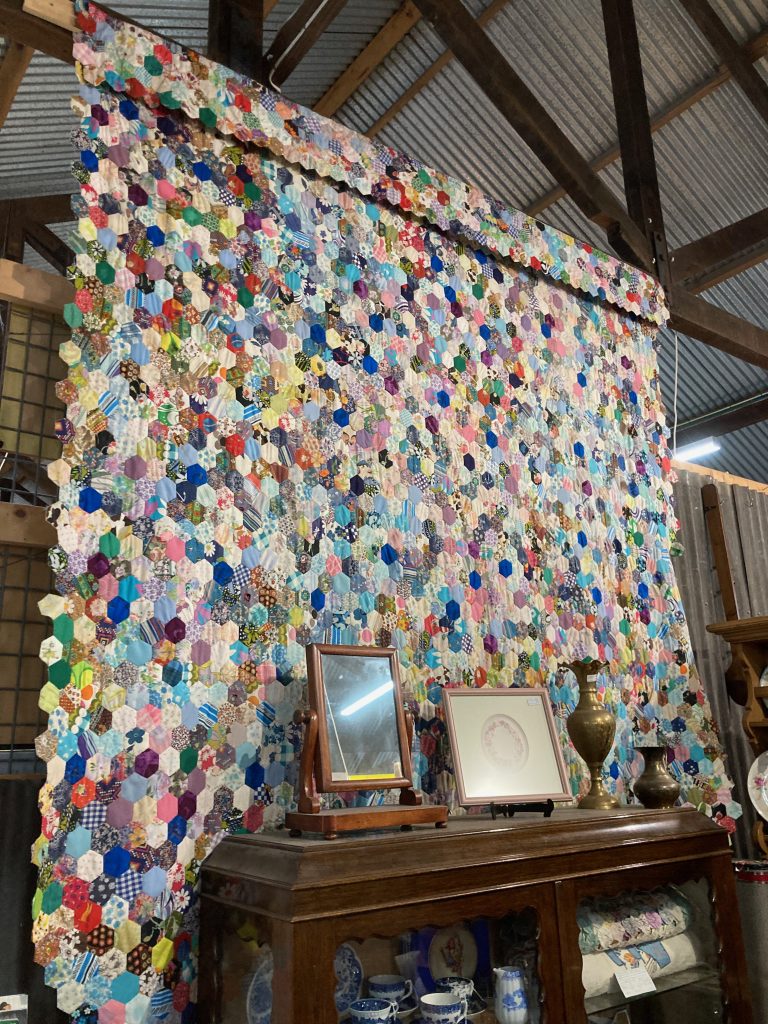 As I was wandering around I saw this massive hexagon quilt. It was double sided, with no filling in between.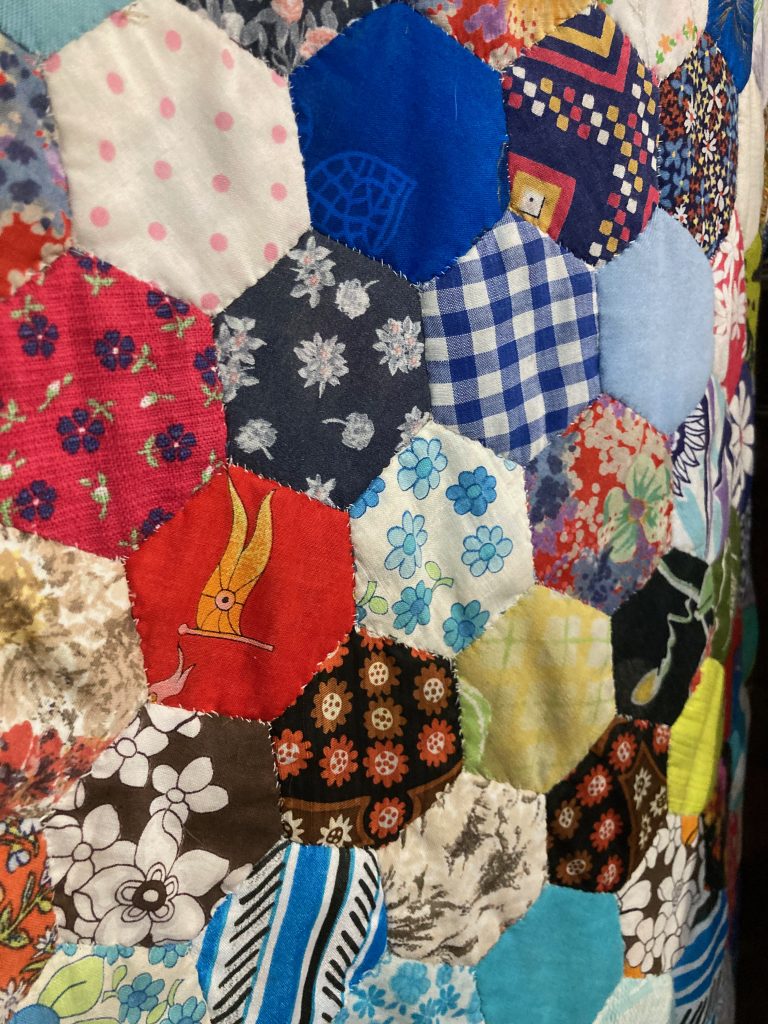 And hand-sewn. It must have taken some poor woman YEARS to complete.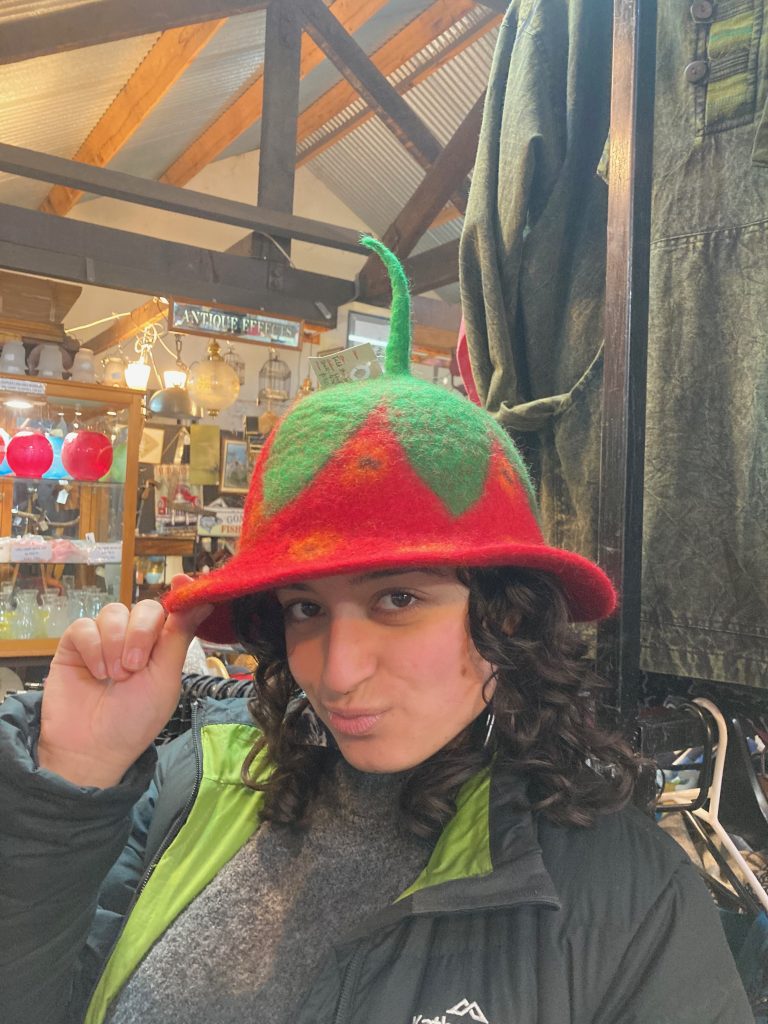 Jenna found a most fetching hat to try on.
Everyone but Izzy and I bought something. Izzy has a wedding to pay for and I've just given all my money to Tom30, (plus there's Antarctica coming up!) so we were very restrained.
Good on us.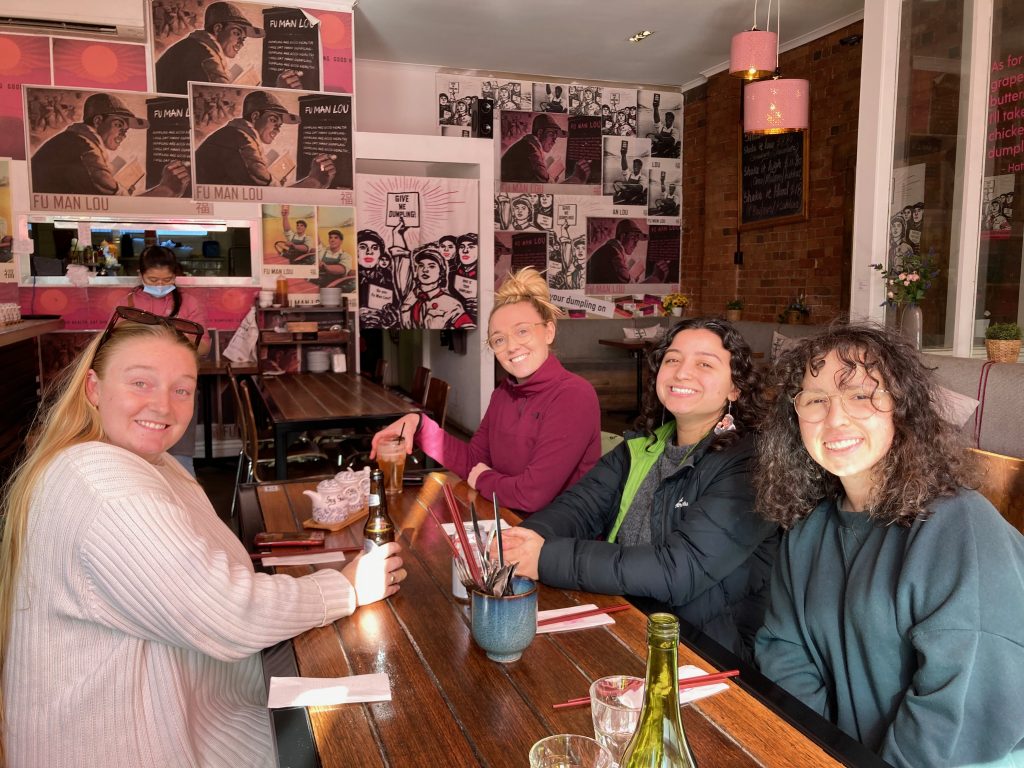 After all of that, we needed some lunch, so we went to a dumpling bar near where Jenna and Evan25 went to uni.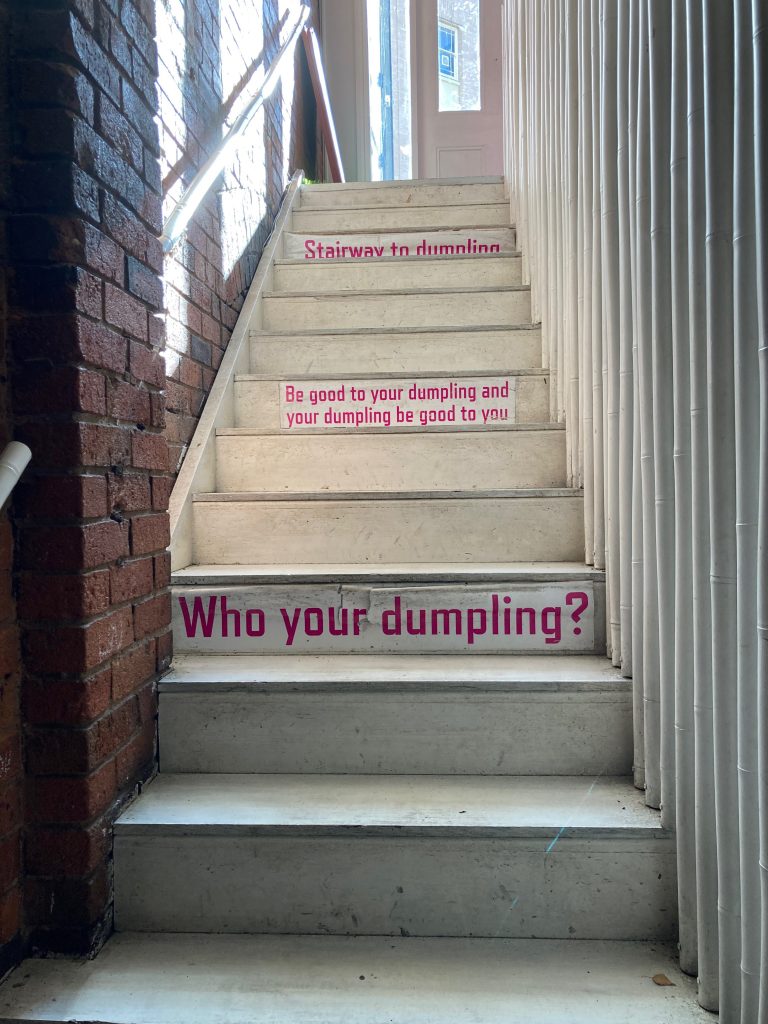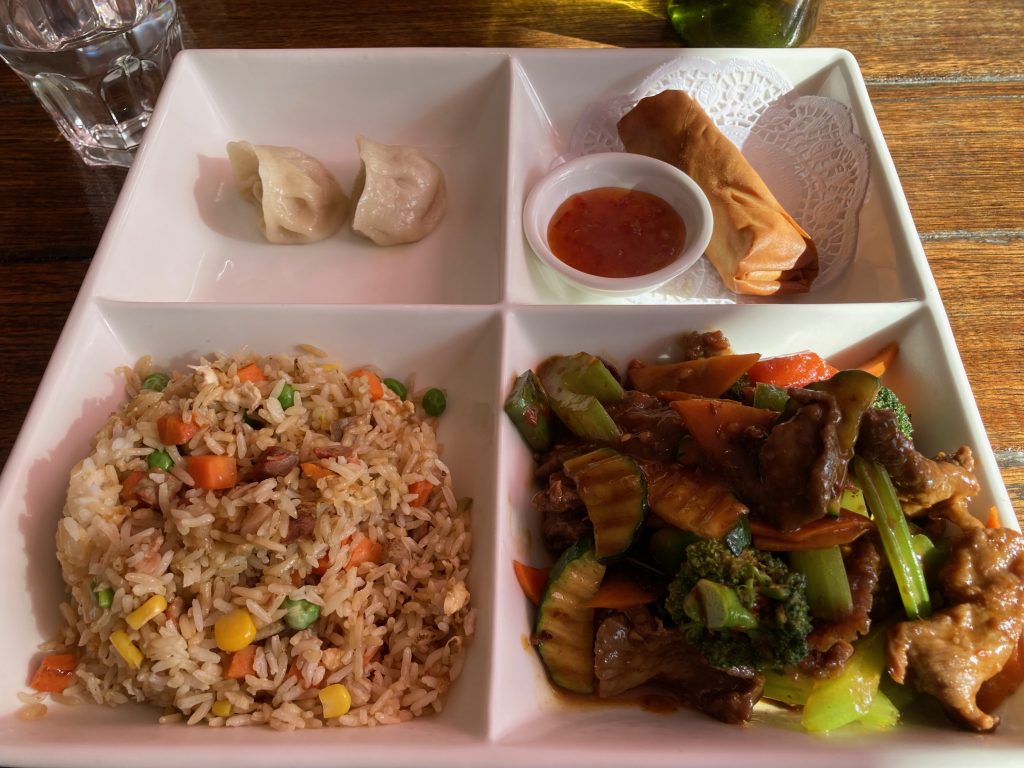 The lunch special. Not bad for $15.
After that, we went back to the town of Creswick to see what was happening there. It used to be a typical country town, but in the years since I brought the boys here for a getaway it's become a bit bougie and trendy.
We went to a beautiful clothes shop and what was supposed to be a hardware-type place but had the most bewildering range of utilitarian and gift-shop items that you could imagine. It was obviously trying to please both the locals and the tourists.
The sisters and Jenna bought some beautifully scented bath salts. Did I mention that the apartment we were staying at had a couple of massive baths in each room? So big that you could almost swim laps.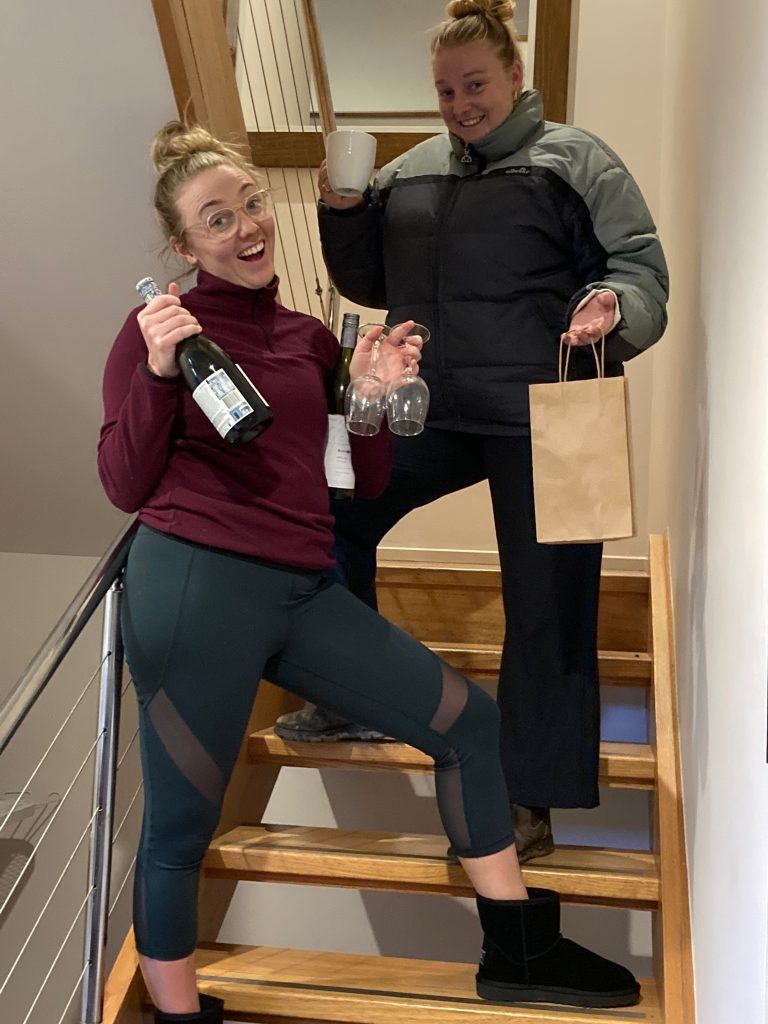 Ashley and Kate decided that they were going to have a bath. This is the shot I sent to my sister.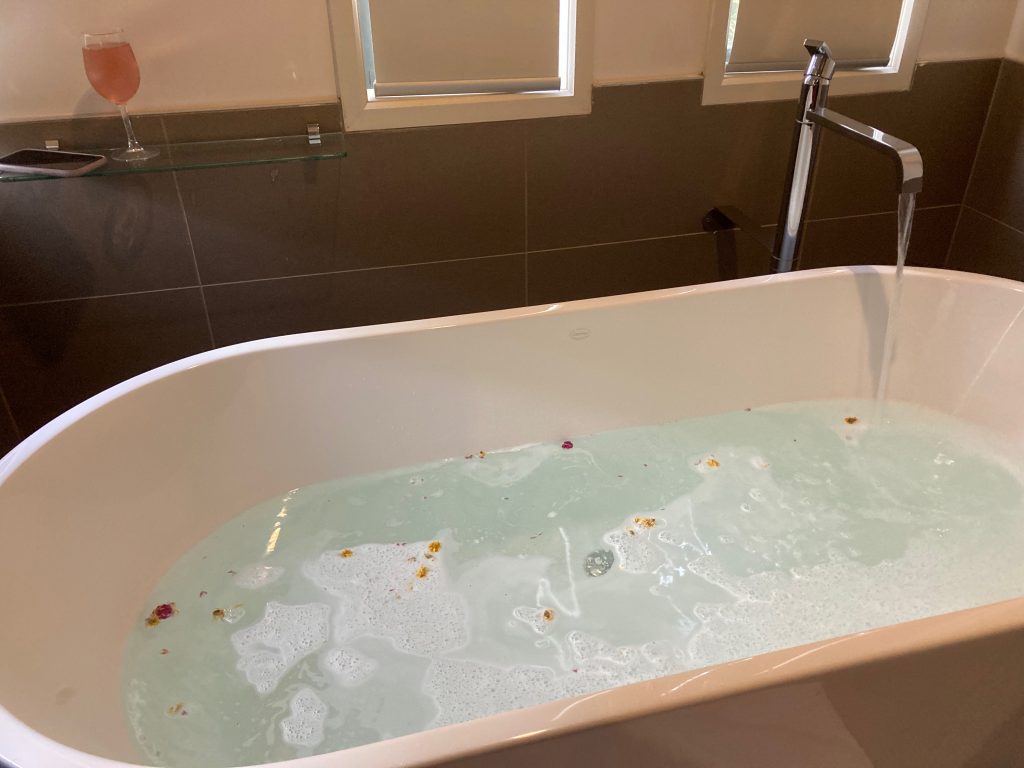 This weekend was NOTHING like the weekends I've spent away with my boys. Conversations about eyebrow threading, hairstyles, fashion, home decor… it was a whole new world.
Ashley decided that part of her contribution to the weekend was to make mulled wine in the thermomix. After dinner on Saturday, as we were settling down to a night of card games, drinking and laughter, she revved up the thermie… I made her use the old 'antique' version… and she served us a glass each.
It was so good!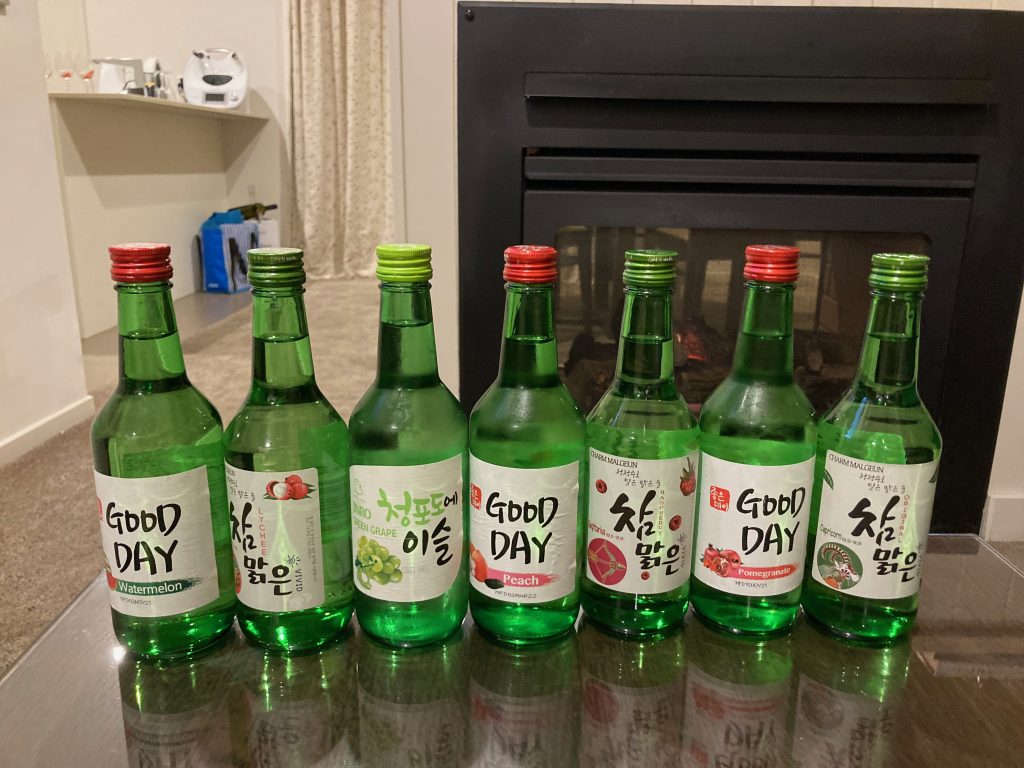 Two girls brought soju.
People who've read my account of when I went to North Korea will know that we downed many a bottle of soju while on that tour! I used to say that my lifetime of drinking had prepared me well.
Soju in Australia has many different flavours, which tones the original flavour down. Drinking soju isn't for the faint-hearted. It's VERY strong. We decided to have a taste test, with Jenna pouring a smidgeon into our glasses and we rated them. Watermelon, pomegranate and peach were the best, though the peach made me think of peach schnapps.
However, I was the only one who could drink the original flavour, which honestly tastes like rocket fuel. The girls couldn't stand it, but it made me nostalgic. This was the only soju we had back in North Korea. I ended up taking the bottle home with me. No way I was going to let that little taste of the happy times in the DPRK go to waste!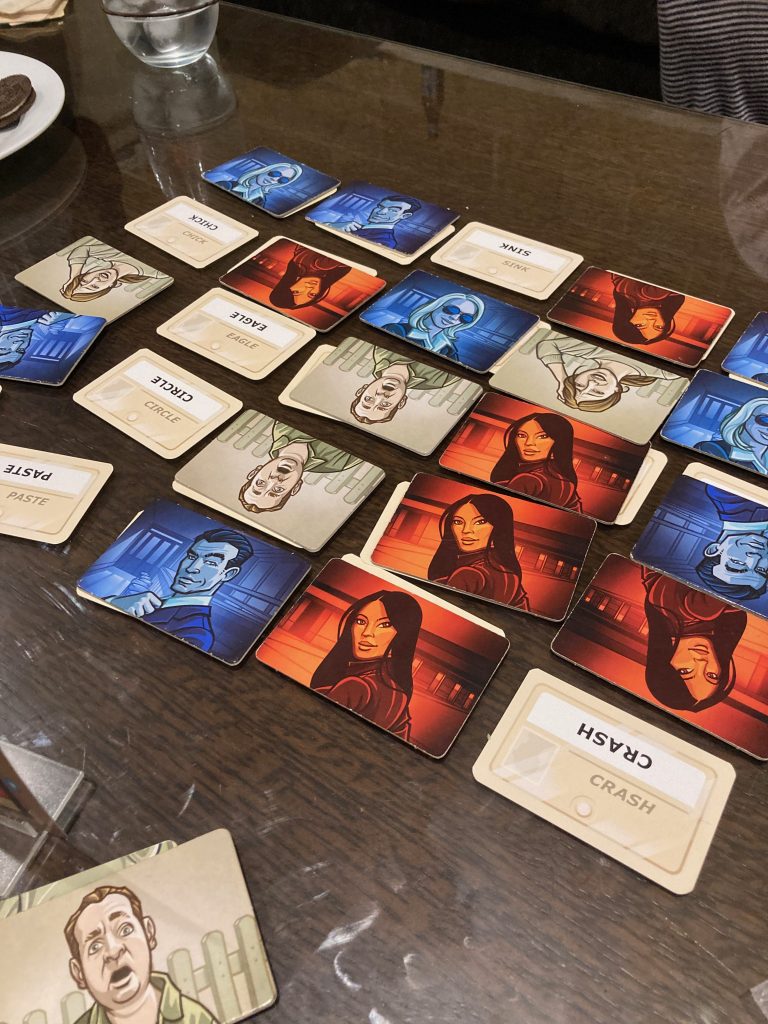 And to finish – here's one of the games we played. So much laughter and fun!
I decided to try and get the girls together when it dawned on me that despite being part of the family for 4 years, Jenna and Izzy had NEVER had a conversation without some or all of the boys being around.
That's just ridiculous.
I invited the nieces for a couple of reasons.
First – the apartment sleeps 5, so it made sense. Frogdancer Jones always likes to get more bang for her buck.
Secondly – and most importantly – women are the glue that holds families together. If you've been reading this for any length of time, you'll know that I always have a view for the long game. These four young women are going to be moving the family through into the future. It makes sense for them to get to know each other on a deeper level than merely "meeting for Christmas."
This weekend turned out even better than I hoped. I mean, I knew we'd have a good time. None of the girls are bitches (thank God!) and they already get along.
It was a weekend of conversations, laughter and bonding. We had so much fun. All 5 of us went home knowing everyone so much better, which made me very happy. Jenna and Kate live near each other and they were making plans to meet for dinner with their partners and to see each other's houses. How lovely is that?
Now they're all REALLY looking forward to David28 and Izzy's wedding, because there's a deeper connection than just being David28's cousins.
Kate and Ash got to spend 'sister time' together, which is really special once long-term partners enter into the picture. My sister was so happy that they got to do this.
We know that Izzy is a smiling assassin in games of strategy and Kate and I are excellent partners in wordplay games.
We know that Jenna is never happier than when she's got a task to organise and Ash is that rare breed of sports fan who can actually watch a game of footy with the sound turned down. Thank goodness. I hate the sound of sports commentary.
We also know how much they all love their partners. There was no whingeing about them at all, which is a fair feat seeing as they've all been with their partners from 2 – 5 years. They seem to have chosen well… even the ones who chose MY sons!
I knew that we'd all get along, but this was next level. I was so happy to spend time with them all and have time without partners and other family members diluting the mix. I think my family is so very lucky to have them all in it.
They were asking if we could do this again next year. I think that an annual girls' weekend could be a truly excellent tradition to have…
Dad joke of the day:
What's the difference between a literalist and a kleptomaniac?
A literalist takes things literally.
A kleptomaniac takes things, literally.