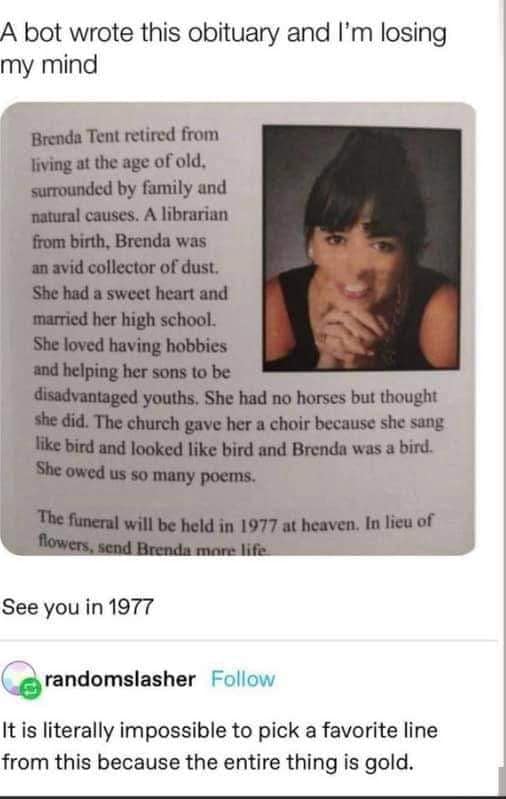 What's top of my mind: Work.
I've picked up a full week of work. I don't know if I've mentioned it here, but I've worked out that every FULL day of work pays for TWO places at the wedding reception next year.
I know; on one level it's a bit depressing. That's a lot of hours to pay for a couple of meals and some drinks. But on another level, I get up and say, "Today I'm working for my brother and sister-in-law!" Or whoever.
People at work find that funny. "Who are you working for today?" they ask as I come through the door.
So far I haven't said no to a single day of work. Let's see how long that continues. This week will be a real test. I keep looking ahead to October, though. Traditionally, as soon as the year 12 exams start, then all CRT work stops. I know I'll have a nice long break over late spring and summer.
Where I've Been: 'Kill Climate Deniers.'
Sounds a bit dramatic, doesn't it? Well, that's appropriate, seeing as it was a play. One of my ex-students from my 2019 Theatre Studies class messaged me and asked if I'd like to come and see her play.
Of course! When I saw that another of my students was doing the multi media, I was rapt. Two birds – one stone, baby!
I was so proud of the work they did. It was lovely to catch up with Helena after the show. Can't believe they're now 21…!
Where I'm going: nowhere.
A full week of work. There's not much room for anything else. I like being here with the kids and my friends, but yet… I miss my untrammelled days of freedom.
Though I am taking Poppy to the vet next Monday for her anti-arthritis shot. At least I have that to look forward to…
What I'm watching: Better Call Saul.
A year ago, Ryan27 finally convinced me to watch 'Breaking Bad.' We watched all 5 seasons together as a mother/son thing, even though he'd already seen it before.
I think the same thing might happen with Saul.
What I've been reading: The new Dervla McTiernan book.
I forgot to bring my book to work yesterday and I was so cross with myself! I had 4 periods of English, all with 10 minutes of silent reading, so imagine how much I would've been able t get through?
I've only read a couple of chapters so far, but it seems promising. The Murder Rule is a stand-alone story, which is fine, I guess… I really want to find out what happens next in the life of Cormac Reilly, her protagonist in the series that starts with The Ruin. I've got my sister reading this one at the moment. 🙂
What I'm listening to: Podcasts.
I tend to listen to poddies in the car and music when I'm quilting, so this week has been a Casefile, Dan Smow's History Hit and Welcome to Nightvale time.
My son, Evan25, is starting a comedy podcast next week with his friend. I'll post a link when it's live.
What I'm eating: Home-made bread rolls for lunches.
I'm working to earn money, not to spend it at the school canteen! (Though having said that, the school canteen has really lifted its game – the food is fantastic… though not cheap.)
My go-to for lunch when I'm working is a home-made bread roll with home-grown lettuce and some cheese. This week it's Red Leicester. Yesterday I tried putting some nasturtium leaves in as well, thinking they'd give a peppery flavour, but I couldn't tell the difference.
It's quick to make, fills me up and is quick to eat. That last point is handy when you usually have a yard duty for half of lunch.
Who needs a good slap: Me.
Normally when I work, I set the alarm for 6:30.
I gently awoke this morning, then lazily reached out and grabbed my laptop. It was 7:20. I didn't set the alarm.
I didn't know I could start running first thing in the morning. I got here on time, but oof!
Note to self: when you know you're working, set the alarm immediately! Don't wait until the night before.
What I'm planning: a 'girls weekend' away.
I don't know if I'll be able to swing it, but I'm thinking a couple of nights away with Jenna, Izzy and my two nieces might be fun. It'll give them all a chance to connect – I like the idea of the young women of my family all being friends.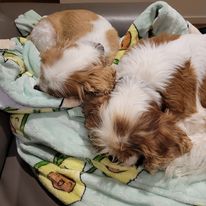 What has made me smile: The little woofs.
Apparently they wait for me ALL DAY. This is a photo of Poppy and Jeff asleep on Ryan27's Oodie.
We really don't deserve dogs.
Dad joke of the day:
My boss asked me why I was only sick on work days.
I said, "It must be my weekend immune system."