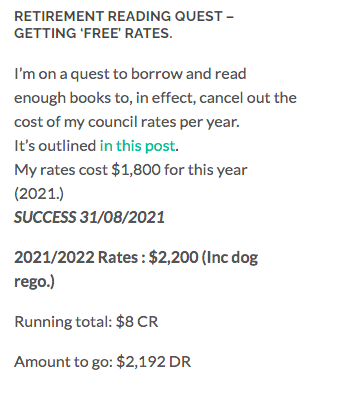 On the last day of winter, I finished the 6th audiobook in the 'Woody Creek' series by Joy Dettman and knew that my challenge was done. I'd read/listened to more than $1,800 worth of books from my local library and (in effect) clawed back the value of my rates from my local council.
Even if your mortgage is fully paid off and you have that 'Now no one can kick me out' feeling warming the cockles of your heart, it's not entirely true. If you don't pay your rates, the council can take your house off you and sell it to get their money. Admittedly, this can take years to happen, but still. Paying rates is one of those things that can't be avoided, like death and taxes.
I was nearing the end of my challenge when my rates bill for next year came in. They've raised the rates by $300. That's like 7 audiobooks or 17 older paperbacks. Yikes!!
But Frogdancer Jones is made of sterner stuff than they might think…
Ok, Kingston City Council. Challenge accepted! I'm continuing the challenge into next year!
Just for shits and giggles, I'm also adding the cost of the dog registrations. In for a penny; in for a pound, as they (used to) say. I'll wring back every dollar from that council!
Though once I finish the last of the 'Woody Creek' series, I'll slow down the challenge for a while. I have a huge pile of books sitting beside my bed that I need to read. Some of them are gifts and some I've bought for myself. I'm looking forward to getting stuck into them.
Such a lovely, sunny day. Just the sort of day to go out into the garden with an audiobook.
🙂