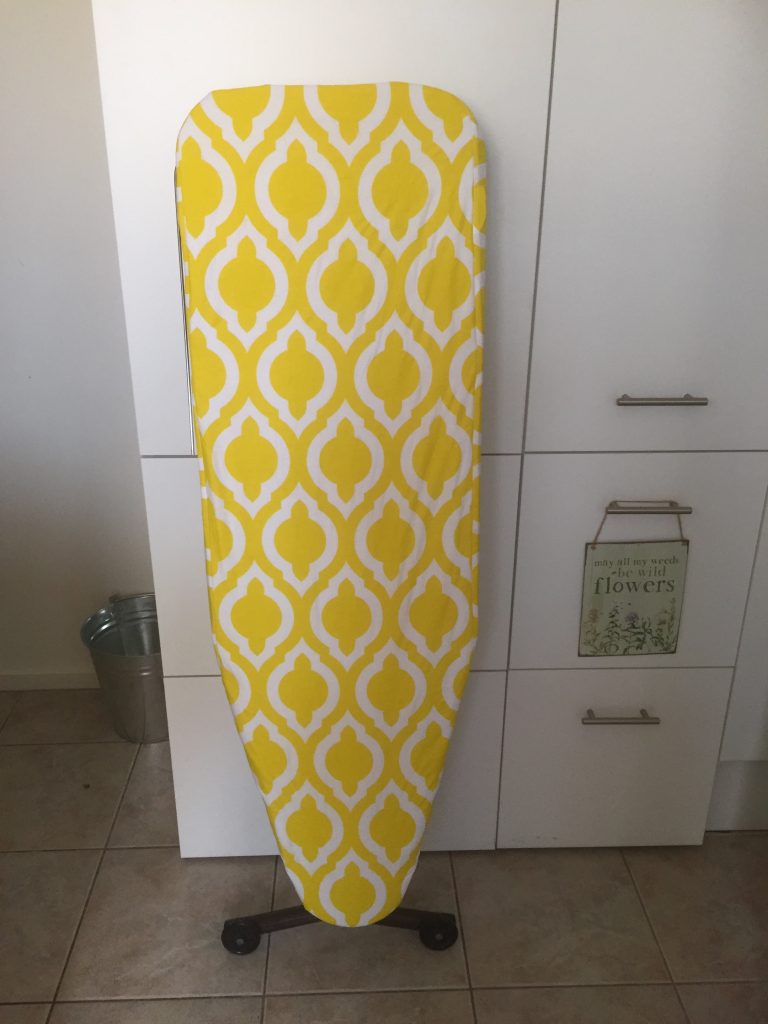 Some of you may remember the post I did early in the summer holidays, where I went mad buying clothes, after not having bought many in the last 5 years.
And it's been great! I've had a week of swishing through the front door of the school, people complimenting me, kids also saying nice things about my level of style, sophistication and downright beauty… I've been having a ball. But there's just one problem with all of these new clothes.
Linen looks much better when it's ironed.
Now, I'm not stupid. I knew this up-front. As I was standing in the fitting room at David Jones with roughly 4,000 different items of clothing I'd dragged in to try on, I looked at myself in the mirror and said, "Frogdancer Jones – if you buy any of these clothes you have to start ironing again."
*sigh* I bought about 2,000 different things. Around 120% of them are linen. Or at least that's how it feels right at this moment.
When we moved to The Best House in Melbourne nearly 3 years ago, I threw out the ironing board cover. I'd say that it "didn't spark joy" but that was long before anyone heard of that expression. Ever since then, if I ever needed to iron anything I'd put a towel on the bench in the laundry. David25, clearly not a fan of this work-around, bought his own ironing board for his work clothes and just before going back to work, I borrowed it to start the year off right.
The next day he did a Bunnings run to get a few things that he needed and he came home with an ironing board for me in my favourite colour. I was touched – and also resigned to my fate. There was no excuse now!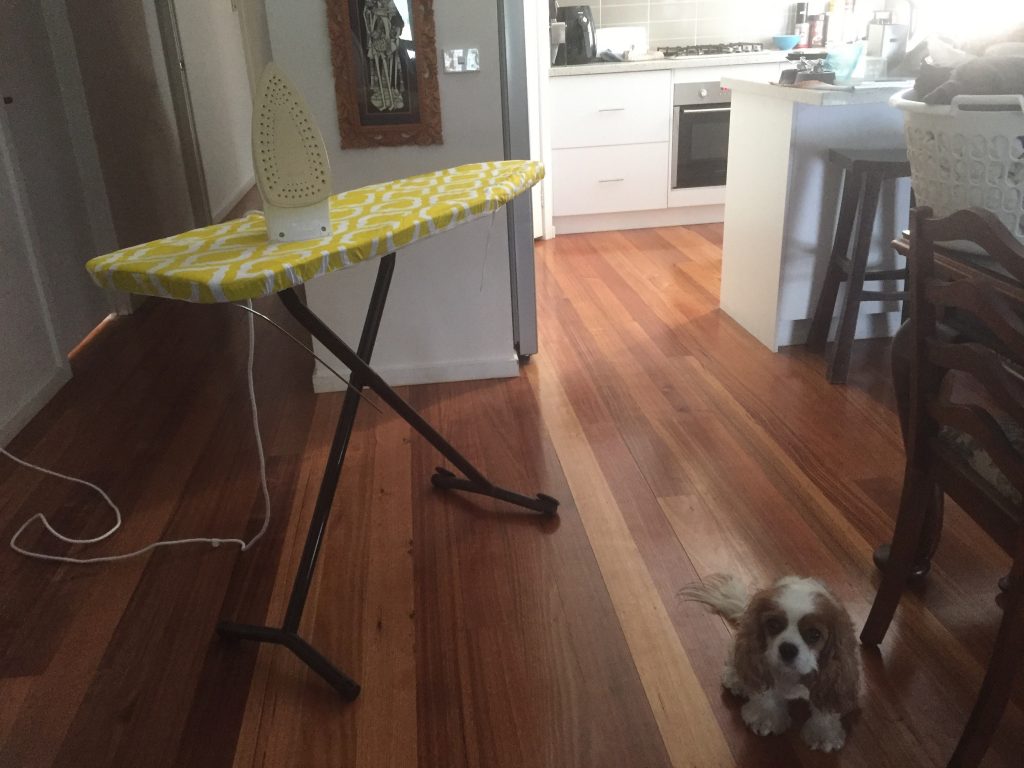 I set everything up in the lounge room. It was stinking hot outside and the cooling was on. Poppy, who is my keen 'halper' with everything, was a bit bewildered by this new item of furniture.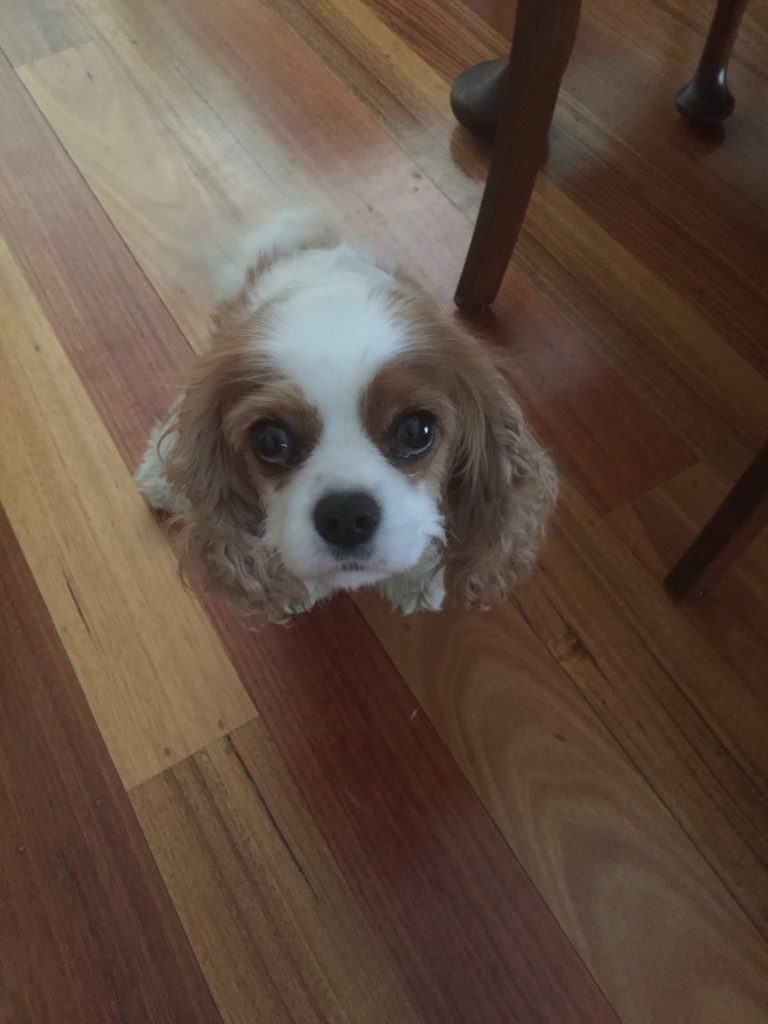 Close up shot. I think she'd prefer it to be IN the kitchen rather than near it, so she can have a sporting chance of getting something to eat.
I looked at my watch. It was nearly 4:40PM on a Sunday afternoon – twenty minutes away from Wine O'clock. I could do this.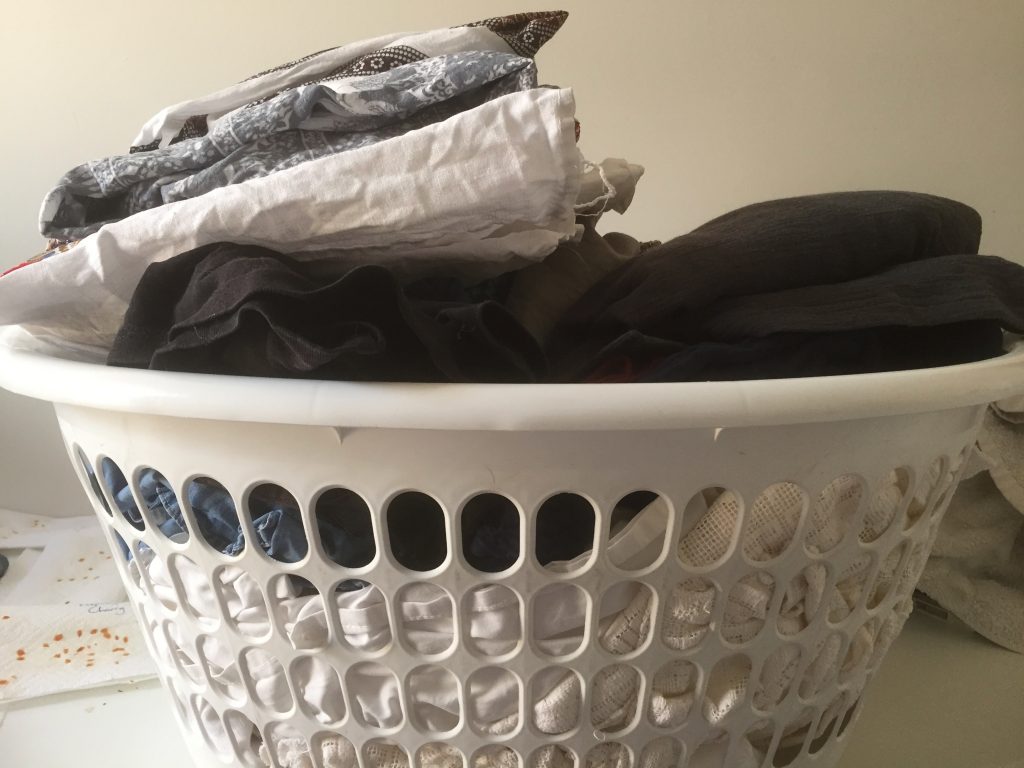 The bottom things are the Christmas tablecloths. They can wait. I grabbed the first item of clothing – some Bali pants Mum and Dad brought back for me the last time they were there – and I set off.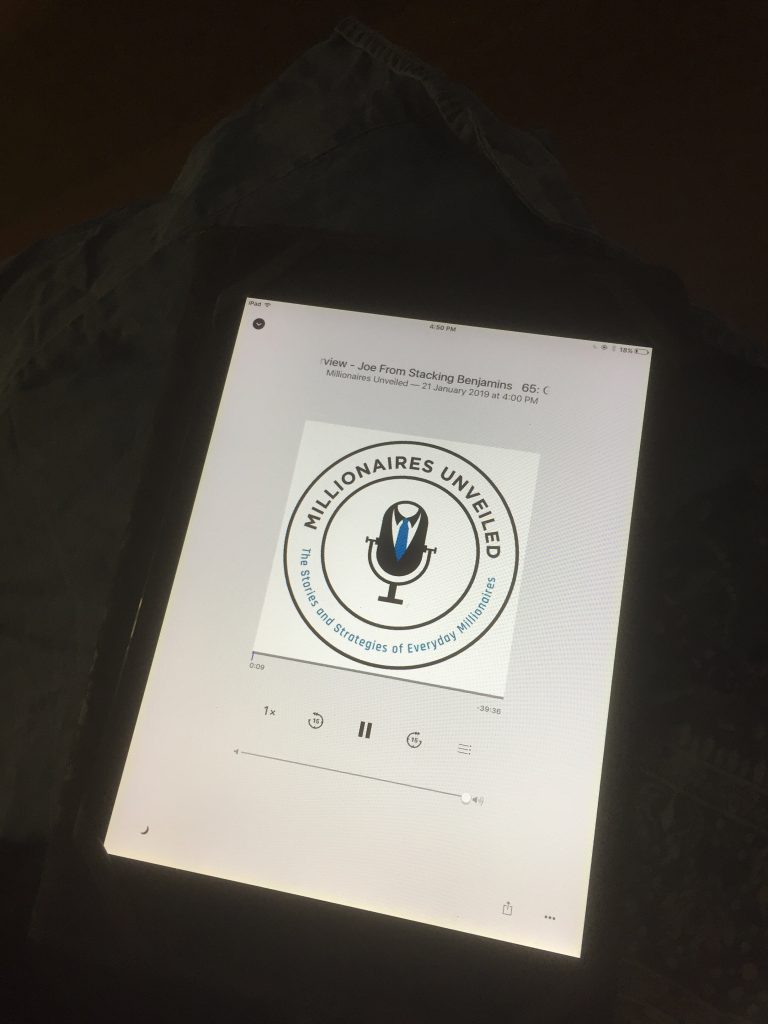 Of course, I had a podcast on. This was a really good episode by Millionaires Unveiled, where they were talking with the guy from 'Stacking Benjamins.' You could do worse than listen to an interview they did a few months ago with a single mother from Australia called Frogdancer Jones… just saying.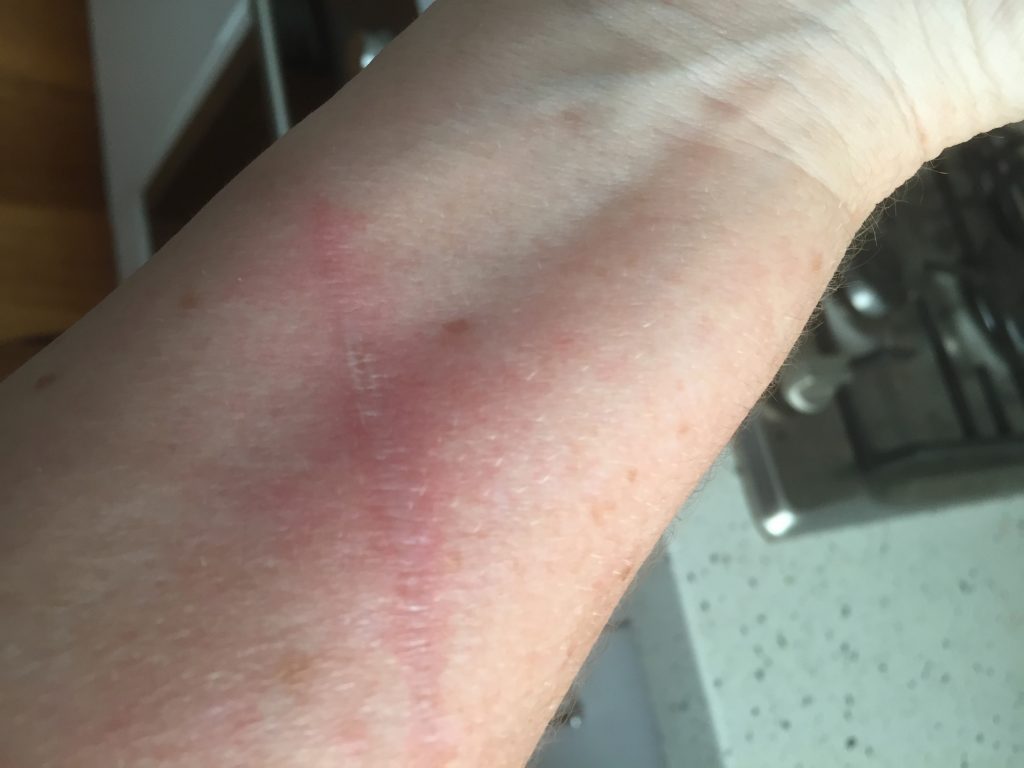 I didn't escape unscathed. Stupid iron. You'd think someone would invent an iron which would move out of the way.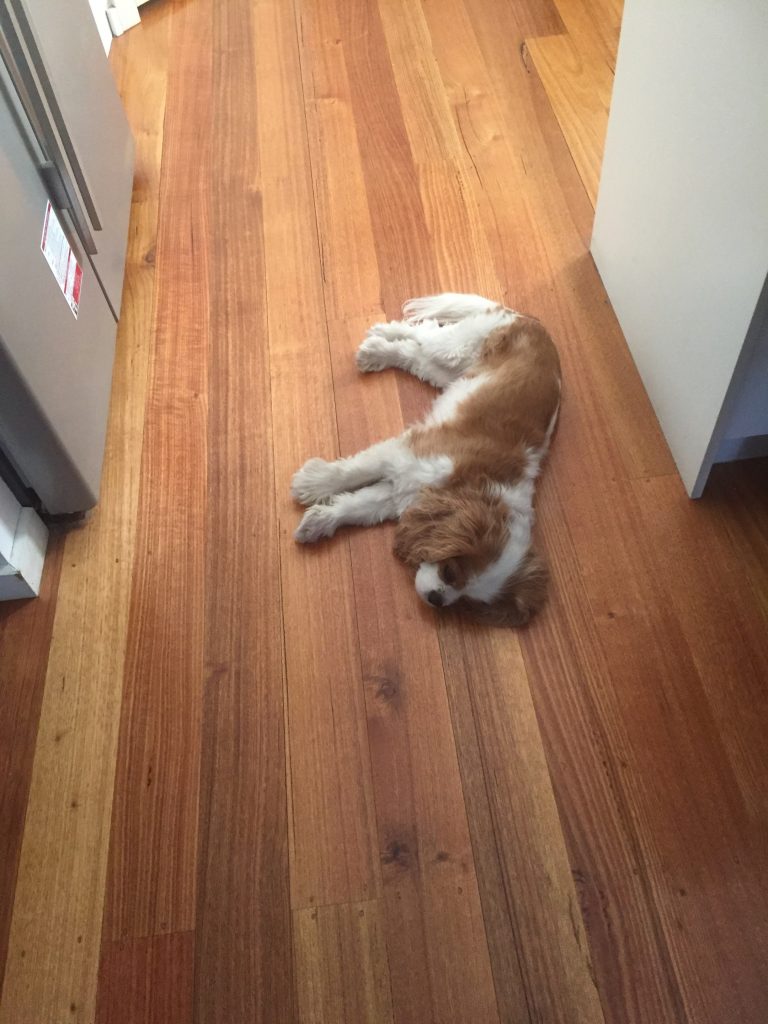 By the time I finished, the podcast was over, my arm was sore and Poppy had given up on me completely.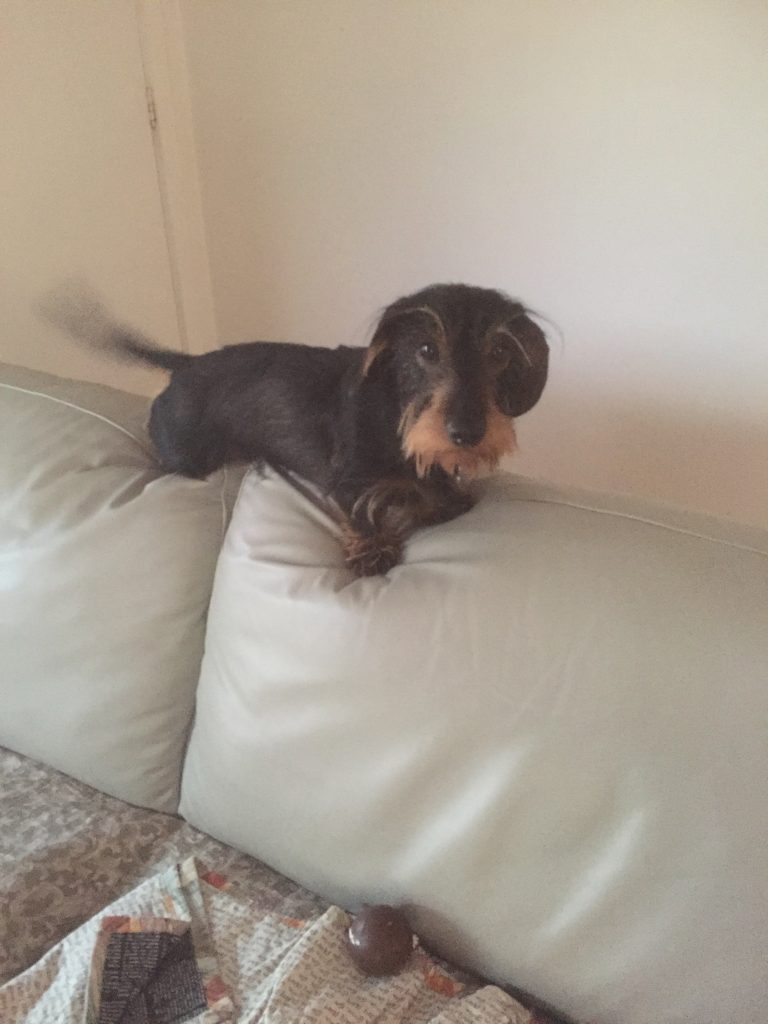 But Scout was watching. She had a ball ready and waiting for me to throw.
So what's the financial takeaway from this post? Seeing as this is a FIRE blog and all. Maybe… when you practice delayed gratification to reach your financial goals and then you finally get there – it makes sense to look after what you reward yourself with.
Or maybe I felt that I've written quite a few serious posts and it was time to mix it up a bit.
Stay safe out there! Be careful of hot irons!