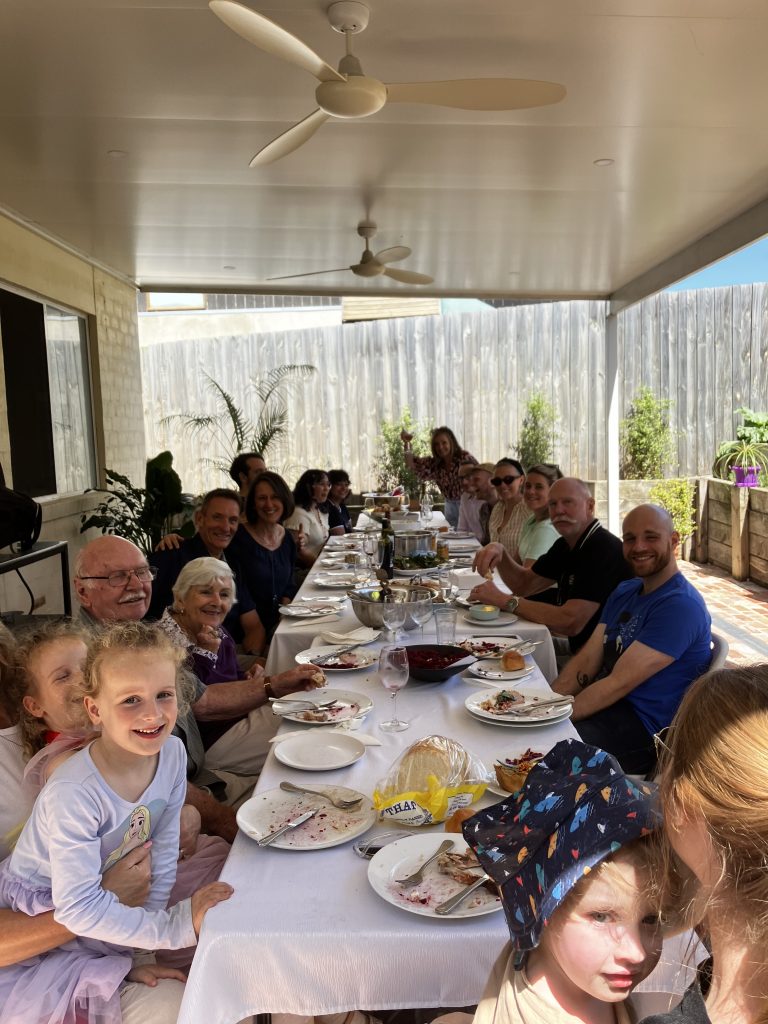 What's top of my mind: Feeling glad I threw the party.
On Sunday we had a belated party for 4 birthdays, which all happened when I was away on my England and Ireland trip. We had 19 adults and 4 kids, spanning 4 generations. The place was jumping, baby!
Ryan28 and I worked like navvies to get this place ready. You've already seen how he and David30 worked to get the Man Cave ready – we were also scrubbing the outdoor area, manoeuvring huge terracotta pots into place to make it look inviting and filling them with massive plants. We had a hard rubbish collection to get rid of a couple of outdoor couches that had seen better days, while then filling the spaces left on the front and back verandahs with plants, plants and more plants.
The morning before the party, a couple of extra people suddenly said they were coming, so Ryan28 and I went to Bunnings and bought another trestle table and 6 more chairs. Safe to say that we are now party-ready at the drop of a hat.
It turned out to be a lovely afternoon. Everyone sat out the back and simply enjoyed each other's company. The dogs, initially a little frightened of the little children, soon discovered that having little people holding food at their eye level was GREAT. Jeff enjoyed it so much that we had to put him away for a while so little Austen could actually finish a sandwich.
I'm hosting Christmas this year so I feel that we've broken the back of the work we'll need to do to prepare. And now we have enough seating to prepare for anyone who wishes to come.
Where I'm going: Alaska and Canada.
I was scarcely back from the last trip when I was booking the next one. Megs, a friend from work, is taking Long Service Leave next year and she asked if I wanted to travel somewhere with her. Seeing as I wanted to knock over my seventh continent sooner rather than later, I suggested Alaska and Canada.
We're all set to go for 4 weeks in May/June next year. We're taking a 2-week land trip around Vancouver, seeing Lake Louise, Banff etc, then we're jumping on a plane and flying to Anchorage to take an expedition ship, similar in size to the one I went to Antarctica on, down the coast and back to Vancouver.
It should be good fun.
Where I've been: taking it easy.
Yes, the last two days after the party have been full of reading, binge-watching tv shows and having little naps.
It's convenient when you don't have a job to go to.
What I'm reading: The Trauma Cleaner – Krasnostein
I know I'm late to the party with this one, but it came up on my library's Borrowbox for reading and I remembered years ago that my sister said she really enjoyed it.
I started reading it when I was waiting at the hairdressers yesterday. It's a little confronting when reading about the abuse that poor little boy suffered, but I can't deny that it keeps you flicking to the next page!
What I'm watching: American Survivor.
The 45th season. I binge-watched 5 episodes yesterday.
Hey – I was still tired after the party, ok? Don't judge me…
What I'm listening to: Shandee's Legacy.
I'm catching up on podcasts and this is one that I'm a couple of weeks behind in. But WOW.
'Shandee's Story' was a podcast that looked at a cold case murder back in 2013, which inadvertently uncovered a huge scandal at the DNA lab in Queensland, where for well over a decade they had been covering up a shockingly badly run laboratory that was missing DNA in thousands of samples.
This meant that since 2008 or so, serious criminal cases in Queensland, such as murders, rapes, sexual assaults and the like, have been going unsolved because the DNA lab had been missing DNA that would have been crucial to identifying the perpetrators.
The people running the lab KNEW THIS. But they thought it was more important to get results out quickly, rather than taking a bit more time and getting ACCURATE results to the police and courts. It beggars belief.
There's been an enquiry and the lab is now working on a backlog of at least 30,000 samples that have to be re-tested, which will take years.
But it seems that there was still more corruption going on there. It's uncomfortable listening. It's awful to think that there are people who would put anything before the proper running of a DNA lab that is meant to find violent criminals and protect the community from them.
What I'm eating: Leftovers.
God I love a leftover! It's the best thing about entertaining at home. There's nothing better than sashaying up to the fridge for lunch and dinner and having gourmet food there, already prepared… for free.
What I'm planning: When to do my sky-dive.
I asked the kids for a sky-dive for my birthday and they didn't disappoint.
Who needs a thumbs-up? ME.
Yesterday I received a job offer from the school for a 4-day-a-week teaching job for term 1 next year.
I turned it down without a moment's hesitation.
I'm proud of myself. I drew a line in the sand last term before I left for my trip and I'm sticking to it.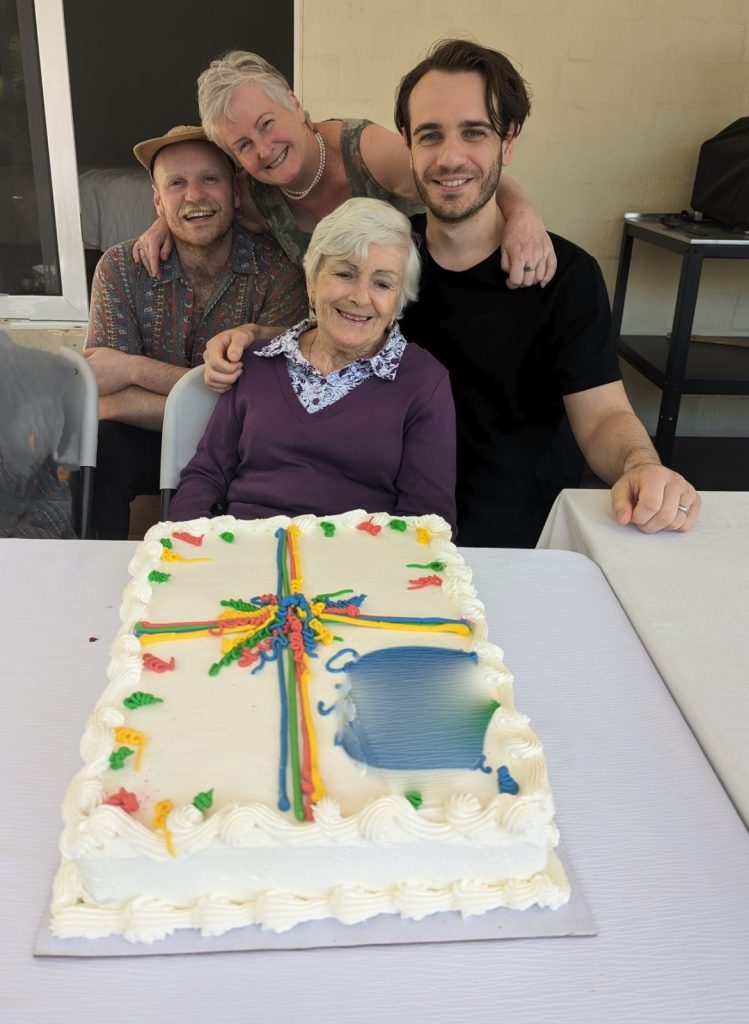 What has made me smile: The cake.
I decided to make life easy on myself for this party, given all the renovation and garden work we were doing beforehand, so I went to Costco and bought a cake with our real-life names on it.
When everyone went home, there was still a huge amount of cake left, so I called out to the kids next door and asked if they wanted it. Ryan28 dropped it off (I was already in my pjs by then) and then 10 minutes later, as I was clearing away a few things from outside, little Delila climbed up on the fence and handed me this: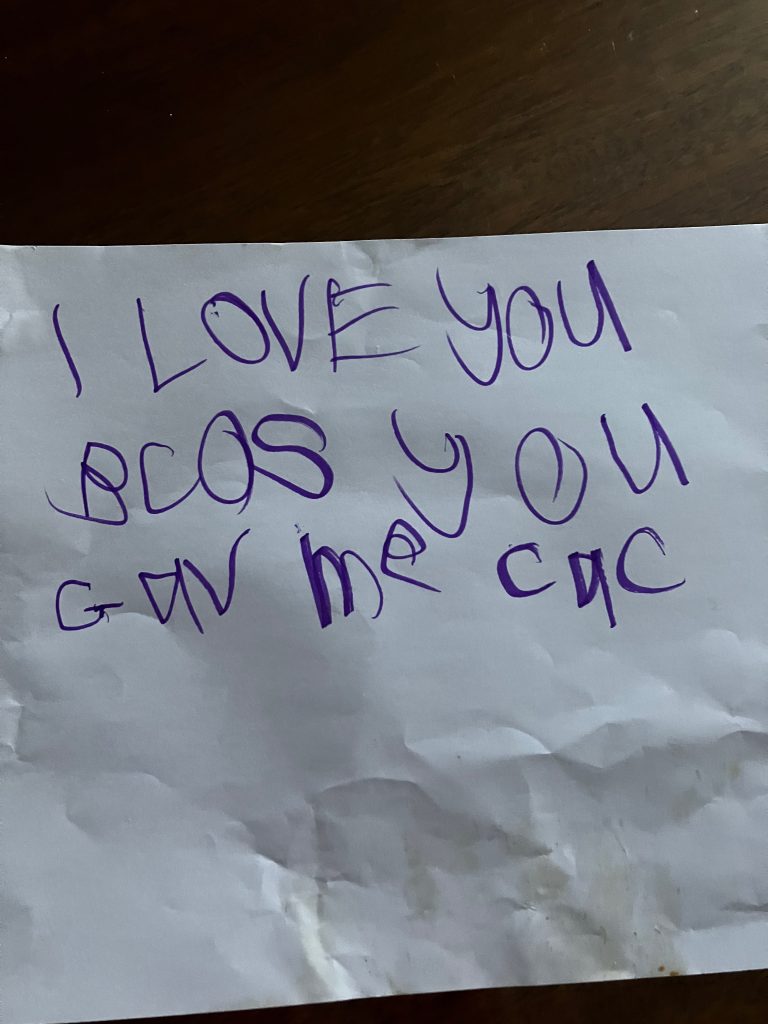 I laughed and laughed!
Dad joke of the day: