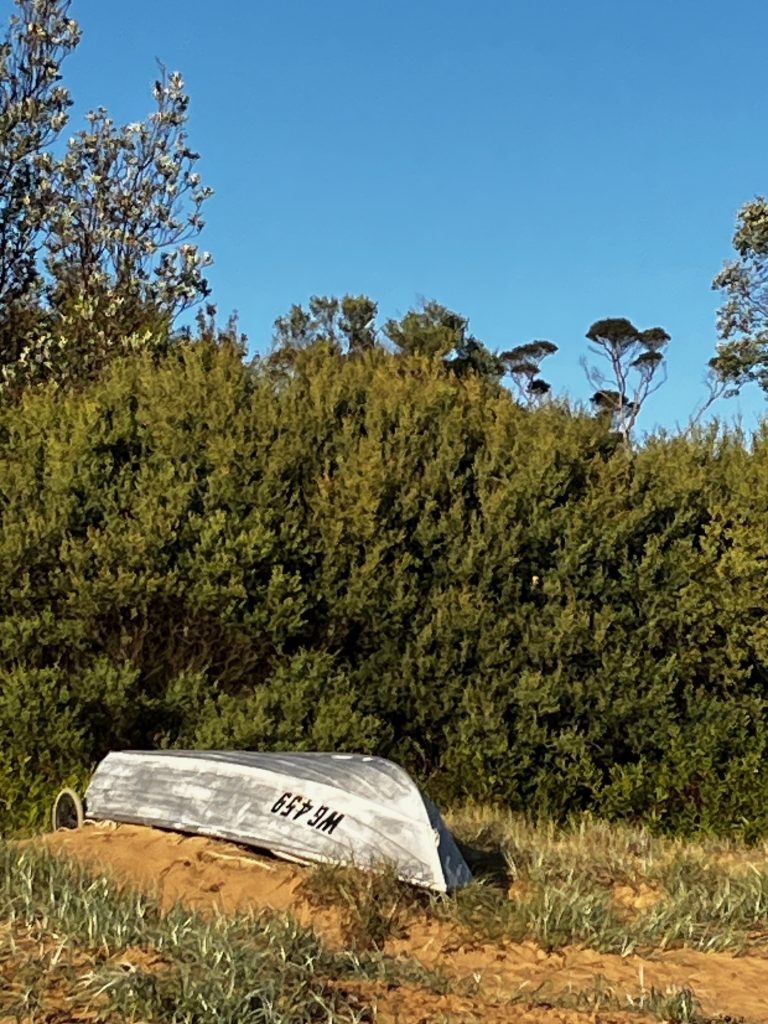 What's top of my mind: Should I sell my Roman blinds?
The people who sold me The Best House in Melbourne 7 years ago installed cheap Roman Blinds throughout the house. I'm going to redecorate some rooms this year and I definitely want to replace the harsh angles of the Romaan blinds with some softer drapes.
The blinds are in perfect condition… it just seems like such a hassle to Marketplace them. But I suppose once I get some cold hard cash in my hand I'll be glad I went to the trouble.
Where I've been: on the next Little Adventure!
The photo at the top of the post is a teaser. Stay tuned…
Where I'm going: To Mum and Dad's after work.
Looks like today is the only day this week when it'll be convenient to pop in to see the parentals. I always park my car pointing in the right direction every time I work, either towards home or towards Mums. Today I'll be heading down to Hampton East.
On the way home I'll be stopping into Aldi to return a couple of dog jumpers I bought for Scout. We tried to get her to wear one, but she keeps wriggling out of it and leaving it on the ground. If she starts shivering this winter, I'll be ignoring her. I tried my best to keep her warm.
What I'm reading: A couple of disappointing novels.
It's not worth even telling you about them. This past week's reading has been underwhelming.
What I'm watching: 'Anatomy of a Scandal' on Netflix.
I know I'm late to the party, but I just finished this series last night and I really enjoyed it.
I'm also watching 'Alone' on SBS. A new episode drops every Wednesday.
What I'm listening to: The Frankston Murders.
I'm onto the last episode and I should have knocked it over by tonight. The fact that Paul Denyer should even be considered for parole is an absolute joke. If he's released, I'll be very nervous. Every woman in the whole of Melbourne was very scared during his killing spree. Learning about the details through the podcast makes it even more important to me that he stays behind bars.
Some people can't be rehabilitated.
What I'm eating: Food.
Nothing special happening with the cooking at home, though on my Little Adventure we had some lovely meals.
What I'm planning: My finances.
It appears that we'll have some medical expenses coming up, so I've included an estimate in my CRT spreadsheet. I like to pop in 'goal' expenses, such as my holiday in September, Clown College and wedding stuff etc, and then slowly chip away at them.
I still have a few more weeks of clown college to earn and then I'll swing into this new thing.
I suppose it's lucky that I have the CRT work available to cover these sorts of things without raiding my nest egg. Of course, I could cover all of these expenses without having to work, but it just makes my single-mother-poverty-brain feel better if I leave my superannuation untapped for as long as I can.
I'm still too young to dip into it at the moment anyway… but earning this money means that my investment accounts aren't getting drained as quickly as they might otherwise be.
I'm conscious of Sequence of Returns Risk. Being on my own, I have to look after my future self. It's a bit of a drag doing CRT work now – but I'm VERY sure I don't want to have to do it in my 80s!!
Who needs a good slap: Me.
On Monday, I was thinking so hard about the best way to drive to the new school I was working at that I started backing the car out… and banged straight into my gate. I knocked it off the gears so it couldn't move. I was trapped inside my own property!
Fortunately, I was able to push like mad and open it just enough so, with Ryan28's guidance, I was able to manoeuvre the car through the gap and out onto the road.
Ryan28 was able to get a gate guy out and he lifted the gate back onto the gears with a crowbar. A $220 lesson to always look in the rearview mirror.
Hmmm… maybe I should sell those blinds. It might cover the cost of the gate repair.
What has made me smile: My hanging baskets.
Sometimes it's the little things. I have 6 hanging baskets in the front of my place. When I got back from Antarctica I planted pale yellow petunias in them.
They've been looking a bit raggedy for the last little while, so last week I bought 12 pots of violas and replenished the pots. Every time I look out of the windows or pull up in the driveway, I see those splashes of colour and it makes me smile.
Dad joke of the day: