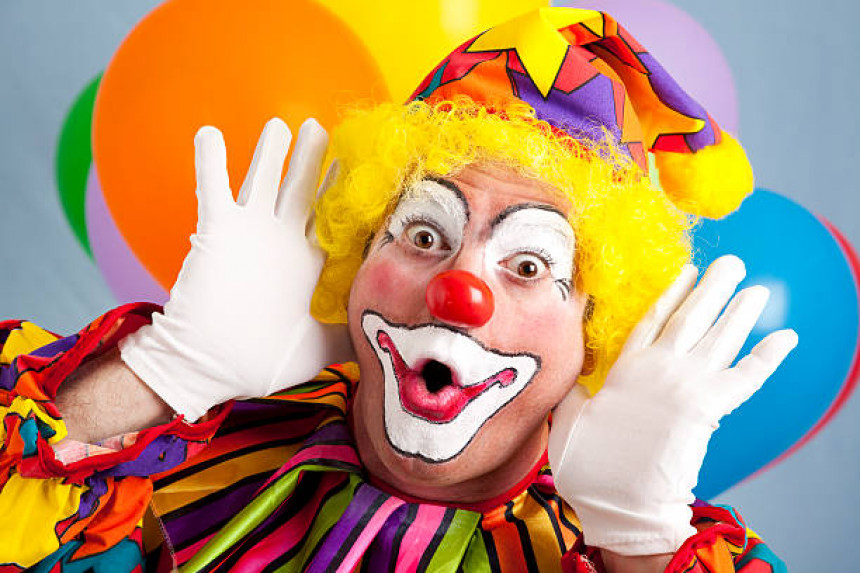 What's top of my mind: Helping Evan26.
Fortunate Frogdancer strikes again – the school who'd offered me a month's work actually found a permanent replacement, which was great for the kids AND great for me. I might end up doing CRT work every day for the next 4 weeks anyway, but it'll be for more money and in a school where I'm familiar with everything.
So yes, here I am again at work – on Monday I got a text from the Daily Organiser at 6:10 AM asking if i could work that day. Oof. Woke me up. This morning? It was a text sent at 12:45 AM. I'm not sure that that woman ever sleeps.
Anyway, I'm glad for the work as it means I can start salting away the money Evan26 will need for his course in clowning that he'll be doing in France in July. I figure that 20 days' work will be enough to cover what he'll need.
People have asked why I'm prepared to go back to work to pay for Clown College. There are a few reasons:
He's already paid for his accommodation, passport and airfares. I'm frugal – I can't stand the thought that all of that money could go to waste.
Any money I shoot his way will be a loan – it wouldn't be fair to the other boys if I threw thousands of dollars at him without duplicating it another 3 ways. I'm not prepared to do that – the last couple of years have been very exxy, what with weddings and helping towards house deposits and paying for holidays to see penguins and Henry VIII's grave.
The work I do isn't difficult and it pays very well. Obviously, I'd prefer to be at home, enjoying my perfect freedom, but if the kids need some help, this isn't exactly an arduous way to help them.
The most important reason – he's trying to build a career in one of the hardest industries in the world. If he was lolling around, never doing any work but was always "gonna" do it, then he'd be missing out on that course. Instead, he's writing his own shows, going to auditions and acting on stage and making a podcast every week with his best friend. If he's putting the work in – and I judge it to be good – then I'm happy to help.
Where I've been: Bunnings.
I've ripped out the pale yellow petunias in the hanging baskets in the front yard and I've swapped them for violas. In a scientific experiment, I put the half-dead petunias in the ground underneath a Japanese maple.
Who knows? I may get a few more months from them.
I also bought a tester pot of paint to see how my lounge room will look with a totally different colour.
Where I'm going: Phillip Island.
Blogless Helen and her husband have a holiday house there, so a couple of us are driving up after work on Friday to spend the weekend there. The last time I was on Phillip Island, I was selling someone a thermomix. That was YEARS ago!
What I'm reading: Project Hail Mary by Andy Weir.
This is the next novel he's written after 'The Martian.' I'm enjoying it, though I have to admit that I skim over the scientific explanations for things. Some people might want to have the science explained all the time – I just need to know that these events happened and that the story moves along convincingly. I'm a little more than halfway along.
Every Version of You by Grace Chan.
I finished this a few days ago. It's also speculative fiction, but it's written in a very different vein to Project Hail Mary. It's set in Melbourne, 50 years from now, which I really liked as when place names were mentioned, I actually know where they are. (People in the UK and US are probably used to this, but I'm not.)
It's an interesting premise. Would you permanently upload yourself into a perfect digital world if the real world was dying?
What I'm watching: Beef on Netflix.
I heard some good things about this show on Twitter so I decided to give it a go. At first, I wasn't sure. Everyone was so awful! But then, it grabbed me. The ending is amazing.
What I'm listening to: The Frankston Murders.
I'm old enough to remember in 1993 when women were disappearing from the streets of Frankston and ending up dead. It scared the whole of Melbourne. I was a new Mum and living on the other side of town but everyone was still locking their doors and being careful.
The guy responsible was caught after a couple of months and he's been in jail ever since. This year he's up for parole and there's a concerted effort to make sure that he isn't released back into the community. He's a particularly nasty piece of work.
What I'm eating: A bread roll.
I should've had something more interesting to have for lunch, but then again, when I went to bed I didn't know I'd be working. I had some home-made bread rolls in the freezer, so guess what I'll be eating for lunch? A peanut butter bread roll.
Gourmet!
What I'm planning: What I need to take to Phillip Island.
Well… I should be planning it. But it'll be a last-minute "throw random stuff into an overnight bag" kind of thing.
You think I'd learn.
Who needs a good slap: Me, for not learning.
I just haven't been in the zone for packing.
What has made me smile: a pomegranate.
I planted that tree three or four years ago. I have my first pomegranate growing on it.
Gardening's so rewarding sometimes!
Dad joke of the day: