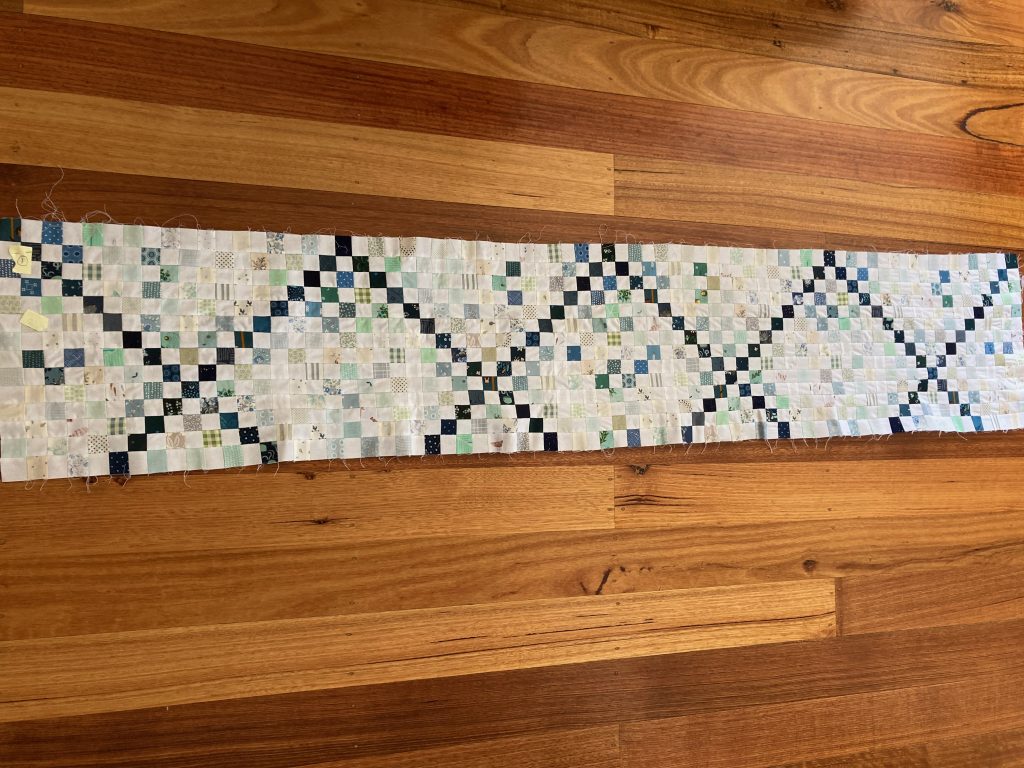 What's top of my mind: Getting another row finished on my quilt.
The photo is of two rows of blocks. It's exciting because I can already see the pattern emerging.
But boy! This quilt takes constant mindfulness. There are a lot of corners that have to be edged up exactly right. After an afternoon's sewing on this beast my eyes feel like they're going around like Catherine wheels.
Where I've been: on April's Little Adventure.
Post to come.
Where I'm going: To the High Country.
I suddenly realized that I have a lot of points in my Vacation Club to use up before June 30. Being constantly in lockdowns last year meant that I didn't get the chance to go anywhere. So the chase is on! I decided to nip away this coming weekend to see the autumn colours up in the high country.
What I'm watching: My garden slipping into 'winter' mode.
I've already put a few beds to sleep for the winter, spreading fertiliser, chopping spent plants as mulch etc. Give it another month and most of the beds will be waiting for spring.
Though having seen the prices for cabbages, broccoli and cauliflower at Aldi yesterday, I might grow a few winter veggies. Yikes!
What I've been reading: French Braid by Anne Tyler.
I've read a few books by Anne Tyler and there hasn't been a dud amongst them. With French Braid, Tyler has created another winner.
It's not a long novel, but it covers decades in the lives of a family. I particularly liked the character of the mother. Some reviewers find her very selfish, but I identified with how she chose to live her life on HER terms. I seem to have done the same, though I've made different choices than she did.
Anne Tyler has written a long list of nvels. Now I want to track them down and read them all.
What I'm listening to: Nothing.
Argh! I've misplaced my iPad! It has all of my podcasts in it. I really need to track it down before Friday. I'd hate to be driving for hours and not have poddies to listen to.
What I'm eating: Red capsicums from the garden.
This year may have been a shocking one for tomatoes, but I've grown the best capsicums ever. Ryan27 loves green capsicums, but even he got sick of them and so I now have a few caps that were left long enough for them to turn red.
Tonight we'll be having chicken tikka masala so I can use one. So happy. 🙂
Who needs a good slap: No one.
It's all chill here.
What I'm planning: A trip to Manly Beach in Sydney.
Again, using up points from the holiday club. I've never been to Manly, and the last time I was in Sydney was 12 years ago with the boys. We climbed the bridge and went to Taronga zoo and the aquarium and had a great time.
I've locked it in for June. Something to look forward to!
What has made me smile: Talking to the boys on the phone.
It's such a simple thing, but I love it when I chat to them. Two still live with me, so that's pretty easy, but when the others call – or I call them and they pick up the phone straight away – it makes my day.
It's surprising how fond you can get of the people you make.
Dad joke of the day: