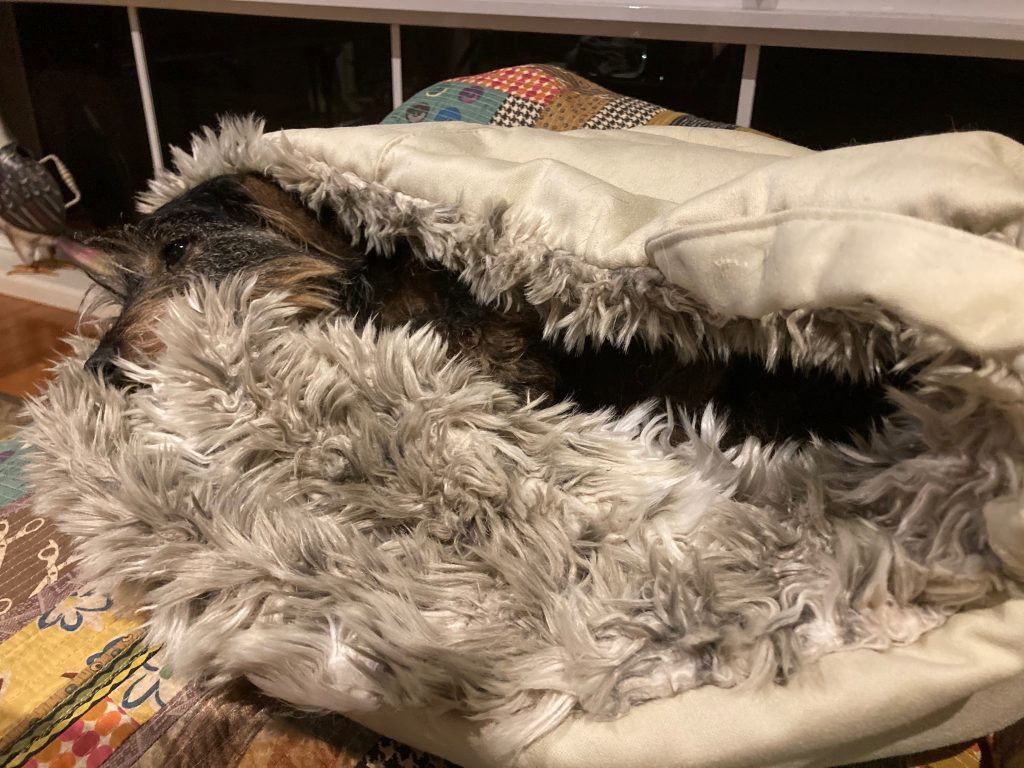 What's top of my mind: The mystery will be revealed today.
Yes, today is payday. By the time I get home, I'll be able to log on and see how much money I've earned over the last two weeks. I hope the grand reveal will be worth it…
Where I've been: in the garden!
Yesterday I wasn't called into work, so after breakfast I grabbed me some secatuers and went out to the garden. The tomato plants were in crying need of decimation, so I listened to a few podcasts and chopped and dropped. Over winter the shreds of the plants will rot away in the soil and the nutrients will be able to be accessed by the new crops I'll plant in Spring. It's not quick, but over time to creates the best soil.
The kids next door had some friends over so they were out in their yard, playing with their dog. It was lovely to hear their happy little voices as I worked. The sky was overcast at first, which was why I decided to go out there – less chance of sunburn. By the time the sun came out I'd cleared 2 wicking beds and was sporting a big blister on my finger, so it was definitely time to come inside.
Where I'm going: to a Maths class.
Yes, after lunch I'm down to 'teach' a Maths class.
We all know there'll be no teaching going on from me… pity the poor kids if I tried!
What I'm watching: angelically good children in a music class.
They're doing some quizzes about chords on their chromebooks. I know I've said it before, but the kids at this school are terrific.
What I'm reading: The second book about a gated community.
I finished one of the books I spoke about last week over lunch yesterday, so now I just have one to go. 'Dirty Little Secret's by Jo Spain was good – I enjoyed it. This other one? Not so much, but I'll knock it over. I still have to 'earn' my rates back from the library, after all!
What I'm listening to: Casefile, The Other Half, Welcome to Nightvale and Mum's Boppin' Bangers.
It was a lovely day in the garden and sewing room yesterday. I was able to knock over lots of poddies. On the way into work this morning I was listening to Casefile, about the case of a cannibal in Germany.
(omg)
What I'm eating: Last night's dinner.
It's so nice to know that tonight's dinner is already cooked. I made a Chicken Tikka Masala from Skinnymixers last night, knowing that I was going to be the only one home to eat it. I love this curry – it's like having a party in your mouth. Tonight, there's enough for all of us. I can take it easy when I get home.
Plus curries always taste better the second day. It also has a red capsicum in it that I grew with my own fair hands. Very satisfying.
Who needs a good slap: No one so far today!
The day is still young, though.
What I'm planning: Nothing.
Of course, I still have my long-term plans in place, but short-term? Nothing much. I have vague plots and pans for the veggie garden and how on Earth I'm going to get the crazy quilt with the 5,000 squares done, but that's about it.
It's nice to have free days ahead. It's the very definition of freedom.
What has made me smile: Scout sleeping in the cat's bed. (Photo at the top of the post.)
Many years ago, when we still had the cats, (Daphne and Maris, named for Niles' wives in 'Frasier'), I bought a dog bed and a cat bed. The dog bed is still used by Scout every night, but for years the cat bed just sat there. It was too expensive to throw away but not worth so much that it was worth the bother of trying to sell it.
Until I washed it and, as I was bringing it in off the line, I thought that Scout would probably use it if I put it on the couch.
Dachshunds love being burrowed under and into things, unlike Cavaliers who just like to pile up together. Daphne's bed has been on the couch for 4 days and Scout loves it. She's so happy, climbing into her nest. She'll love it even more as winter sets in.
I remember Daphne curled up in it. Scout and Daphne were friends. It makes me smile.
Dad joke of the day:
Never buy flowers from a monk. Only you can stop florist friars.