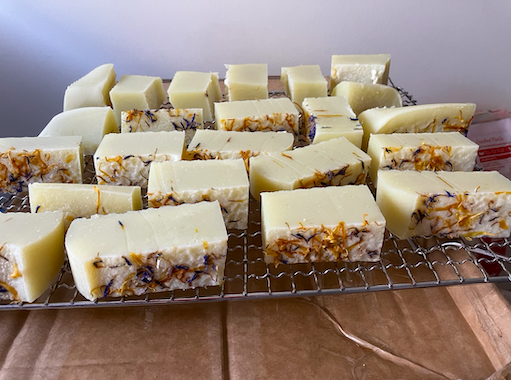 As promised, I'm posting the soap recipe that's my 'go-to' when it's time to make another batch. It was the first soap recipe I tried and I love it. The bars of soap come out consistently firm, not crumbly and last for ages.
The blog post I took it from was from 2010 and I see that I was one of the first people to comment on it. Makes me feel a bit old… That blog has now been taken offline. This made me panic when 3 years ago I went to pull up the blogpost to make my next batch and it was unavailable.
My soap recipe has gone forever! Oh crappity crap! I tried PMing the blog author but she never got back to me. That was a little surprising but hey. What can you do? A few weeks later, I mentioned it on the frogblog as I was posting about making another soap recipe to give as Christmas gifts for work. A brilliant reader called Jamie sent me a link to the wonderful soap recipe post that they'd archived. I was so happy!!!
I've noticed that some readers since yesterday have tracked down the soap recipe I posted about in that frogblog post that uses Lux flakes. This is NOT the recipe I love. Don't get me wrong… it smells like Lux and it's easy to make, but call me a purist: it didn't feel like I was making real soap. It was a bit of a cheat. But if you feel like making soap and the thought of using caustic soda turns you off, then by all means use this Easy-Peasy soap recipe.
But if you want the brilliant soap recipe, here's the archived page that Jamie sent:
(I could've just given you the basic recipe, but I like the way Suse's post gives a lot of information in a readable and informative way. This was my entry into the soap-making world and I like the idea of sharing the original post with you all.)
Suse's post gives a ton of good hints and tips. I'd add that it's not a good idea to rush mixing the melted oils and caustic soda mixes together. I've found that when I was impatient and mixed them together while they were still quite hot, I'd run the risk of the whole batch curdling, which is disappointing when you unwrap it the next day to find out that it hasn't worked. Then I'd have to rebatch it by melting it into a slow cooker, which works to make the soap usable, but it's never quite as pretty. Giving it an extra 10 minutes to enable the oils and caustic soda to cool to a 'warm' temperature is time well spent.
If you're wondering if the soap has started curing properly and whether the caustic soda has saponified properly and lost its bite, the easiest way to test this is to touch the tip of your tongue to the newly unwrapped soap. If you feel a 'zap' like a tiny electric shock, then the soap has to be rebatched. This has only happened to me a couple of times. It's annoying when it happens but it's not the end of the world. Re-melting it in a slow cooker, then putting it back into a mould and wrapping it up for another 24 hours does the trick.
Another soap recipe that I really like is the one on The Witch's Kitchen. Her blog and book (I just LOVE this book – such a useful resource, especially the plant index at the end!) are terrific. Anyone interested in food gardening should set aside some time to sit down with a cuppa and rummage through her blog. So much information.
Anyway, in this soap recipe, she mentions using grated lemon zest as a little added extra in the soap. How nice would that be? Also, as with the Terrific Soap Recipe, there's a lot of useful info in the comments underneath the original post.
If you like the idea of making homemade soap to give away as Christmas gifts, now is the time to get started. The soap recipes that use caustic soda need at least 6 weeks to cure properly, so if you set aside the time to make a batch or two now, you've already got yourself organised for Christmas.
Imagine the warm glow you'll feel from being so efficient!