One thing the Little Adventures thing has taught me – don't leave it too late in the month to go off and do/see something new. We were coming out of lockdown in late October, so I bided my time, thinking I'd sneak October's Little Adventure in just as things were opening up again. But then Jeffrey put his back out. As I was getting out of the car at the vet's, I turned to speak to him and I put MY back out. We both hobbled in together and I had to ask a vet nurse to lift him back into the car when it was time to go home. Thank goodness Ryan26 is a remedial masseuse! It took a week for my back to get better and by then November had well and truly rolled around.
Monday morning was a good one. I was sitting on the couch with a coffee, little woofs asleep beside me, when 2 ads came up on Facebook. I know, normally it's just annoying when that happens, but one ad was for a play the local council was supporting… (ticket price was free – my favourite price, so I snapped one up) … and the other one was for a gallery in Sale, which was showing the Archibald Prize paintings.
The Archibald Prize is a portrait competition that has been going for 100 years. The subjects are preferred to be notable Australians in some way and have had to have had at least one in-person sitting with the artist. It's WAY famous.
Sale is MILES away. It's buried deep in the Gippsland countryside and it'd take 2.5 hours to drive there. I know because I googled it. But… what if I went to see the exhibition on a weekday, just because I can? Also, the tickets are $17, so that's definitely affordable.
Because of covid, they're limiting the number of people who can go into the gallery at any one time, so I had to scroll through a few days to find a time that would work. So Thursday morning at 11:45 it was.
I left with plenty of time to get there, which was just as well. If I ever see another sign saying "Road Works – detour" I won't be responsible for the consequences. Got there with seconds to spare!
The following photos are the portraits that I particularly liked. Some have the info card in the same frame, others don't. There's interesting stuff on those cards – well worth zooming in to see what they say. 🙂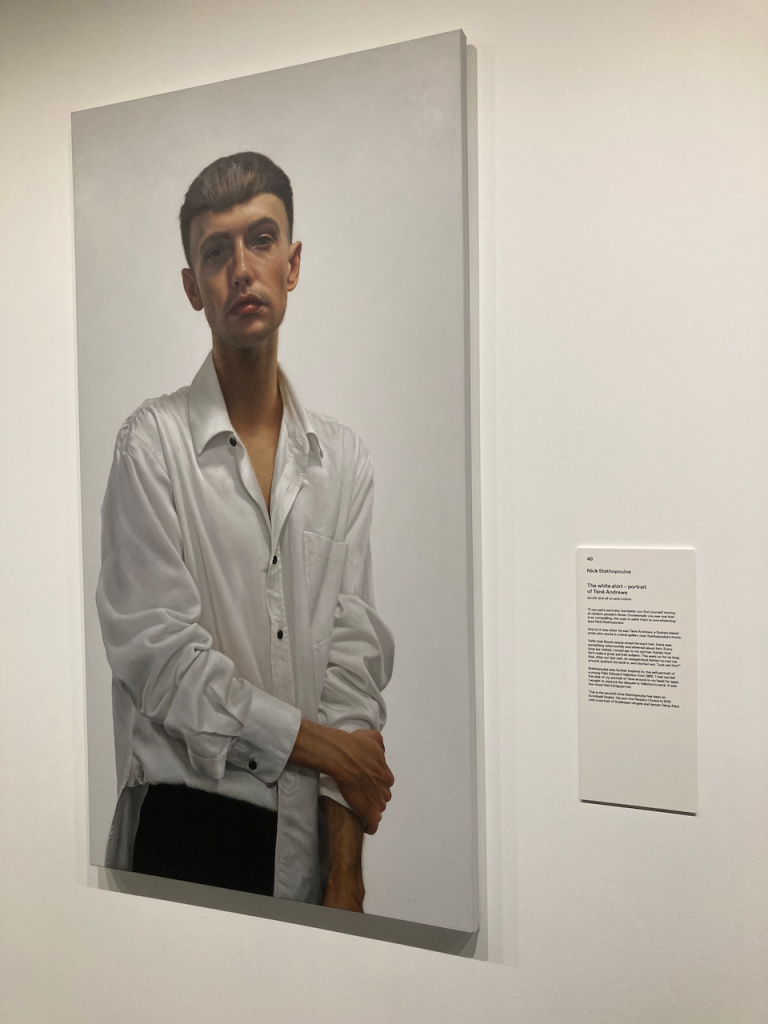 The first thing I saw when I walked into the entrance foyer was a school group. How many times have I followed a school group around the National Gallery in St Kilda Road? But one thing I know from having done this for so long… if you discreetly attach yourself to the group, the guides tell you a lot more about the paintings than you'd otherwise know.
I loved the shirt on this guy and I liked the story behind the painting, too.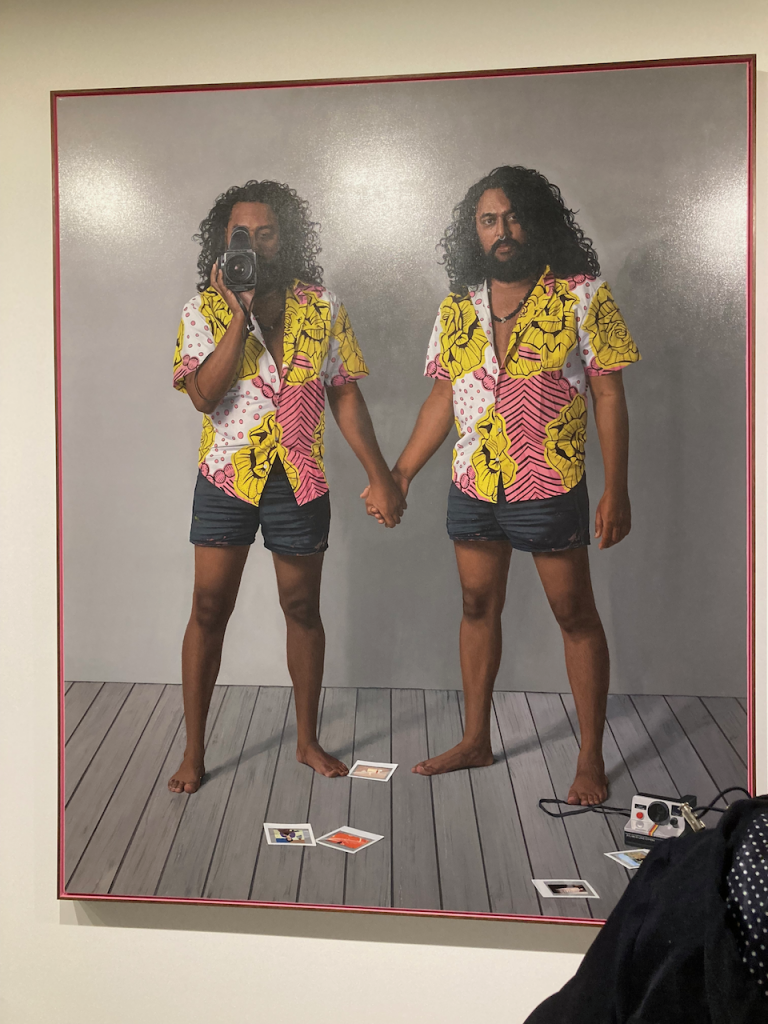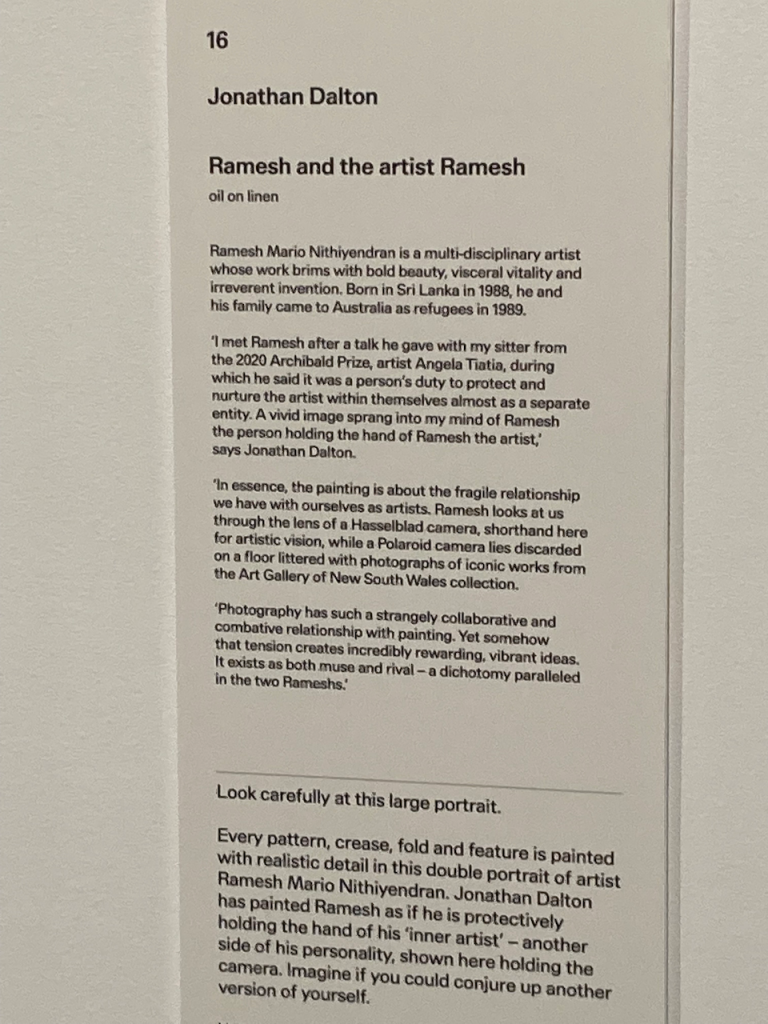 This was the first painting I saw and I loved it. The man gently protecting and nurturing his inner creative person is so great.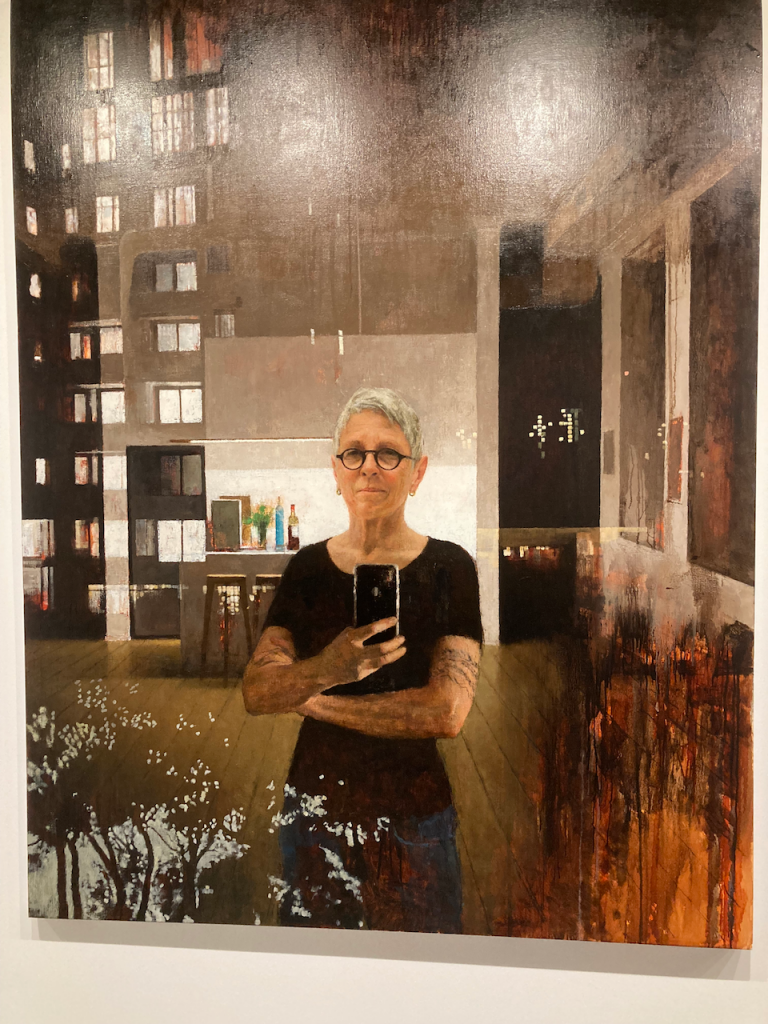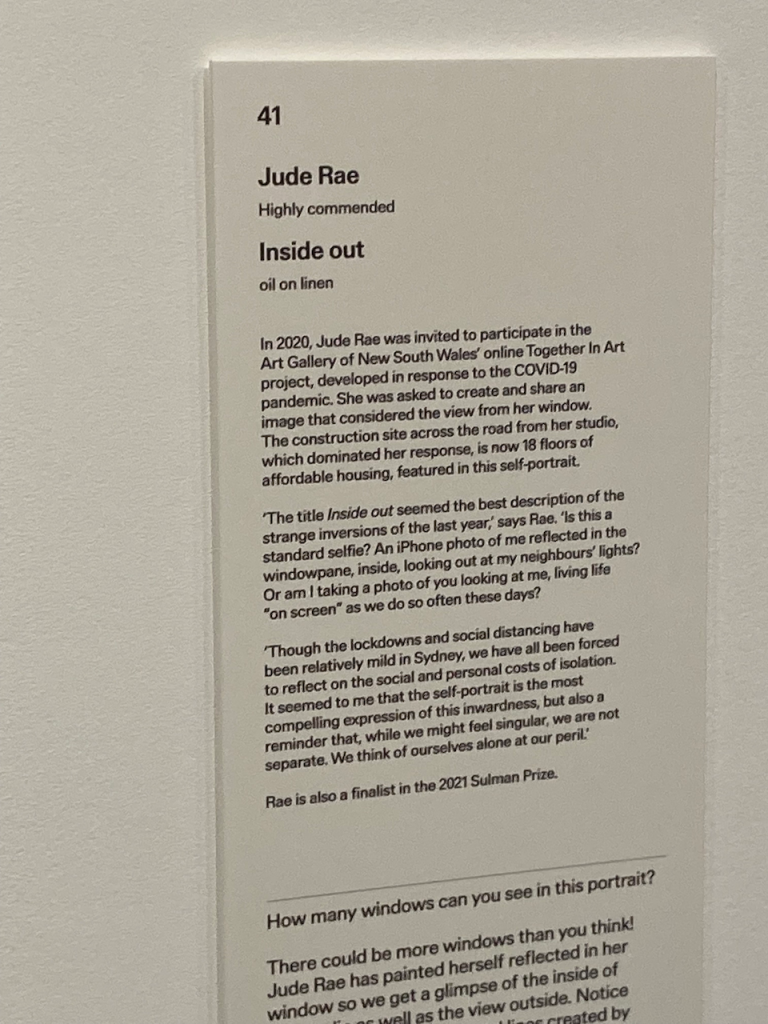 It's not just the fact that we have the same hairdo! I like that this is a reflection from her window – see the bottom left corner?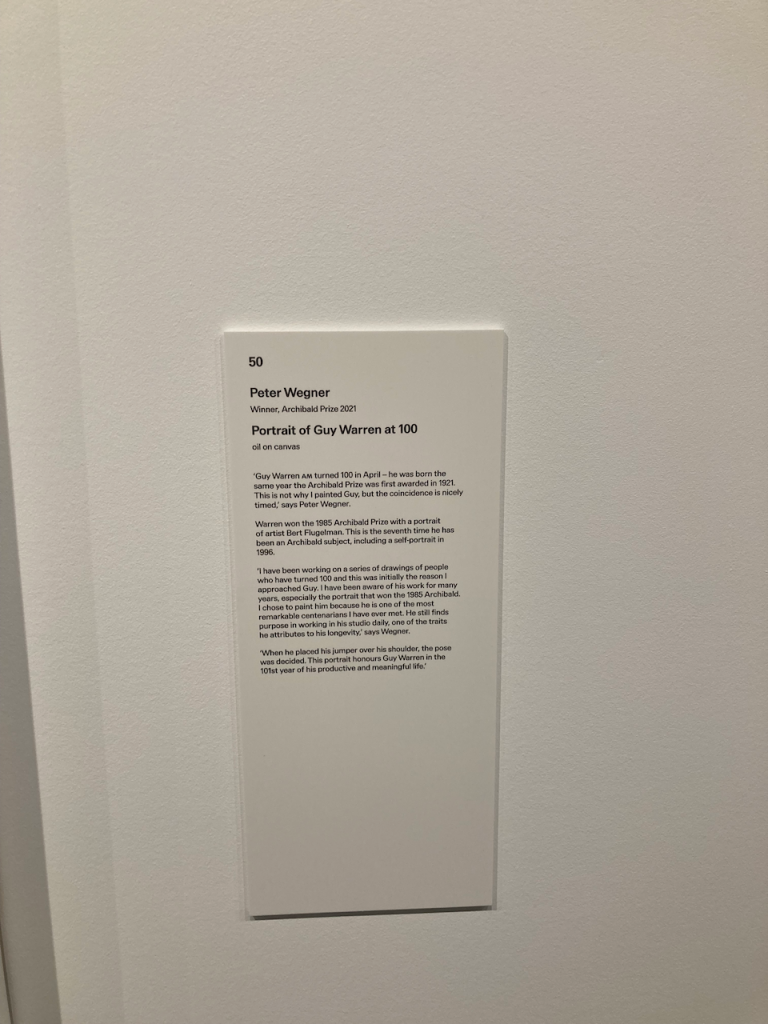 This is the card that goes with the painting at the top of this post. It was the winner of the whole competition. Honestly… not one I would've picked, but I guess the symbolism of it being of a 100-year-old man and the competition was also in its 100th year was hard to beat.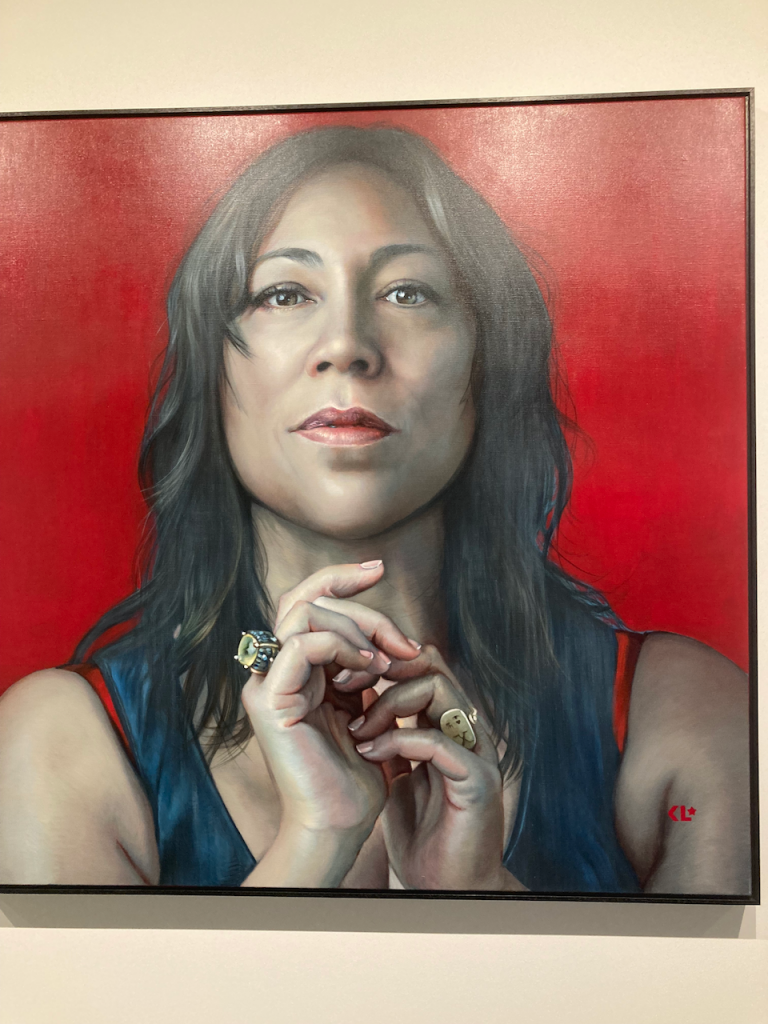 This portrait of Kate Ceberano was right next to the winner. This painting won the Packing Room Prize. This is when the people who unpack all of the paintings as they arrive vote as to which one they like the best. It seems like a bit of a poisoned chalice – to date, no one who has won the Packing Room prize has gone on to win the Archibald.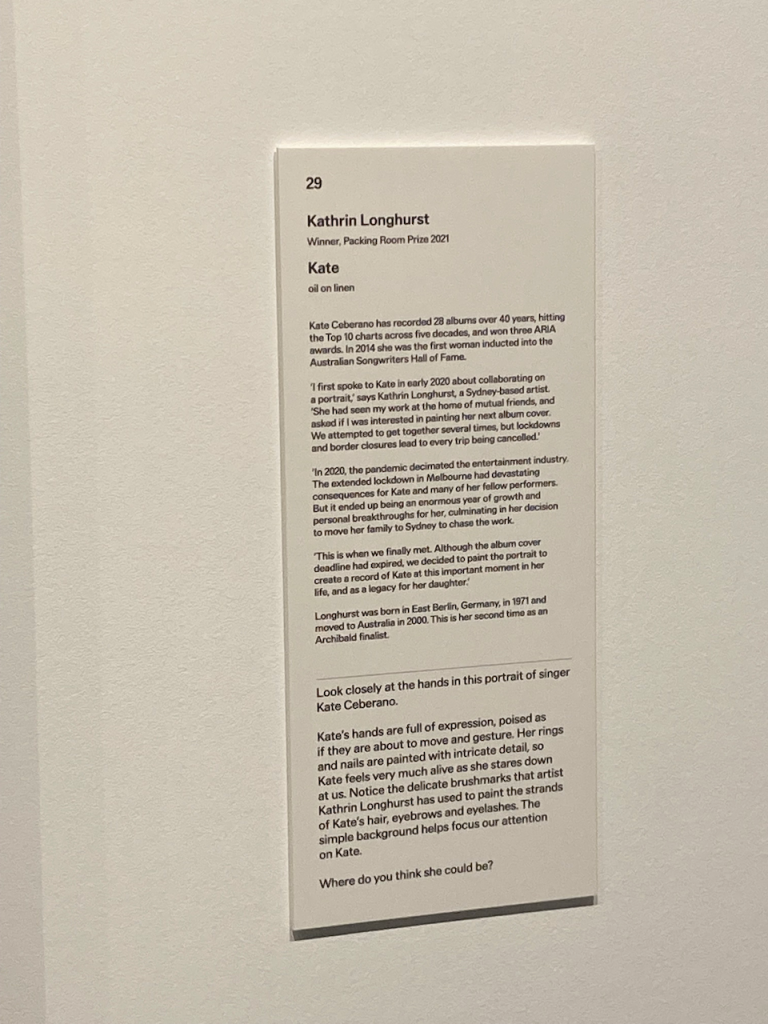 I think it's stunning.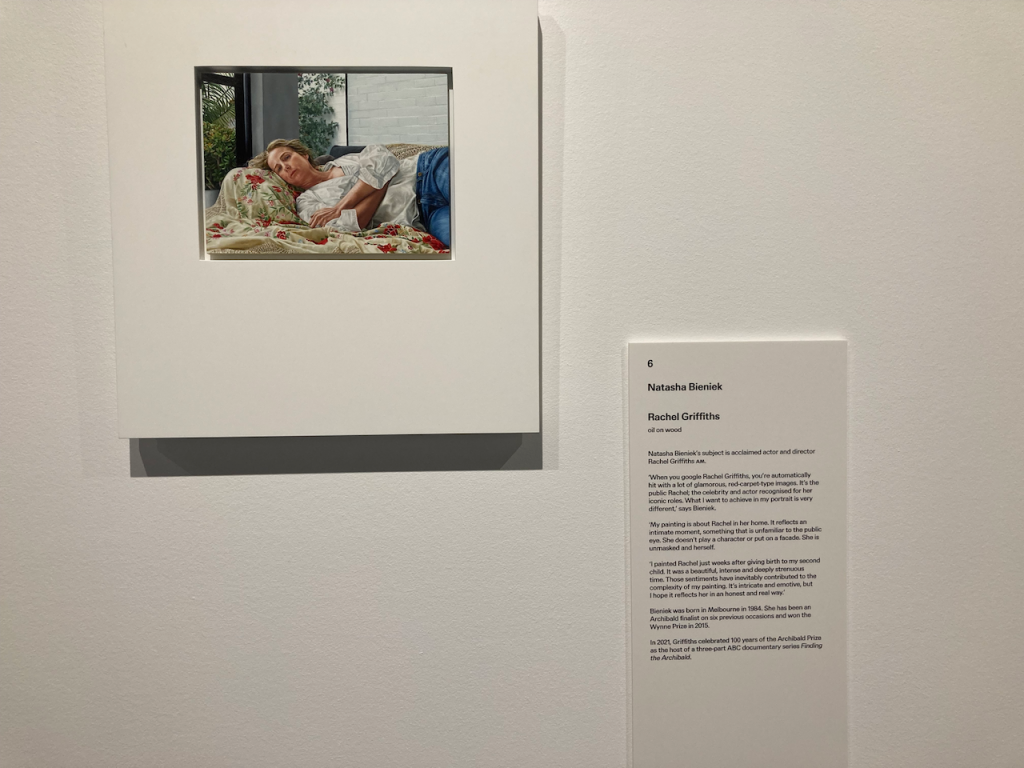 This portrait of Rachel Griffiths is the size of an iPad. It was painted using a brush with only one bristle. I can't imagine how long it would've taken to finish this painting with so much detail in it.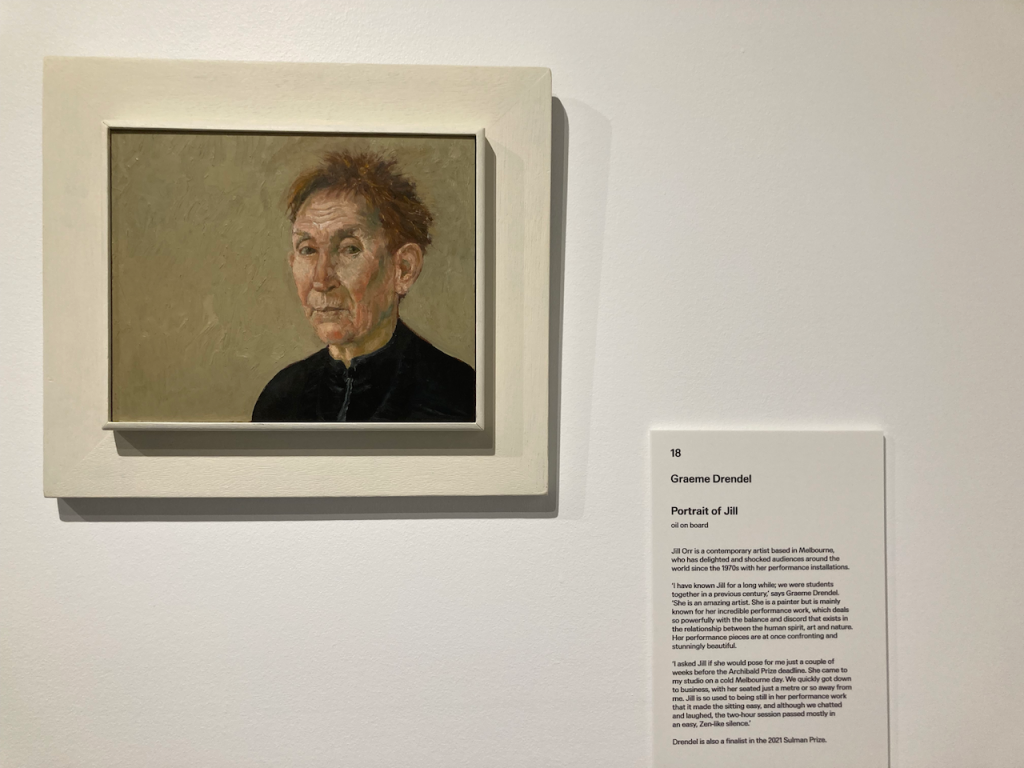 I liked this one because her face is so interesting. I could easily imagine her wearing a medieval bonnet or something. There's something timeless about her face.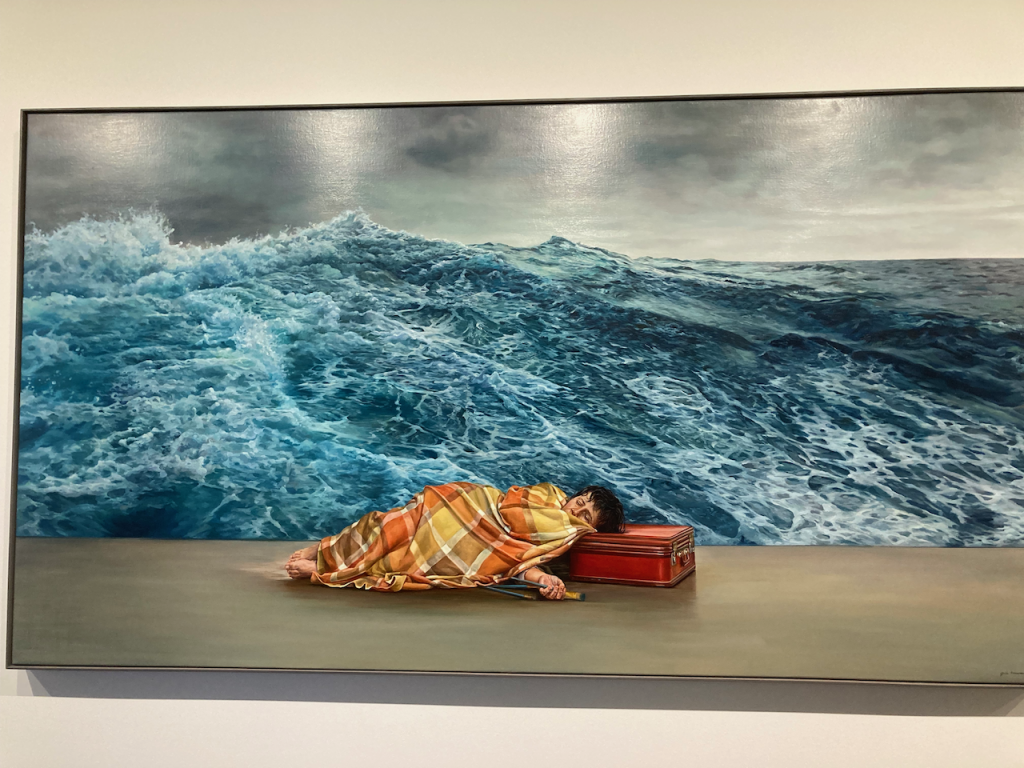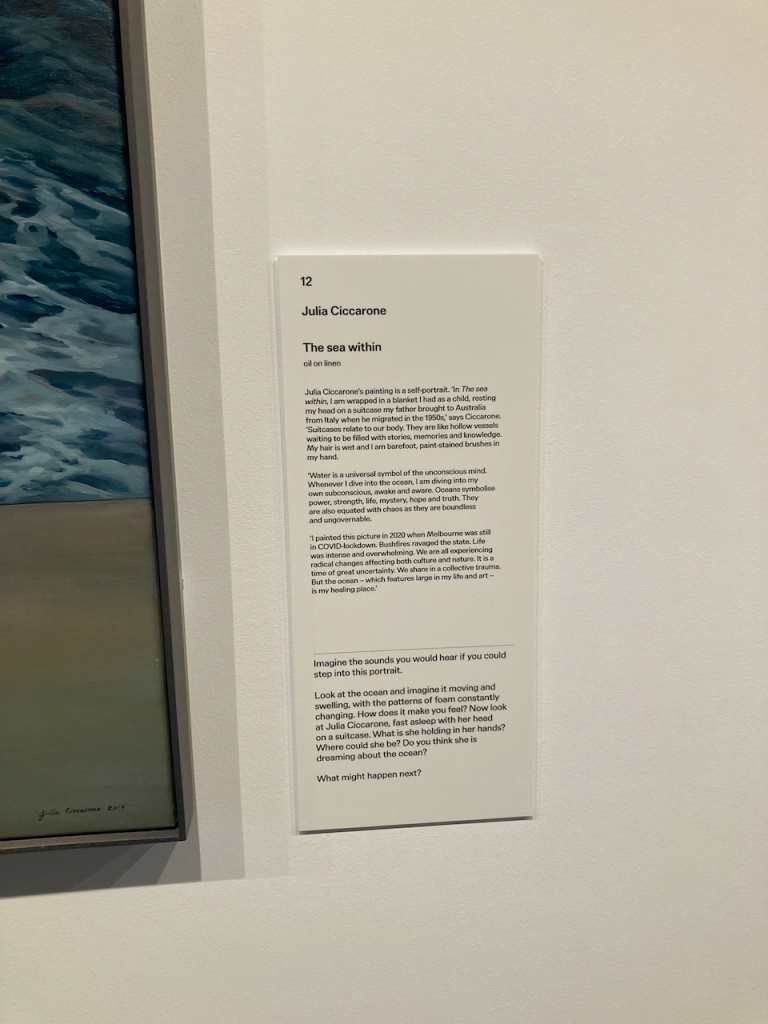 I absolutely loved this one. The sea was incredible, as was the story behind it. Over the past year, who hasn't had moments when they've wanted to wrap themselves up in their favourite blanket – or quilt – and take a break? I also like how, if you look past the tumultuous water to the right, you can see that things will eventually become calm again.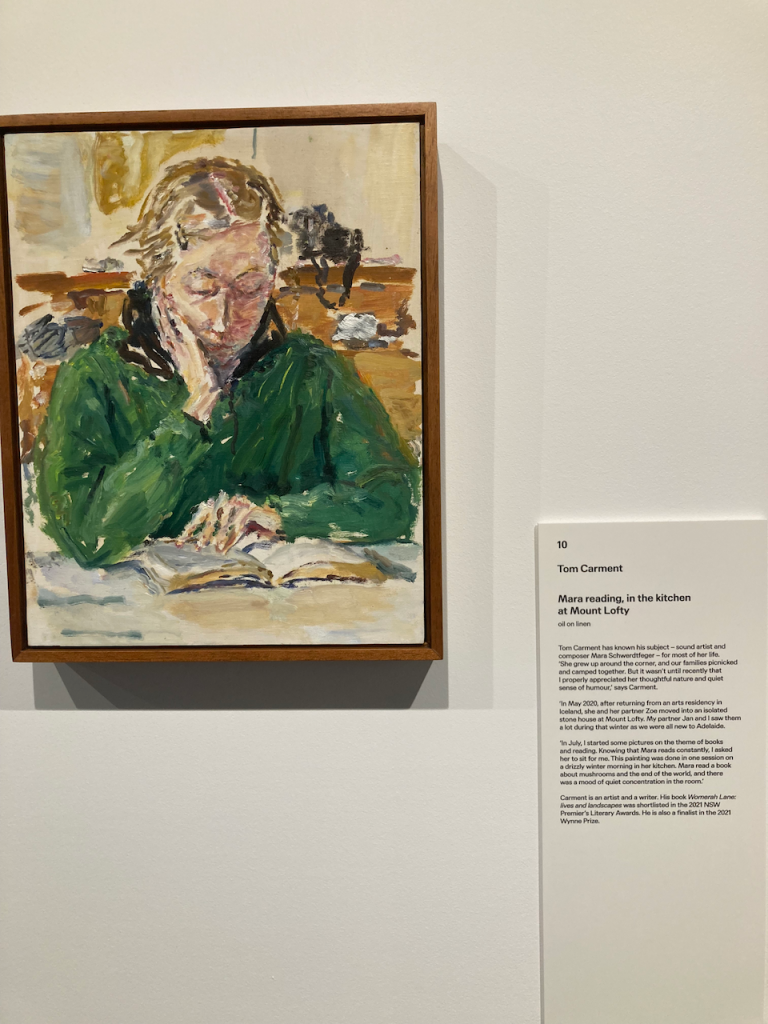 How could I not like this one, considering I'm reading my 115th book of the year?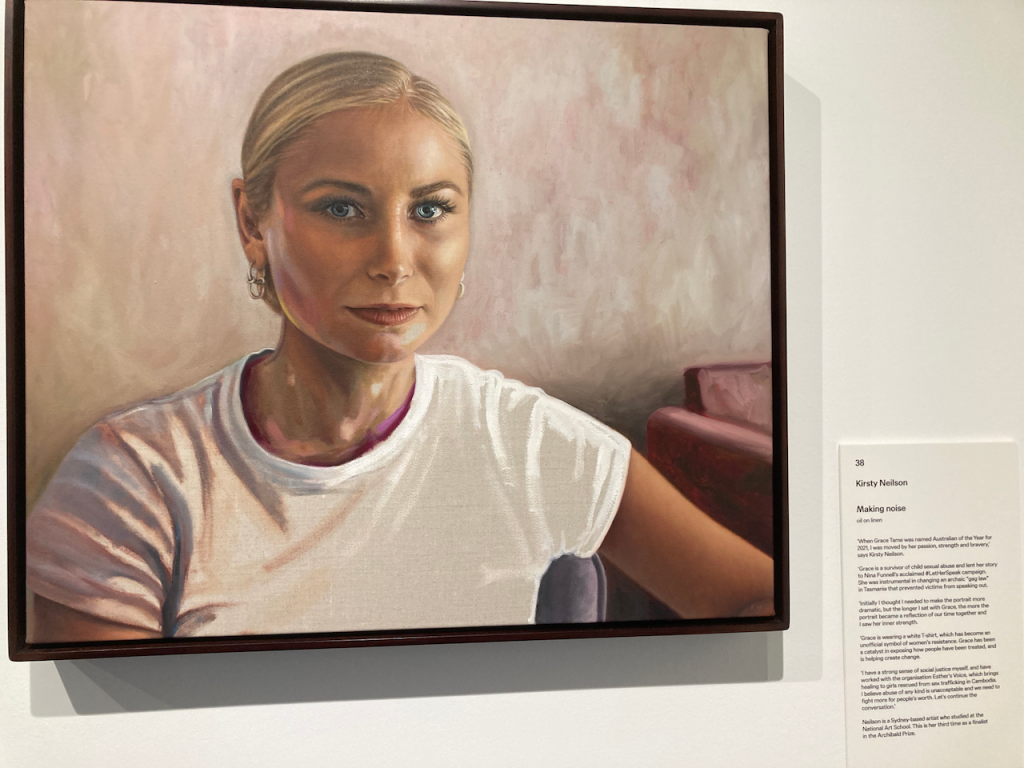 Such a brave young woman.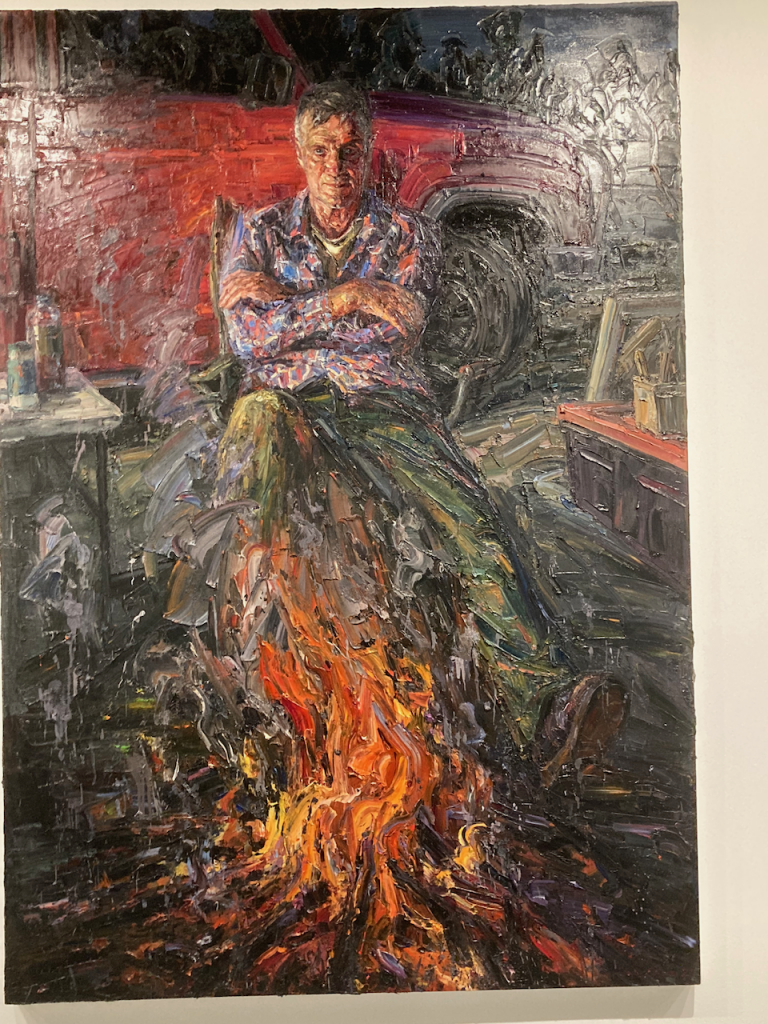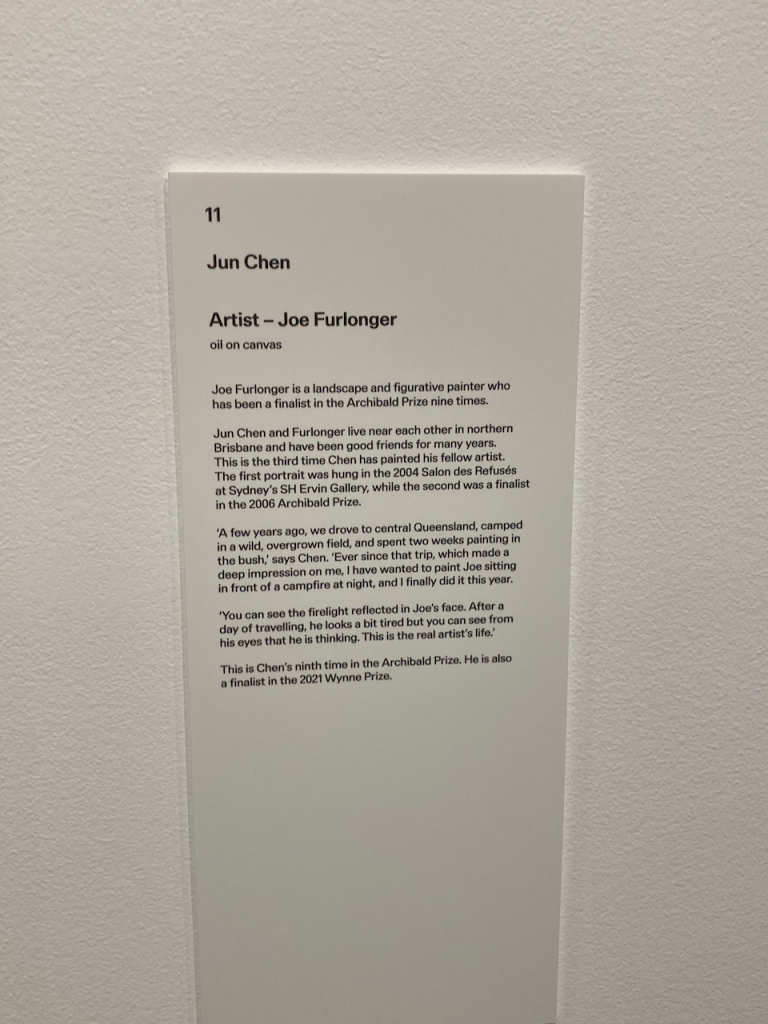 The play of light from the fire was extraordinary. The more I looked at this, the more was revealed.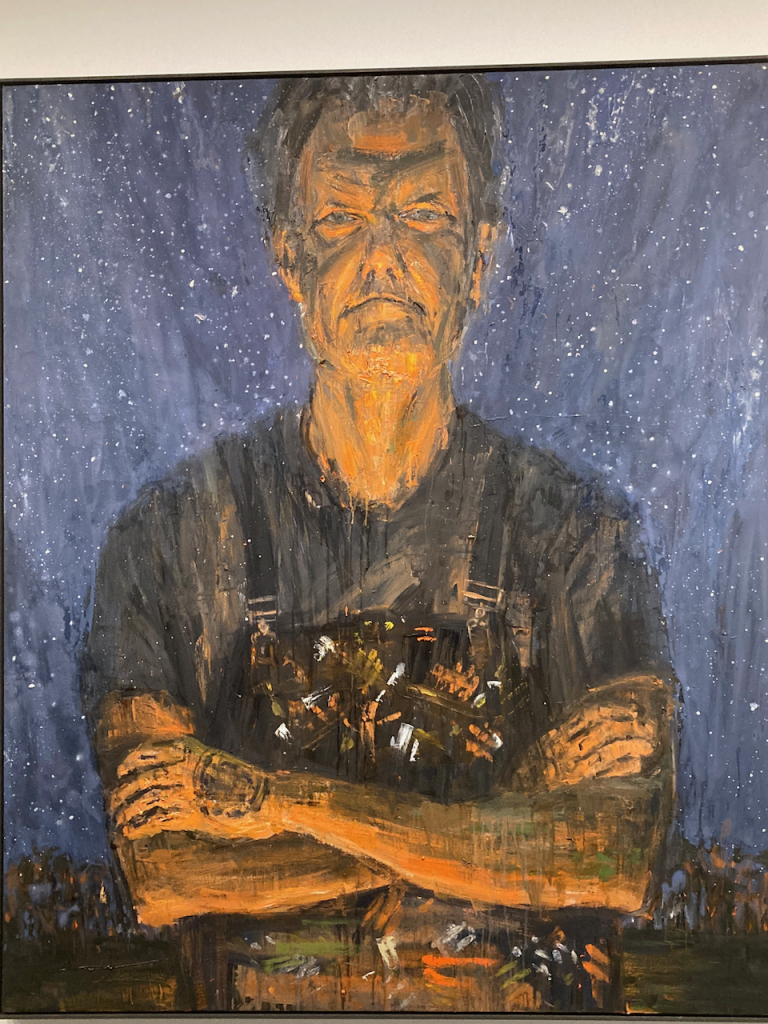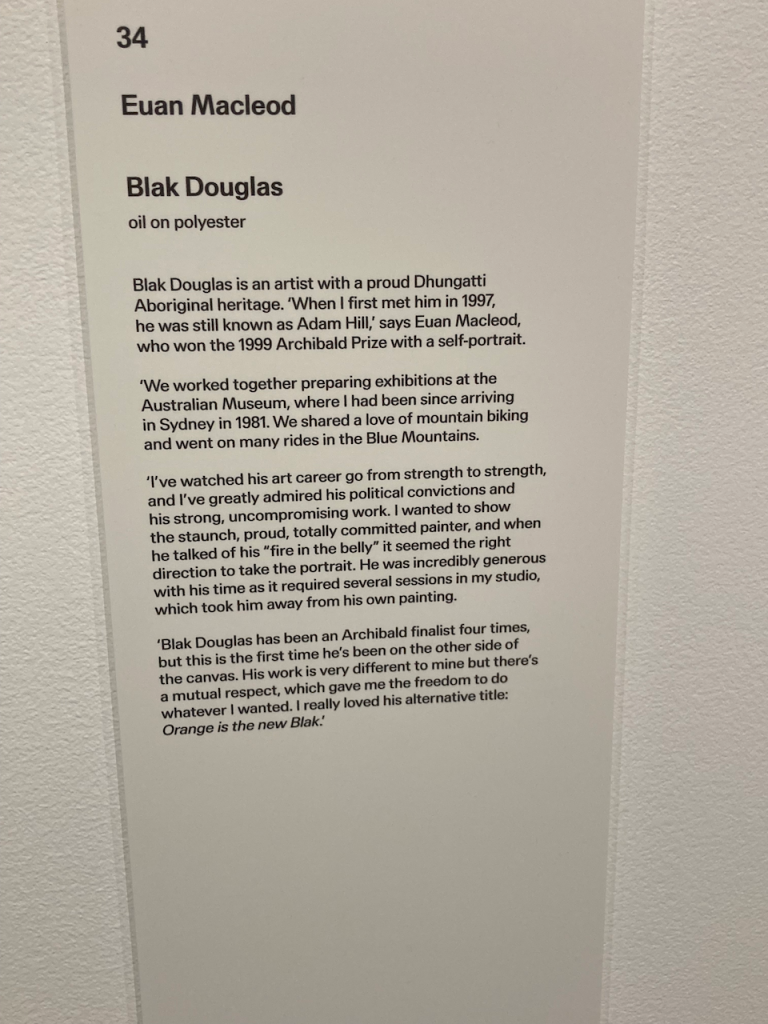 This was the portrait I chose as my "people's choice" award… though, thinking back… if I had my time over I might've gone with the sea one. But even so, it's a wonderful painting. The light! It almost glows.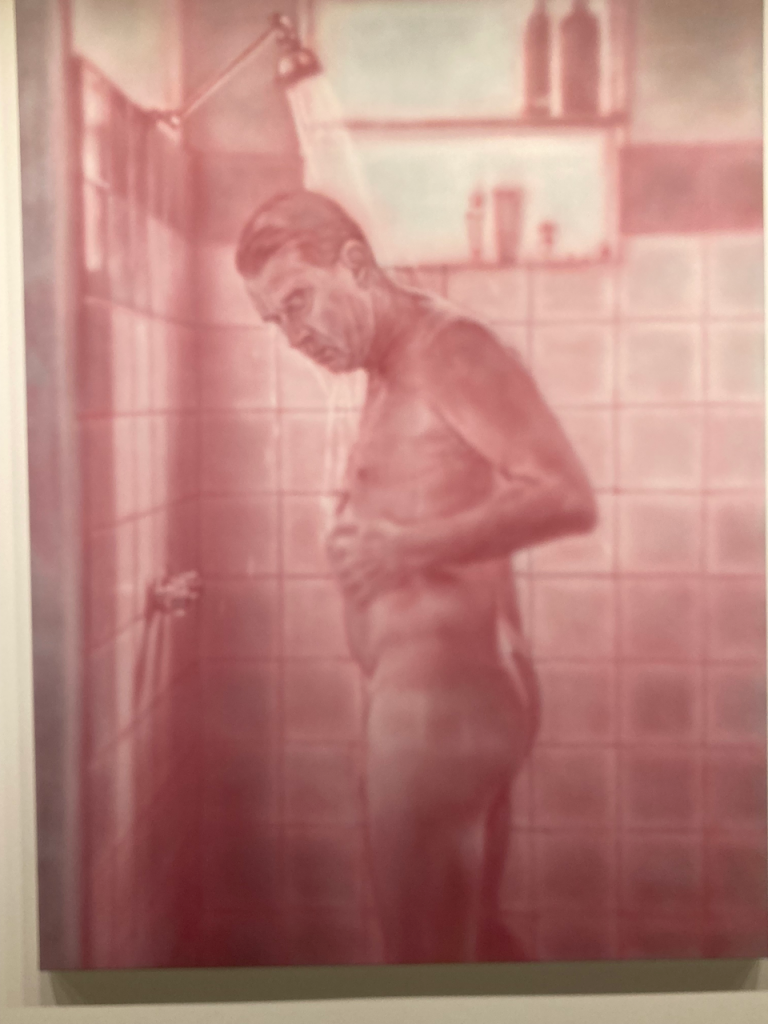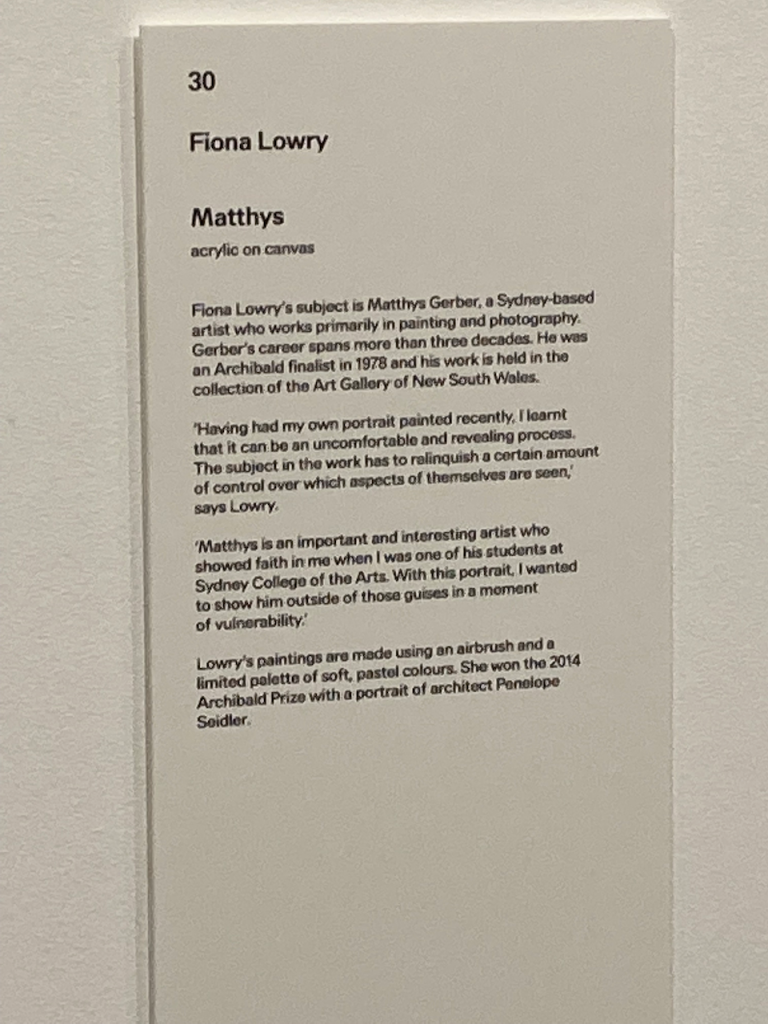 How cleverly is this done? So muted, yet so perfect?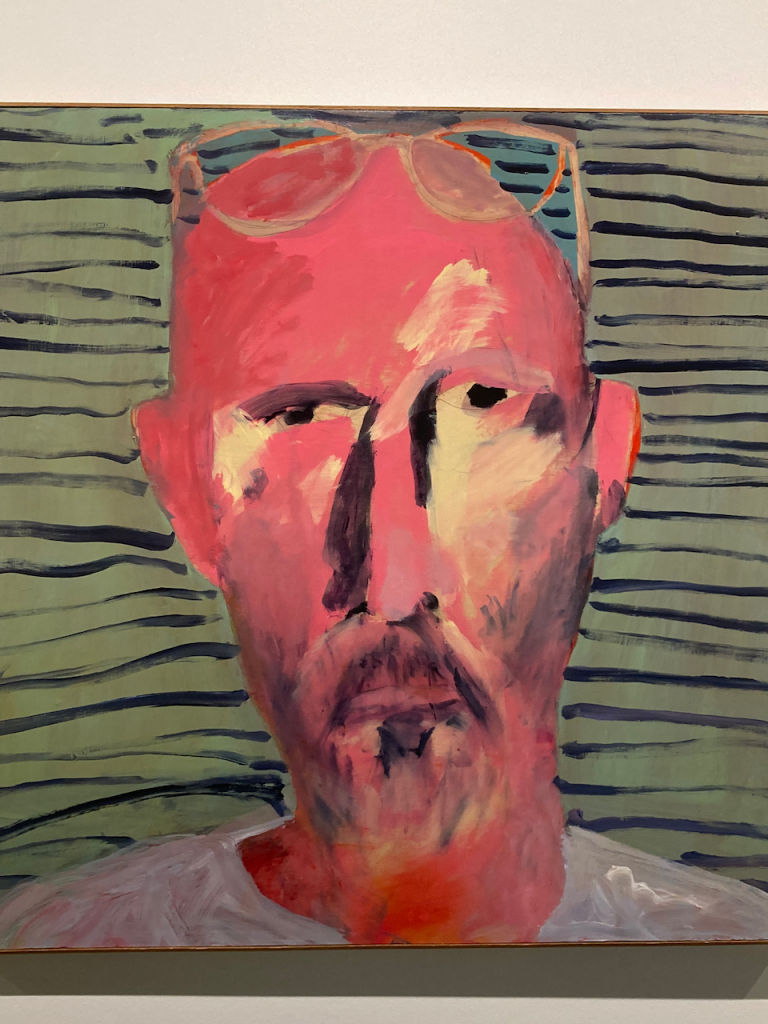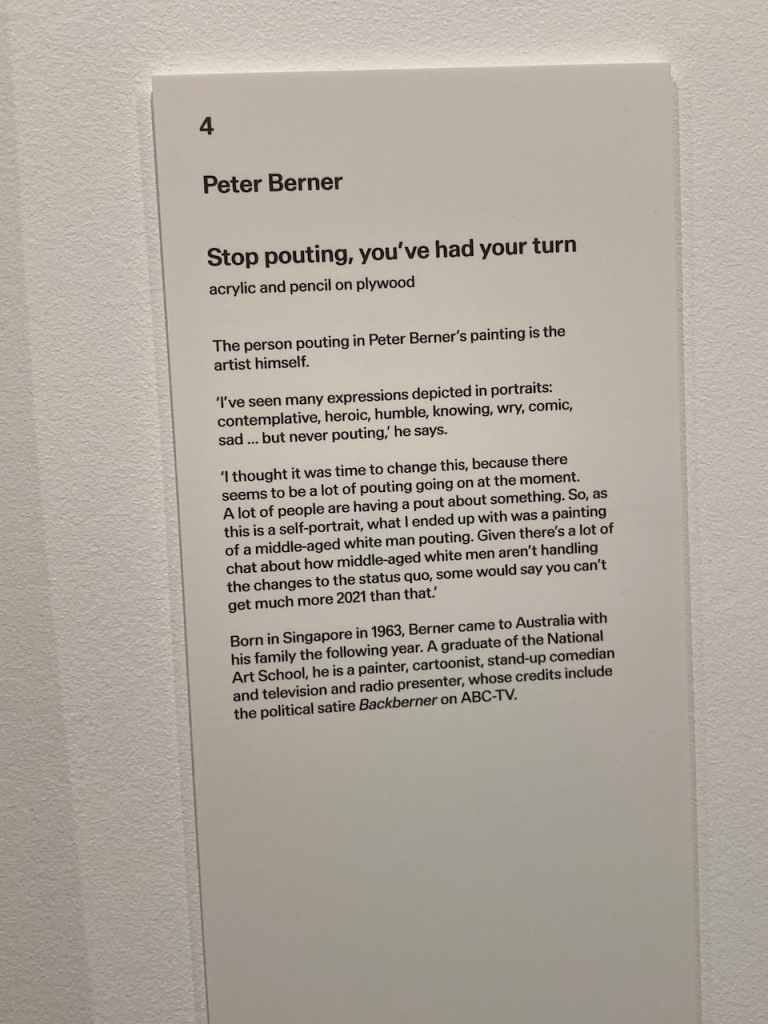 And finally, this one made me laugh.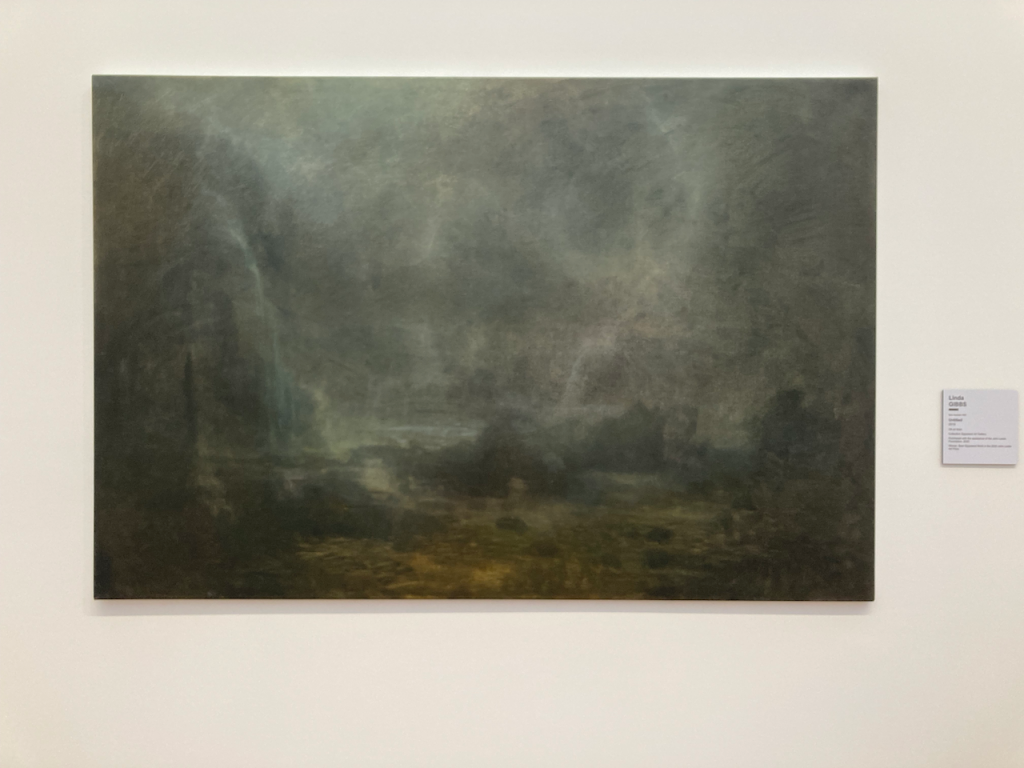 Then in the gallery just outside where the Archibald exhibition was, I saw this one. Oh My God! I LOVE it. In real life, it's much darker than this. You could look at it all day and see new things emerging. I've put this here so I don't forget.
After I'd finished, I bought some lunch from the adjoining café and took it outside to eat by the river. There were too many people without masks inside as they were eating and drinking. It might be ok for the Gippslanders, but it was a little bit much for this Melbournian to see without feeling weird.
Then, on the way home I went to a nursery and bought a couple of plants and a terracotta pot for the front yard, then popped into a quilting shop at Rosedale and bought a couple of things. We've been asked to spend our money in the regional areas so I did my bit. Then home I went!
Ryan26 had a couple of friends around so he cooked dinner and made strawberry daiquiris – all in all, not a bad day!
Who knows? Maybe because I missed October I should go on another Little Adventure this month, just to even things up? We'll see…
Dad joke of the day:
What do you call a fat psychic?
A four-chin teller.