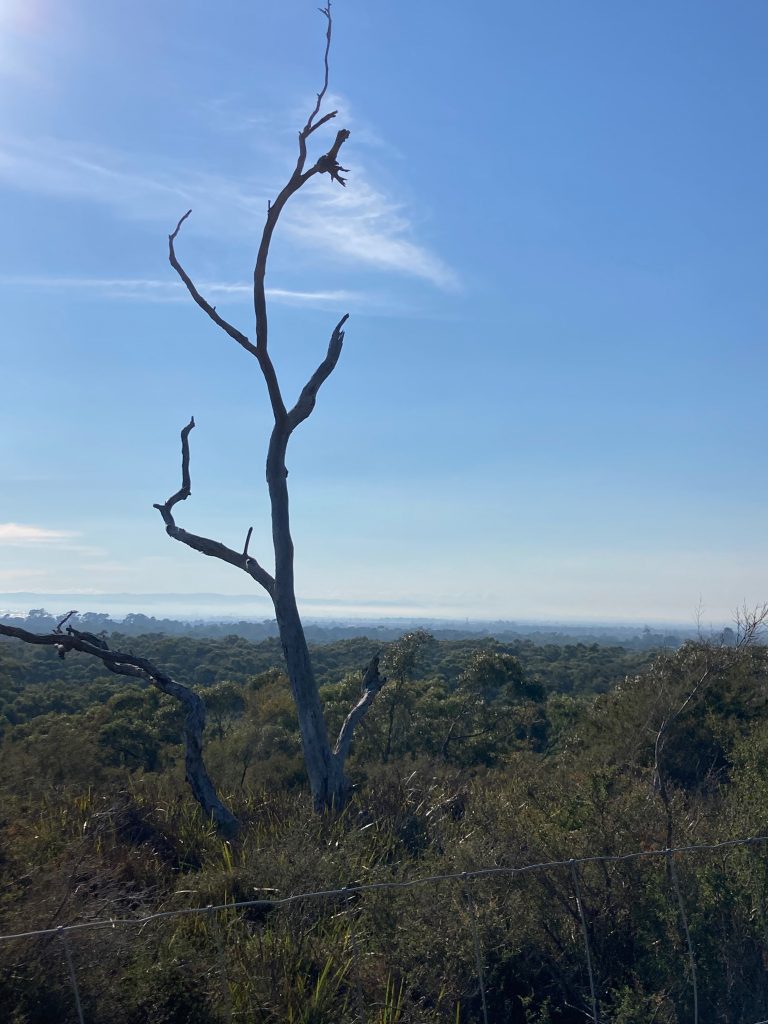 Remember last year, when people from our pasts reconnected on Facebook because we were all in lockdown and had lots of time on our hands? After things eased up, I went on quite a few reunion lunches and coffees.
On one of these, I heard how a school friend's husband was working at the Cranbourne Botanical Gardens. I'd vaguely heard about this place before, but when Blogless Sandy mentioned that her walking group had been there and really enjoyed it, I decided to use it for my latest Little Adventure.
(Basically, when I retired I decided to take a Little Adventure once a month. I'll go somewhere/do something that I never have before. What's the point of freedom if you don't explore a little?)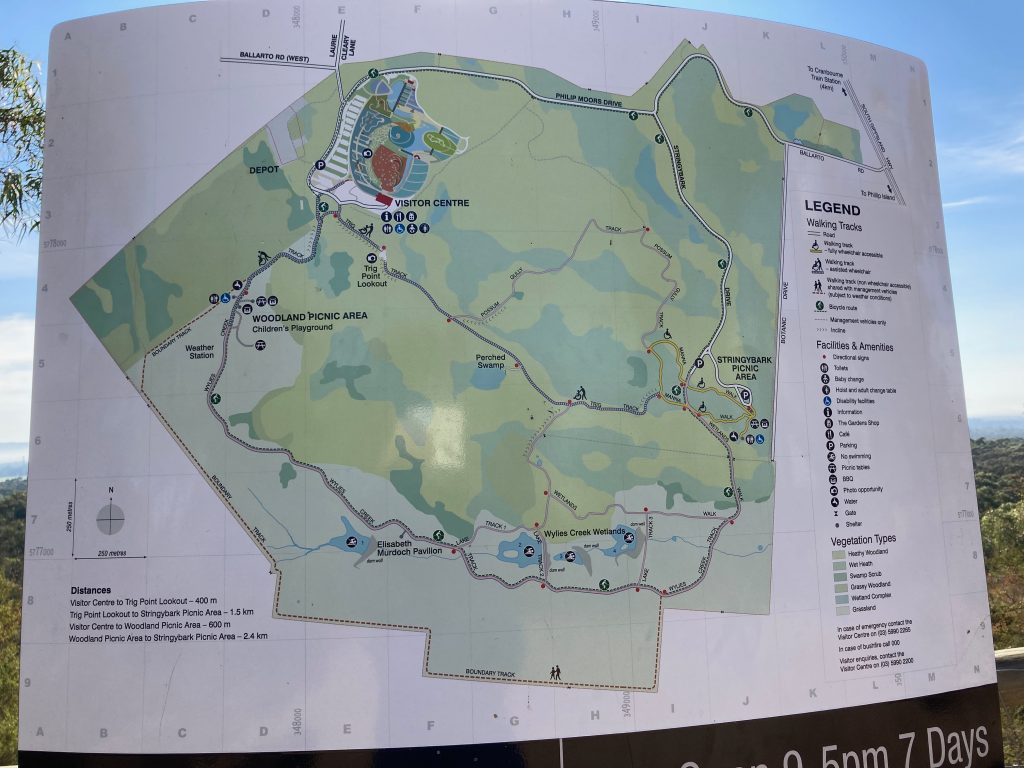 When I got there I made straight for the lookout, which was perched on the highest part of the whole area. Here I found a map of the place. I decided to save the top part for a further Little Adventure sometime in the future and to hang a right just after the Perched Swamp and walk along the bottom part of the property.
That'll be enough for one morning!
So I set off. The track was on a gentle incline. One thing I really didn't like about this place is that they didn't allow dogs, so the little woofs had to stay at home. But further up the trail I spotted two labradors. Turns out they were Assistance dogs being trained.
I didn't want to muck up their training so I held back while they went up the lookout tower first. While they were there I saw this sign underneath: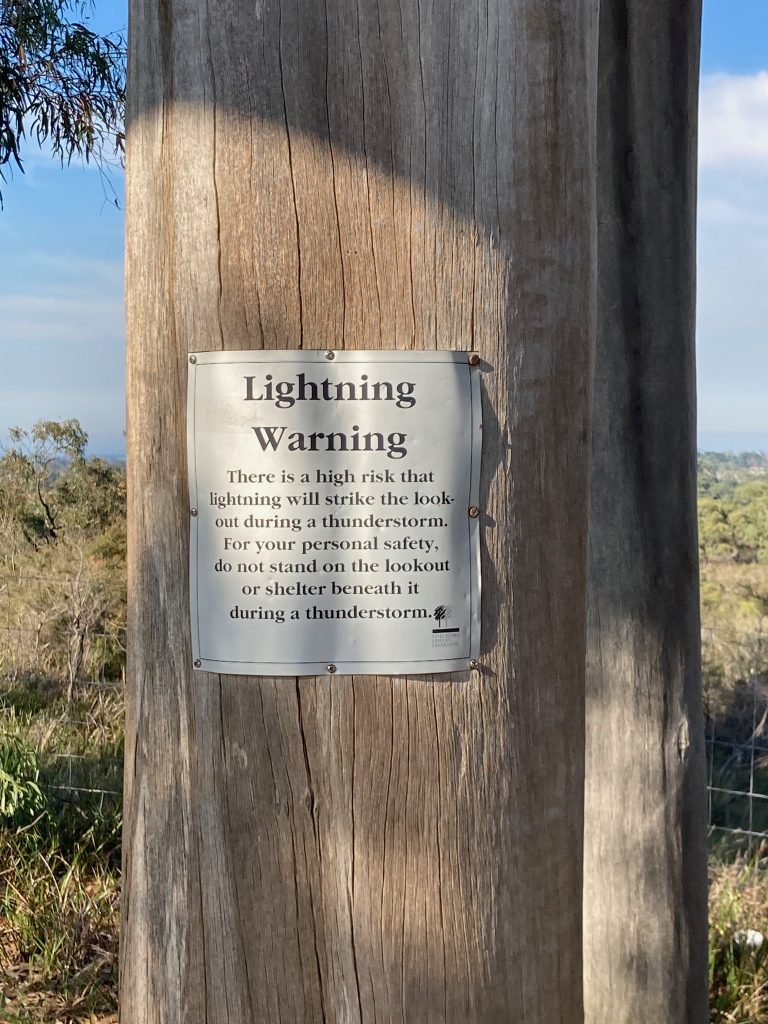 Phew! Thank goodness there wasn't a cloud in the sky!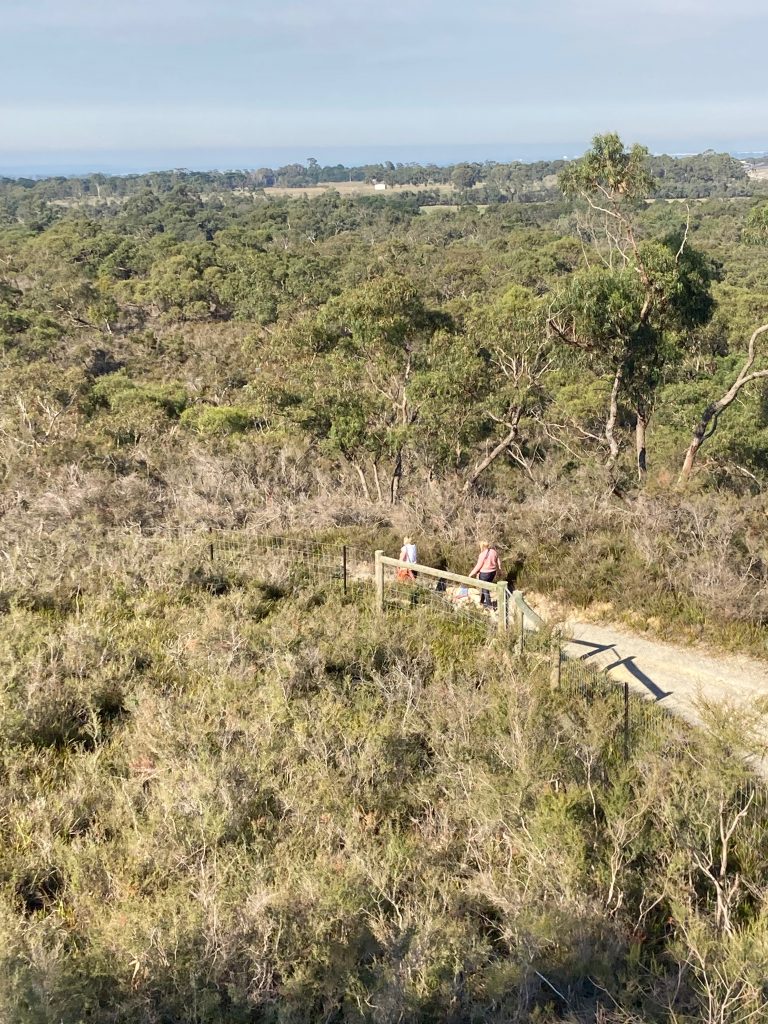 I climbed the steps to the top of the lookout and surveyed my surroundings. The assistance dogs were disappearing down the hill.
I don't know what's causing the sparkle on the horizon, but it looked pretty.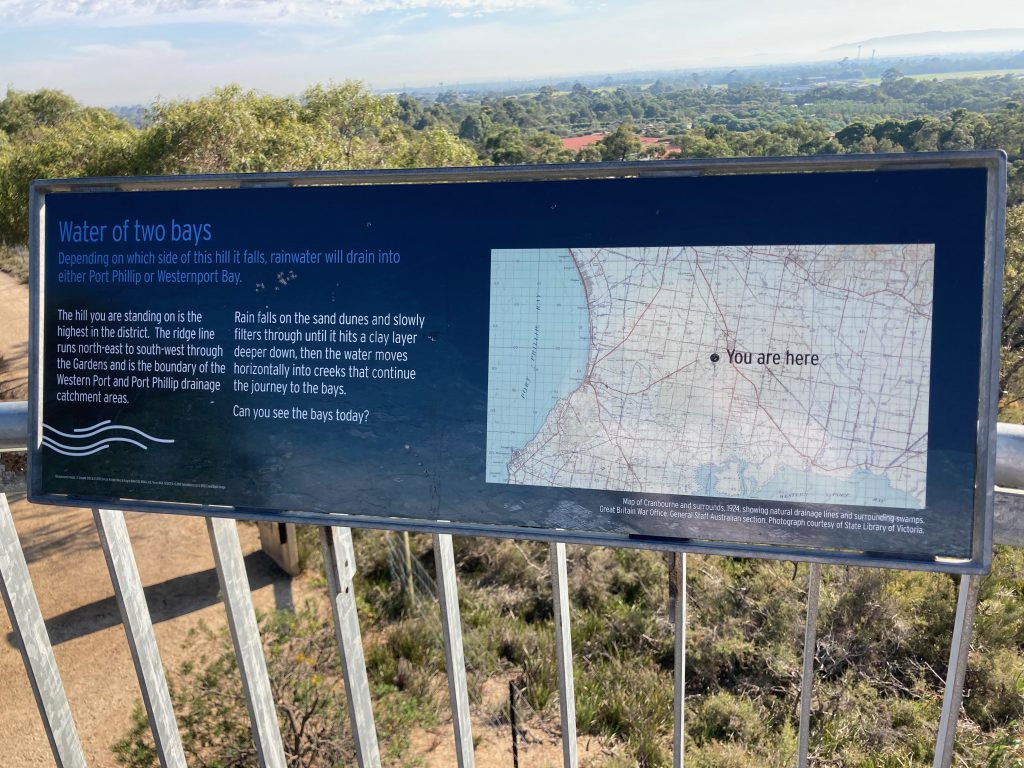 It was a bit of a shock to read that on a clear day I could see both Port Philip and Westernport bays from here. Despite having lived here for 6 years, I haven't yet made the adjustment to realising that I'm far nearer the Peninsula than the city.
Anyway, after a long look around, I set off down the track.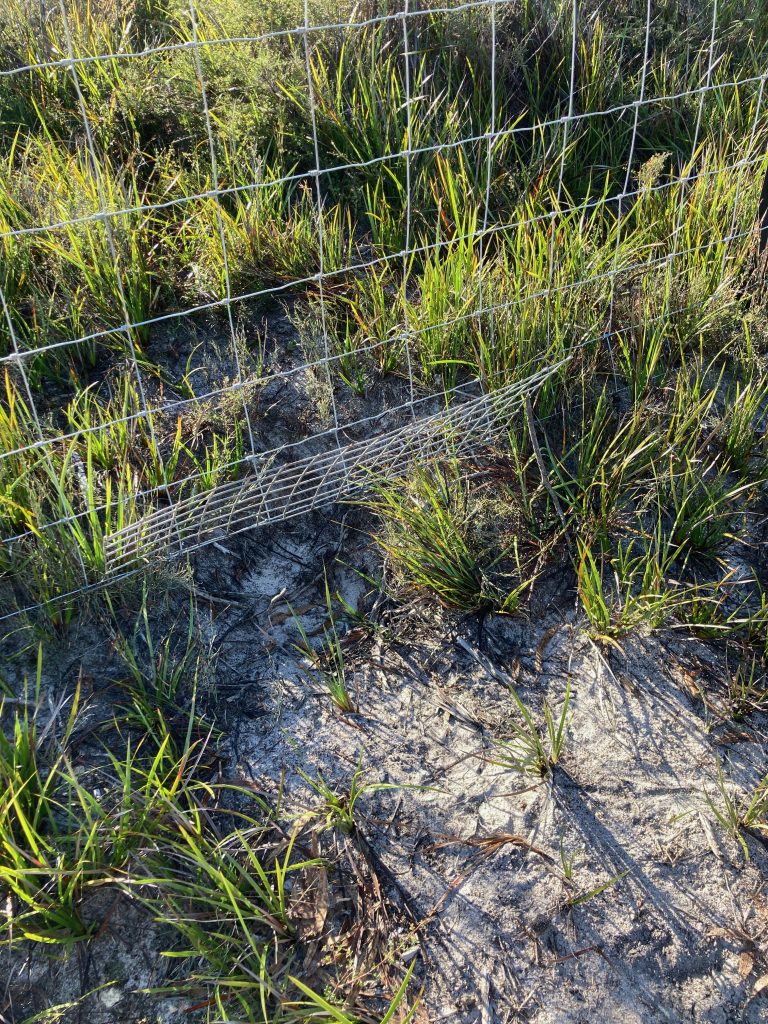 Isn't this lovely? It's a little door under the fence so that echidnas can move through.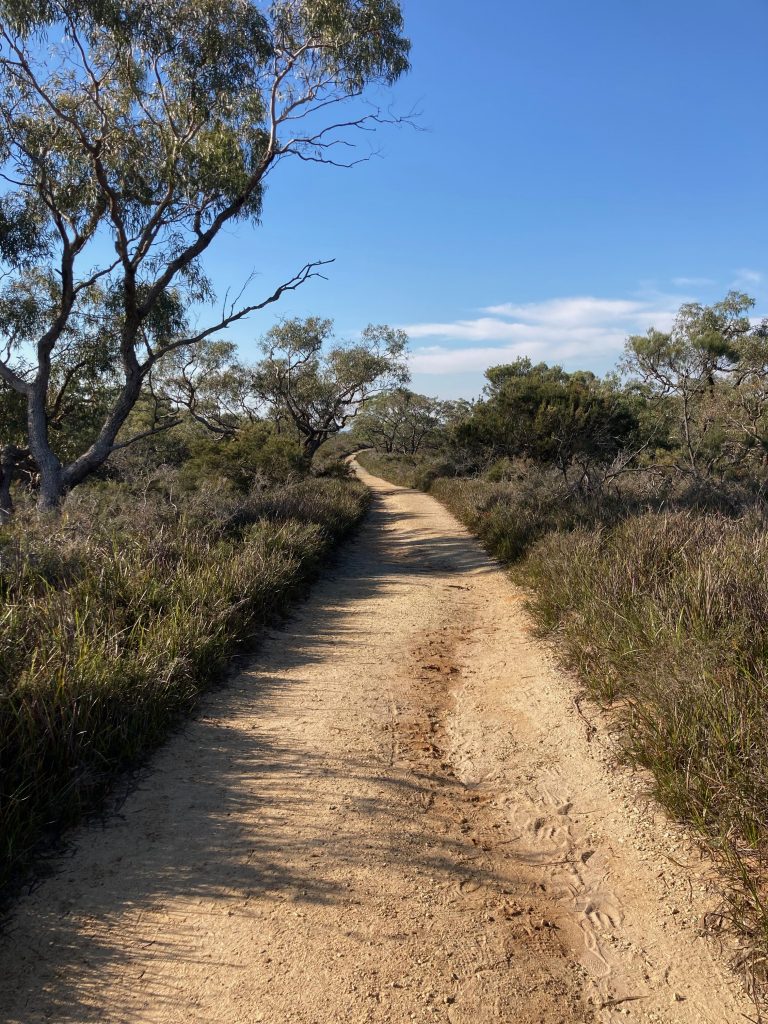 To be honest, most of the walk wasn't that exciting, view-wise. This was the usual 'vista'… fairly boring scrub. But the air was fresh and pure and all I could hear was birdsong and my feet crunching on the gravel.
That wasn't so hard to take.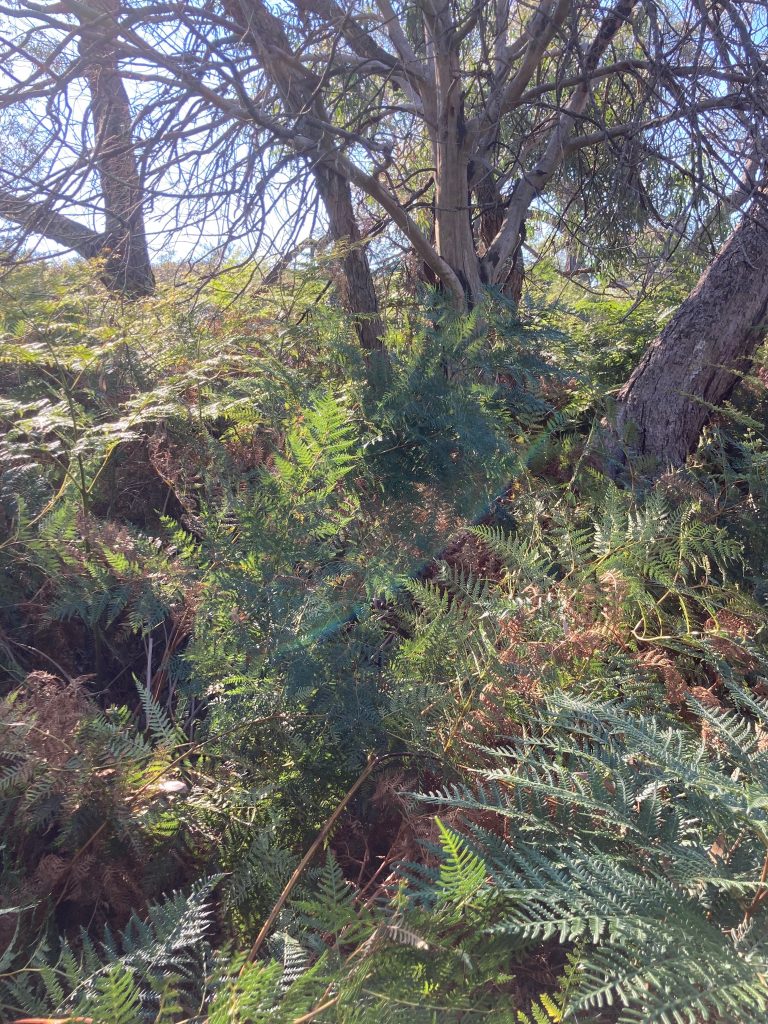 Then I got to the turnoff to the Perched Swamp and went down the path. I found this bit really interesting.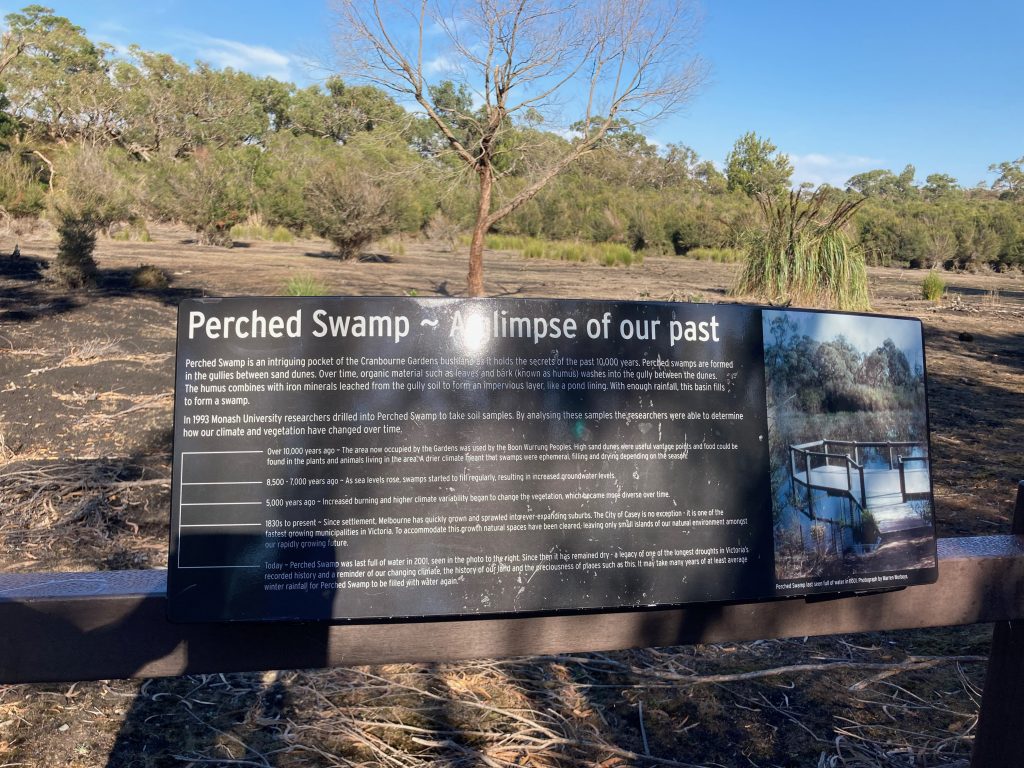 If you read the sign, it turns out that this patch of land is like a teacup suspended between the dunes. Water seeps in and it turns into a swamp. Hence the name – the swamp is perched, suspended (in a way) between the dunes.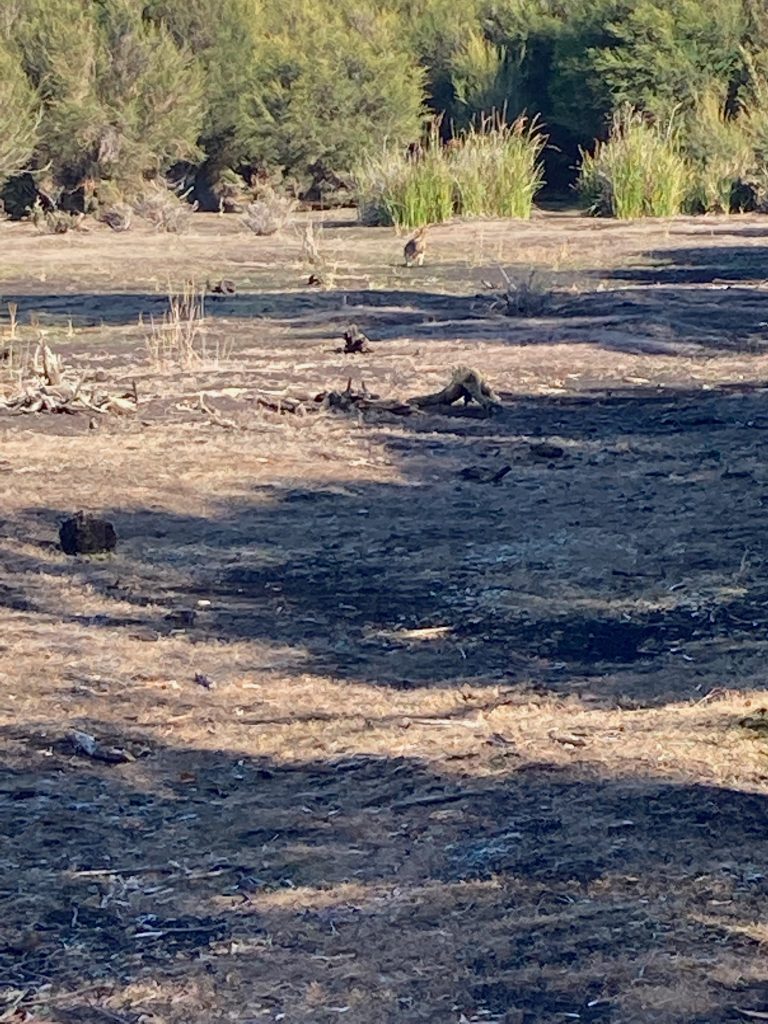 This hasn't been filled since 2001, which goes to show how dry this area is. The photo on the sign shows a vastly different view than the one I was seeing.
Two wallabies were having a snack to the right.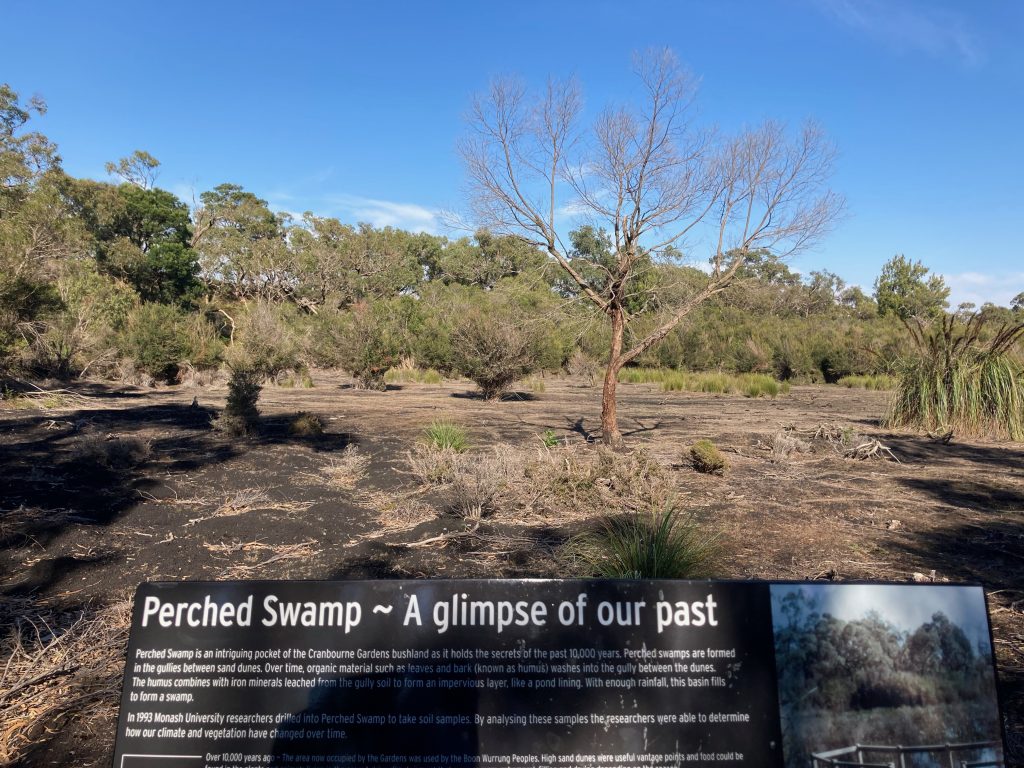 If the sign wasn't there, you'd never dream that you were looking at swampland.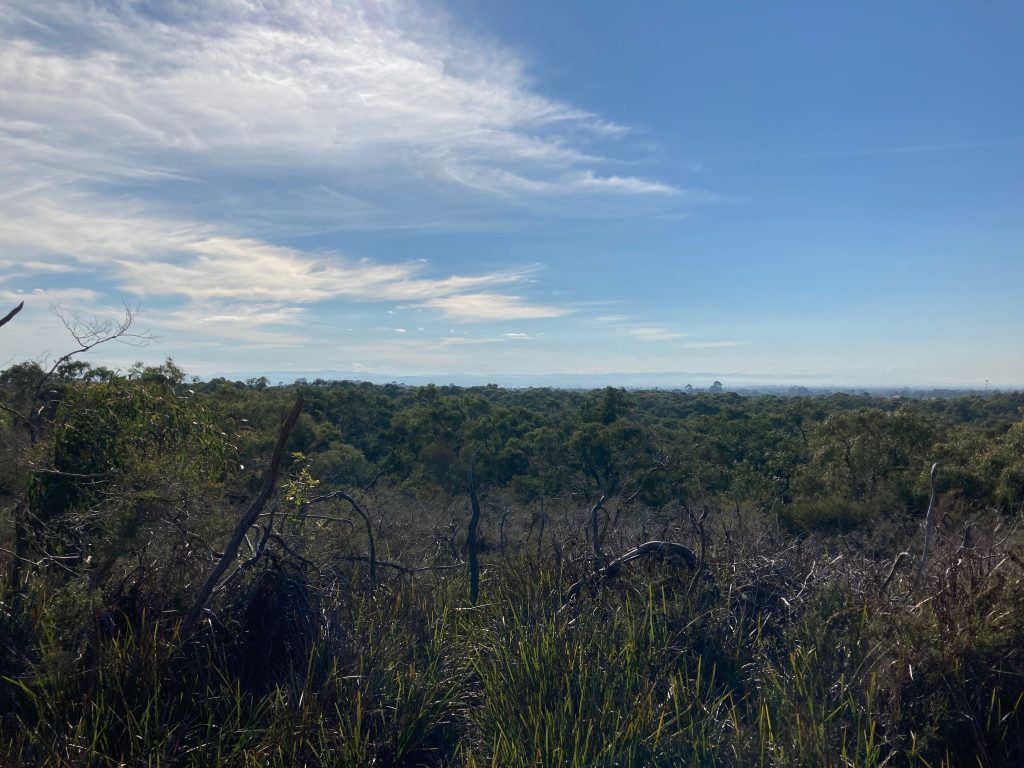 That's the edge of the 'teacup.'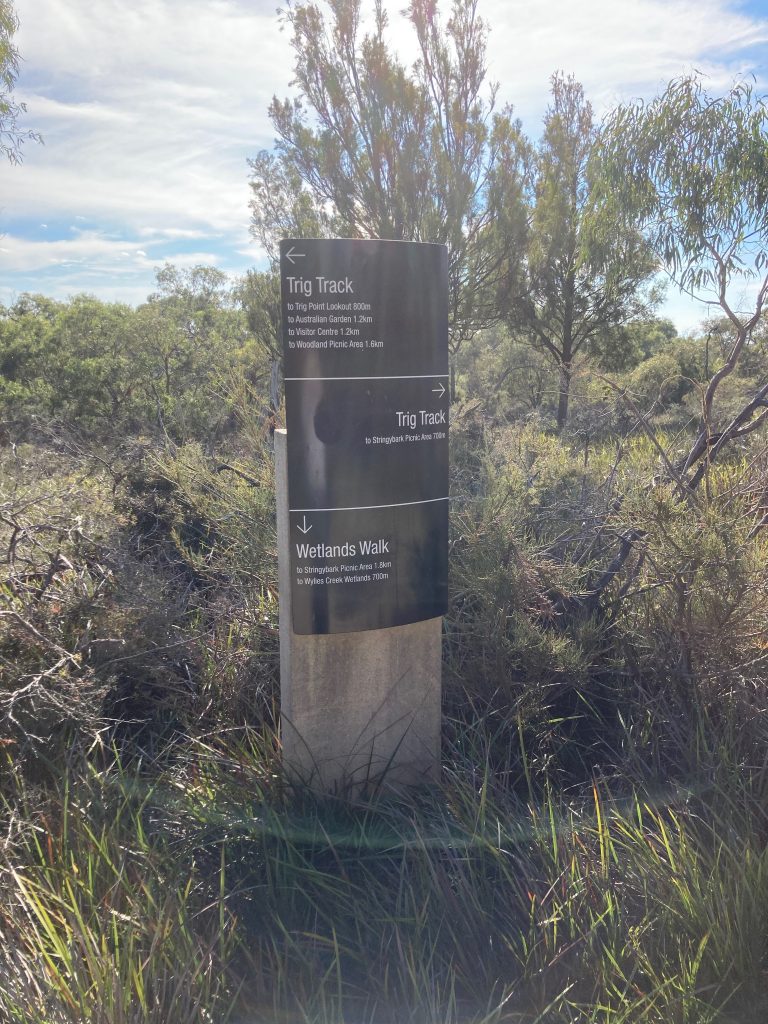 A little further along the main track, I saw the sign that told me to diverge and take the road less travelled* to the wetlands.
*Just a little nod to the literature buffs.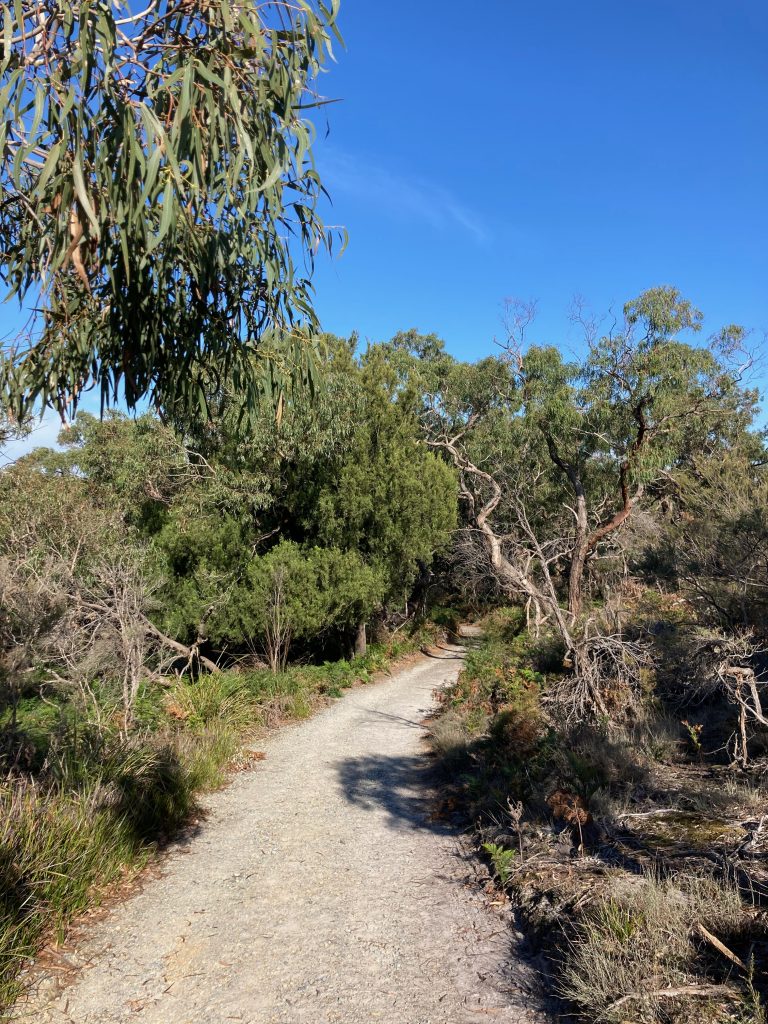 Looks inviting, doesn't it?
All this time I was walking along, totally alone (as I thought), just enjoying the day. I was walking in a shady part of the track, totally alone (as I thought) when I saw a tree with bright green moss on it.
Still walking, I suddenly stopped dead and lifted my phone to take the shot when something moved. For a split second I froze. A woman walking alone NEVER likes unexpected movements near her.
Then I saw…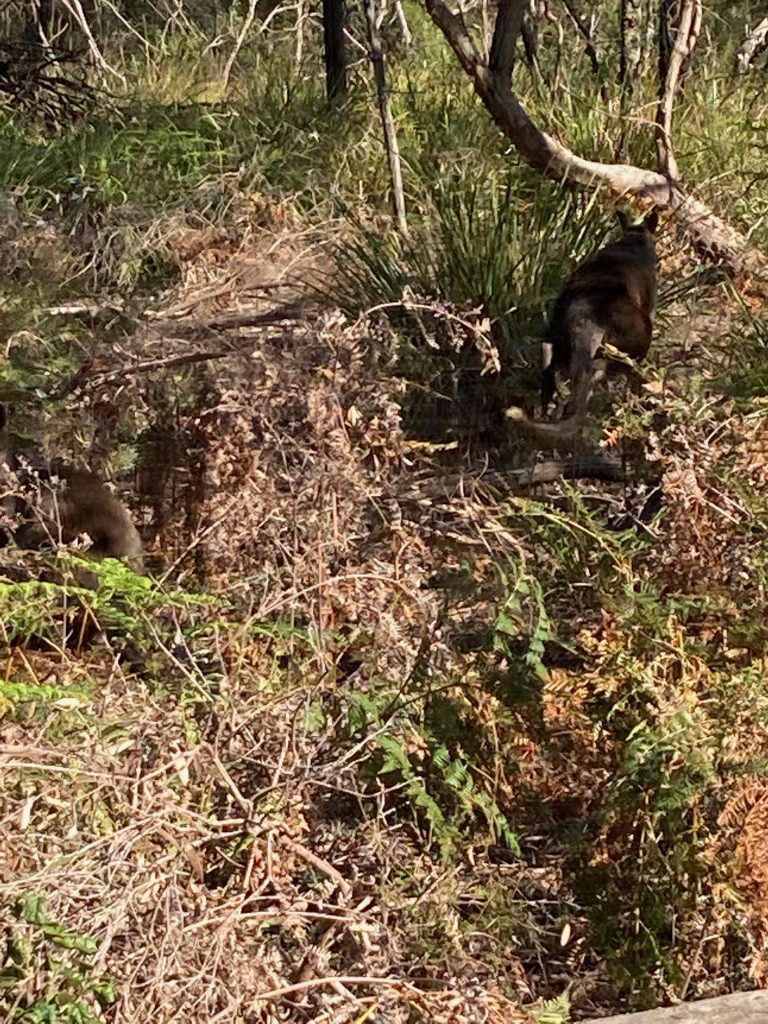 And something else moved…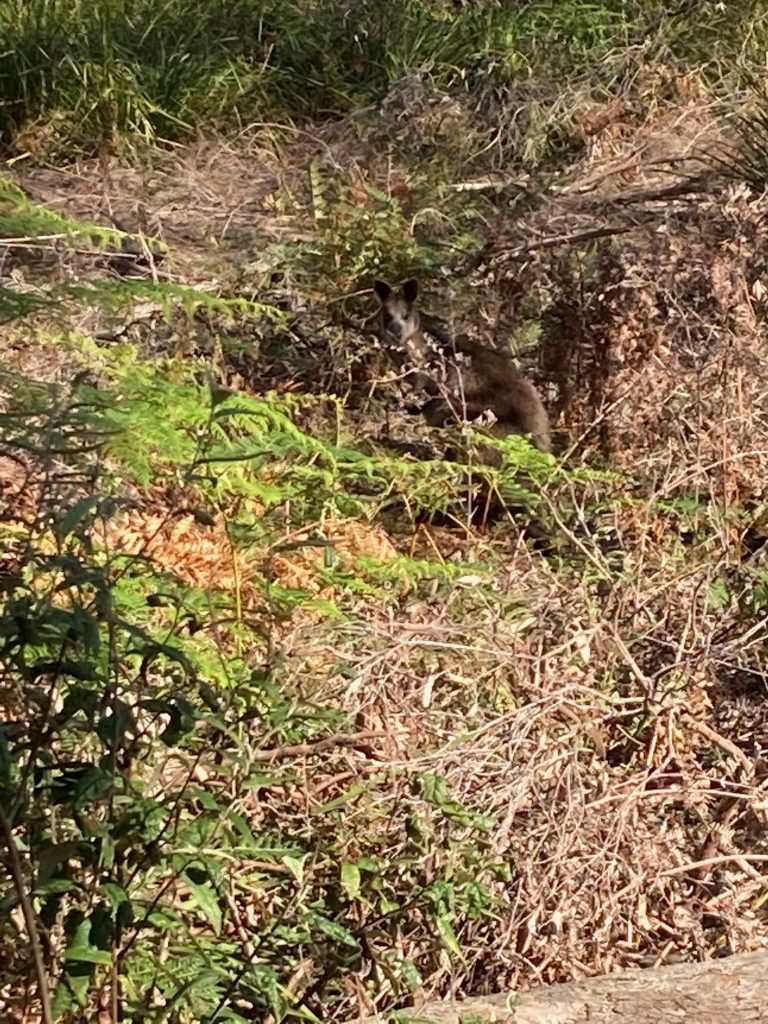 They were so close to me! I was so rapt. What an absolute gift.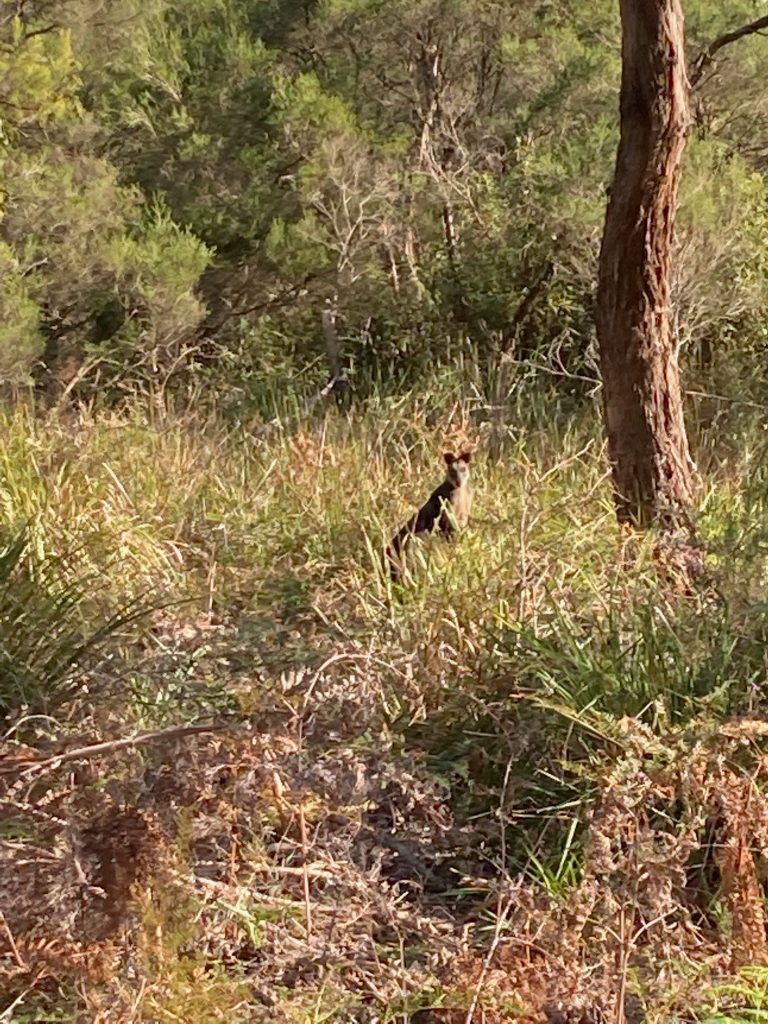 If I hadn't have stopped unexpectedly to take that photo and scared the living daylights out of them for a split second, I never would have known they were there.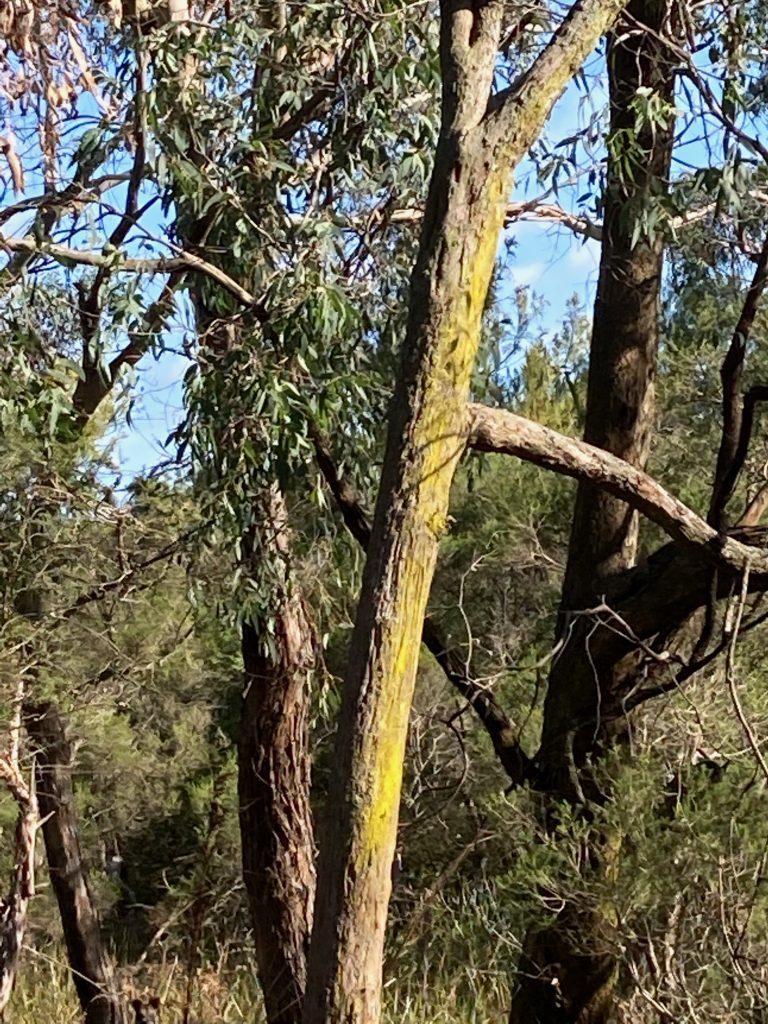 Here's the tree with the moss, by the way. Just in case you were wondering.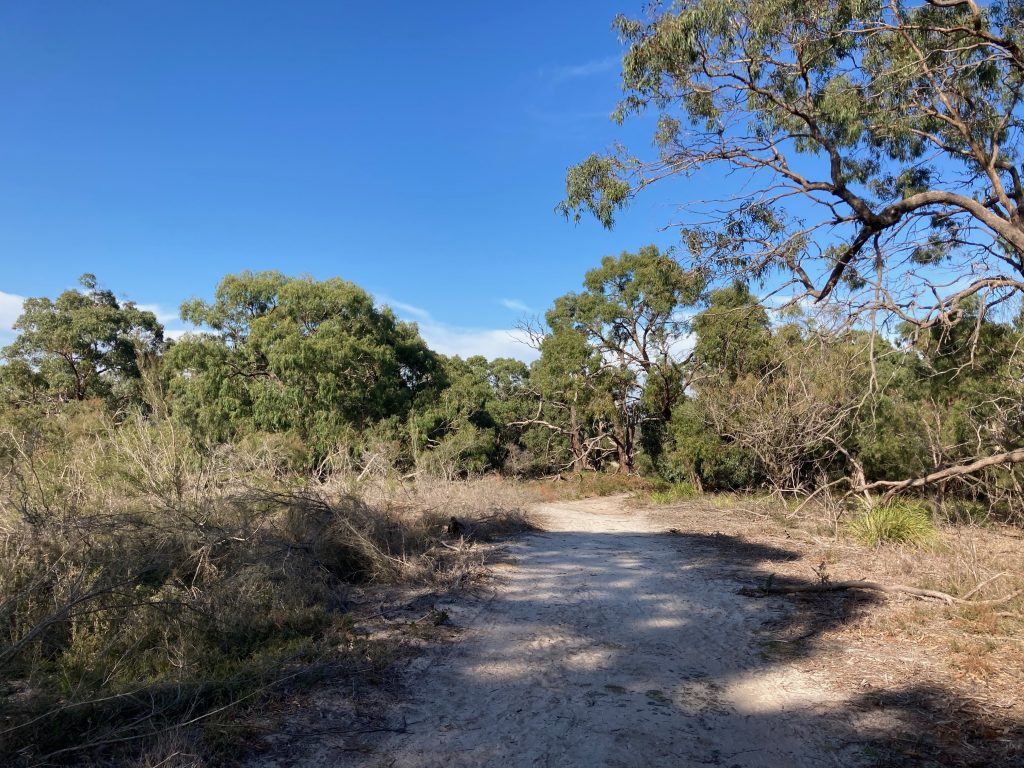 Considerably buoyed by my wallaby encounter, I set off again. The track turned sandy and then I found the lake.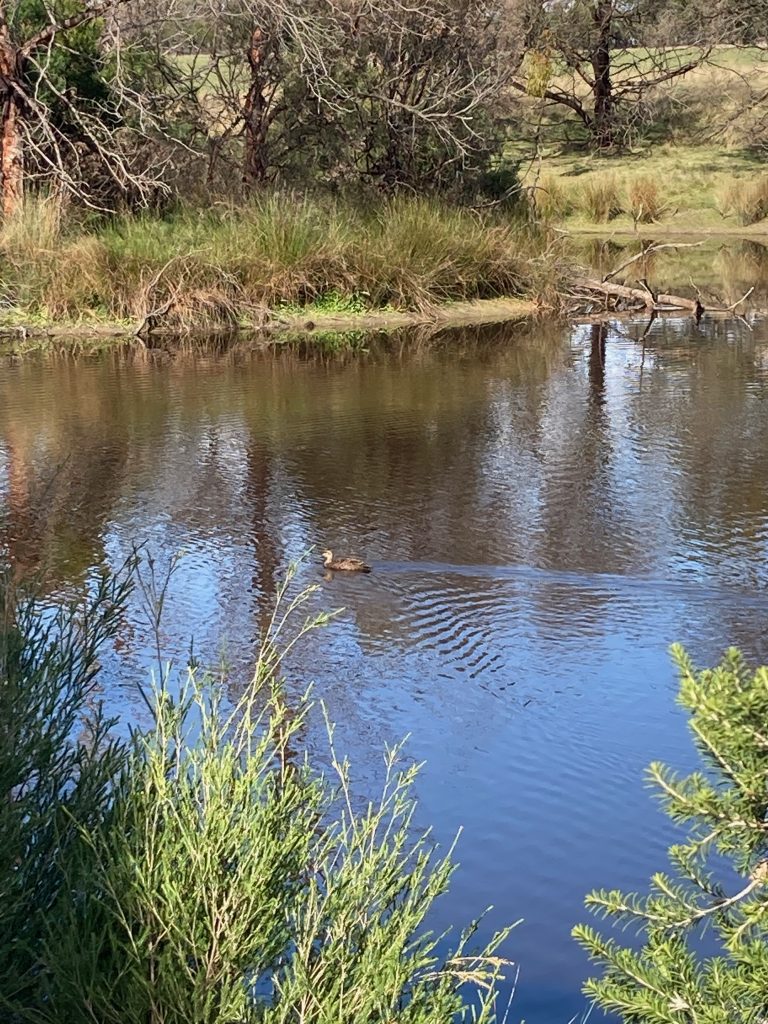 I walked off the track to get closer, trying to avoid stepping on the wallaby poo that seemed to be everywhere.
Then I saw a duck!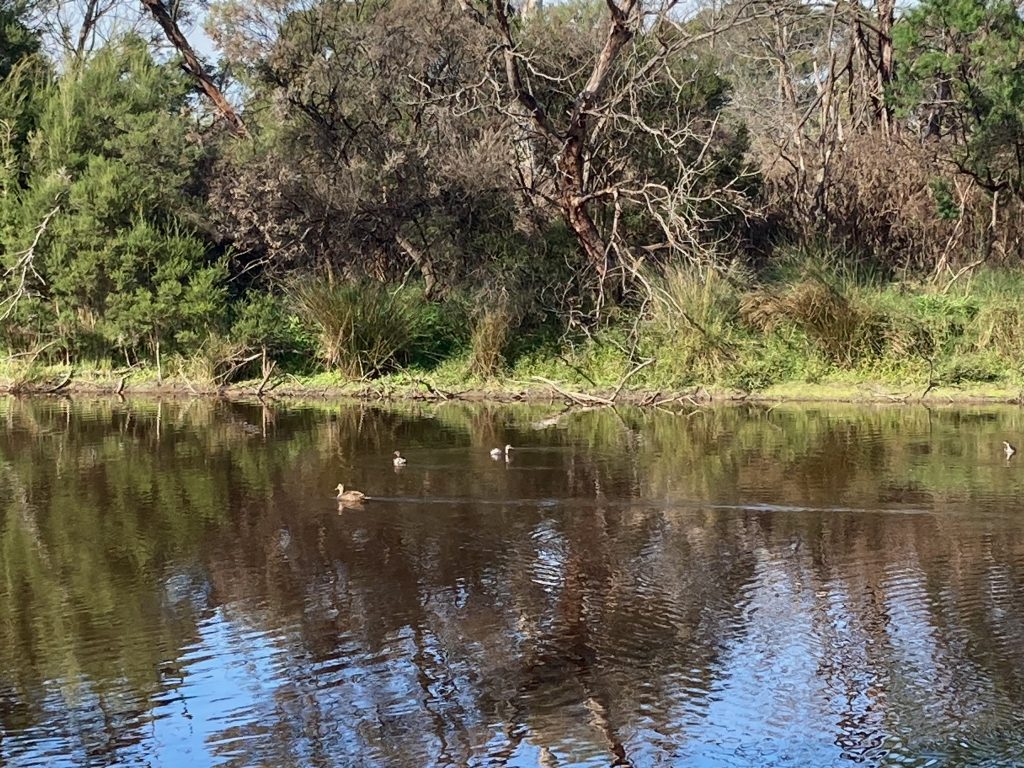 It was even better when she turned out to have ducklings. I stayed there for a while, just enjoying the vibe, then I set off again. My next goal was to get back to the car park.
That quilt isn't going to make itself.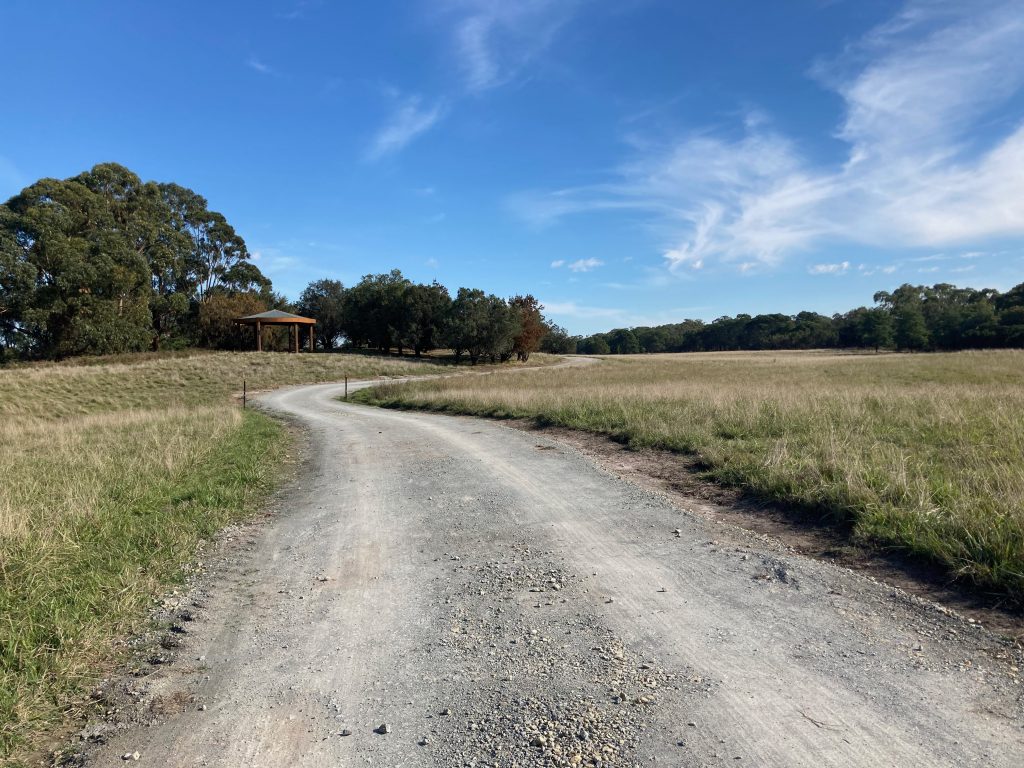 This part of the walk seemed to go on FOREVER. I was glad I brought my hat as it got quite sunny. I saw a couple of Mums with prams in this section, and I caught a glimpse of the assistance dogs a long way behind me.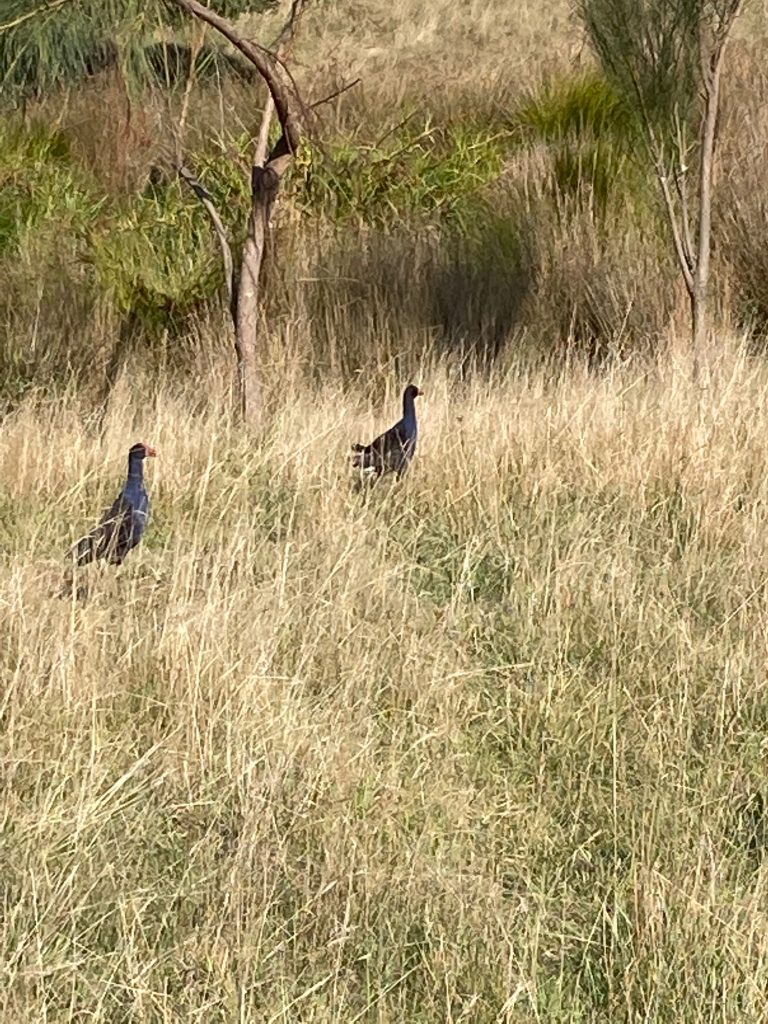 Look! Some more duck-like things!
They were a brilliant shade of blue, though it's only on the left-hand one in this photo that you can get an idea.
I kept walking.
I had no choice…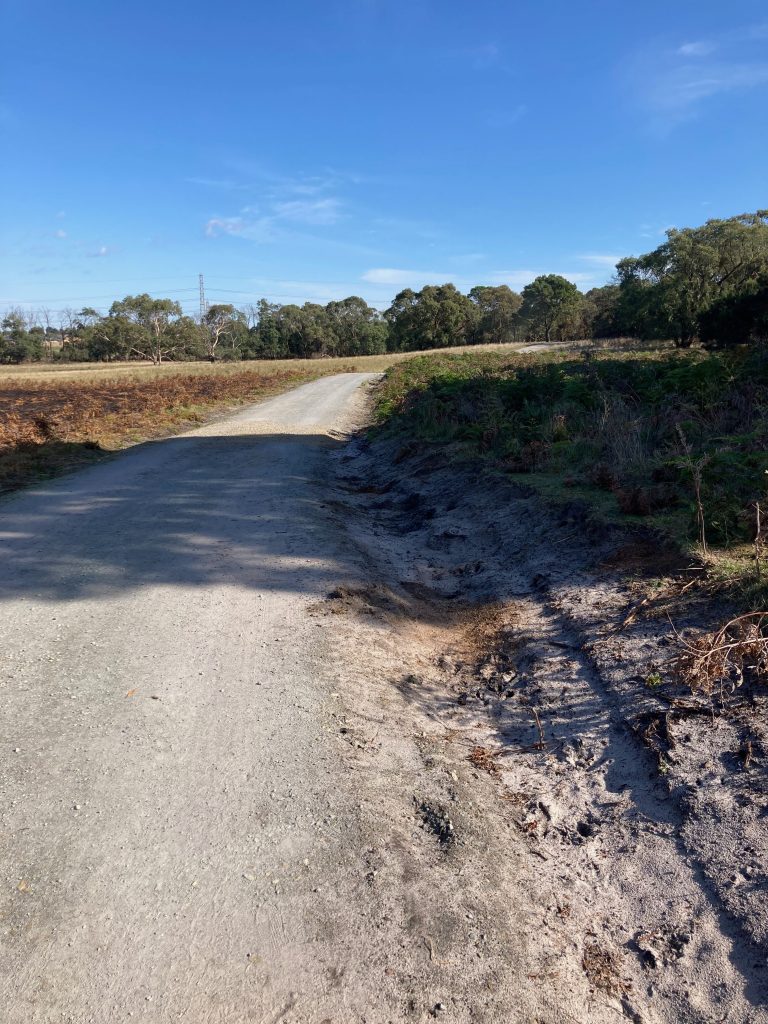 It was a long track with not much to look at. Fortunately, I had my thoughts to keep me company. I find myself very interesting.
Before you label me as egotistical – just imagine if I didn't find my thoughts interesting. How awful would that be? You can never escape yourself. You're always with you, so you may as well enjoy it.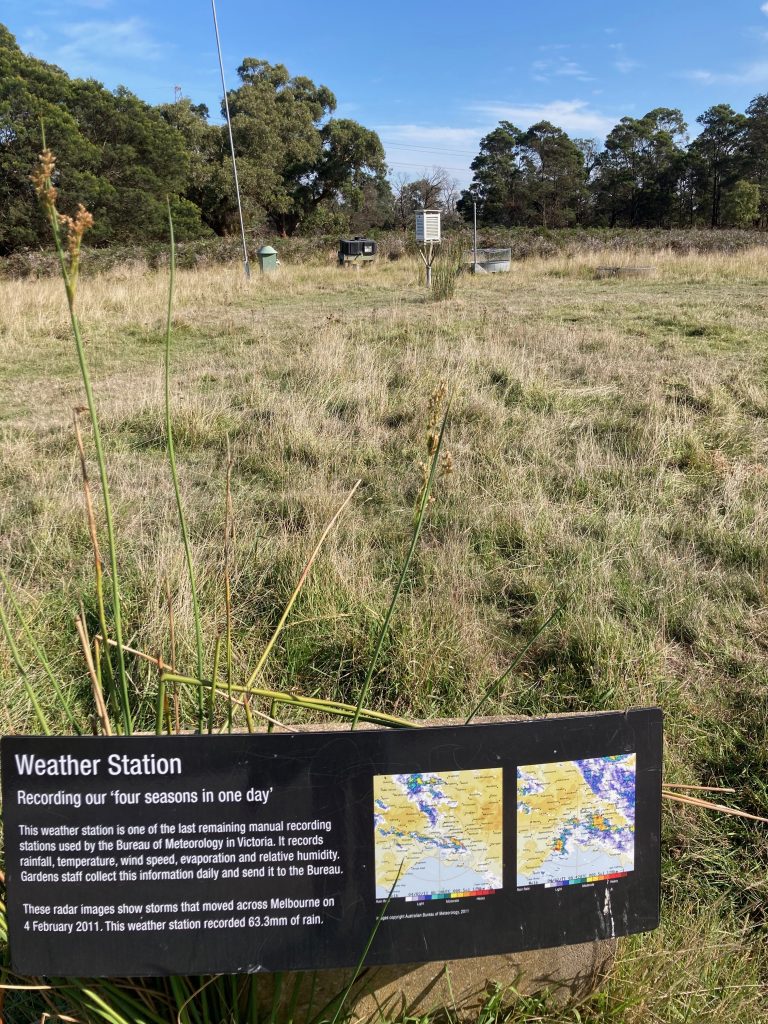 This was quite interesting. When I was walking up towards it I couldn't make out what these strange little boxes were. Nesting boxes for endangered birds?? Turns out it was far more scientific.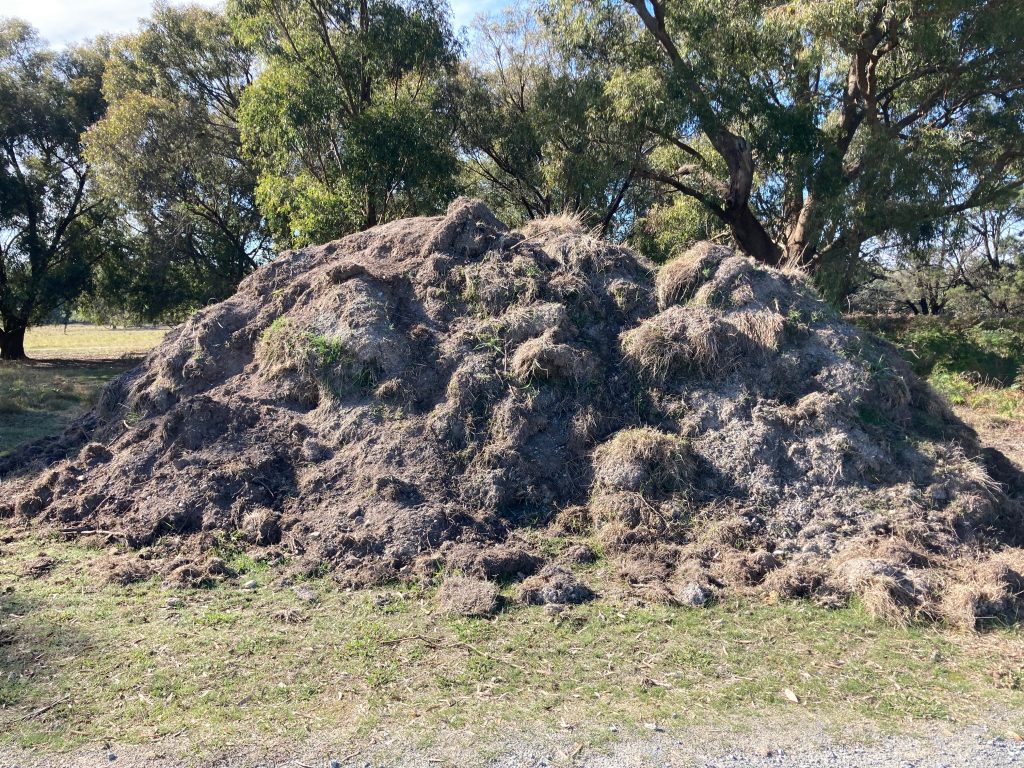 Started wondering if dinosaurs lived in the bush as well as wallabies.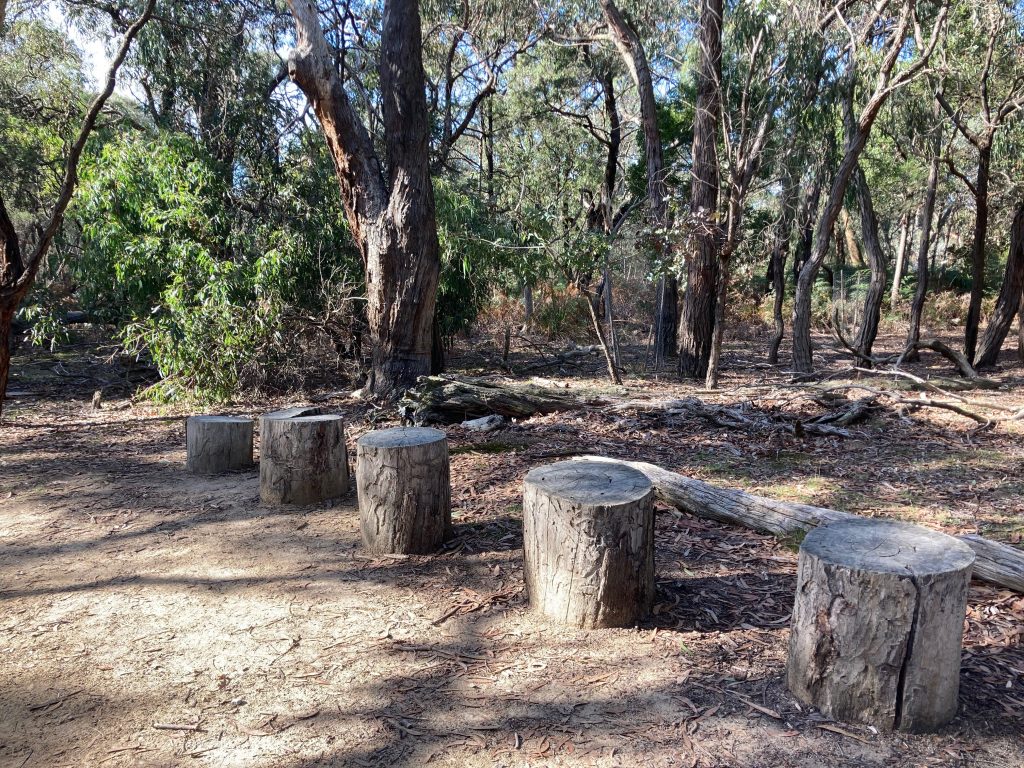 The track had curved and we were back in the trees again. Surely I was getting closer?
I'm a busy woman. I have things to do at home.
Plus, look at how close those trees grew together. Crazy.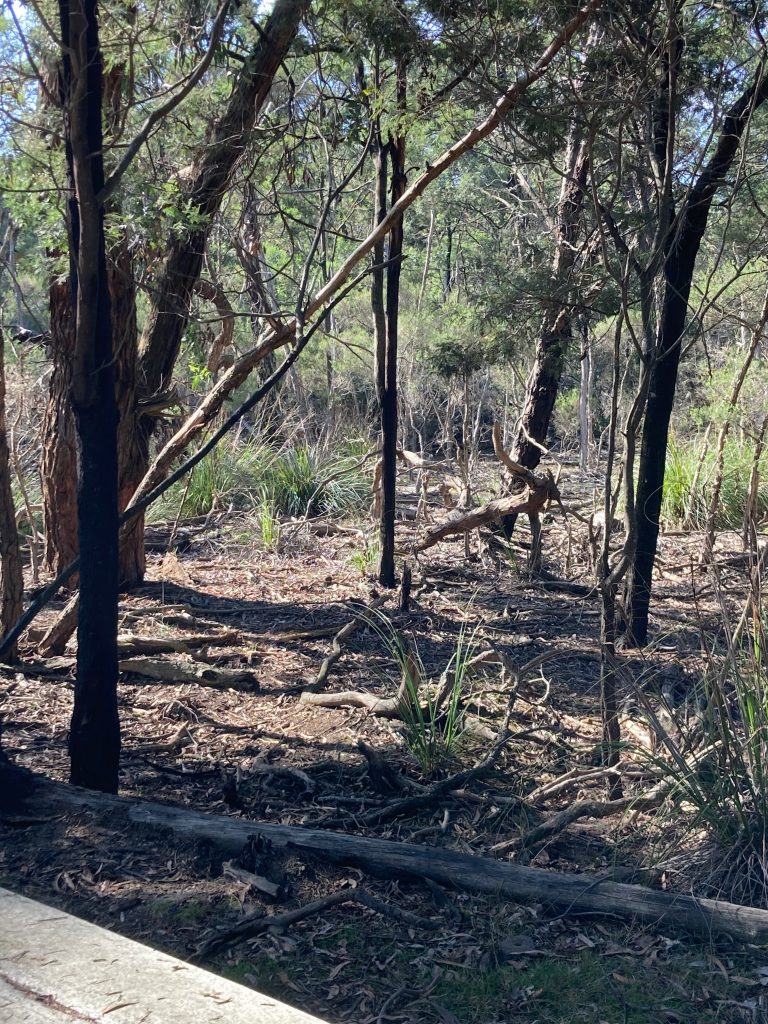 There's no real reason for this shot. I just liked the colours.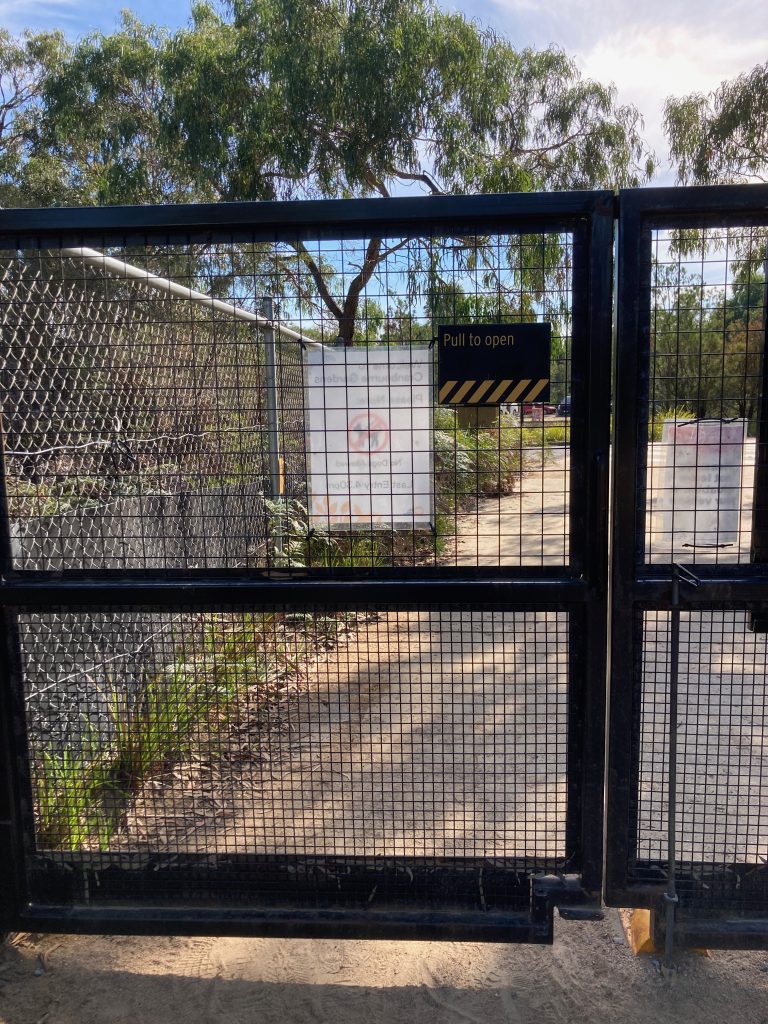 Success!!!!
This was a long walk for me because I'm very unfit, but it was easy. The paths are well maintained and there's no way you could stray off them and get lost.
When I was talking to Blogless Sandy about it, she mentioned that I'd apparently chosen the most untouched part of the garden to explore. This means that when I next choose to go back, I'll be wandering around a more planned part, which showcases Australian plants.
Should be good.
All in all, I enjoyed this Little Adventure. It's nice to think that in these modern times there's some land so close to the city where for a split second wallabies and humans can scare the living daylights out of each other.
Good times.