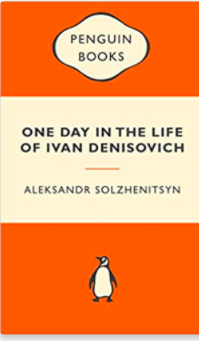 I first read this novel when I was 15 or 16. We had driven up to the Gold Coast to see my Dad's parents for Christmas. Grandpa told me I could borrow anything from the bookshelves to read and I wanted to take something down to the beach with me while I sunbaked.
I'll never forget the horror of reading about life in the bitter cold and privation of a Soviet gulag while I was in the burning sun, eating icy poles and swimming in the sea when I got too hot. The contrast made the novel even more terrifying, if that's possible.
Solzhenitsyn was actually a prisoner in a gulag in the 1940's and 50's, so this account is totally authentic. Even as a teenage girl in the 70's I could feel it. This novel, while dealing with a setting and situation worlds away from our lives in the modern-day West, still has echoes and lessons that we can take away with us.
If you haven't read it – do yourself a favour and pick it up. It's a slim volume. It's worth it for the last 2 sentences alone.
"The hammer banged reveille on the rail outside camp HQ at five o'clock as always. Time to get up."
Doesn't that sound exactly like the alarm feels on a weekday morning? Mine normally goes at 5:30 – I didn't realise until I read this that I get a sleep-in compared to the gulag! I'll feel slightly better now.
"Shukhov never overslept. He was always up at the call. That way he had an hour and a half all to himself before work parade – time for a man who knew his way around to earn a bit on the side."
Honestly, if this doesn't make you feel guilty for not having the time for a side-hustle, nothing will! Shukhov carefully manages his time and uses every scrap of time that he has to himself as productively as he can.
"The commandant set great store by that order. Nobody dared argue with him. The warders grabbed lone wanderers, took down their numbers, hauled them off to the jailhouse – but in the end, the order was ditched. Quietly, as so many loudmouthed orders are."
Anyone who has had to work under an incompetent or impulsive manager would know all about this one.
"Apart from sleep an old lag can call his life his own only for ten minutes at breakfast time, five at lunchtime, and five more at suppertime."
Of course, life isn't exactly like this on a work day, but honestly – doesn't the job take up a HUGE portion of the day?
"Amazing how time flew when you were working. He'd often noticed that days in the camp rolled by before you knew it. Yet your sentence stood still, the time you had to serve never got any less. "
I don't think this needs any elaboration…
"But when the camp suddenly needed a bricklayer – Shukhov thought he might as well be one. If you can do two things with your hands, you'll soon pick up another ten."
Here, Shukhov shows the value of flexibility and being willing to step outside the box and learn new skills. He gets slightly more food as a skilled worker and he also keeps his mind active – both things that will vastly improve his chances of survival in the camp.
"Easy money had no weight: you didn't feel you'd earned it. What you get for a song you won't have for long, the old folks used to say, and they were right. "
Lottery winners anyone? How many times do you hear that within 4 years a huge proportion of them are financially worse off than when they bought the winning ticket? A similar thing seems to happen with generational wealth – if a person/couple builds enormous wealth, it's rare for their grandchildren to still be wealthy.
"But even after eight years on general duties he was no scrounger, and as time went by, he was more and more determined not to be."
This is one of many times in the novel where we see that Shukhov's sense of self is hugely important to him and is at the heart of how he continues to survive. He has some ethics and standards that he refuses to give up, while others have been left by the wayside. We all know people who seem to live for their job and appear to have very little in their lives left over for other things. These are the people who crumble when, for whatever reason, their career is taken away from them. Shukhov isn't one of these people.
"He could barely stand, the Captain, but he kept on going. Shukhov had an old horse like that at home once. He took good care of that old horse, but he worked himself to death. And then they skinned the hide off him."
This quote follows on from the other in the way that some people give their all for their jobs, believing themselves indispensable. And yet – when they eventually leave, there's always someone to replace them. That last sentence is brutal – I don't believe I work for a business like this but I've heard plenty of horror stories that make me believe that there are companies around who drain every last thing that they can from their workers.
"In jail and in the camps Shukhov had lost the habit of scheming how he was going to feed his family from day to day or year to year. The bosses did all his thinking for him, and that somehow made life easier. But what would it be like when he got out? "
This made me think about how daunting people find the thought of not having a regular pay packet coming in any more once they hit retirement. This leads to the 'one more year' syndrome, where people are financially set for retirement but quite bring themselves to turn off the wages tap and start to draw down from their portfolios.
"Your foreman matters more than anything else in a prison camp: a good one gives you a new lease on life, a bad one can land you six feet under. "
The horrifying thing about 'One Day in the Life of Ivan Denisovich' is that, while we might say this metaphorically, he means it literally.
"The belly is an ungrateful wretch, it never remembers past favours, it always wants more tomorrow."
THIS IS THE BEST QUOTE! I've never forgotten it and it's helped me so much when I've ever had to deal with ephemeral little wants and indulgences that I might enjoy at the moment, but I'd completely forget about a day or two later. I don't know how many chips, snacks and other little things it has saved me from buying.
The very best thing about reading is that, while most books fade away after you've finished them, some stay with you forever. 'One Day in the Life of Ivan Denisovich' is one that you'll never forget.