This gem of a question was asked when I visited my old school a couple of weeks ago. Strangely, Mum also asks this on a regular basis. Don't these people know me at all?
It's been 8 months since I gave my farewell speech and exited the building. I expected that I'd do some CRT (emergency teaching) work but none has eventuated and, as it turns out, I'm pretty happy about that. I'm loving our leisurely mornings on the couch at The Best House in Melbourne. Often I find myself still in pjs making breakfast when my colleagues will be chirpily saying, "Good morning kids!" to their first Google Meets classes at 8:50 am. I raise a mug to them.
My days are contented, even during lockdowns. This last lockdown is number 6. It came only 9 days after the last one so for the first time, I didn't get to Bunnings to buy paint, plants, or gardening supplies for a lockdown project. But that's ok. I have plenty of other things to occupy my time.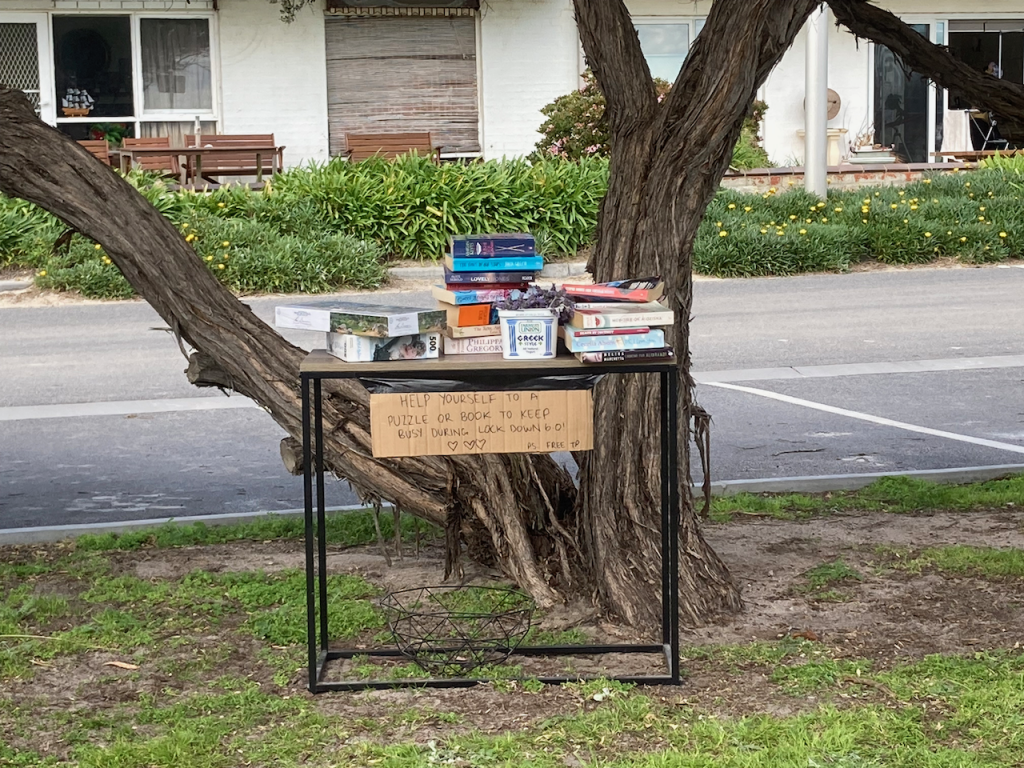 Having lots of little interests is the secret to succeeding at both lockdowns and retirements, I think.
When I began full-time work again after 10 years of being a stay-at-home Mum to the 4 boys, at first I did the regular teacherly thing of bringing home marking to be done after school and on the weekends. After a while, I noticed a pattern. Those essays and grammar tests would be brought home in a pile, dumped on the dining room table and then the next morning that same pile, untouched by human hands since the dumping, would be taken back to school.
A single parent of 4 small boys, three of them still in primary school, has little quiet, private time to be able to sit and work through marking. It was an optimistic waste of time to be bringing that work home with me. I learned to power through my marking at school by working through lunchtimes, by marking one class's work while another class was quietly doing a test or writing an essay, or by staying back an hour or two and eating Caramello Koalas while doggedly working my way down to the bottom of the pile.
This meant that when I was at home, I was fully at home. The kids had my attention and I was also free to develop some skills in things that interested me.
Some, of course, were things that I've always been drawn to. I've been addicted to reading since I was 3. Knitting? My Gran taught me when I was 7. I can close my eyes and still see that bright red wool that she used. My dogs? I bred Cavalier King Charles Spaniels for 6 or 7 years before I had the boys and, thanks to the breeder who got me started, we always had dogs that she needed to rehouse.
Other interests came along the way.
I started growing our own food when one of the boys went on a downward spiral into depression, with all that comes with it, when he was in his mid-teens. Taking him to his appointments etc wasn't enough – I needed to do something more concrete. Getting rid of preservatives and eating organic things was too expensive for me to do if I was buying it. But it was far cheaper (and ultimately, more satisfying) if I grew the veggies, fruit and eggs myself. Now, in the new house, I don't have chooks anymore, but it was lovely when we did.
And for those who were wondering, after a rocky 2 or 3 years, my boy came out the other side and is doing really well. For anyone who may be currently going through this nightmare, there ARE success stories. But this one is not really mine to tell any further. 🙂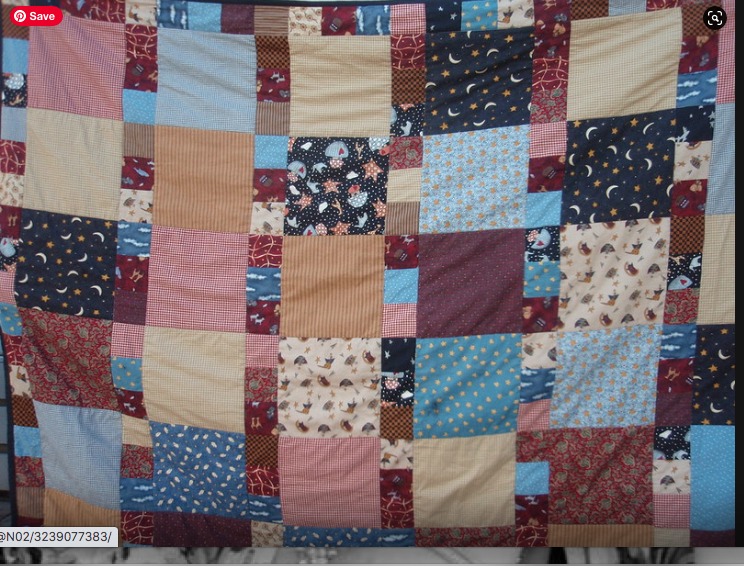 Quilting can either be a hellishly expensive hobby, or one that you can do pretty cheaply. Thirteen years ago, a quilting shop opened just around the corner and I borrowed a sewing machine from Blogless Sandy and gave it a crack. Quilting fabric can costs a lot, but if you look at the time spent vs the money spent, the hourly rate for entertainment becomes remarkably small. A few pieces of fabric, some batting, and some thread can keep me occupied for WEEKS!
I remember a conversation I had with Mum, many years ago. She said that HER Mum once said to her that it was important for women to have some form of handicraft that they could do. (Keep in mind that this was back in the days when most women stayed home after they married.) Most of the work that women did was ephemeral. The meals need cooking every day. Houses don't stay clean. Weeds still grow. But an embroidered tablecloth or a quilt or a knitted tea cosy is permanent. It's a record that you were here and you produced something that will last.
The quilt pictured above was the first one I ever made. It was for Evan12. A few months ago I went to his place to stay the night and there it was – and Evan 12 is now Evan24. Seeing that quilt on his bed brought a sense of satisfaction that was… well… very satisfying. Not only does that hobby bring endless hours of entertainment to me – but it also brings warmth and comfort to those I care about. I've made nearly 40 quilts. I've only kept 5.
The same things that apply to 'women's work' that my Gran was referring to is also true of many jobs, particularly office jobs, today. People spend years going to an office and tapping away at a screen, with nothing concrete to hold in their hands at the end of it all. Any sort of craft or skill, be it handicrafts, art, music or sport, is something worth developing.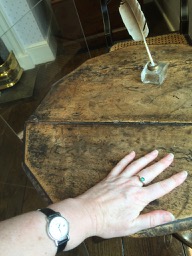 Before covid and Australia's borders slamming shut, I would have counted travel as a huge thing I wanted to do in retirement. Look at this photo. It's the actual table that Jane Austen wrote her novels on. I've actually touched it. Who wouldn't want to gallivant around a world that has such treasures in it?
But until the borders open up again, all of us have had to find entertainment and pleasure close to home. If lockdowns are dragging, that's a signal that you need to look around and start exploring the smaller possibilities that are around you.
I was lucky. The boys and I were so broke for so many years that I couldn't have developed expensive hobbies, like skiing for example, even if I'd wanted to. (I took them up for a day to see snow at Lake Mountain. We took cardboard to toboggan with. It was a fun day and they got to see real snow.) Anything that I wanted to explore had to be close to home, cheap to do, and preferably useful.
Now, these skills are paying dividends. While the real dividends periodically roll into my bank accounts, I'm contentedly filling in my days with a mishmash of all these things and more.
There's a quiet pleasure in picking a lemon from a tree you planted yourself or making a meal including ingredients from your own garden.
Looking down at the face of the prettiest Cavalier you've ever owned and knowing that in her pedigree are dogs that you've bred. Finding an author that you really like and working your way through her books. (Though the protagonist in the fifth book in the 'Woody Creek' series is the biggest drama queen ninny I've ever come across. Hopefully there's less of her in books 6 and 7.)
Today is another day in lockdown. After I press 'publish' on this post, I'll have a shower, get dressed and start listening to book 6 as I finish knitting the last of the bamboo washcloths. It's raining at the moment so the little woofs will have to wait for their walk. Later, I'll steam some sweet potato to make sweet potato gnocchi for dinner and make sure I grab tomatoes and zucchini from the freezer to use in the sauce. It's a new recipe so that'll be fun to see if it's a keeper.
I only watch 2 reality tv shows and for the next couple of weeks they're both playing on the same nights. Honestly, I didn't retire so that my life could be this hard! I'm in the Survivor sweep at work and I'm in a Whatsapp chat with people from work (and Tom29) when Survivor is on, so I have to prioritise JLP. When lunchtime rolls around I'll settle down in front of catch-up tv and watch last night's episode of The Block. I love me some Block!
In the afternoon I'll keep listening to my library audiobook as I either pull fabrics from my stash to make a boy baby quilt to test the pattern that Ryan26 has designed as a lockdown boredom buster, or I'll start quilting a little girl's baby quilt I made a couple of weeks ago. This audiobook will bring my 'Earn Back my Rates' challenge to a successful conclusion. This won't happen today though. The book has 20 hours of listening time in it, so even listening at 1.5 X speed will still take a while.
In the next few days, I'll be dragging my little greenhouse out of the back shed and starting some seeds to grow for summer crops. I want to buy some paint to (finally) finish off my ensuite and also paint my garden side gates bright yellow, though this will have to wait until lockdown ends. I'm making plans for pots and flowers for 'Operation Beautify' to make this house pretty before I get real estate agents in to give me a valuation. Just for interest's sake – I'm not moving anywhere!
There's always something to do and to think about. Always a little challenge to set for myself or an experiment to do in the garden. No matter how small. When borders open up again I'll go large, (such as Antarctica 2022), but for the moment, having lots of little interests is definitely the way to go.