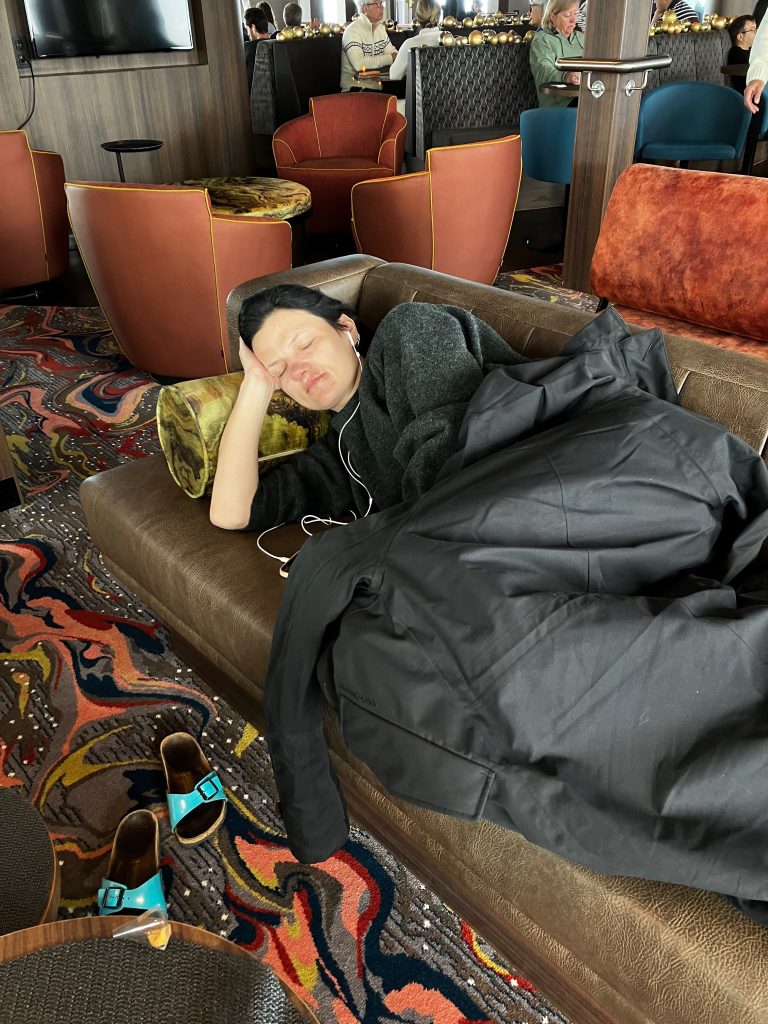 The crew arranged all sorts of mini-lectures to help fill the next two days. An astonishing number of them are birders, so we heard all about what that entails. As you can see, sometimes they went into a little too much detail, as this action-shot of Liga shows.
We also had a lecture about the environmental impact of our trip, which was surprisingly interesting, along with the technology the Hondius has to help mitigate any damage we might cause.
Now that we were firmly in the Drake Passage, whale sightings were getting more common. Up until now, the only whale sightings I'd seen were of blows, fins and flukes from miles away, which make for some very unimpressive photos.
Imagine how fantastic it was when the announcement went out:
" A pod of at least twenty humpback whales are around the ship, primarily on the starboard side. We're slowing the ship down to make the most of this opportunity."
Talk about being galvanised into activity!
I had my phone with me, but no coat, so I ran to get a spot at the lounge windows.
The whales were so close. They were feeding, so they were surfacing and diving, but only in shallow dives so they were repeatedly coming up to the surface.
I had my phone positioned just below my eyes and I was pressing the photo button every time I saw something… which meant that I had a LOT of photos to go through after this was over. It was the only way I could think of getting a balance between actually experiencing it all with my eyes as well as trying to get a record of it.
The whales stayed near us for around 20 minutes, I guess, which was ample time to get that "whale watching " box well and truly ticked off.
Afterwards, Eneko came by as we were all talking and he showed me some videos that he took of the whales from the deck outside. They were fantastic- so much better than my crappy photos. 
We spent the rest of the day in the lounge, where I may or may not have taken a nap. People were flicking through their photos to choose which ones they were going to submit for the photo competition, sometimes asking for opinions from others.
It was a funny day. I think we were all coming down from the absolute high which was Antarctica.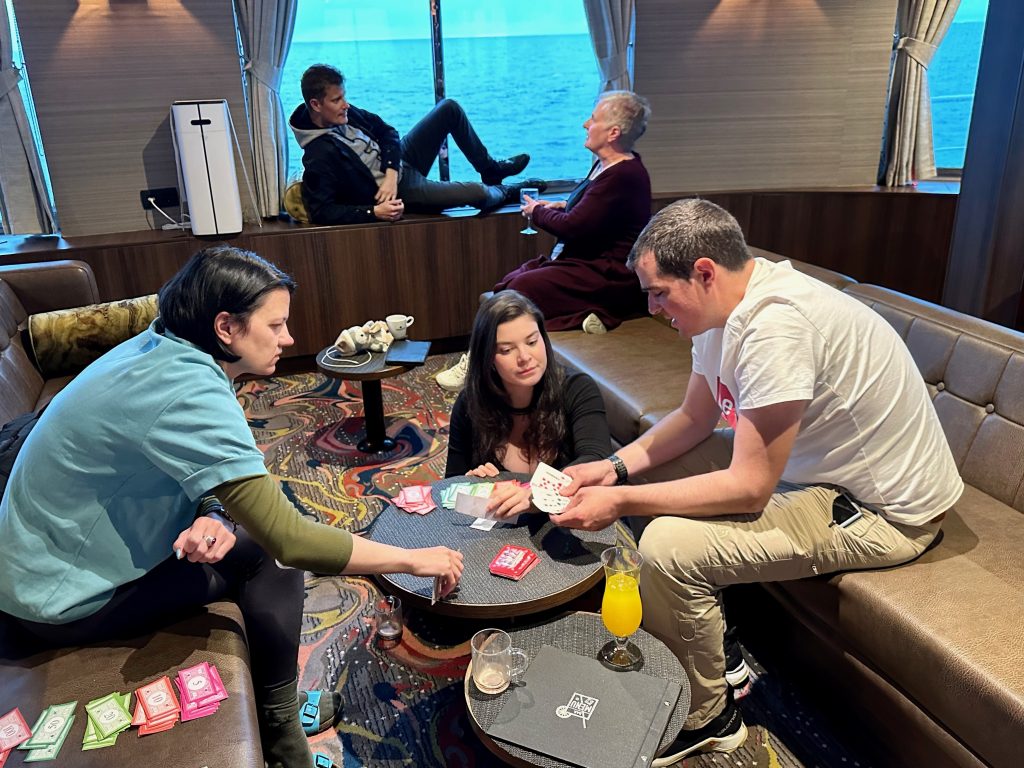 Eneko was persuaded by Corrina and Liga to play a game of poker with them, to teach them how to play better. Poor guy, he was really reluctant to do it, because he's used to playing 10 games at a time behind his computer screen. I got the distinct impression that face-to-face poker games don't have much appeal for him.
They were sitting near me and I tuned out as I was reading a novel, but I surfaced at one point to hear him, looking at Corrina's cards, saying, "No, no, you shouldn't play this hand of cards," and Corrina, totally bewildered, saying, "But why not??" 
He was trying to explain and I could see his brain trying desperately to translate from Spanish to English something that, to him seemed so obvious, but to the girls was a mystery. It must have been a long night for poor Eneko!
All of us had bought seasickness patches the night before, but I think we could probably have done without them. The Drake Lake was living up to its name as we glided on through.
Only one full day to go…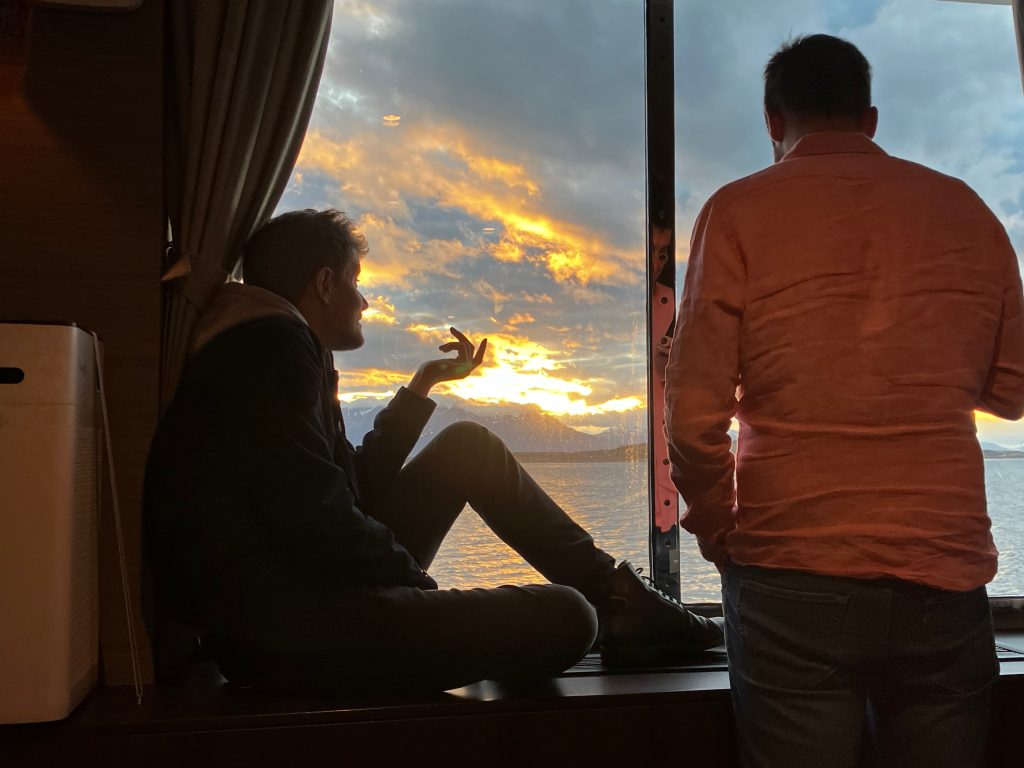 DRAKE LAKE DAY 2:
This is where Frogdancer Jones gets a prize in the photo competition that she didn't even enter. Even I'm astonished at the amount of good luck that this trip has let me experience.
The Drake Passage was even calmer today than it was yesterday, which seemed a little unbelievable, but there it was. The morning was spent packing our bags, giving back our muck boots and generally coming back down to earth.
Corrina set up a WhatsApp group so we could share photos. We've been talking on it ever since. 🙂
After lunch we were all called to the lounge and Ross went through the photo competition entries. There were 126 spread out over the 3 categories and everyone had one vote in each category.
Earlier in the day, we made Michael, a guy we'd met on the cruise, submit a photo of polar bears he took in the Arctic a couple of years before, in the "Fun" section. It got a huge laugh, but sadly, didn't make the final cut.
At around 5PM we all got a hell of a surprise. There, ahead of the ship, were lights. We were already approaching Ushuaia… 12 hours ahead of schedule. That shows just how flat the Drake Passage was during our two days.
Over our last dinner, the boys and I sat near SamFrank. Someone asked him what he did for a living, (he was back to being a colonel again) and then I asked him what he did for fun when he wasn't working.
"Oh, I teach ballroom dancing. I do a lot of dancing. I also play the guitar – I play a lot of guitar so that I can train my fingers to have lots of sex with my wife."
I glanced across at Baptiste to see if he was hearing this. His eyes danced back at me. We were both hanging off every word.
"I'm also learning to play the harmonica. I also like to throw dinner parties.  Or just any kind of dinner party… I like it when people dress up. I think people behave differently when they are elegantly dressed. Before I met my wife, I always organised every detail. It used to take me the whole day to set the table, decide who was sitting next to who, and to cook the food. Once, a man turned up in a Hawaiian shirt and shorts. I made him go home and change."
After the conversation moved on, I asked the guys to give me a playlist of the band that they both like – a German band called Rammstein. Morgan's seen them play 47 times. It's great music to listen to if you want to concentrate on something that you're doing, because I can't understand a word of the lyrics. I'm listening to them now as I type – a lovely song called 'Pussy.' It's nice to see that German headbangers are fond of cats.
After dinner we all gathered in the lounge for the photo competition. Morgan had 2 shots in the final and Eneko had one. Not bad representation for our little group!
After the prizes were awarded, Emma, the ship's doctor, beckoned me over.
"I accidentally submitted a photo in the Wildlife folder instead of the guides' folder and it won the competition. I don't feel right about accepting the prize, so I thought you should have it."
She handed me a penguin soft toy. Maybe I was being rewarded for my bravery during the blood nose episode on Petermann Island?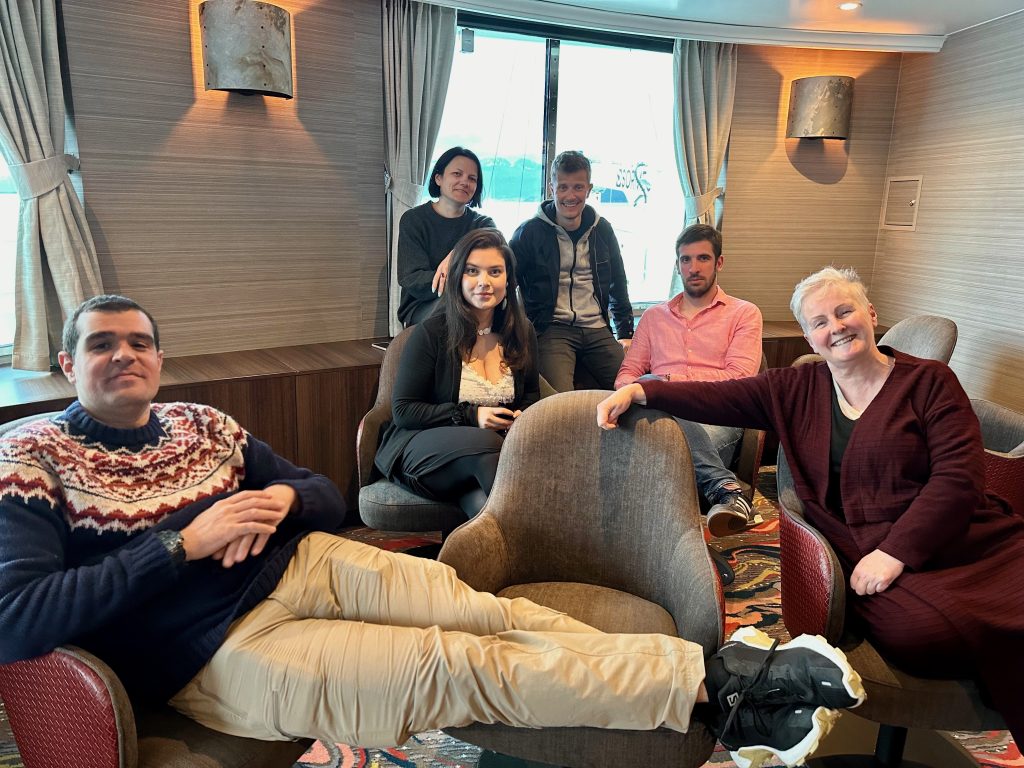 Liga bought a bottle of Prosecco and shared it with us as we all toasted our friendship. I really hope we run into each other again.
There was a bit more talk about Eneko's nicknames for us. He let slip a day or two ago that his nickname for Liga was 'The Black Panther,' which really suits her. He said that he had a nickname for both Corinna and me, but he was too scared to tell us. Corinna, who was absolutely dying to know what hers could be, finally got a promise from him that he'd tell her on the last day. That would be tomorrow…
I set off to bed at midnight, but a couple of hours after that, some of the crew came up to the lounge and took some people out into Ushuaia to the Irish pub. Corinna didn't get back until 4 AM. That 7:30 AM wake-up call for breakfast must've been hard…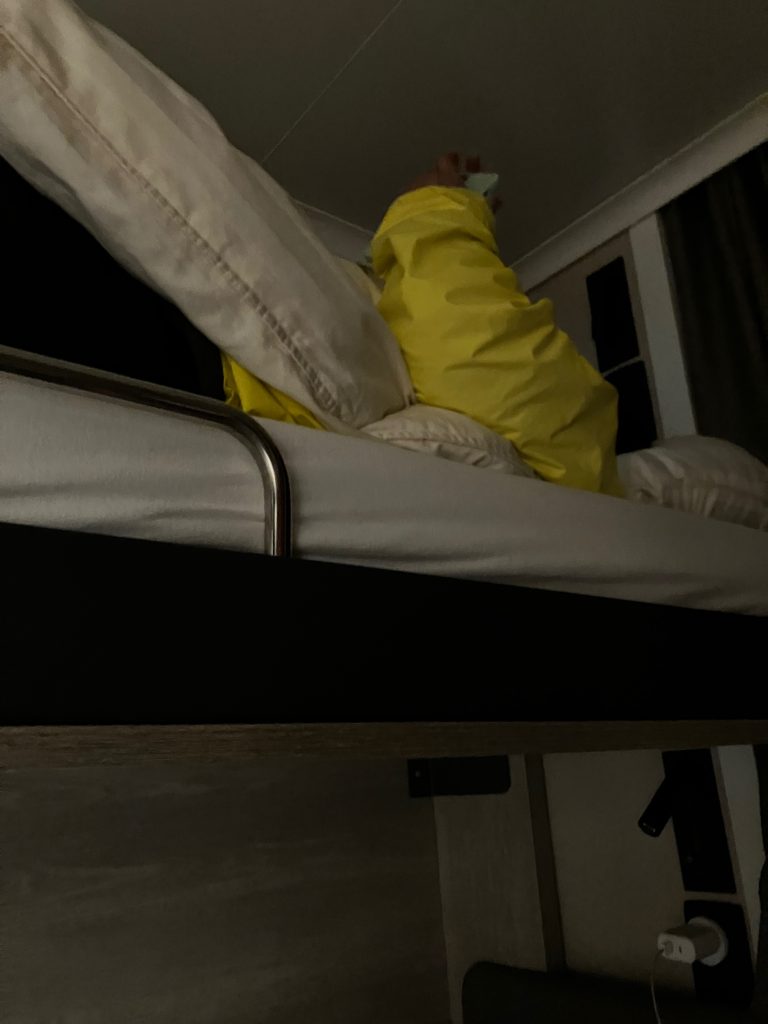 I took this photo on the last night because I couldn't believe that Ming was STILL wearing her polar layers 24/7, even when we were back in port. When was she going to shed the yellow gortex?
A DAY IN USHUAIA DURING WORLD CUP SEMI FINALS: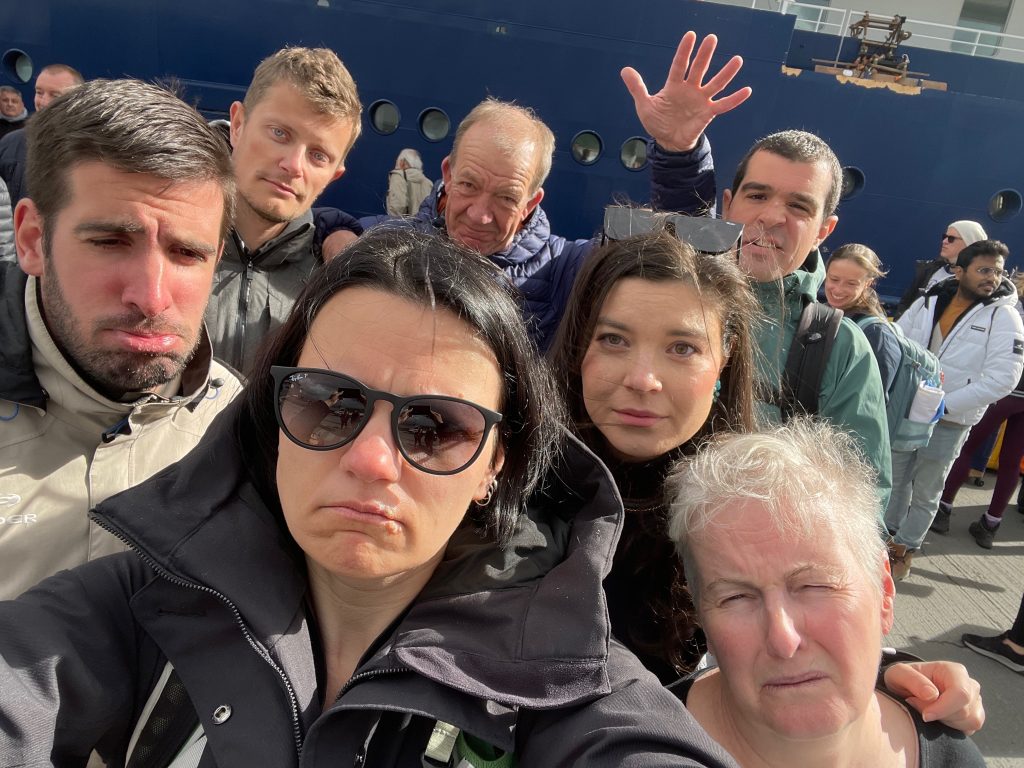 The mood was subdued at breakfast. No one wanted to leave.
Baptiste said at breakfast, looking sadly out of the window, "I just want to wreck the boat. Demolish it. If I can't go back, then no one else should!" Trust me, it sounds better when it's said in a mournful French accent.
As soon as we were off the ship and on the dock, the sky turned grey and the wind picked up. It was a bit creepy, as if our good luck with the weather only worked if we were on the ship.
Corrina asked Eneko for her nickname.
"No, not yet," he said, gesturing back towards the sea. "There's nowhere for me to run away here."
"Oh my God, what IS it?" she shrieked. "It can't be that bad, surely?"
Little did she know, but Eneko told the boys and me the nickname over breakfast. It was the 'British Bear', like Winnie the Pooh. I was ' The Australian Penguin.' Now that I come to think about it, Eneko was always there when I'd fall down, get up and cheerfully waddle off again, so fair enough.
When we wheeled our luggage to the street, Eneko finally told Corrina her name. Unfortunately, he forgot to mention Winnie the Pooh and instead said it was like a grizzly bear. She was half laughing, half confused. I don't blame her!
Today was the day when I realised truly how beautiful these people are. Some of them were due to leave Ushuaia that day, while some were like me and were staying an extra night. They all decided to walk with me back to my hotel. 
Corrina took my carry-on bag and Morgan took my suitcase. We trundled through the streets of Ushuaia, passing a very hungover Garret and Timo, who were part of the late-night Irish pub visit with Corinna. I was chatting to Garret outside a shop and I mentioned that I could still feel the ground moving under my feet, as if I was still on the ship. "Really?' he said. "I thought it was just my hangover.
Everyone dropped their bags at my hotel. Then we split up. Morgan and Baptiste decided to go to the nearby national park and do a 10 km hike. Liga wanted to climb a mountain track, while Eniko wanted to go to his B and B. 
Corrina and I stayed in the hotel foyer, using the wifi to contact friends and family.
Scott from the UK let me know that after I'd left Australia, a woman was killed in a freak accident when crossing the Drake Passage. It wasn't the Drake Lake, clearly. A freak wave hit the side of the ship and broke a window.
"I quickly googled the name of the ship but I knew it wouldn't be you. You're Fortunate Frogdancer!"
When the boys were about to return, we went to a restaurant and grabbed lunch. The four of us ordered, then sat on the wifi. On a whim, I decided to check my emails.
This was my first indication that the luck of Fortunate Frogdancer was starting to sputter and conk out.
There were2 emails from my travel agent. The first one said that I was leaving Ushuaia THAT DAY. What?!?
I fished out my printed itinerary. I leave tomorrow, according to this. So which one was correct? We tried calling the 24-hour help number ( not helpful… it was all recorded messages) and we tried checking in. Nothing was definite.
Then Morgan remembered that there was a shop on the waterfront for Argentinian Airlines and offered to take me there to sort it out. We said goodbye to Corrina and after the boys collected their bags, we walked to the shop.
I was feeling bad. This was their last couple of hours here, where they could be doing anywho there than chasing up my flight. We took our place in the queue and waited. After a while, I said to them, "Look, why don't you go and find something more fun to do? I can see it through from here."
Morgan looked seriously at me.
" You are not my responsibility as tour leader anymore. That finished at the docks. This is a matter of friendship. " Baptiste nodded.
Omg. Could they be any more wonderful? Morgan and Baptiste are just the best people in the world.
A couple of minutes later everything was sorted out. My printed itinerary was correct, and as a bonus, the nice man behind the counter also allocated me aisle seats for my first two flights.
After a coffee in a café, it was time for them to leave for the airport. They headed for the taxi rank and I headed back to my hotel.
That afternoon, Argentina was due to play in the World Cup semifinal against Croatia. Garret, Timo and a few other people decided that we should all meet at The Hard Rock Cafe to watch the game. I'd counted my Argentinian pesos and discovered I was running really low so I decided I wasn't going to go. I lay down on the bed with a book…
… and woke to a message on WhatsApp asking where I was. I replied that I was running out of cash. No World Cup shenanigans for me! 
Timo replied, "We have enough pesos between us to buy you a drink. Get yourself down here!"
As I walked out of my room, I saw the first Argentinian goal on the tv in the dining room. When I was halfway to the Hard Rock Café, I heard screaming from all over the place, so I ducked into a café to watch the replay of the second goal. 
Turns out that they go mental whenever a goal is scored. It was so much fun.
By the time I reached the group, I was really hoping that they'd kick a third. I wanted to see the crowd's reaction.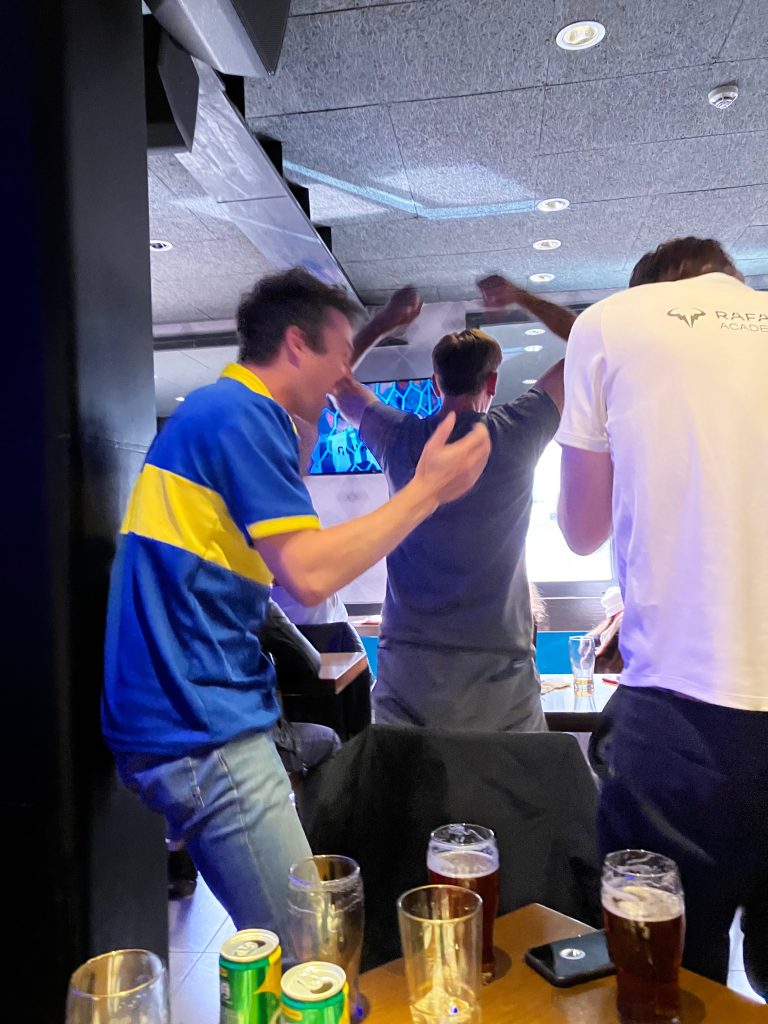 Afterwards, we stayed back for another drink and just as that finished, I turned and looked out the window. The street was jam-packed full of people. I raced to the door.
All the way up the main street of Ushuaia, people were walking, cheering and singing. It was wall to wall. I don't think I've ever seen a happier crowd. 
As you can see, the whole town was out. You can hear me at some stage saying to someone, "It's bloody beautiful!"
After the people came the cars. I think everyone who lives in Ushuaia was there, celebrating that their team was now in the final. I said goodbye to everyone and made my way back home.
As I ate the leftover of the massive half-a-tart that I ordered for lunch ( frugality for the win) I could still hear the celebrations. They went on for hours. Clearly, this is a country that loves soccer. There was lots of noise for a while, but it was happy noise. It made me smile.
(Only one more post to go. The trip isn't over just yet…)