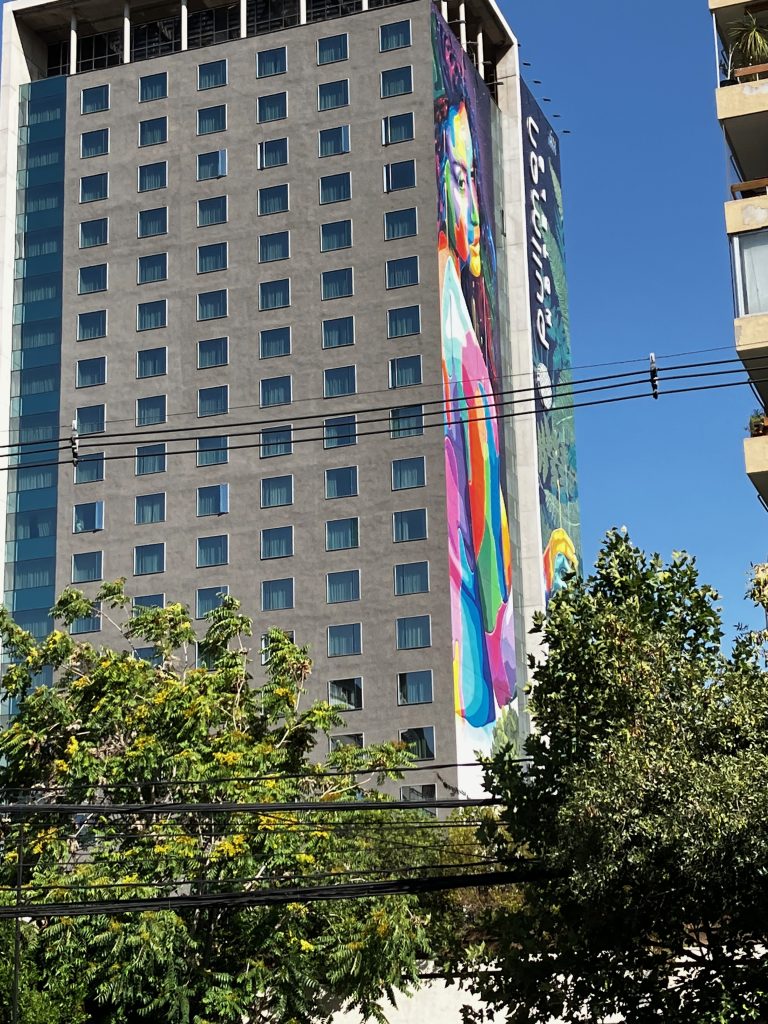 If the only time I get a flight delay is on the very first leg of my journey, then I'll be a happy woman!
We were two hours late flying out of Melbourne, which had the happy result of changing my long stopover in Aukland to a much more pleasant couple of hours. Apart from that, the first 2 flights went well. The movies weren't much chop, but I caught up on 3 eps of House of the Dragon, played some Angry Birds and slept a LOT, hoping to get a jump on jetlag.
This seems to have worked pretty well.
I arrived in Santiago at around 1:30 PM on a beautifully sunny afternoon. Rookie error… forgot to get a SIM card at the airport, so I was wandering around for a few hours completely incommunicado from the family. Fortunately, Australia is 14 hours in the future so they were all asleep anyway.
I took a car to my hotel, (pictured above… classy, right?) I haggled on the price, but I thought it'd be worth it just to get to the hotel. Probably still got ripped off, but at least I saved a bit from his first price!
Once I settled in, it was time to explore. I'm at the Pullman, Vitercura, which my driver said was an area of the city "where the rich people live." This, of course, means that I'm not near the centre of the city, which is a bummer.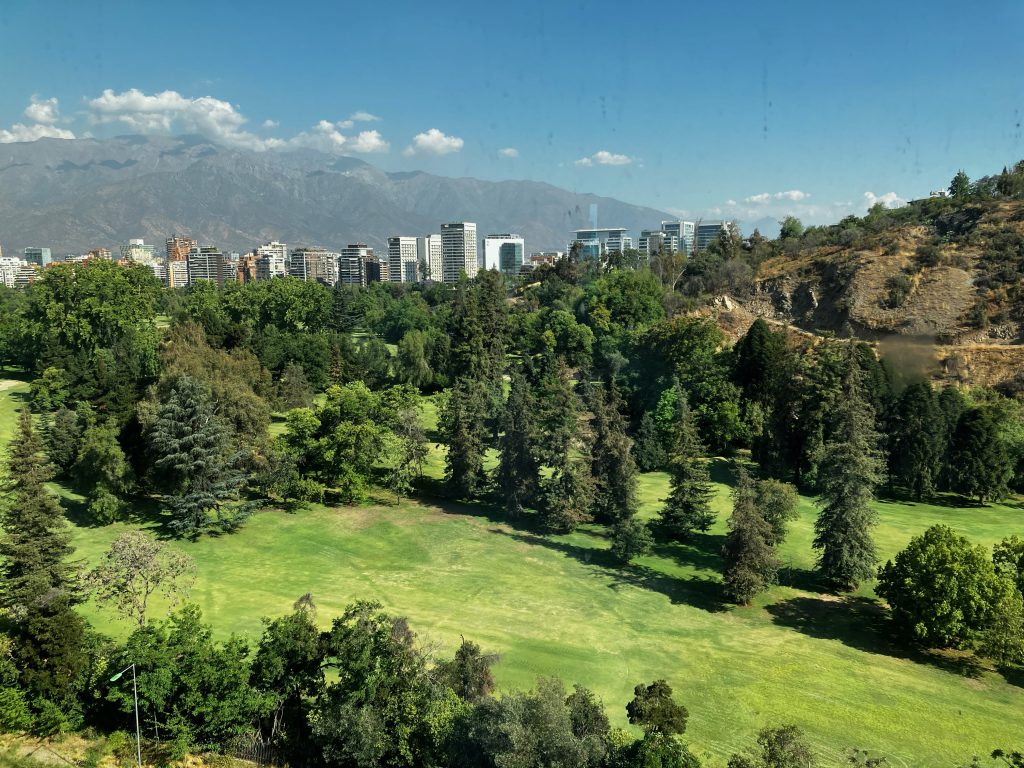 Still, not a bad view of the city, hey?
I walked around the neighbourhood. I was getting pretty hungry… if you ever fly Latam, whatever you do DON'T choose the breakfast sandwich. It's inedible. I was also thirsty.
Yes, my room had water etc in the fridge, but it's a frugal point of honour not to raid the minibar. I bought a litre bottle of water over the road at the convenience store, which should last me for most of tomorrow as well. Frugality for the win!
A few doors down was a funky little cafe/ bar that looked appealing. I walked in, asked if they could feed me – they could- and I asked for a menu.
This is when it first hit me that having forgotten to buy a sim was a mistake. Their menu was online. Luckily, my waiter grabbed his phone and pulled up a 'fish dip", a name that doesn't sound terrific but ended up being salmon and tuna sashimi on a bed of nuts and greens, with avocado.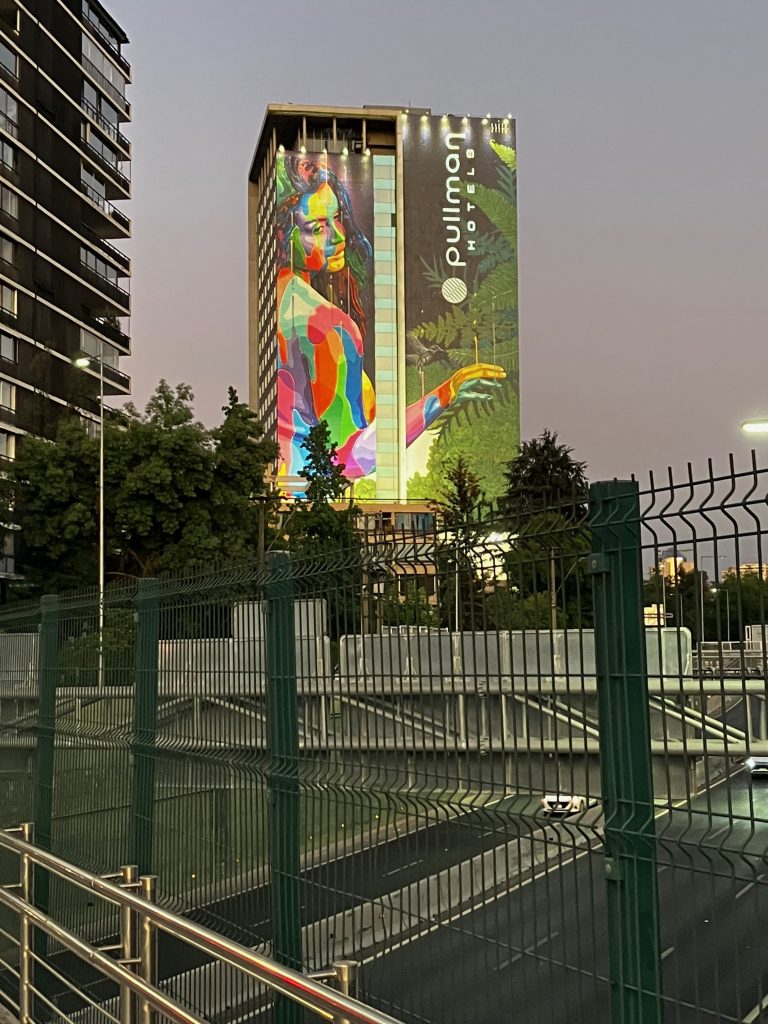 Seeing as Chile has over 6,000 miles of coastline, ( a fact I picked up on the plane when I watched a documentary), seafood is the only way to go when you're here. It was delicious.
I mentioned to the waiter that this was the first meal I've eaten in Chile and he was excited. He asked where I was going to go while I was here and he told me about a sculpture park, free entry, only 30 minutes walk from here.
He showed me some pictures and it looks amazing, so it'll probably be my first stop tomorrow.
After lunch I felt a little sleepy, so I took a little nap. I woke after 6 pm and I was tempted to just stay in the room and read, but two things stopped me.
I had to get a sim for my phone. I was supposed to stay in contact with Ryan27 over WhatsApp and I didn't want anyone to be worried.
When I went to England, my friend Scott made me stay awake until nearly 8 pm that day, to jumpstart my body into getting used to the new time. ( That was hard. I was so tired by 6 pm that I literally fell asleep over dinner and just missed face-planting my meal.)
I felt pretty good so I raced down to the desk and got directions to a shopping mall 15 minutes walk away.
What I wasn't told was that it closed in 20 minutes. Lucily, I was in the mood for a powerwalk so I didn't dawdle and got there just in time to buy a sim, while shops were closing their doors all around me. Phew!
Home to my kindle app , (I've already finished one book of the library books I downloaded) and a sound night's sleep.
Tomorrow I have the whole day to explore Santiago. Just have to get the phone number of a taxi company from the front desk, or download the Uber app. Never had to use Uber before…