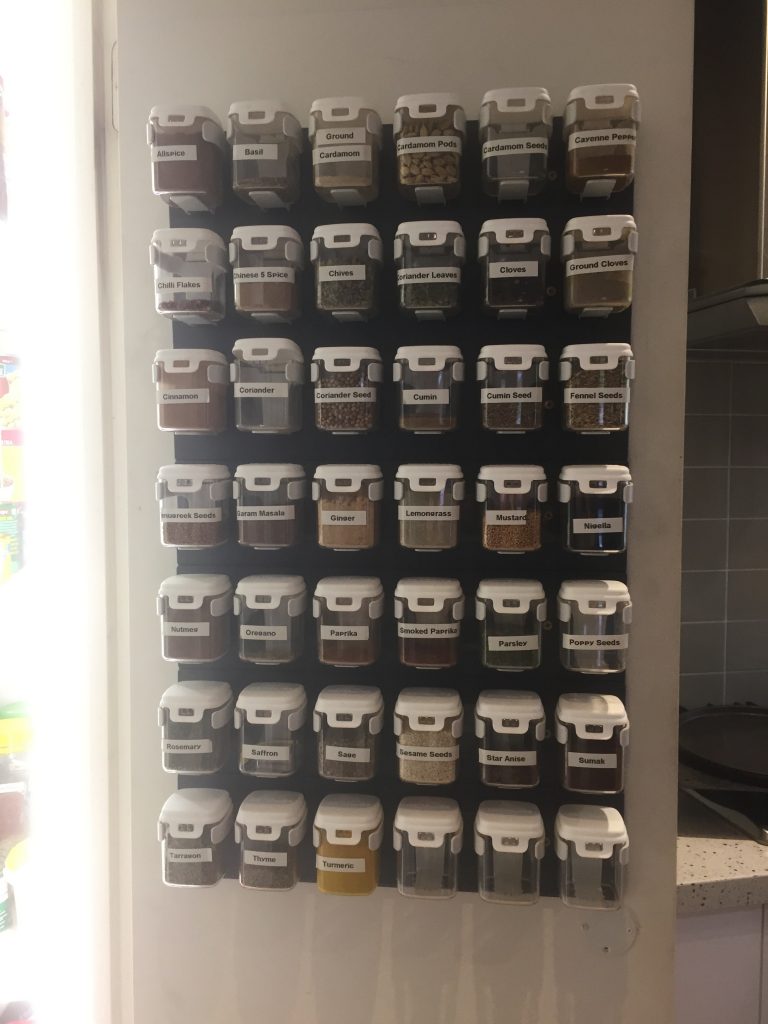 Three years ago, when we moved from our little 1950's weatherboard house to The Best House in Melbourne, I spent up big. I'm a naturally frugal person and I knew that if I waited until we'd developed the block that the old house stood on and sold the units, I'd probably be used to things in The Best House in Melbourne and I wouldn't change them.
I decided that while I was excited about the new house, I should Get Things Done while I was still in "new house mode".
I moved things around in the kitchen, massively remodelled the laundry and did a few things in the garden. One of the best things I did though, was spend nearly $300 on a spice rack. You can see it above, hanging from the back of the pantry door, next to the automatic light that my brother-in-law put in for me. (Incidentally, that light is also one of the best things I've ever spent money on.)
Ever since I bought the Skinnymixer's recipe book 'A Little Taste of India', I've used a lot of spices in my cooking. Having them all together, alphabetised and ready for action, has been fantastic. The jars are clear plastic, so I can see at a glance when a herb or spice is getting low.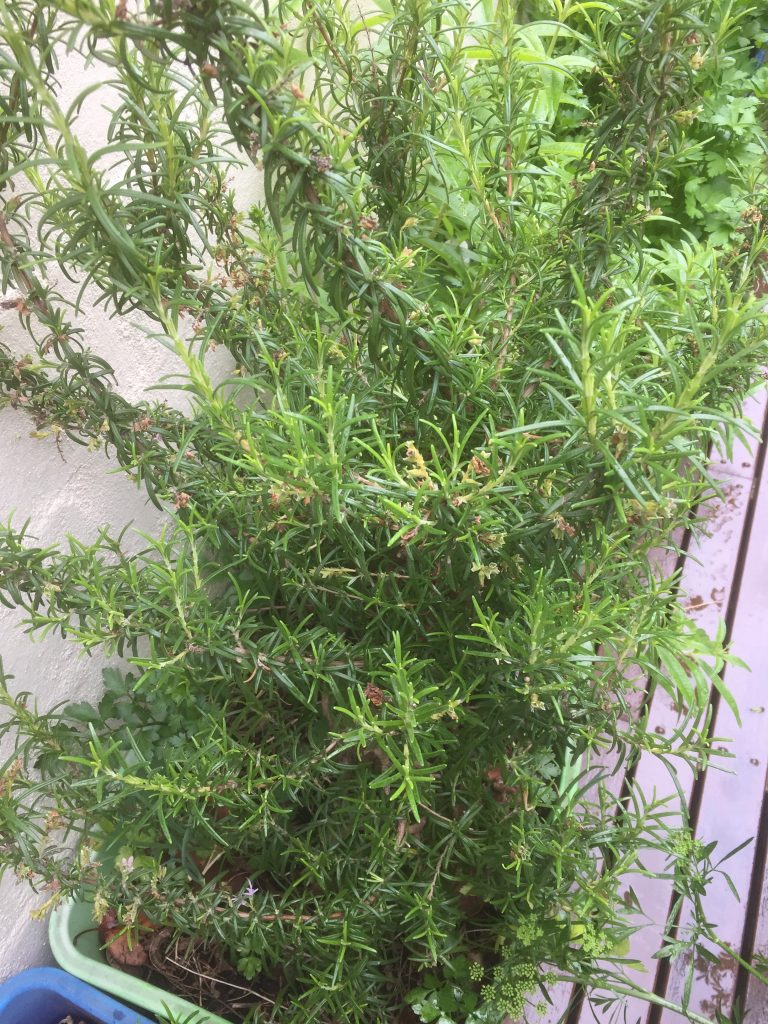 I grow quite a few herbs in my garden, but sometimes it's handy to have the dried version on hand. The easy way would be to simply throw a packet of dried rosemary or oregano into my shopping trolley the next time I was at the supermarket. Or, with a little bit of foresight, I could harvest some cuttings and make it myself.
It's not hard. It's literally a 5-minute job, but you need to do it a few weeks in advance.
I looked at the rosemary container and saw that it was getting low. I grabbed the scissors, went out to the side deck and hacked away at one of the rosemary plants. I lay the cuttings down on a couple of cake coolers, making sure that the cuttings weren't too close together so air could circulate around them, then I walked away and left them for a couple of weeks.
Yesterday I came home from work, looked at the rosemary cuttings and saw that they were dried. I stripped the leaves from the stems, put them into the thermomix and speed 10'd them for a few seconds.
Done! By doing this I saved myself a couple of dollars, but that wasn't why I decided to put this post together.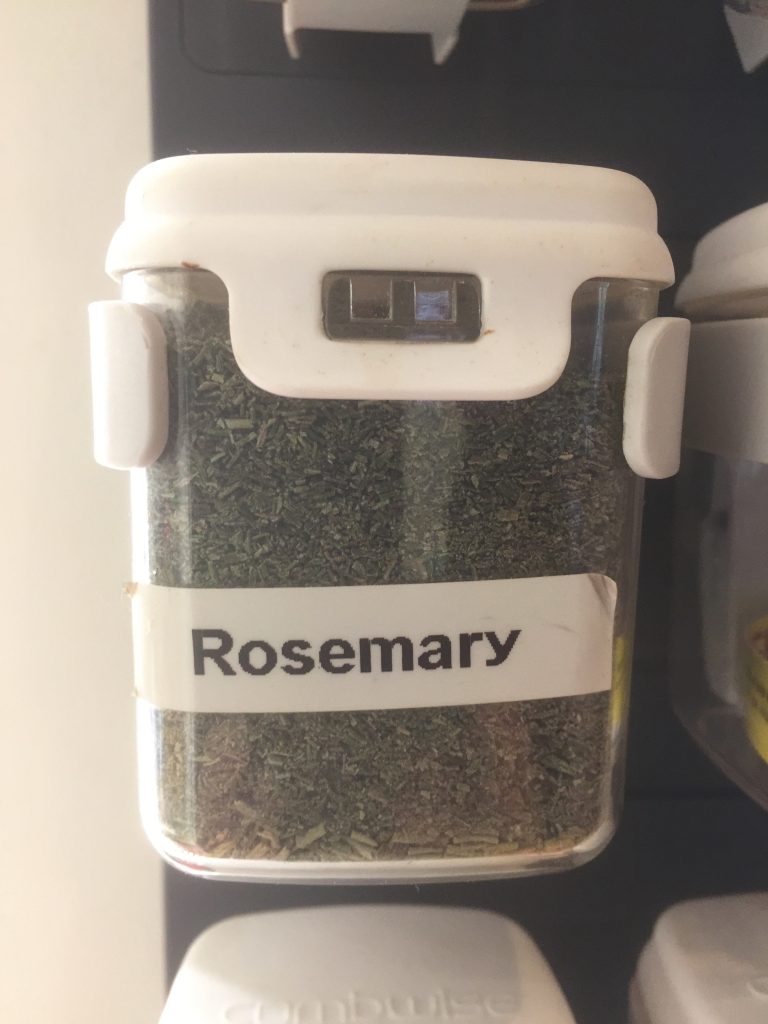 By looking at the jar, I could see that we'd soon be needing to top up on dried rosemary. It was obviously going to happen. If I ignored it and let the jar run out, I'd more than likely be forced into buying a packet the next time I was out shopping.
But by using foresight and giving myself the time to pick the rosemary and spend two weeks drying it, I was able to use the materials I have to their best ability. I was able to allocate time and resources in the best way possible to utilise their benefit to me.
In a small way, this mirrors working towards Financial Independence.
Let's face it, it takes foresight to begin preparing for financial security, let along retirement. Most people bury their heads in the sand for decades before starting to get their finances together.
Let me put my hand up for that one. When I first started this blog, I wrote a post on my second-biggest financial mistake. That post describes the way I showed my kids about the power of compounding, (and it won the first Rockstar Rumble, which makes me feel slightly better!), but the fact remains that I cashed in my superannuation of 30K back in 1991. If I'd left it alone and never added another thing to it, it'd be worth over 200K today and I'd more than likely be retired now.
I didn't think far enough ahead. I was an idiot. All I needed was a little bit of foresight.
If I could say anything to people younger than me, people in my children's generation, I'd say to them that they all know that old age is coming. Yes, it's in some dark, misty future but, like Christmas, it IS coming. Future You will be so grateful if you make it a habit – starting from now – to throw a little bit of money their way.
Take it from me – if I had an extra 200K from Past Frogdancer Jones, I'd be very happy. It would almost certainly change the choices that I've made about going part-time next year. If I feel that way, I can bet my bottom dollar that Future You would feel the same way too.
The best thing about the power of compounding is that if you start young, you don't need to throw enormous gobs of money towards Future You. Little amounts squirrelled away regularly will mount up over the decades to become substantial. Life-changing.
It only takes a little bit of foresight to give Future You the enormous gift of being able to have choices. By utilising your resources and time in this way, your life, decades in the future, will be so much easier.
I can guarantee that Future You will be so totally grateful to Present You. Start harvesting those financial cuttings – the future has a habit of arriving much more quickly than we dream of!