Sshhh! Don't tell my workmates, but they're getting hand-made soap for Christmas. A couple of months ago I made up a couple of batches of this soap, mixed through some oats that I'd chopped up in the thermomix and let the rustic-shaped bars cure in the laundry, hardening up so they'll be suitable to be used straight away.
Last week I asked the woman who runs the school canteen how many women work there. On Friday I dropped off 10 cakes of soap for them. It's only fair. Twice a week I pick up all of the veggie scraps from them, so they deserve to get a little something for helping my garden out all year.
I probably spent a little under $20 to buy the materials, so that (and my time) was the only cost for nearly 40 presents. It's something that's a little bit different to the usual chocolates or candy-canes-sticky-taped-to-a-card and people seem to appreciate them.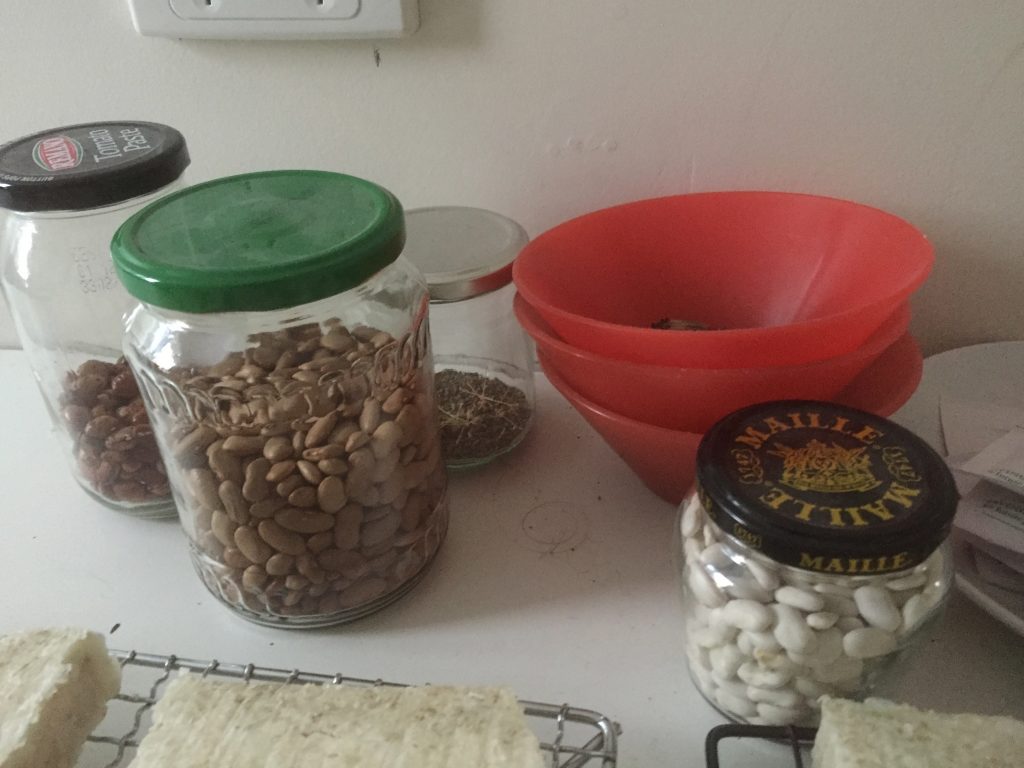 You may have noticed that to the side of the soaps on the rack, are jars full of bean seeds. People who have been following along to the blog for a while may remember that when I put in the hideously expensive wicking beds last year, the landscaper put in horribly poor soil. Just about every plant I put into the beds died a slow and yellowy death, aside from my peas, beans and tromboncino zucchinis.
A little while ago I put together some seed packets of the Lazy Housewife and Purple King beans and gave them away to anyone at work who wanted some, particularly the people who'd given me compost materials. After all, they helped contribute! I told them to save a couple of beans, dry them out and then they'll be able to plant next year's bean crop. Essentially, I've just given them free beans for the rest of their lives.
And who doesn't want to grow something called 'Lazy Housewife'?