Today's Thursday. This week, the 4th (and my last) school term began.
Seeing as Melbourne is still in lockdown, every teacher and student fired up their laptops and settled into another day of remote teaching. The 'roadmap' out of teaching from home had been set a few weeks ago. On Monday October 12 all primary kids and years 11 and 12 were back at school. Years 7 – 10 were to go back 2 weeks later.
That suited me fine. I only teach year 7 and year 9, so I was quite happy to avoid the commute and the risk of covid for a little while longer. But our numbers were dropping rapidly. I figured they'd pull the 7 – 10 kids back a week earlier than scheduled.
Then the announcement was made.
Next week, on Monday October 12, year 7 kids are also going back to school.
Bugger!
As of Monday, it's back to the commute for Frogdancer Jones.
For the first couple of days I was seriously in mourning. I went to get my hair cut and dyed on Tuesday, not realising that hairdressers weren't open yet. I'm going to have to go to work with PANDEMIC HAIR. (see below…)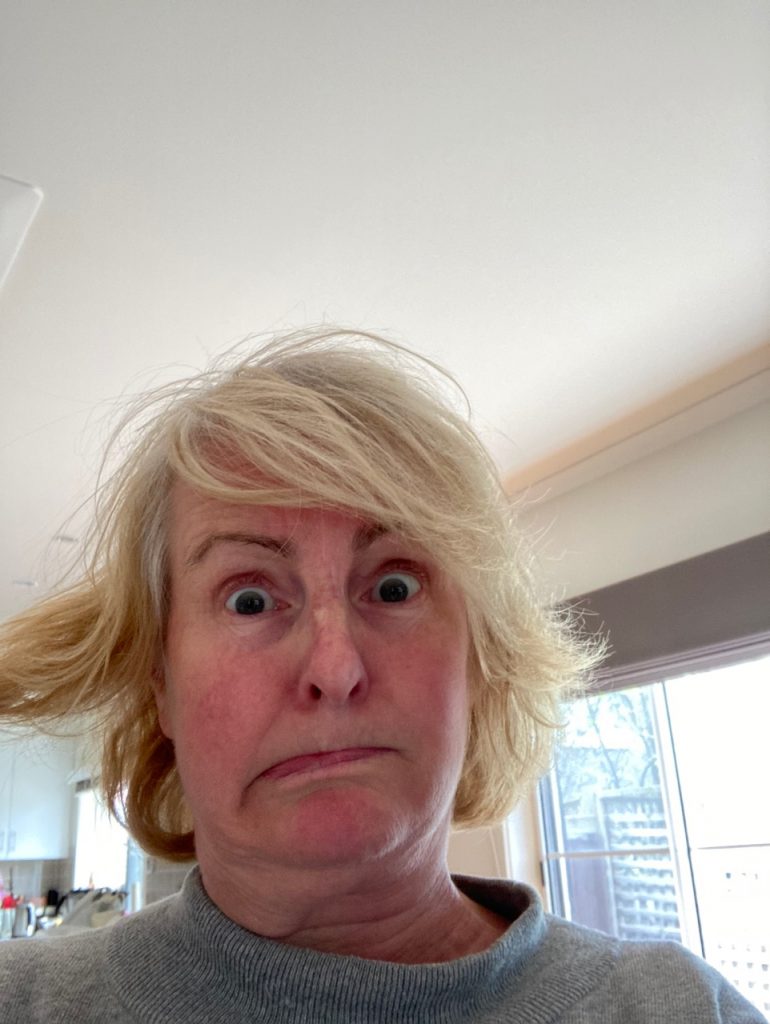 Ah well. I guess that's why God invented hats.
I've started being a bit more philosophical now about going back to work on Monday. It'll be nice to see the kids in person. Most of the year 7s are seriously sick of remote learning and they're champing at the bit to get back, so we'll have a fun time.
The school has paid for teachers to have face shields to be worn over our masks so that we'll have an extra layer of security. They've also supplied every teacher with hand sanitiser, as well as having hand sanitiser stations dotted around all over the school. Everyone who comes on campus gets temperature checked, so I'm pretty comfortable about going back to school under these conditions, especially as our numbers are now so low.
The staff rooms are still quite congested, so I'll be wearing a mask for most of the day. It'll be good to get back into the banter of the staffroom again, though.
I'll be able to collect the coffee grounds for the garden again, as well as the food scraps from the Food Tech classes for my compost. That'll make my plants happy, which makes me happy.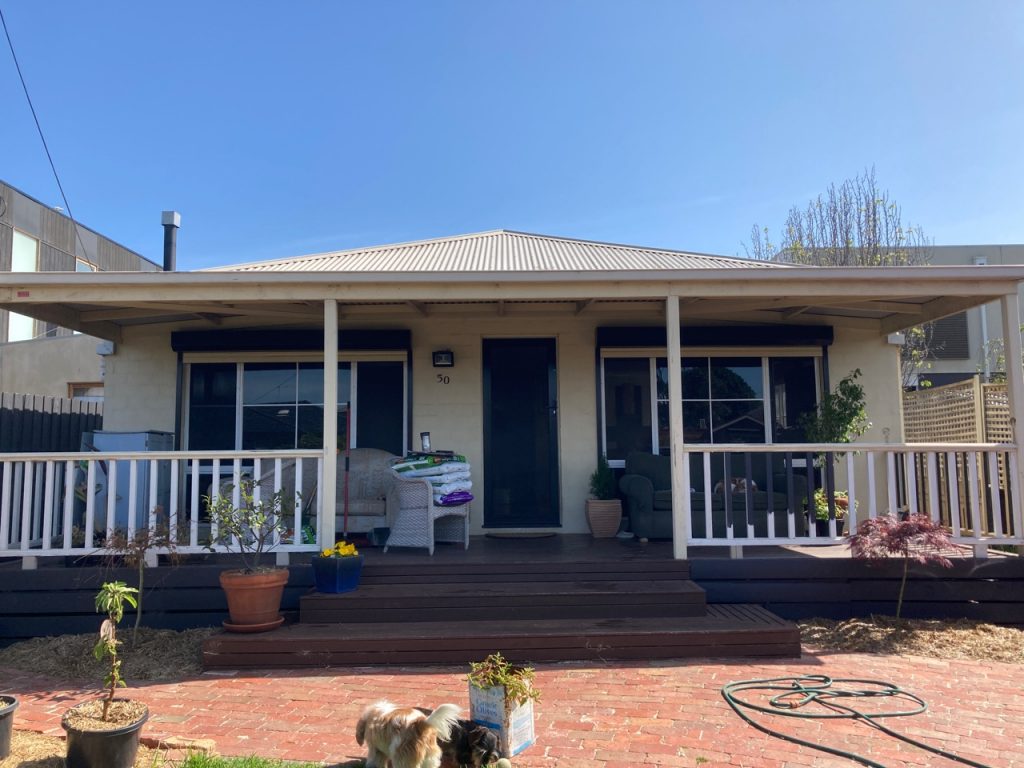 I'm still wanting to Get Things Done around here before I leave the wage. I'm replacing the guttering on the front of the verandah as it leaks on the corners. Next week the guttering will be a different colour, to match the colour I'm currently in the middle of painting the verandah in. It'll match the fences and tie the whole place together.
I'm also getting quotes on a bit of landscaping I want done in the front yard. Now that I've put the orchard in, I need a sturdy barrier to stop the grass from growing through the mulch underneath the trees. Hopefully, I'll be able to get someone to come and do that in the next few weeks and then Retired Frogdancer will be able to play with planting pretty things in flowerbeds.
We still need to get the side fence replaced and ideally I'd also like work to get started on upgrading my ensuite. I bought all the fittings for it a year ago when a friend from work mentioned that her husband was working at the Reece samples and seconds outlet. I paid around a quarter of retail prices and we've been living with the boxes in the man cave ever since. Once tile shops open, I'll be measuring up the space and going shopping!!
It's an interesting thing. Some people would argue that I should wait to get these things done until next year when I'll have all the time in the world to supervise. But I know how my mind works. Next year I'll almost certainly be staying pretty close to home and watching my spending, while I get used to drawing down from my savings and dividends, instead of having a wage coming in and living from that.
Given this, I think I'll be happier with Present Frogdancer spending the money on these last few home improvements now. Future Frogdancer can enjoy them and not stress over shelling out gobs of cash from savings. I'll need to ease into this new way of running the household expenses.
They say personal finance is personal for a reason. We all handle our finances differently, depending very much on our psychological mindset. While travel overseas isn't going to happen for at least the next couple of years, now is the perfect time to puddle around at home and enjoy the little things.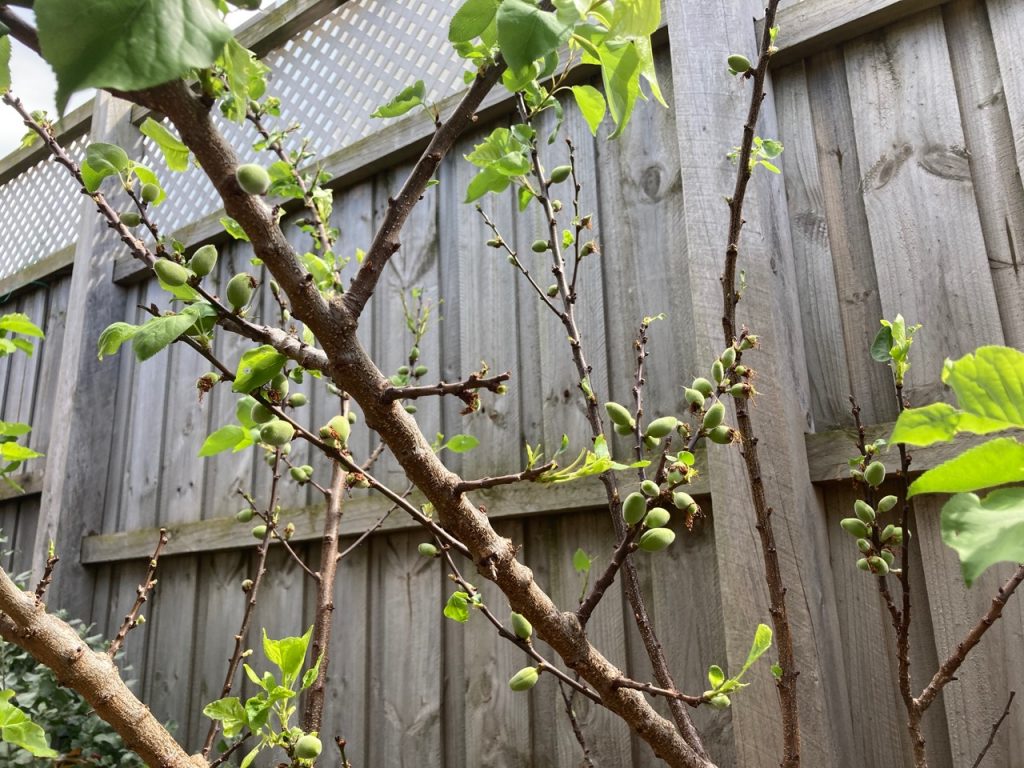 Little things like seeing my apricot tree finally producing apricots. Five years ago my first year 12 Theatre Studies class gave me this tree and it's lived in a pot ever since. Last year I planted it.
I think it's happy here.
I think I will be too.