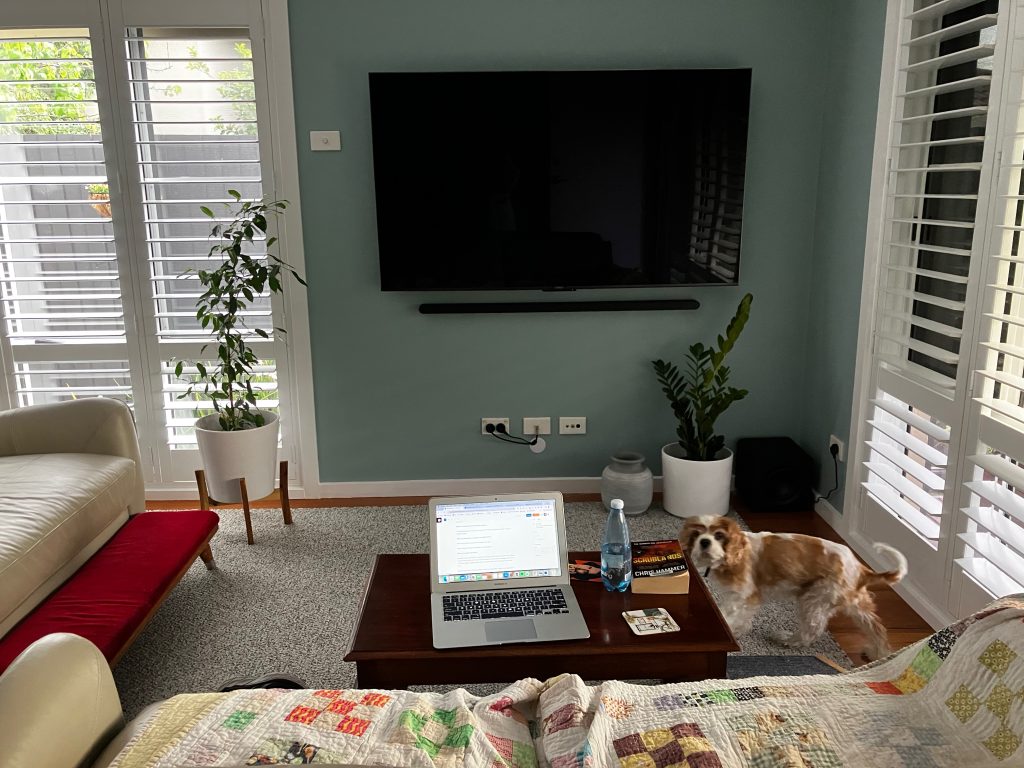 First up, apologies for being a day late again. I just wasn't in the zone for writing a blog post yesterday. I was too busy buying Christmas presents and booking another holiday…
What's top of my mind: How nice it is not to have to go to work.
I don't know about other jobs, but in teaching, every day is divided up into 48-minute chunks. So I can look at the clock on any given workday and see that it's 10:27 (5 minutes to wrap up the lesson before recess) or 11:30 (ugh. Still 28 minutes to go before period 3 ends…) or, like now – It's 11:59. (It's in the early minutes of period 4. W while to go before the lunch bell.)
Instead, I'm at home. I've just paused in reading a book to finish off this post and then throw some food in the slow cooker for dinner tonight, to make the most of the solar power. Might even make some bread rolls.
Then I'll finish my book, start another one, then plant some seedlings and ,maybe squeeze in a nap. It's all pretty sweet.
Where I'm going: Kangaroo Island.
Many years ago I bought into a time-share, thinking that it would force me to take holidays with the boys. It did for a while, but then as they grew older and I grew busier, I wasted a lot of money by letting my points lapse most years. Now that I have more time to spare, I'm determined not ue the Club to its capacity.
The timeshare I'm with is Accor Vacation Club, where they use a points system instead of the usual "lock into the same week at the same property" model, so it has much more flexibility.
Earlier this year David20 and his brand-new bride spent a week in New Zealand at one of the properties, and I spent a happy weekend away with all of the girls in the family in Ballarat at another place. When I bought the timeshare, I had the 4 small boys to consider so my points bought a week in a 2BR apartment. Now, of course, I get more holidays for my points, as now I only need a 1BR or studio apartment.
Happy days.
The club now has access to a room on Kangaroo Island. I've booked 4 nights there in late January. A couple of years ago I stayed on the peninsula nearest to KI and even looked out across the water, watching the ferry go across. In two months time I'll be going across and seeing it all for myself.
Kangaroo Island is famous for its wildlife and its cheeses, honey and other gourmet titbits. I'll be taking my car with me so I'll tootle around and have a look at all the things. Before that, I'll be staying with Jenna's parents in Adelaide for a couple of days. It'll be a lovely way to bring in the new year.
(And it uses up most of the points that are expiring on June 30.)
Where I've been: my sister's place.
Kate and Francis have bought a new puppy. He's a groodle (Golden Retriever X Standard Poodle) which means he's going to be a big boy. He's the size of a large Cavalier at the moment and he's only 12 weeks old.
Kate is already besotted.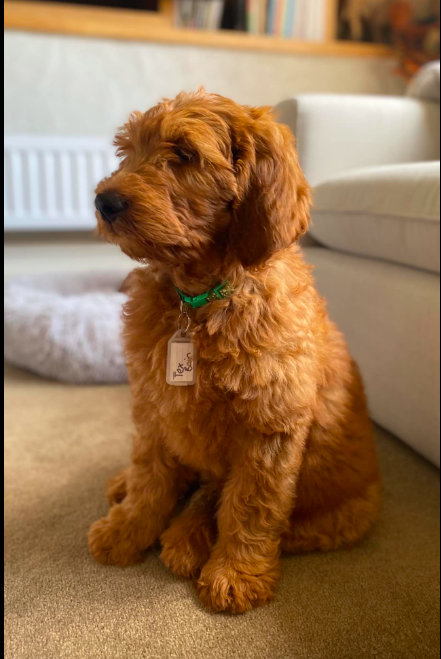 This is young Huxley.
What I'm reading:
Argh! Spending 5 weeks not reading much while travelling and writing lengthy blog posts in the UK and Ireland has put my Goodreads challenge for 2023 in jeopardy. I wanted to read 110 books this year and I'm currently on 90.
Goodreads sent me an email with a list of short books so that I could catch up, so I selected some that I thought sounded interesting and now all 11 of them are waiting at the library for me to pick up.
Yes. Eleven.
Trouble is, I'm reading a set of 3 books that are quite long, but gee I'm enjoying them. I figure that the books on hold will have to wait till Saturday. So what are these books?
The first is called Scrublands, by Chris Hammer. If you liked 'The Dry', you'll like this one. The interesting thing for me is that Chris Hammer was originally an investigative journalist, and so is the protagonist in this series. He knows what he's writing about, in other words.
I'm halfway through the next one and I have the third one on the nightstand, ready to go. The next couple of weeks are clearly going to be Reading Weeks. I haven't failed a Goodreads Challenge yet. And I don't intend to start now.
I'm also reading 'Shakespeare's Wife' by Germaine Greer. I downloaded it as a free pdf years ago on my old laptop and I started reading it in the middle of the night when I couldn't sleep. It's an excellent book for this purpose… I start to surface at around 3 or 4 o'clock, realise that if I grab my computer I have to read that book and it's boring. So I roll over and go back to sleep again.
'The Children's Bach' by Helen Garner. I know that Helen Garner is a national treasure. So is Time Winton and I can't stand his writing either. I've tried and tried to enjoy Garner's work, but I'm officially giving up. I dislike the people she writes about and life's too short.
So there!
What I'm watching: Sex Education season 3.
I'm still catching up on the tv I've missed. I'm really enjoying this show. I've got 2 episodes to go.
What I'm listening to: Spotify on my NEW TV!!!!!
My new soundbar comes with a subwoofer. omg.
Mum's Boppin' Bangers has never sounded better.
What I'm eating: Rye bread.
My sister Kate and I went to Costco on Monday to look at dog food for Hux. While we were there she went mad. I've never been to Costco with a shopper before. I'm a "hunt it, bag it, bring it home" kind of shopper. She's a "let's look at every aisle" one.
Our bill was over a thousand dollars. My share was $387, which is normal when I buy the big bags of grain-free dry dog food. I also bought a loaf of rye bread, which I haven't had for AGES. She bought a couple of packets of raw meat patties for the puppy. The rest was other stuff.
Costco doesn't have those enormous trollies for nothing!
What I'm planning: how I can be productive and still read twenty books in 6 weeks.
Those shorter novels may be the saving of me. They're about the length of Orwell's 'Animal Farm', just to give you an idea.
I've already bought nearly all my Christmas presents… just have to decide what to get David30! They'll all be wrapped by the end of today. I love wrapping Christmas presents. I'll finish 'Silver' and start the third book today.
I won't let this challenge beat me!
Who needs a thumbs-up: my sister.
Turns out I haven't had 4 sons… I've had 3 sons and a daughter. My sister was fantastic when she was told, especially when she saw them and congratulated them on the news.
She's a good egg.
What has made me smile: the way my lounge room looks now.
What with the rug, the new tv and soundbar… it's all coming together. We have an old footstool that used to belong to my grandfather that Scout now uses to get up onto the couch. It's red, so soon I'll be taking it to the upholsterer to be transformed into an appropriate colour.
It's nice when a plan comes together.
Dad joke of the day: