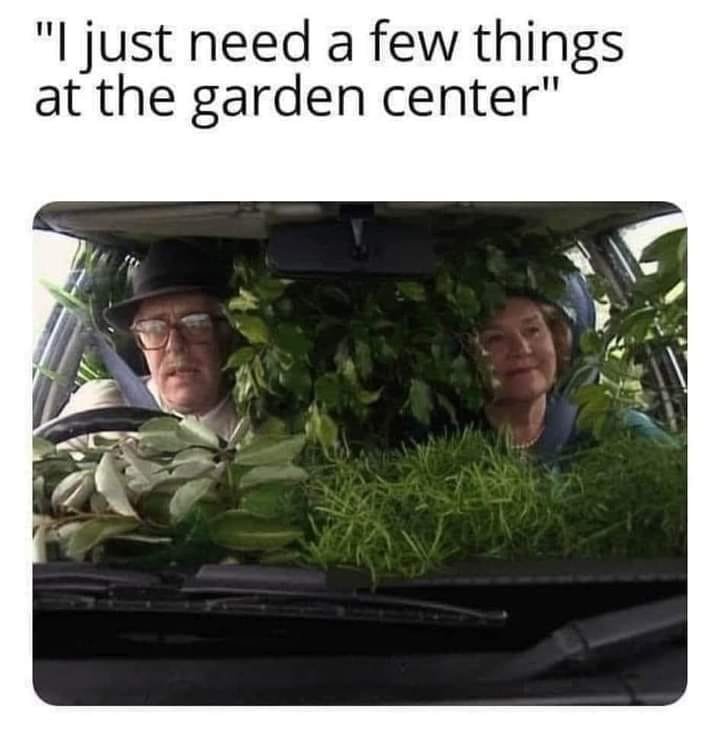 What's top of my mind: How I'm smashing the 'Earn my rates' challenge.
Have a quick look at the sidebar. I haven't even got my rates notice yet – it'll arrive in August – but I'm already more than halfway towards paying it. Using the public library for hundreds of hours of free entertainment is a retirement superpower.
Where I've been: To Mitre 10.
You'd think by now that I'd know how many bags of sugar cane mulch I need to buy to get the front yard/orchard ready for winter, but clearly, I don't.
A punnet of cos lettuce happened to jump into the trolley.
Where I'm going: To the UK in September.
Gee, have I mentioned that yet???
Haha!
What I'm reading: Wrong Place, Wrong Time – McAllister.
This is an interesting premise, and as I like things playing around with time, I picked it up. It was a slow burn at first, but then it grabbed me – especially when I was caught by surprise by something in the plot that I didn't foresee. I'm going to track down more of hers.
I could barely put this book down! Instead of watching zombies after dinner, I sat and raced through this book until I needed to go to bed… and then I read it some more. This author has written some cracking good reads.
What I'm watching: My gardens slowly getting squared away for winter.
One of the big downsides to working so much is that things get neglected here at home. Since I've stepped back from doing so much CRT, I've been able to pick up the sack here. After starting to paint the lounge room, I decided that I needed to get my gardens squared away first.
I'm not growing anything much over the winter, just some celery, lettuce, garlic and spinach/silver beet. Everything else has now been pulled out, chopped into little pieces and dropped onto the garden beds to slowly rot down and return the nutrients to the soil.
I add some animal or chook manure, some mushroom compost, some autumn leaves and any coffee grounds and teabags that I have lying around, then cover it all with a thick layer of pea straw. Some years I get lucky and peas sprout from the pe straw, so I get free peas. (Free is my favourite flavour.)
When I received the money from the sale of the old house, I spent an absolute fortune on landscaping. I knew that numerically, I'd never grow enough food to cover the cost. But it's certainly 'free' entertainment. I was out there all day, listening to Mum's Boppin' Bangers on Spotify and contentedly getting my garden ready for Spring.
It's very satisfying to include ingredients for dinner that have come from your own backyard.
What I'm listening to: The sounds of school.
Yes, it's Wednesday s I'm back at school. This week I'm at the main campus, which is lovely because I get to see some of my old students and the general atmosphere is a lot calmer. Main has a lot more space for people to move around.
I'll be working next Wednesday as well, which I'll probably put towards paint and curtains for my revamped lounge room.
What I'm eating: Shrimp pasta.
I'm using up a bag of frozen shrimp that's been in the freezer for ages. As an experiment, I made our usual vegetarian pasta sauce (with our home-grown garlic, silver beet, zucchini and basil) and popped a couple of big handfuls of the shrimp into the steamer basket in the thermomix.
It was delicious!
What I'm planning: Painting.
How and when I'll be getting this job done. I'm not exactly feeling the love for doing it, but I've finished the gardening so I have no real excuse.
Who needs a high five: Ryan28.
He's been helping me out in the garden by tackling a really big job that I wouldn't have been able to do. It's been nice, both of us working away, sometimes talking, more often not, just companionably working away. Every now and then Scout will leave a ball suggestively close to one of us. The Cavaliers are usually asleep on the couch under the verandah, though sometimes they'll come to check out what we're up to.
What has made me smile: A conversation I just had with a kid.
I was happily typing away and a kid said, "Fuck this stupid program!" to his friend.
His friend said, "Miss, did you hear that?"
"Yes," I said. "But I don't know what that word means…"
The kid looked at me, smiled and said, "I think one of us is lying, Miss."
Dad joke of the day: