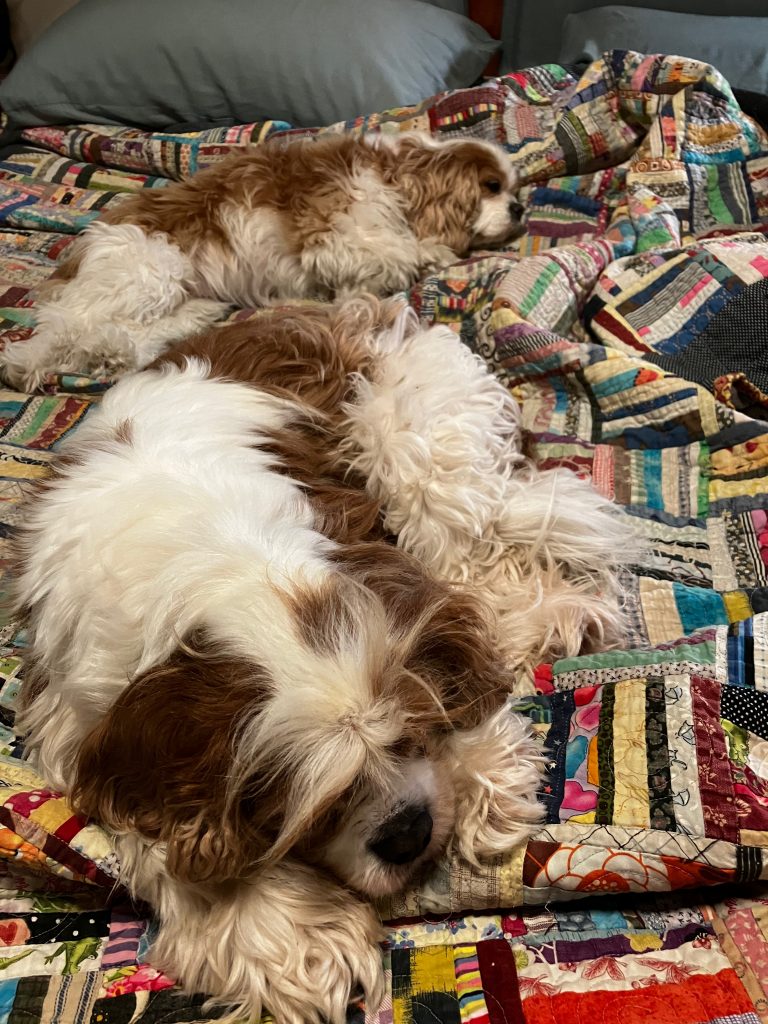 What's top of my mind: How lovely it is to have my days back.
Oof. Term is done.
The first day of the holidays I took the little woofs for a walk, then I sat and binged the last 11 episodes of 'Better Call Saul.' I'd already watched the first 2 eps and I THOUGHT that there were 10 episodes in the season. By the time I realised that there were actually 13, it was too late. My hand was set on the plough so I decided to see it through.
The next morning I had an intensely gripping time playing hours of Tetris. My high score is 95,000+.
Do you know what the good thing is? I can waste my time like this and I don't feel the slightest bit guilty.
Where I've been: in bed, napping.
It hasn't taken me long to rediscover the pleasures of the nanna nap. (In fact, I'm lying in bed right now, writing this.)
Where I'm going: out to the garden.
On Saturday I have the whole fambam coming over to celebrate the three September birthdays we have. I have a washing machine under a tarp and 3 bags of sugar cane mulch cluttering up the front verandah. I can't do much about the washing machine – Tom30 doesn't leave here for another 3 weeks – but at least I can spread out the mulch on the orchard and make the place look like someone cares for it.
What I'm reading: Two Nights in Lisbon.
I saw this on Twitter when Stephen King recommended it. I'm only 50 pages in, but I think I'm going to like it.
What I'm watching: The Orville Season 3.
HOW I love this show! I waited until the season finished before starting to watch it, so I can binge it if I want to. For Aussie readers, it's on SBS catch-up, along with The Handmaid's Tale. (Now there's another excellent show!)
What I'm listening to: Argh!
I'm wrestling with the decision of whether to wait until the new book in 'The Thursday Murder Club' becomes available to me at the library, or whether to jump in and listen to it on Audiobook instead.
The hard copy is my preference, but I accidentally reserved the audio version, thinking that it was an eBook. I've read the first two in regular book format… I don't know that I want to have someone reading the third one to me.
While you were reading this, I checked the queue on the hold at the library for the book version. I'm 44th in line. I guess my decision's made!
What I'm eating: Pumpkin Soup.
Remember all of those pumpkin-y things I grew that took over the whole front yard? I discovered that I still have two chopped-up bags of them in the freezer. There's enough in each bag to make a batch of the Skinnymixers Curried Pumpkin Soup. Seeing as the weather is warming up, I thought I'd better get onto it.
Lunch is served for the next few days!
What I'm planning: to organise my visas.
I need visas for Chile and Argentina, but for some reason I'm dragging my feet to get this done. Maybe I'll get to it tomorrow.
Who needs a good slap: Me.
I really need to get those visas done and dusted.
What has made me smile: Seeing the blossoms appearing in the garden.
Spring is definitely here.
I have two maple trees in front of my house. One has bright red leaves all year round, which are just now starting to appear. My plum trees are covered in white blossoms and my iris clump is beginning to flower. The kangaroo paws are sprouting way more flowers than last year.
All's right with the world.
Dad joke of the day: