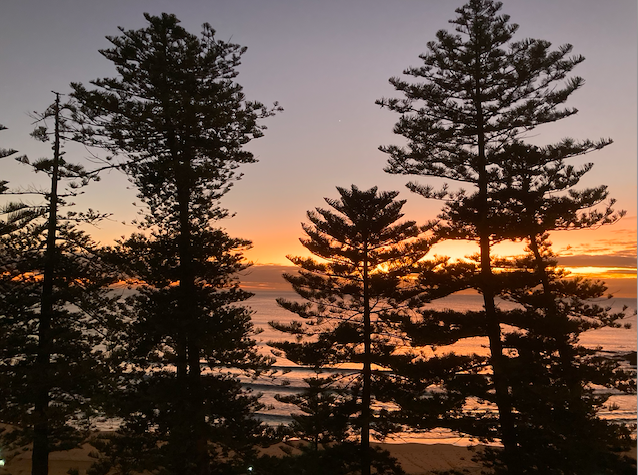 What's top of my mind: how lovely it is to travel.
Don't get me wrong – I love being in The Best House in Melbourne and I'm as happy as a little hermit when I'm there.
But I can't deny that sitting here on the 5th floor of the Sebel Hotel in Manly, in the sun, hearing the sea and seeing the waves glinting through the trees… life is pretty sweet.
Where I've been: Manly Beach.
In fact, I'm still here! It's June's Little Adventure. Post to come, though I've written about it in detail on the frogblog.
Where I'm going: Heading for home tomorrow.
It's a shame. It's been lovely here, but apparently I've missed some pretty awful weather in Melbourne, so I can't complain.
What I'm watching: Better Call Saul.
I've decided to use my Little Adventure evening downtime to catch up on this show. I'm halfway through season 3 at the moment. Gus is in it, which is exciting.
What I'm reading: Sally Hepworth.
In the first few days of this Little Adventure I polished off not one, but two Sally Hepworth novels. The Mother-in-Law and The Younger Wife. I couldn't put them down.
They were both SO GOOD! Hepworth is from Melbourne and I really enjoyed reading stories set in the suburbs and places I know. Her characters are beautifully portrayed and the situations they find themselves in are gripping. I can highly recommend these novels and I'll be hunting down the rest of her work when I get back.
What I'm listening to: Birthright by Fiona Lowe. And the sea.
I've downloaded 3 audiobooks by Fiona Lowe, another Aussie author, thinking that I might need lots of listening things. A 1,000 KM drive each way means there's a lot of hours in the car to fill!
However, I'm still barely through the first 3rd of this book. I caught up on my podcasts along the drive up, and since I've been here in this beachside hotel I've spent a lot of time with the door to my balcony open, just listening to the rhythmic sound of the sea.
What I'm eating: Pre-prepared salads and sourdough.
When I go away on a holiday by myself, I tend to race around and see things during the day and then, when it gets towards twilight, head back to the room to spend my evenings. Safety first! There are a few crazies out there and I'd prefer not to run into one.
This trip, I decided to try some of the frozen meals and pre-packed salads at Coles and Woolworths to see what they're like.
The verdict on the salads? Pretty darned good.
The frozen meals? Last night I had the WORST meal ever. Supposedly chicken and leek pie, it was a disgusting mush.
Thank goodness I also had some delicious sourdough bread rolls that I smeared with hommus. Saved the day!
Tonight's lamb rogan josh had better be ok. I only have one sourdough roll left.
What I'm planning: lunch with a blogging friend.
Frogdancer Jones and Fifi La Stupenda (which may not be our real names) first met in real life 13 years ago when I was last in Sydney. It was a blog meet so the Sydney girls could meet me – from Melbourne – and generally just have a nice girls' night out.
Since then we haven't clapped eyes on each other again, but we've stayed in touch via FB. We met for brunch yesterday and had such a good time that we're having lunch again today. She swims every day at Manly Beach. Not 5 minutes ago we were waving at each other – she on the foreshore, me on the balcony – and we'll grab a bite to eat once she's finished her swim.
Who needs a good slap: Everyone who has crowded out Easter Island so I can't go there.
Yes, I've paid for flights, accommodation and insurance for Antarctica, but Easter Island is off the itinerary. After the cruise was impossible – all booked out. Before the cruise was possible, but my travel agent said, "I'm seeing that they're cancelling a lot of flights. I'd hate for you to be stranded there and miss your cruise. You said Antarctica was the main reason you're travelling, right?"
So yes. No Easter Island. Maybe next time.
What has made me smile: Fifi's conviction that I'd love to swim in the ocean.
LOL.
I don't even do that in the summer, unless it's about 45C and I'm right by the beach. I didn't even pack my bathers. She said that I could swim in my underwear, but I don't think I want to ruin the ambience of Manly Beach so cruelly.
Dad joke of the day: