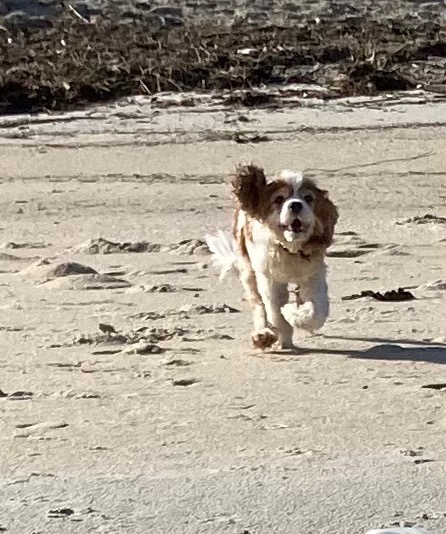 What's top of my mind: Getting Things Done.
There are a few things I'd like to tick off my 'to-do' list before I jump in the car on Friday and start driving north. I have no idea how many I'll be able to complete, but we'll see how I go.
Where I've been: Flight Centre.
Argh!!!!
As my travel agent said, "There are no difficult clients, just difficult itineraries!"
She needs more time to work out a flyer-friendly way to get there and back. Not to Sydney, but to South America!
There are problems with both putting Easter Island first or after Antarctica.
She said she'd let me know by Thursday.
Where I'm going: Sydney for June's Little Adventure!
Have I packed? No.
Have I planned anything? Only my accommodation on the way there and while I'm in Sydney.
Am I concerned? Not yet! I might start to wonder what I'm going to do with my time once I'm driving on the way up, though.
What I'm watching: Better Call Saul, The Boys and Obi-Wan.
The Umbrella Academy is out now, too!
What I'm reading: 'The Other Side of Beautiful' by Kim Lock
I chose this book purely because I like to have an eBook on the go and it was available immediately on Borrowbox. It's a hidden gem.
It's primarily set in the Outback, with vivid descriptions of the land. I've never been, but now I want to go even more! Let's face it – every Aussie needs to see Uluru at least once in their lives. It's a rite of passage.
Plus, the protagonist owns a sausage dog. I approve.
What I'm listening to: Tom30 talking about real estate.
Tom30 is a few weeks away from being able to throw his hat into the real estate market and it's practically all he can talk about.
Luckily, I don't mind a bit of real estate talk and I LOVE going to open houses. The last few Saturdays we've been galloping through units and apartments in his price range.
I have to say, 500K doesn't buy much nowadays.
What I'm eating: Schnitzels.
I love me a schnitty! I can handle a parma but I prefer a plain schnitzel. I'm a woman of simple tastes.
Mum is still in the rehab hospital – they're keeping her in for another week – so I'm having Dad over for dinner tonight before I go away. Schnitzels have been defrosted and are ready for crumbing!
What I'm planning: How and when I'm going to post my thermomix off to the spa.
My first thermomix is now 10 years old. She's served me very well, both as an easy way to cook and as a business tool when I was a thermomix consultant.
She's been used almost every day during those 10 years and she needs to have a service. This is how good these machines are – the button for the scales has disintegrated but the scales still work!
That's going above and beyond.
If I post her to the service centre before I go, she might return to the house before I get back. Seems like a good use of the time to me. My sister has suggested that I trade her in for a brand-new tm6, but there's no way I'm parting with my tm31. You'll have to prise her from my cold, dead hands.
The boys will still have my tm5, as well as Ryan27's tm31 and Tom30's tm5, so they'll be able to feed themselves.
Who needs a good slap: People who are clogging up the direct flights to South America to and from Australia.
Seriously – why should I have to fly into Los Angeles to get down to South America? It'll be a 50 hour flight!!
Still, if I have to set foot on North American soil, that'll mean that by the time I reach Antarctica I'll have visited all 7 continents. This has never been a bucket list for me, but I feel incredibly lucky to be so close to ticking this off.
We live in an amazing time.
What has made me smile: Jeffrey.
Just look at the photo at the top of the post.
He's a doofus. Dumb as a box of bricks.
But he's MY doofus.
Dad joke of the day: