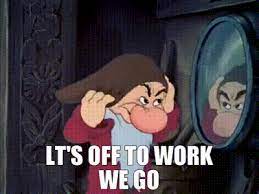 What's top of my mind: It's like riding a bike!
I'm in a year 9 class, writing this while they're doing their work. I've been having a lovely time, running into year 9 kids who were my wriggly puppy classes in year 7 and catching up with other teachers.
"I NEVER thought I'd see you here again!" said one woman. I laughed and said that it was Tom30's wrestling videos that have driven me to it.
I'm at the new campus, which has just under 1,000 year 8s and 9s. It'll take a few days to work out where everything is, but it's a nice place to work. Everyone seems really happy.
Where I've been: in the Staffroom.
It was lunchtime. I caught up with a few friends and heard how everyone was going. There was even a spare desk to put my bag on. Luxury!
Where I'm going: Mum and Dad's place.
After work I have to drop in on my parents to pick up some medical stuff that they hired after Dad has his hip replacement. I'll return it for them.
It's nice that I'm in the area already instead of having to take an extra trip.
What I'm watching: a boy trying to drill a hole through his ruler with a pair of scissors.
Yeah, I don't know why, either.
What I'm reading: Gwendy's Final Task.
This is a Stephen King novel in a collaboration with someone else. I'm enjoying it, though I'm sure I'd be ripping through it faster if I'd read the first two in this trilogy. Annoyingly, the library has the first, but not the second one.
Just… why? Ugh.
What I'm listening to: A couple of boys playing Fortnite instead of reading through their slideshow on circuits and electrical currents.
I've given them the death stare, then mentioned that Fortnite "is so two years ago."
They're back on task now.
What I'm eating: Home-made bread roll with home-grown lettuce, ham and cheese.
The ham and cheese aren't home-grown, just to be clear.
Who needs a good slap: The neighbours who are complaining about theachers parking in their streets.
The Government, in their infinite wisdom, assigned 9 car parking spots to a school with over 50 teachers. I was warned to stay away from certain streets, which meant that I probably got my 10,000 steps before I even entered the building.
What I'm planning: which Dad joke to put up on the board when period 6 starts.
So many options…
What has made me smile: Max.
Max walked in late and stopped, staring at me.
"Where do I know you from?" he asked. To be fair, I'm wearing a mask and I've stopped dying my hair.
"I taught you English in year 7, you doofus!" I said.
He asked if I'd been to Antarctica, then when he went to his seat I heard him say, "She's only the best English teacher ever!"
Dad joke of the day:
What is it called when you have Grandma on speed dial?
Instagram.