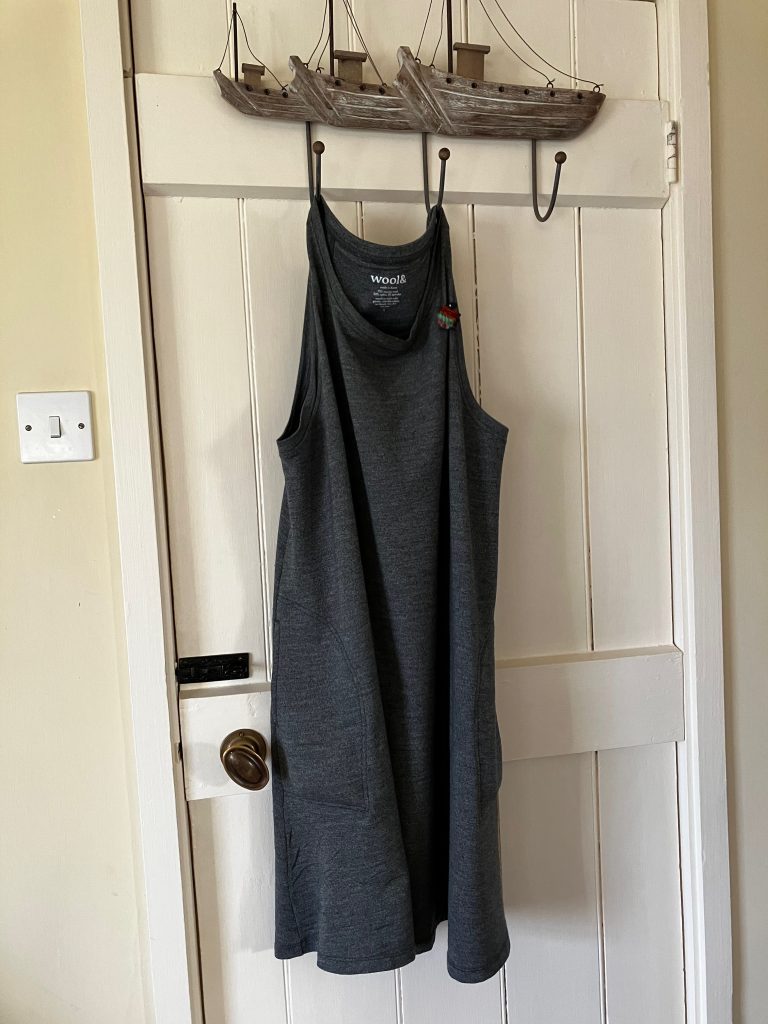 Hands down, this is a wonderful outfit to travel in. The dress is Sierra, a swing dress that can easily be used as a pinafore, meaning that it would never actually touch my skin, thus cutting down on washing.
The real beauty of this dress is that it's made from merino wool, which means that it's odour-resistant, easy to wash, crumple-free and absolutely comfortable to wear.
This makes it stellar for travel, especially if, like me, you choose to only take carry-on and so space is at a premium. Having just one outfit makes carry-on travelling a breeze.
Obviously I was very protective of Sierra, being extra-careful where messy foods were concerned. Before my travel I had to spot-clean a few times, but while I was travelling it was never an issue.
But I'm getting ahead of myself. How and why did I choose to wear just the one dress – not just for my 5-week holiday – but for a full 100 days?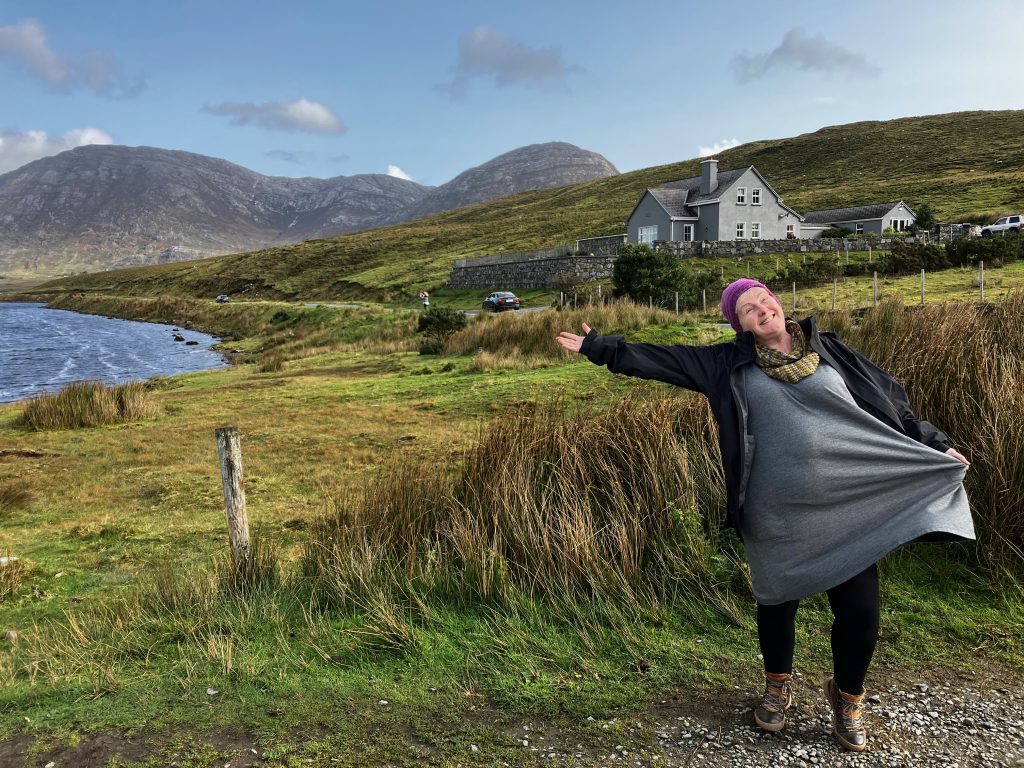 For those who don't know, I began a 100-Day Challenge run by Wool&, an American company that makes merino clothing. What interested me in buying one of their dresses – after I thought about it for 2 years – was that merino is an excellent fabric for travel.
I went to Antarctica last year and bought merino long-sleeved tees to travel in, wear on the ice and on the ship, and those tees were absolutely brilliant. Due to this, I decided that I was going to take the plunge and invest in a Wool& dress and do their 100-days challenge.
Because after all, why not? I love a challenge and a US$100 voucher is nothing to be sneezed at. Having two dresses would make a perfect travel capsule.
I also decided that the easiest way to succeed at this would be to schedule my end date to be the day I got home from my 5-week trip to England and Ireland. If I gave myself no alternative outfits to wear, I'd have no option but to succeed! I counted back the days and the 100 days began on July 1.
Before my trip, I treated the dress as I would anything else. I was protective of her – I wore an apron when cooking to eliminate any oil spots and I was careful with sauces and such. Spot cleaning is easy – I just used a bar of Velvet soap and handwashed the area.
Just before my trip I washed the dress by using the velvet soap, immersing in water and then rolling her into a towel and standing on it. I hung her up in a well-ventilated spot and the dress was dry by morning!
Incredible.
What was also incredible was that before I went on the trip I was teaching secondary students. Not one of them noticed that I was wearing the same dress every day.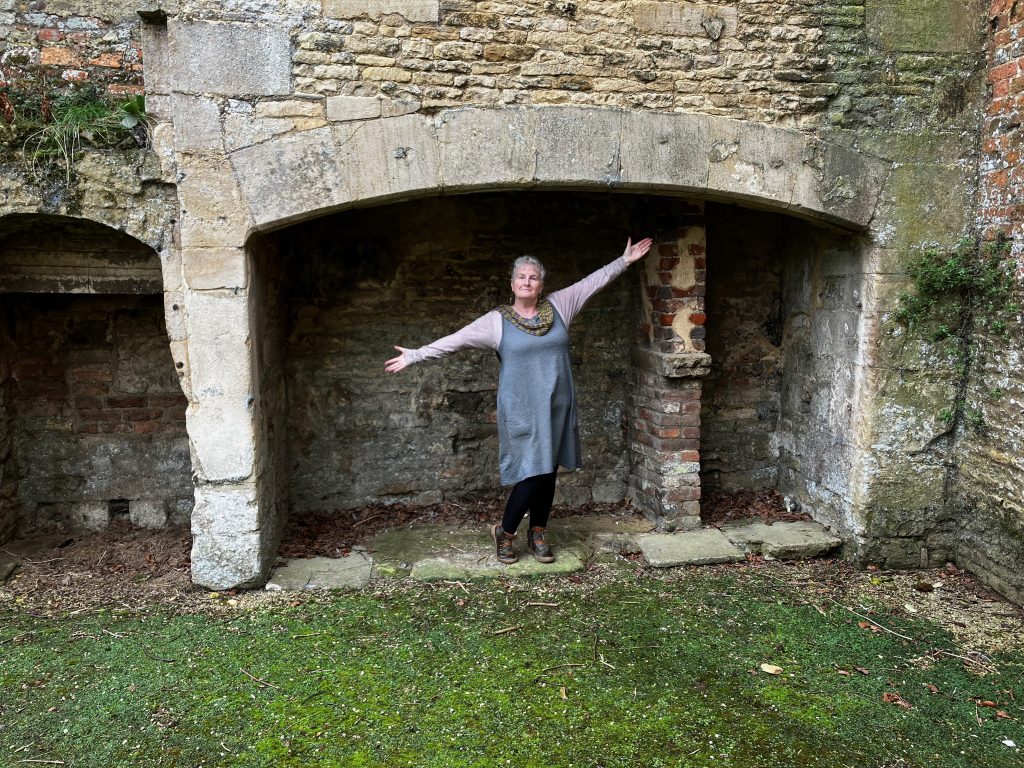 While travelling, I was very protective of the dress.
"Not near THE DRESS!" I'd say if any ketchup or creamy sauces were handed around near me, and it became a running joke. I didn't have to spot clean once and I only gave her one full wash towards the end of the trip, not because I thought she needed it but because I thought that it was a good thing to do.
(The merino tops were hung up every night and spot-washed in the armpits every 3 or 4 wears, usually when I had 2 nights in a room, just to make sure that they'd be dry when I needed to pack my case again.)
Merino is definitely the best fabric for travel.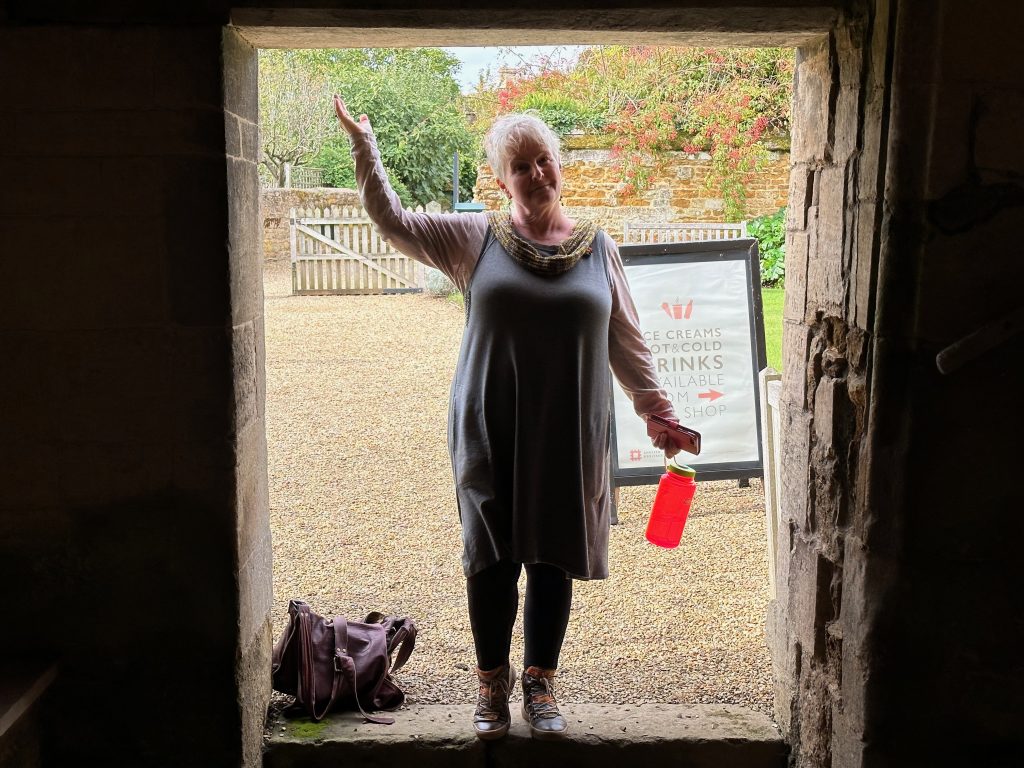 Right at the end of my 100 days I noticed a couple of pills on the fabric where the strap on my travel bag was running against it. You can see the size of my travel bag in the photo above – it's large and was quite heavy some days.
I don't think this is a problem – I worked the dress hard and if there a tiny bit of pilling at the end of the challenge, then so be it.
The clothes I took on the trip were as follows :
1 x Wool& dress.
4 x merino tees.
3 x undies.
2 x bra.
2 x black tights.
1 x walking boots.
1 x runners.
1 x woolen cowl.
1 x woolen beanie.
1 x light raincoat.
1 x warm fleece jacket.
That's all I wore for 5 weeks and, to be honest, I only needed the fleece jacket once when we went to the Cliffs of Moher. I'd think about leaving it home next time, depending on where I go next.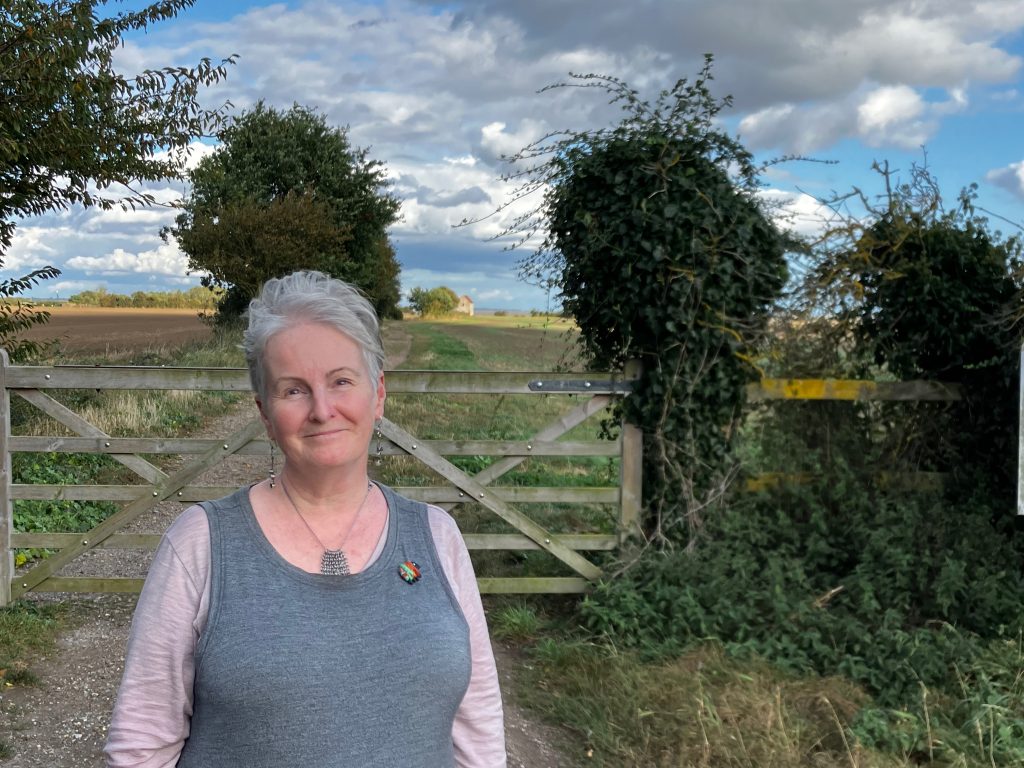 I really enjoyed just having carry-on luggage. It was so good to simply get off the plane and walk straight to the exits. Wheeling it around on the streets was also very easy.
At the end of my trip, when my carty-on case was stuffed to the gills, I had to walk up 3 sets of stairs to get to my room in an old hotel in England. I don't think I would have been able to get up there if I'd had a traditional 30KG suitcase!
So all in all, I'm loving the Sierra as a travel dress. Having the one outfit that I could dress up or down as I pleased made the whole trip so easy.
Will I wear her in my ordinary life? Maybe. I'm actually liking the thought of folding her up and putting her in my carry-on case, ready for the next trip next year.
Alaska and Canada – I'm looking at you!