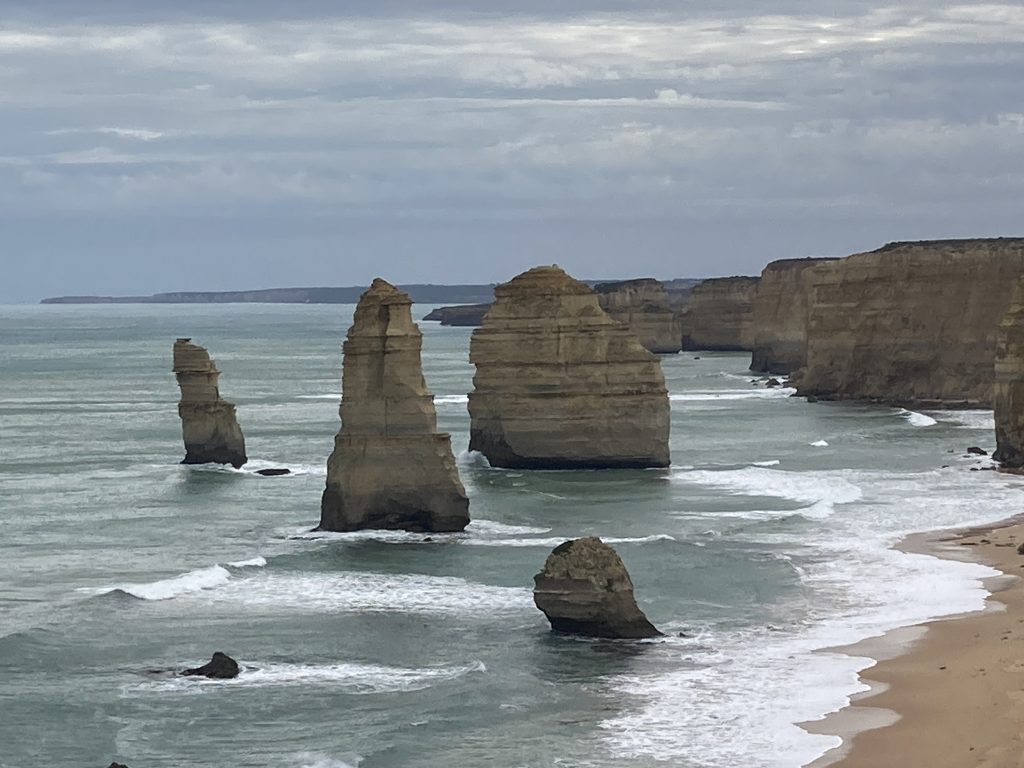 Yippee!! I'm on holidays!
6 days ago I threw my things in the car, kissed the dogs goodbye and patted my sons – or maybe that was the other way round – and set off. I was on my way to Port Campbell to spend the night.
I don't want to spend a huge amount on this holiday – I have Antarctica coming up, after all, so I've packed food for breakfasts and the dinners I'll be spending on my own.
As you can see from the photo, the weather was overcast and a bit blustery, but I consoled myself that this makes for dramatic seas, which will look atmospheric and interesting. I chose to stay at Post Campbell for the first night because it's pretty central to all of the features on the coast that I wanted to see – the 12 Apostles, Loch Ard Gorge etc. I'd get there at lunchtime, dump my stuff in the room I booked, then scamper out for the rest of the day and see everything.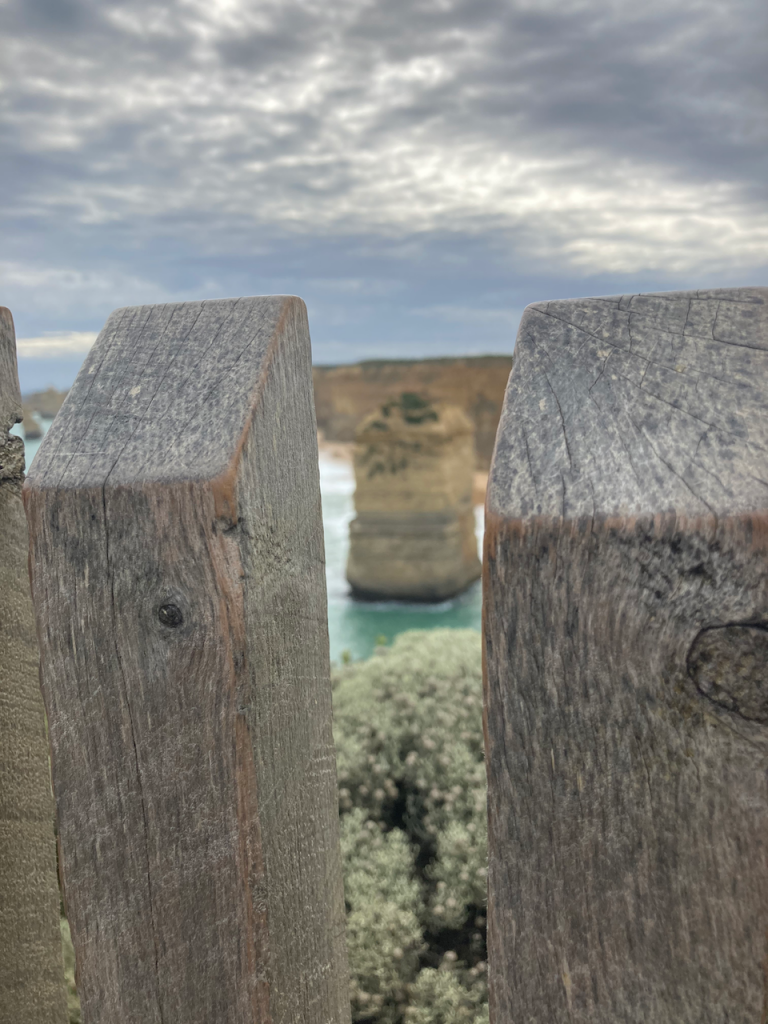 The drive from Melbourne to Port Campbell is an easy one. As planned, I got there around lunchtime, dumped my bags**** and then headed for the Great Ocean Road. I knew there'd be signs directing me where to go. As it turned out, there was a visitors centre at the 12 Apostles which, although the centre itself was closed, had a huge map on the wall showing exactly where everything was.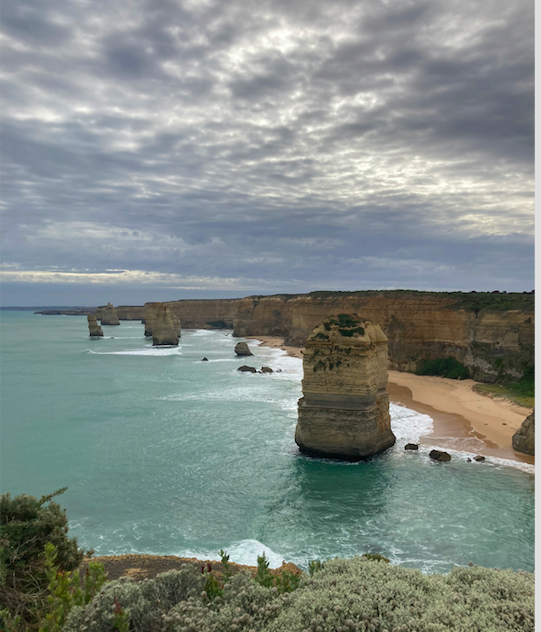 This is a great place to come to if you want to entertain yourself without spending a heap of money. All of the attractions are free and the whole area is really well set up for tourists. There are walkways, steps down to a couple of beaches and signs detailing the history, flora and fauna of each spot.
If you want to splash the cash, there are helicopter rides along the coast, but hey. What's the rush? Besides, I took a helicopter trip when I went to Bowral last year, a couple of weeks before our 13-week lockdown hit. So clearly, I'm an expert.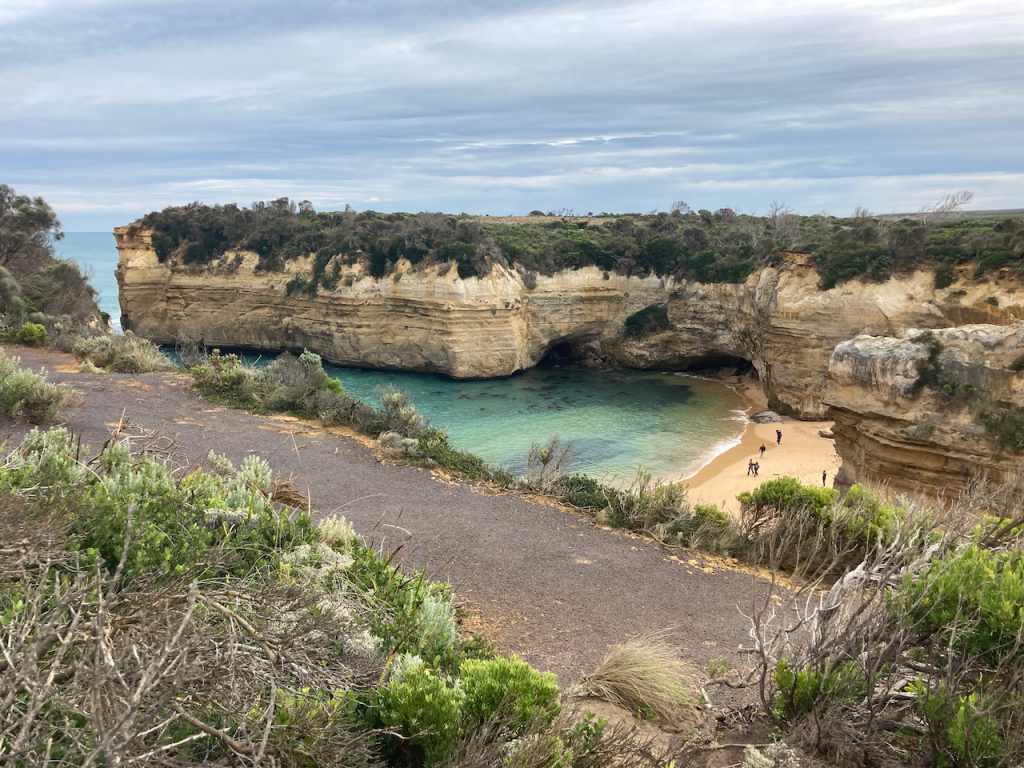 I went to Loch Ard Gorge first. I remember coming here with my parents when I was about 8 or 9. I think the story of what happened here caught my interest and I never forgot standing on the little beach, looking out at the small gap out into the ocean and thinking about how lucky those survivors were.
Imagine.
You're on a clipper from England in 1878. You've done the 3 months' long journey, all cramped together, and it's the last night of the voyage. Finally you're about to feel dry land under your feet. So naturally, when people suggest that everyone have a little celebration for the last night, you're all in.
It all ended pretty abruptly when the fog the ship was wreathed in lifted and the captain realised that they were a tad too close to shore. Oops. The ship scraped a reef and sunk in 10 minutes.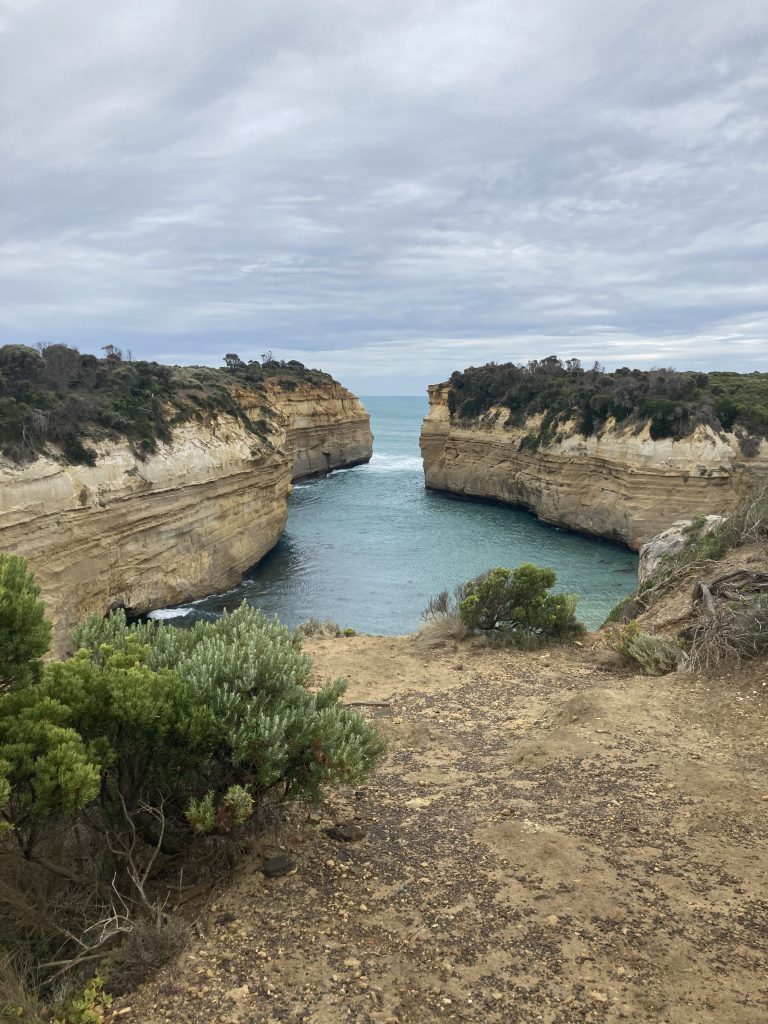 Only 2 people survived – a cabin boy who swam to shore into the gorge after grabbing an overturned lifeboat, and a girl who clung to a piece of wood. When he heard her calling out, he went back in to save her. It took him an hour to get her back to the beach. That's pretty heroic.
In the morning he climbed the cliffs and got help. As a kid, I remember the exciting story of the shipwreck. As an adult, I gazed around at the sheers cliffs and wondered how on earth he managed to climb up and out of the gorge. There were no convenient steps back then! He must have been very fit.
And motivated.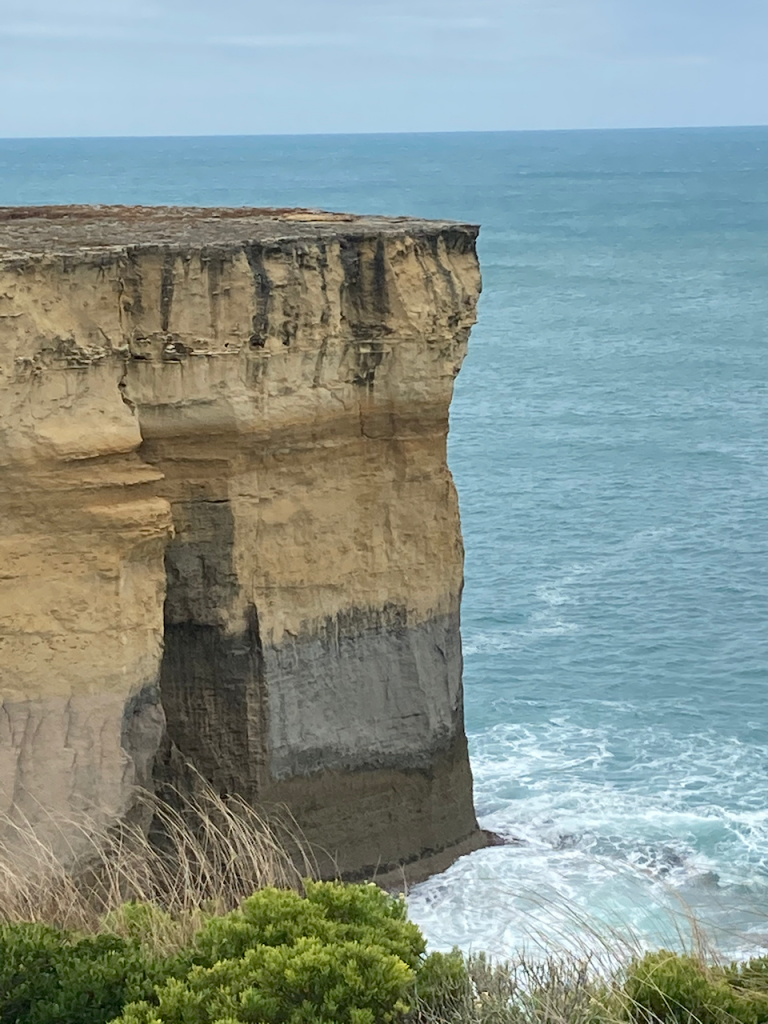 These are what the cliffs look like here. It's a sheer drop to the beach. The views out to the horizon are spectacular. I stood there, wind buffeting my face and the tang of the sea air in my nose, looking out towards the line that's the edge of the sea and sky and thinking, 'Sometime soon, either December this year or next, I'll be in Antarctica on the other side of that line.'
I'll split the first day into 2 posts. I'm due to leave in 10 minutes to go to a vintage car rally at a winery with Jenna's parents, so I can't be late.
Port Campbell… to be continued….
**** I wasn't going to tell this story, but it's too funny not to, even though I look like an idiot. I'll tell it in the next post.