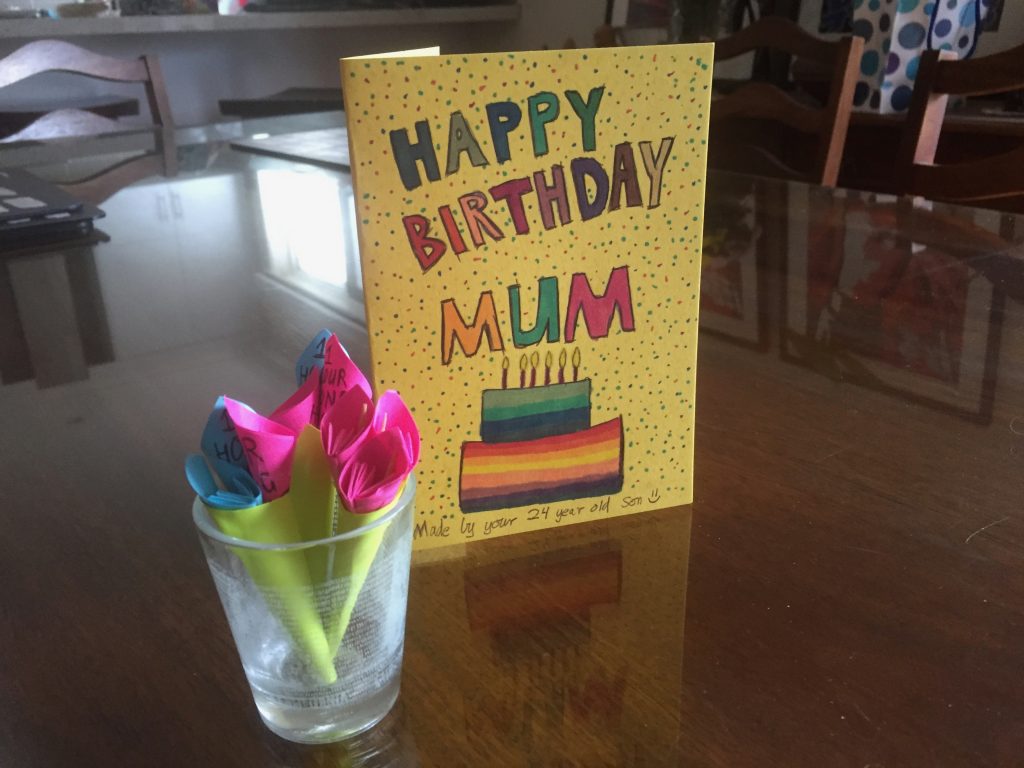 Last Friday was my birthday. Birthdays are always something we celebrate and Ryan24, my third son, is no exception. However, he's a poverty-stricken uni student and he literally had no money to organise a gift. He had to dig deep to come up with something.
Fortunately, he has access to coloured paper and a particular set of skills. He put aside an hour or so on my birthday while I was at work to make 10 origami flowers and this card. (By the way, the word 'Mum' is spelled correctly, those of you from the US...)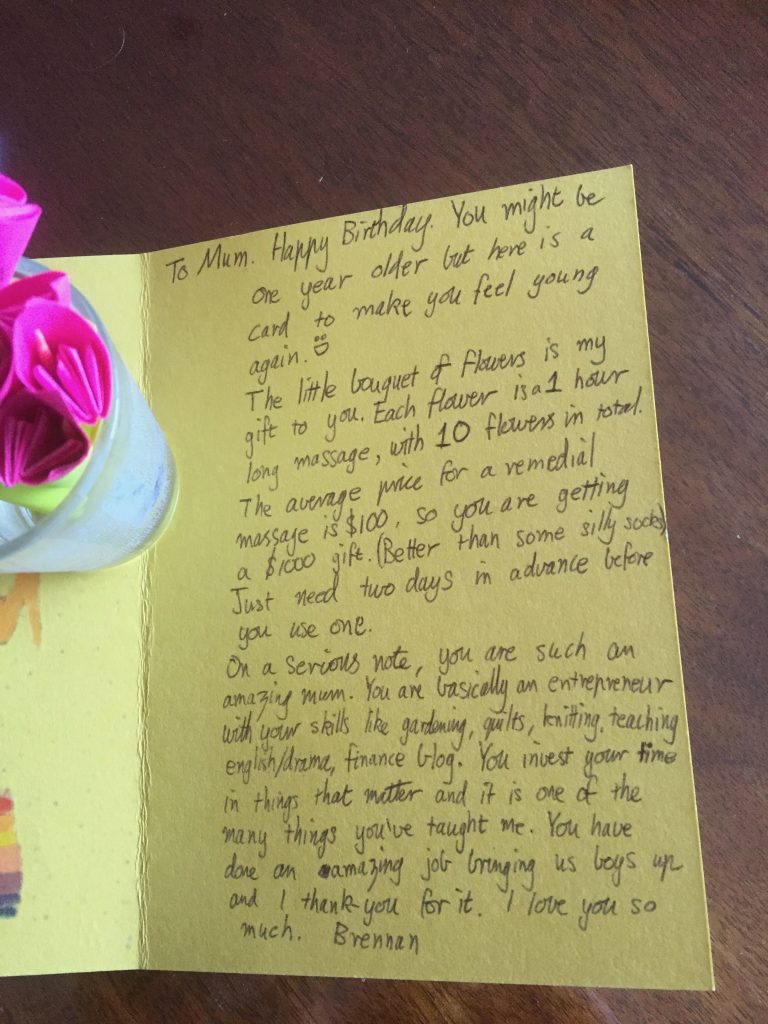 So what does a remedial massage student give? Pretty nice, hey?
I was talking to him after he wrote the card and he said, "I think a gift should be beautiful, practical and from the heart."
I think he nailed it.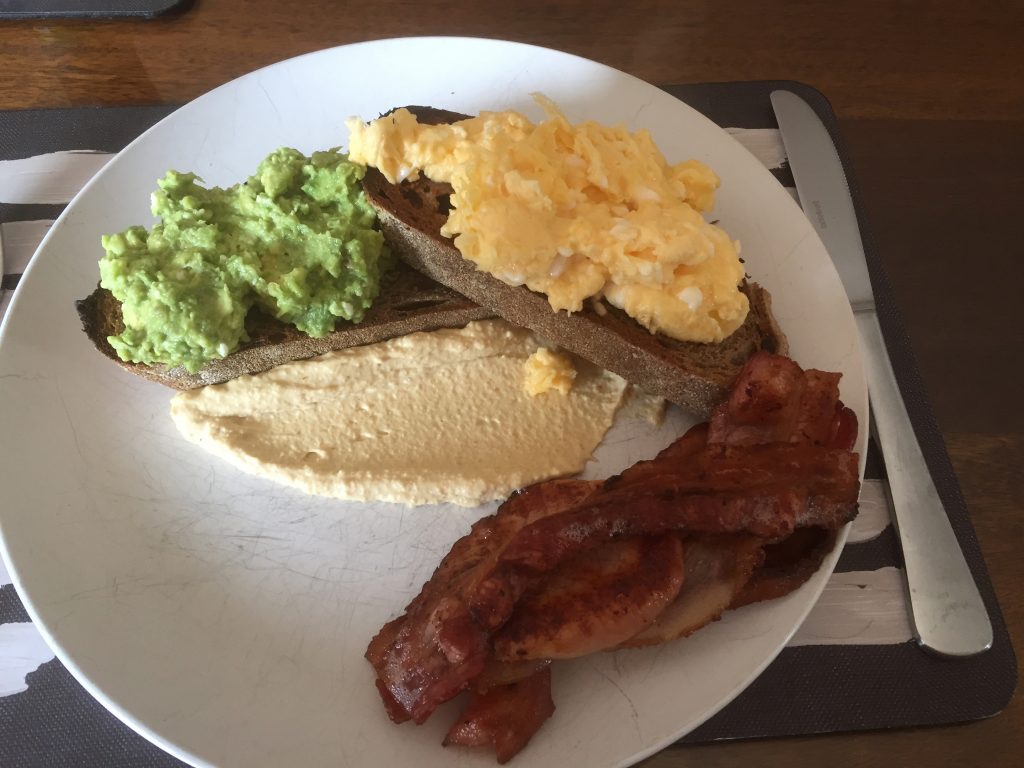 Not to be outdone, David25 used his skills gained from working in kitchens to put together an amazing brunch for me yesterday. His girlfriend Izzy, Ryan24 and I sat down to smashed avo and feta and sourdough toast, with bacon, hummus, scrambled eggs and hash browns. (The hash browns were still cooking when I took this photo.) It was glorious – and there were enough leftovers that Ryan24 and I didn't need to cook dinner OR breakfast the next day.
Truly the gift that keeps on giving!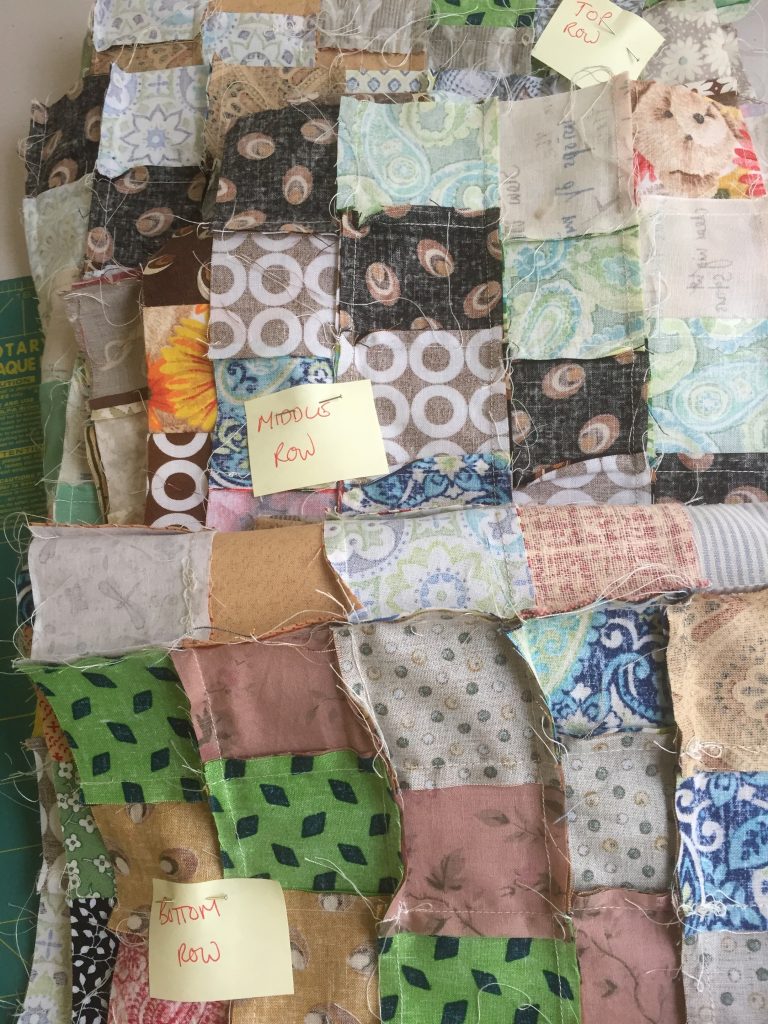 After brunch was over, I went into the guest room where I've set up my sewing machine and kept plugging away at a queen-sized quilt that I'm making for Tom27 for Christmas. It has over 1500 squares that are 2.5 square inches – I really should have thought through the design more thoroughly before I started it. I'm using some new fabric and some fabric I had in my stash and at the close of sewing yesterday I've reached the stage of having the whole quilt top in 3 big pieces.
There's still a lot of work to go before it's a finished quilt, but hopefully I'll get it done before Christmas. If there's one thing my boys like, it's a snuggly quilt.
… I don't know WHERE the boys picked up the skill of producing gifts from what's at their fingertips…
It's a mystery…