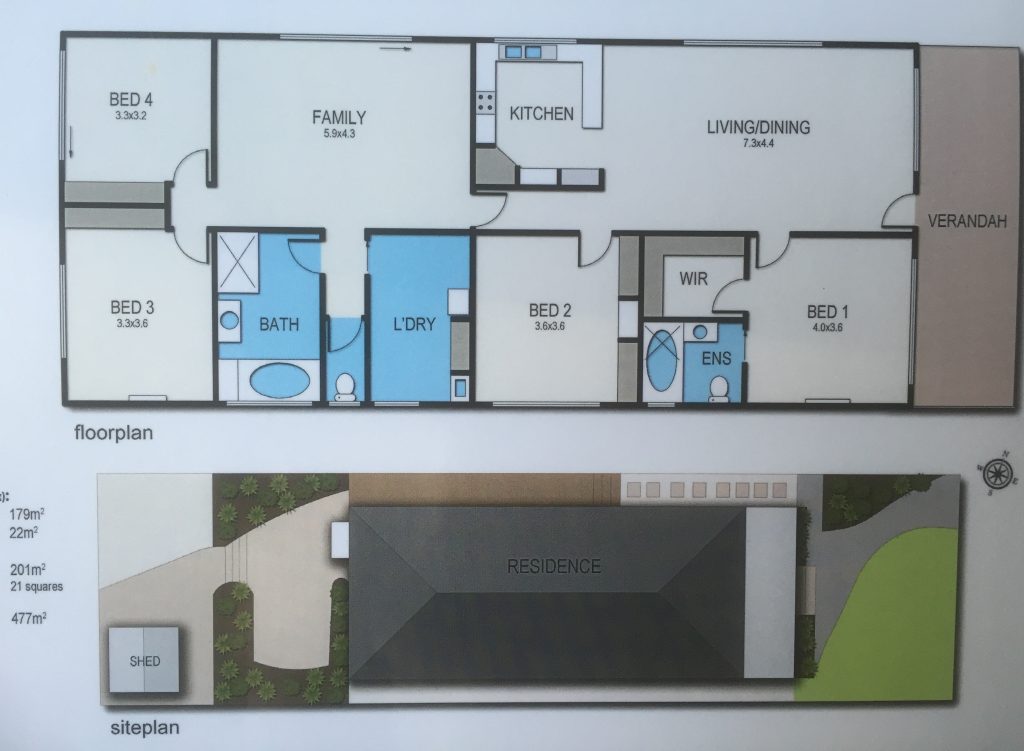 Some of the things that people put in place for retirement are big projects, such as the landscaping I've done around the house and the verandah roof I'm currently organising to have built. These things have cost many thousands of dollars, but will reap huge benefits once I leave work and have the time to enjoy them. But not everything has to be a massive project. Sometimes it's as simple as rearranging a few paintings and pieces of furniture.
I've put the house plan of The Best House In Melbourne up on the blog before, when I wrote about how I geoarbitraged my family into it. When we moved in, I had 2 sons in their 20's still living with me. Naturally, they chose bedrooms 3 and 4 to live in, as far away from their favourite mother as possible.
Evan22, who was at that stage Evan20, chose to keep living in the old house until it was demolished, a move that we thought would only be about 6 months but ended up being almost 18 months. When he came home there was only one bedroom left – bedroom 2.
It's not a bad space. It has plenty of storage and an inbuilt desk, perfect for putting a huge tv screen on for playing games. It's south-facing, so it's bright enough without being too dazzling for a bedroom. It has ducted gas heating for winter and a fan for summer and the room opens up to my main living area, which in summer is cooled by a massive refrigerative air conditioner, so climate control is a breeze.
This was his room until he left to live in Ballarat, a regional town about 2 hours from here. He's doing an acting degree at the university there. He uses this room as a base when he's in Melbourne, but that's only a few nights here and there.
He's pretty much not coming home for 2 years and will probably move straight out again once his course is finished, so it's time to RECLAIM THE ROOM.
This will be my guest room/sewing room, at least until Jordan26 moves out and bedroom 4 on the house plan becomes free for me to use as a study. But this room needs to be functional as a guest room.
In years to come, as Old Lady Frogdancer totters towards old age, she'll have friends and relatives who'll sometimes want to stay. There's nothing better than having dinner and then sitting on the couch till the wee hours, telling stories, drinking wine and laughing. It's even better if people can stay the night and not have to worry about driving or getting Ubers.
Evan22 had covered the walls with photos and the wardrobe doors with pages from a script he was writing. Imagine hundreds of blobs of Blutack everywhere. I used to walk in, take a look at the photos still up there and the blue spots left on the wall from the photos he took with him, silently scream and hurriedly shut the door behind me.
The photos are now gone. He did it without me even asking. There's one small spot up near the cornice where the paint pulled away, but he says that the rest of the paintwork is fine. I was so relieved! I was certain that I'd have to paint the whole room.
I bought a double bed for him when he moved back in. He's barely used it and he wanted to take it with him up to Ballarat. The thought of taking it apart, then transporting the bed and mattress up there, then putting it all back together again while still having to buy a bed to put in my guest room was all too much.
I suggested to Evan22 that I simply buy him a new bed, as I'd have to buy one anyway, and we'd get it delivered to Ballarat. He was rapt and he's already got me to agree to a Queen-sized bed. (What can I say? He's my baby… plus he's over 6′ tall.)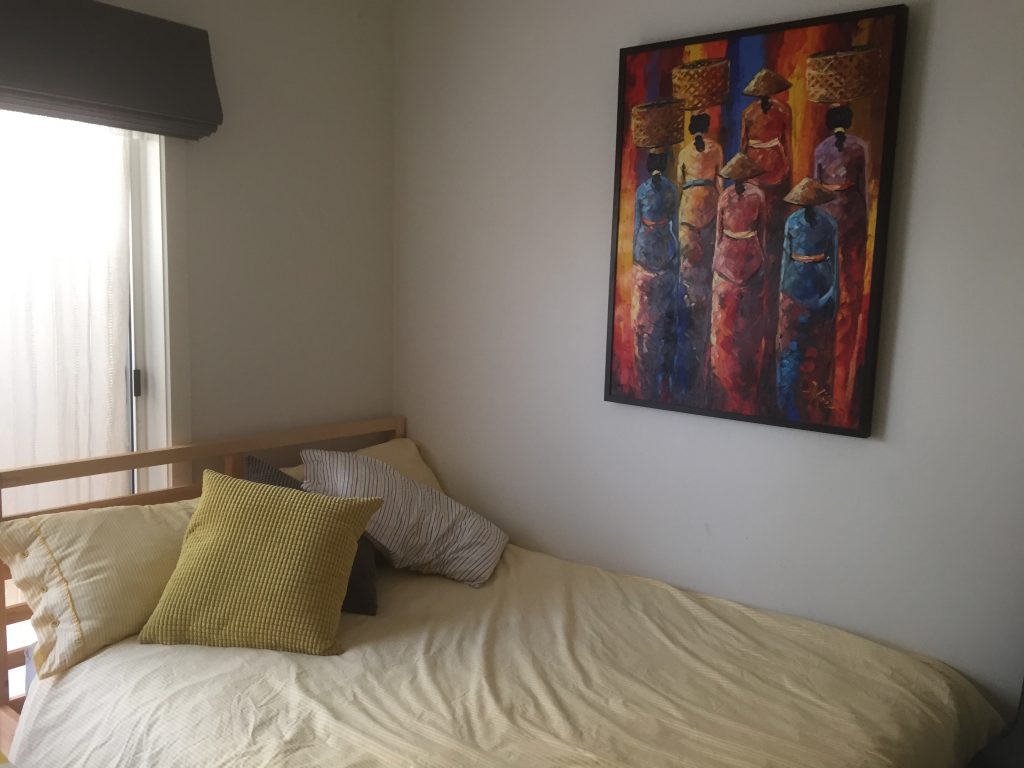 When I moved all of that in, I looked at the space and thought… "Hang on! My bright ladies from Bali would look perfect in here!"
So the bed is taken care of. Fortunate Frogdancer strikes again for the doona. When we moved here, I bought a new wool doona for my bed and stupidly bought a Queen sized one. You'd think that would be perfect for a Queen-sized bed but as we all know, you really need a King-sized doona for a queen-sized bed. Idiot! But now, I just moved my doona to the guest room, complete with the beautiful yellow and white striped doona cover, and bought a proper-sized doona for my bed.
When the boys and I went to Bali, way back in 2006, we came back with lots of wood carvings, lots of jewellery and LOTS of art. It cost more to frame each piece than it did to actually buy them, but 13 years later, they're still adorning the walls of our house. The yellow of the doona cover picks up the yellow in the painting and it looks great.
I'll just need to look out for a mirror to put on the wall over the desk and then the room will pretty much be complete as a guest room. I know it's only a little job, but it's one step closer to having the house ready for retirement.