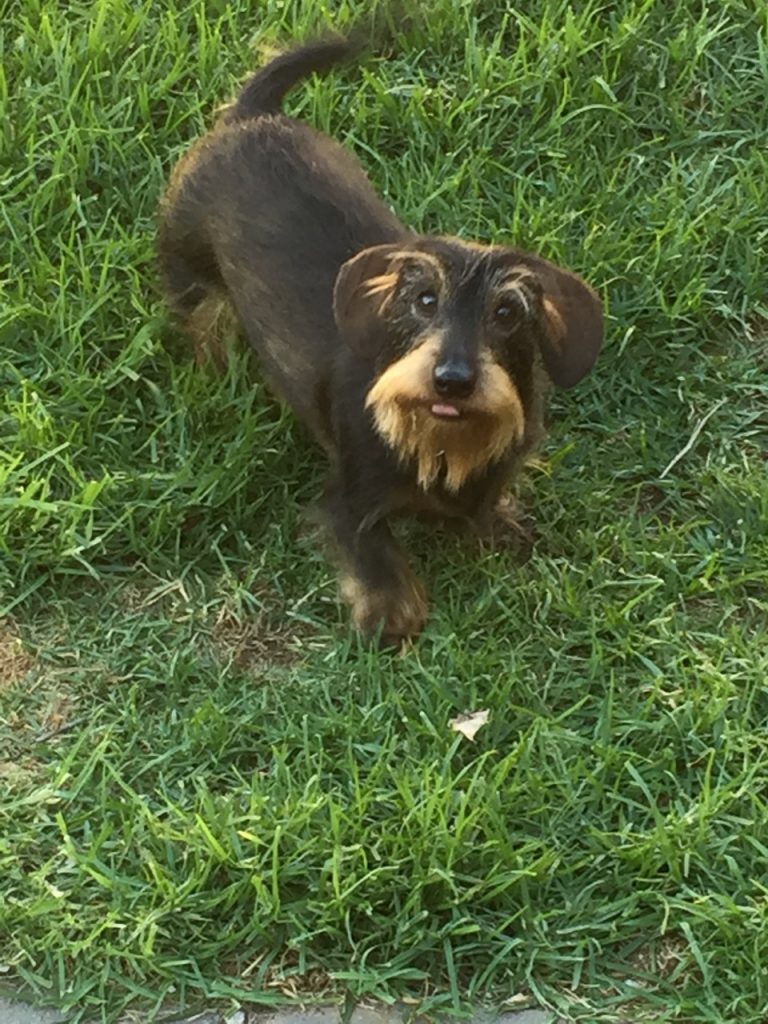 So it's been a week since schools shut down when the school holidays were brought forward by 4 days and we're now in official 'school holiday' time. Lockdown was officially brought in on Saturday night (I think), so what has been going on here while the country grinds slowly to a halt?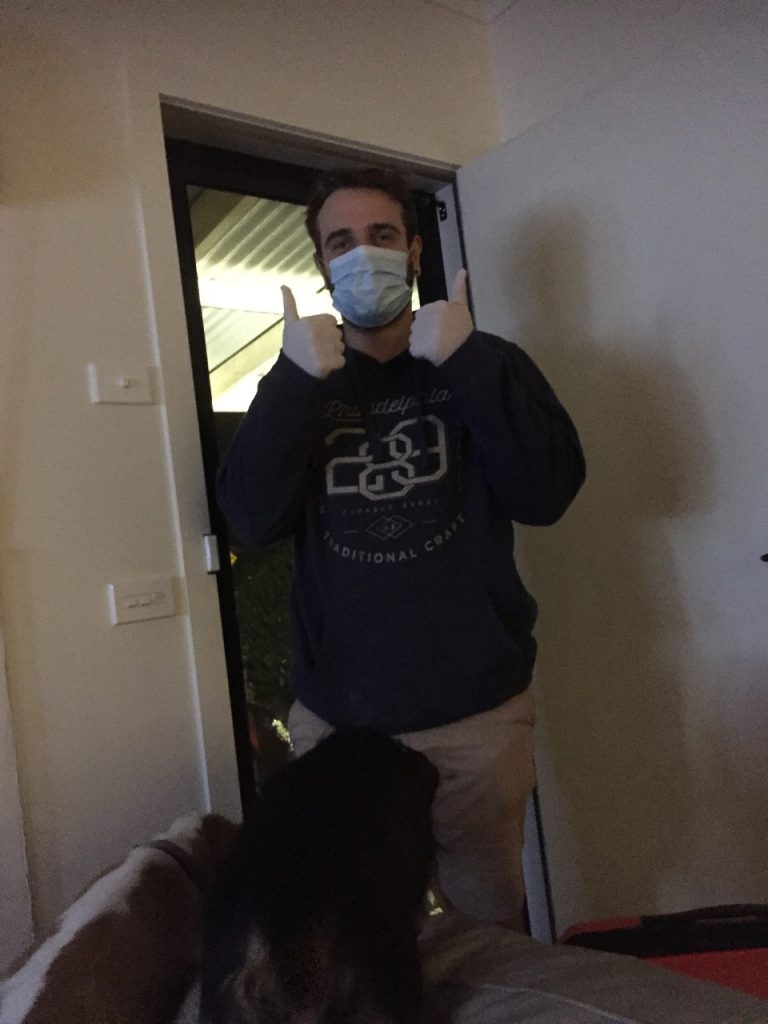 We had the uncomfortable chat with adult kids that a lot of families are having, especially since the new laws came in forbidding meetings of more than 2 people. David26 was over at Izzy's place when all of this came into effect. For newer readers, Izzy is immunocompromised as she's fighting leukaemia. After checking with Izzy's family, David26 has elected to stay there for the duration.
He came back, masked and gloved, to pack some clothes, food and musical equipment. He's spending his days helping Izzy's Dad with major renovations on their house, (aka learning some manly skillz) and writing lots of music with Izzy. He's happy.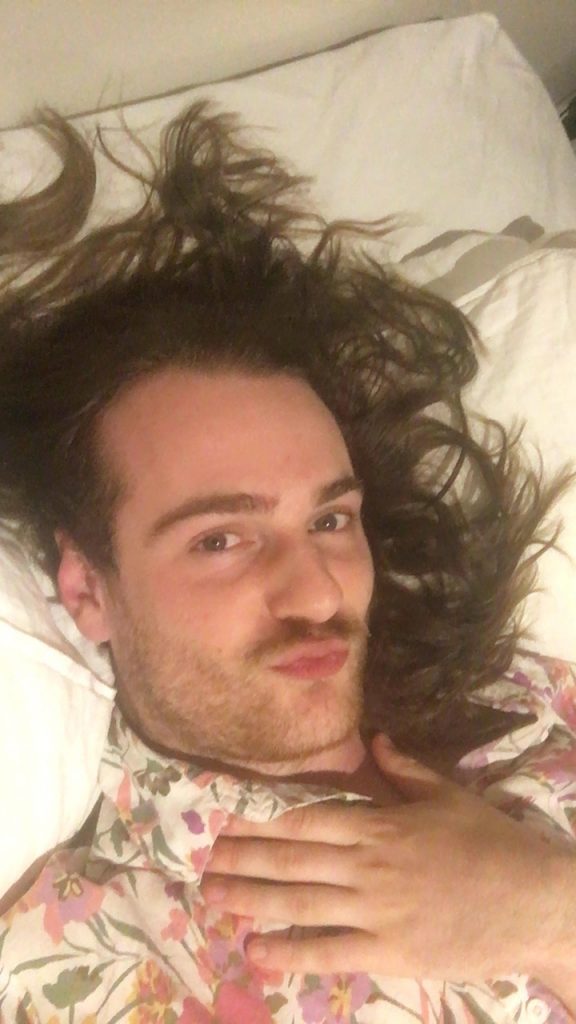 Evan23 is up in Ballarat with the other people from his acting course. This photo was what he sent after I said that his hair looked lustrous. It made me laugh! Apple doesn't fall far, as they say. He's moved into the share house that his girlfriend lives in, along with one of the other podcast guys. Lots of board games, lots of drinking, lots of painting. He bought canvases and paint as part of his panic buying before the lockdown.
Tom28 is an accountant and so far he's been able to hang onto his job. We have long phone calls nearly every day.
Fortunately, I'm sharing lockdown with the quietest and most introverted son. Our house is blissfully quiet. The only sounds I hear, apart from his lectures from his uni course, are music or 'Animal Crossing' drifting from his room. We have little chats, then part to do our own things, then we meet up again to share things we've seen online etc. It's chilled.
I posted this shot below, after a wonderful moment on Saturday night.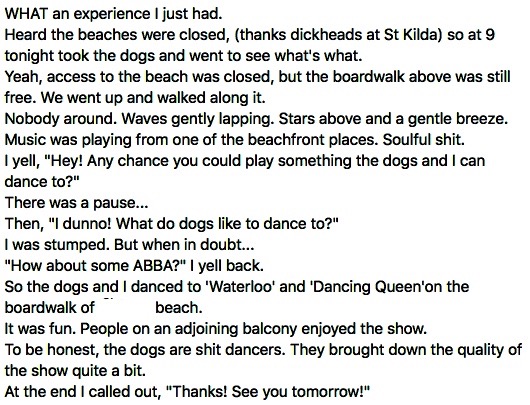 Unfortunately, we haven't been back since, because on Sunday little Scout came down with a tummy bug and was really quite sick for a couple of days. Then, just as she was getting better, Jeffrey came down with it.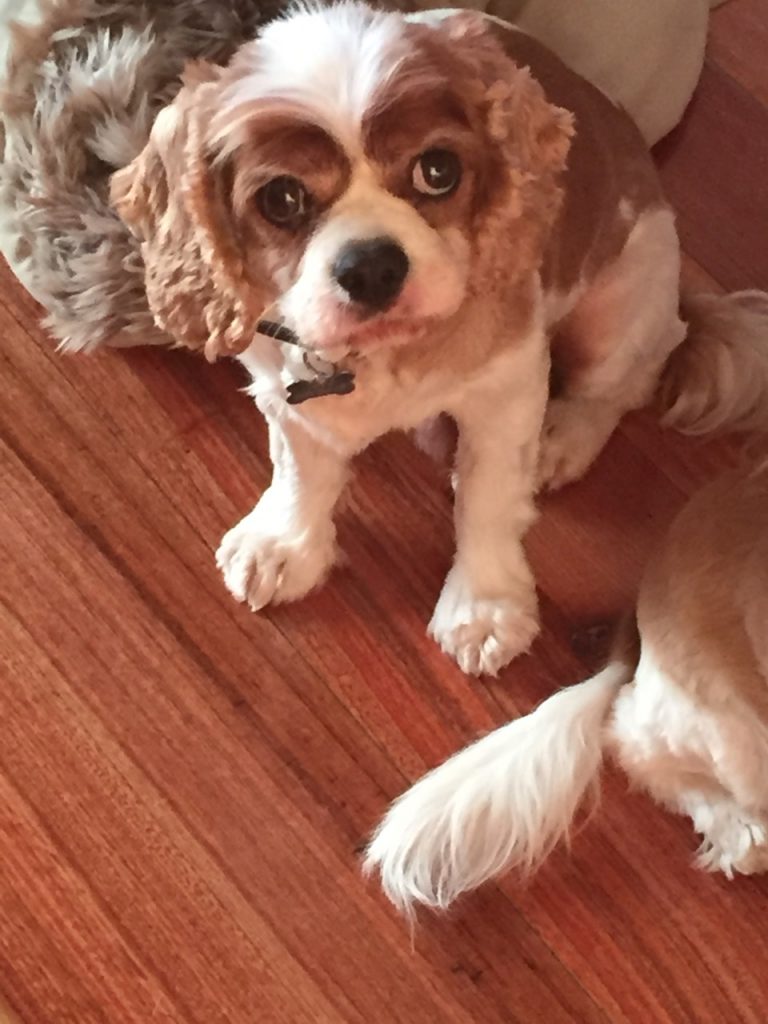 Jeffrey was VERY sick. So sick that I took him to the vet at 8 AM yesterday. She couldn't find anything wrong with him, so directed me to feed him boiled chicken and rice. This morning he ate some, the first food he's had for over 2 days. He then wagged his tail. I'd say he's turning the corner. Phew!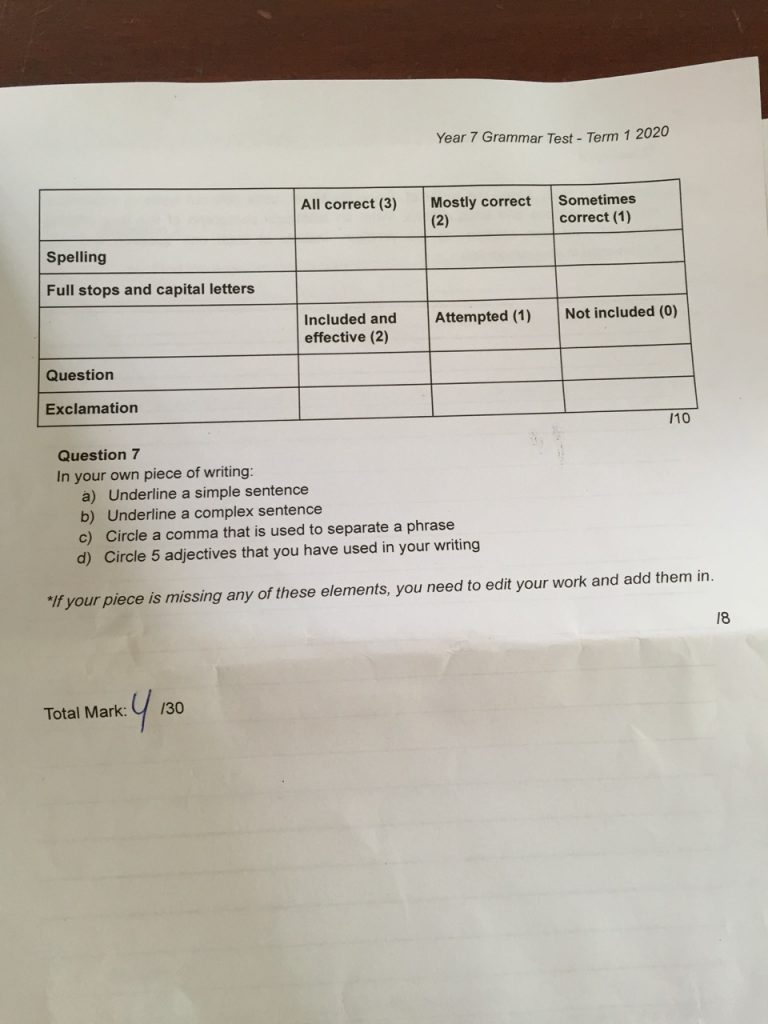 I had to bring home some correction and I was getting kids who had self-isolated earlier to send me work via email, so I was still keeping busy in the last few weeks of term. One poor little boy, who only scored 4/30 on his grammar test, sent me what sounded like a chirpy little email after I released his mark to him.
Something along the lines of "Hi Ms Jones! Could you please send me my grammar test so my Mum and tutor can go over it with me? I'd really appreciate it. Thanks!"
Poor kid. That's the LAST thing anyone would want. His Mum was almost certainly standing by his shoulder, dictating what to type. I'd already given him 15 extra minutes to complete the test, as I knew he struggles with English. Fortunately – or UNfortunately, depending on whether you're the student or his Mum – his was a test I'd brought home. So I photo-ed the pages and emailed them across.
Another chirpy email thanked me. Poor kid…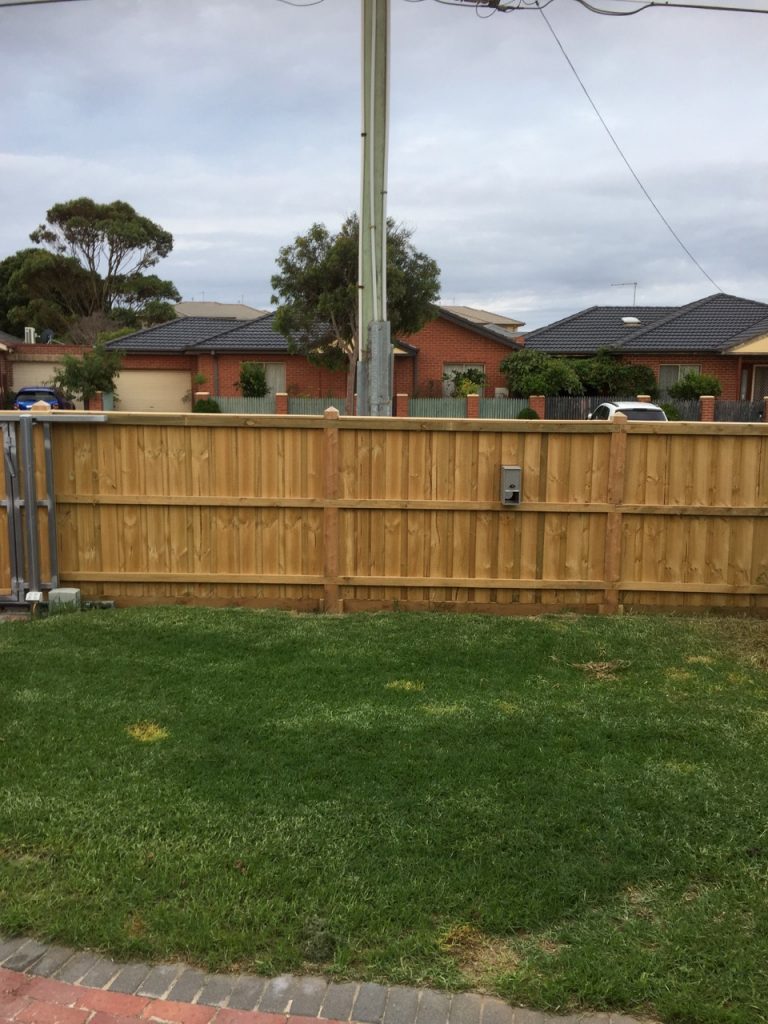 One of the projects I want to get done is to paint the front fence. Over the fullness of time, the lawn will be mostly replaced by garden beds. It'll be an oasis. The following photo is the colour scheme I've chosen.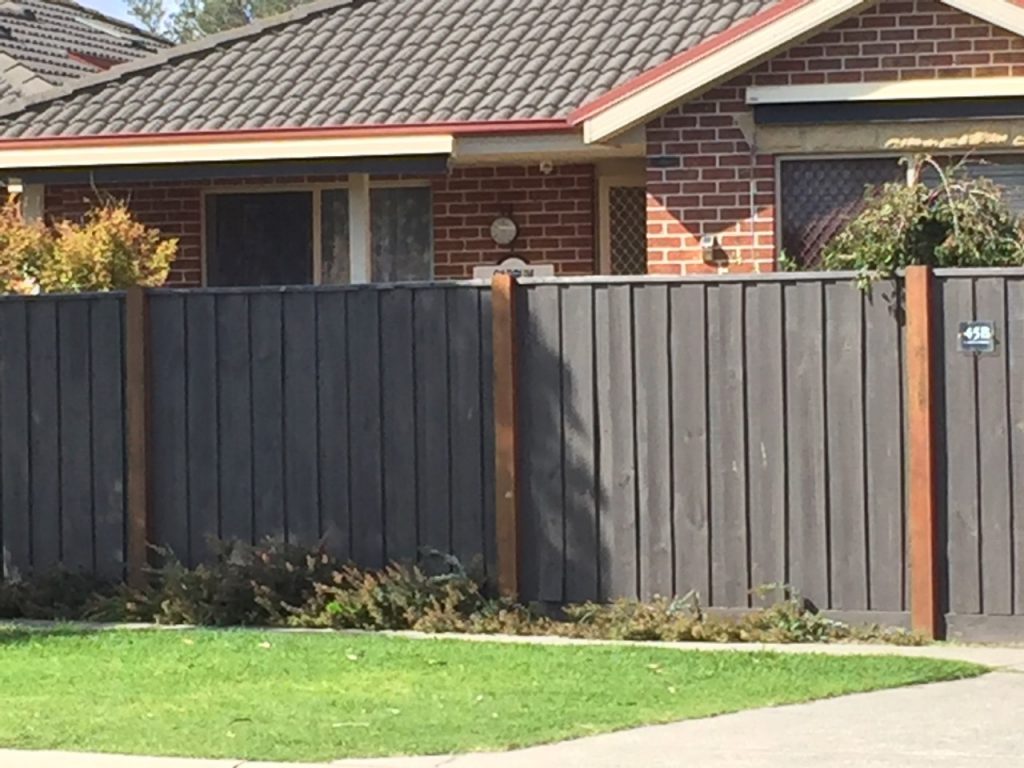 My parents have been gallivanting around, so I had a stern talking-to with them. They're over 80, for God's sake. Anyway, after this, they'll either heed what I say or they just won't tell me. After all we've been through with them, health-wise, over the past year, you'd think they'd be more sensible.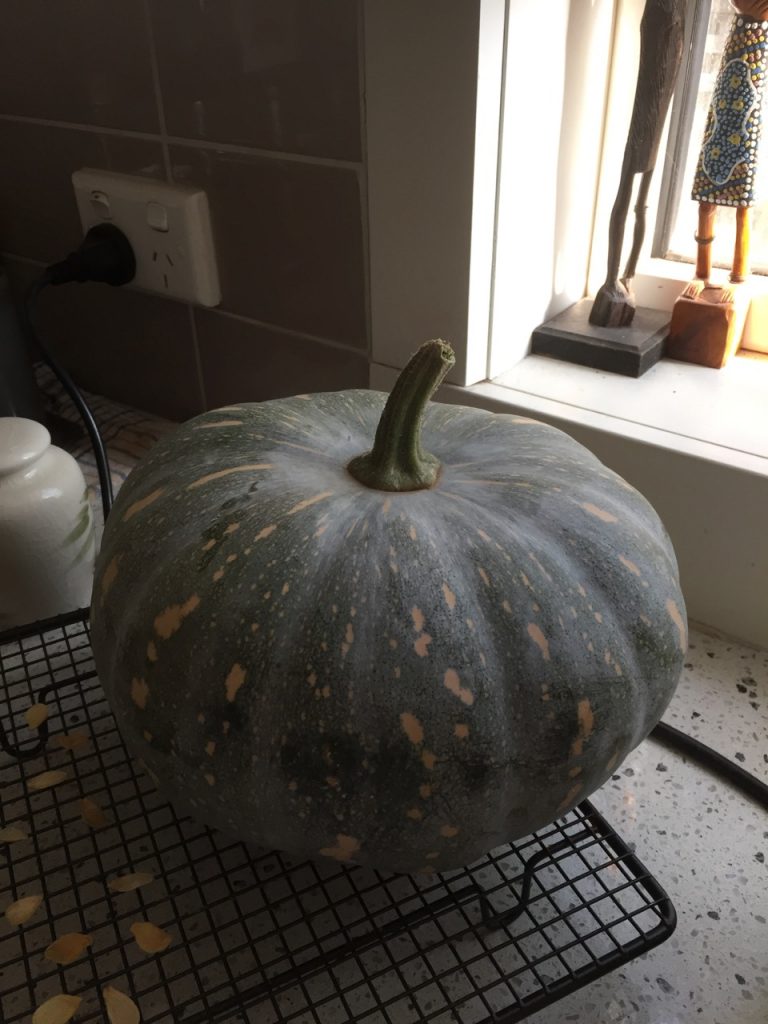 It was the end of the month yesterday, so I did my usual monthly net worth check. I estimated that it would've gone down around 150K due to the wild ride that the share market has been delivering. Imagine my relief when I was 'only' down 107K!! Feels like a bargain! Fortunate Frogdancer strikes again!
But look at this fine pumpkin. I've never been able to grow them before, but the compost materials I've been bringing home from work, coupled with the wicking beds, have brought forth a bonanza of pumpkins. I'm so happy. This one was so heavy it fell off the vine, so Ryan25 brought it in. It's sitting next to the tromboncino zucchini seeds I'm drying for next year.
Ryan25 just came in to tell me that it looks like Australia is starting to flatten out the curve, which is good news. Meanwhile in the US, this is happening: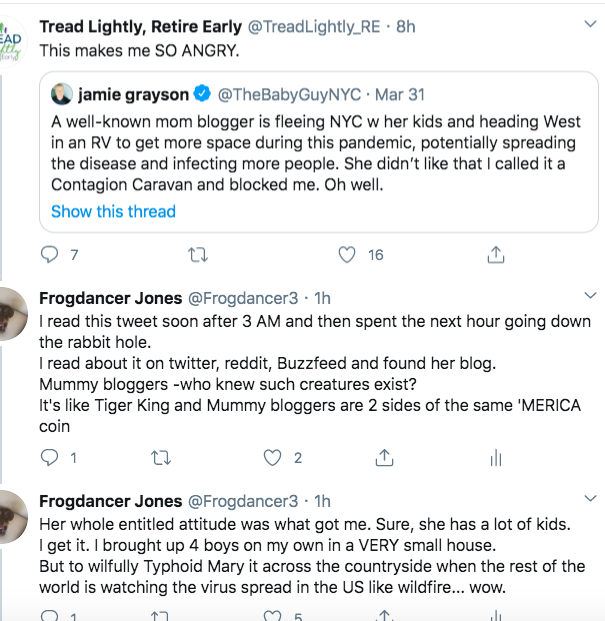 It beggars belief, doesn't it?
Anyway, I hope that you and yours are safe and well. It's a time to quietly enjoy our nearest and dearests and live life at a slower pace. It's Wednesday morning at 10:30 and I'm still sitting on the couch in my pjs. On a normal Wednesday I would have taught 2 classes by now! Jeff is snoring beside me, Ryan25 is playing some 80's music and the sun is shining. I'll have brunch and get out into the garden today, I think.
Stay safe! Stay home!