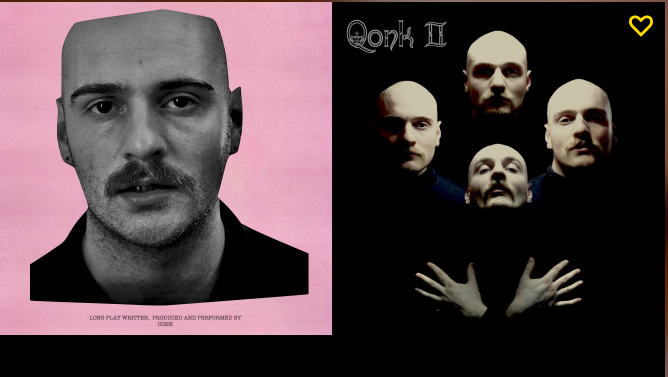 My son Evan26 is performing his first solo show called Long Play in Carlton for the Melbourne Comedy Festival. His girlfriend Jenna is doing the tech stuff and they're working hard and having a ball. I went to see it on Tuesday night and I'll be back on Sunday night with my cousins and Ryan28 to see it again. He's a very funny guy and the show is well worth seeing.
It's a comedic music lecture about how to make the perfect music album. He's been very clever about how he's written it – I was wondering if I'd get all of the music references, not being totally up with the groovy new songs of the younger folk, but it was all good. The jokes are funny whether you know the artists he's talking about or not. That's my boy!
(I can't rave like mad about it because people will get deeply suspicious, thinking that I'm only saying that it's funny because he's my son. It's true. He IS my son. But it's also true that it's very funny.)
Anyway, last night I was at one with the couch after finishing my 10-week teaching contract, watching The Hunger Games because I didn't want anything that I needed to concentrate on, when I got a series of texts from Evan26: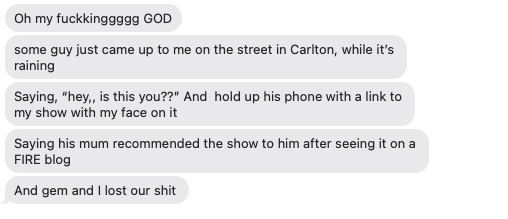 OMG!!!! Our worlds have collided! Of course I rang him straight away and the three of us had an excited chat while they were in the tram on their way to the Performers Lounge for the festival. How incredible!!!!
(Also incredible that someone actually reads this blog. I was starting to wonder…) LOL.
His last text made me laugh, because we were all absolutely losing our shit when we were on the phone. What a thing to happen!
I was going to put up a post about this in the morning, asking, "Own up now… who are you?" but Katie beat me to it. I woke up to her comment this morning:

Thank you so much Katie! Also, thanks for raising a son who is obviously really on the ball. I'm pretty sure this is Evan26's first experience of being recognised on the street. What a thrill!
I just love our little corner of the internet. We have such lovely people here.
Evan26's show: Long Play. From now until April 13th ( which is the day before he'll be a groomsman at David29's wedding.)
Jenna's show: Underwire. From Tuesday 18th April to Saturday 22nd April.
Evan26 is on stage for both shows, so they had to make sure they were scheduled for different weeks. Busy, busy, busy!
Dad joke of the day: