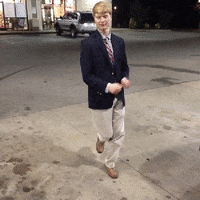 When we moved here I brought with me a big bureau-type thing that used to live in the lounge room and had the tv on top. It has shelves and also drawers which were perfect for storing DVDs and CDs – remember those things?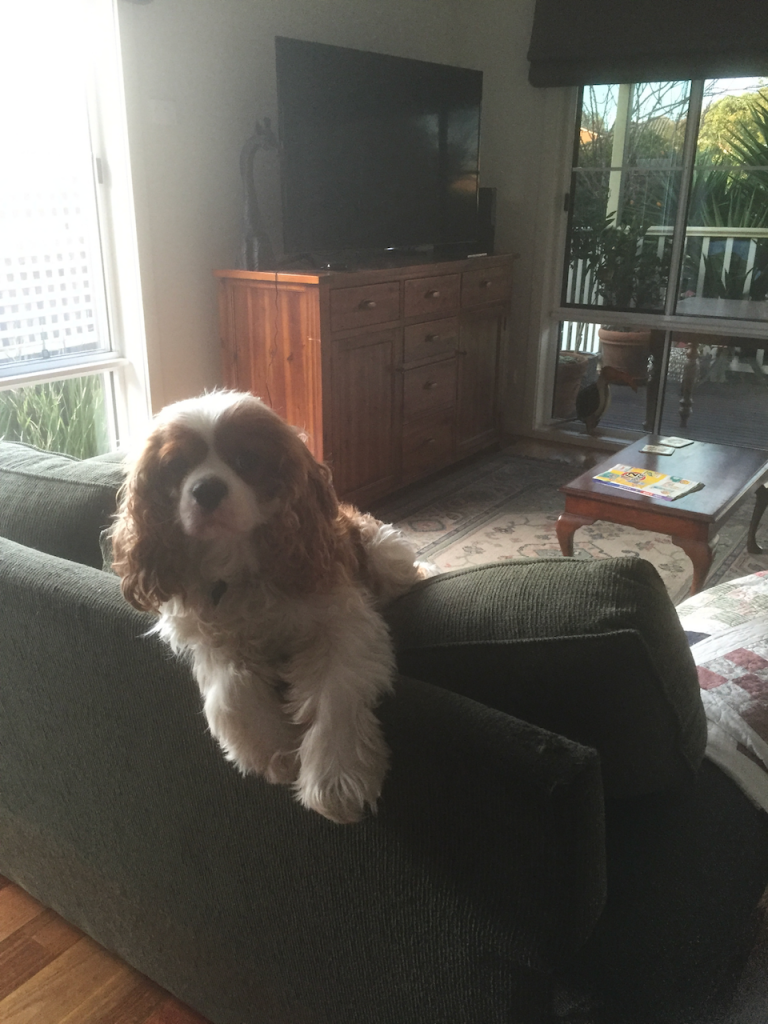 You can see how it used to look in this old photo. Look behind Jeff on the couch – the couch which now lives on the backyard verandah – and there it is.
Soon after we moved here I found a dining table and chairs that were on Gumtree. When I went to look at them, the people were also selling the strangest-looking bureau I've seen. It was all business on the top but it has the weirdest legs. I wasn't sure if I liked it but I knew I'd probably regret walking away from it so I bought it.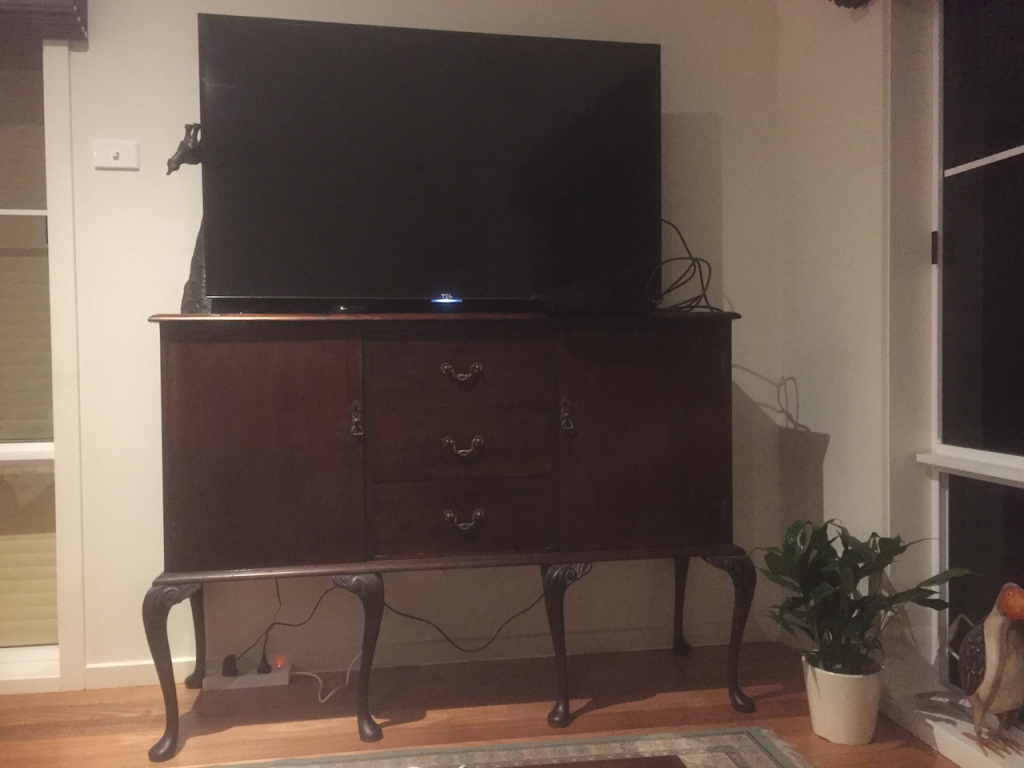 It's in my lounge room with the tv on top of it. I'm still not sure if I like it but I'm used to it and in an odd way I'm fond of my strange-looking cabinet. If it ever came alive like in nightmares, those spider-like legs would be impossible to escape.
So we moved the original bureau to the Man Cave, where it sits covered by family photos and, other than being dusted every now and then, hasn't been touched by human hands since.
It has the family DVDs, the boys' old games, computer cables and my CDs. We only have one device capable of playing CDs and I've packed it away somewhere. In the last few years, I've veered away from listening to music and am more a podcast girl. However, Ryan26 has an excellent Spotify account and he plays music a lot so I still get to hear some groovy tunes. If I want to hear something specific, Youtube is handy.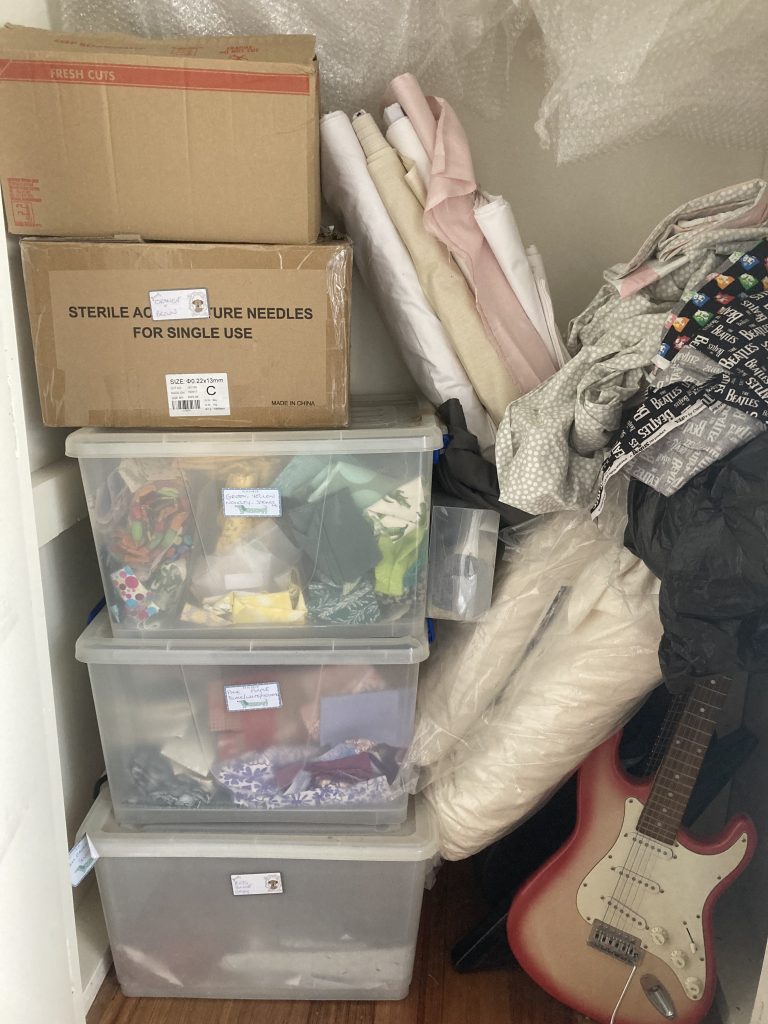 I'm a lazy soul at heart, which is one of the reasons why retiring early appealed to me so much. A couple of months ago I spent a couple of days sorting through tubs of my fabric stash and putting them into colours. I put them, all sorted, into the tubs and piled them into the wardrobe of the guest/sewing room.
There! All together! All sorted! Nothing can stop me now!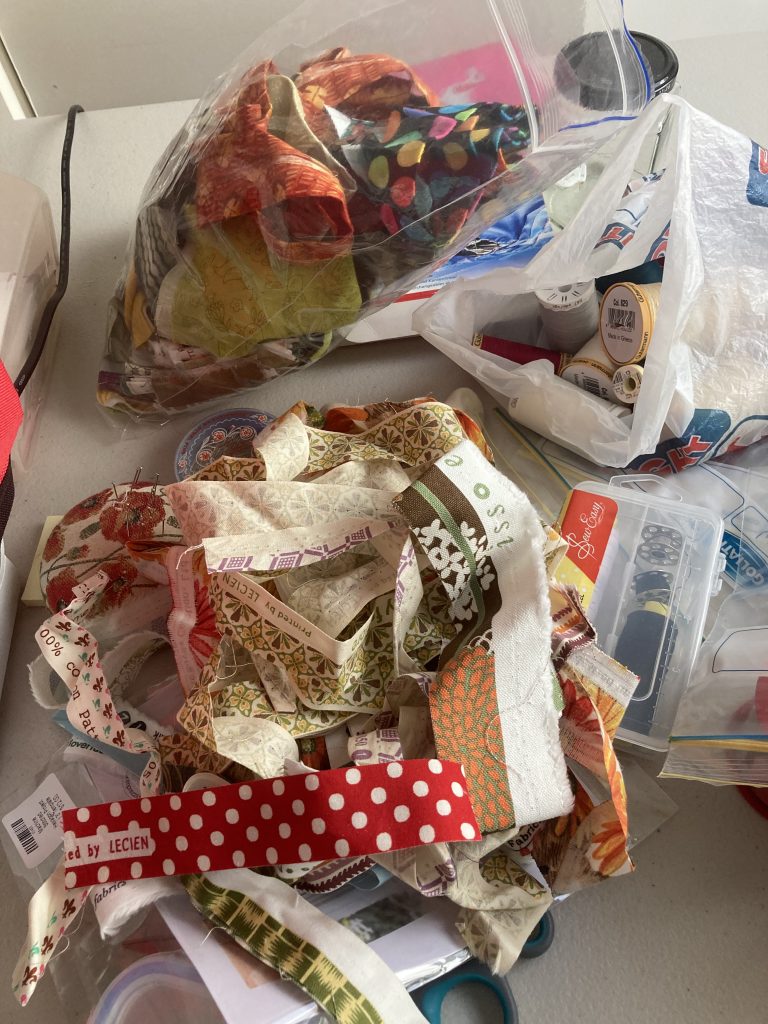 Except… ugh.
Who wants to go and lift all those tubs out if you want a colour from the bottom of the pile? Or worse – if you want to PUT AWAY a fabric that belongs in the bottom tub? Look at this pile of selvedges and strings. I'd have to lift out at least 3 tubs to put these away.
It's such a hassle.
I didn't retire just so my life can become so difficult.
I started looking at chests of drawers on the LKEA website, but we were in lockdown … then I remembered the old bureau. I mentioned to Ryan26 that I was thinking about taking it over for my fabric. He had a look in there and started dragging out all my old CDs.
"How about I make a Spotify list for you?" he asked. This is how 'Mum's Boppin' Bangers' was born.
We had the best afternoon! He put all of my CDs on there – except Michelle Shock's album 'Short, Sharp Shocked', which apparently isn't on Spotify. Pity, because that whole album is a banger.
After a while, he started playing random tracks and I'd try and guess the title and artist before they started singing. It's amazing how many songs I remember, though Madonna's 'Beautiful Stranger' had me stumped.
Then he called me in, sat me down and said, "What are the other songs you want to put here?" Now that was a gloriously fun rabbit hole to go down. I think it was 3 hours and over 3,100 songs later that we decided it was time to stop and make dinner.
That was two days ago. One of today's tasks is to swap over the fabric for the junk in that bureau. I'm happy for never-used boys'stuff to sit in the tubs, but this Frugal Friday win is to utilise the space we have in a far more user-friendly way, without racing out to buy more furniture. I'm far more likely to use the fabric I have if I can access it easily. Lazy at heart, remember?
The monetary loss is, of course, once Ryan26 started playing 'Mum's Boppin' Bangers', I realised that I wanted to be able to hear it whenever I wanted. It's got some damned fine… well… bangers on it.
So we've splitting a Spotify account between us. $7/month each is a small price to pay for hearing songs like this again:
I haven't heard this song for I don't know how long. Just imagine how many other excellent songs are lurking on 'Mum's Boppin' Bangers' waiting for me to rediscover them?
(But apologies for all of the grammatical errors on this vid. Ugh. Maybe I shouldn't have retired – the world clearly needs English teachers to help the Youtubers.)
Speaking of English teaching – one of the things I miss about teaching is putting up Dad jokes on the board at the start of each lesson. So guess what? At the bottom of each post from now on, I'll put a Dad joke.
I know it's not in the Financial Independence vein, but hey. Don't you try and repress me! My blog – my rules. Besides, I have a huge list of jokes saved. It isn't frugal to let them moulder and go to waste.
Today's Dad joke:
I dig.
You dig.
He digs.
She digs.
We dig.
They dig.
It's not the most imaginative poem. But it's quite deep.