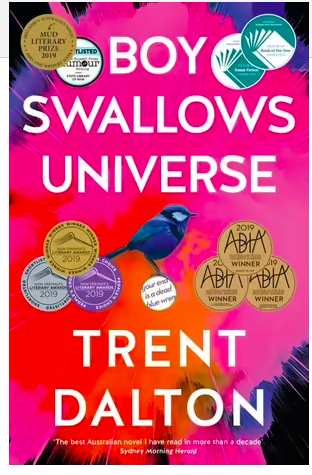 Do I have an absolute BARGAIN for you??? I should have waited until tomorrow for a Frugal Friday post, but instead, I'll call this a 'Thrifty Thursday' post.
A couple of months ago I read one of the best books I've read in a month of Sundays. Boy Swallows Universe by Trent Dalton. He's a journo and this is his first novel.
I loved it. The way Dalton uses language is lyrical, unlike anyone I've read before. The sort of writing where, after you read a particular sentence, you stop, close your eyes and savour it. Just beautiful writing.
I'm a couple of chapters into his next one, All Our Shimmering Skies and I've just finished his non-fiction book about the sailing and landing of the First Fleet. By Sea and Stars is a short but entertaining read, based on the diaries and letters of the people on those ships, as well as the indigenous people of the land. It had a fair bit about Arthur Phillip, the leader of the expedition and our first Governor, which I found really interesting. When I was in Bath in 2015 there were many Arthur Phillip memorials, and our walking tour guide pointed out the balcony that he supposedly jumped from – was it murder or suicide???
Anyway, the point of all this is that I've stumbled across an hour-long talk by Trent Dalton that Readings bookshops are sponsoring. FOR ONLY $5!!!
omg.
It's a zoom event, so it's open to everyone.
It's on next Monday at 6:30 PM AEST, which is the perfect time to enjoy a literary chat over dinner, or, if you're on the other side of the world, to get up early and enjoy a literary chat before breakfast.
He's going to be talking about his book Love Stories, which is another on my list of Books To Read. After this, I'll be all set!
For those who are interested, here's the link to the tickets. I think $5 for an hour's entertainment is, as I said at the start, an absolute BARGAIN!!
I hope that some of you can join me. 🙂
Dad joke of the day:
5/4 of people admit that they're bad with fractions.