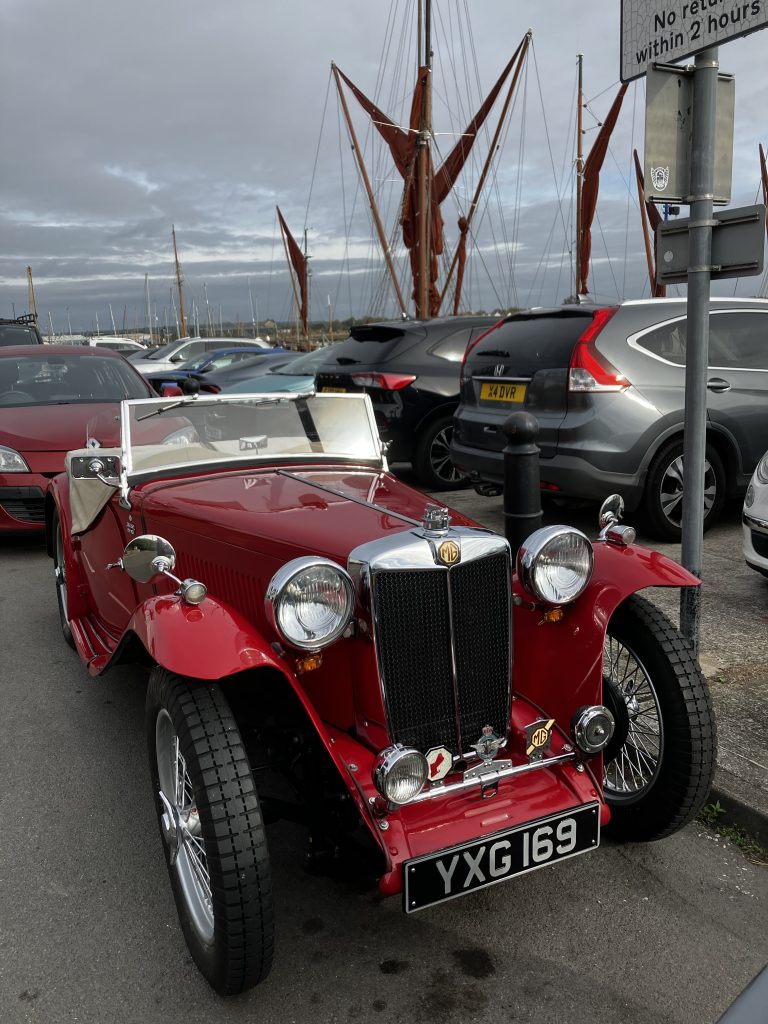 We emerged from our B and B to find this natty little MG parked on the side of the road. There's something about these old cars, isn't there?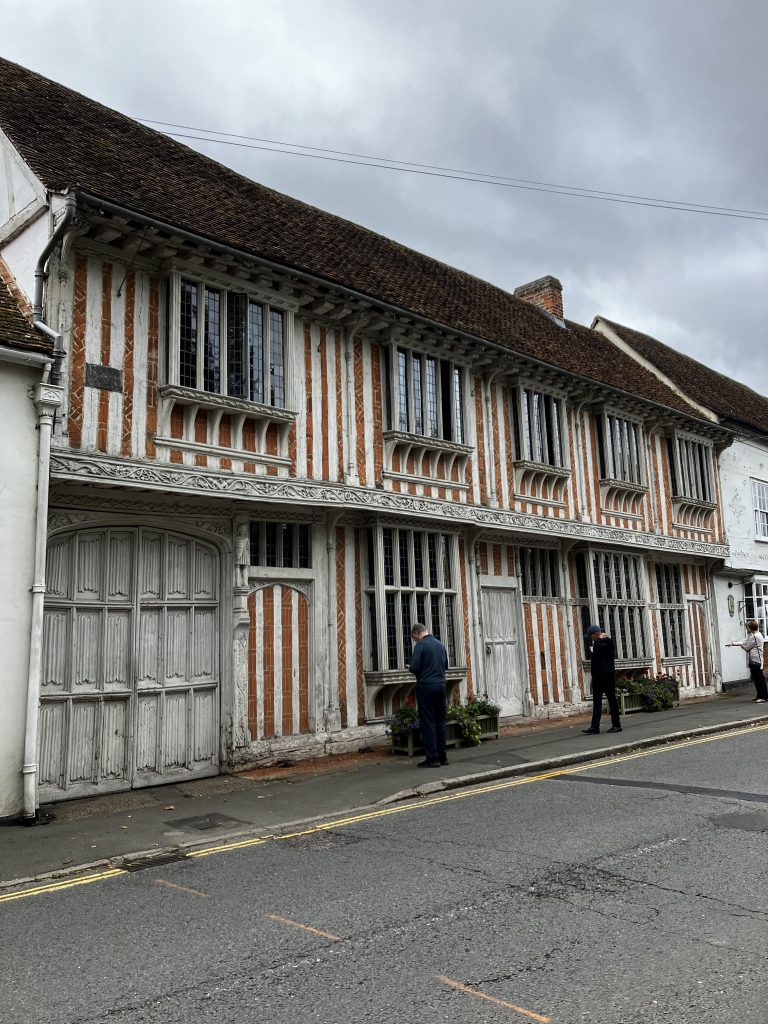 I took this picture of an amazing looking building in Coggeshall, not realising that it was the place Scott had brought us here to see.
This is Paycocke's House.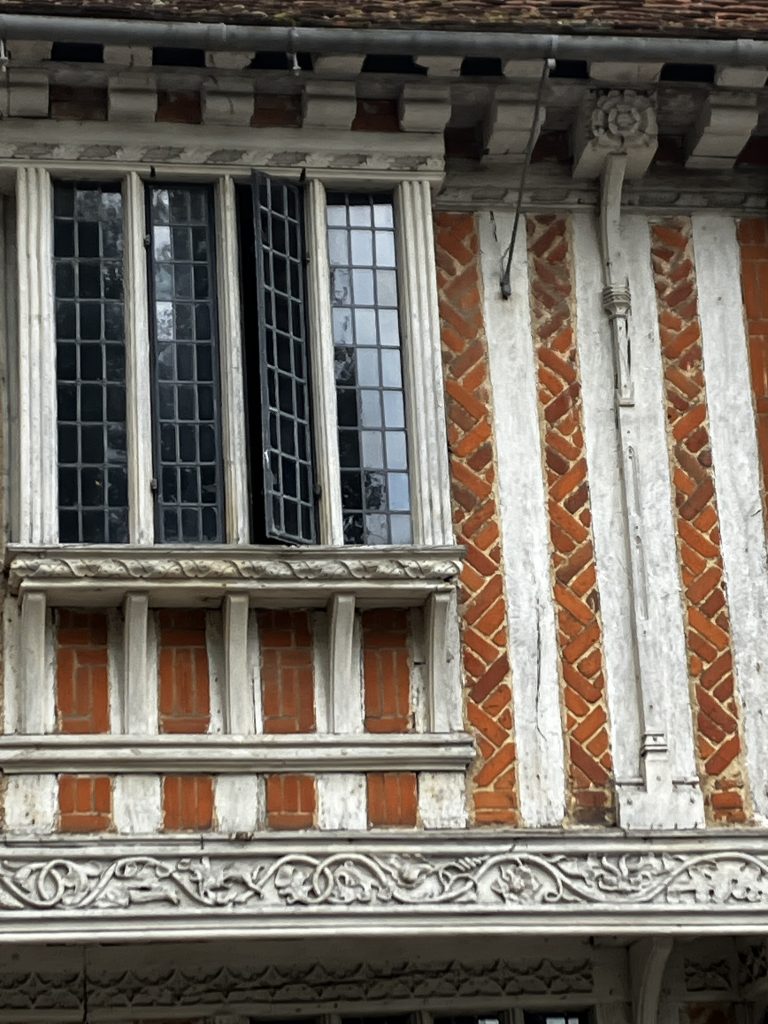 It's most well-known for a wealthy young couple who settled here and proceeded to make their mark on the house and the town.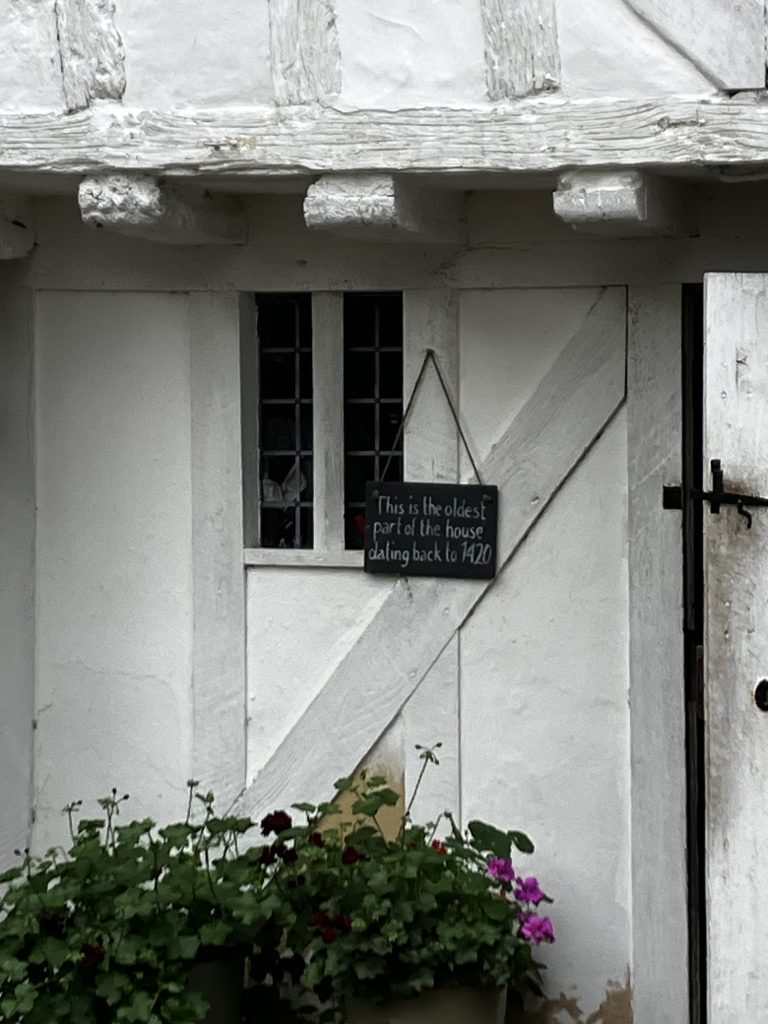 Zero in on the sign. Omg.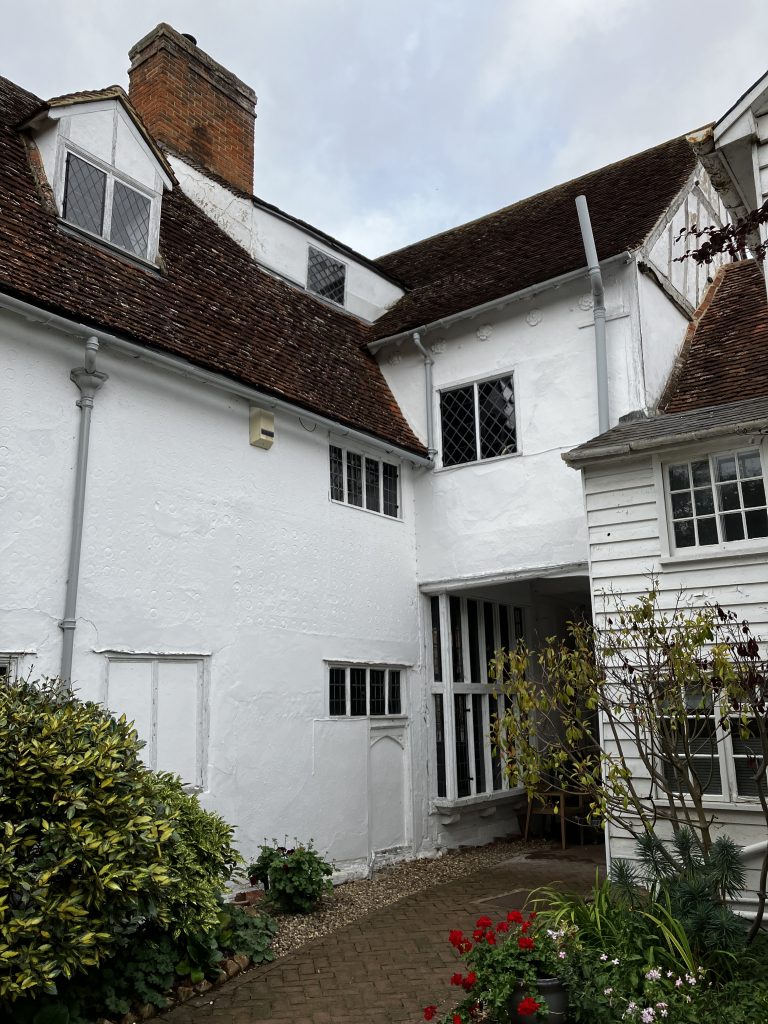 The house itself is a series of add-ons that various owners have built over the centuries. I was talking to the guide and mentioned how lucky it was that the house hadn't been pulled down over the centuries.
"You see, Coggeshall has fallen on hard times over the years," she said. " In richer areas, they probably would have torn it down to build a fancier place to live, but here? They needed cheap houses to stay in."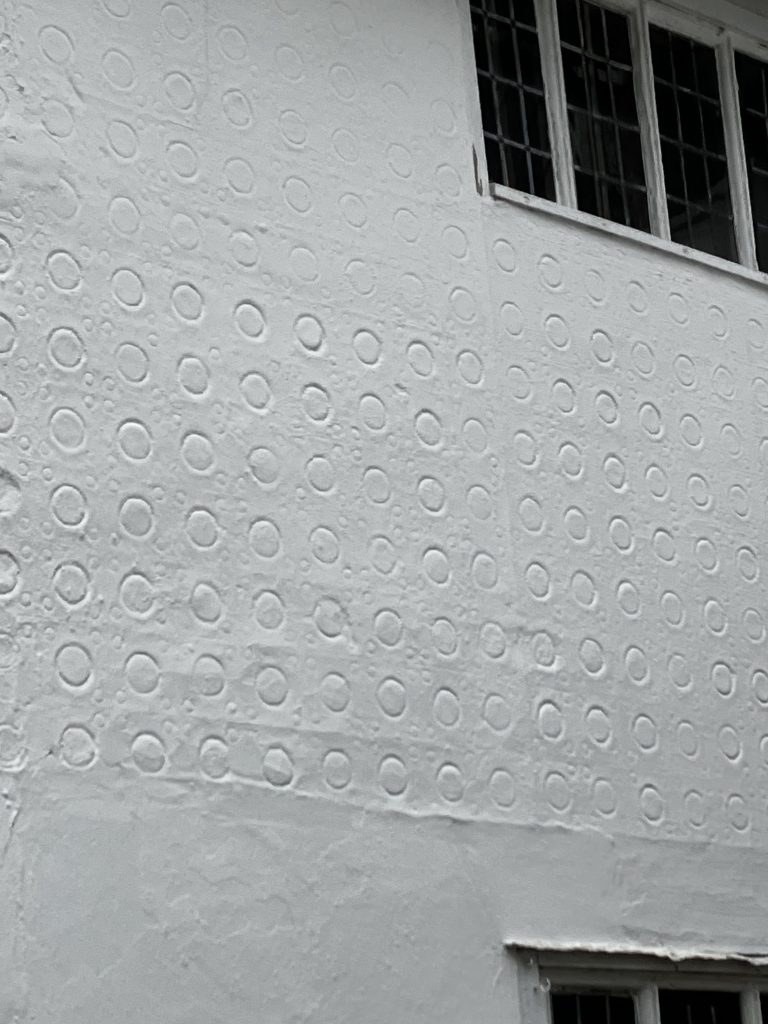 Beer bottle bottoms as decoration. This is called Pargetting plasterwork. I think I had examples of this in yesterday's post.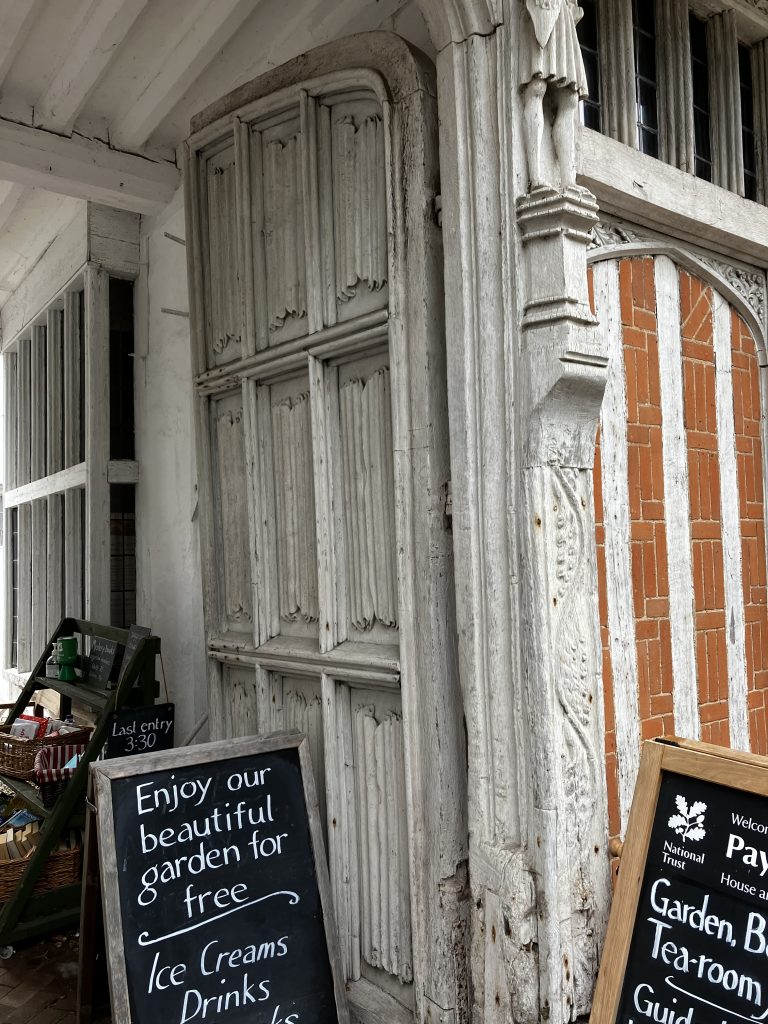 The house has extensive carvings on the street side. You know, where they will show of his wealth to all passers-by.
Taxes were paid on how large the frontage of a property was. Clearly, money was no object to this couple.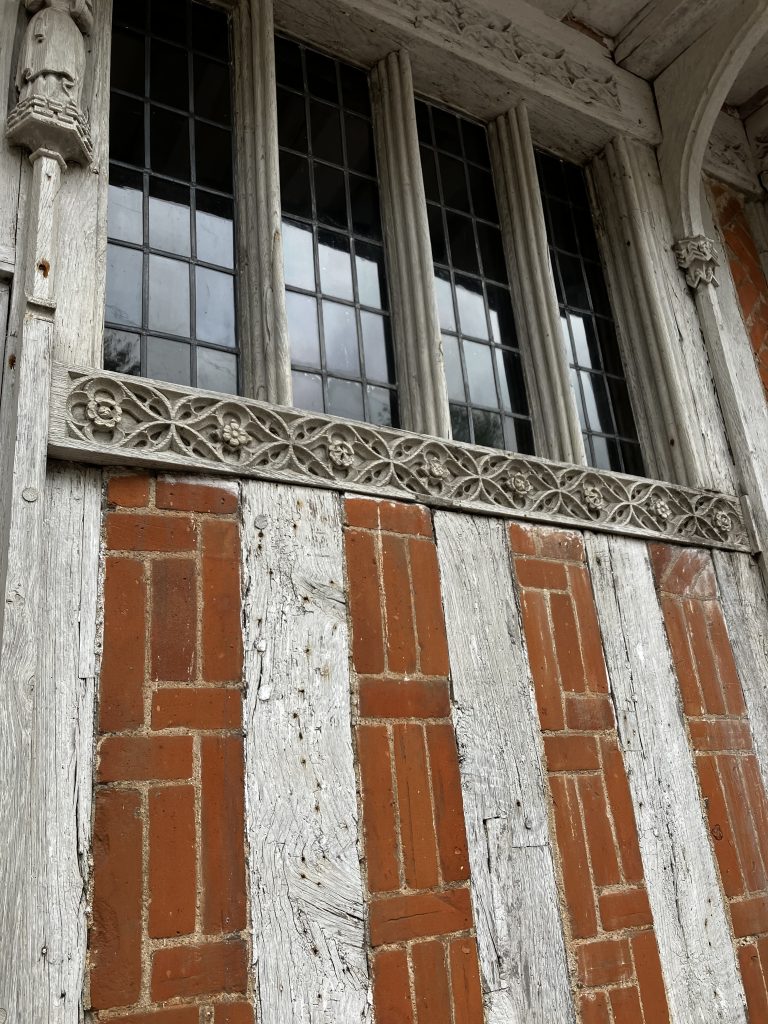 I spied some Tudor rosés under the window.
But who was this wool merchant who decorated his house so grandly?
Thomas Paycocke came from money. He was the third son of a merchant, so this house would have been the third-best property.
He was apprenticed to a wool merchant and married the boss's daughter. Margaret brought a lot of money to the marriage. The young couple were definitely well-off.
Thomas may have been a third son, but he was going to make his mark.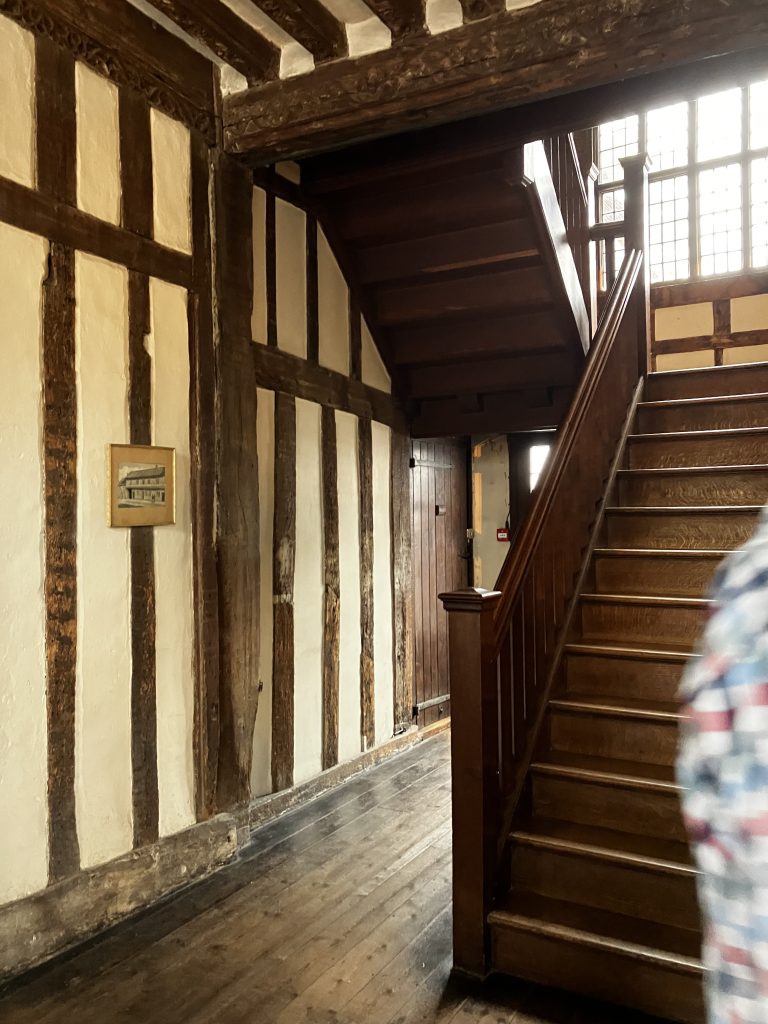 In 1504 her father died and left them a sizeable bequest in his will.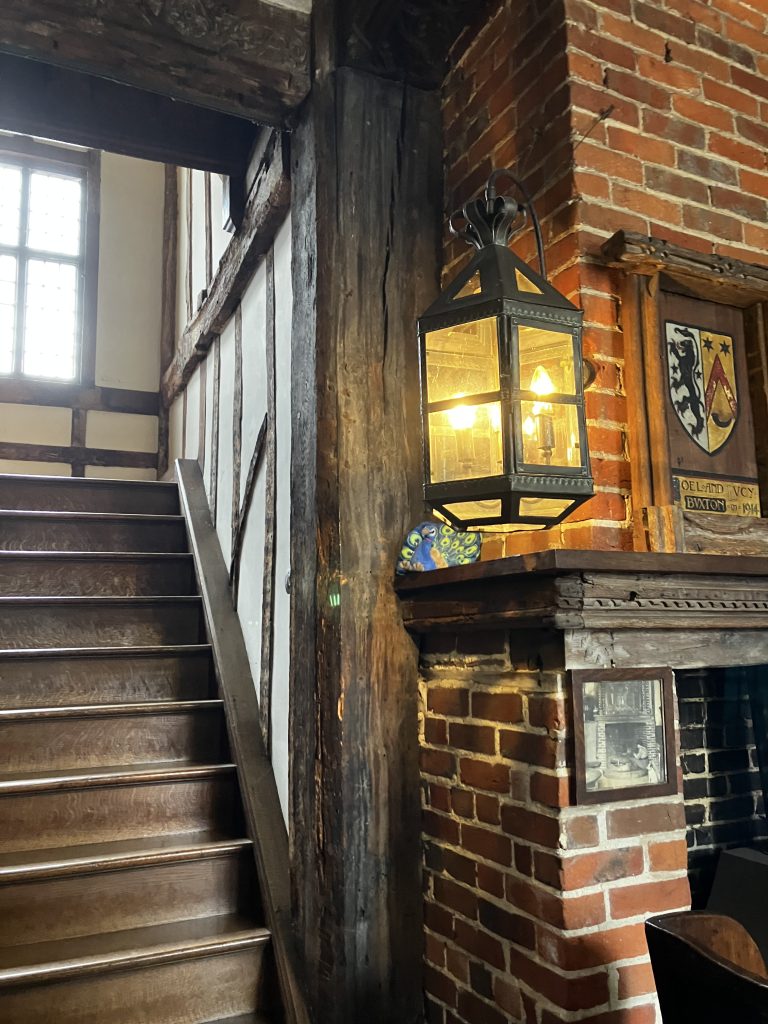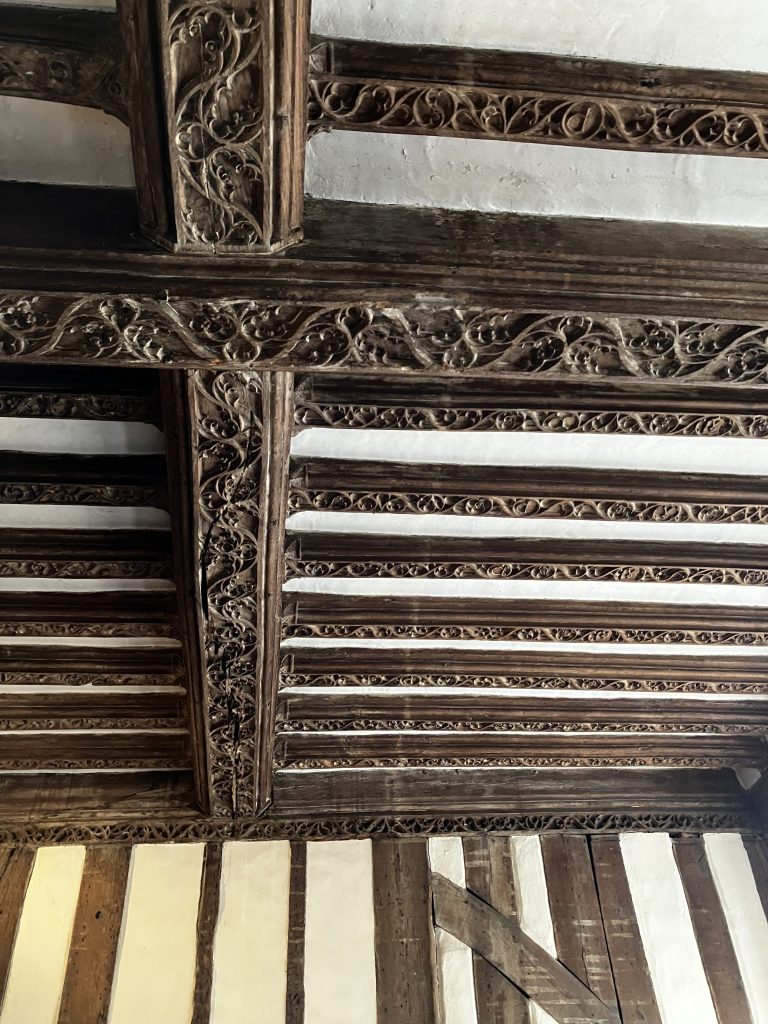 There were far more beams on the ceiling than were needed to actually hold the roof up. The carving on the roof beams clearly shows that he had money to burn. This house was the showpiece of his prosperity – he and his wife were going to start a dynasty. Her initial is here too, not just his.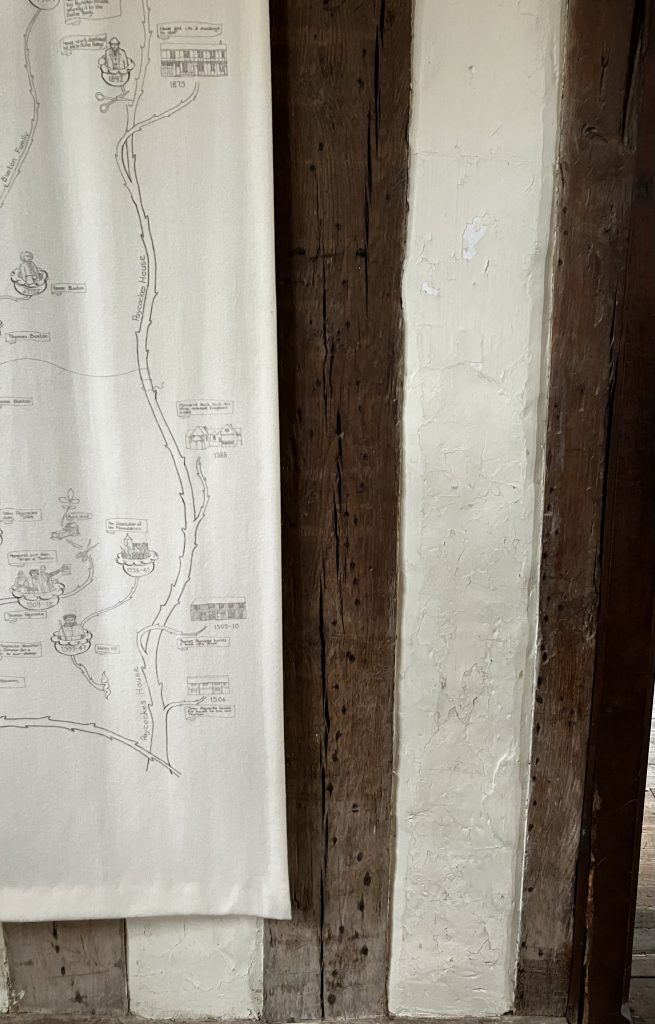 ( As an aside, the Georgians hated the oak panelling and boarded it all up. See the nail holes all through it? They also painted over the roof beams.)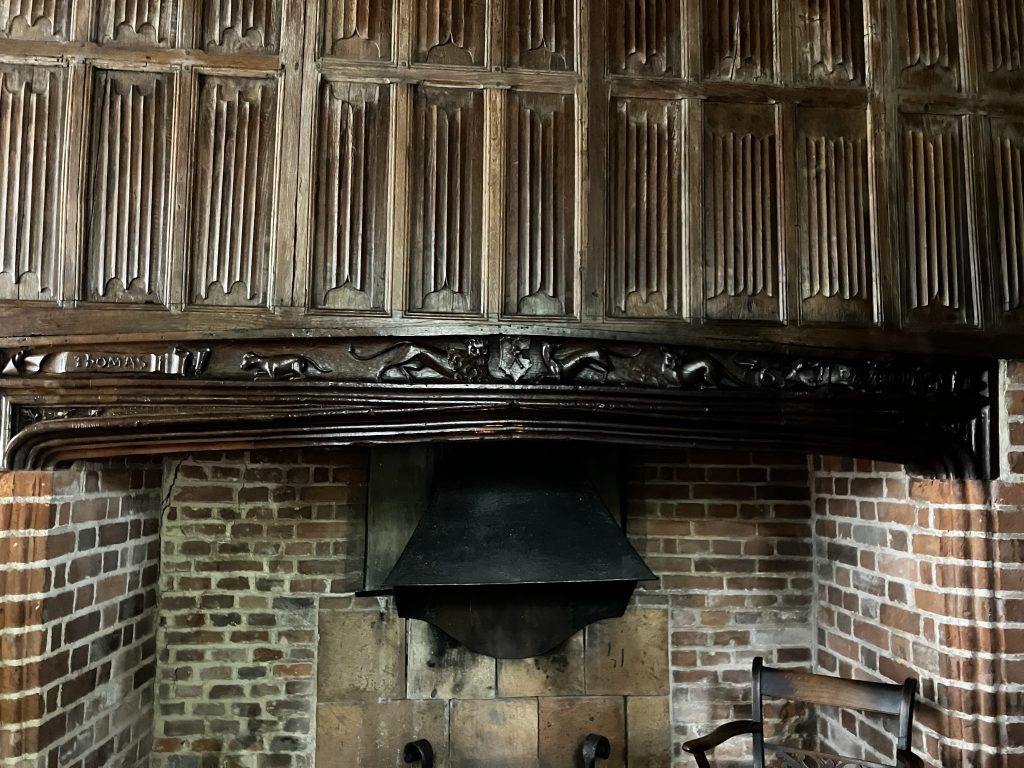 When people were restoring the house in the early 1900s, after it had been divided into 3 tenement houses for decades and left to decay, they found this mantelpiece.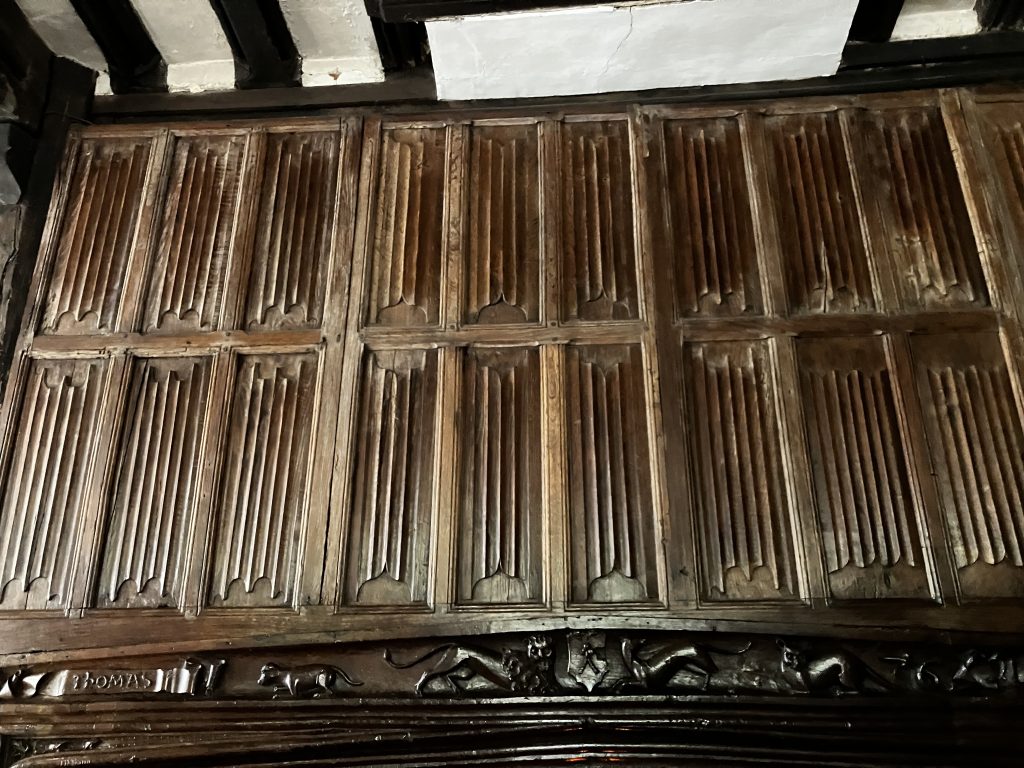 Look at this genuine Tudor panelling. It's reminiscent of the panelling in Ingateston, that I saw with Deana.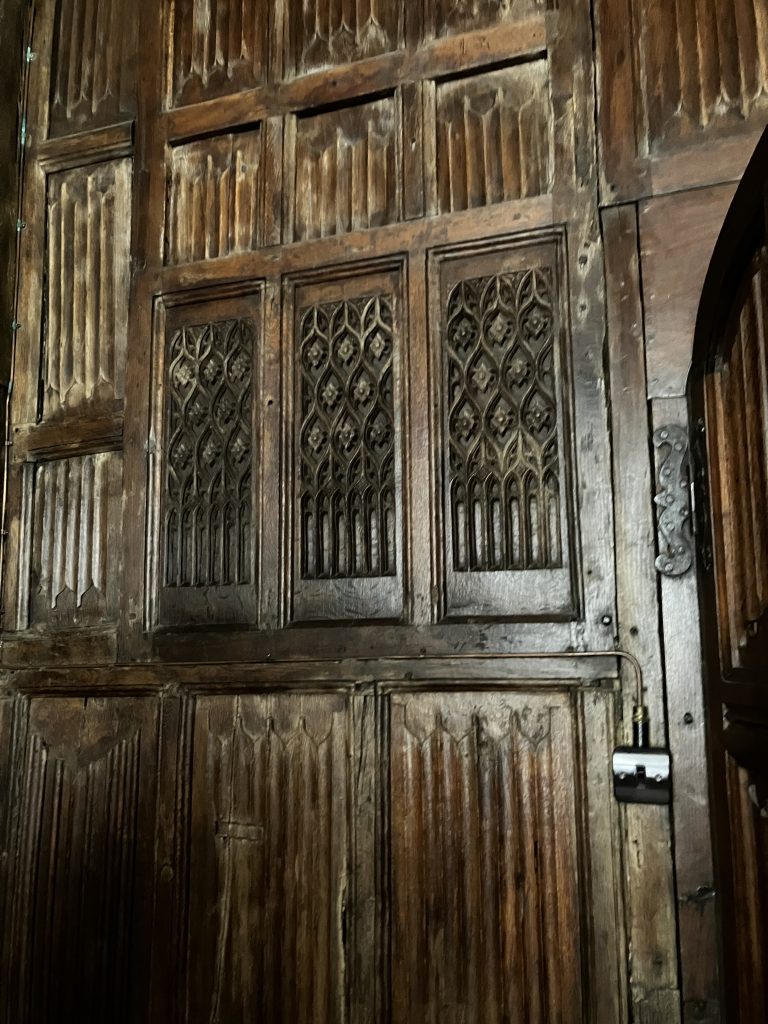 There were 4 different types of Tudor panelling in this room. These 3 panels, hidden behind the door, are the most glaringly obvious. Perhaps they came from the abbey, the guide suggested, but no one knows for sure.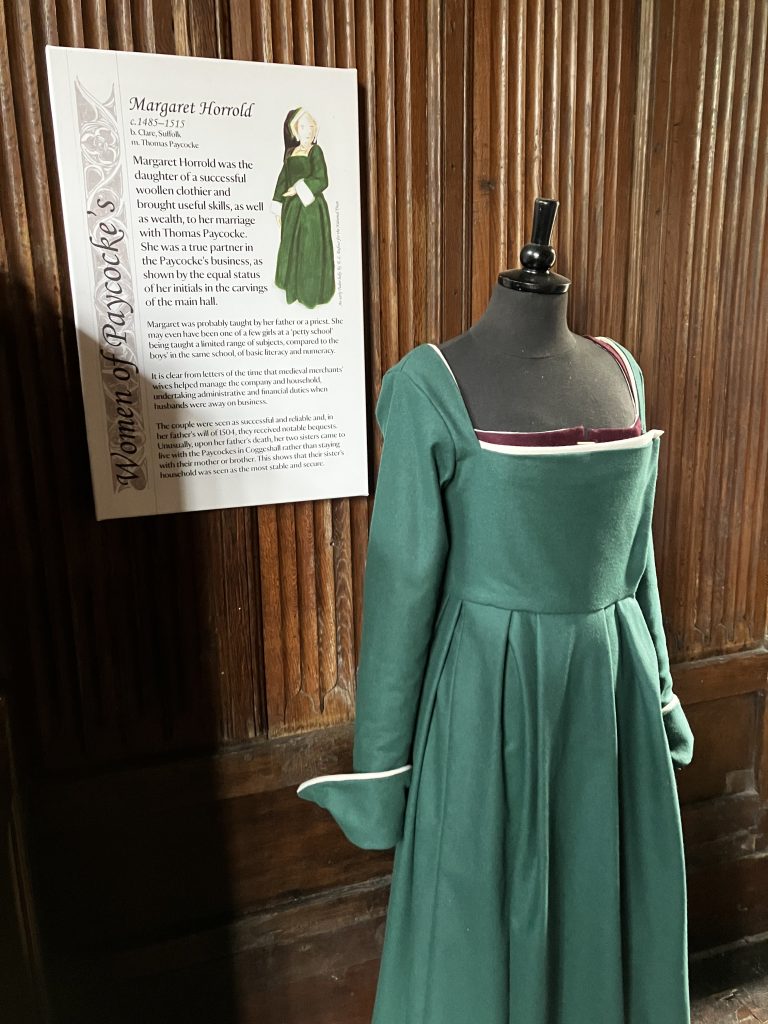 Here's what the information board says about Margaret Paycocke:
c.1485-1515
b. Clare, Suffolk
m. Thomas Paycocke Margaret Horrold was the daughter of a successful woollen clothier and brought useful skills, as well as wealth, to her marriage with Thomas Paycocke.
She was a true partner in the Paycocke's business, as shown by the equal status of her initials in the carvings of the main hall.
Margaret was probably taught by her father or a priest. She may even have been one of a few girls at a 'petty school' being taught a limited range of subjects, compared to the boys in the same school, of basic literacy and numeracy.
It is clear trom letters of the ume that miedieval mierchants wives helped manage the company and houschold undertaking administrative and hnancial duties when their husbands were away on business.
The couple were seen as successiul and reliable and, upon her lathers will of 1504. they received notable bequests.
Unusually, upon her father's death, her two sisters came to live with the Paycockes in Coggeshall rather than staying with their mother or brother. This shows that their sister's house was seen as the most prosperous and stable."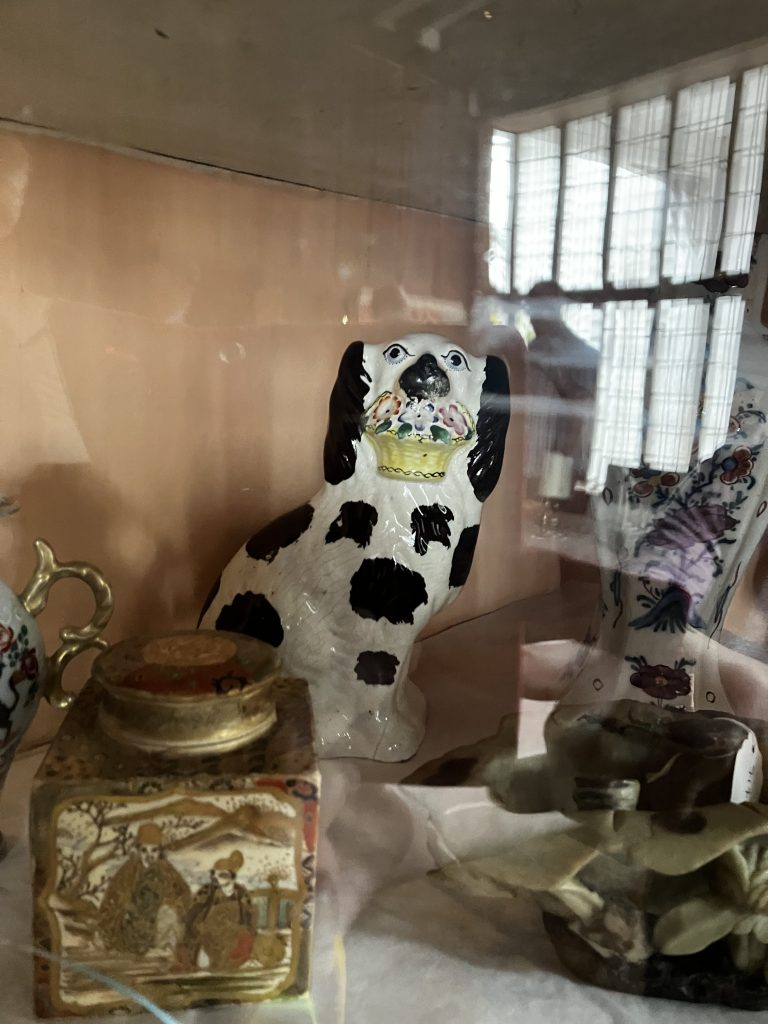 I got all excited when I saw a couple of Cavalier mantle dogs carrying what I thought were cupcakes in their mouths. Turns out, upon closer inspection, that they were carrying baskets of flowers instead. I was a little dashed by this. I could definitely see Poppy and Jeff scoffing some cupcakes.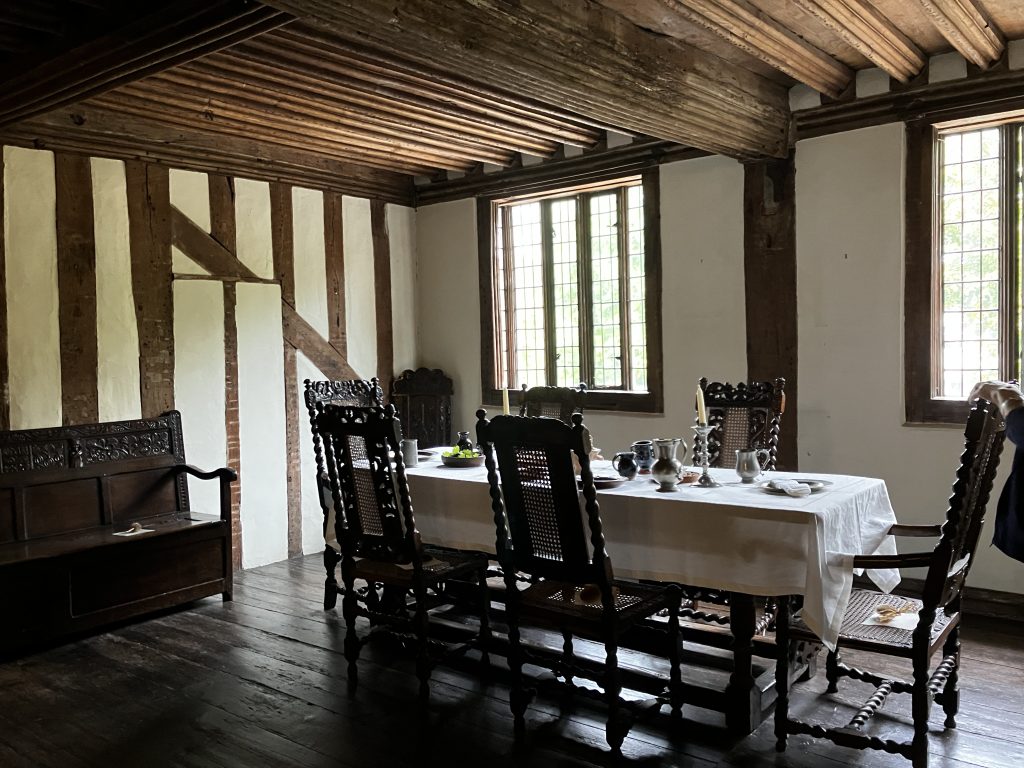 The dining room. The guide told us that none of the furniture in this place is authentic to the actual building… it had had far too many tenants over the years for that… but the tabletop itself is authentic Tudor.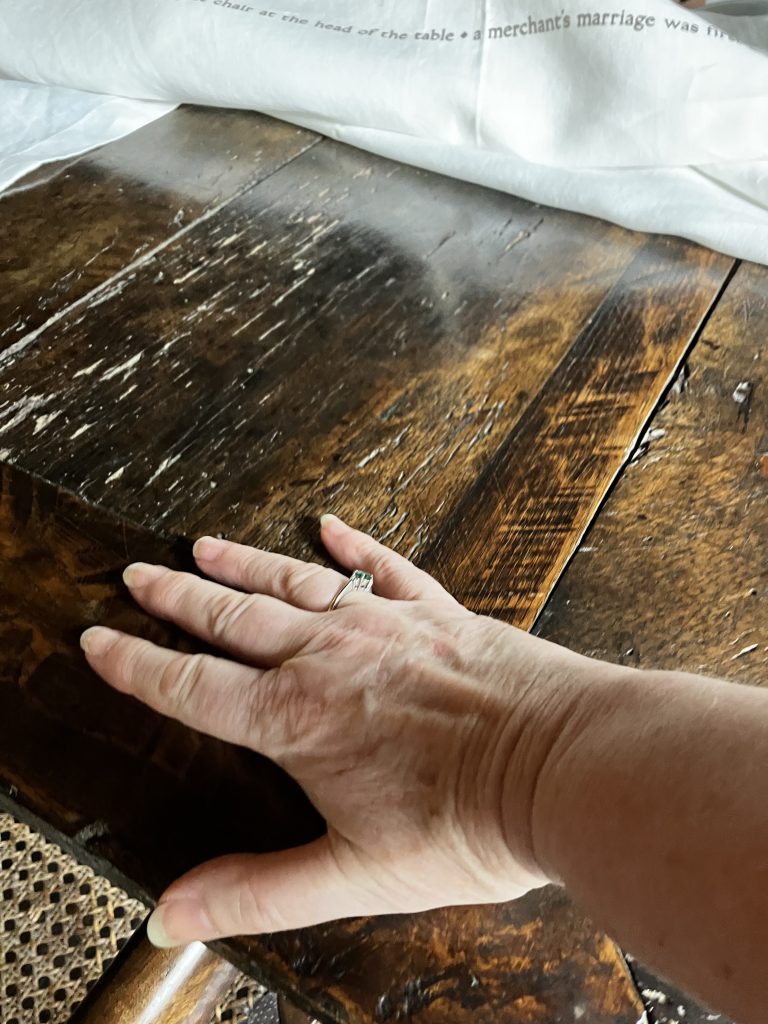 So, like Austen and Dickens' writing desks, I had to flip back the tablecloth and snap a selfie.
The HISTORY!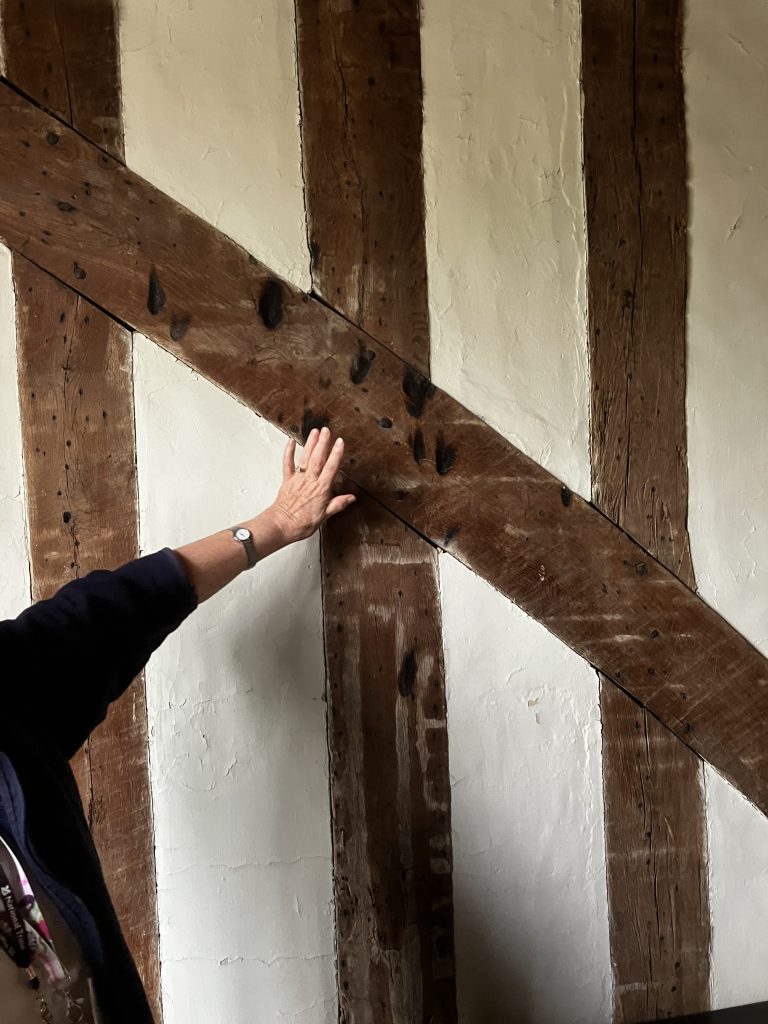 Look at the burn marks on the wall beams. This is the medieval form of fire insurance.
You know the old saying, "Lightning doesn't strike twice?"
They used to put scorch marks on the beams, sometimes even before the beams were put into the houses, to protect against fire.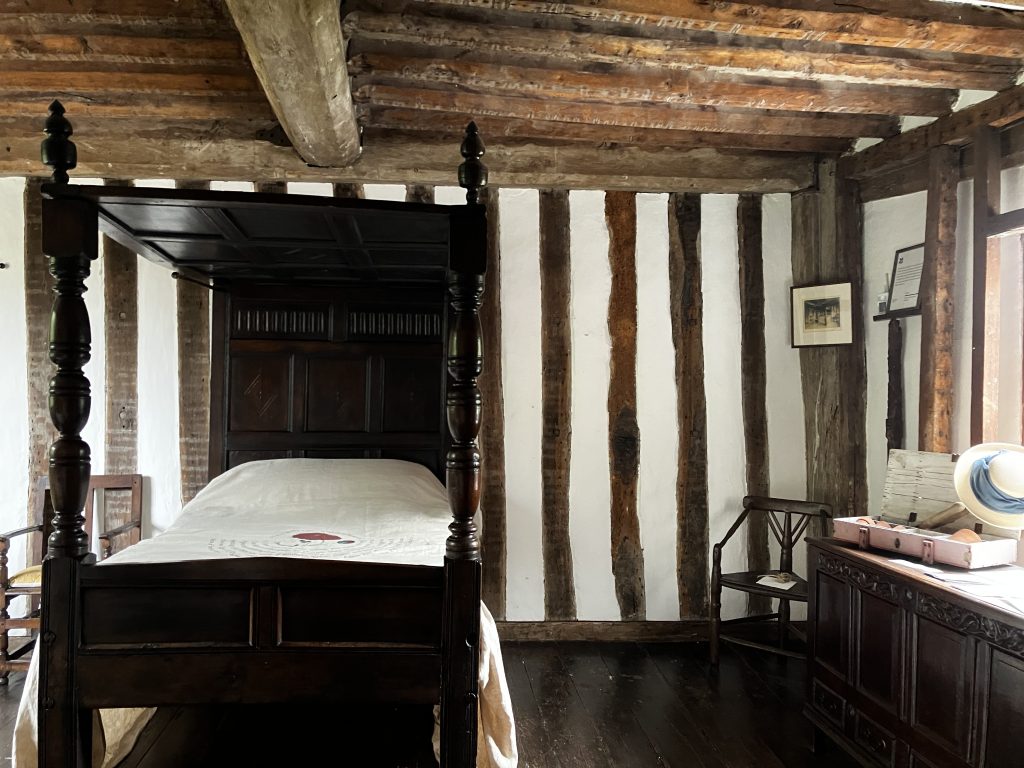 So anyway, Thomas Paycocke was a big deal in Coggeshall, employing many people and running a thriving business. But he and Margaret were not blessed with any children.
When she died, he wasted no time in marrying again.
In 1518, Thomas died, just before Anne gave birth.
He stipulated in his will that his unborn child should inherit the house, but only if the child was male – the property should stay in the male family line. Anne gave birth to a girl.
After Thomas's death all hell broke loose. Family on both sides claimed that his property had been embezzled and a legal battle ensued. In the end Thomas's great-nephew John Paycocke took over the house, but he was the last of his name in Coggeshall' and when he died the house was not passed down the male family line.
His daughter was left the sum of 500 crowns in her father's will. This made her quite the heiress and she ended up marrying the son of the Lord Mayor of London.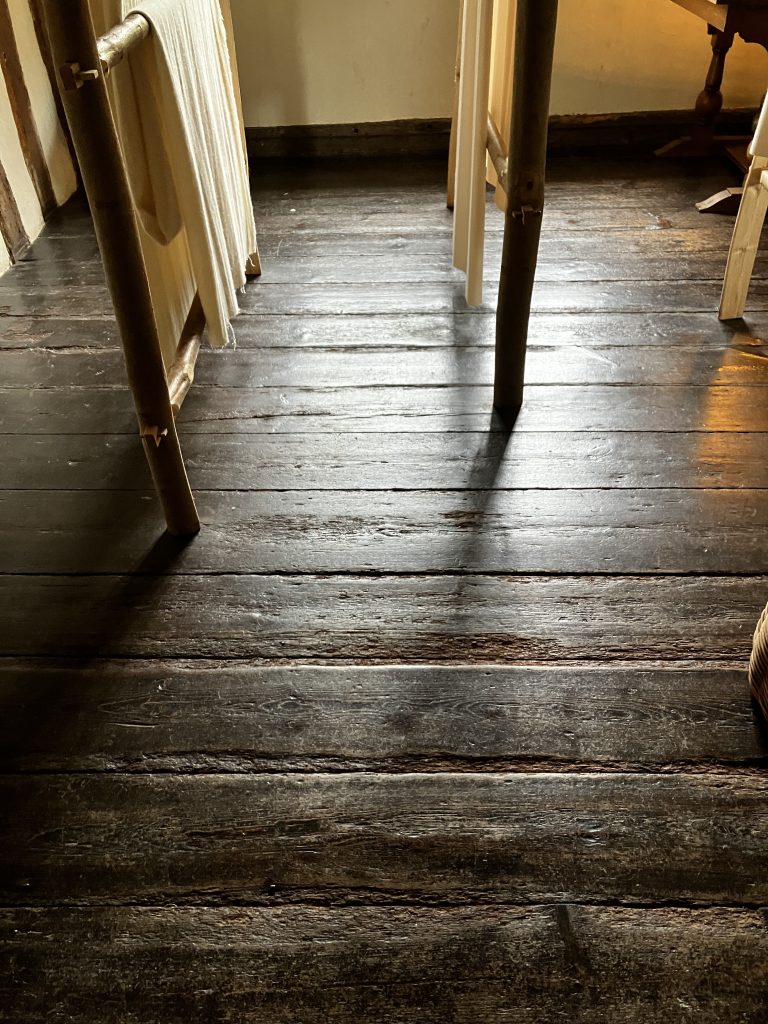 The rooms were filled with furniture and examples of the types of fabric that Thomas would have sold. But look down! Original floorboards.
How many pairs of feet have trodden these boards over 600 – 700 years?
In a little room off to the back there was a little museum about when the fabric trade crashed and the women of Coggeshall turned to lace making to make ends meet.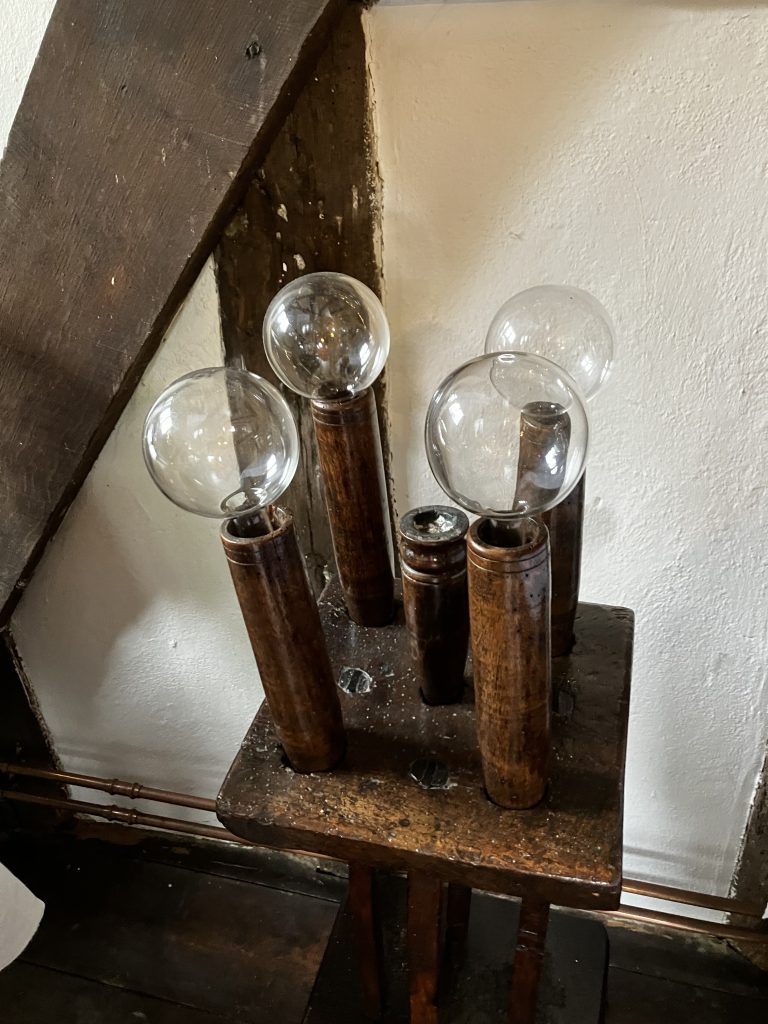 This device was interesting. Four women could sit around this and work by the light of one candle. Imagine the savings!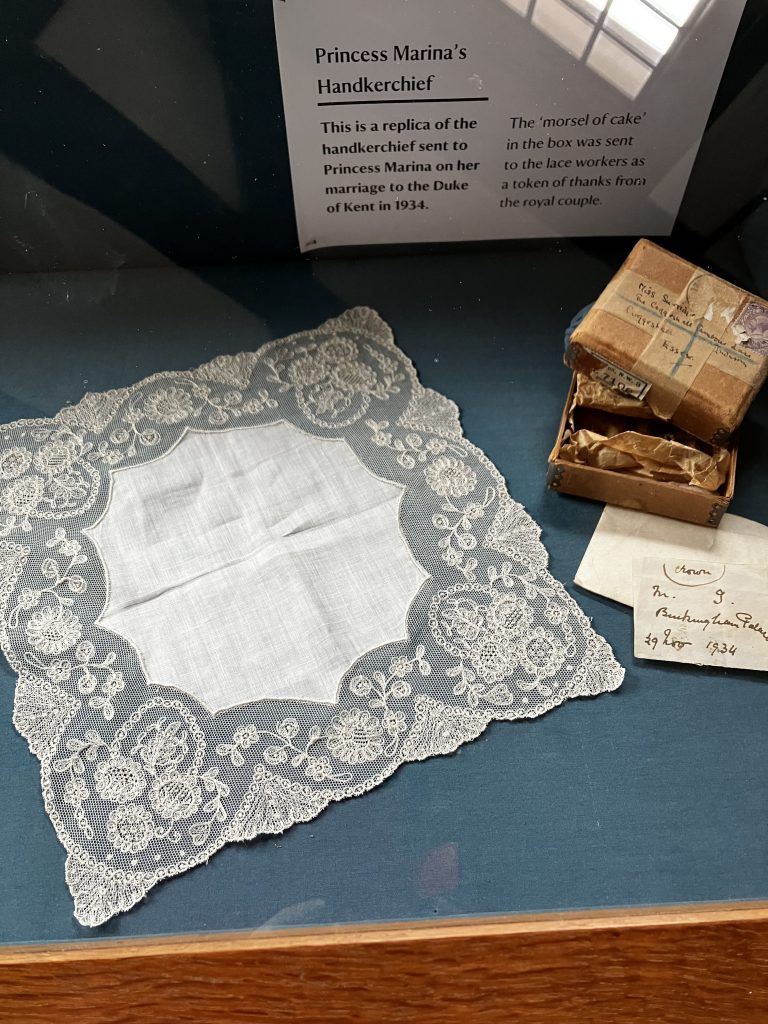 But also imagine making lace this fine by candlelight. You'd be cross-eyed by 20 and blind by 40, surely.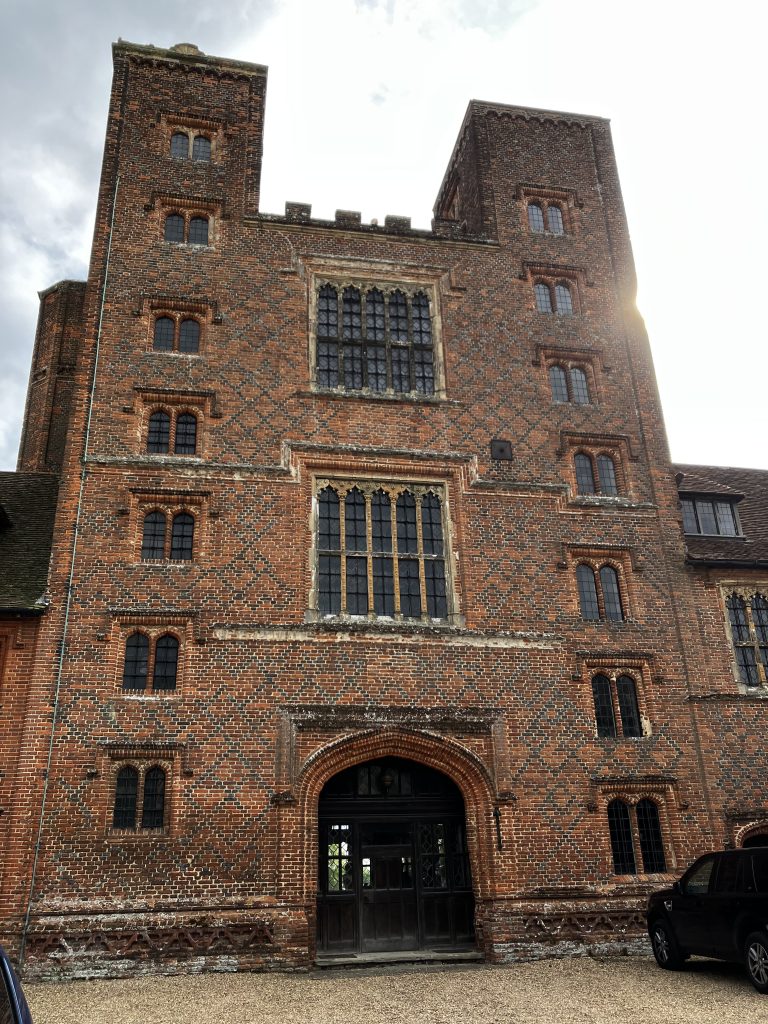 Then we were off to Layer Marney, a strange name for an estate that it's owner surely believed would cement the reputation of his family
Most of this tower was built in the reign of Henry VIII. The King believed that a building should reflect the status of its owner, so Henry Marney had grand plans for this place.
Henry Marney was Henry VIll's Lord Privy Seal, which was a very important post. He started to build his statement house, Layer Marney Tower, sometime around 1518.
Layer Marney Tower was built to the height of fashion, in particular, using terracotta for decoration on the turrets, windows and tombs in the church. Terracotta, like brick, is made from clay. The clay for terracotta is worked into a very smooth creamy consistency that allows it to be worked into delicate moulds with sophisticated decoration.
Wait until you see the chimneys!
Layer Marney Tower is an incomplete Palace. Henry 1* Lord Marney died in 1523 and his son John, died just two years later. John Marney's daughters became Wards of Court and later married, but never came back to Layer Marney Tower.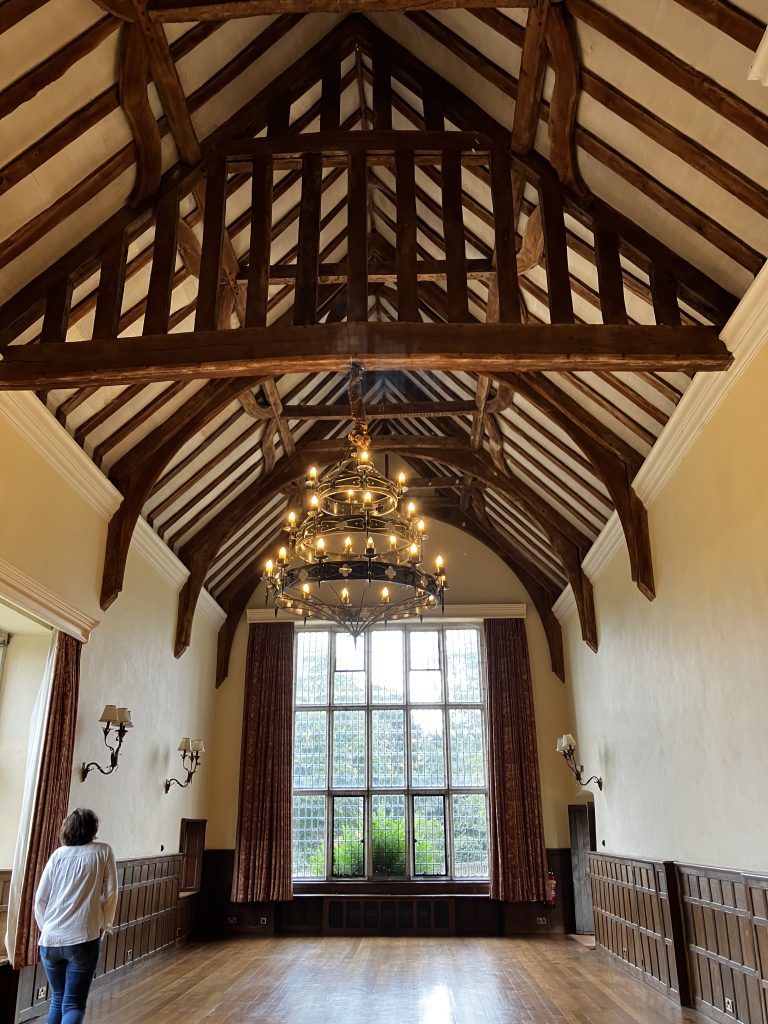 The Long Gallery was originally built as a stable block for 30 horses and a few carriages. The roof Timbers are original and made of oak.
Imagine making a roof like that just for horses to look at!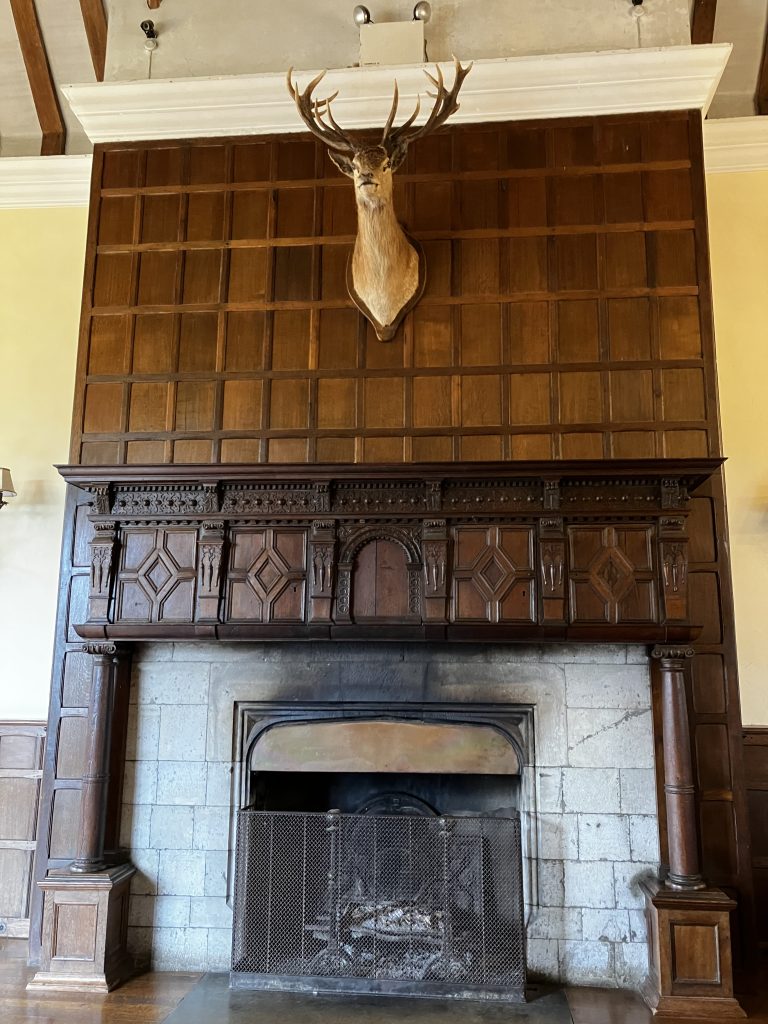 A.dry unimpressed deer surveys the room.
The deer might be unimpressed but I was gobsmacked when I read an information sheet about the first Lord Marney. He was right in the thick of things all his life. He was clearly a very powerful and most trusted man.
Here's what the sheet said:

61457 BORN-THE SON OF SIR JOHN MARNEY.
1472 WARDSHIP GRANTED TO RICHARD, D.or GIOUCESTIR
1485 PRIVY COUNSELLOR TO HENRY VII
1487 FOUCHT AI BATTLE OF STOKE. )
1487:1493 SHERIFF OF ESSEX.
1494 KNIGHTED.
1497 FOUGHT AT BATTLE OF BLACKHEATH – CORNISH REVOIT.
1509 PRIVY COUNSELLOR TO HENRY VII : VICE-CHAMBERLAIN OF
THE HOUSEHOLD & CAPTAIN OF THE YEOTIEN OF THE GUARD.
CONSTABLE OF CASTLE RISING: WARDEN OF ROCHESTER CASTLE.
STEWARD OF DUCHY OF CORNWALL MASTER FORESTER OF DARTMOOR.
CHANCELIOR OF THE DUCHY OF LANCASTER.

EXECUTOR TO THE LADY MARGART BEAUFORT, COUNTESS OF DERBY AND RICHMOND.
1510 KNIGHI OF THE MOST HONOURABLE ORDER OF THE GARTER.
1513 IN COMMAND OF THE REREWARD IN THE WAR IN FRANCE
AND FOUGHT IN BATTLE OF THE SPURS.
ATTENDED HENRY VII AT THE FIELD OF CLOTH OF GOLD.
RECEIVED ESTATES OF THE ATTAINTED DUKE OF BUCKINGHAM!.
1521 HIGH STEWARD OF THE DUCHY OF CORNWALI MASTER or STANNARIES.
1522 [ORD PRIVY SEAL : HIGH STEVARD OF SUBURY.
1523 CREATED 'BARON MARNY OF LEYR MARNY.
1523 MAY 24™ DIED IN IONDON : BURIED AT IAYER MARNES
"O mortall folk| you may behold and see
Hoto I ist here somatyme a mugghty krught:
The end of joy and all prosperitig
Is aethe: st last through his course and mught, After the day there comth the darke night:
For though the daye be never so longe, At last the bell ringeth to evensong.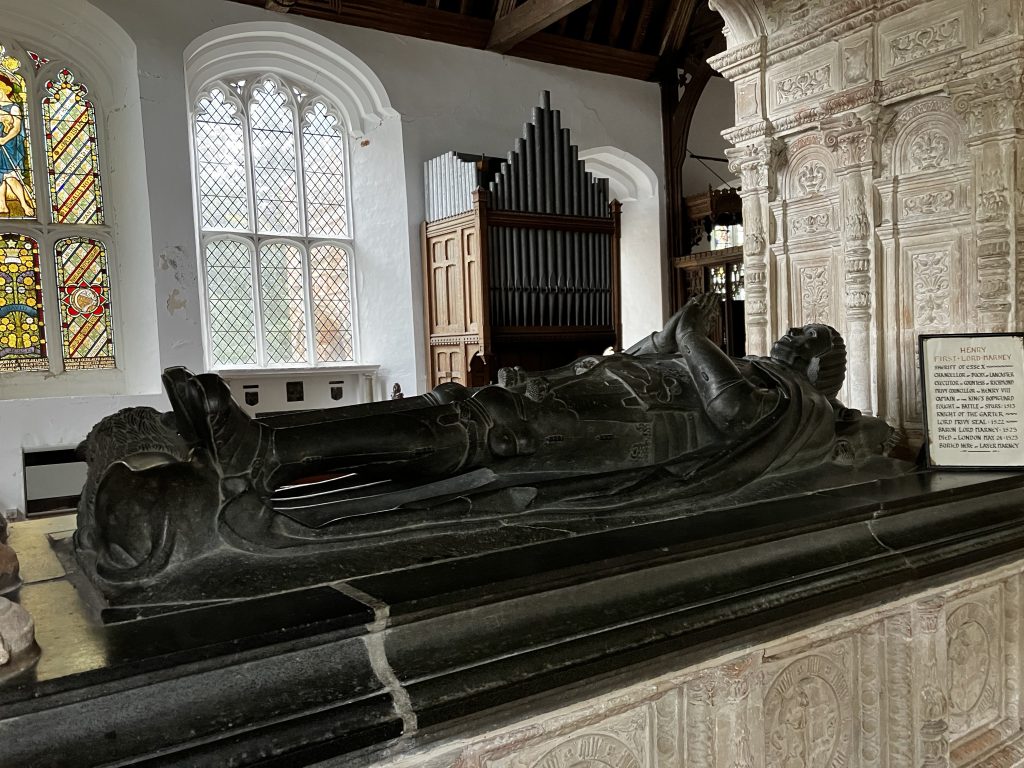 You might have noticed that I highlighted one item on the timeline of his life. He was the executor of Margaret Beaufort's will. She was Henry VIII's grandmother and she was a very wealthy and powerful woman in her own right.
She was married at 12 and was a mother at 13. She was a tiny woman and it's obvious that the birth must have been traumatic. She was married 4 times and never had another child.
But the child she had was Henry Tudor, and she was incredibly instrumental in converting his somewhat tenuous claim to the throne into seeing him become Henry VIII.
She wouldn't have chosen just anybody to see to her last wishes, and it's very likely that the king would have been keeping an eye on things too.
https://en.m.wikipedia.org/wiki/Lady_Margaret_Beaufort
Excellent link to what she did in her life. Extraordinary woman.
Anyway, the photo above is his grave in the church beside the tower.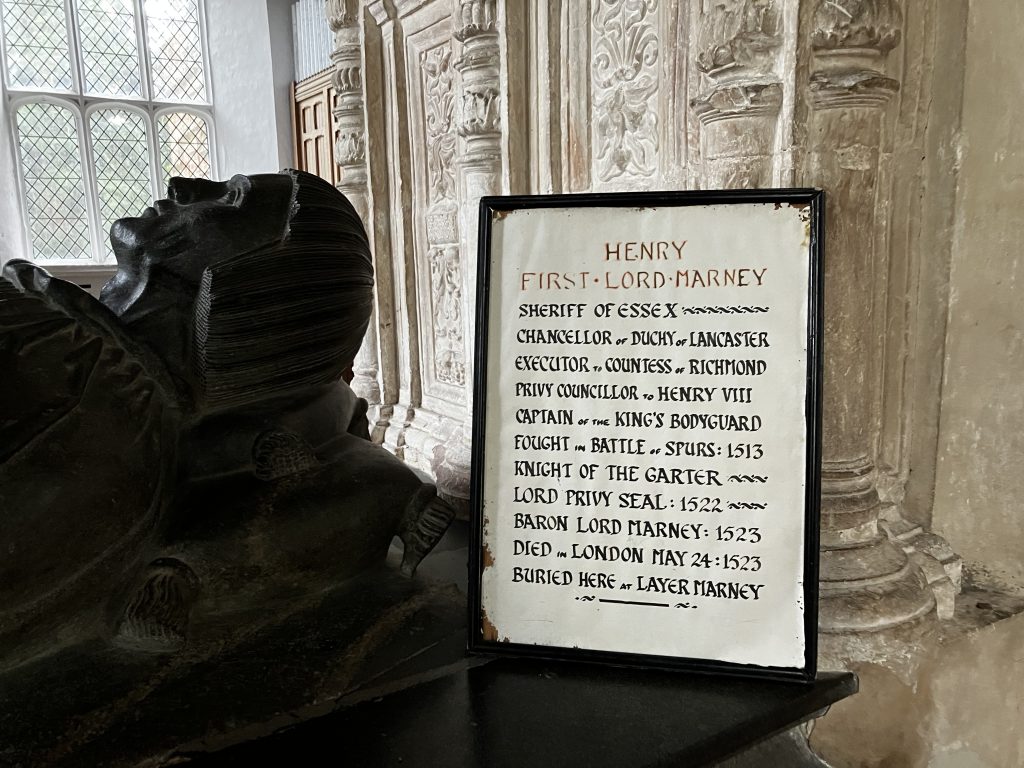 Here's his profile.
"One of the highlights of the church is the tomb of Lord Marney, complete with effigy, terracotta and canopy. The terracotta work on the tombs is very high quality, probably made by Flemish craftsmen to Italian designs. The effigy is carved from Catacleuse Stone quarried at the Marney Estates in St Endellion, Cornwall," says the guidebook.
He had a son and 2 daughters, so everything would be fine, yes?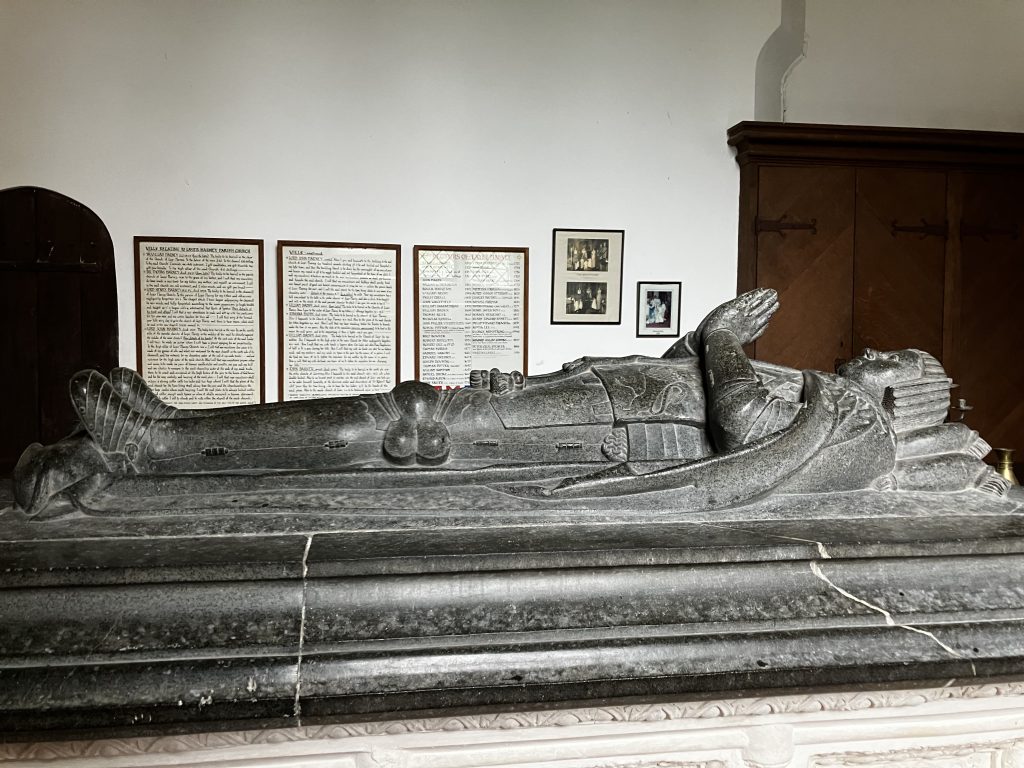 Except here's the grave of his son, who died 2 years after he did.
His two daughters were made wards of the state, which basically means that the king decided where they were going to live and who they would marry.
After his son died, no-one from the family ever came to Layer Marney again.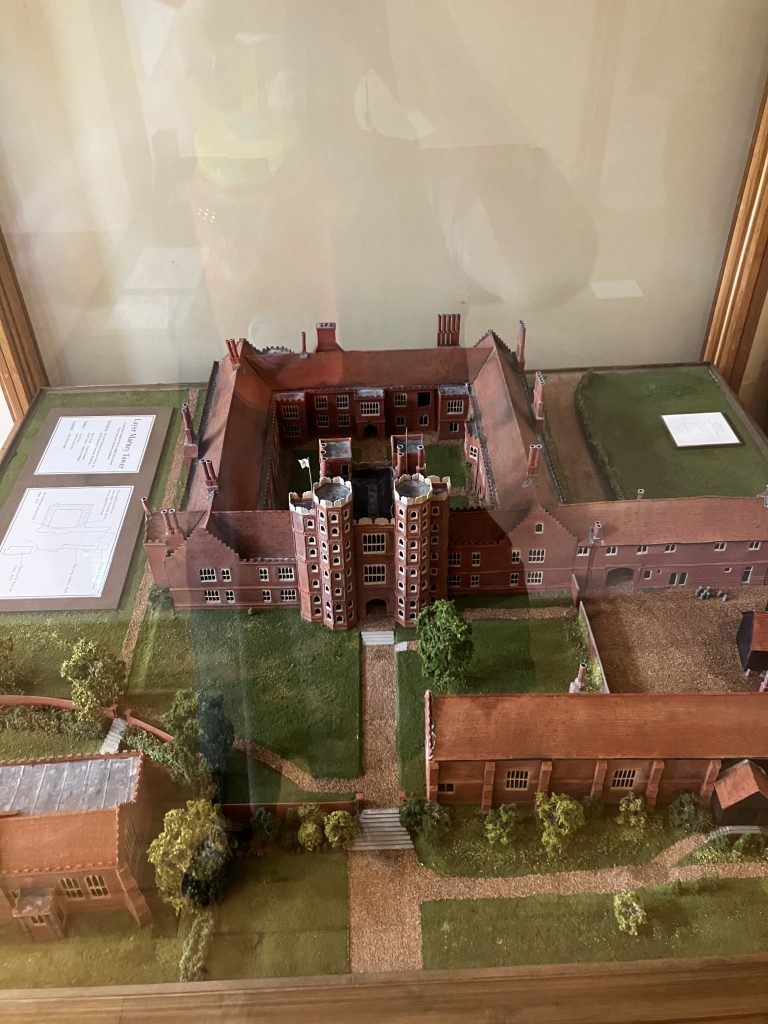 Just as an aside, this model shows how Layer Marney was intended to be.
Suddenly, the big towers at the front make sense.
Anyway, back to the church…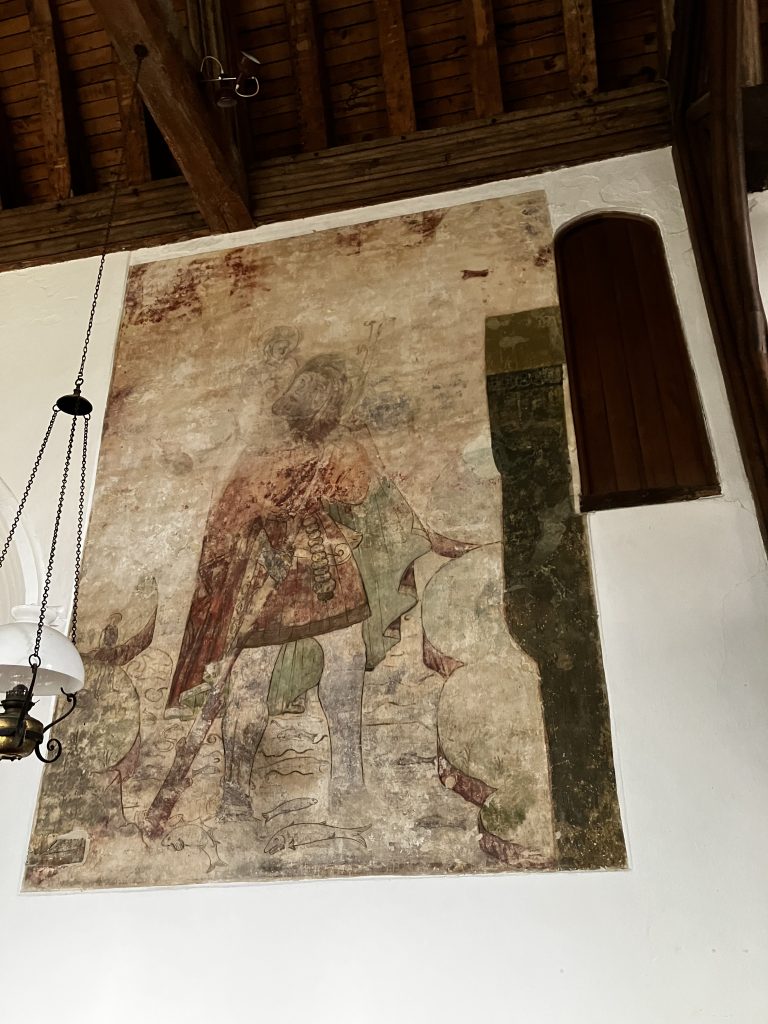 The mediaeval wall painting of St Christopher was saved from destruction at the time of theReformation by being painted over and it remained undiscovered for over 300 years.
They must have worked so carefully to avoid damaging it.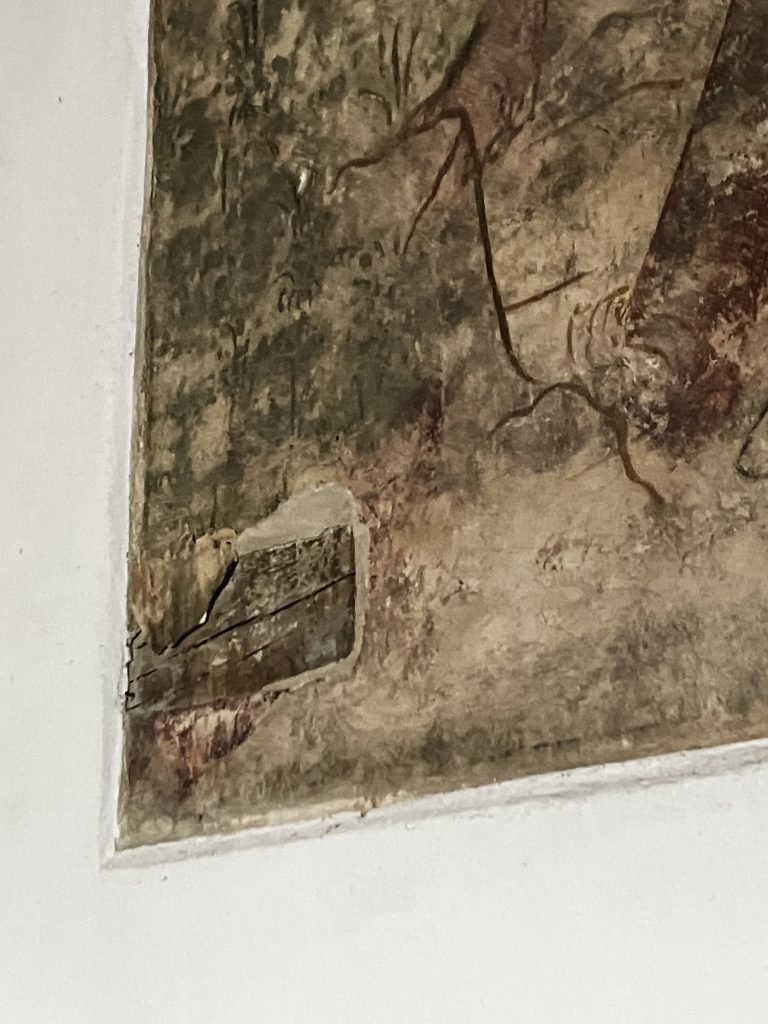 At the bottom left, here's a section where someone was a bit heavy handed…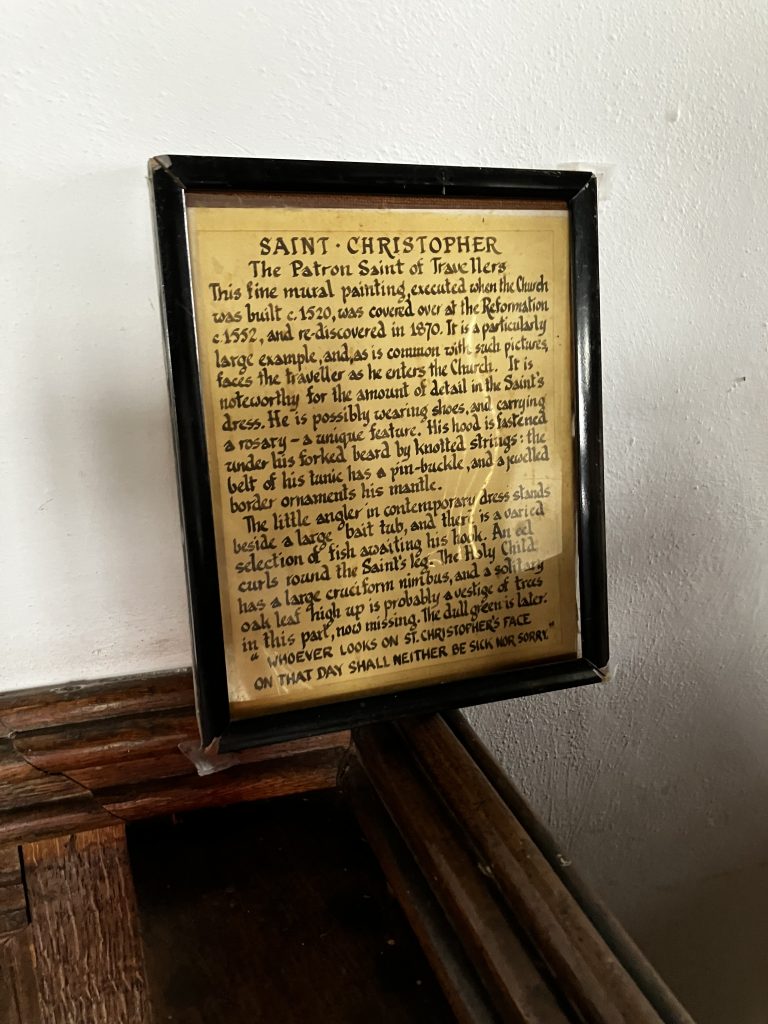 Information sheet about St Christopher.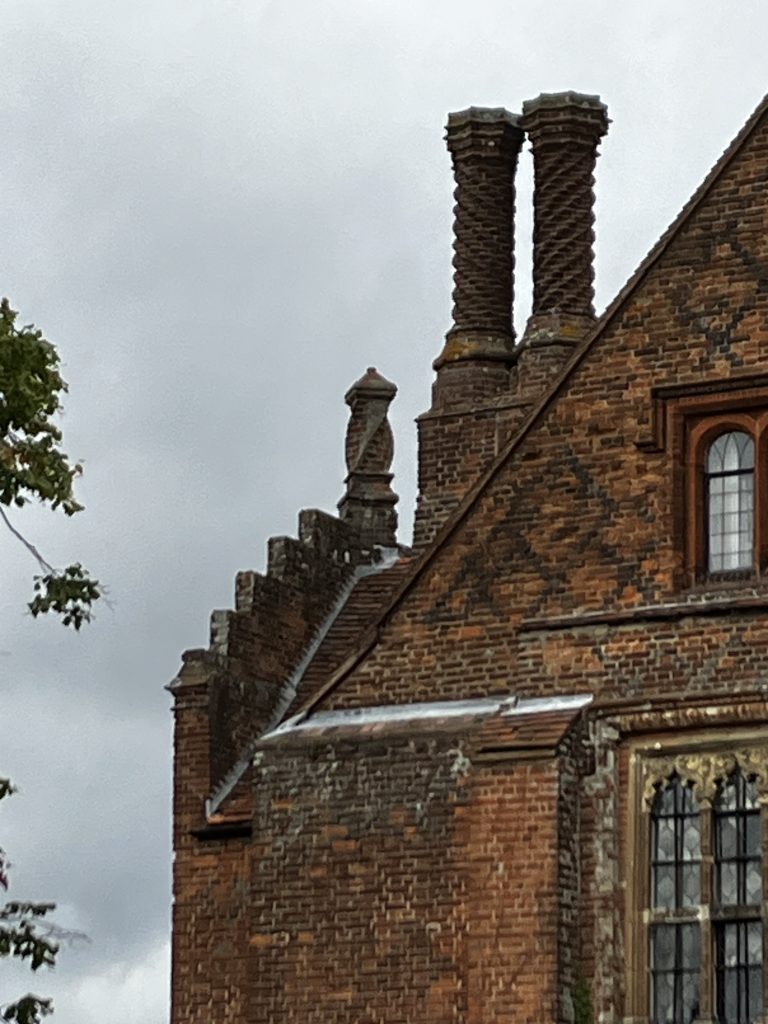 As we came out of the church and back towards the tower, I noticed the chimneys. How incredible do they look?
We had to climb the tower to see them up close.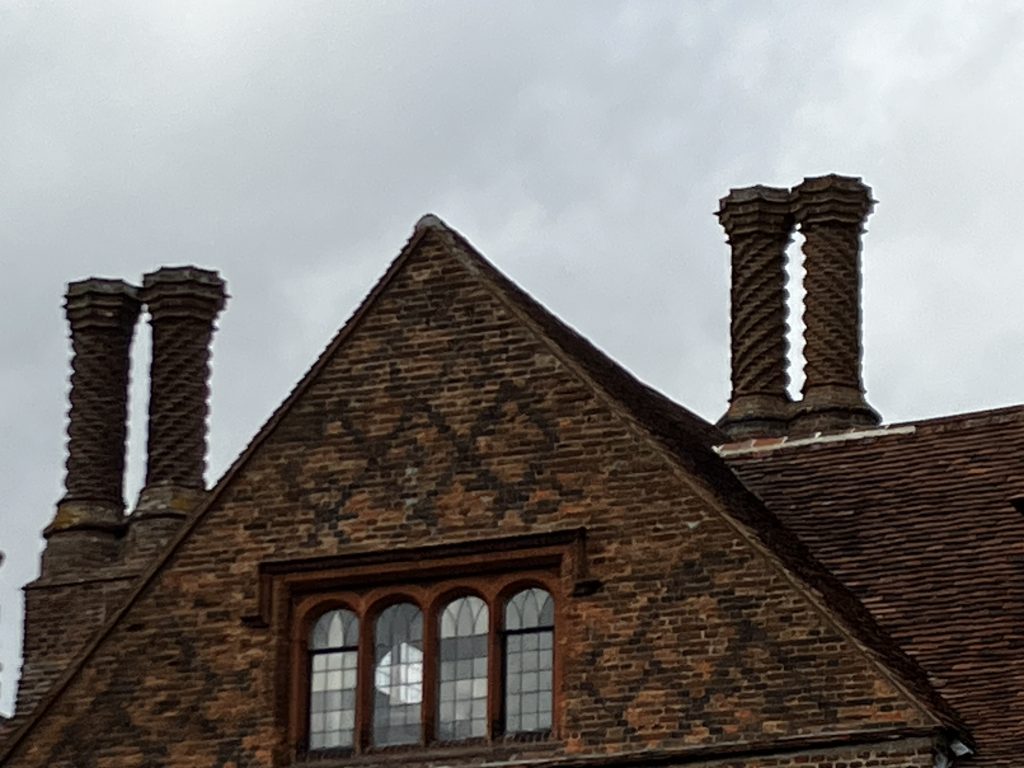 And while I'm at it, the brickwork is also very beautiful.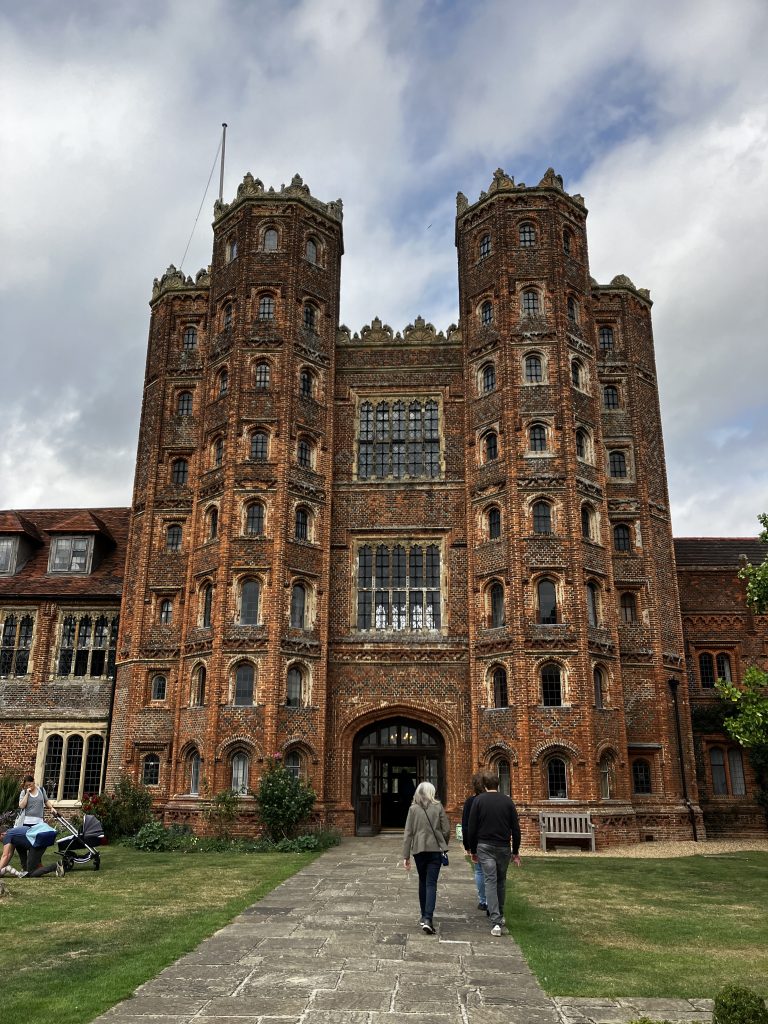 It also means that the side we came in by was never intended to be the main entrance. It would have been part of the courtyard. THIS was supposed to be the first impression people were supposed to have.
Got to say, it would've impressed the living daylights out of me!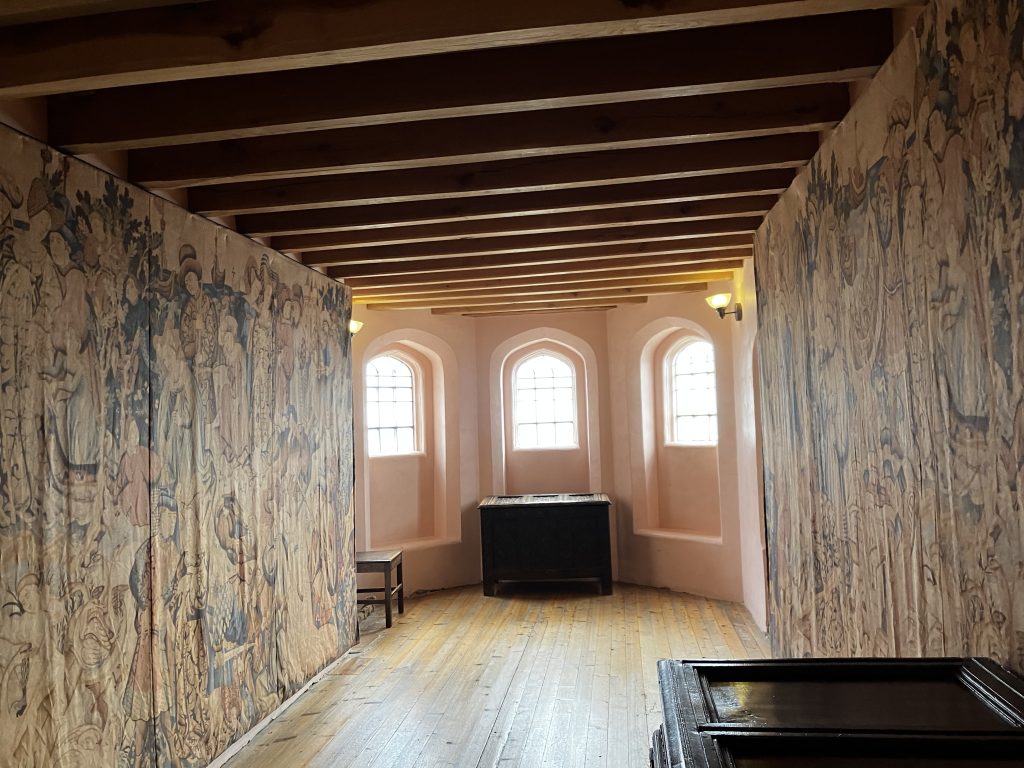 As we were walking up the stairs to the top of the tower, there were various rooms to stop off and see. Many had exhibits like the model of the intended shape of Layer Marney that I showed you earlier. But I really liked this room. It shows how they would have used tapestries in the rooms for warmth and comfort.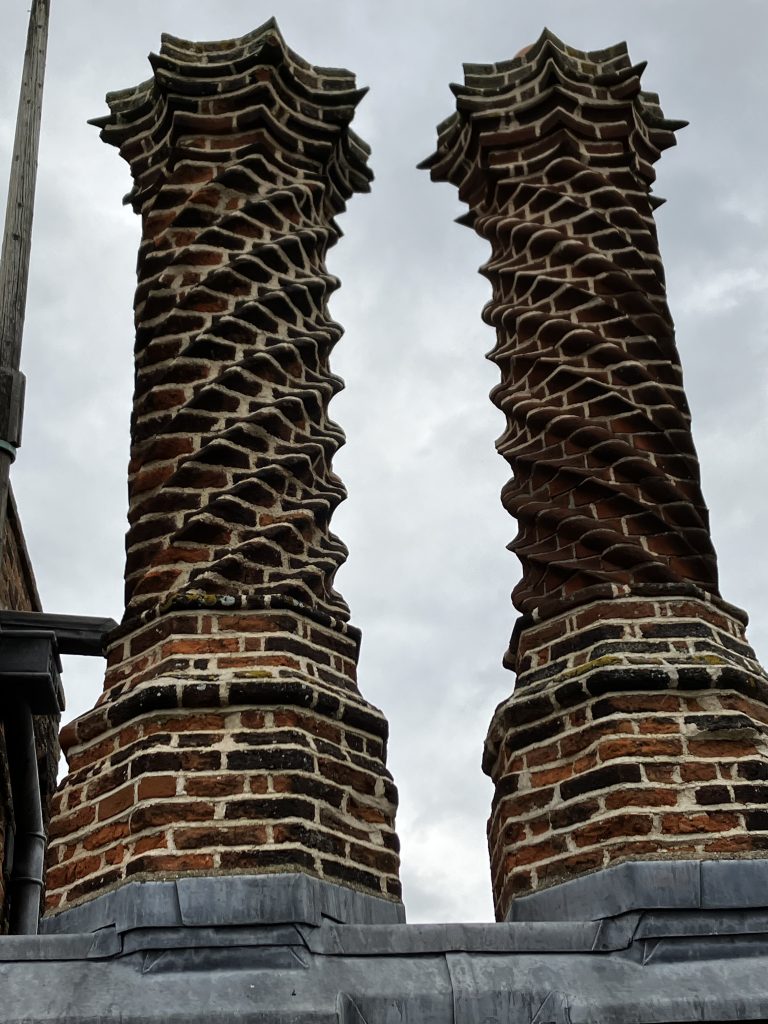 And then we were on the roof. How I love these chimneys! I want to go home and install a fireplace and have these bad boys on top of my house.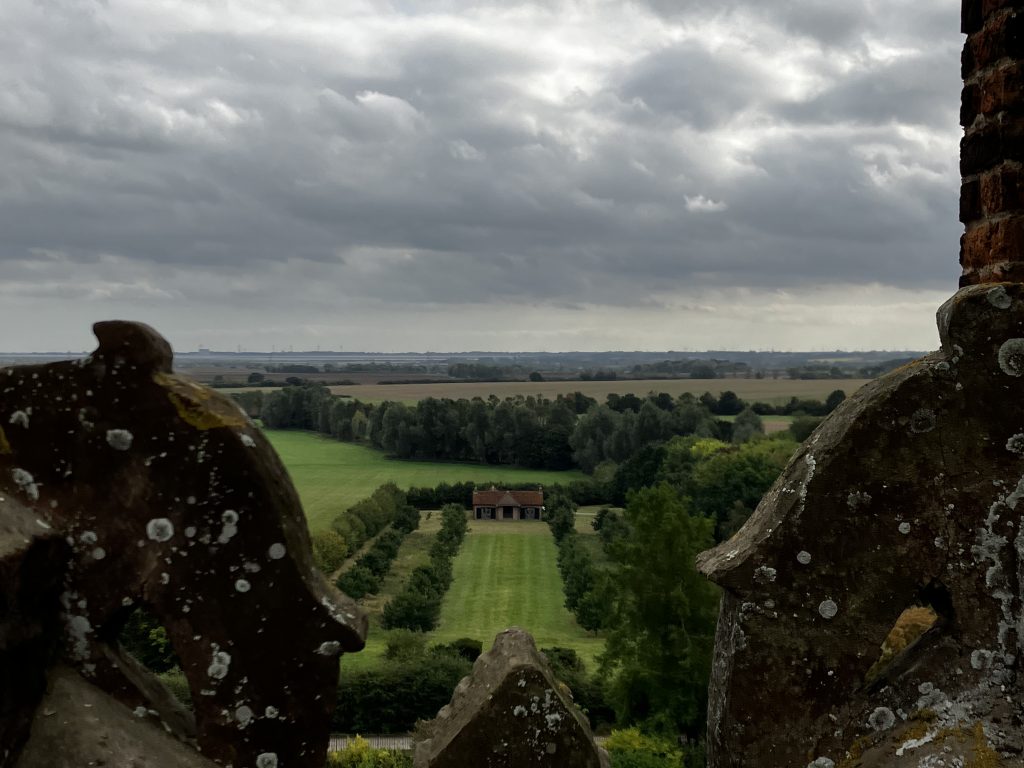 Here's the view from the front of the tower.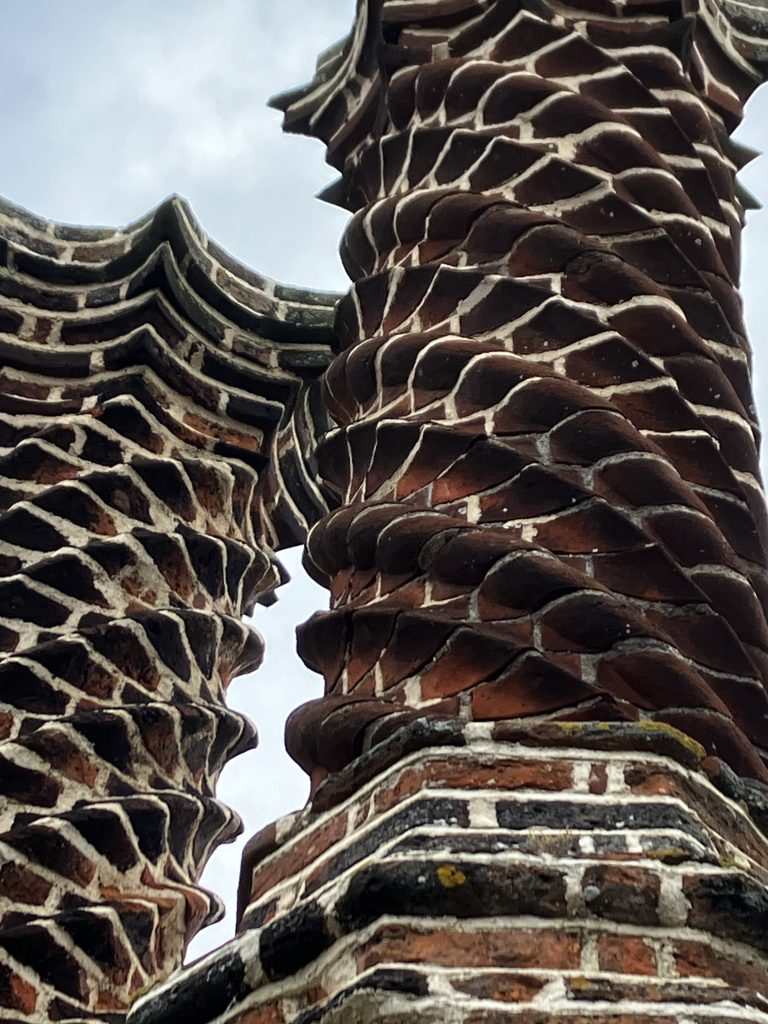 Chimney close-up! I can't resist…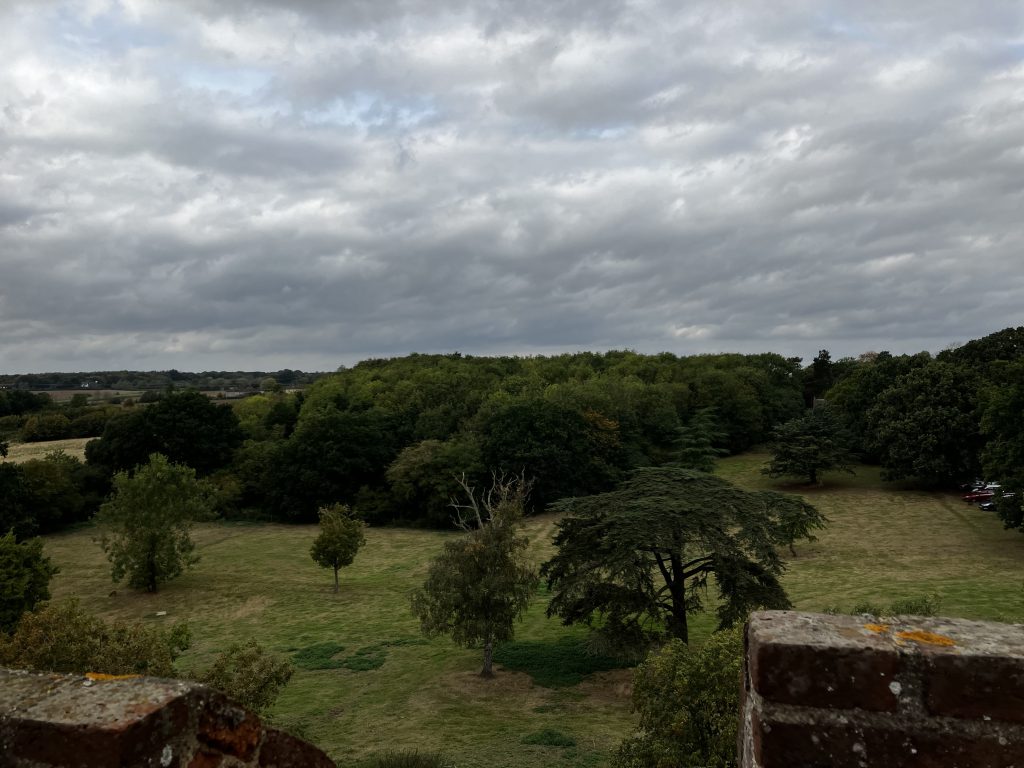 Far over to the right is where Scott's car is parked. This whole section of land is where the rest of the house was intended to be built.
I loved this place. I bought a tea towel and a mug to remind me.
Then we went to the Tiptree jam factory to have lunch.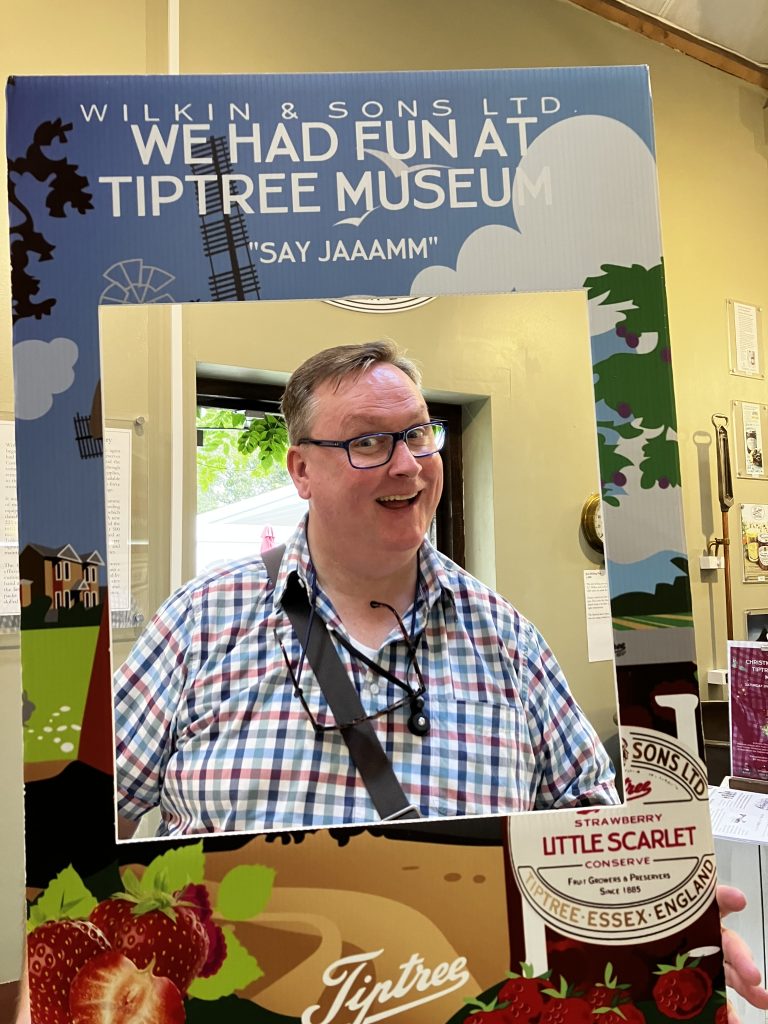 Scott was so excited to be there.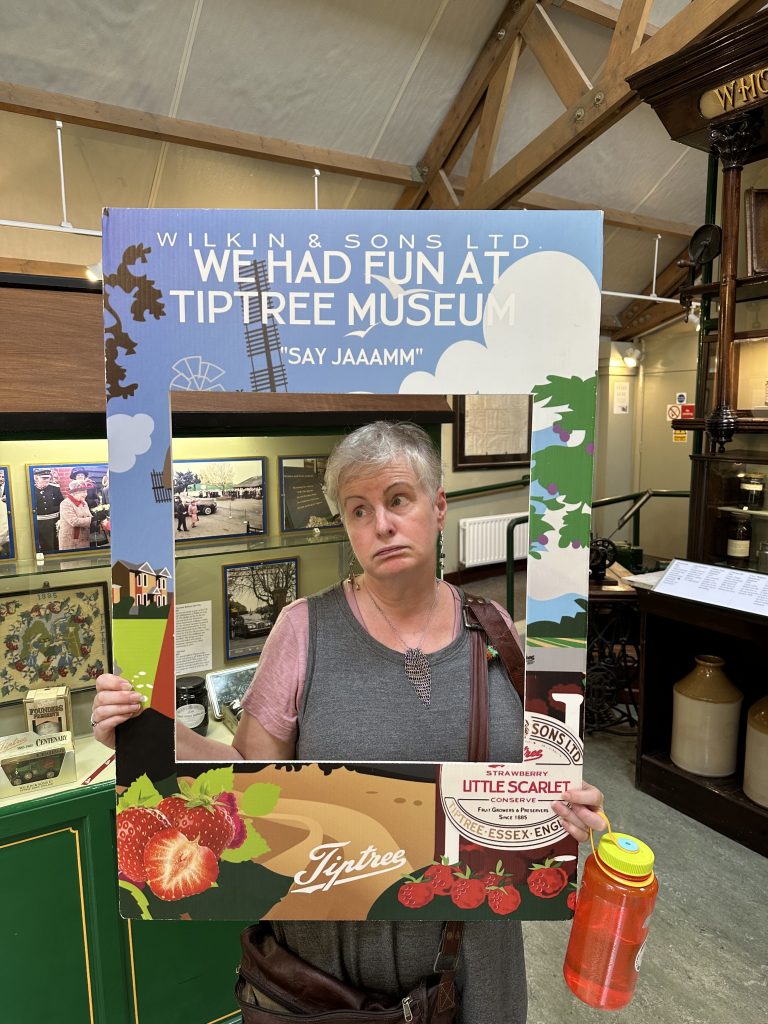 I was less so.
We wended our way home after this. Scott's cold wasn't seeming to want to get better, so we headed back for a quiet night.

I found it interesting that without meaning to, Scott had found two families who had had the exact same thing happen to them. Both men, Thomas Paycocke the merchant and John Marney the nobleman, both rose to the top of their trees.
Yet within two generations, everything they'd built up was gone.