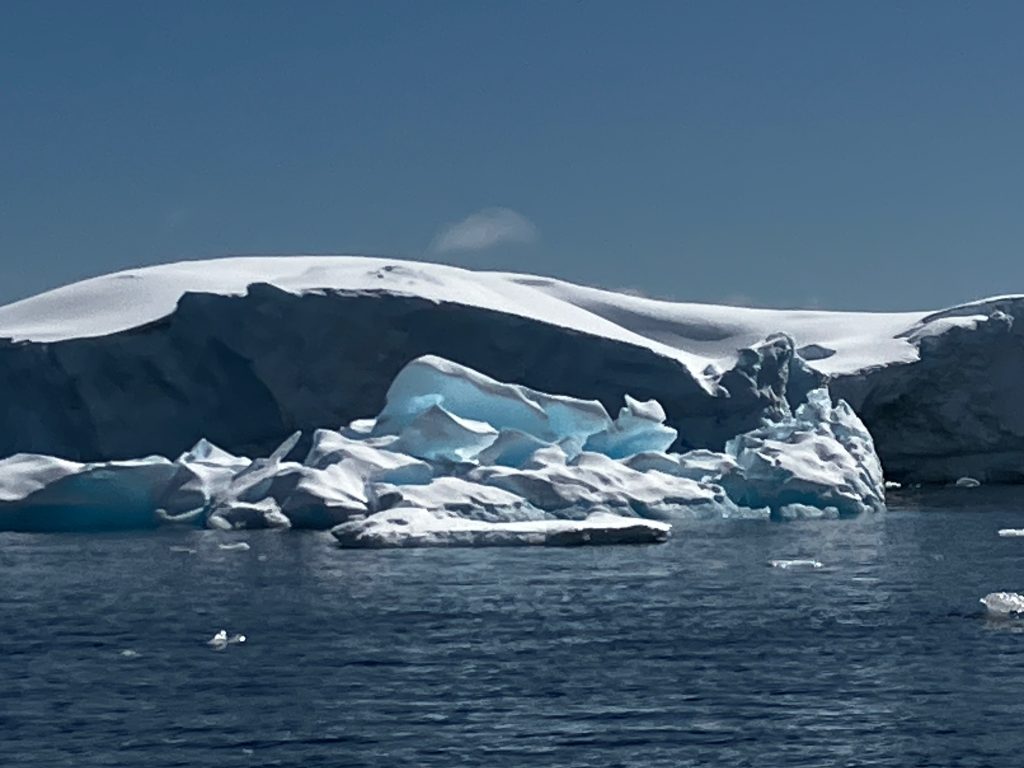 During lunch the ship repositioned itself in the middle of Port Charcot Bay. This area is known as the Icebergs' Graveyard because the prevailing currents sweep the bergs here and then they can't get out, so they slowly melt. because there are so many of them, it's a spectacular place to go for a zodiac cruise.
We were there for 3 hours and it seemed to go by in the blink of an eye.
When we were here, I finally got to take a video of penguins swimming to show you!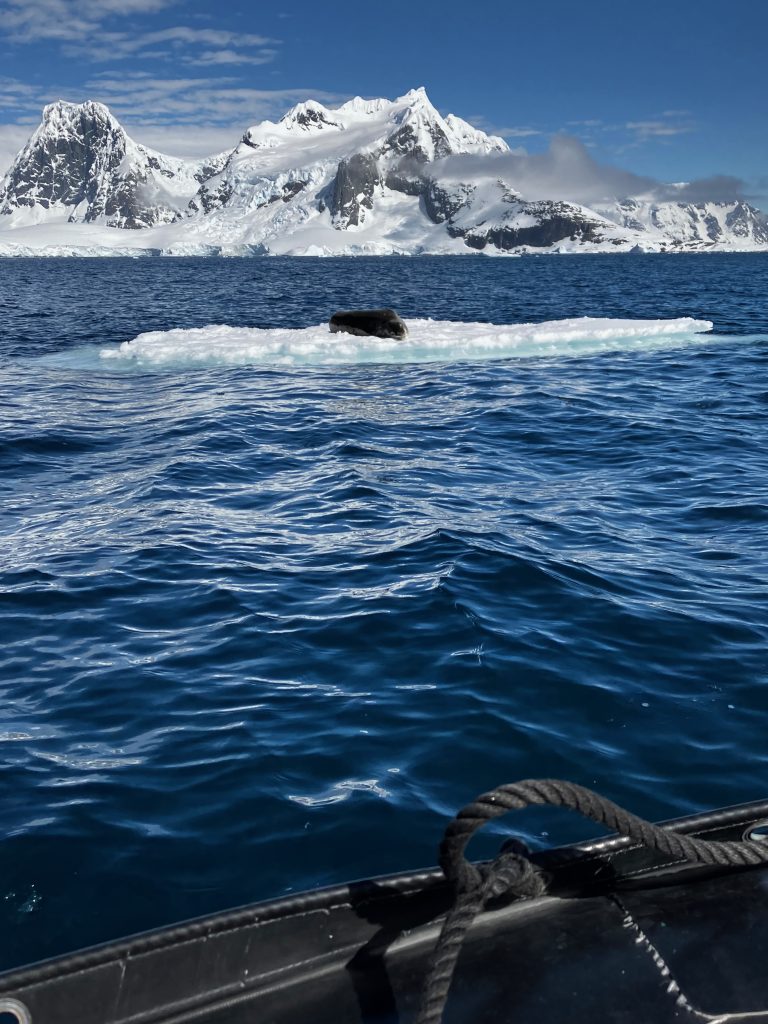 Away in the distance, we saw an ice floe with a rock on it…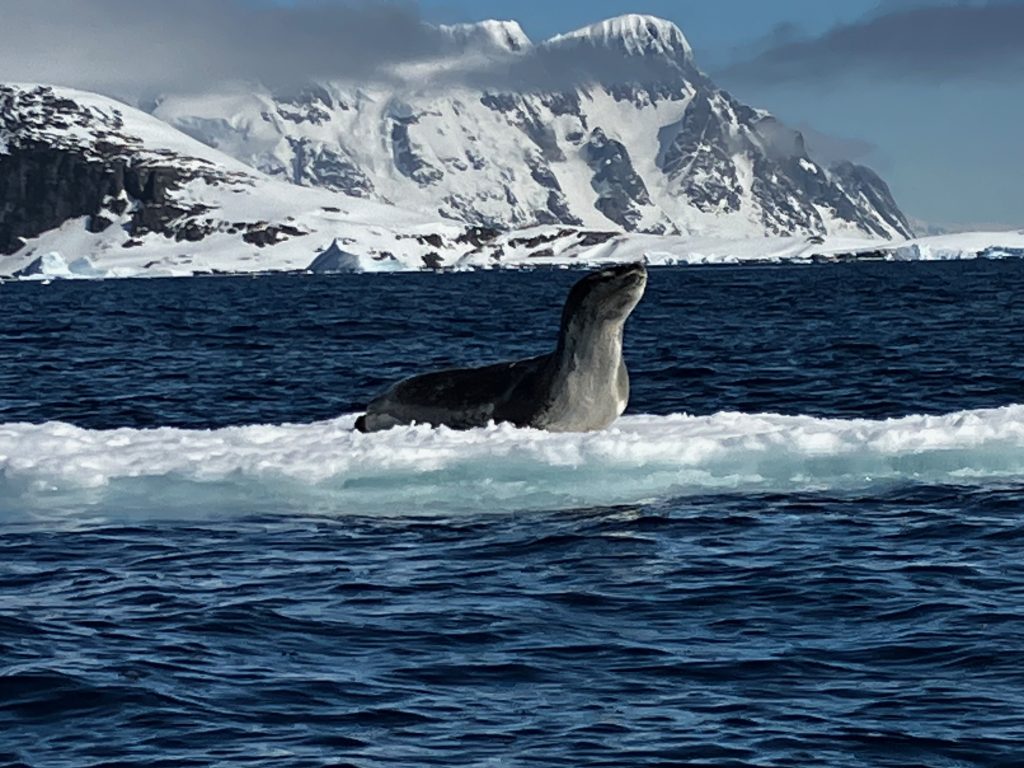 Best rock I've ever seen.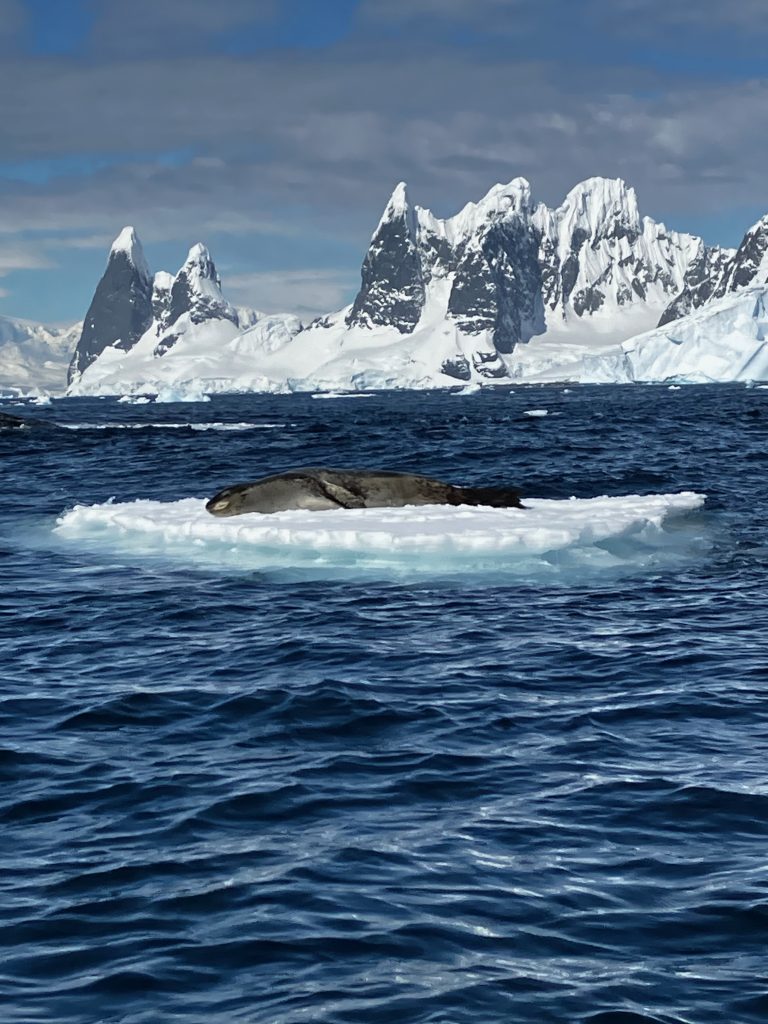 Isn't this the most perfect Antarctic nap you could imagine?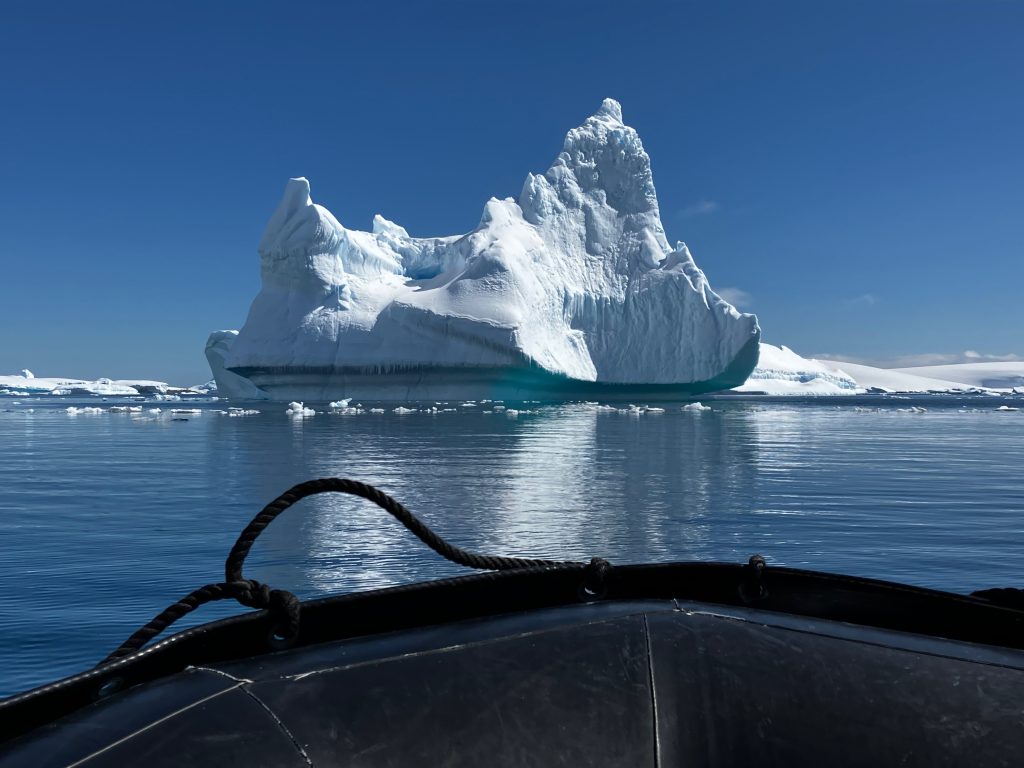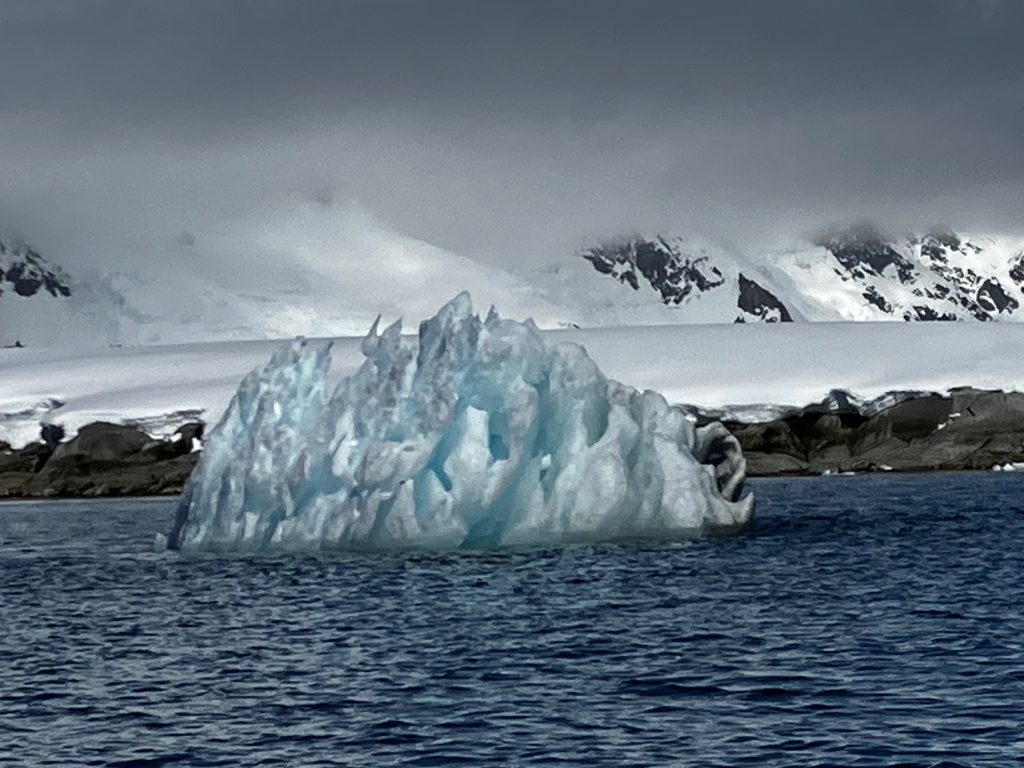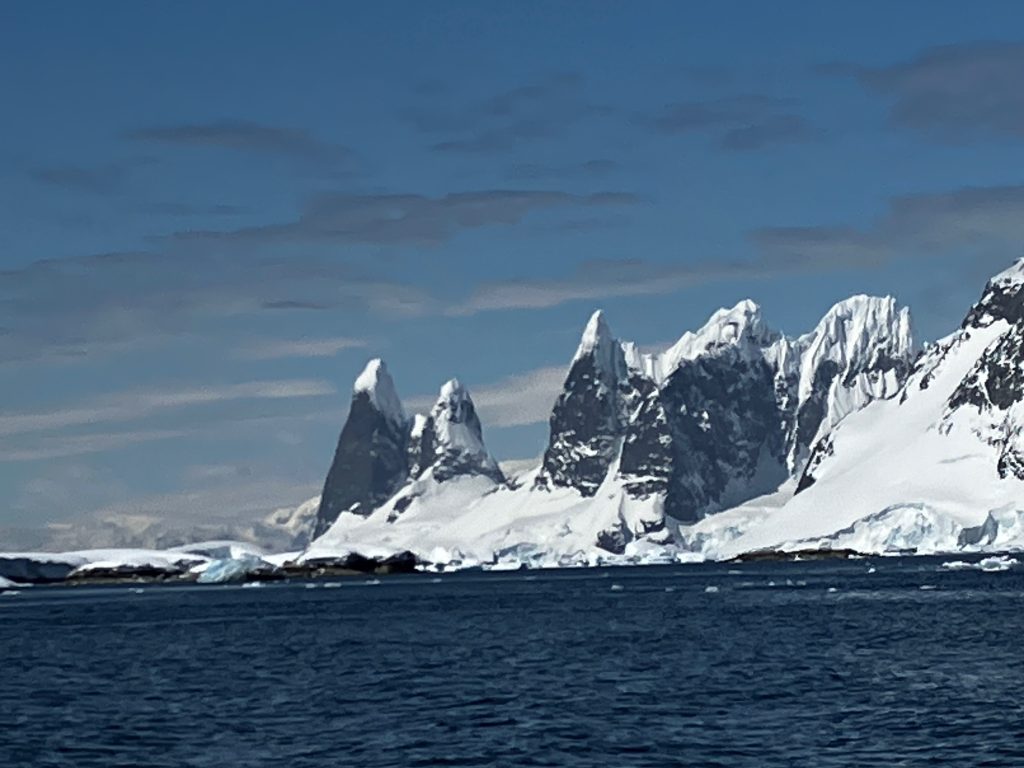 I had to snap a shot of these mountains. Just look at how pointy they are? In Ushuaia they were like icecream scoops; here they're like Madonna's bra in the 90's.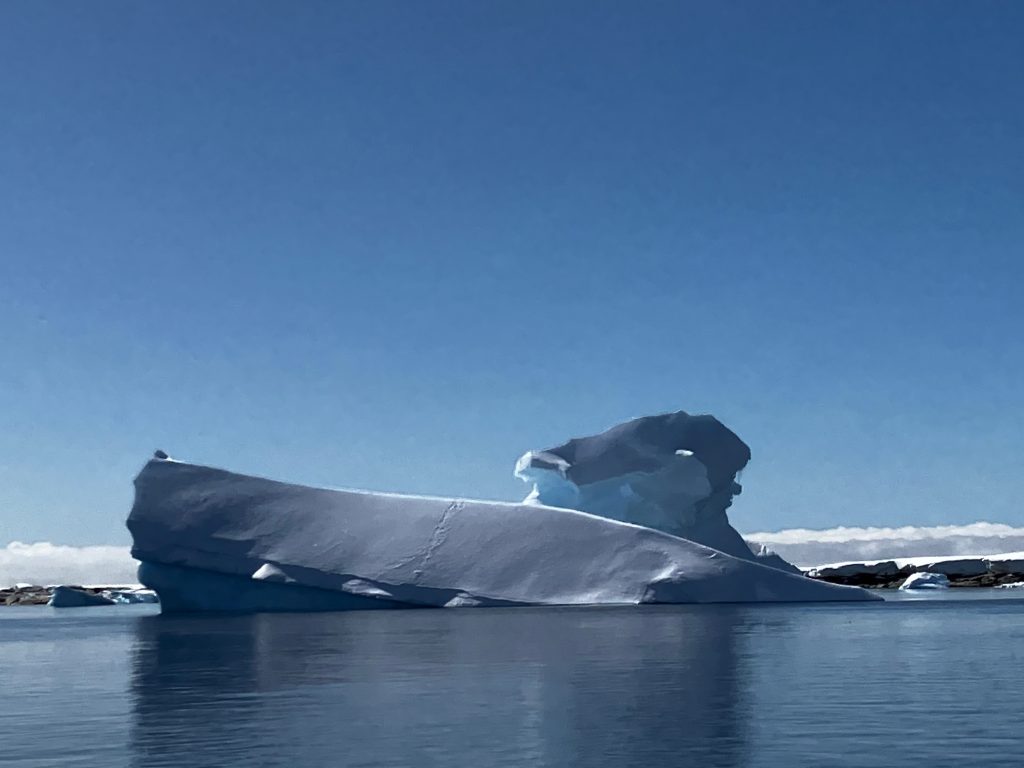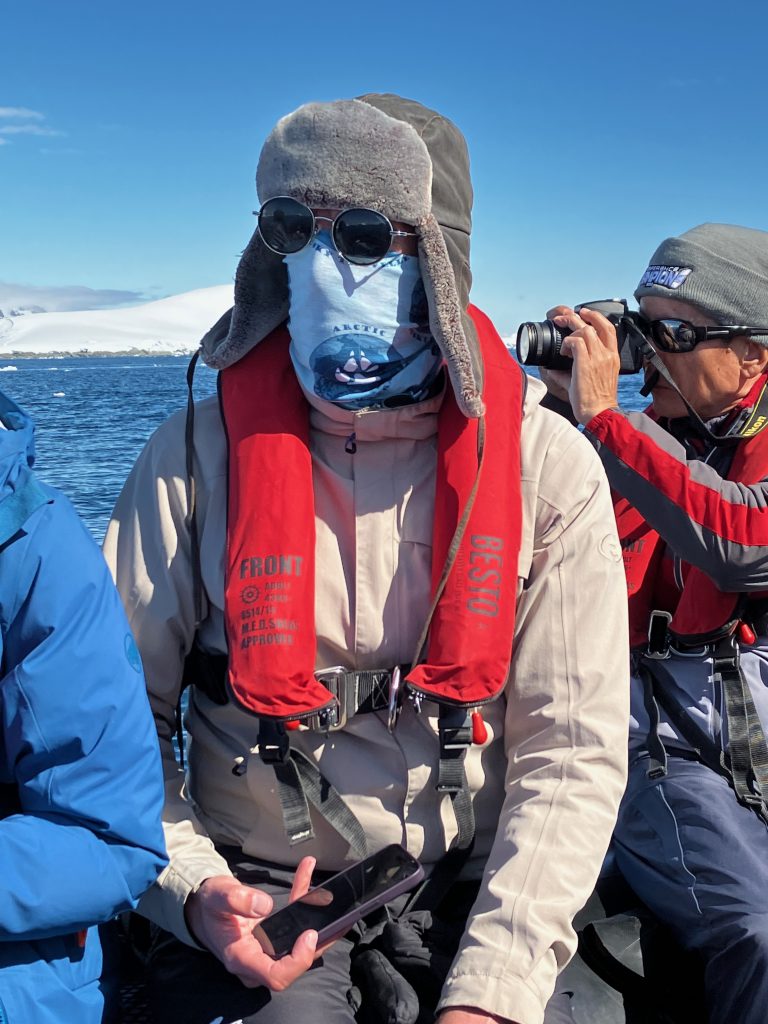 Morgan…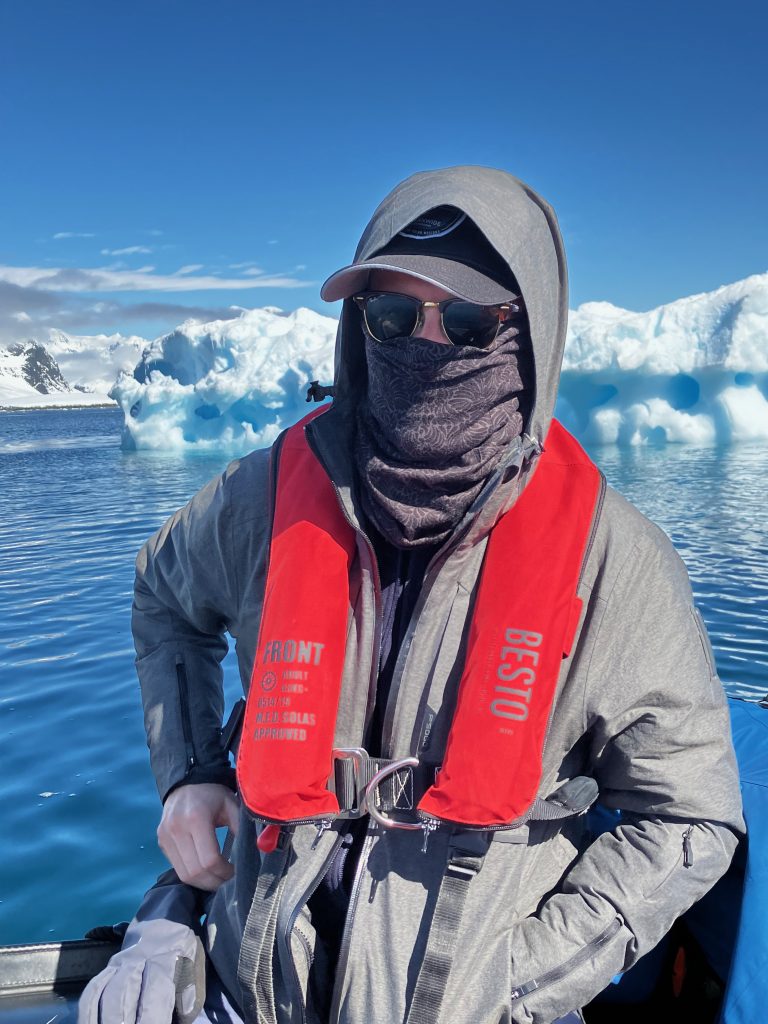 … and Baptiste being sun smart… the French way! (They could've asked me for some sunscreen.)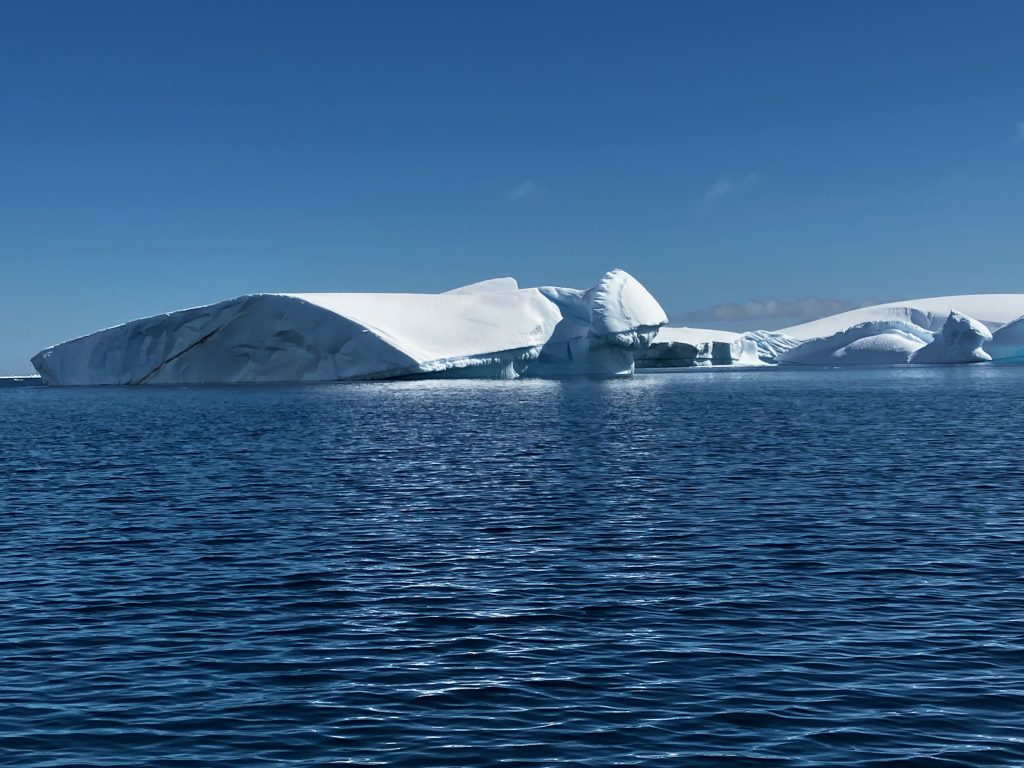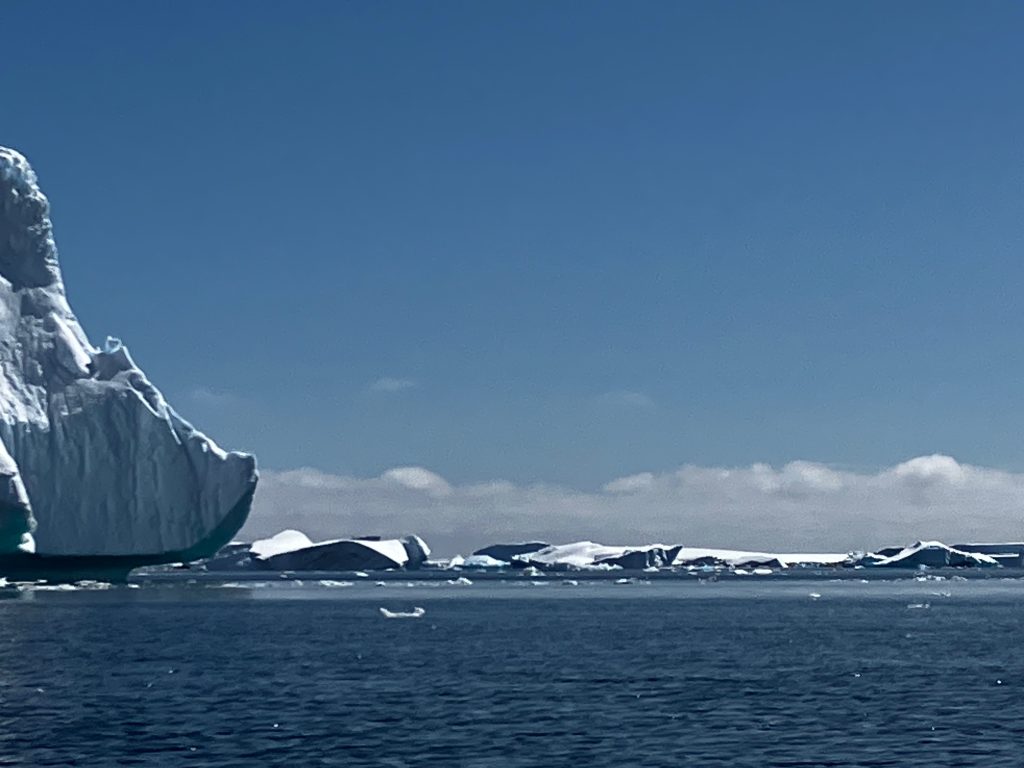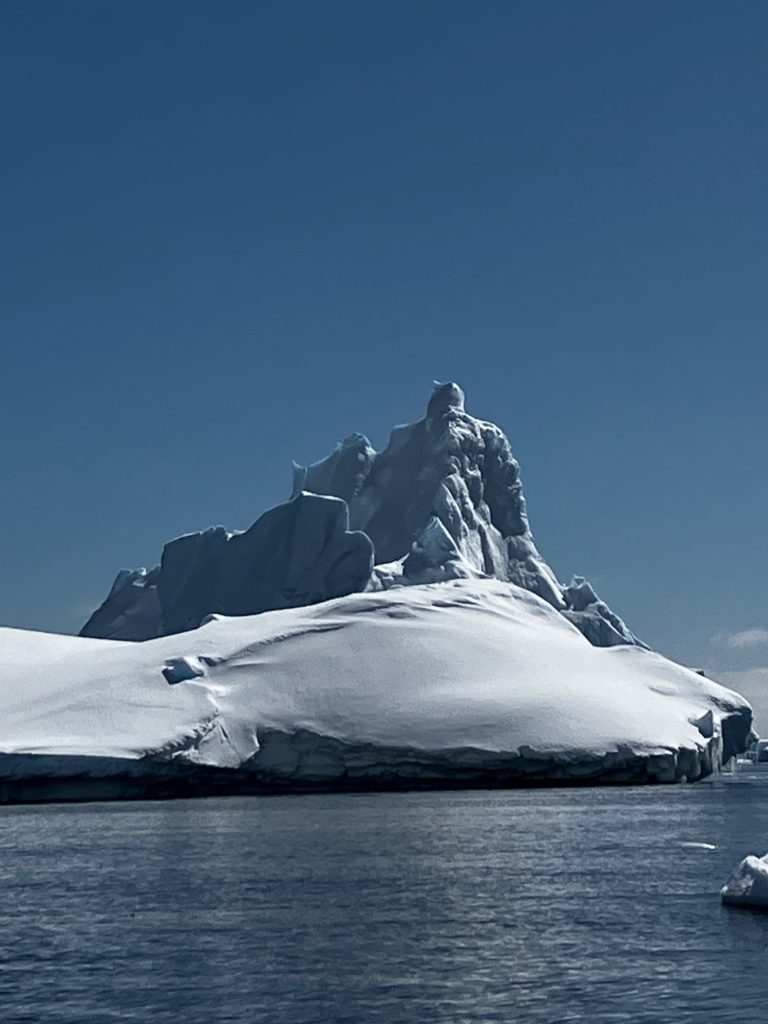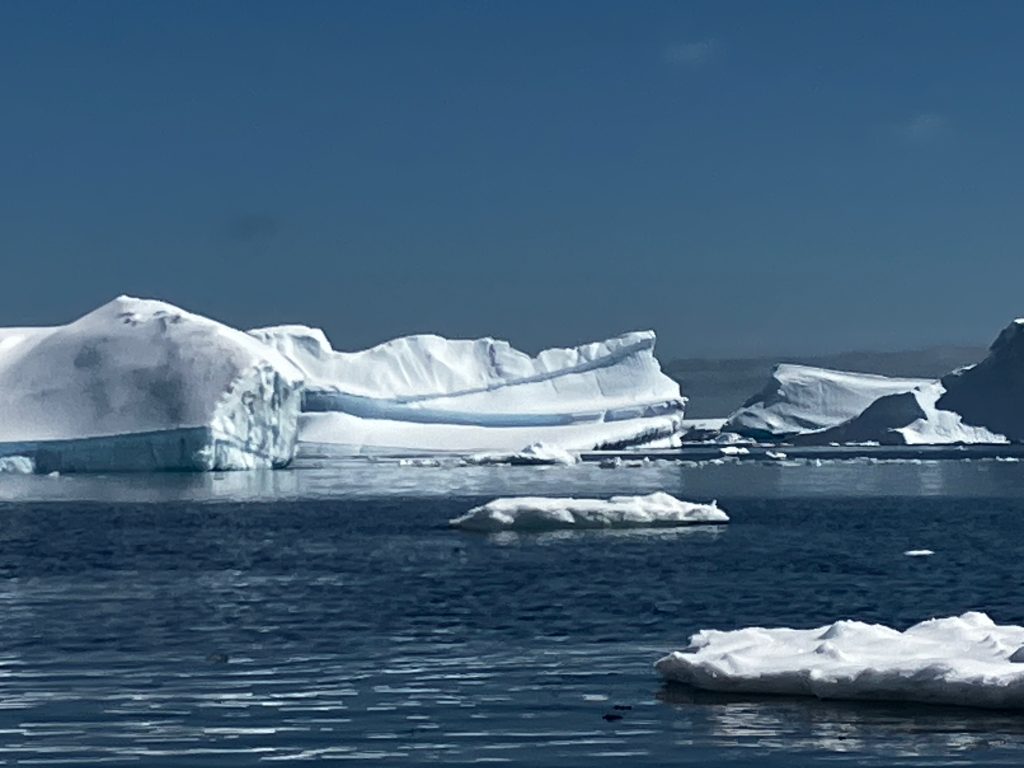 Then, we sped back to the ship and had 15 minutes to prepare for the Polar Plunge. The next part was written a couple of hours after I did it:
When we were talking about it beforehand, someone asked me how I was feeling about it.
"Resigned… and angry with myself for saying I'll be doing it, " I said. " I told my boys I'd do it, so now I have to… I hate my children…"
The afternoon was a sparkling one, full of sunshine and with hardly any wind. We were told that the water temperature was 2C, which was a FAR better day to do a Polar Plunge than yesterday. Thank God they cancelled it!
I'd already changed into my bathers at lunchtime, so I was all ready to go. I sat in our room watching Liga get ready, while Corinna was rapidly talking herself out of it.
Out on the zodiac, we sped towards the beach. Underneath the water, the ground was covered with rocks, so people were ungracefully lurching from side to side, trying to find a firm footing.
A girl was thigh high, then she launched herself sideways and disappeared under the water. Not a bad idea, I thought.
The Irish guy we were friendly with went under the water, then stood up, turned around and did a couple of backstrokes. A chubby German guy picked up a little chunk of ice and threw it, while a middle aged German couple made us laugh. She went under, he didn't, so she pushed him under.
The shore was a hive of activity. People getting undressed, people getting dressed, towels being thrown.
All too soon, it was our turn.
"Walk along the rocks, put all your belongings on the tarpaulin, not on the rocks. Once you're ready, walk into the water here. Grab a towel on the way out."
That tarp was a hive of activity. There were people in all stages of undress, people stripping off, people frantically drying themselves and people throwing their clothes back on.
Liga was ready before me, so she made her way to the water while I was still struggling to get out of my boots and waterproof trousers. I saw her calmly walking into the water as I finally got rid of my clothing and stood up.
I had my iPhone in my hand. I knew that there was a staff photographer taking pictures but I really wanted a video. I know that no one would ever believe that I'd voluntarily dunk myself in freezing cold water unless they could see the actual evidence.
Once I'd handed my phone to a guide, I waded in.
Yes, the water was utterly freezing, but I was more concerned with finding my footing on the rocks. When I reached around knee height, Liga passed me on her way back in.
"Keep on going Frogdancer, you're doing well," she said.
A step or two further and I was at thigh height. Deep enough to dunk.
So I did. I dropped like a stone directly into the water.
The cold gripped me around the ribs. I stood up, gasping like a fish until I got my bearings. As I hobbled gracefully back to shore, I was elated.
I did it!
Before this trip I would never have believed I could do it.
Once back on the tarp, everyone was drying themselves and throwing on clothes at record speed. As I sat there, inching my waterproof trousers over my muck boots, I watched the next batch of Plungers moving into the water.
The main thing I was scared about the plunge was being icy cold on the zodiac on the way back to the ship and a hot shower. I should've remembered the advice I often give other people.
"Don't borrow trouble."
I wasted so much time being scared of being cold. I didn't feel cold at all. I felt fantastic, as if I could conquer the world. Ok, so maybe I couldn't feel my toes, but that was a minor thing. My body and mind felt like I could do anything I set my mind to.
My Polar Plunge moment even made it to the official slideshow of the cruise. I prefer to believe that it was because I looked like a goddess rising from the sea, not because I looked like a gasping guppy.
The people who were on the first zodiac really struck it lucky. As they were on their way back to the ship, their guide spotted a pod of orcas nearby, so they went after them. They got to see them really close and got some amazing pictures.
Meanwhile, oblivious to this, we sped back to the ship and into the showers.
At the daily briefing, Pippa said, "The program for tomorrow is that in the morning we'll be visiting the southernmost post office in the world, on the British base of Port Lockroy. Of course, the weather tomorrow, being you guys, will be clear and sunny. 
"Bring your postcards, already written,  to be posted. When we're inside the museum and the gift shop we're going to be wearing masks, as the 4 people on the base have no access to outside medical care, so we don't want to pass any bugs onto them.
"This will be the last landing of the cruise before we turn and start to head north."
It was odd to think that tomorrow would be the last time we'd be pulling on our muck boots and waterproofs and heading outside.
I'm so glad I didn't back out of doing the Polar Plunge. It would've been easy to, but I'm pleased that I didn't allow myself the opportunity to weasel out. This trip has tested me in physical ways and this was a challenge both physical and mental.
I can do more than I thought I could. That's good to know.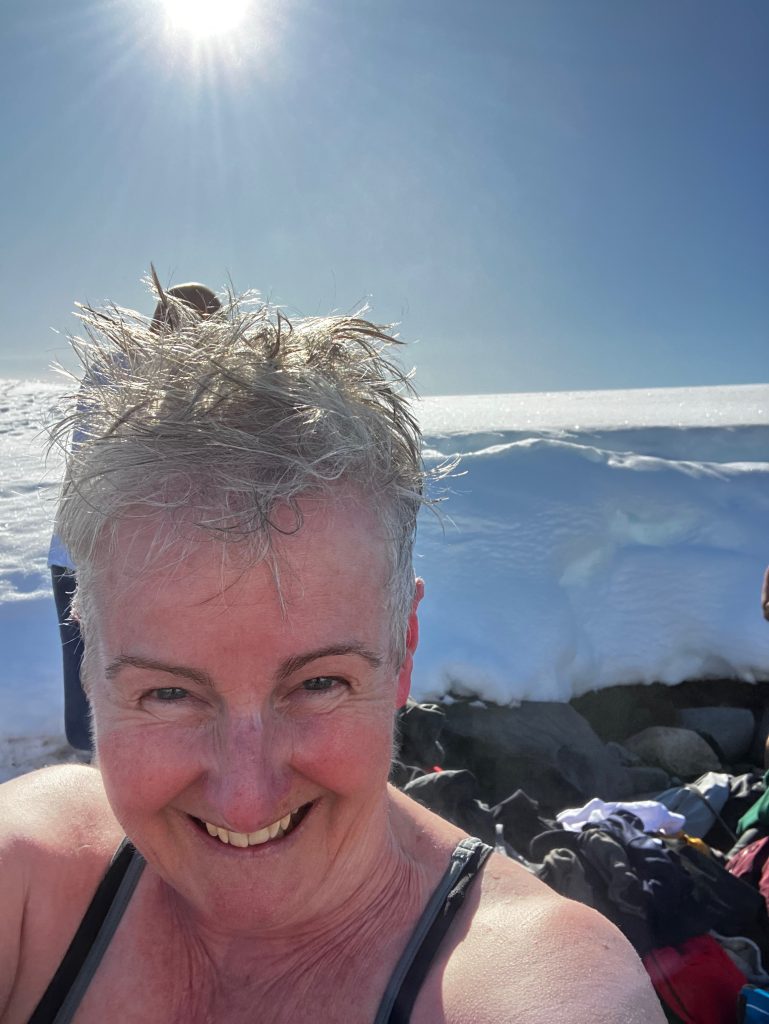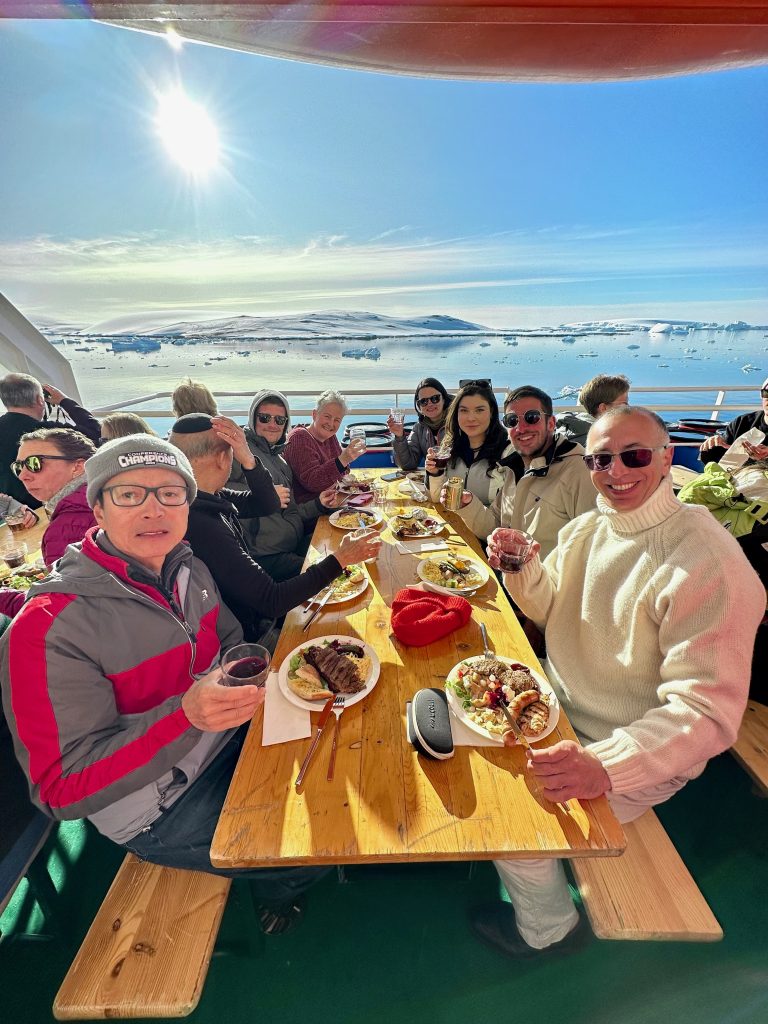 Then, as if this perfect day wasn't enough, we had a barbeque thrown for us out on deck, with mulled wine thrown in. Here's most of our group enjoying the meal, with SamFrank turning away from the camera at the last minute. Remember how he's a spy (or a dance instructor, who knows?) and he isn't supposed to be in photos?
He was nice enough to take the other photos of us all, though.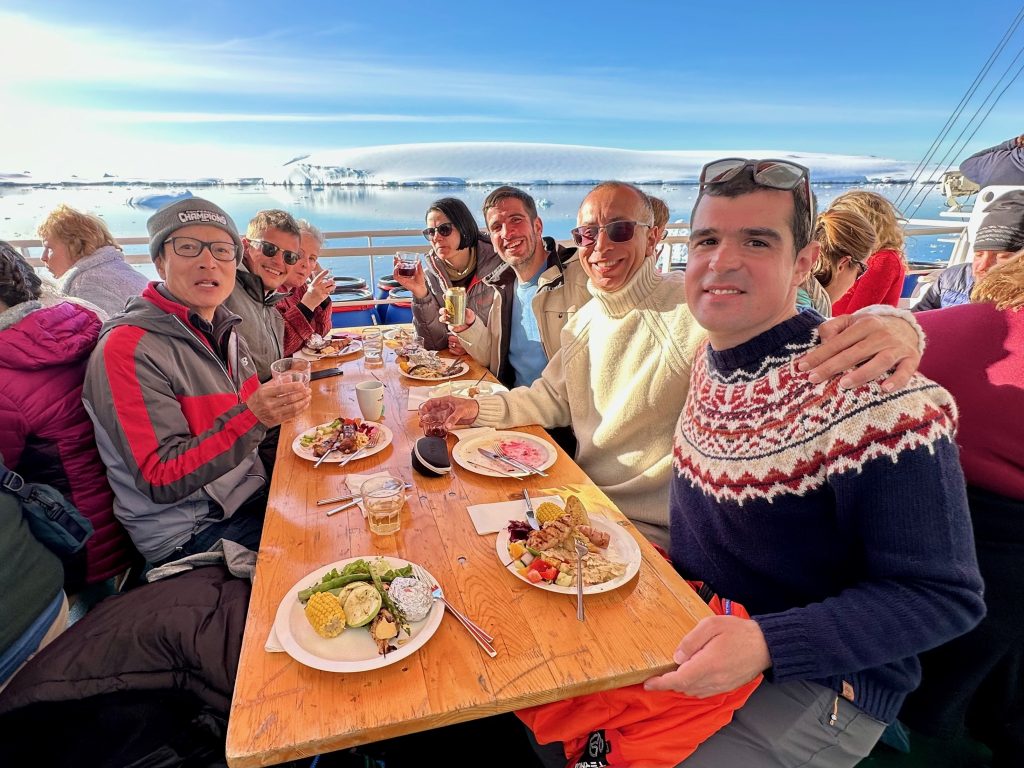 Pippa, the tour leader, said, "Every other tour, we have to force the guests outside. We bribe them with the mulled wine. We're cooking outside, all rugged up, often it's snowing. But of course, with you guys, the weather is perfect for a barbeque."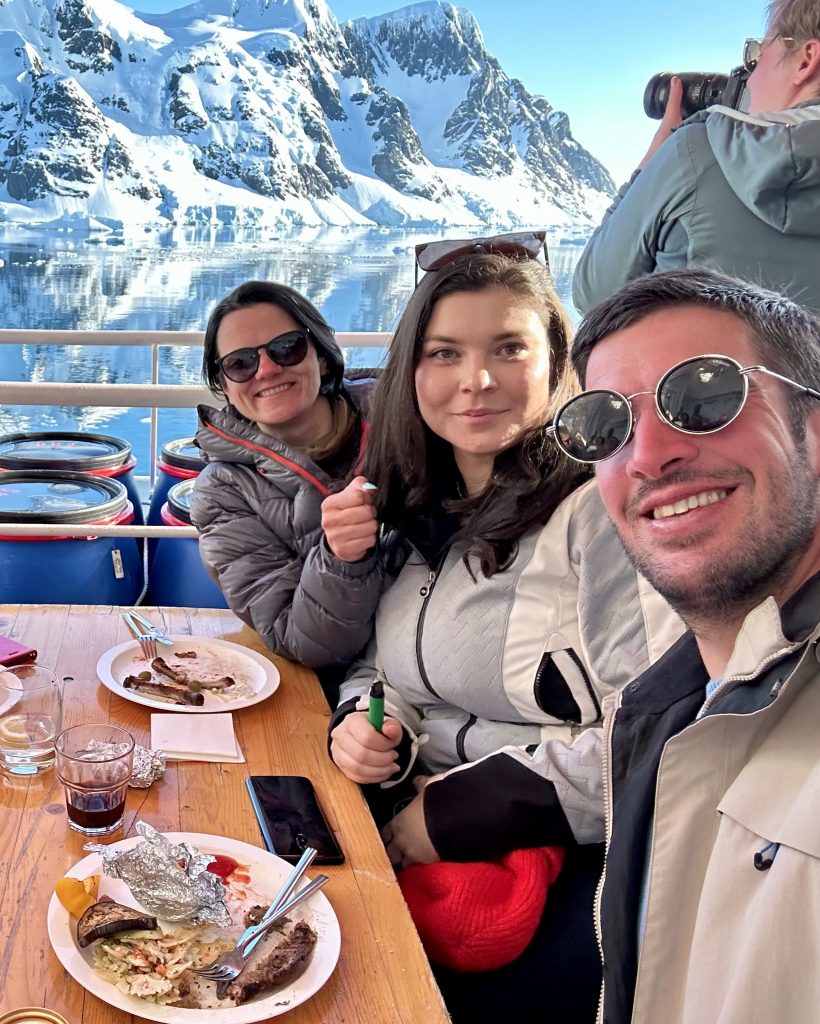 Liga, Corinna and Morgan.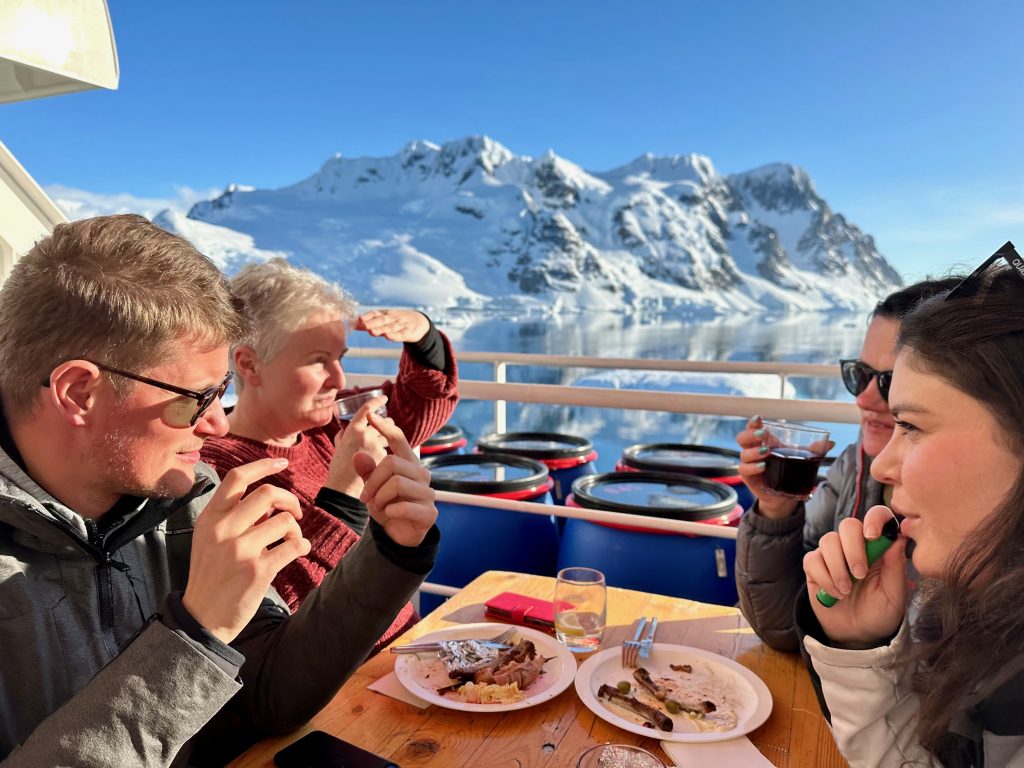 Yep, this bitter Antarctic weather was really getting hard to take!