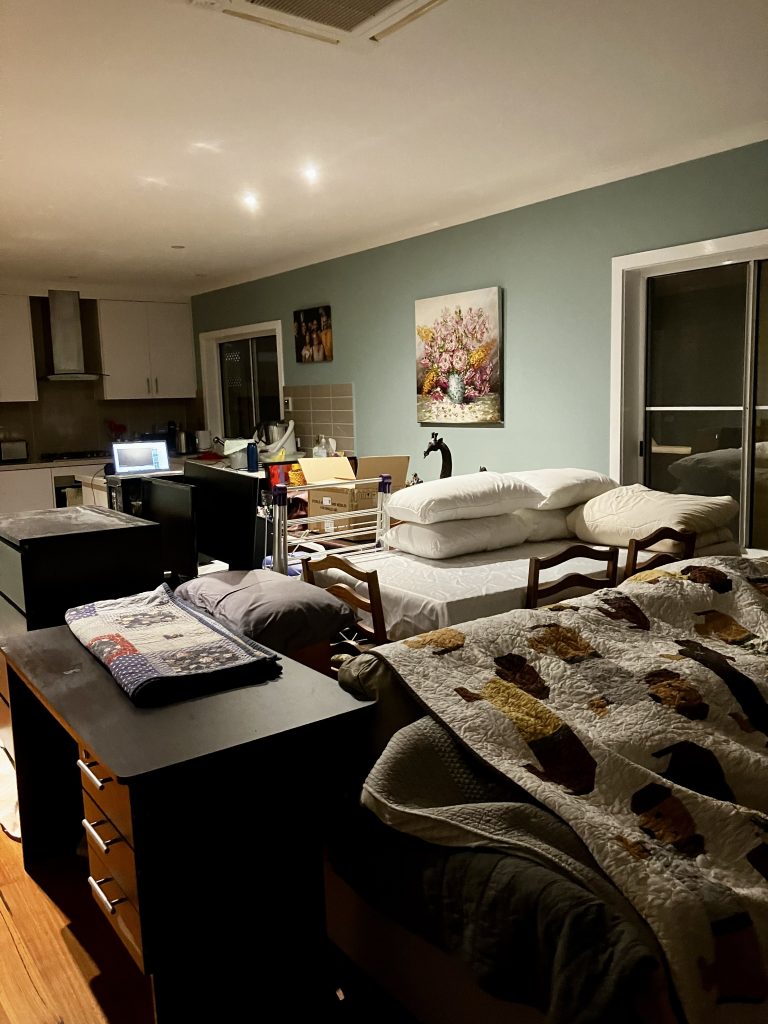 What's top of my mind: Half the house is painted!
It took 5 days and they've finished my half of the house. I'm really pleased with how it looks – and I'm even more pleased that I wasn't the one doing the work. PLease excuse how the room looks – it has the back half of the house crammed into it while the painters finish the job.
You can see how the wall behind my Harndorff painting is the same as the vase in the painting. It took me ages to settle on a colour and I'm so relieved that it looks great.
Once the plantation shutters go in, it'll look incredible.
Yes, last week I was waiting on the quote for the shutters. Everyone says how expensive they are, so I was expecting a quote anywhere from 12K – 15K. Instead, it came in at $6,700. I was so happy.
Life here has been hideous, though. I've discovered I'm a grumpy old woman if I can't sit on my couch or have everything where I like it to be. I was so happy on Sunday when Ryan28 and I were able to move everything back in.
Then on Monday I came home from work to find that all of Ryan28's stuff, plus everything from the laundry, bathroom and Man Cave was now in my space.
Ugh.
Where I've been: Living in the guest room.
I've never slept in the guest room or guest bed before. I'm pleased to report that the bed is comfy and the view outside the glass sliding door looks lush and green. The dogs and I had early nights because, without heating, temperatures in Melbourne plummet. We spent 4 nights curled up under the doona, watching Netflix on my laptop.
Wasn't too bad, actually.
Where I'm going: to work to avoid the disruption at home.
Turns out I'd rather be out earning money and dealing with the shenanigans of teenagers rather than sit among piles of my son's belongings.
What I'm reading: One of the best books I've read in a month of Sundays.
'Here be Leviathons' by Chris Flynn is a collection of short stories by an Australian author. He lives just down the road on Phillip Island, apparently. It's one of the most original things I've ever read… and you people know that I read A LOT.
It was random chance that I even picked it up. I was racing out the door on my first day of term and I realised that I didn't have an eBook to take to class for wide reading. I fired up the iPad and dove into Borrowbox from my library. I was in a rush and this was the first book that looked enticing.
WHAT A FIND! After getting into the first story, I was tempted to make all 48 minutes of every class I taught become wide reading, instead of just the first 10 minutes.
What I'm watching: The Blues Brothers!
Izzy has never seen The Blues Brothers. Can you believe it? So we set a date and on Monday night she and David29 came over to watch it with us. The lounge was stacked with everything from the other side of the house but we all crammed in and made it work.
What I'm listening to: Evan26 telling me about France and Colown College.
Last night Evan26 rang from France and we had a lovely 20 minutes or so catching up on all the goss.
You know, it's lovely when one of your adult children enjoys something as much as you do. Travel is something that I'm sure Evan26 will be doing more of.
What I'm eating: Medication to hopefully make my chronic cough less severe.
I've had a cough for the last 8 years or so. A couple of weeks ago I went back to my ENT guy. Turns out I could've been taking these pills for a while now. Better late than never, I guess.
What I'm planning: Things to do in the UK.
Scott, Deanna, and I have been sending links to various things between each other. Doesn't look as if I'll be bored while I'm there.
Who needs a fist bump: My Painters.
I've been meaning to hire a handyman to fix some doors and do a couple of other minor repairs around the place. The painter has fixed them all. Saved me a bit of money and aggravation.
I'm really happy with their work. Those straight lines! Those smooth doors!
What has made me smile: My new walls.
I love them; even the colours that we chose in a rush. Such a relief! My house has a totally different feel now that it's not all beige.
Dad joke of the day: