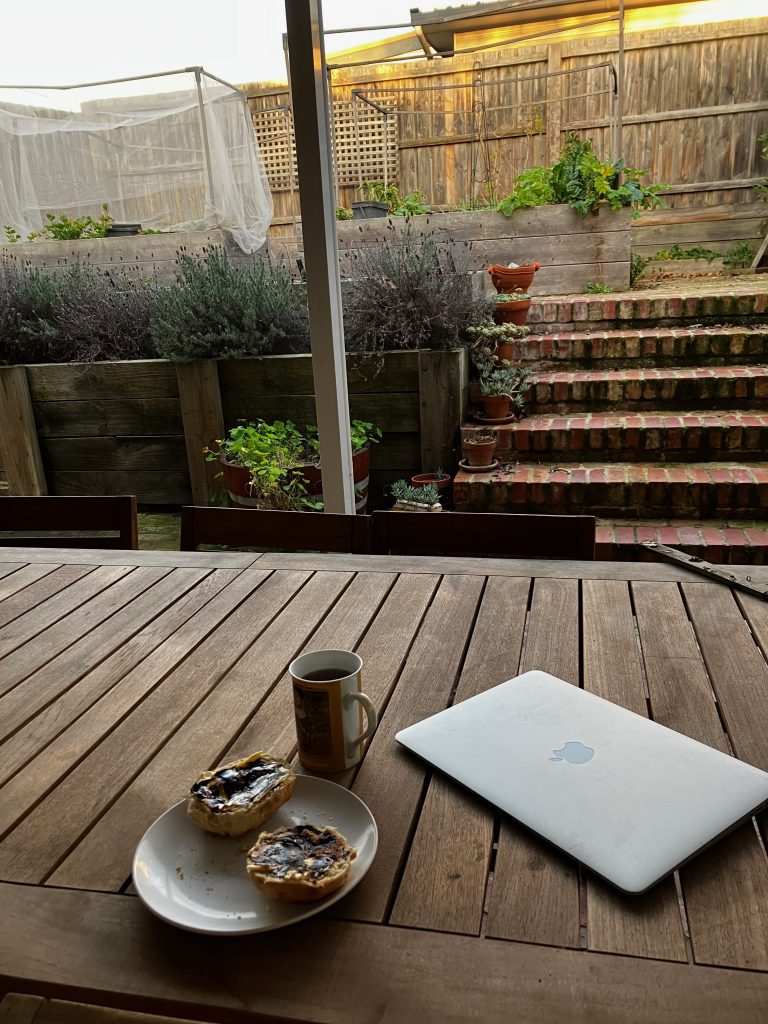 What's top of my mind: A lot can happen in a week.
Look at my breakfast out on the back verandah. It's calm and peaceful. Did I choose to have breakfast out here of my own free will? No. I'm here because there's absolutely nowhere else to go, unless I want to have breakfast on the guest bed. And for overseas people, yes. That's Vegemite on my bread roll.
During this past week, I've hired a painter and he and his dad are on their second day here. Everything from my half of the house has been either moved into the Man Cave or is wrapped in plastic to avoid paint splatters.
I won't lie – I hoped that the quote would be lower. But then again, don't we feel that way about any tradie job we have done? Painting the interior of my 4 bedroom, 2BR, 2 living areas house is $9,600.
I hoped my 8 weeks of 3 days' work would have covered it, but sadly, no. I'm thinking that my work in term 1 will MORE than pay for my upcoming trip to the UK, so I'll dip into that to pay for the painting in full. (Of course, I don't have to earn the money for projects like this. But I like to do it – I find it motivating – except when my alarm goes off each workday.)
Where I've been: to Bunnings.
So I hired the painter on Sunday. He said that he needed the paint colours by Monday night.
Jesus! It took me 6 months to decide on the duck-egg blue for the lounge/kitchen/dining area. I was in a state of panic.
After work on Monday, I raced to Bunnings and grabbed paint chips. I decided that seeing as I was going with a bold colour in the main part of the house, the rest of the place should be neutral.
I came home to find emptiness. It looked like we'd been burgled. Ryan28 had been busy moving everything he could out into the Man Cave.
I showed him the paint chips. Turns out he's MUCH more decisive about colours than I am. Within 5 minutes he had it all sorted.
When the painter turned up on Wednesday to begin painting, he suggested that if I was going to replace door handles, I should do it now. Back to Bunnings I went!
I needed 10 sets of door handles and I wanted them all the same. Bunnings only had one type available with 10. They're similar to the ones we already have, so I bought them.
Ah well. It's only money. A day's work will pay for them.
I can see my CRT days stretching out into the future as I speak…
Where I'm going: to the library.
I'll wander up later and return some books and grab some new ones.
What I'm reading: Graham Norton.
I'm reading through his novels at the moment. Obviously he's got the gift of the gab, as we see on his talk show, but this means that he's a very good writer as well. I'm enjoying his books a lot.
What I'm watching: NOTHING.
We gave our second tv in the Man Cave to David29 and Izzy. When I came home I saw my tv swathed in plastic. No real hardship. I was really tired after talking with Evan26 at 4 in the morning, so I curled up in the guest bed with a book and was lights out by 9.
What I'm listening to: snoring dogs.
The dogs absolutely refuse to curl up and go to sleep if I'm not in the same room with them. We're all on the bed in the guest bedroom and they're finally relaxed.
It's very flattering to have velcro dogs but sometimes it's a pain. The piteous whines coming from the guest room as I was talking with tradies was a bit embarrassing.
What I'm eating: Anything that doesn't mess up the kitchen.
It's amazing how conscious I've become about how many things we use, now that most of them are out of the kitchen and are shoved in the Man Cave and laundry.
What I'm planning: Plantation Shutters.
The guy from a Plantation Shutters company just left. He's measured every window in the place and will send me a quote this afternoon. He tried to upsell me to get the back toilet, laundry and bathroom windows done as well, but I wasn't going to budge on those. I never look at them, after all!
They quote on the square meterage of each window. Lucky me to have 3 MASSIVE floor-to-ceiling windows! The prices go up depending on how quickly you want them delivered. I have outdoor shutters, so I said I wasn't in a rush. Anything to help keep the cost down is fine by me.
I'm still going to need a cup of tea and a little lie-down when I see the quote. Everyone who has shutters says that they adore them, but they felt a bit queasy when they had to actually pay for them.
Who needs a thumbs up: Evan26 for FINALLY contacting me about Clown College.
Sometimes I wake in the middle of the night and grab my laptop if I can't drop straight back to sleep. Two nights ago, there was Evan26 on Messenger, sending me a series of voicemails. It was terrific!
He's obviously having the time of his life. He raved about his classes, told a couple of stories about the grumpy old Fench clown teacher and said that learning French for two years in secondary school has come in handy. He's the guy who orders everyone's drinks at the pub.
He's in the morning class, which is fortunate because the afternoon class has SEVEN people out with covid. He said that they're avoiding them like the plague, except for one guy who had lunch with a covid+ person. and Instagrammed about it. (An American, of course.) Now everyone is trying to avoid getting too close to that person. I mean, why on earth would you risk losing time out of a once-in-a-lifetime experience?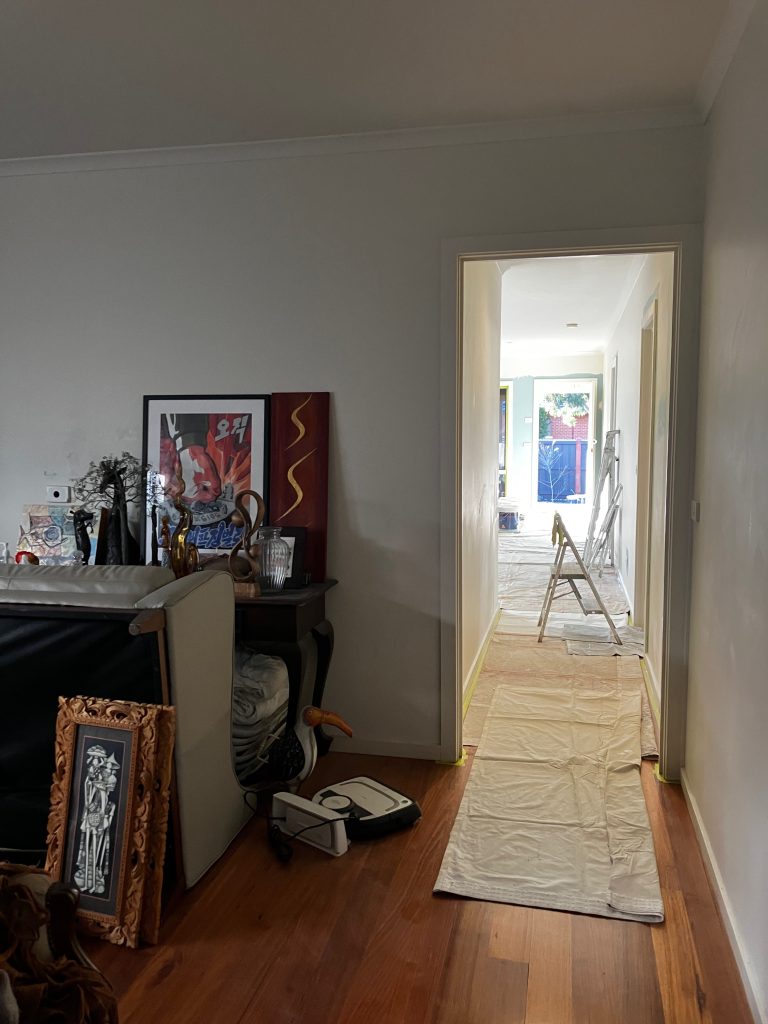 What has made me smile: Seeing those drop sheets go down.
After my shower this morning, I came out of Ryan28's bathroom to see the drop sheets down and that painting had commenced!!
I asked how long they thought they'd be and was told that they should be finished with my side of the house by Saturday or Sunday. Two days to get all the furniture rearranged and then they'd be back to get the second half of the house done.
Quicker than I feared! Definitely a lot quicker than I would have done.
Dad joke of the day: