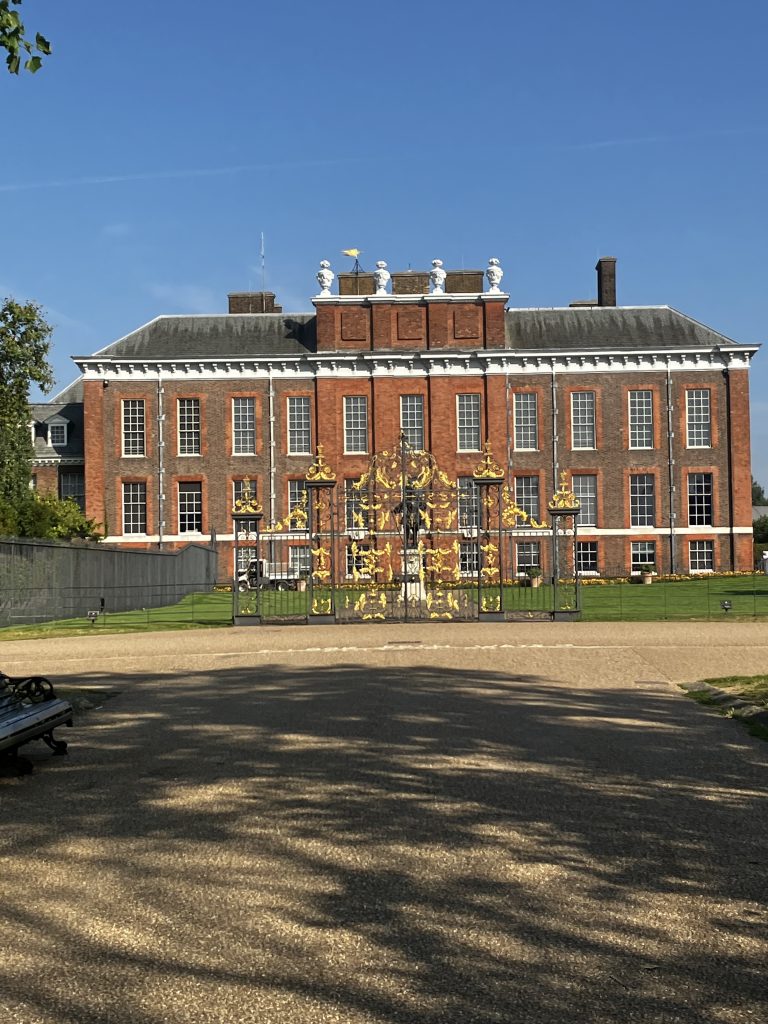 First stop of the day was Kensington Palace. I wasn't terrifically excited about seeing this, but it was a convenient thing to see in the morning, before I made the trek to see the next thing on the list in the afternoon.
I had a ticket for 10AM. As I was walking across the park toward the palace, the heat was already noticeable.
Lots of families and groups of young mums, buggies and dogs in tow, were sitting in the shade under trees. As I walked, Kensington Palace came into view, the gilt on the gates glistening in the sun.
I was surprised that there was no airport style security here. Each bag was searched by hand.

The tour is divided into two sections. The first is a fashion exhibition – " From Court to Couture." The next was the permanent exhibition of Queen Victoria's childhood.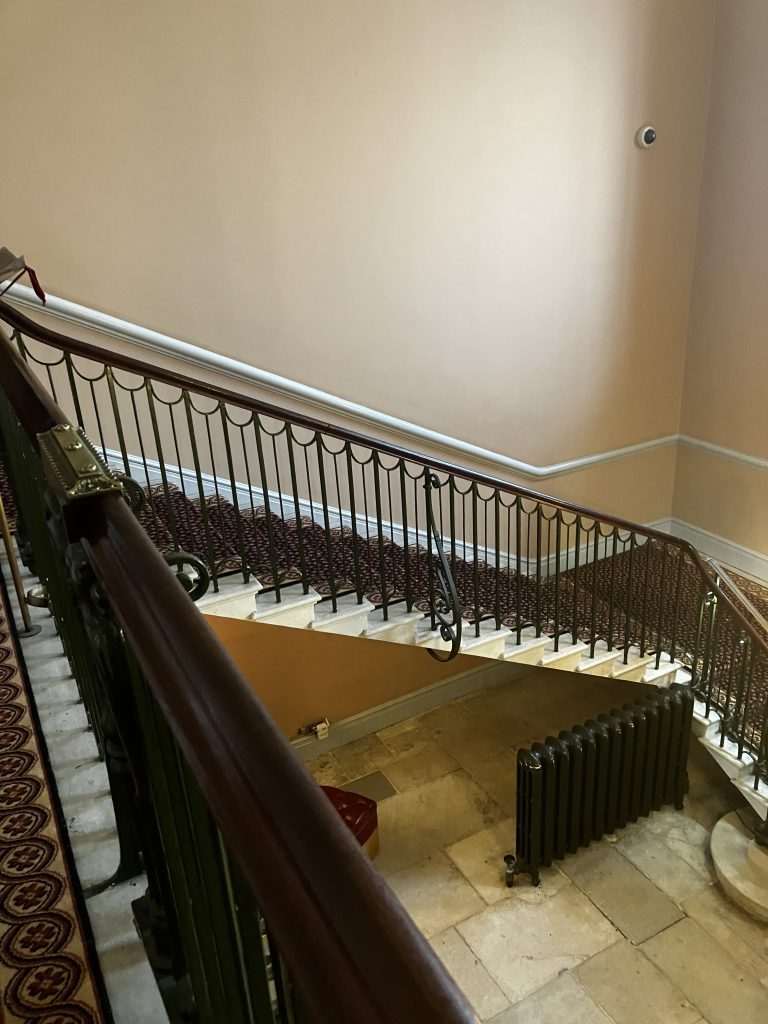 So what's so important about these stairs? Why, only that these two lovebirds first met on them!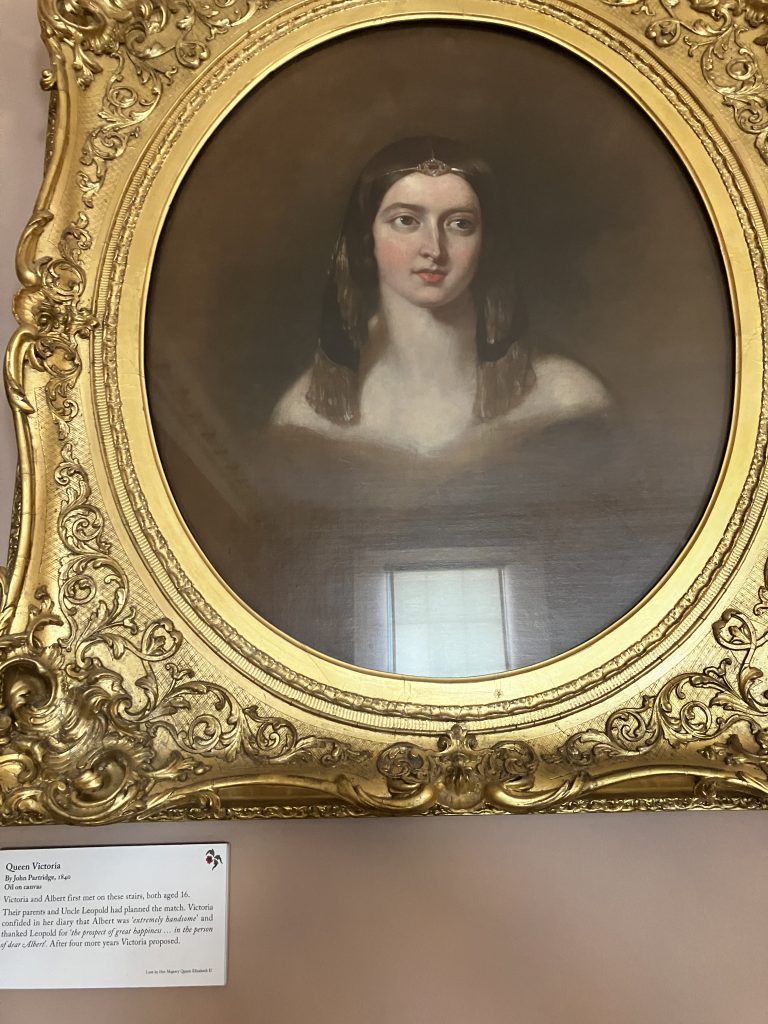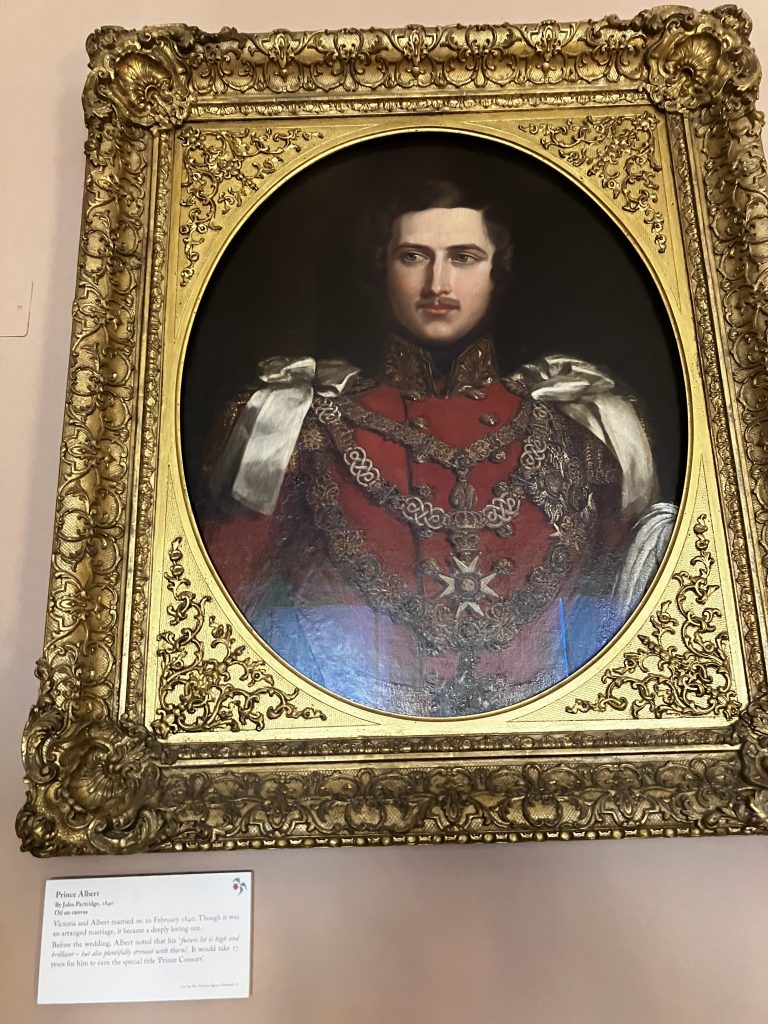 Victoria was smitten by his dashing good looks from the start. Fun fact : she had to propose to him because, being a queen, she outranked him.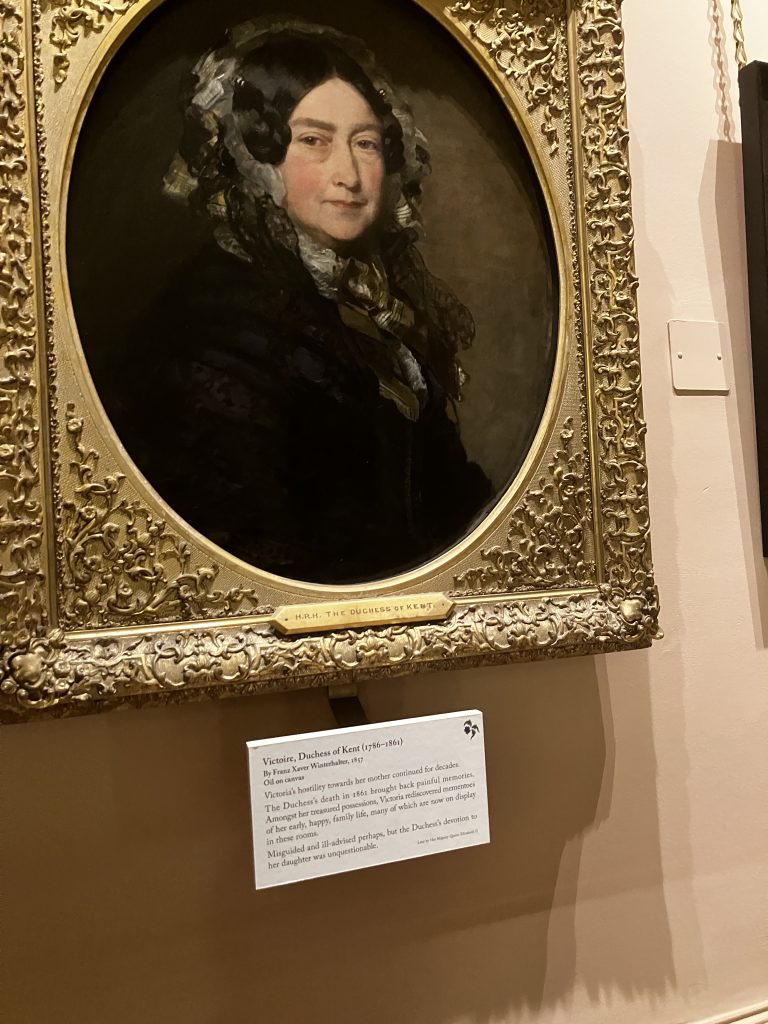 Queen Victoria ended up HATING her mother.

Queen Victoria was actually lucky to be born. She never would've existed except for the fact that her cousin Princess Charlotte, who was George IV's only legitimate heir, died in childbirth. The king was never going to have another heir – he and his wife lived apart and absolutely loathed each other. But he had 3 brothers who were single…
Some of them were living contentedly with their longtime mistresses and families, but that all changed when Charlotte died. They were ordered to get married to suitable wives and get busy producing heirs asap.
Two of them actually produced kids- a girl and a boy. But because Victoria's dad was the elder of the two dads, she became heir.
Her daddy promptly died, leaving Victoria's mum to bring her up. The royal family didn't like her much – the mother, I mean – especially when she made Sir John Conroy the head of the princess's household. Over time, they both became very keen on the idea of running the regency should Victoria become Queen before the age of 18. By this time, another king was on the throne – his wife is whom Adelaide in Australia is named for – and although he was failing in health, he vowed to stay alive until she'd reached that magic birthday.
Conroy's rules for the princess were very controlling. She was never allowed to use the staircase alone, she had to share her bedroom with her mother and that's all I can remember, though there were more.
When Victoria was 16, she was very sick from a fever and while she was so sick, her mother tried to force her to sign a paper giving the regency to herself and Conroy. Victoria refused, perhaps showing the first sign of that stubbornness she showed in later life.
.
As soon as Victoria became queen, shortly after her 18th birthday , she moved from Kensington to Buckingham palace, sacked Conroy and put her mother's rooms at the opposite side of the palace to hers. Fair enough, too.
When I entered the palace, first I had to go through the fashion exhibition. For anyone who follows fashion and celebrities, this exhibition would be amazing. For me, I was more interested in the older exhibits, so that's pretty much what you're going to see.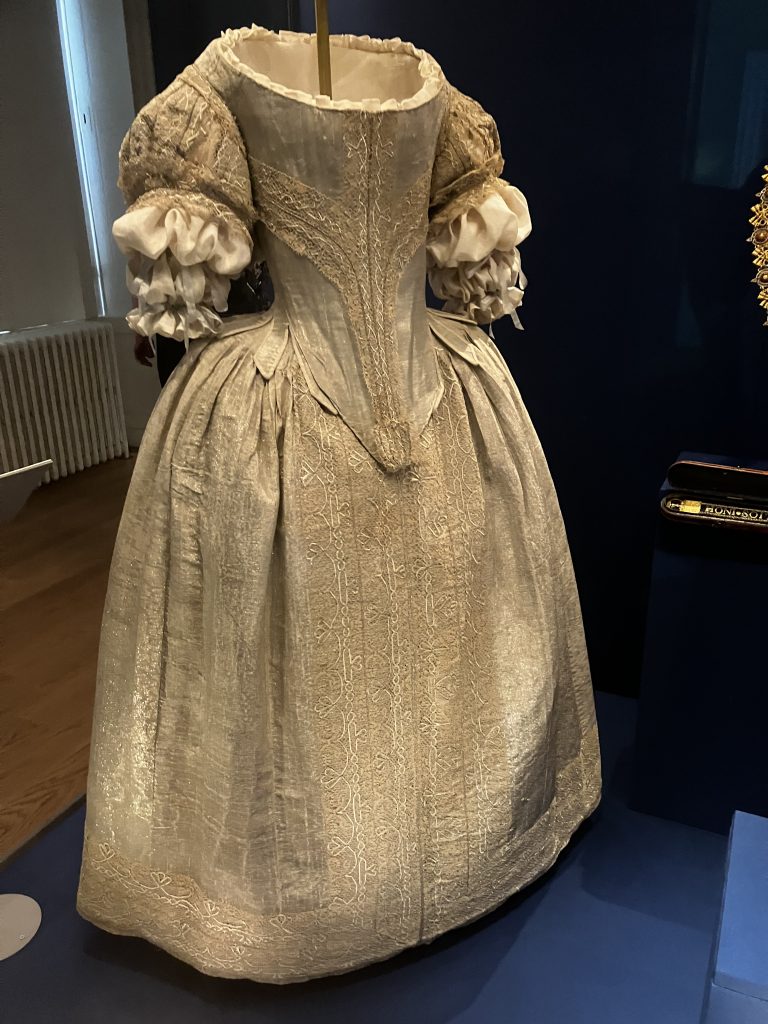 This is a silver court dress from Charles II's time.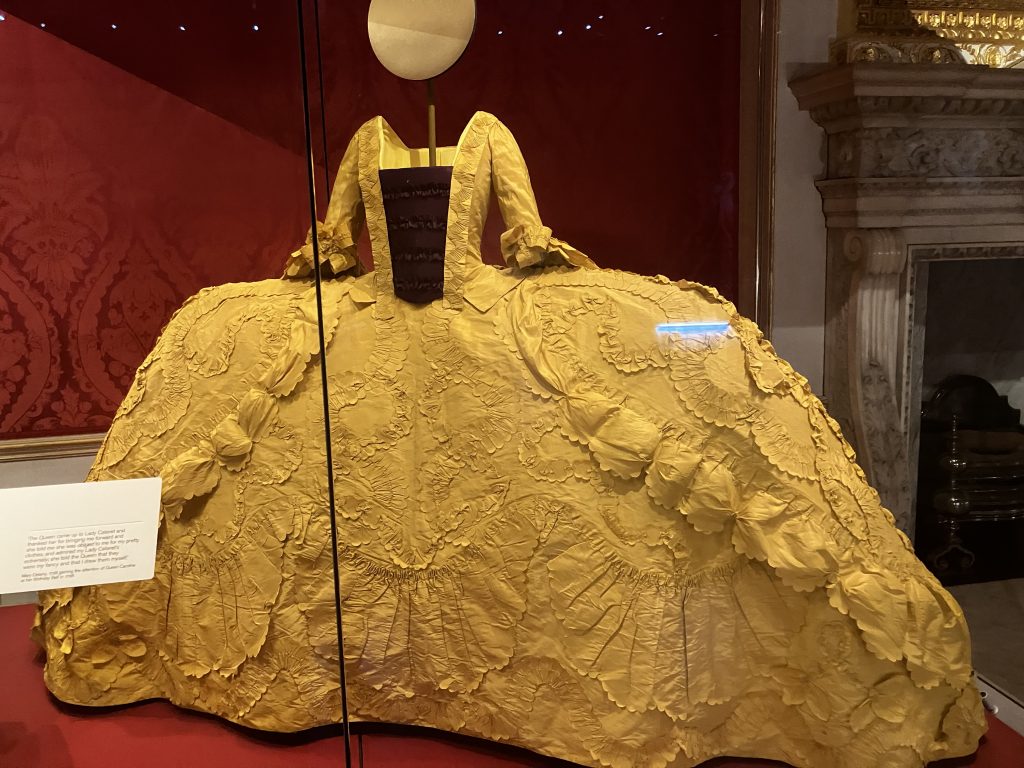 This is the widest surviving court gown in Britain at nearly three metres wide. At Court, most people chose to make an impact wearing expensive brocaded fabrics.
This is a plain silk and so would have been cheaper fabric to buy. However its size and the sheer quality of workmanship and design make up for the less expensive fabric. Worn in 1760.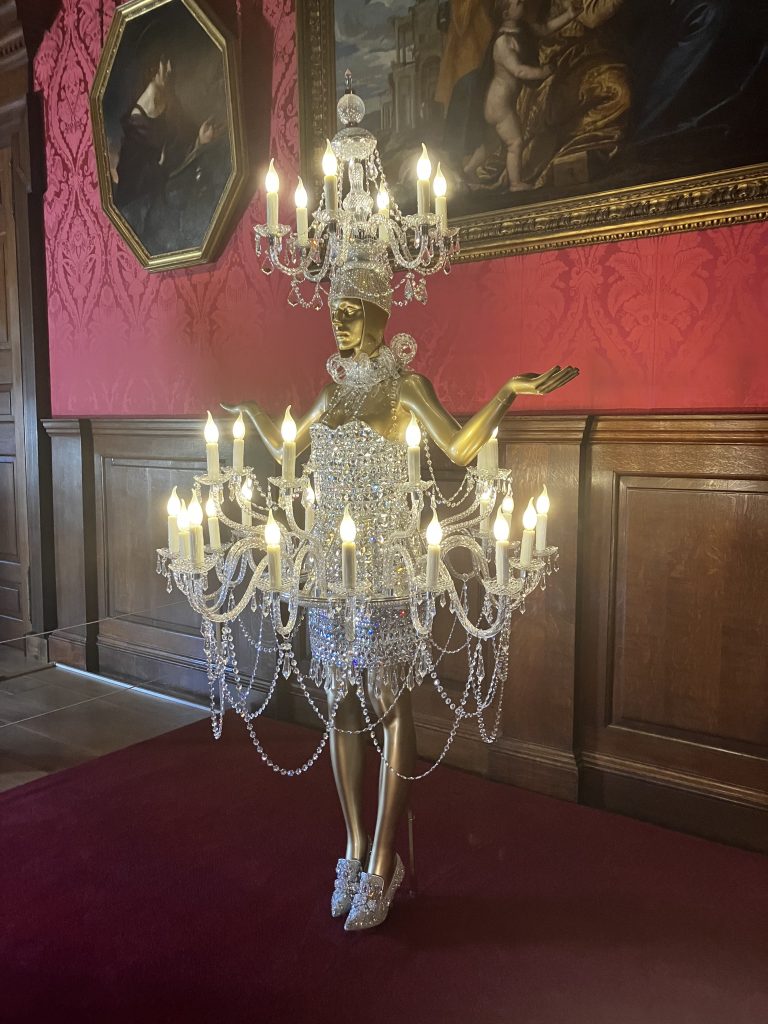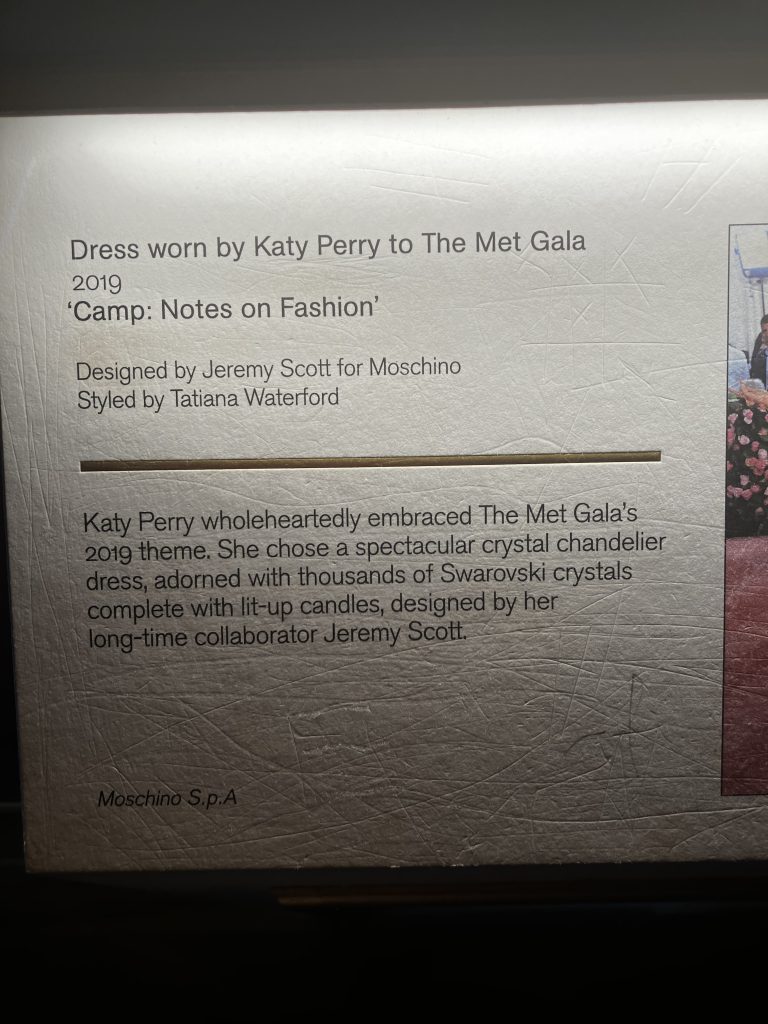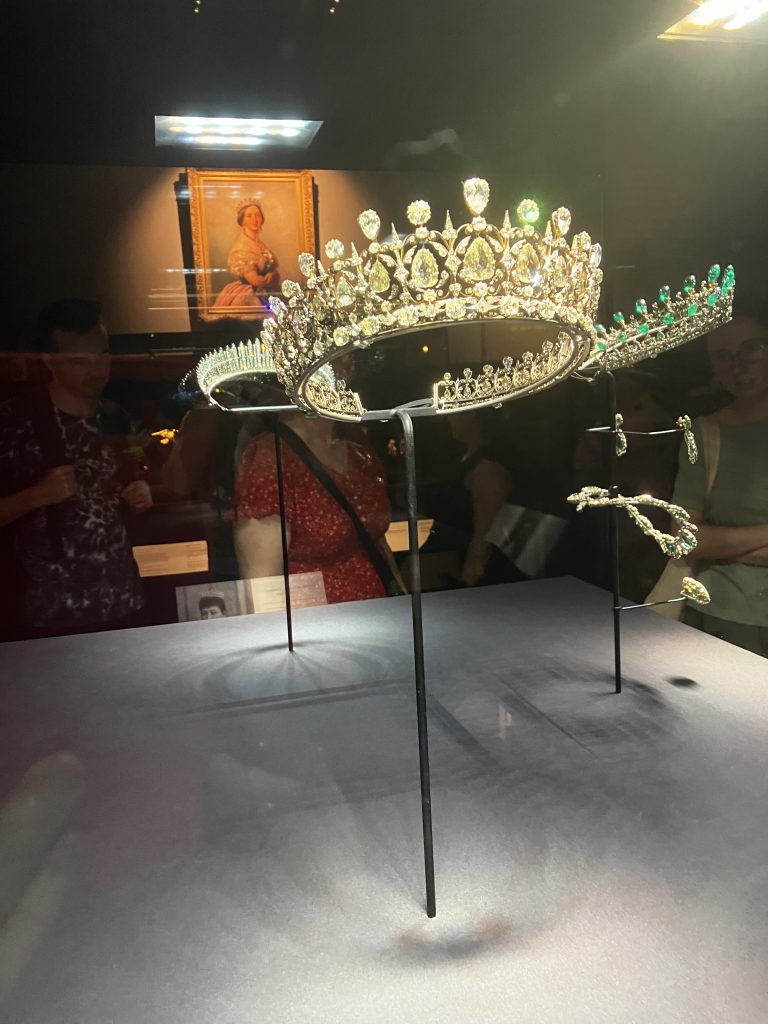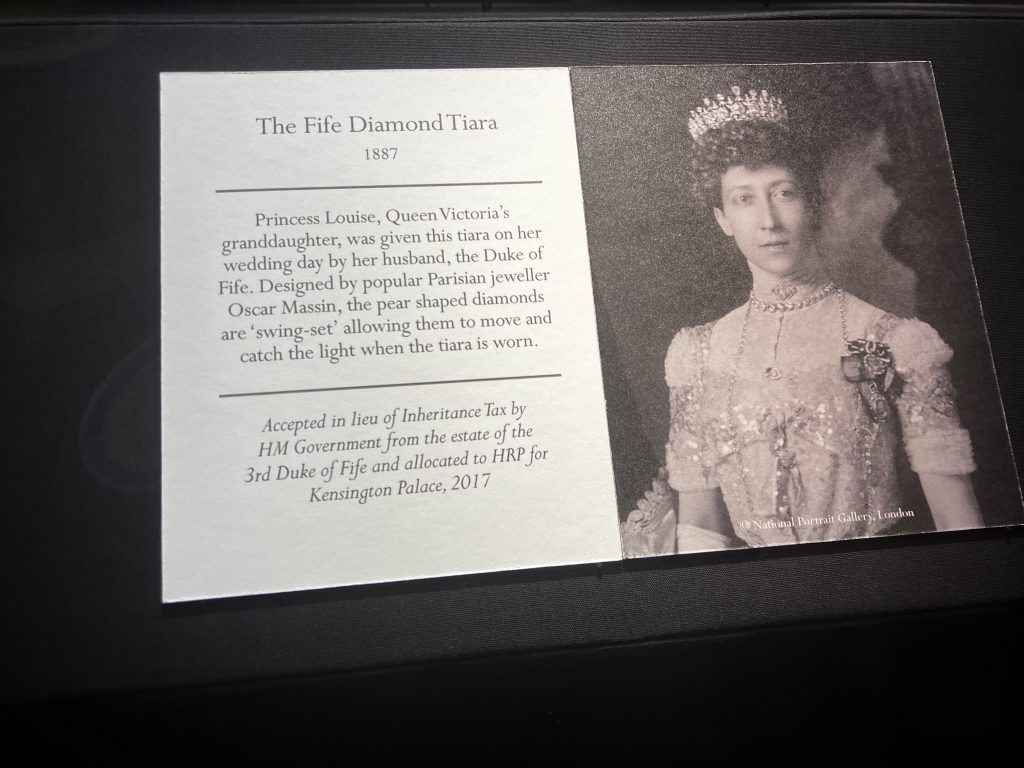 What got me about this tiara was the "accepted by the government in lieu of inheritance taxes" bit.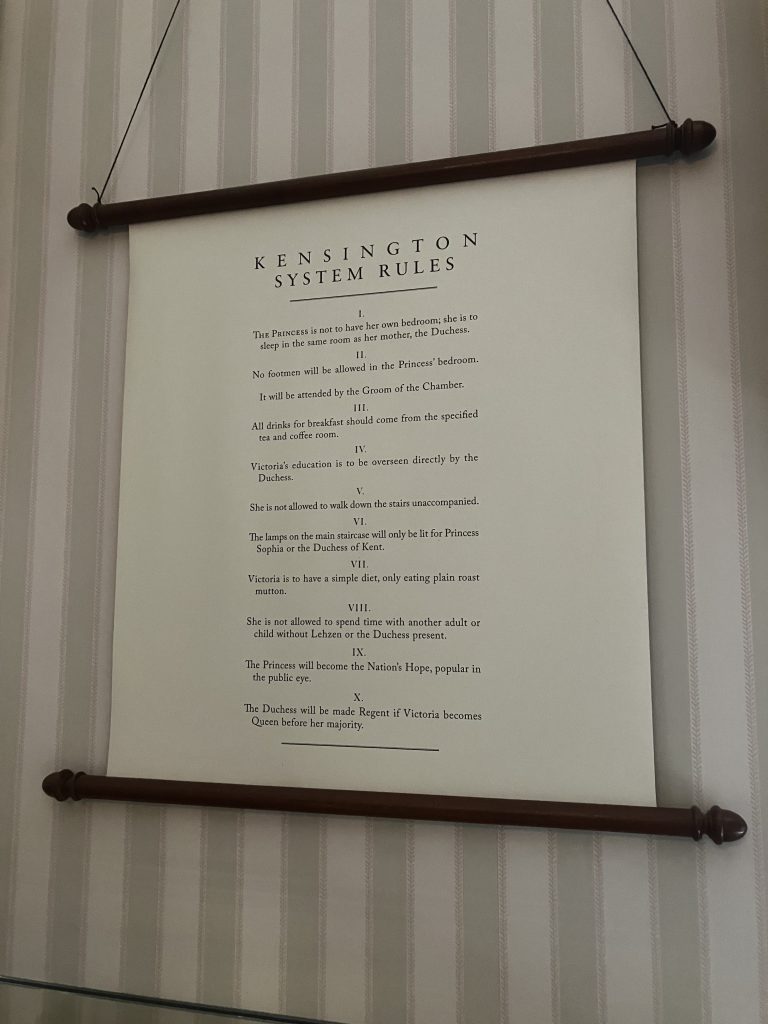 Here's a list of the rules Princess Victoria had to follow. Once I'd finished seeing her rooms it was time to see the Diana memorial.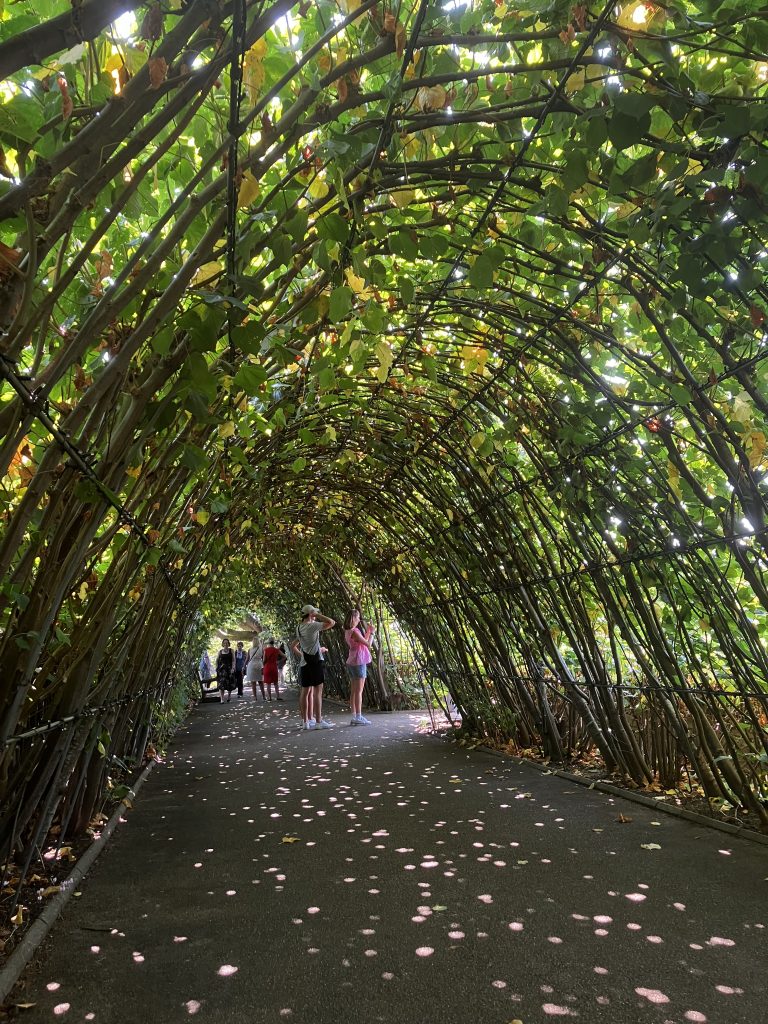 The sunken garden where her memorial statue is located is surrounded on 3 sides by this walkway, with strategic spots being cut out for views. Considering that this was another 30C day, you have no idea how welcome this shade was. I sat here on a bench for a while, contemplatively licking the ice cream cone I bought earlier.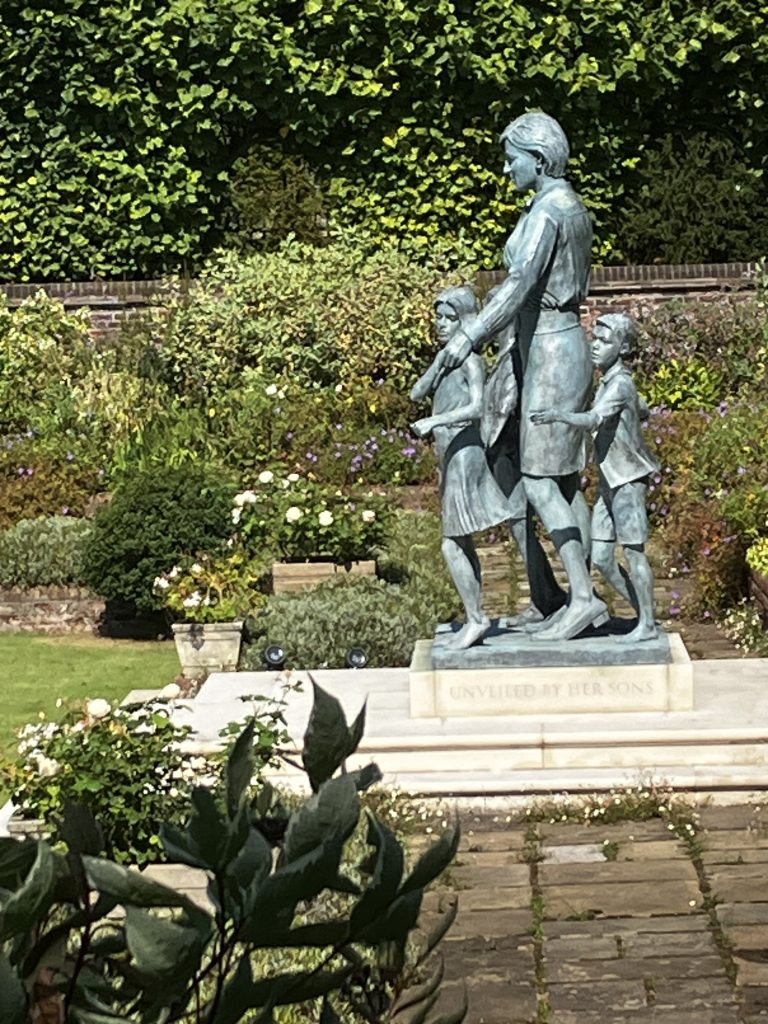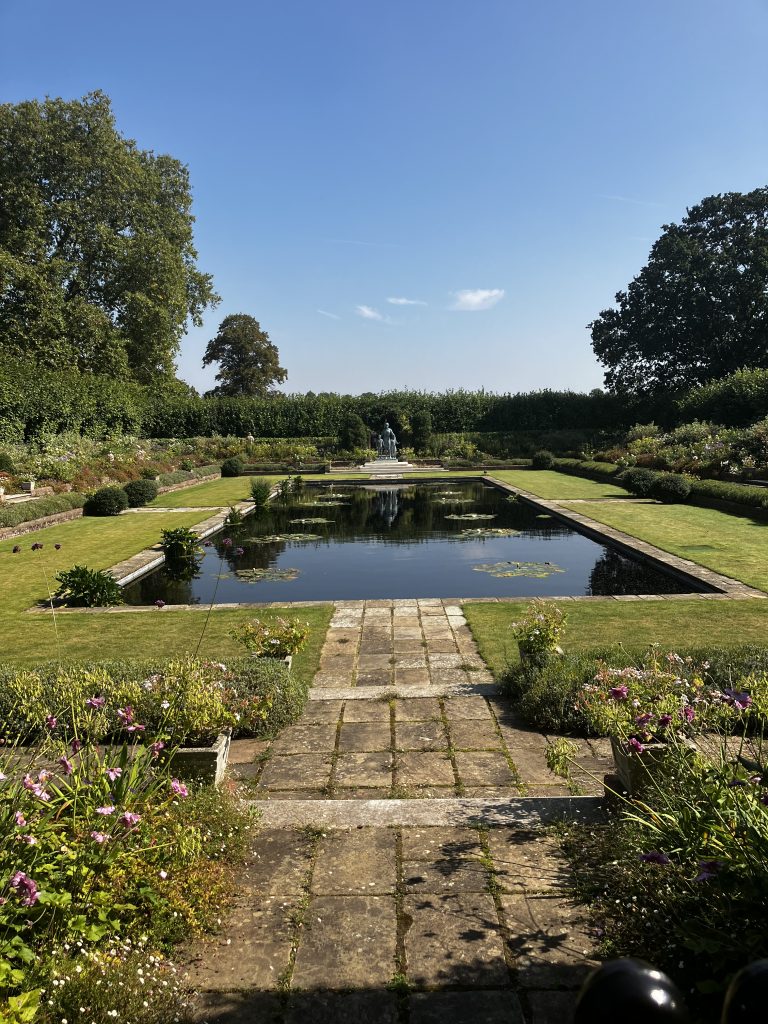 After this, I jumped on a bus and went for 12 stops to a place called 575 Wandsworth Road. I fell asleep along the way and only woke up when I dropped my water bottle with a CRASH.

I was coming here to see a National Trust property that I saw online a couple of months ago. The description was very brief, but it said that they only allow tours of 6 and that you have to take off your shoes to protect the painted floors. What sealed the deal for me was that they only run tours here two days a week, and they only release spots for the tours a month ahead.
There has to be something niche about this house, I thought, as I began stalking the website. Then, one day I logged on and there it was! Tickets available on "my" week! I dithered… Thursday or Friday? I had to hurry… those places could go at any second! I jabbed at Thursday and the deed was done.
because I was a National Trust member in Australia, ( my card arrived a few days before I left), I was able to get in for free. Bargain!
Along the way, I saw this rhinoceros being suspended from a building. I was on the upper floor of a double decker. This was just before I took that nap I was telling you about earlier.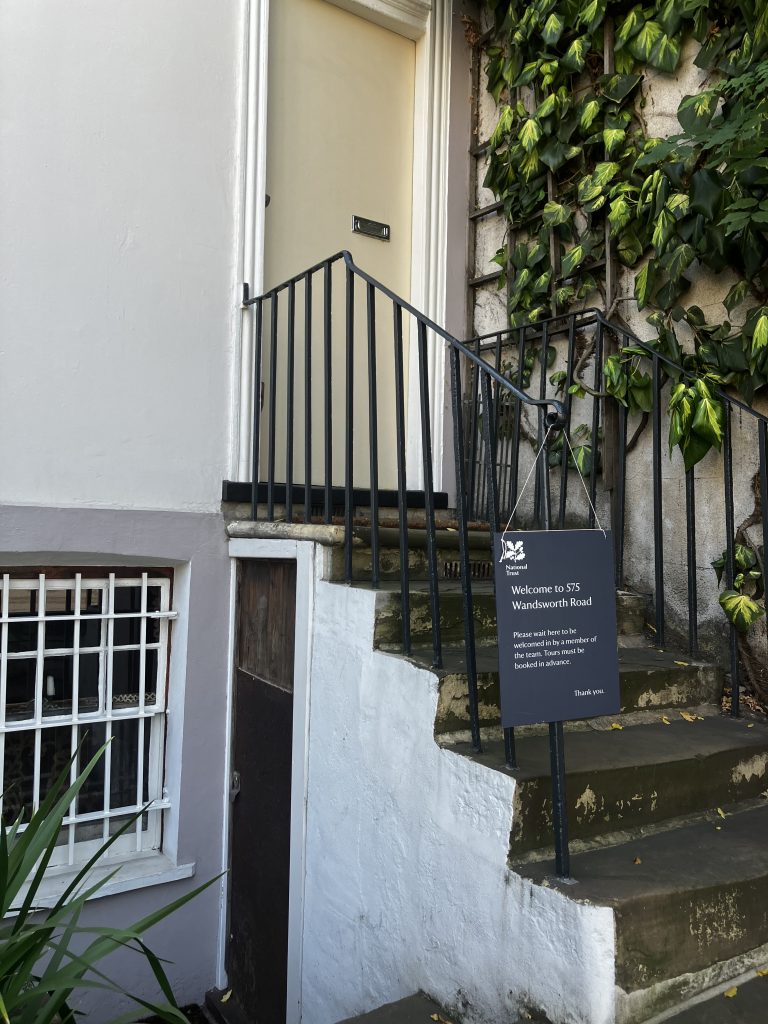 Here it is. Such a nondescript place. No sign outside except for the tiny one obviously put there only when it's open. I had a big chunk of time to kill before 3 o'clock so I made myself comfy in the shade and began writing a blog post for Greenwich.
After a while the previous tour group came out. One woman said to me, "You're going to love it. It's like setting foot into Narnia!"
As it turned out, 3 people didn't show, so I was on the smallest tour ever. This house is totally unique. I'm so glad I visited.
Basically, this house has carved fretwork everywhere. Khadambi Asalache bought this house in the 80's and set about making it entirely his own space. A bit like what I'm doing with my place, but I'm not putting in anything like this effort that he did!
https://www.nationaltrust.org.uk/visit/london/575-wandsworth-road?fbclid=IwAR3P32vlbrYyUVeL4Gwe0m3nkf7V9MmsqJGQfKCsQmthK0TcQgyNiUPR0e0
It's well worth the train or bus ride to see this place in person.